Support TFG by using the links in our articles to shop. We receive a small commission (at no extra cost to you) so we can continue to create helpful free content. As an Amazon Associate, we earn from qualifying purchases made on Amazon in addition to other retailers featured on the blog. Thank you, we appreciate your support!
A move to my new home in Playa del Carmen prompted some wardrobe updates. Here's everything I've bought online for spring/summer 2021!
---
My Spring Haul 2021
---
Table Of Contents
How time flies! I'm temporarily in the USA before moving into my new place in Playa del Carmen in April. I've been shopping for new beach town-friendly clothes and wanted to share some of my latest finds… part one! 
You can view all of the products from my spring spree and also my winter haul on my new Amazon blogger page: https://www.amazon.com/shop/travelfashiongirl.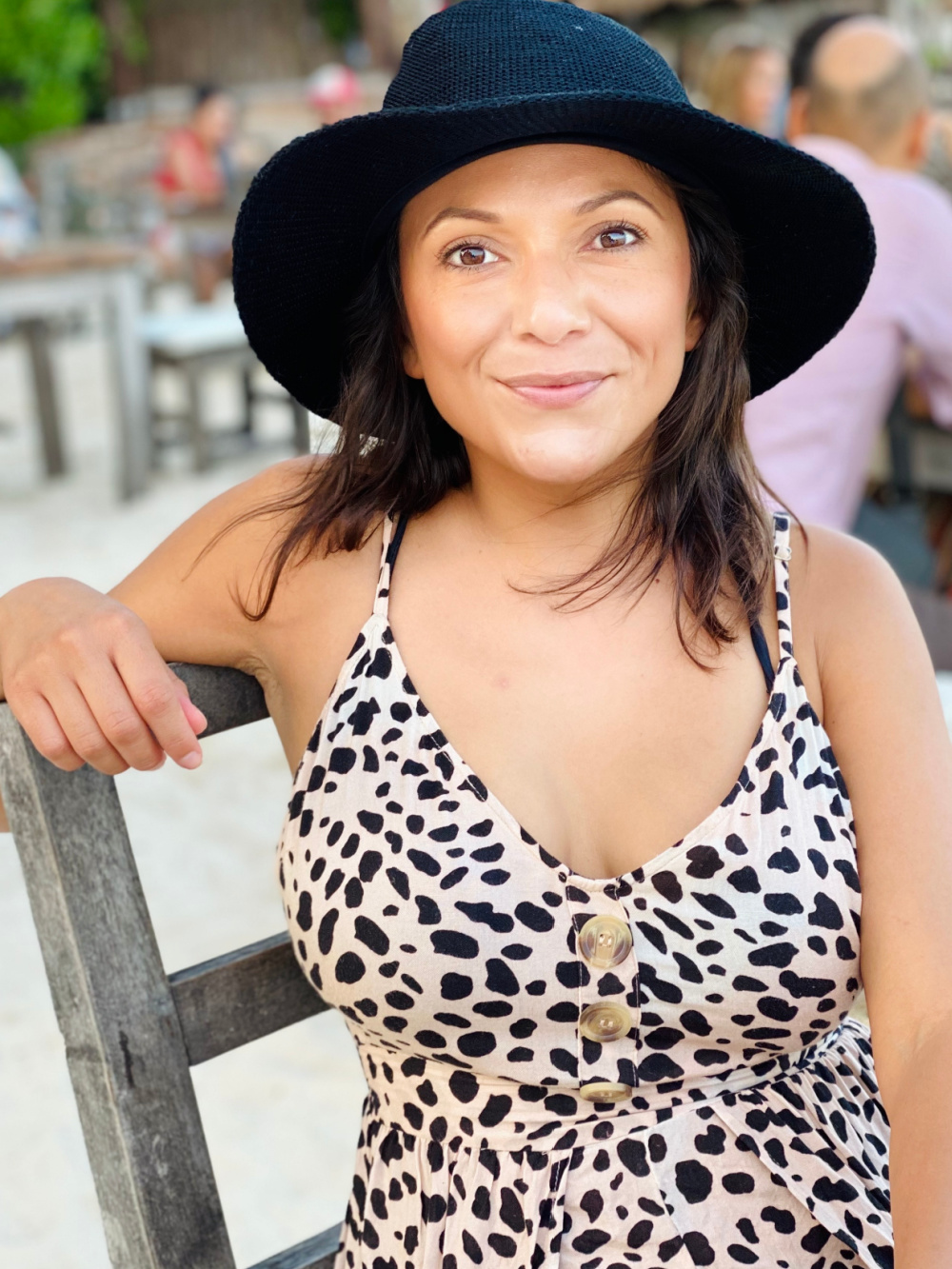 Beachtime in Playa in my Wallaroo Hat (Black) and Leopard Print Romper (currently sold out)
Bought during my spring haul last year
Also, take a look at my spring haul from 2020 if you were curious what I picked up last year!
So here it is. This is a list of everything I purchased online over the past month: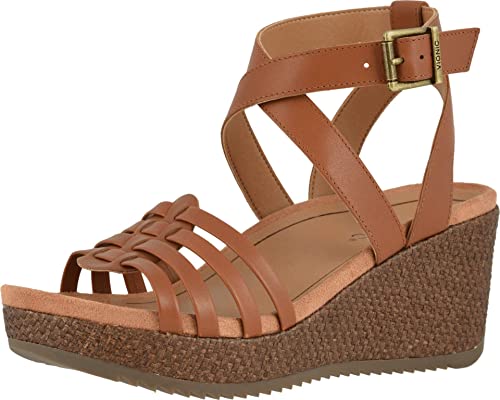 Shop: Amazon
My Top Pick: Vionic Clarisa Raffia Wedges
I was a bit unsure about these Vionic wedges at first, but the more I tried them on with the different outfits, the more they grew on me! These are a keeper! They're a surprisingly good fit for my narrowish feet, and they appear to be comfortable. 
I'll report back once I have a chance to wear them for more extended periods and when I finally get back to the Playa del Carmen sunshine!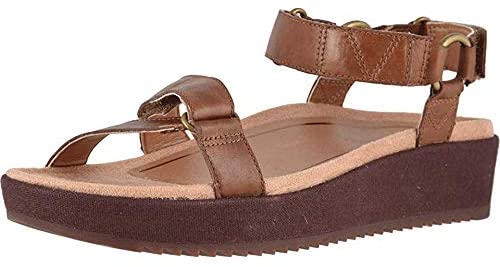 Shop: Amazon
I've been searching for a suitable replacement for my beloved Naot Sabrina sandals for years and have never found one. These Vionic sandals are the latest style I tried on. I like them and think they have good potential as a travel sandal, but it doesn't suit my style preferences, so, unfortunately, I will be returning this. 
However, it might suit someone as Vionics are extremely popular with readers. Just check out this comparison review between the Naot Sabrina and Vionic Kirra sandals!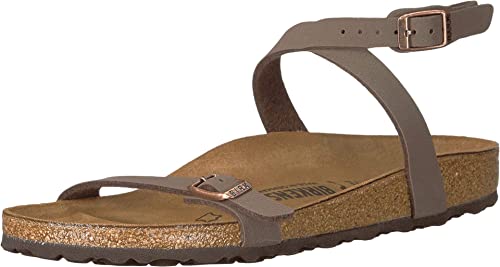 Shop: Amazon | Zappos | Backcountry | Moosejaw
Birkenstock Daloa Sandal
Hoping to find comfortable sandals, I also ordered another style of Birkenstocks, the Daloa, since I've previously had luck with the narrow sizing in the Birko-Flor style. 
They seem to have all the ingredients of a comfy sandal, with a cushioned footbed and an EVA outsole. As I haven't received them yet, we'll see, but I will let you know when I get them! 
Here are comfortable walking sandals that are stylish, too!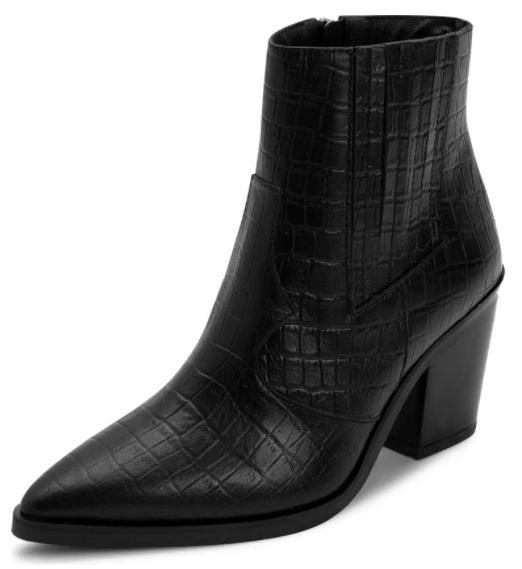 Blondo Que Waterproof Boot
This brand is highly  popular with readers and the Blondo Que ankle boots are really stylish! I bought these puppies to see what the fuss is about and so far, I like them! 
They're waterproof and have a solid rubber sole, and are really versatile, which is why I love ankle boots so much in the first place!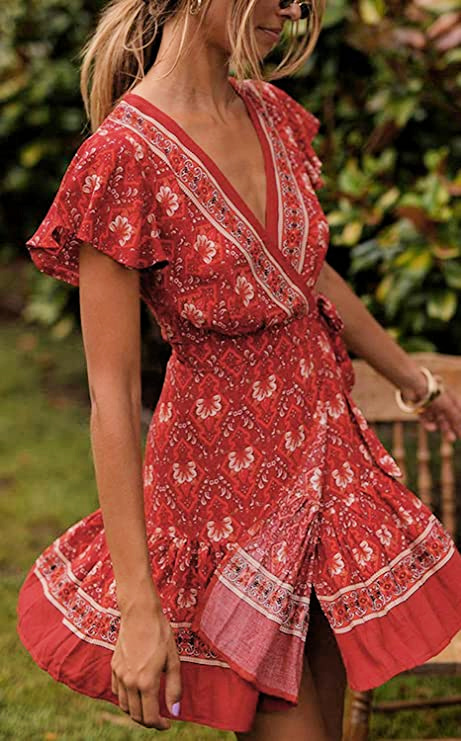 ZESICA Floral Dress | Sizes S-XXL
My Top Find: ZESICA V-Neck Bohemian Floral Dress
The red print wrap dress is my absolute favorite find!! It's hard for me to find a print I feel comfortable in, but I love everything about this! It has a flattering fit, the rayon-cotton fabric is perfect for the heat, and I can wear it casually and comfortably yet still feel polished. It's available in sizes S-XXL.  
How I wear it: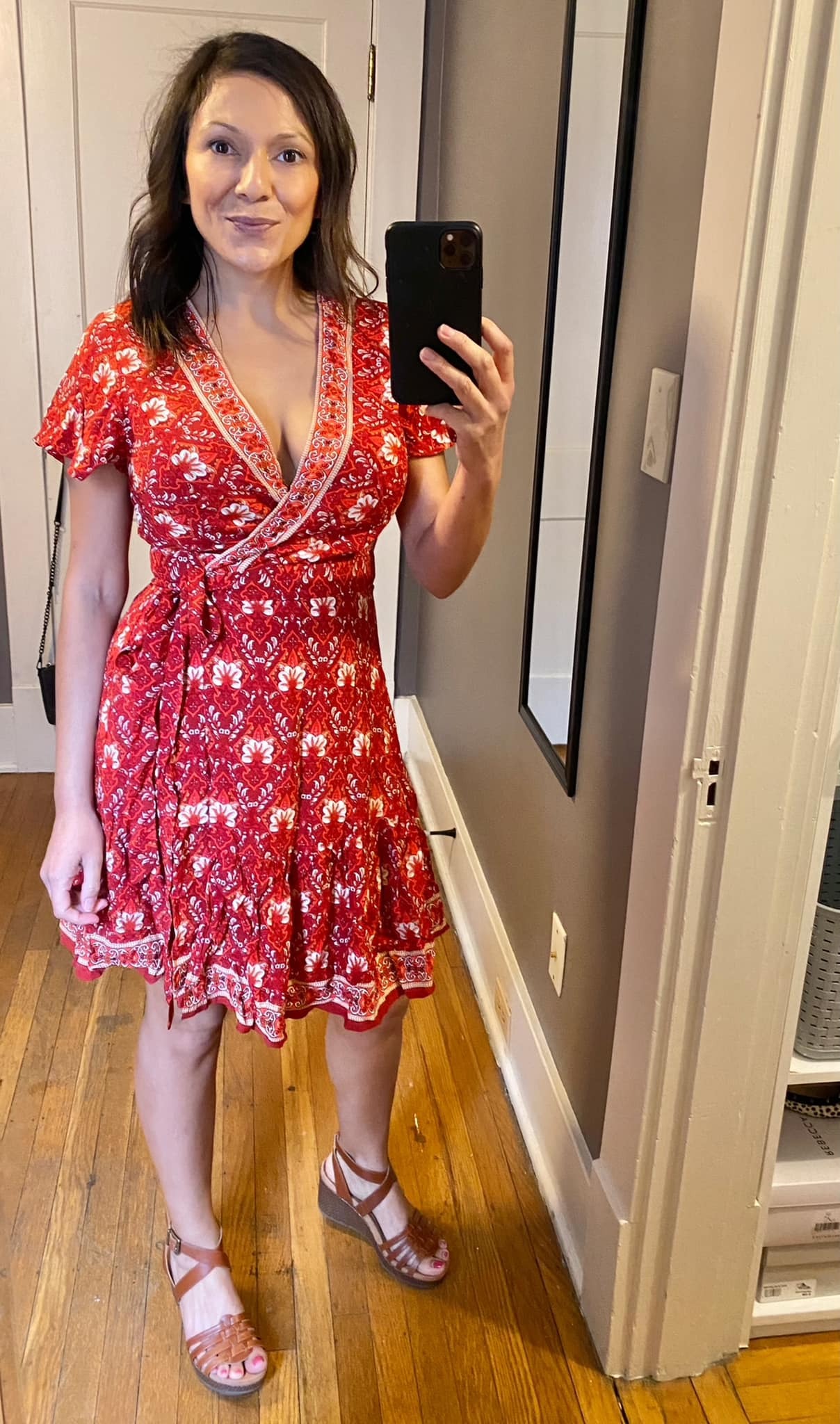 ZESICA Floral Dress in Red with Viionic Clarisa Wedges
It's a piece that can be worn with wedges by the sea or with boots and a leather jacket for a city trip. Loooove loooove loooove! I want this dress in more colors and prints but haven't found another one that suits me, so I'll keep looking.
I ordered a black print, but not sure if I'm keeping it yet. If you prefer long dresses, they also have a maxi version! This is a true wrap style, not sure if I'll need to add a safety pin to keep it closed, but have a look at the review pictures on Amazon—such a pretty dress flattering on a range of women! 
I also grabbed this in Navy, so take a look at how I wear it: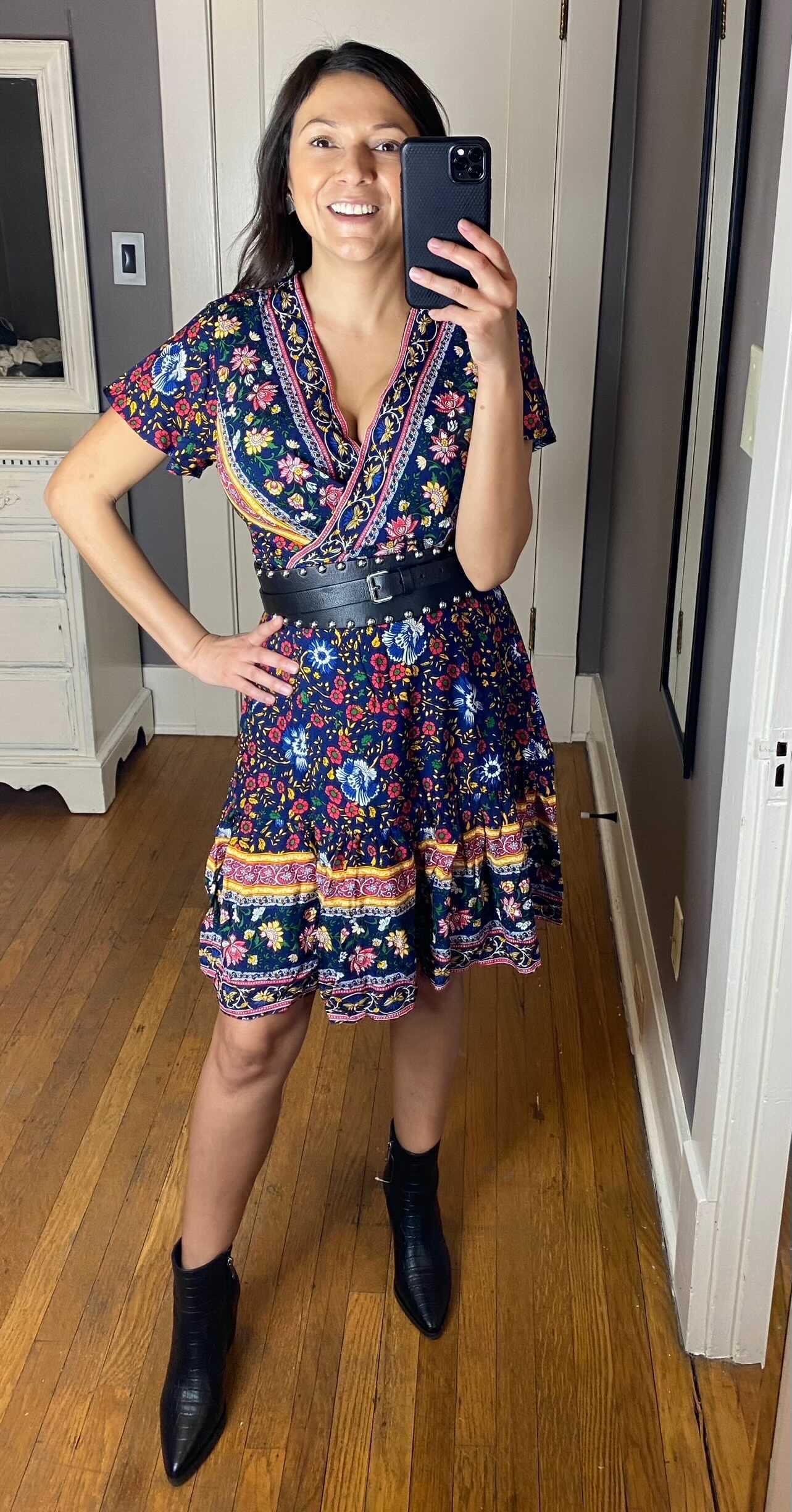 ZESICA Floral Dress in Navy, All Saints belt, and Blondo Que Boots
I love blue tones in general because of my connection to the ocean as a diver, so I'm pretty happy with this color and overall look. I paired this with a black-studded All Saints belt to add a bit of edge, and the black Blondo Que boots. 
THIS is what I consider a PERFECT dress for travel as it ticks all the boxes! So happy with this!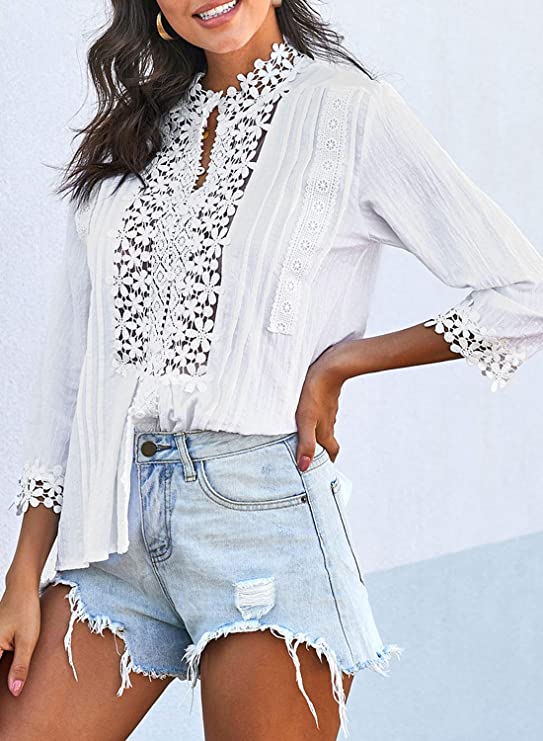 FARYSAYS Lace Crochet Shirt | Sizes S-XXL
FARYSAYS Lace Crochet V-Neck Button-Down Shirt
This white top looked stunning on the product page, and I didn't believe it would look just as good in real life—but it did, and I love it!! Comes in sizes S-XXL.
How I wear it: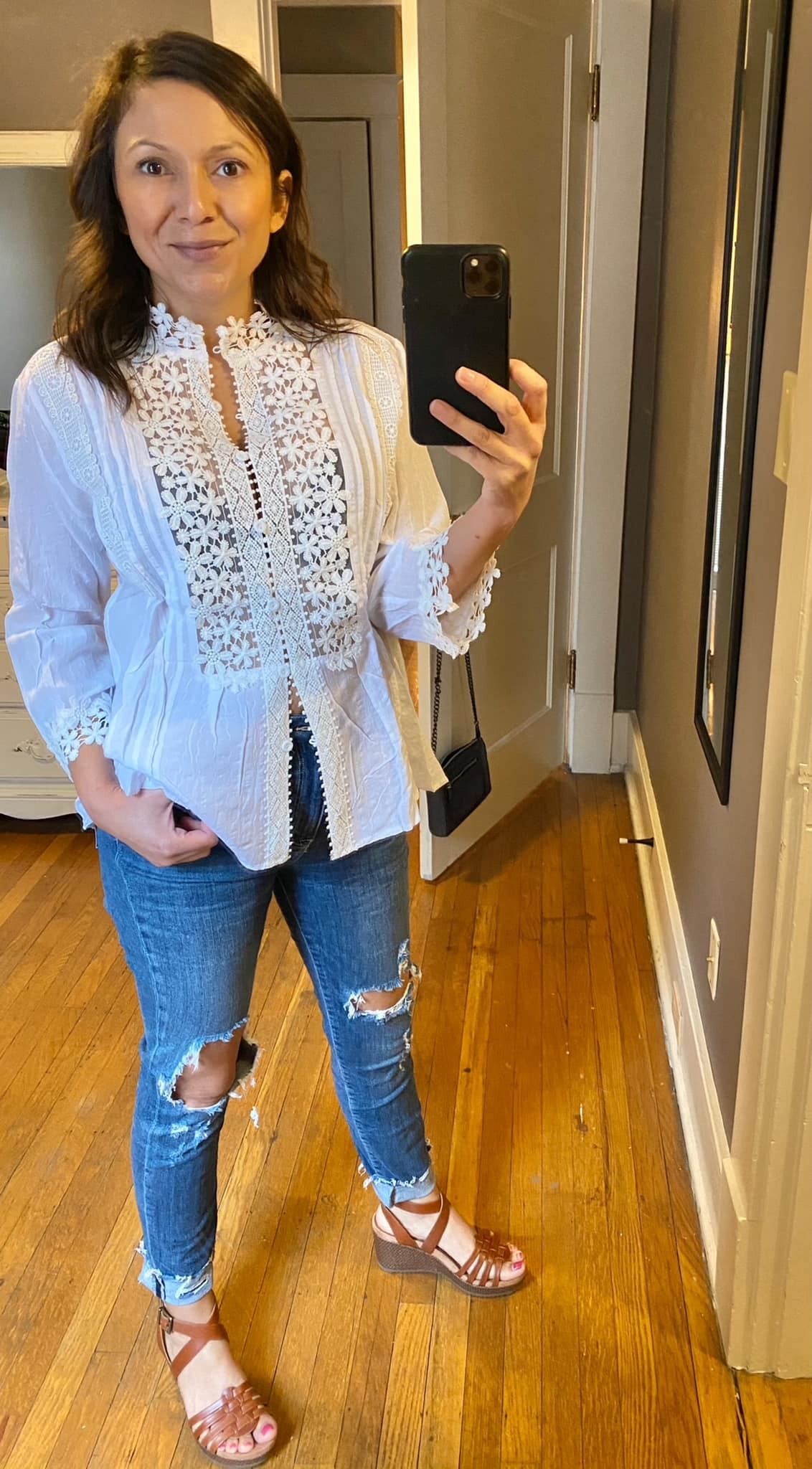 FARYSAYS Shirt, H&M Embrace Jeans, and Vionic Clarisa Wedges
I get it to wear it in spring with my H&M jeans as shown in the photo above or by the beach with denim shorts. It also unbuttons, so I could wear it with an undershirt as a light layer and leave it undone. I don't think the synthetic fabric will work well in the heat, so I'll save it for fresh days. 
The jeans I'm wearing are some of my faves because they're from the Embrace collection at H&M, which seems to accommodate curves. I have these in black and blue and duplicates in sizes 26 and 28.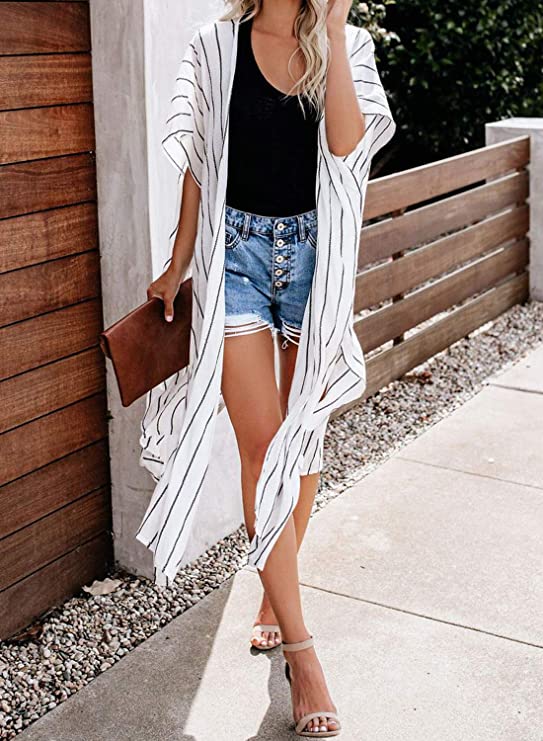 Dokotoo Kimono | One Size
Dokotoo Fashion Print Kimono
I wanted a couple of versatile kimonos to pair with some of my favorite basics to create a bit more of a boho feel for my outfits. This is also a good way to create versatility with clothing when traveling with a capsule wardrobe, too! This black and white kimono is pretty and functional.
How I wear it: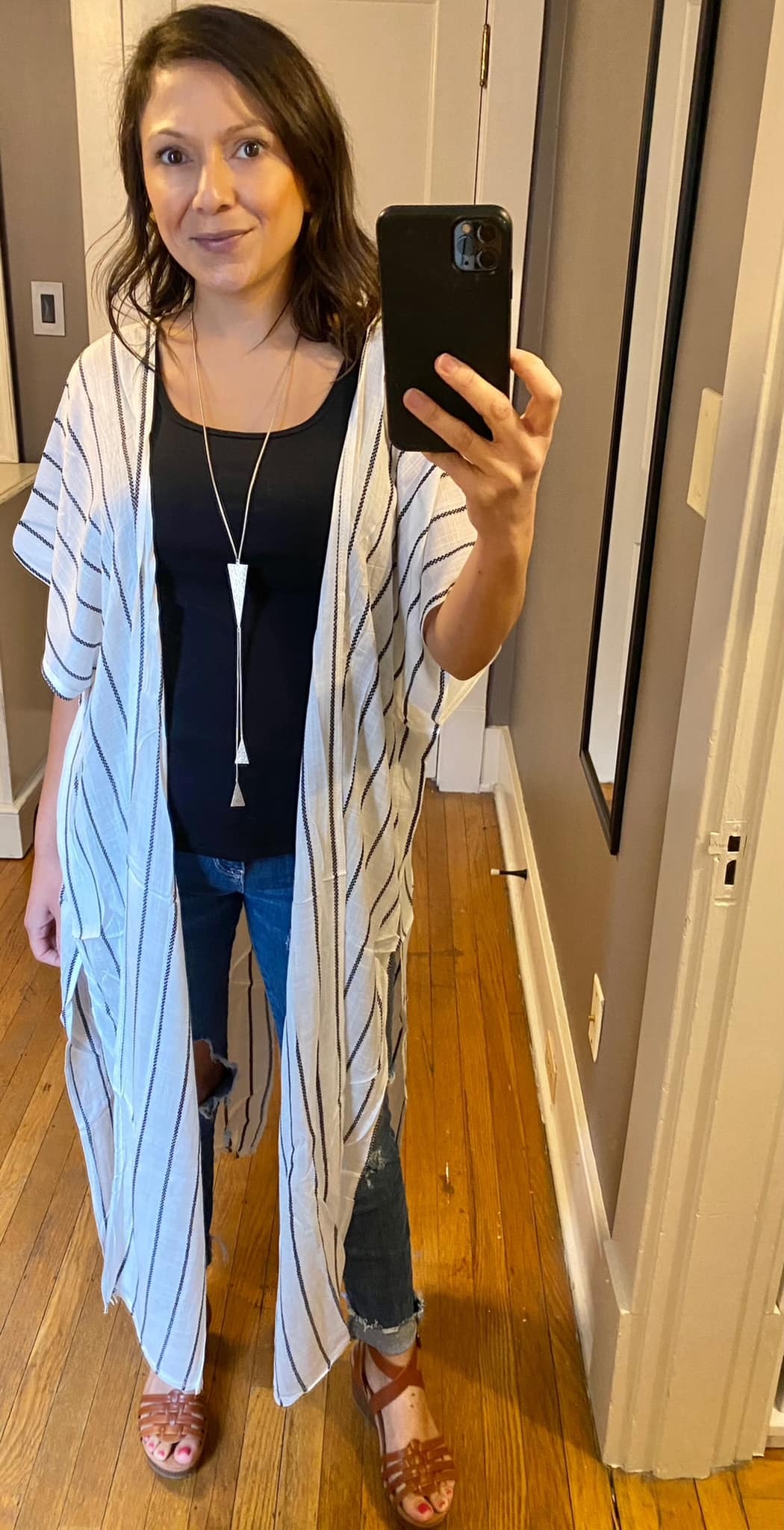 Dokotoo Kimono, Amazon Essentials Tank, and Vionic Clarisa Wedges
I love a little layering, even in sunnier climates, and I could easily wear this over my black Leith dress or as a beach cover up. In addition, if I close it and add a belt, it can also create the illusion of being a dress.
Note: some readers were asking about my silver necklace pictured here. I bought the necklace at an artisan market in New York. I LOVE their jewelry so much and have many pieces from them!
Second kimono: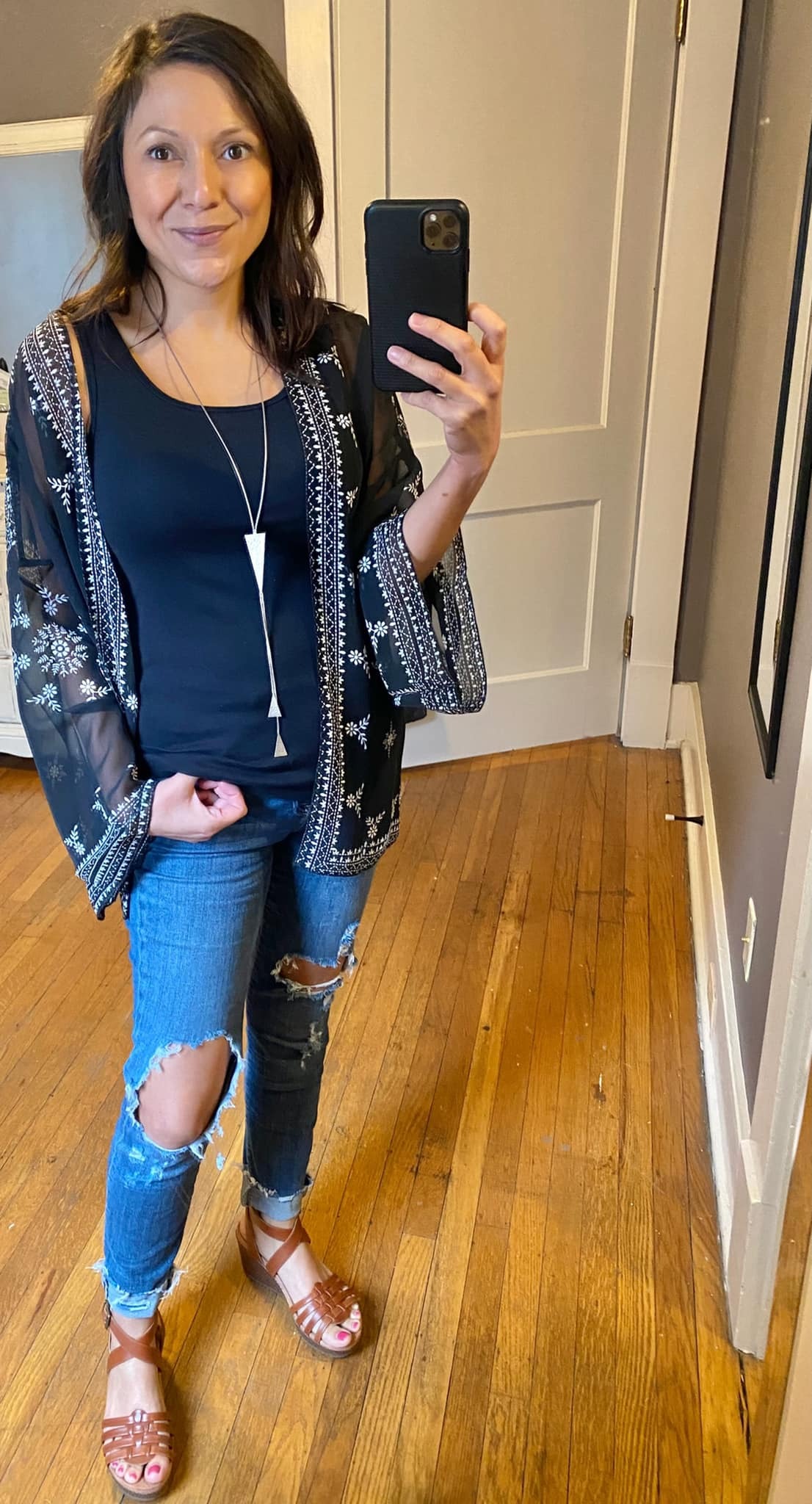 QBSM Boho Kimono | One Size
(Note: the item is currently unavailable, so it's not showing in the listing)

I also picked up this black and white short kimono by OBSM to be worn as shown or with shorts. Polyester fabric isn't breathable, so will wear on less humid days. Note: the item is currently unavailable, so it's not showing in the listing, but we'll update this once it's back in stock!  
However, there are several other OBSM kimonos, too, if you can't wait for the one shown here!
Pair it up with these cute modest swimwear selected by our readers!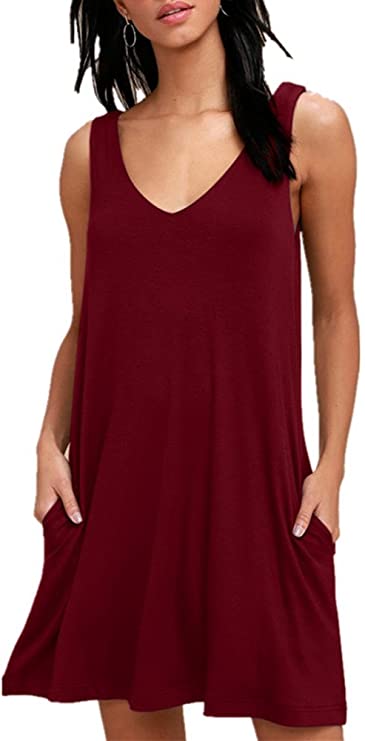 BISHUIGE T-Shirt Dress | Sizes XS-3XL
BISHUIGE Casual V-Neck T-Shirt Dress 
I was looking for a simple yet versatile dress that would be breezy and comfortable in the heat. This is perfect for what I need: something I can wear comfortably at home, wear to run around town during the day, and dress up in the evening. 
The pockets are a bonus but do add a little extra in the hip area. I really appreciate that the armhole is high enough that my bra doesn't show, so this particular feature makes the dress a big win for me. They have a great range of sizes as well, from XS-3XL.
How I wear it: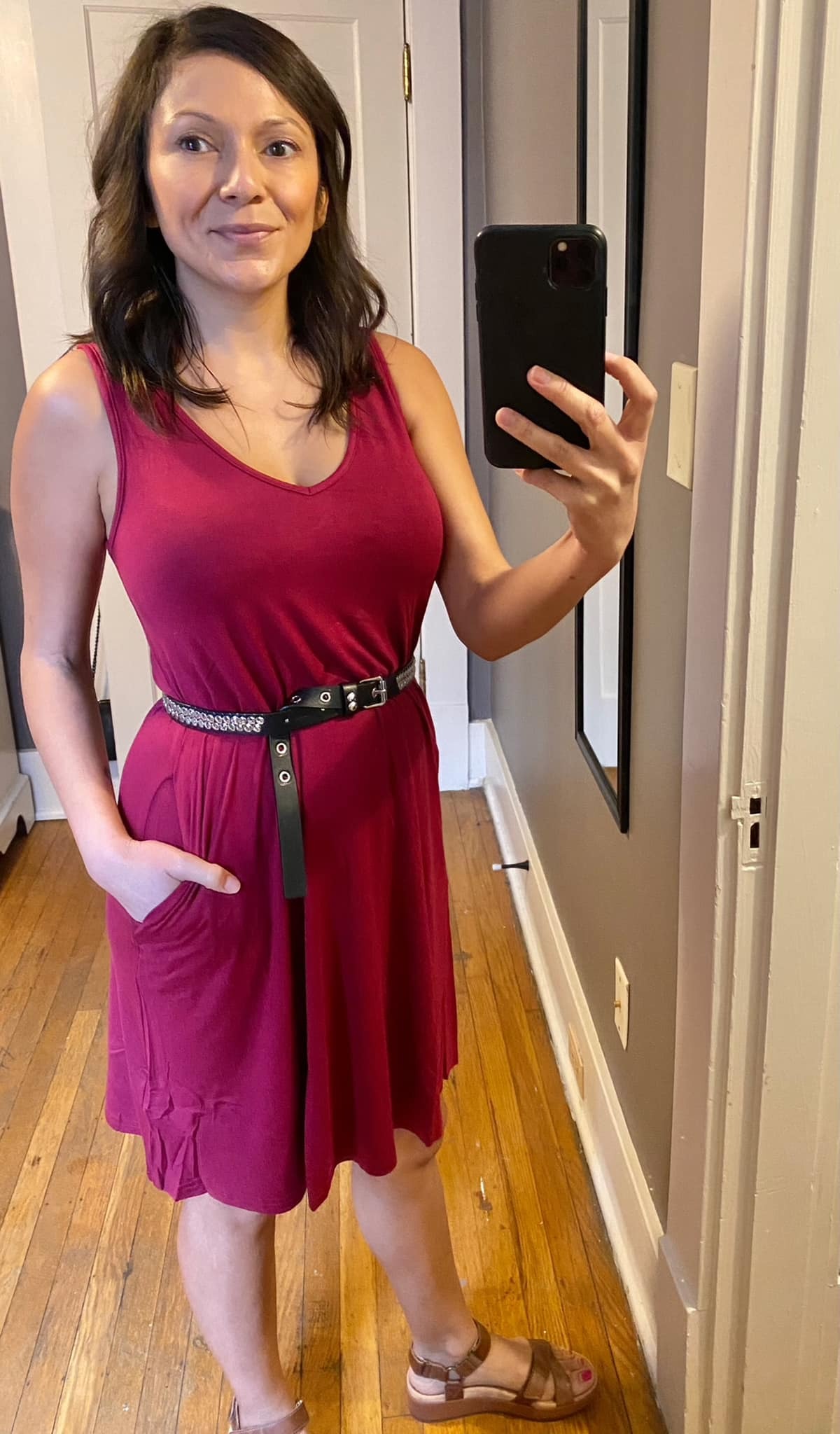 BISHUIGE T-Shirt Dress in Red, AllSaints Studded Belt, and Vionic Tropic Wedges
I paired it with a rocker-inspired slim black belt from AllSaints and think the silhouette is flattering. While I didn't love the red color, I did like the dress, so I ordered it in the black and blue colors and will return the red because it's actually a deeper shade than it looks in the picture. 
And the blue color arrived suddenly! Here it is: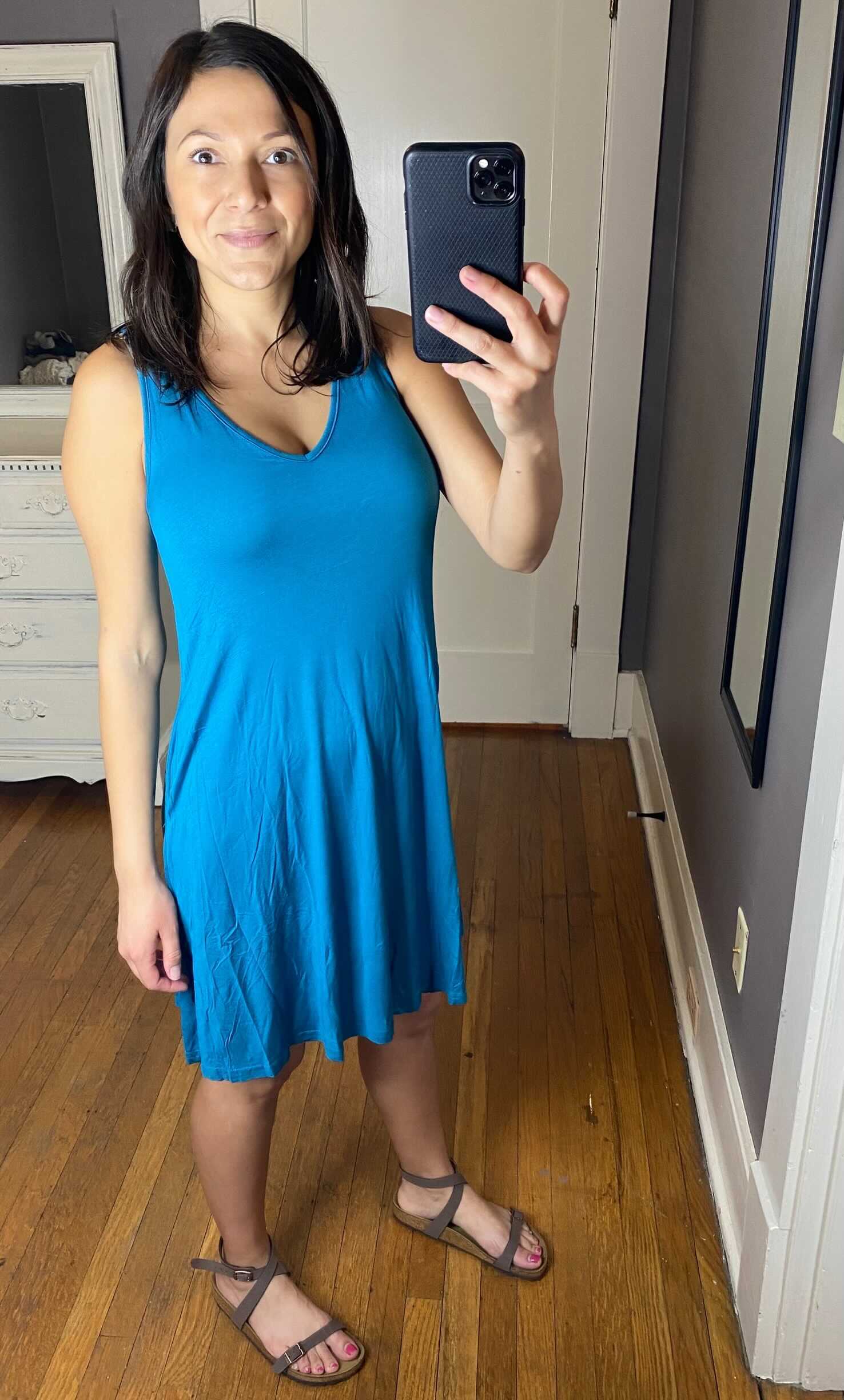 BISHUIGE T-Shirt Dress in Blue and Birkenstock Daloa Sandals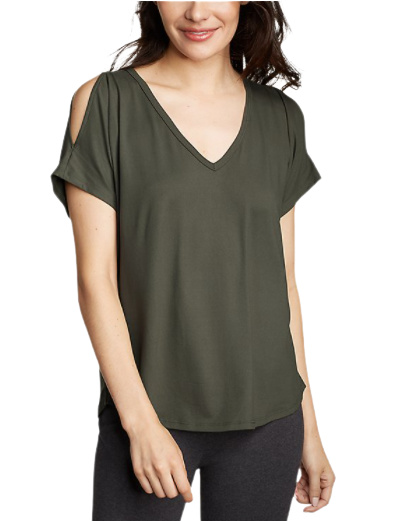 Eddie Bauer Cold Shoulder V-Neck Top 
I've really come to adore a lot of Eddie Bauer products this past year as I began to embrace outdoor activities like hiking. I have the trail leggings, their Infinity Rib tank, and the Ripstop shirt that has become my go-to travel blouse.
So I thought I'd give their more dressy V-neck top a try. I like the peekaboo shoulders and subtle V-neck—it doesn't plunge too low!
How I wear it: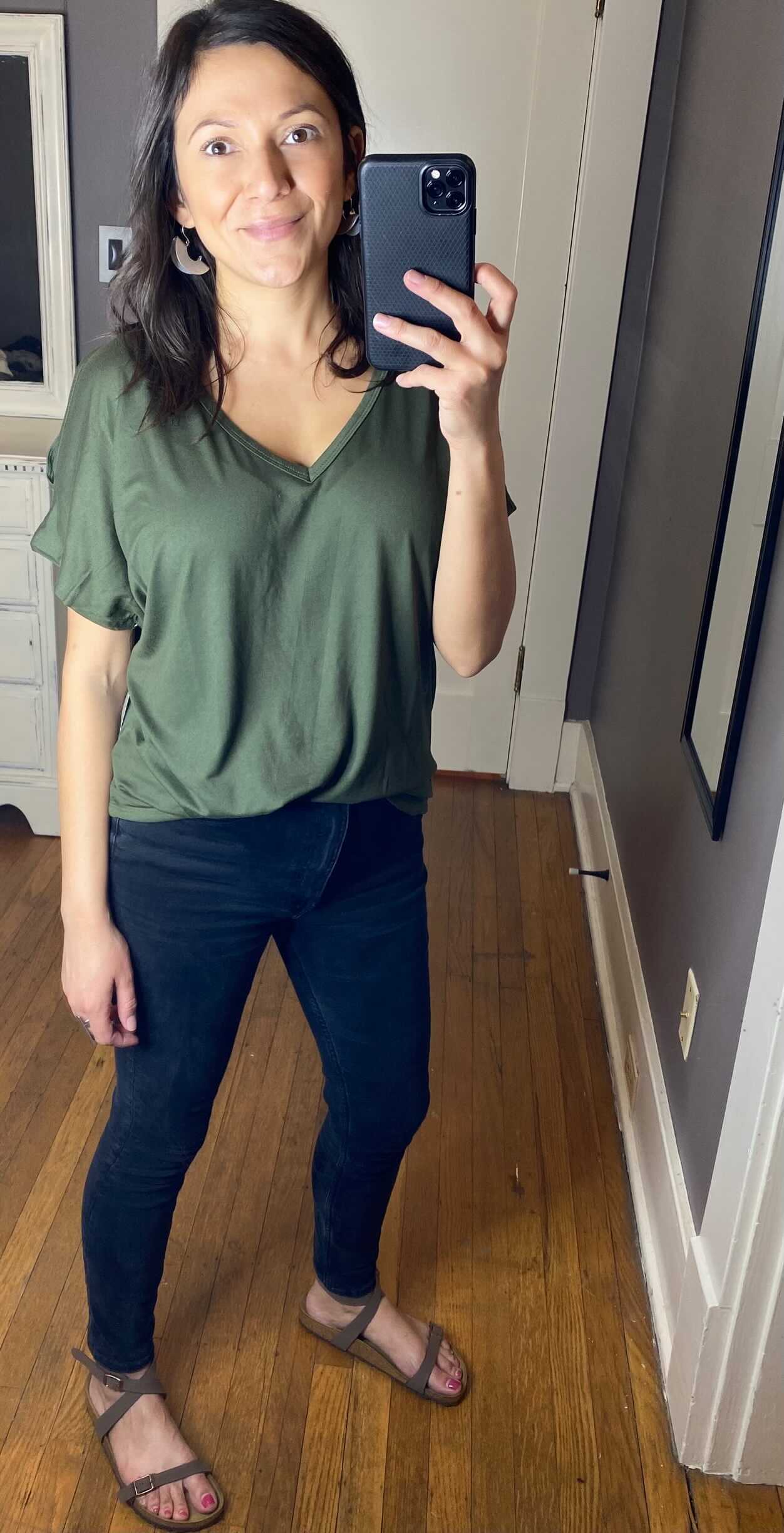 Eddie Bauer V-Neck Top  and Birkenstock Daloa Sandals
I paired this with my fave Zara skinny jeans and some gorgeous earrings I found on Mairposa Skies which is now sold out, unfortunately. But it's a great site overall for supporting artisans; I highly recommend it!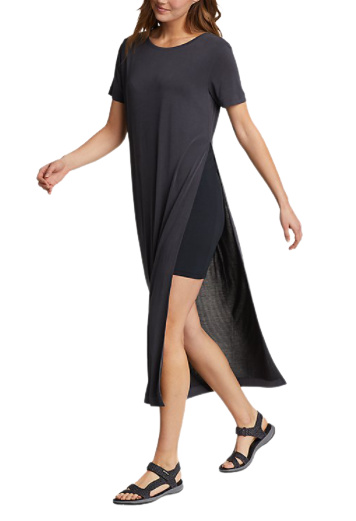 Eddie Bauer Sandwash Short-Sleeve Midi Dress
My other Eddie Bauer pick is their short sleeve midi dress with a high slit on the side and an underlay skirt beneath. The soft modal fabric and relaxed fit seem great for travel and the slit adds some pizazz. The dress comes in regular and tall sizes, too!
How I wear it: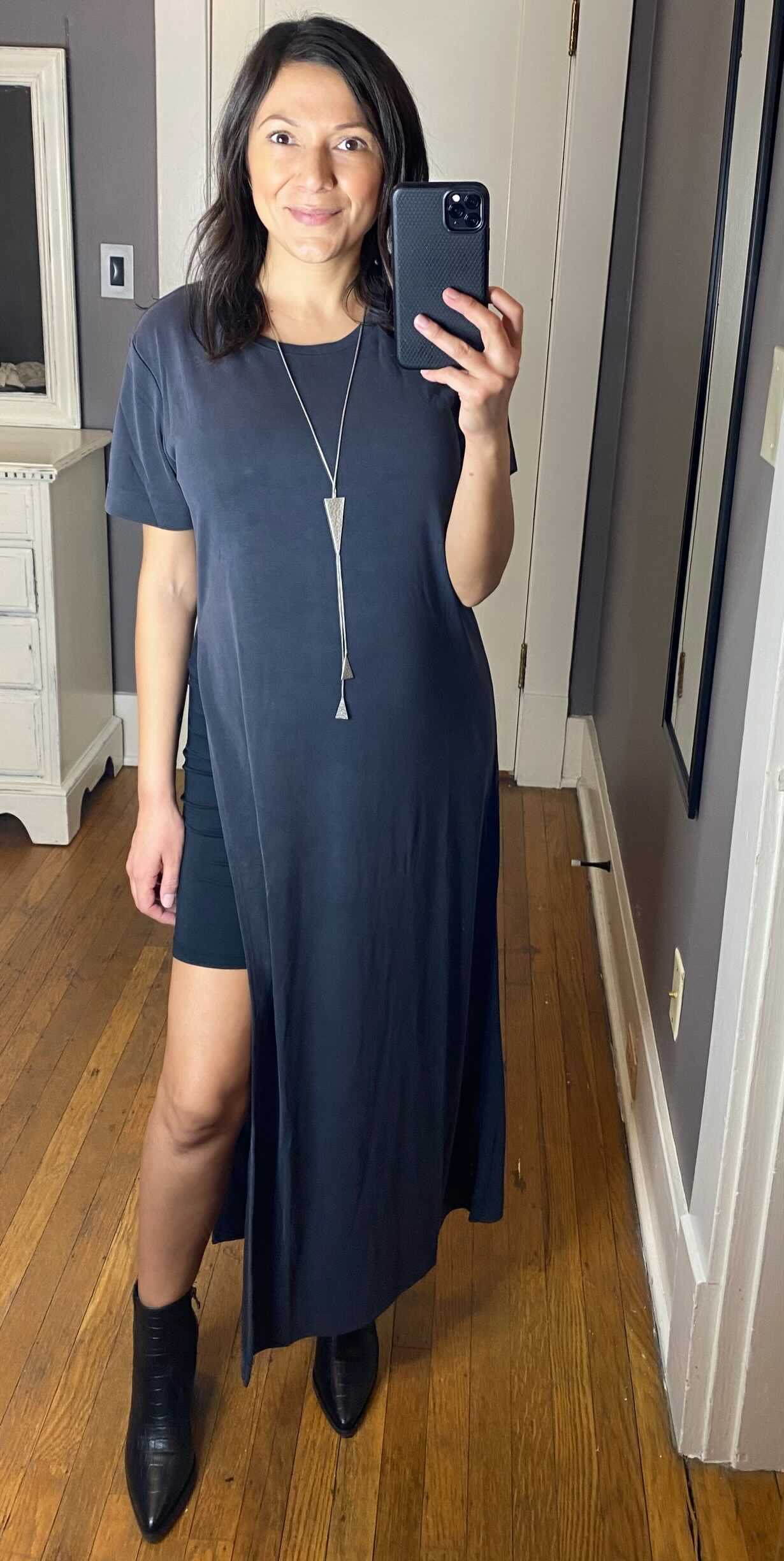 Eddie Bauer Midi Dress and Blondo Que Boots
This a dress that will look great with sandals or boots, either ankle booties, or even knee-high ones. I added my Blondo boots and of course, I wanted to see how it looks with the silver necklace that I got at this artisan market in New York.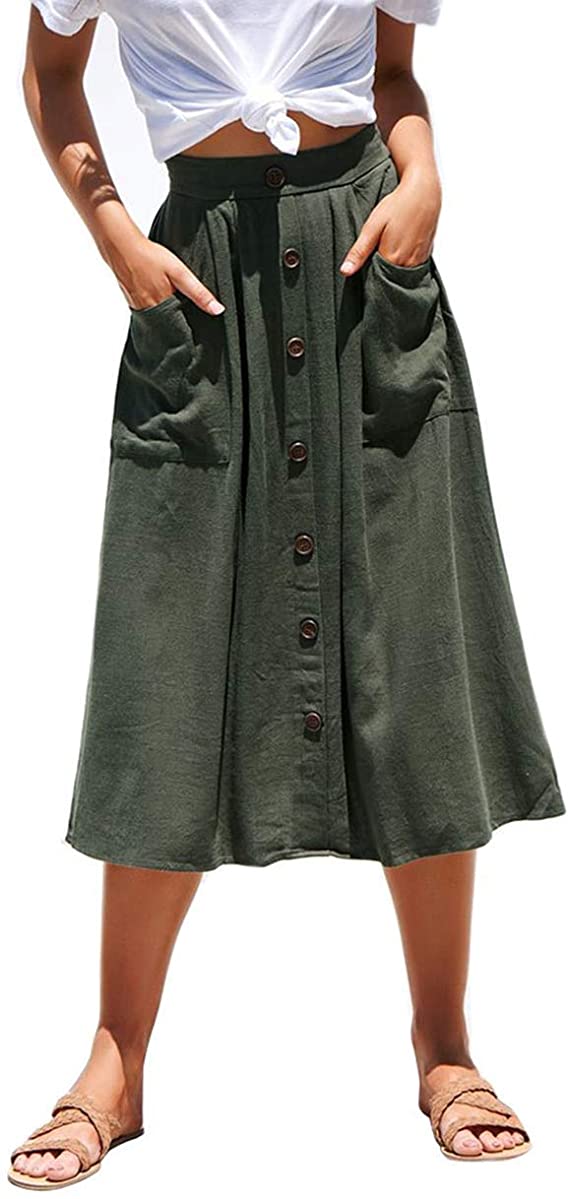 Azue A-Line Midi Skirt | Sizes S-XL
Azue Front Button A-Line Midi Skirt 
This green midi skirt is surprisingly cute and lightweight, making it a fabulous skirt for the heat and travels. The buttons are just for show, which I think is a good thing (no buttons to lose or break off!), and the waist is a pull-up design with an elastic waist in the back. 
How I wear it: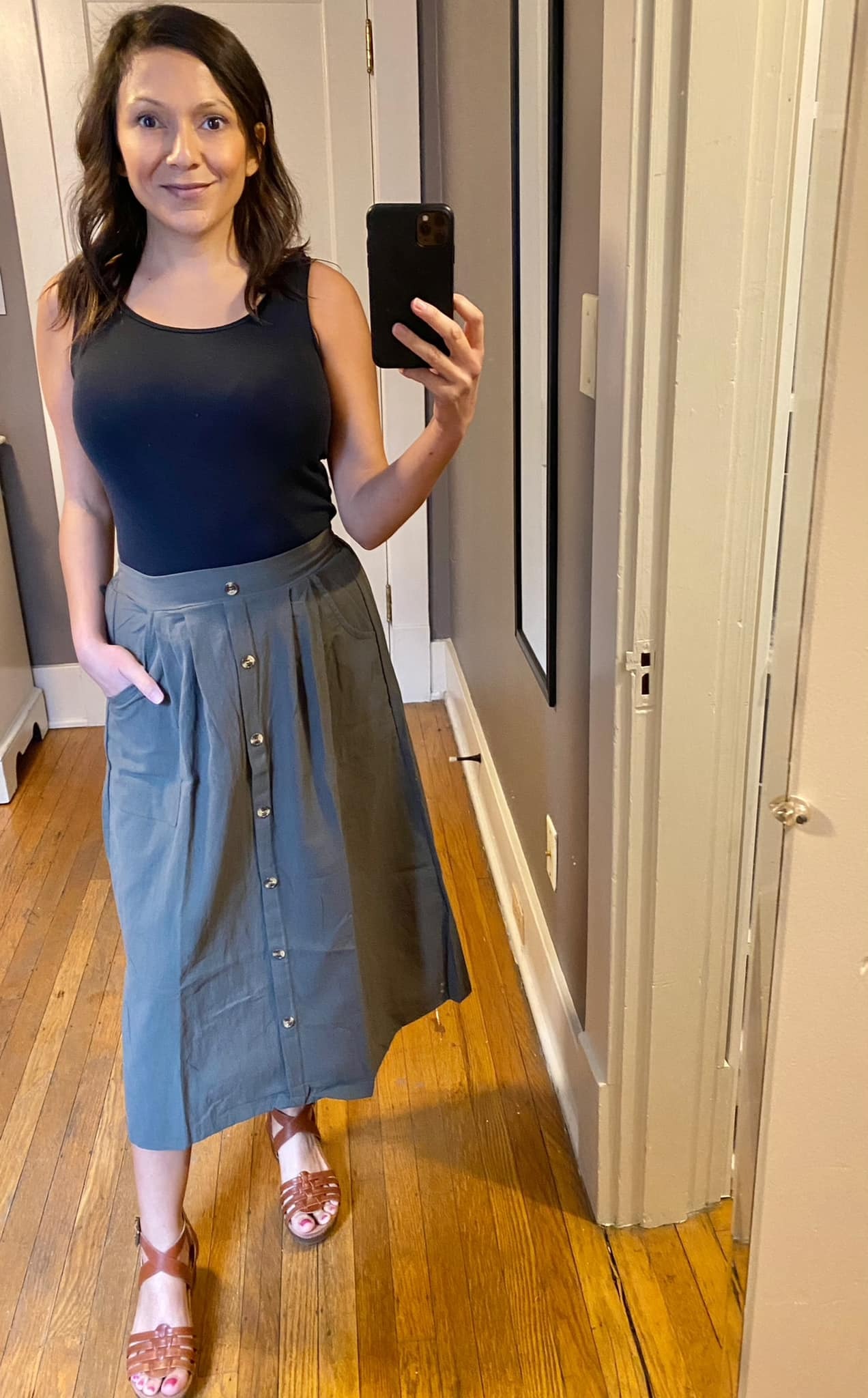 Azue Skirt, Amazon Essentials Tank, and Vionic Clarisa Wedges
I paired it with a black tank top which I bought last year. Because I ended up locking down in the USA without any advance preparation (or non-conference clothing), the tank was meant to be a temporary item just for staying at home, sleeping, or working out. The fabric and quality isn't the best, but works for my current uses. 
This skirt would be easy to dress up with a blouse and heeled boots or worn casually as shown. For reference, I'm 5'2", so it looks more like a maxi skirt on me, not a midi. If this were more suited to my style, I would totally keep it, but since I don't love wearing skirts, this will be a return for me. 
We've picked out some of the best travel skirts in a variety of lengths that are perfect for packing light!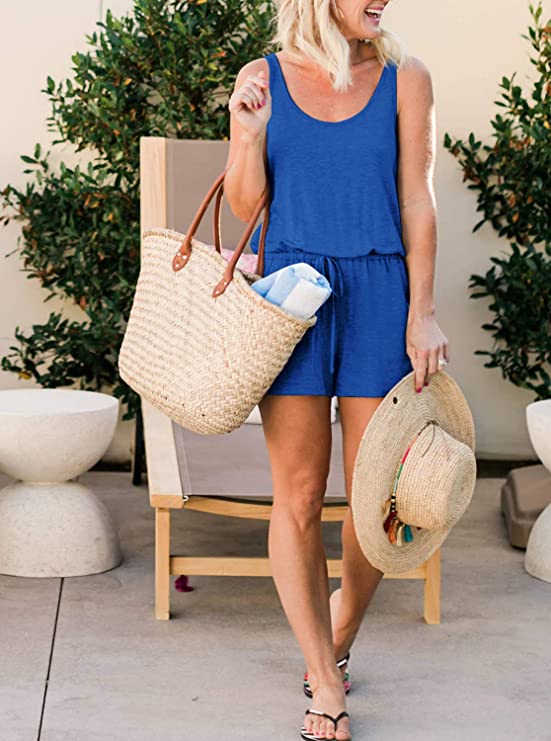 REORIA Romper | Sizes S-XL
REORIA Scoop Neck Sleeveless Rompe
r
The blue romper is a cute and comfy, easy-to-wear option I can use to run errands in, lounge around at home, or even use as pajamas.
How I wear it: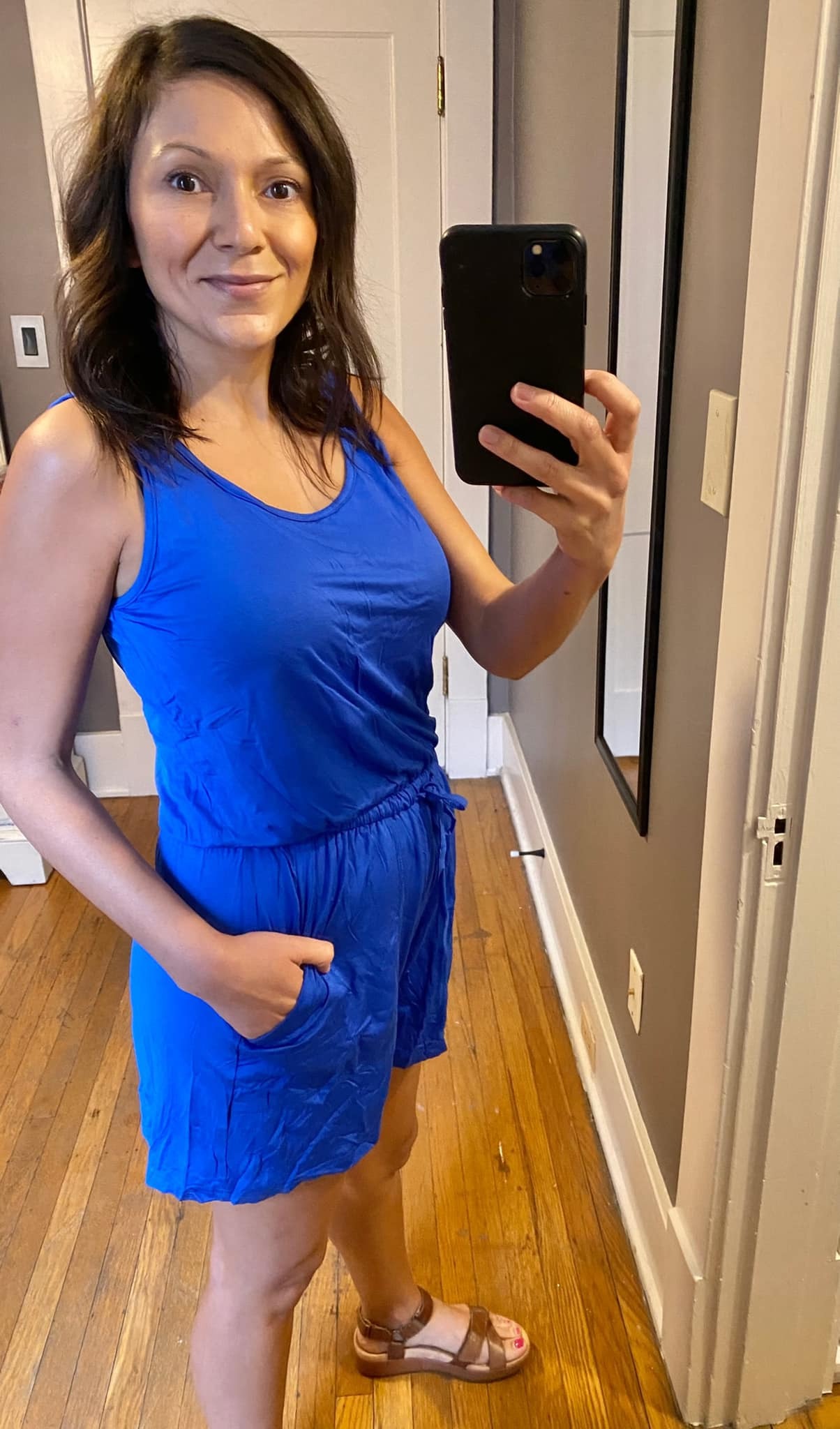 REORIA Romper with Vionic Tropic Wedges
This would look adorable with flip-flops or slip-ons. I'm still undecided if I'm going to keep this or continue looking for something that has a bit less of a casual design so that I can also dress it up in addition to using it for lounging in. I do love the color!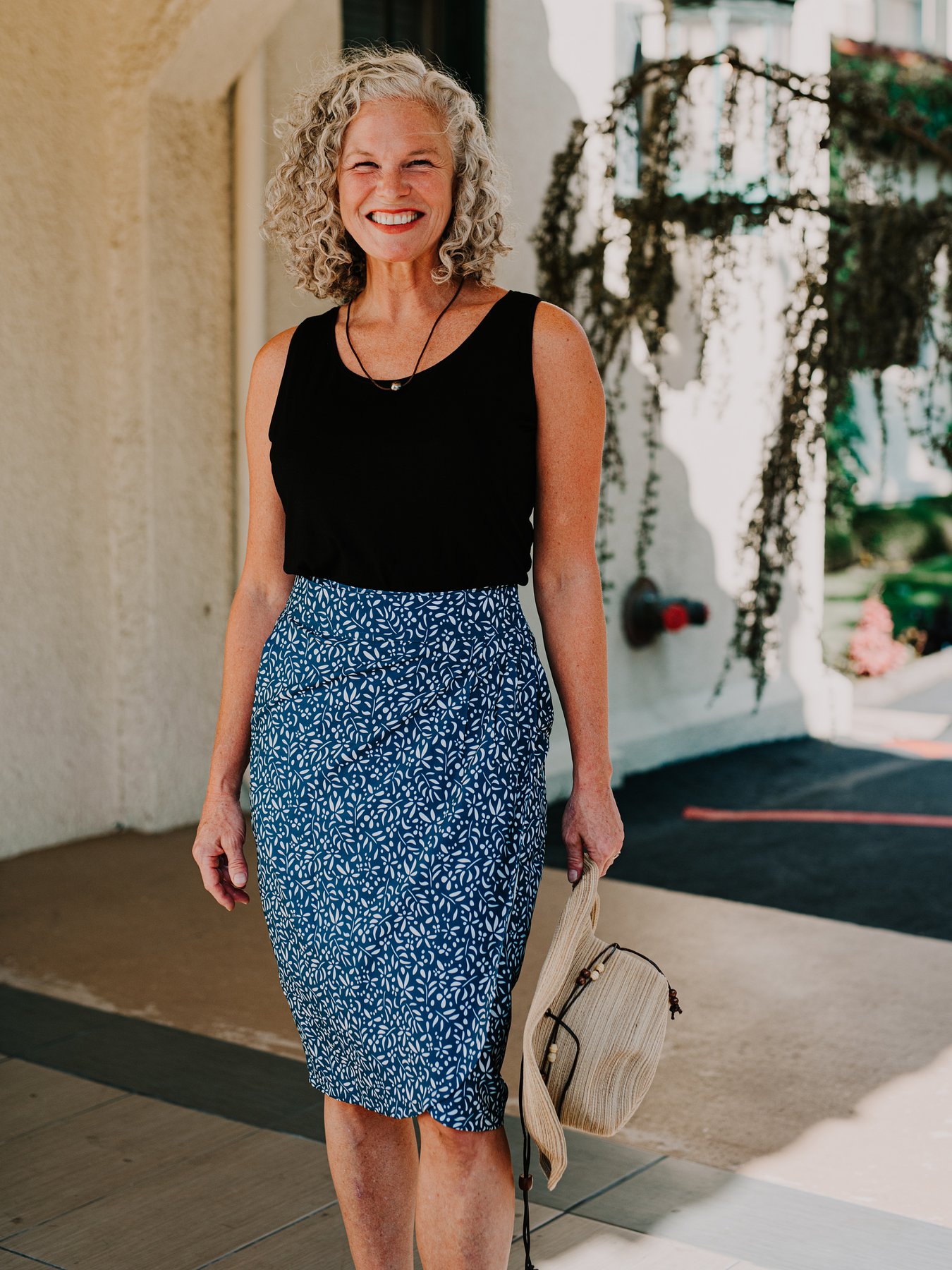 RipSkirt Hawaii Travel Skirt | Sizes XS-XXL
RipSkirt Hawaii Wrap Skirt
I really love their patterns! I bought the mid-length RipSkirt Hawaii skirt in Damask Midnight but haven't gotten it in the mail yet. 
Overall, it seems like a terrific pick for my return to Mexico, or future travels, as it can go from the beach to a stroll by the sea because it repels water yet still looks stylish. Update to come, so stay tuned! 
As I said, this is just part one, as I have more spring finds to share soon!
Our readers are always on the lookout for the best sun hats and we absolutely love all of their helpful recommendations!
---
I'd love to know, are there any spring/summer finds in your closet right now? Share in the comments!
---
For more shopping inspiration, please take a look at my travel fashion must-haves:
---
LIKE THIS POST? PIN THIS PIC TO SAVE IT!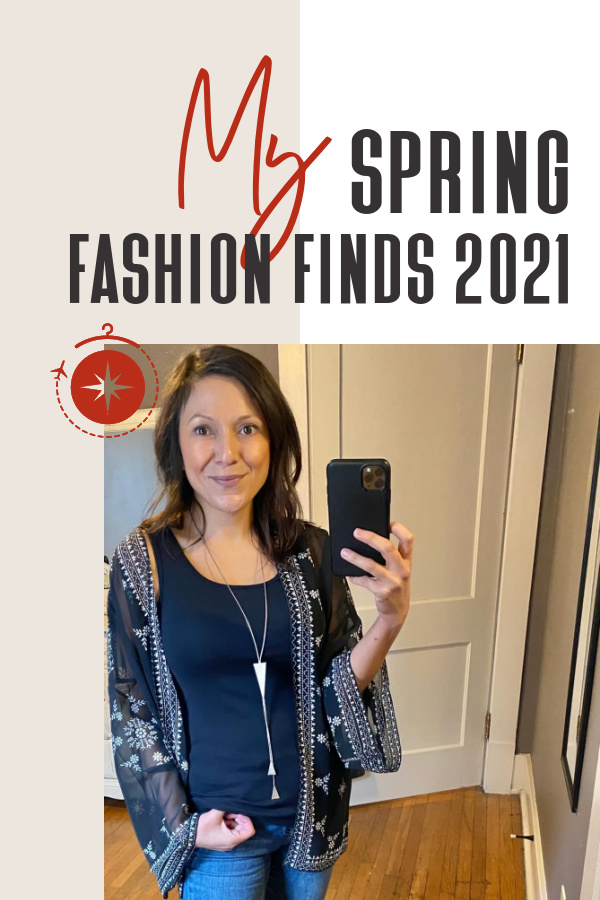 ---
We hope you liked this post on my spring fashion finds 2021. Please share with your friends on Facebook, Twitter, and Pinterest. Thanks for reading!
---