Support TFG by using the links in our articles to shop. We receive a small commission (at no extra cost to you) so we can continue to create helpful free content. As an Amazon Associate, we earn from qualifying purchases made on Amazon in addition to other retailers featured on the blog. Thank you, we appreciate your support!
Planning a trip to Israel? We've got packing tips for visits throughout the year so you're prepared with the right clothing. Keep reading to find out what to wear in Israel!
---
What to Wear in Israel
Written By: Kerstin Lühe & Lily Kim
---
Table Of Contents
The first time I was in Israel was the month of May. My mother and I were sweating and puffing under the heat and I remember the tour guide saying: "Oh, you're lucky, it's spring, so it's still cool. Good time for you to be here before it gets so hot in summer!"
We just looked at each other and thought: "What? Hotter than this?"
What this basically translates into is: it starts getting hot in April and lasts until around October. Israel has only two seasons: winter lasts from October (with possibly the heaviest rain) to March, although westerners may refer to "autumn" (September to November).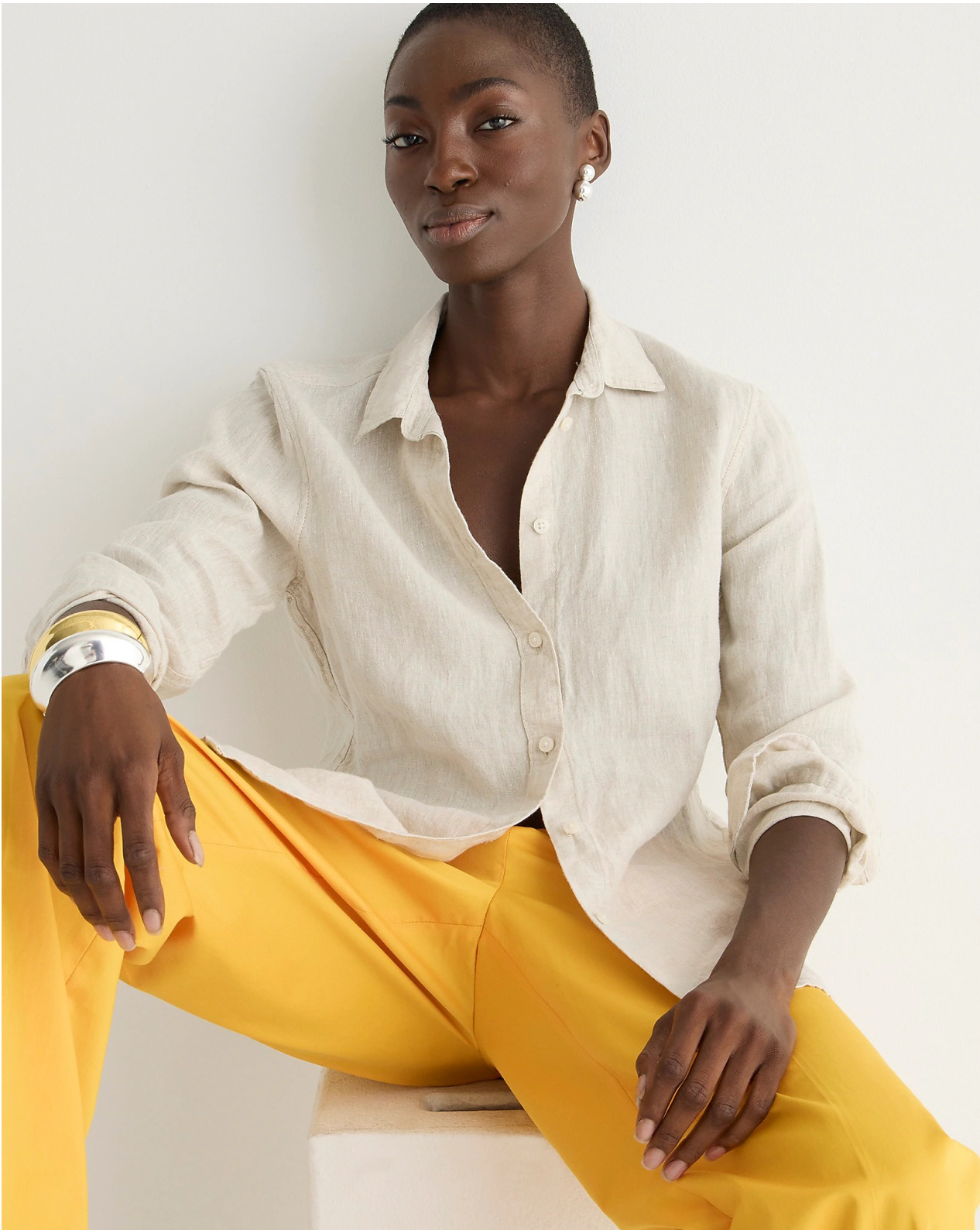 Shop J.Crew Irish Linen Shirt: Sizes Regular 00-24 | Petite 00-12 | Tall 2-16
Israel Clothing Style
Basically, the clothing style in Israel is casual and European, but it depends on where you're going. You can't go wrong with adding classy and stylish clothes to your travel capsule wardrobe.
It's hot in summer, so it's best to bring lightweight, short, and airy clothes for the cities, such as Tel Aviv, Haifa, or Jaffa. Choose fabrics like cotton and linen.
However, if you visit religious or memorial sites like the Wailing Wall (also known as the Western Wall), have a cardigan or scarf ready to cover your shoulders.
Learn what a capsule wardrobe is and why this system has helped thousands of other travelers!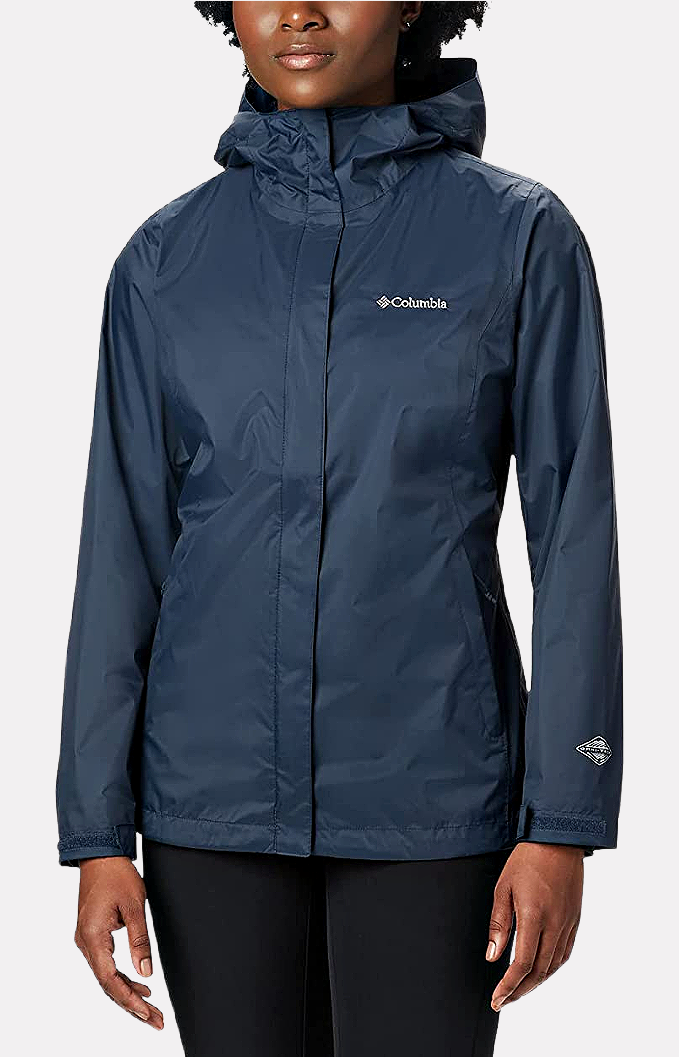 Shop Columbia Arcadia II Jacket: Amazon | Kohl's | Dick's Sporting Goods | Backcountry | Columbia
Sizes: XS-XXL Regular | 1X-3X Plus
What to Wear in Israel: Winter
The weather is generally comfortable in wintertime, with averages from 59-77ºF / 15-25ºC. At night, it can get down to 50ºF / 10ºC. The wet season starts in November and goes through April.
However, winter weather can be unpredictable. You might be surprised to learn that it usually snows at least once a year in Jerusalem! It also gets quite cold in the desert. Check the weather before your trip to see what kind of temperatures you'll encounter.
Depending on the forecast, many of the pieces recommended for the summer can apply in winter, with a bit of layering. Try a tank or t-shirt under a blouse, sweater, or tunic.
You can still pack in a small suitcase when traveling in the winter by using packing cubes to compress your clothing as shown in this video!
Here are our tips for cold weather layering!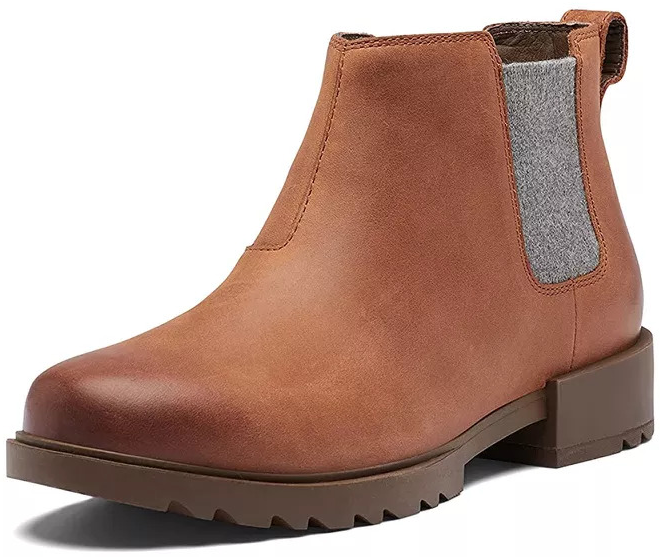 Shop Sorel Emelie II Boots: Amazon | Macy's | Zappos | Moosejaw | Sorel
Jeans are always a great option and never go out of style. Good quality leggings or versatile travel pants are also a good bet.
For the cooler winter weather, pack a cardigan and a jacket. You may or may not run into rain, but either way, it's a good idea to pack a waterproof jacket with a hood. If it does rain, it will likely be windy. Layer your tops under your jacket for more warmth.
Pack comfortable closed shoes for the winter. Waterproof or water-resistant pairs are a plus. As with all travel shoes, break them in well before your trip to avoid discomfort from lots and lots of walking!
Say hello to comfort and stylish shoes! These are our tried and tested reader recommendations for the world's best travel shoes! 
What to Wear in Israel: Summer
Summer is the peak travel season in Israel when tourists from around the world explore the country. Festivals run almost weekly throughout the summertime.
Start by reading these general tips on packing for summer travel:
Because locals enjoy holidays in the summer, plan your getaway in advance to beaches and tourist spots, which tend to stay sunny and crowded all season long.
Weather
In spring and summer, it's hot and humid. It's slightly cooler in the mountains (like Jerusalem and the Golan Heights), but in places like Eilat or the Dead Sea, it's even hotter.
The end of May to early September is the hottest period of the year. Try to keep your cool during those times; look for shady places and avoid sightseeing during noontime.
You'll also notice that the flora is much more abundant in the north than in the dry south.
The temperatures in spring are around 80-90°F; in the mountains, it's about 5 degrees cooler. In summer, temperatures can easily rise to 108°F. Jerusalem and the Golan Heights, north of Tiberias, will be a few degrees cooler. 
The Dead Sea is the lowest point on Earth, yet its daytime (unlike the cool nights) can grow as hot as 104°F.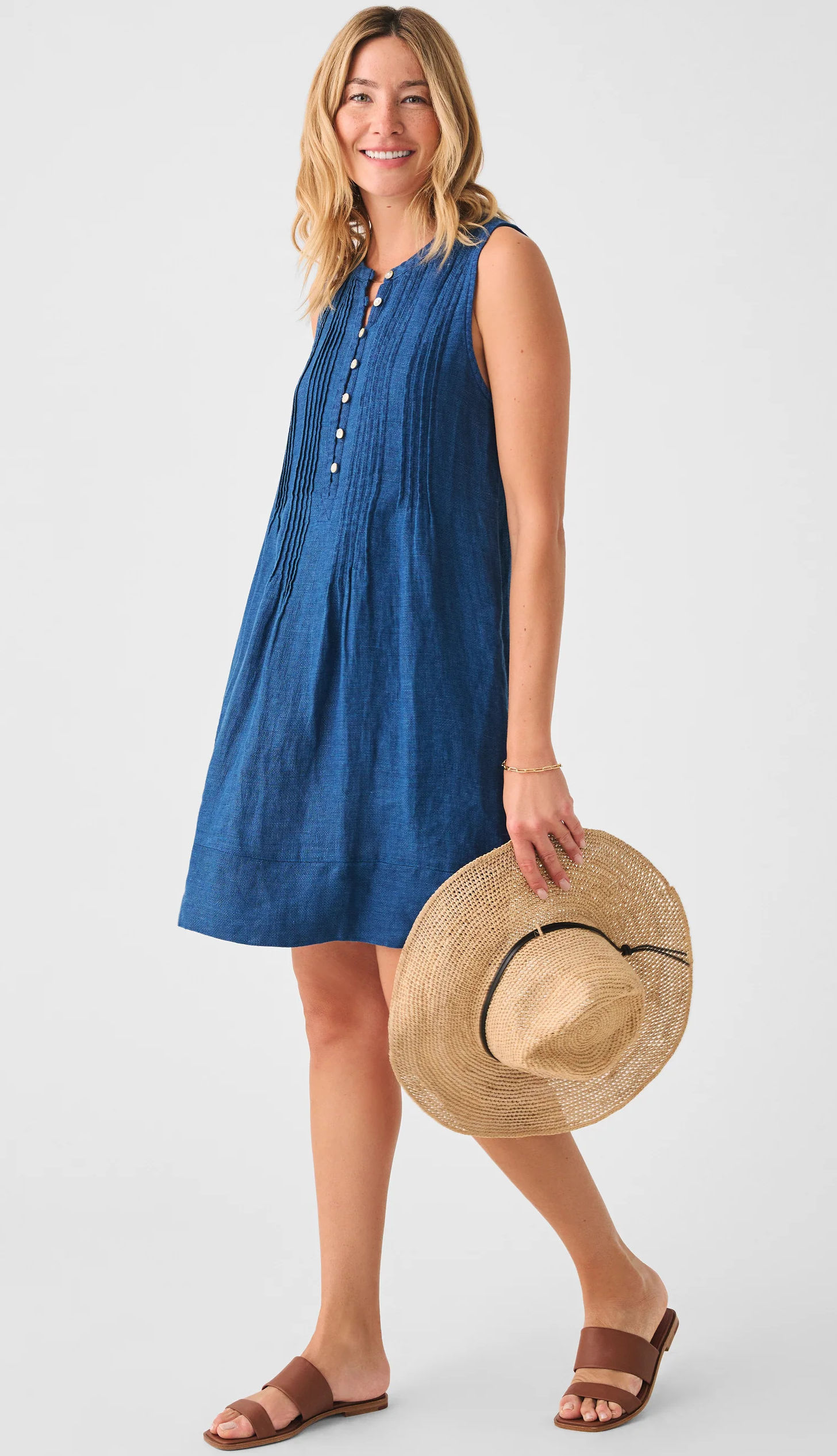 Shop Faherty Isha Dress: Nordstrom | Faherty | Bloomingdale's | Zappos (Sizes XXS-XXL)
What to Wear in Israel: Summer Days
Wear something airy and lightweight, anything that will keep you cool. Choose natural fabrics like cotton, linen, rayon, or jersey. Shorts, dresses, and skirts are great for the heat, too. Choose a lightweight shirt, blouse, or a camisole on top.
These are the best travel skirts by length: mini, midi, and maxi!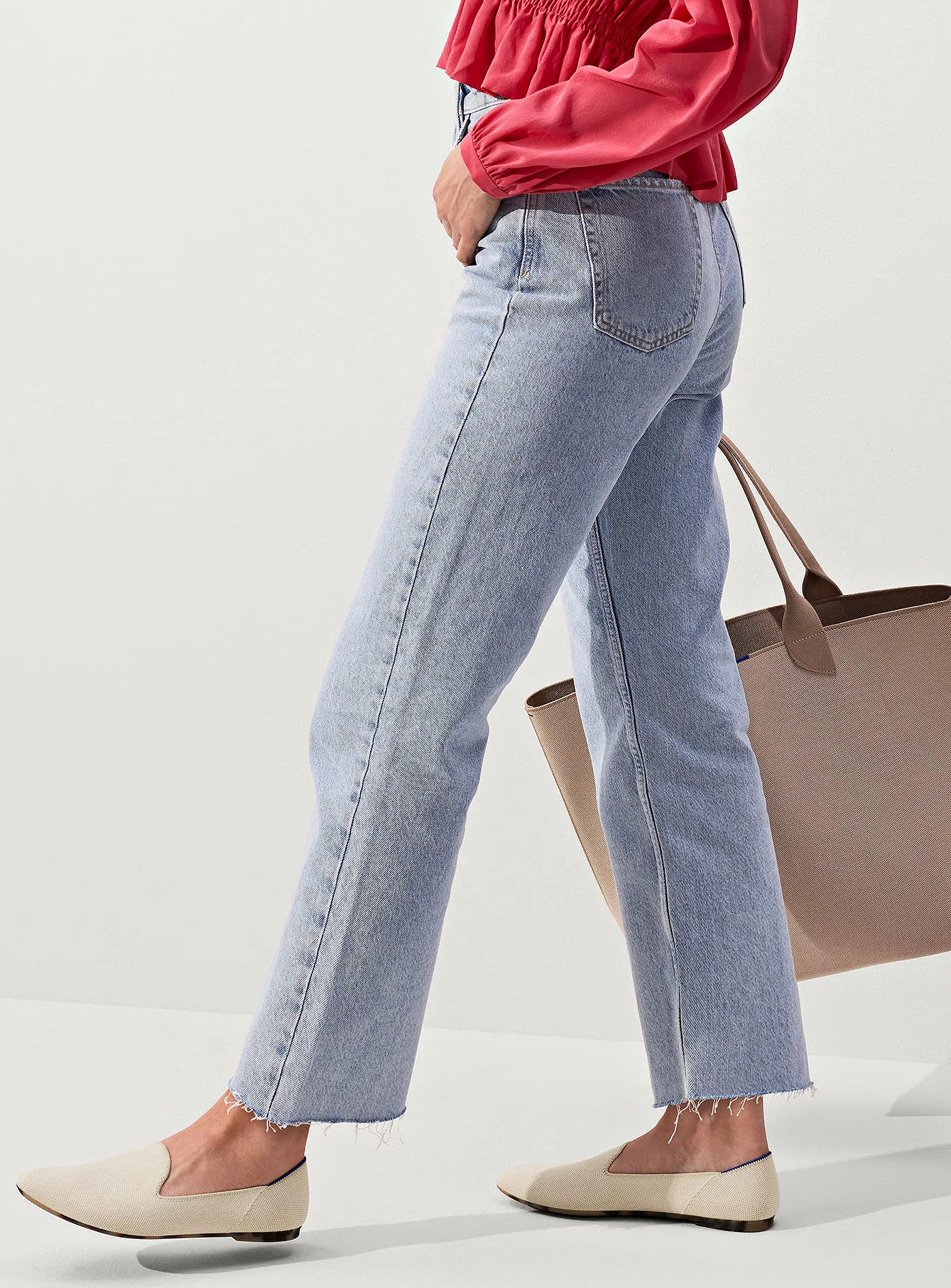 And always, always put on sunscreen, a hat, and sunglasses. I can't emphasize this enough!
If you plan on visiting the markets and want to shop for clothes, wear a camisole or a strapless top as there won't be many dressing rooms. In that case, you can just put the shirt or dress over your top and see if it fits.
For those long market days, wear light but durable shoes; you'll be walking a lot.
Check out these top loafers women LOVE that are both comfortable and stylish!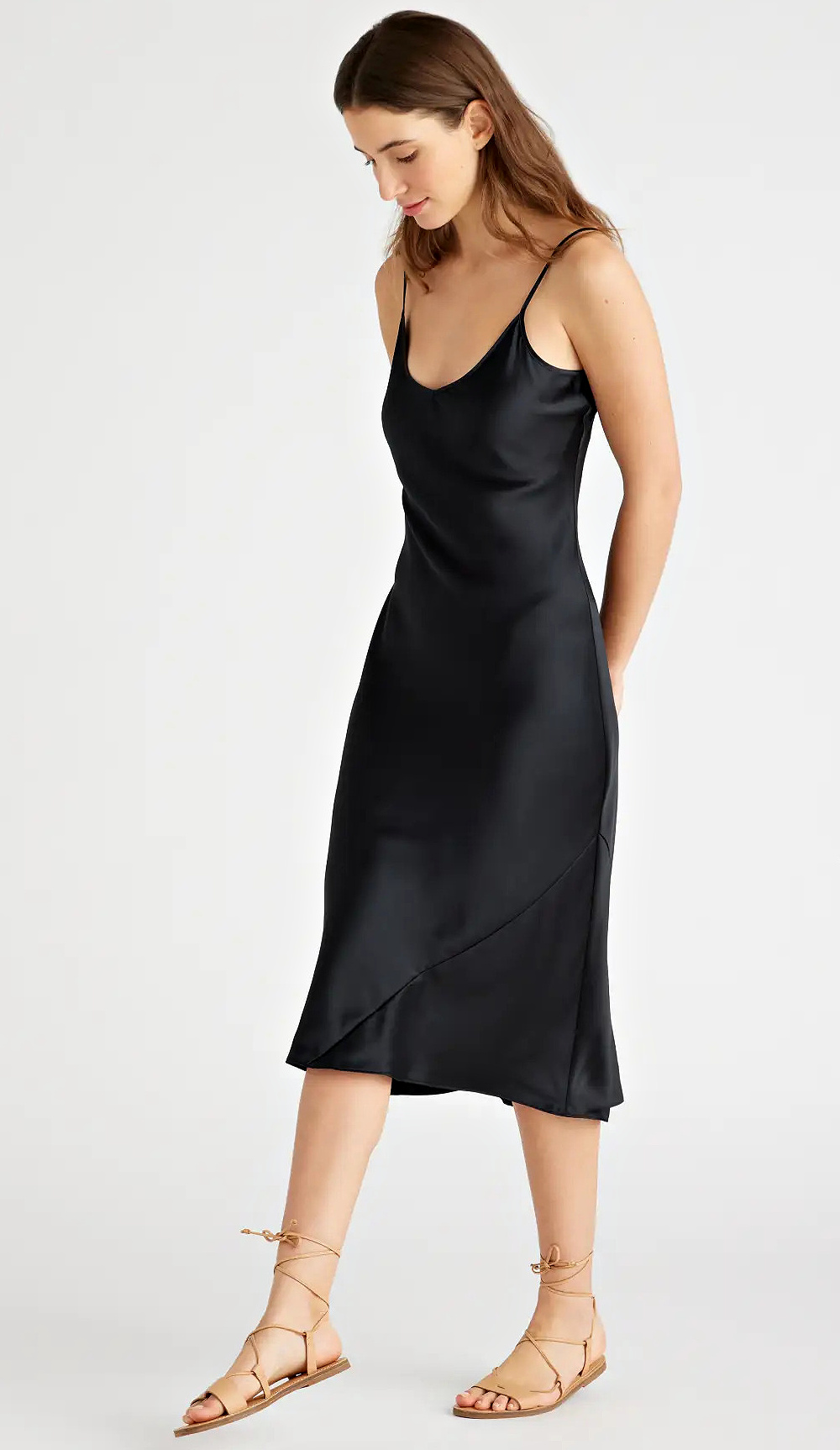 Quince Washable Silk Slip Dress | Sizes XS-XL
What to Wear in Israel: Summer Nights
Why not wear something fancy in the evenings? Although you won't have to – as even in restaurants there is no dress code, but young people like to dress up when they go out. There are plenty of clubs in the big towns and the young people like to party.
Pack your little black dress or your favorite summer dress and wear some nice sandals. Shoes with heels are only recommended in areas with no cobblestones, so watch out where you're going. You'll always be fine with a pair of fancy and flat sandals.
What are the best sandals for travel this summer? Find out!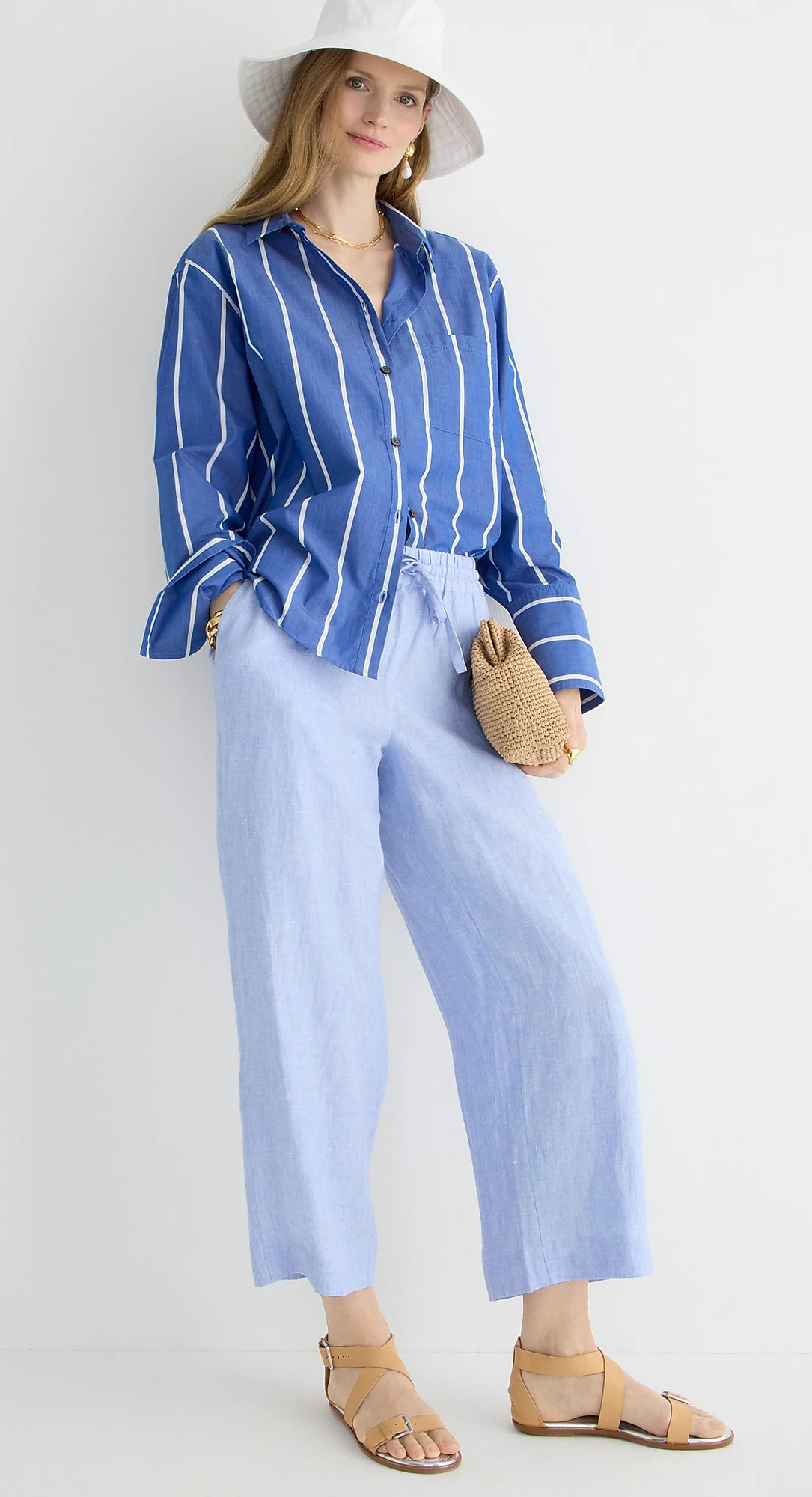 Shop J.Crew Linen Pants: Sizes Regular XXXS-3X | Petite XXS-L | Tall XS-XXL
What to Wear in Israel: Visiting religious sites
If you visit places like mosques, churches, and the Wailing Wall, avoid short skirts, shorts, and sleeveless shirts. Women are asked to cover their shoulders, knees, and chest.
Wear long, lightweight summer pants in the summer or jeans in the winter, then pair them with a top that covers your shoulders and your chest. Or you could easily go with a maxi dress plus a scarf around your shoulders if it's hot.
On top, you should have a scarf or lightweight cardigan ready, since some places may ask you to cover your elbows.
In some places, you might even be asked to cover your head as well. Some will have a scarf ready for you, but it's best to bring your own scarf along.
Tip: these layers can also serve as a protective layer when you visit restaurants or buildings with strong air conditioning.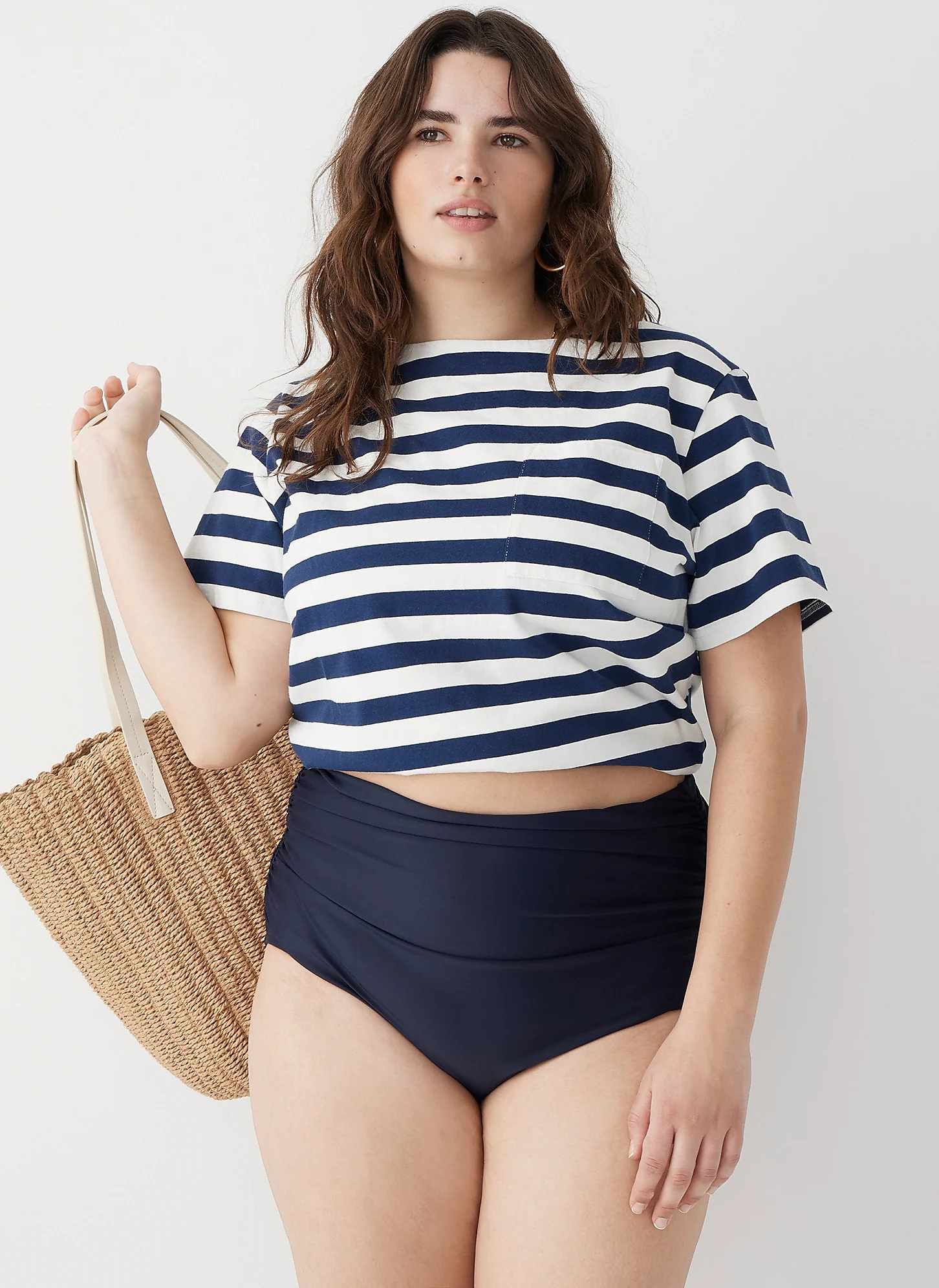 J.Crew Full Coverage Bikini: Top | Bottom | T-Shirt (Sizes XXS-3X)
What to Wear in Israel: Dead Sea and Eilat
If you're planning a few days in Eilat or the Dead Sea, pack your bikinis and swimsuits. Also pack something to read, as you won't be doing much but relaxing on the beach or in the water of the Dead Sea in that sweltering heat.
If you're in Eilat, bring snorkeling gear. It's the Red Sea and you'll be seeing plenty of colorful fish underwater! If you don't have your own gear, you can rent it. Consider packing a protective sun shirt or rash guard if you'll be spending a lot of time snorkeling the beautiful coral reef.
You can also swim in the Sea of Galilee or in the Jordan River. Those areas won't be as hot as in Eilat or the Dead Sea. Be sure to cool off with a Limonana, a popular drink in Israel that's made of crushed ice, mint, and lemon juice. Refreshing!
These are our favorite one-piece swimsuits and bra-sized swimwear!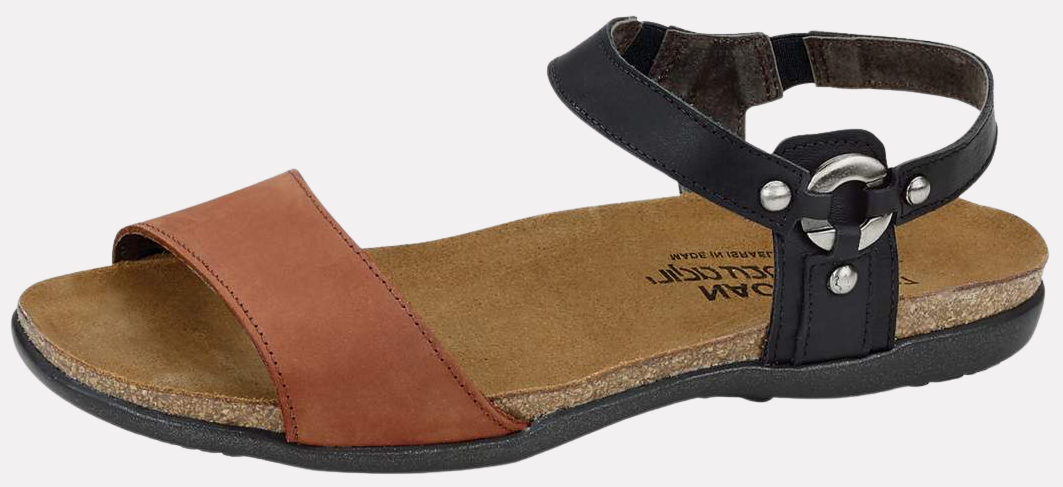 Shop Naot Sabrina: Amazon | Nordstrom | Zappos
Choose flat shoes like sneakers, flats, or sandals, because you'll be walking around a lot and many roads are uneven. Pack Band-Aids just in case your sandals or sweaty socks give you blisters.
Try to avoid cork sandals (like Birkenstocks), as they could be ruined by the saltwater—especially from the Dead Sea. You may want a sandal that can double as a water shoe to avoid scrapes. Naot Sabrina sandals are a popular choice among our readers!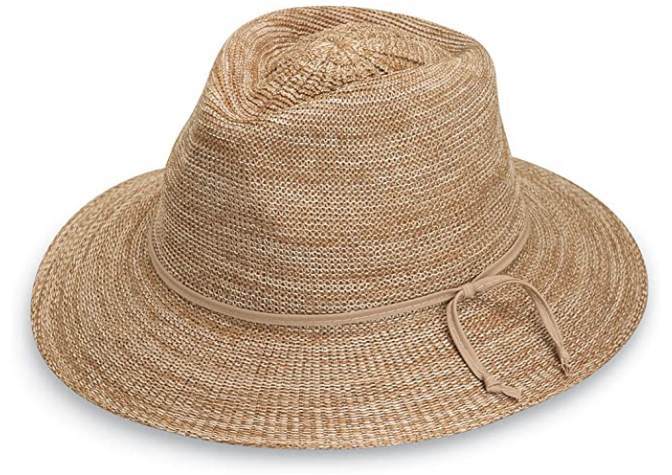 Wallaroo Victoria Fedora Packable Hat
Don't forget: sunglasses and hats are necessary year-round since the sun feels particularly intense from the beaches of the Dead Sea to Eilat. Polarized sunglasses to protect your eyes from the sun, a hat, and sunscreen (don't forget lip balm with SPF!). When visiting the towns and deserts, there isn't much shade to hide under.
Although each hotel provides beach towels, a large tote will be helpful to carry a beach blanket or towel (or to carry an umbrella in Jerusalem). You can't go wrong with an extra bag – especially for bringing home Dead Sea skincare products and souvenirs!
Wallaroo's sun hats are considered to be the absolute best by TFG readers for travel. Find out why!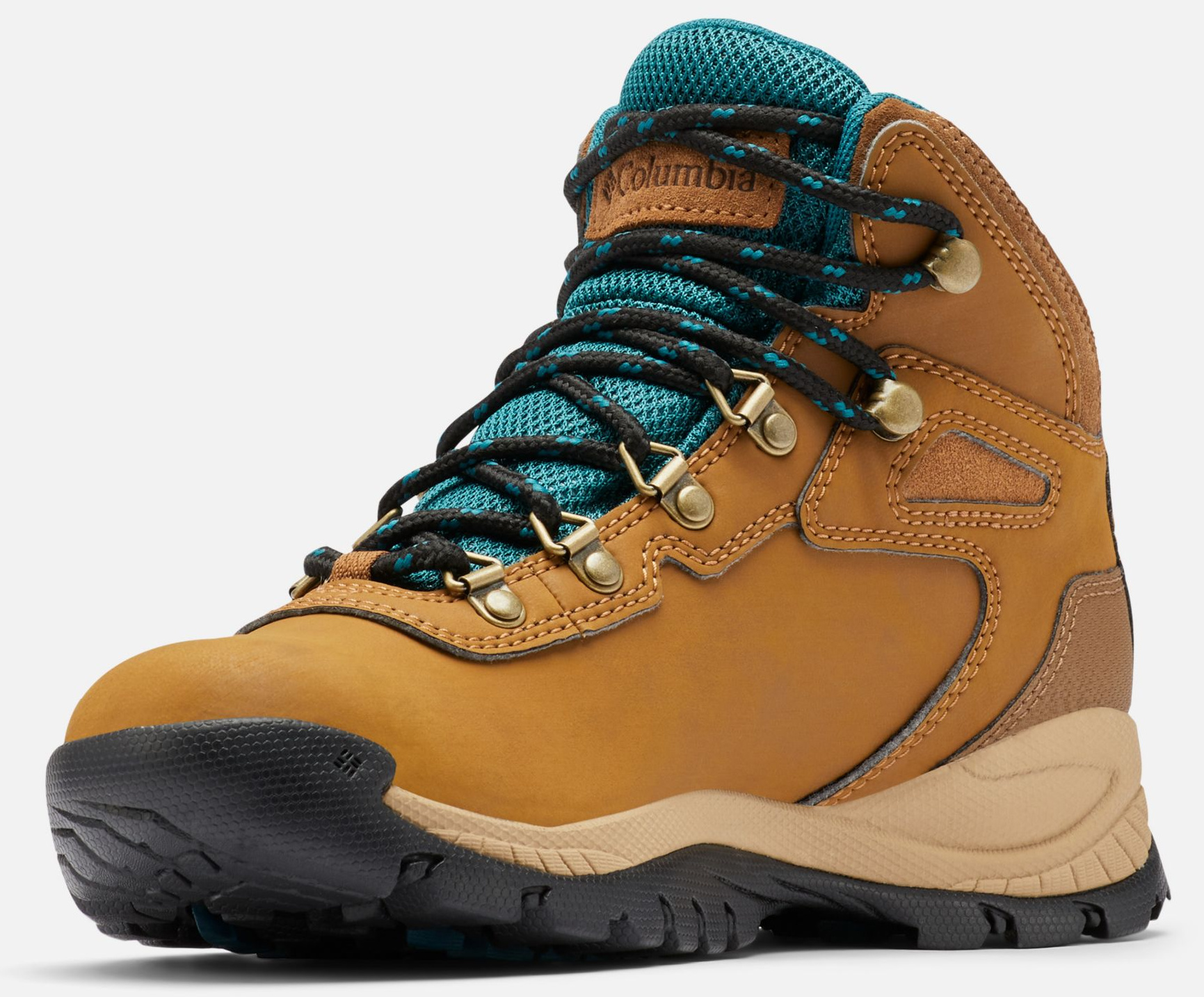 Shop Columbia Hiking Boots: Amazon | Columbia | Dick's Sporting Goods
What to Wear in Israel: Hiking
There are beautiful places to go hiking in the Golan Heights, Mitzpe Ramon, Galilee, and around Jerusalem. Be sure to wear good hiking shoes, as the hiking places are usually stony, sandy, and dry. Choose lightweight fabrics.
You may want to wear a simple tank top, but because of the location of the hiking trails, you'll be exposed to the sun at all times. Choose clothing that covers your skin. And use sunscreen!
---
What are your tips on what to wear in Israel? Please comment below!
---
For more Middle East packing tips, please read:
---
LIKED THIS POST? PIN THIS PIC TO SAVE IT!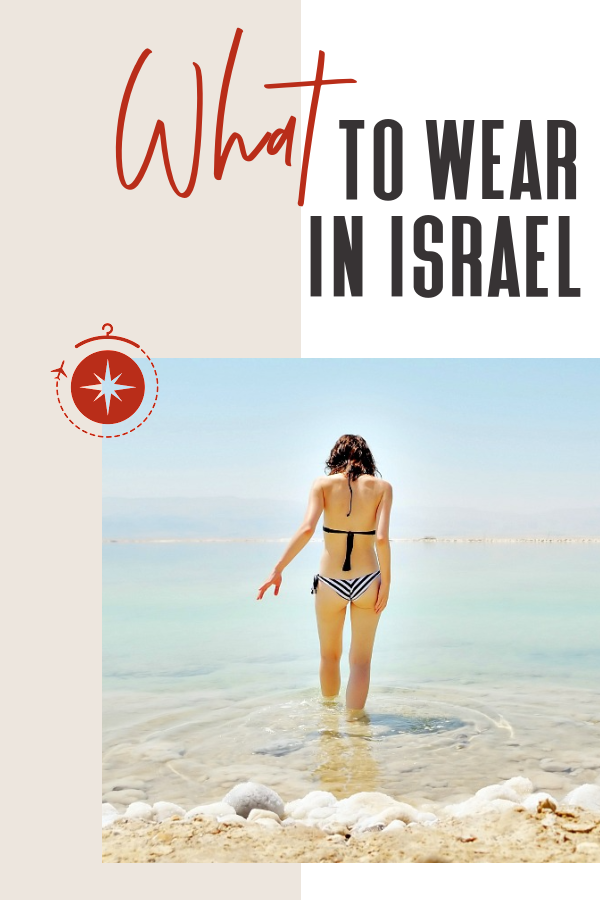 ---
We hope you liked this post on what to wear in Israel. Please share with your friends on Facebook, Twitter, and Pinterest. Thanks for reading!
---
Author Bio: Kerstin is a freelance copywriter and dive instructor from Germany and has spent the last three years chasing the sun in Asia, North America, and South America. She loves diving, has a sweet tooth, and is currently working on her copywriting business.
---
Author Bio: Lily An is a Canadian educator and Vancouver-born nature enthusiast. When she isn't working or traveling, she is likely to be skiing, diving, or mountain biking with her family. 
---