Support TFG by using the links in our articles to shop. We receive a small commission (at no extra cost to you) so we can continue to create helpful free content. As an Amazon Associate, we earn from qualifying purchases made on Amazon in addition to other retailers featured on the blog. Thank you, we appreciate your support!
Halloween is the best season for dressing up and there are a variety of exciting destinations around the world to participate in the fun festivities! Here are some of the best places to celebrate Halloween and what to wear in each location.
---
What to Wear for Halloween
Written By: Sebrin Elms
---
From trick-or-treating to summoning spirits, there are a lot of ways to celebrate Halloween around the world. If you're looking for a unique way to celebrate this exciting holiday, try visiting one of these exotic locations!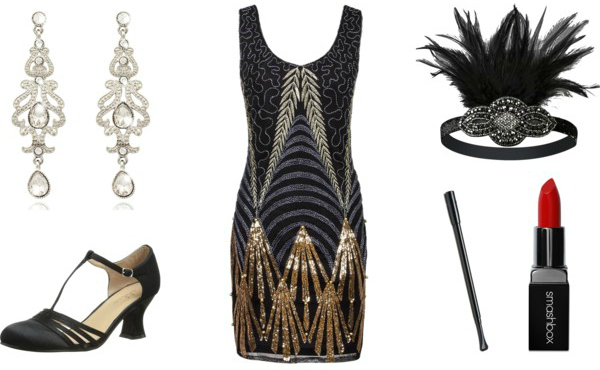 Earrings | Sandals | Dress | Headband | Lipstick
What to Wear for Halloween in the U.S.
Halloween in the United States is more of a party rather than a cultural celebration. You'll find the best costumes in the US are conversation starters. It could be a topical character from a television show, a political figure, a classic couple or a "sexy" something or other.
Just be sure to dress appropriately for the occasion. You don't want to wear a sexy costume when you take your children out trick-or-treating!
Versatility is the key to traveling light. Learn more in my guide!
In the U.S., there are a number of locations that serve as perfect Halloween destinations:
New Orleans, Louisiana
Full of historic murders and creepy voodoo, New Orleans, also known as "the most haunted city in America,"  is the perfect place to celebrate Halloween.
Halloween is, in fact, second in celebrations to the legendary Mardi Gras festival. In addition to haunted tours and spooky hotels, the city puts on plenty of parties around the French Quarter, making it a great Halloween destination.
Read our tips on what to wear in New Orleans!
Salem, Massachusetts
What better way to celebrate Halloween than in the place where the famous witch trials were held? Over 500,000 visitors come for the month-long Festival of the Dead.
You'll experience the traditional wicked fair and Witchcraft Expo and even interact with psychics, mediums, witch-doctors, and modern-day witches.
Read to find out tips on what to wear in Nantucket – a popular summer destination in Massachusetts!
West Hollywood, California
Looking for the country's biggest Halloween party? Look no further than the streets of West Hollywood! 500,000 people dressed in eccentric, complex, and outrageous costumes go bar-hopping along Santa Monica Boulevard where you can drink, dance, and watch live performances all night long. Don't be surprised if you see some celebrities here!
Read to learn about what to pack for California!
Sleepy Hollow, New York
The famed grounds of Washington Irving's legendary story is a great place to get into the Halloween spirit. For an entire month, you can enjoy haunted hayrides, live music, street fairs, parades and haunted tours. You can even visit the resting place of Washington Irving at the Sleepy Hollow Cemetery!
Planning a trip to the Big Apple? Follow the locals' lead on what to wear in New York City throughout the year!
Disneyland, California/Disney World, Florida
Staff and guests alike dress in elaborate, family-friendly costumes as they ride terrifying versions of their favorites rides (like the Nightmare Before Christmas Haunted Mansion and Space Mountain Ghost Galaxy).
The best part? You can trick-or-treat throughout the park at the Halloween Party, which is held 14 nights of the season.
Headed to Florida? Here's your Disney World Packing List for your next trip to the House of the Mouse.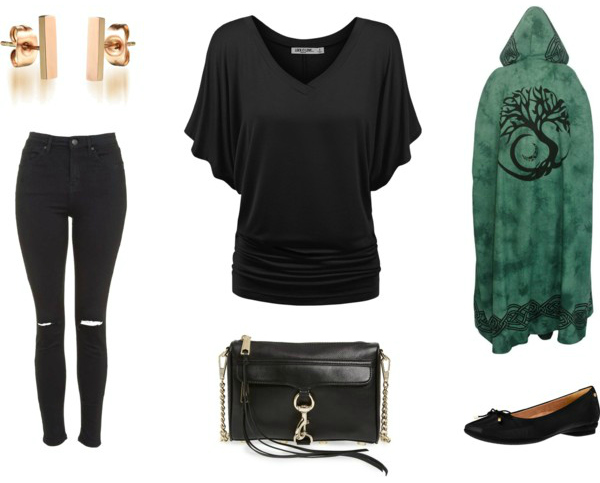 Earrings | Jeans | Top | Bag | Cloak | Flats
What to Wear for Halloween in Ireland
Ireland is one of the best places to celebrate Halloween, though the locals refer to this originally pagan holiday as Samhain (pronounced "sow-in). This family-friendly holiday marks the end of the fall harvest.
You can celebrate Samhain at traditional pagan festivals around the country or with parades, fireworks, ghost tours, haunted houses, workshops, scary movies and even a Dragon Safari at Banks of the Floyle Halloween.
Depending on the activity, you've got a plethora of options here. If you're planning to go Pagan this Samhain, try wearing all black and even a celebratory cloak (like the old Celtic witches). If you're planning to hit the Banks of the Floyle, wear any family-friendly costume you desire!
Are you looking for the ultimate Ireland packing list? We've rounded up everything you may (or may not) need if you're wondering what to pack for Ireland.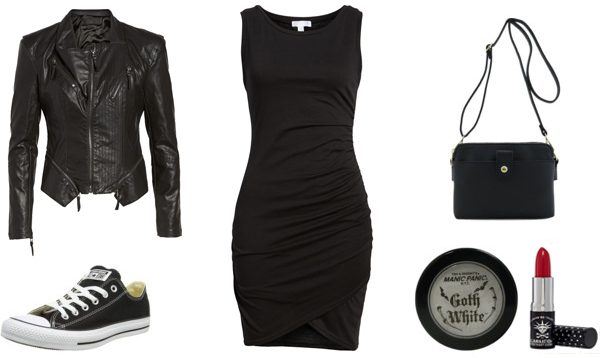 Jacket | Shoes | Dress | Bag | Foundation | Lipstick
What to Wear for Halloween in Romania
The Gothic architecture and ominous forests (plus its creepy reputation), make Transylvania the perfect Halloween spot. The country doesn't celebrate Halloween per se, but tourists travel every year to see the legendary Bran Castle, the birthplace of Dracula.
Visiting Romania for Halloween is pretty low-key compared to the cultural celebrations around the world. That means you can wear anything you want (especially if you want to blend in)!
But if you'd like to get a little weird with it, try dressing in comfortable, black attire and maybe wear some ghoulish makeup.
Check out our tips on what to pack for Romania making it all easier for you!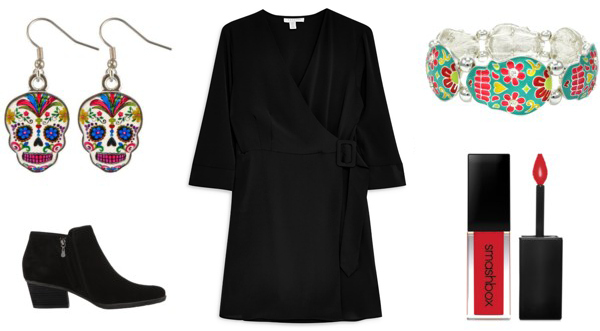 Earrings | Boots | Dress | Bracelet |  Lipstick
What to Wear for Halloween in Mexico
While the celebrations aren't the Halloween vibes you're used to, this is definitely a party you can't miss! Día de Los Muertos, or "The Day of the Dead," is a cultural celebration in Mexico where citizens connect with their passed loved ones.
The belief is that this time of year is when the veil between the real world and underworld is at it's thinnest, making it easier to speak to the dead! Each city has its own celebration from street festivals to cemetery gatherings to legendary chanting.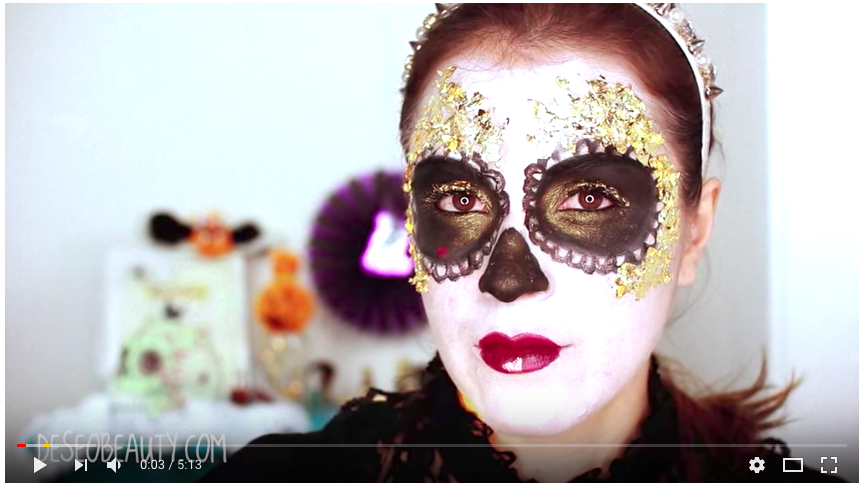 "Catrina" face painting tutorials on Youtube
In various places around Mexico, you'll see a lot of gothic, baroque attire and traditional "Catrina" skull face painting. "La Calavera Catrina" means "The Elegant Skull" and has gained popularity around the world. (Watch this Youtube video to see what it is.)
However, you won't see a lot of tourists dressing in this fashion. If you want to join in on the fun in a subtle way, dress in all black with some bones (fake, of course) or skeleton accents, like a bracelet or necklace.
Read to find out what to wear in Mexico so you can look stylish and feel comfortable!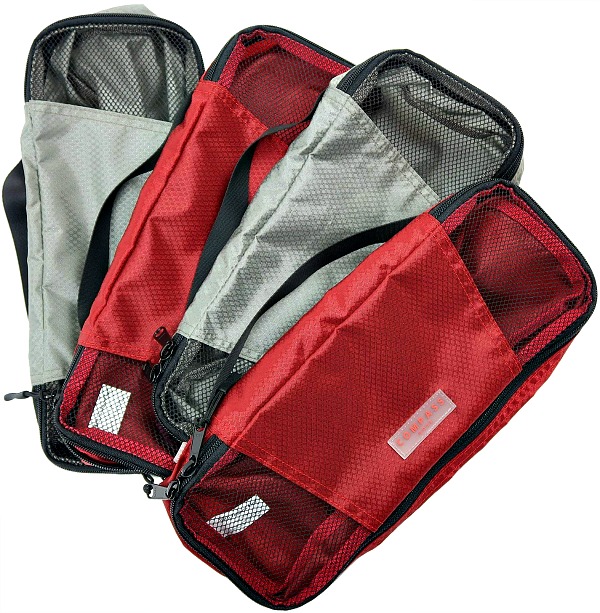 Packing For Your Halloween Trip
Once you've chosen all your Halloween essentials, use packing cubes and other luggage organizers to organize and compress your clothing tightly to make the most of less space.
There are a variety of packing organizers ranging from compression sacks to packing cubes to ziplock bags. Personally, we like using these packing cubes and our readers agree. They've helped millions of our readers travel carryon only!
Watch the packing tutorial on Youtube!
We put together a five-part YouTube series showing you the different methods to use packing cubes. If you use this specific packing strategy, they can also compress your belongings. This is the secret to traveling carryon only!
Buy Compass Rose Packing Cubes here!
---
What are your tips for Halloween-Inspired travel destinations? Comment below!
---
For more packing tips, please read:
---
LIKED THIS POST? PIN THIS PIC TO SAVE IT!
---
I hope you liked these tips on Halloween-inspired travel destinations. Please share with your friends on Facebook, Twitter and Pinterest. Thanks for reading!
---
Author Bio: Sebrin is a newlywed, flower child, and travel-obsessed blogger. When she isn't traipsing the globe with her husband, you can find her curled up with a book, snuggling with her kitty babies, or binge-watching Netflix. Follow along her travels on her blog or instagram!
---