Support TFG by using the links in our articles to shop. We receive a small commission (at no extra cost to you) so we can continue to create helpful free content. We earn from qualifying purchases made to the featured retailers. Thank you, we appreciate your support!
Whether you're headed for the city, countryside or mountains Romania is a beautiful country with an abundance of sights to see. Local fashions, weather and activities can play a huge factor in deciding what to pack – so here are some tips to make it all easier for you!
---
What to Wear in Romania
Written By: Maggie Fogg and Kelly Ella Maz
---
Situated in the southeastern part of Europe, Romania is one of the most perfect European countries to explore by road-trip with long winding routes weaving in between and around picturesque mountain landscapes.
If you are fortunate enough to visit in the fall and winter, you'll find a climate that's temperate and very similar to the East Coast of the United States, full of colorful foliage reminiscent of New England.
Romania Clothing Style
When it comes to fashion, Romania have the traditional Eastern European flare. Beautiful sweeping duster jackets will be equally as popular as tailored and trendy leather bombers. The unifying factor tends to be their stylishness and figure-skimming cuts.
In fall and winter, bundle up with cozy, yet distinctive pieces that have a fashion-forward nod. An easy way to do this is by choosing a winter jacket in an alternative color, like a rich berry hue. Unique fashion details are common, and appreciated within the country's style.
In general, layering is key any time of year in Romania. This country gets four distinct seasons, so there's a chance it could be both warm and cold during your time there.
Also, keep in mind that Romania, in general, is not as wealthy a country as other European destinations. There are far fewer cocktail bars and fancy restaurants when compared to cities in France, Italy, and England, so your clothing choices should reflect that.
Tip: ankle jeans are an easier way to get this look without a trip to the tailor.
Romania Fall and Winter Weather
Fall in Romania is dry and cool, and by winter it gets very chilly. The average temperature in September and October is 64° Fahrenheit, but drops to 48° F by November, 34° Fahrenheit in December, and 36° Fahrenheit in January.
To help you make the most of your winter gear and limited luggage space, start by reading these guides when packing for cold weather travel:
Coat | Hat | Tights | Top | Skirt | Boots | Shirt | Backpack | Longsleeve | Pants | Scarf | Vest | Earrings
What to Wear in Romania in Fall for Sightseeing
Fashion in Romania can veer more on the minimalistic side, and particularly for fall, you'll most commonly see darker color palettes like blacks, greys, navys and deep reds.
Dressing for sightseeing, depends entirely on what you have planned. If you're hiking the mountainside or have a longer day walking planned, stick to a stylish pair of tennis shoes or a hiking boot, with comfortable jeans or leggings and layering garments such as a long sleeved t-shirt, down vest and knit scarf.
However, if you'll be touring by car and stopping to explore city streets and markets, dress a little more stylishly. Skinny black jeans and a oversized shirt with black booties would be perfect.
Find out why leather boots are some of the best travel shoes to Europe!
What to Pack for Romania in Fall: Essentials
Given that fall weather can be unpredictable and equally full of sunny, unseasonably warm days, as dreary ones that will have you chilled to the bone, pack lots of layering pieces.
Jackets – A leather jacket, light wool pea coat or duster jacket and a shearling vest would be great bets
Shoes – A hiking shoe or stylish runner is a great bet, as well as flat boots or loafers for daytime. Pack a pair of heeled booties for evenings, particularly in the cities.
Accessories – Chunky knit scarves and beanies will be everywhere – or try a felt hat. For bags, a chic leather backpack is versatile and still very stylish.
Clothing – Pack a mix of casual, comfortable pieces, like tights and long-sleeved t-shirts, as well as dressier pieces with a cool flare, like patterned tights or a lace blouse.
Find out why and how to wear a leather jacket on your next trip!
Sweater | Jeans | Top | Longsleeve | Beanie | Earrings | Bag | Dress | Pants | Jacket | Scarf | Boots
What to Wear in Romania in Winter for Sightseeing 
Cozy knits will also make a prominent appearance in the form of scarfs, oversized pullovers and chunky wrap sweaters.
Pack sweaters with pretty details like pom-poms or embroidered details that can be paired easily with a stylish pair of jeans or a comfy pair of black jeggings.
For evening, an elegant or sexy blouse paired with trousers or a skirt is on point for Bucharest with an edgy pair of earrings.
These are the best leggings for women that travel!
What to Pack for Romania in Winter: Essentials
Winter is chilly, chilly, and did we say chilly? Pack for a traditional winter and bring knits, warm accessories, and layers.
A down puffer jacket that is rain-resistance and has a proper hood
Flat waterproof boots that are comfortable for walking around
A knit beanie and blanket scarf are cozy essentials. Dress up daytime and evening looks with a modern or edgy twist with a distinctive purse and a versatile and bold pair of earrings that you can pair with a variety of looks
An assortment of knit sweaters and dresses paired with jeans
Find out the most stylish and practical best down jacket for your cold weather travels!
Romania Packing Don'ts
Leave the cocktail dresses at home, and opt for something more casual for evenings. Jeans and boots in the winter and fall will be an acceptable outfit anywhere you go for dinner.
If you want to pack one dress, make it a classic black dress that can be dressed up or down depending on where you go.
Likewise, leave the jewels at home. No need for your high-end jewelry collection here; just pack a watch and some moderate-priced costume jewelry to add style to your outfits. You'll also find plenty of women's accessory shops where you can buy new (and very affordable) jewelry during your travels.
Lastly, a minimal number of shoes are required in Romania. Why? Because there is a huge amount of shoe stores on every street! We're talking high quality, leather shoes that are sold at rock bottom prices.
Pack only the essentials when it comes to footwear, and treat yourself to some new pairs while you're traveling. Trust me, at prices this low it will be hard to resist.
Romania Shopping
As mentioned, shopping is inexpensive in Romania, especially when it comes to boots and jewelry. If you're visiting Bucharest, shopping is a must, as it's Romania's shopping capital. Along with large malls, you can also find beautiful flower markets, arts and craft stores, and antique shops with amazing and historical items at low prices.
Be wary of some souvenir shops, as many of them sell items that are actually made in China. Instead, shop at the stores at the Peasant or Village Museums, which offer genuine Romanian arts and crafts.
Romania Luggage Tips
So the hard part's out of the way; after much turmoil you've finally perfected your travel wardrobe and created a chic capsule collection – now it's time to get packing! Which luggage will work best for you?
Depending on how many days or weeks you're traveling, you may want to use packing organizers, which allow optimum use of the space in your luggage, keeping everything organized and in place during your travels, and making the task of unpacking and repacking simple and stress-free.
As you're headed to fashionable Europe, use an equally stylish carry-on, such as the Osprey Ozone, which is a personal favorite. Keep in mind that most of Europe's budget airlines have a carry-on bag allowance of 55cm x 40cm x 20cm. Always check your airlines individual baggage rules and regulations in advance.
Accommodations
Airbnb is great for accommodation in Romania. Sign up here for a free $40 credit!
I prefer to book "the entire home" instead of opting for shared accommodation on Airbnb. Aside from safety, I also like to feel like I'm living in the destination. It's a small taste of local life plus you get more amenities than you would at a hotel such as a kitchen and washing machine.
Read these Airbnb tips for more info!
If you prefer the convenience and comfort of a hotel room, I like using both Agoda.com and Hotels.com. Tip: Hotels.com gives you a free night for every ten nights you book!
For hostels, we recommend Hostelworld and Hostelbookers. Always read the reviews before booking to get the best idea if the hostel is right for you. Some are quiet and family friendly while others are known for their party atmosphere.
Not sure about staying at a hostel? Read this.
Romania Transportation
Most cities in Romania have reliable public transportation, including buses, trams, trolleybuses, and maxitaxis. Bucharest also has an underground metro.
There are kiosks and newsagents all around the cities that let you purchase tickets. Trains are known for being slow, so unless you're traveling across the country and don't want to fly, I'd avoid them.
Unlike many Western European countries, taxis in Romania are fairly cheap. Keep in mind that Romanian law requires drivers to post their rates on their doors or window screens. If you don't see this listed anywhere, don't use this taxi.
What To Do in Romania
When visiting Romania in the fall, you must visit Bran Castle in the region of Transylvania. This is the castle frequented by Vlad the Impaler, the bloodthirsty leader that Dracula was based upon.
You can tour inside the castle and even visit over Halloween for a party held on the grounds. During this time, the town of Bran hosts a festival and outdoor fall market for tourists. The countryside during this season is a perfect blend of fall colors during the day, and spooky mist at dusk and dawn.
When visiting Bucharest in the winter, visit one of the many Christmas markets, full of mulled wine, traditional Romania food and artisanal market finds.
If you're visiting before or after the holidays, try an outdoor ice rink or a stroll through old town, where you'll find many trendy bars and bistros to enjoy.
---
What are your tips on what to wear in Romania? Please share in the comments!
---
For more Europe packing list, please read:
Suggested travel resources:
---
Hope you liked this post on what to wear in Romania. Please share it with your friends on Facebook, Twitter, and Pinterest. Thanks for reading!
---
Author Bio: Maggie Fogg is a full-time traveller and writer. She left Toronto with a one-way ticket to Spain and has been making her way around the globe ever since. Currently, you can find her dancing and hiking her way around South America. Follow Maggie on Instagram.
---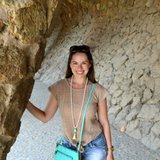 Author Bio: Kelly Ella Maz is a travel writer from Canada. Her passion for travel and worldwide experience led her to starting her own travel planning business and blog. She's currently living in Barcelona where she spends her days on the beach and her nights at local tapas bars. You can follow her travels at KellyEllaMaz.com.
---