Support TFG by using the links in our articles to shop. We receive a small commission (at no extra cost to you) so we can continue to create helpful free content. We earn from qualifying purchases made to the featured retailers. Thank you, we appreciate your support!
Wondering what to pack for Hawaii? Here's a sample Hawaii packing list to help you prepare for your vacation!
---
What to Pack for Hawaii: Packing List
By: Rachel Campbell
---
Table Of Contents
The Hawaiian Islands are a dream vacation for many, and for good reason! With stunning white sand beaches, beautiful coral reefs teeming with schools of tropical fish and brightly colored coral, lush mountain backdrops, inviting resort pools, and tasty dishes served beachside, it's hard to go wrong.
And we've got the insider tips on what to pack for Hawaii! Along with our own first-hand experience, we interviewed fashionista Erika Hollweg, who attended university in Honolulu for 4 years, and Sheila Beal, a Hawaii vacation enthusiast who shares award-winning travel advice on her website Go Visit Hawaii. Sheila travels to Hawaii 2-4 times per year to stay up to date on all the latest trends that Hawaii vacationers want to know to help you decide what to wear in Hawaii.
Start by reading these general tips on packing for summer travel:
Even though there's a lot to see and do on the islands, you'll find that you don't need much on your Hawaii packing list, so your favorite carryon is really all you need!
Tip: The key to traveling lights to create a capsule wardrobe, which can easily fit into your carryon with the help of packing cubes!
All together, there are 5 main Hawaiian Islands that are popular with visitors; the most popular are the main hub of Oahu (where you'll most likely fly into) the grand island of Hawaii, more commonly referred to as The Big Island, Maui, and then the beautiful Kauai.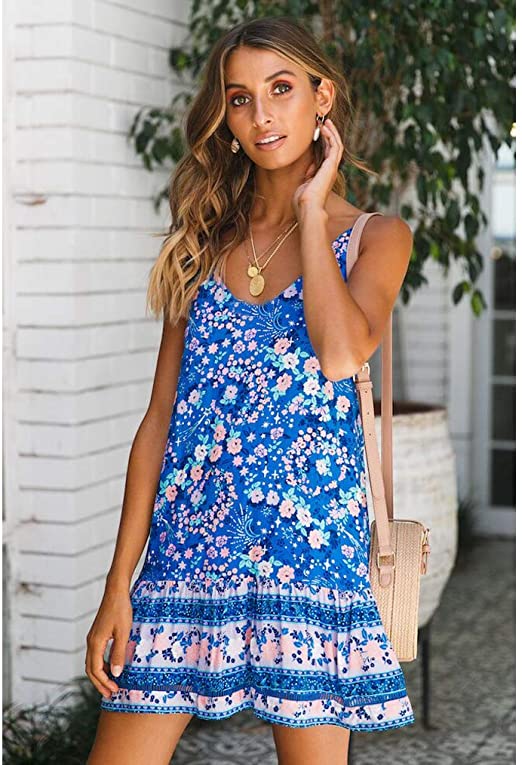 Qearal Boho Floral Printed Summer Dress
Hawaii Clothing Style
When you're planning what to pack for Hawaii, choose clothing that's casual and comfortable. The islands invite you to relax. That attitude spills over into clothing for both locals and visitors. Flip flops are a staple in this chilled out paradise.
Check out my favorite flip flops!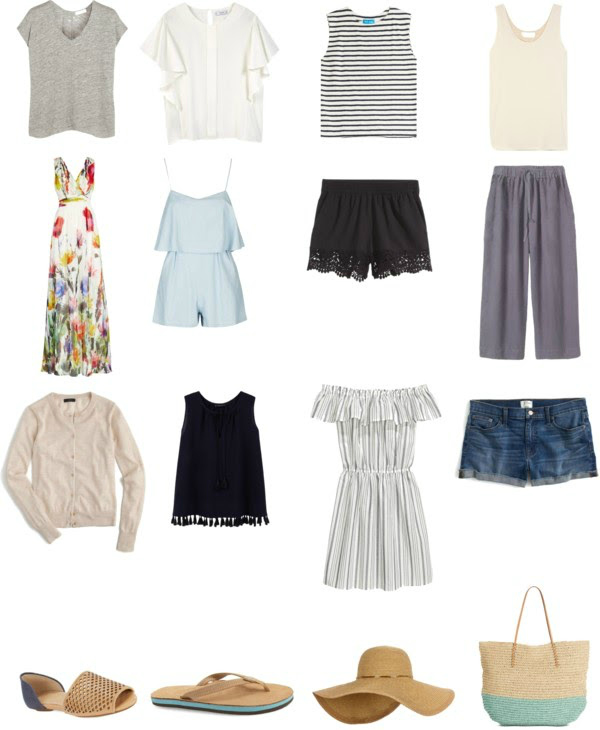 V-neck | Blouse | Tank | Top | Maxi | Dress | Romper | Shorts | Trouser | Sweater | Blouse | Denim Short | Flats | Flops | Hat | Tote
Hawaii Packing List
The great thing about planning your Hawaii packing list is that the weather doesn't fluctuate significantly from season to season; however, it can vary depending on your elevation level and which island you're on, so pack according to your activities. But for the most part, it's easy to decide what to wear in Hawaii.
It's wonderfully warm year round–not cold and not too hot. Daytime highs typically average from the mid-70s to the mid-80s. Throughout the year, don't be surprised if it rains a bit; they are tropical islands!
At the highest elevations on some of the islands, it can get quite cold, so do your research and if you're heading that way, bring some layers.
Breathable fabrics and fabrics with cotton tend to be the most comfortable to wear in the somewhat-humid environment.
Find out how to choose the best fabrics for travel to Hawaii!
Winter evenings can sometimes have a bit of a chill in The Big Island, with temperatures dipping down to an average of 65°F. So a light jacket or sweater is useful. The rainy season is October through April, so pack your umbrella and a patient smile. The weather stays warm when it rains, so not many people wear rain jackets or boots. You'll still see flip flops all around.
When planning what to pack for Hawaii, choose breezy tops and casual shorts or capris. Swimsuits with cover-ups are perfectly fine for daytime wear beachside.
For dinner or luaus in the evenings, a pretty top with capris or casual skirts will be perfect for what to wear in Hawaii. If you're a dress girl, go all out! Hawaii is the perfect destination for lovely summer dresses like these. Trade your basic t-shirt for a nice blouse.
And don't worry–if you forget to add an item to your Hawaii packing list, you can find Walmart and Costco on each of the 4 major islands to purchase anything you're missing or if you want to stock up on essentials.
Pack these dress sandals for an easy day-to-night look!
What
Not
to Wear in Hawaii
Along with knowing what to wear in Hawaii, you'll want to know what to not wear. Avoid getting overly dressy in clothing like sequined dresses–you'll stick out like a sore thumb. Relax and get into the island vibe when planning your Hawaii packing list!
Avoid wearing a dress or skirt on boat tours (unless you have a swimsuit underneath that you don't mind being seen). Once you're on the water, the wind picks up and can easily lift a skirt or dress. In general, short, flowy skirts and dresses are not a good idea as the trade winds are almost constantly blowing.
Headed to Maui? Check out packing list just for this island!
Let's take a look in more detail at items you may want to include in your packing list: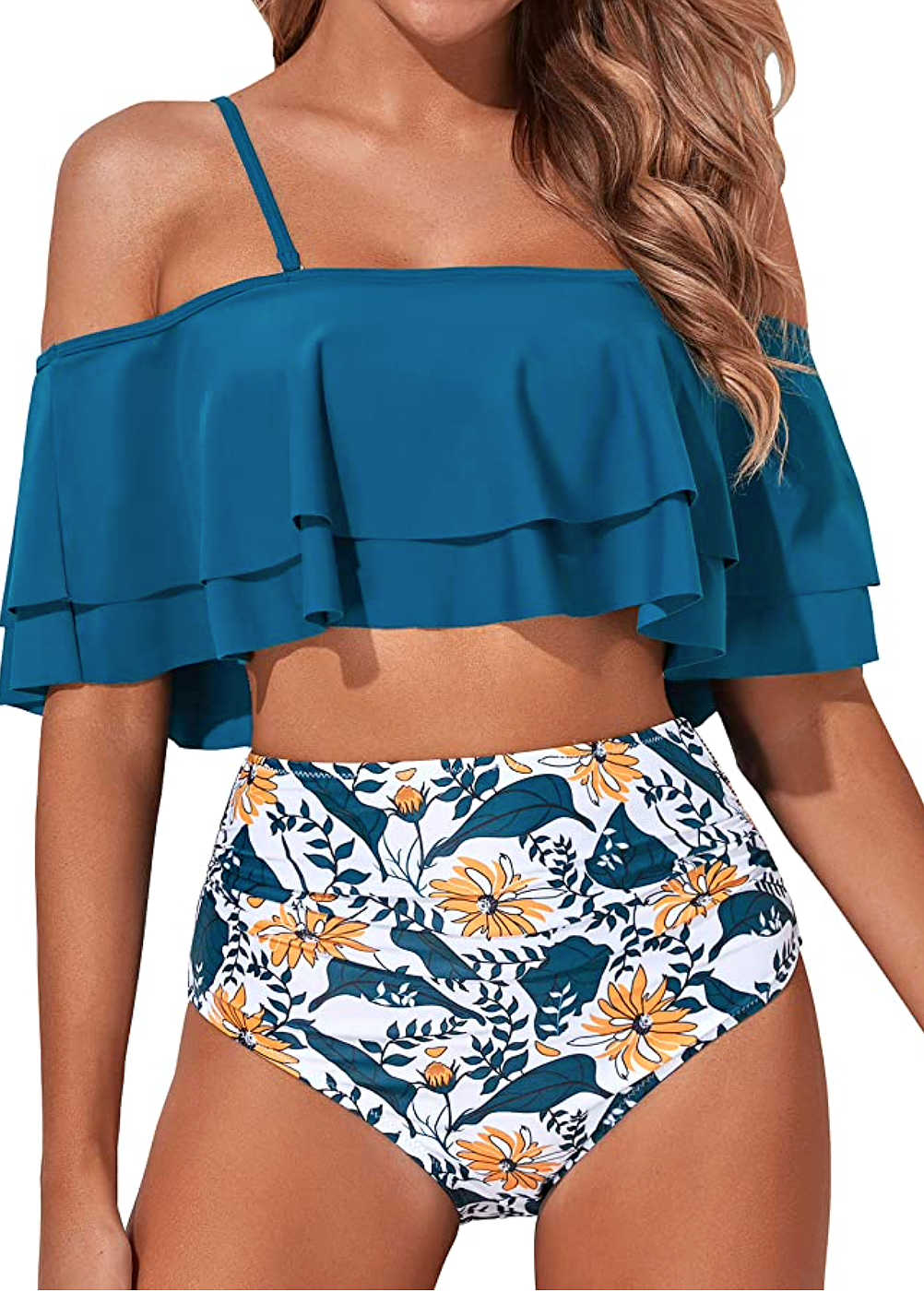 Bikinis
For your beach and ocean adventures on The Big Island, you'll especially want to focus on bikinis that you're able to move around in easily, without worry of accidentally falling out! The Big Island is considered an "adventure island" and to reach some of the best snorkeling spots, you'll need to venture on a hike or two.
For your Hawaii packing list, try one of these trendy one-piece styles on and off the beach with a pair of denim shorts for the day or with a nice skirt at night!
Getting an accurate bra fitting can be life changing, it was for me, and it's made it so much easier to find stylish, flattering swimsuits. The video below might help you find the best swimwear for your vacation.
Watch this video to learn more about some of my favorite bra sized swimwear!
Here are some tips and tricks on how to choose the best swimsuit for your body type!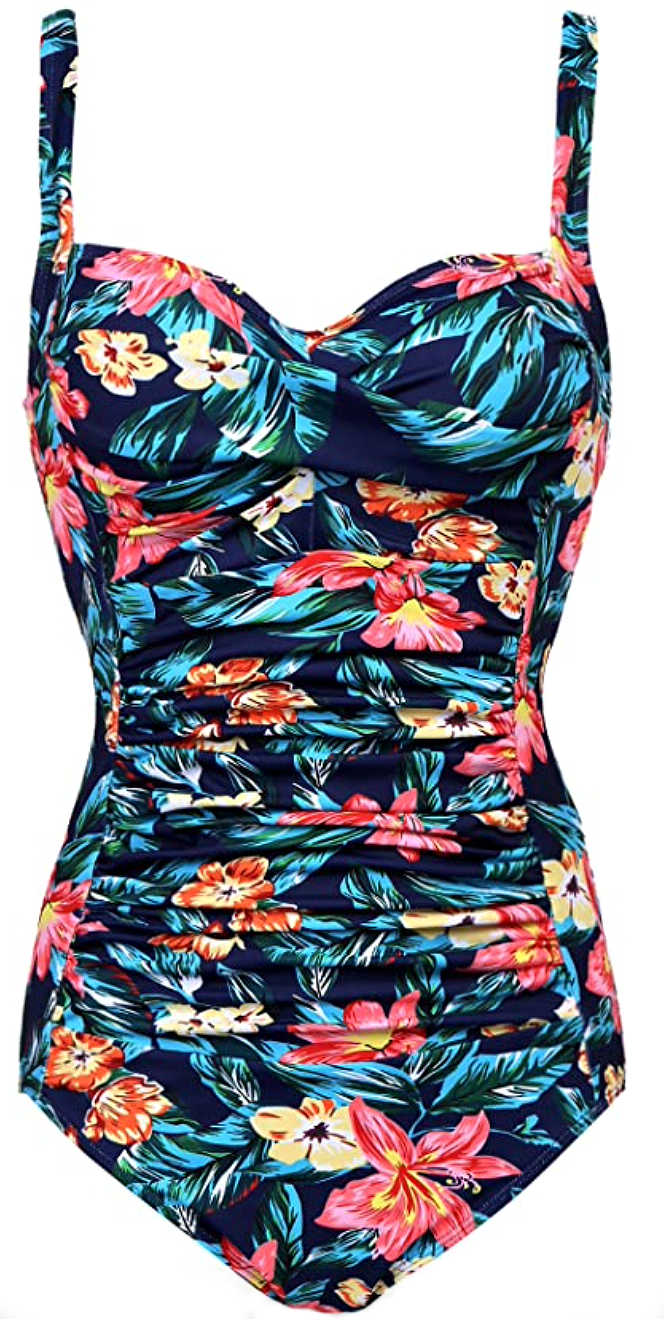 When planning what to pack for Hawaii–specifically Oahu–you'll be able to get away with more fashion-forward bikinis that will look just as good at the resort pool as you relax with a pretty drink in hand as they will on one of Oahu's beautiful white sand beaches.
If you plan on visiting the Big Island and another island or two, bring 2-4 bikinis or one-pieces so you can mix and match throughout your stay. This also offers you variety for what to wear in Hawaii.
Bikinis, tankinis, one-pieces, and even suits with board shorts! Every woman has a different preference for what feels the best, and these popular picks cover it ALL!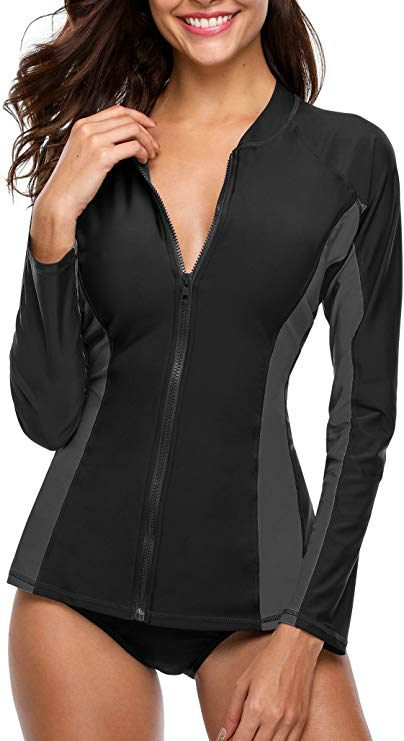 ATTRACO Rashguard Swimsuit Zip Front
A Rash Guard
If you plan on spending a lot of time in the ocean, consider adding a rash guard or two to your Hawaii packing list before you leave. You may think a rash guard is for sun protection (which is true!) but in this case, it's more to help keep you warm while swimming and snorkeling.
Unlike the Caribbean, where the water is mostly shallow and warm, the ocean around the Hawaiian Islands can be cold throughout the year. Even through the reefs are right off shore and easy to reach, the ocean floor drops at the edge of the reef, sometimes hundreds of feet, making for a darker abyss that light can't reach, which in turn creates cold water.
Wearing a rash guard like these over your bikini will help keep you warmer during your snorkeling trip while still being picture-ready. 
Want to try snorkeling? Here's the best snorkel gear for beginners!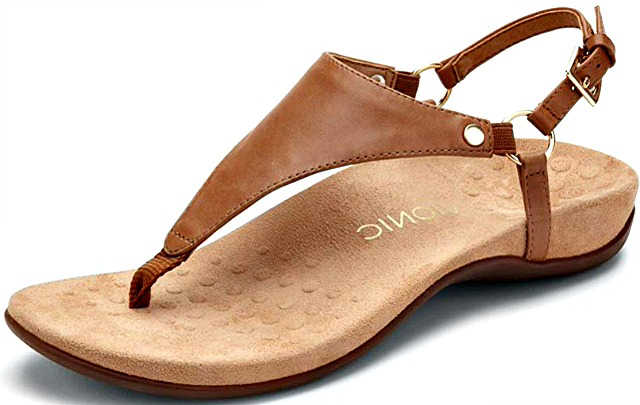 Vionic Rest Kirra Thong Sandal
Fashion Sandals
Though you could easily wear a pair of cheap rubber sandals, at the end of the day, they're not the best island wear. Instead, when deciding what to wear in Hawaii, you'll want to opt for a pair of nicer sandals that you can take for a stroll downtown in Honolulu or elsewhere. Because you'll only need one pair, you'll save a lot of carryon space, so you'll have room for a pair of hiking shoes.
When decided what to pack for Hawaii, the key is to choose a shoe color that matches several different outfits. White or tan are great choices.
Take a look at the best beach sandals our readers rave about!

Shoes Suitable for Hiking
In addition to your beautiful sandals, if you're planning on taking a hike or two, invest in a stronger pair of shoes that can handle a rougher terrain for your Hawaii packing list. This way you'll also have a backup pair of shoes, just in case.
Read these tips to learn how to choose the best hiking shoes for women!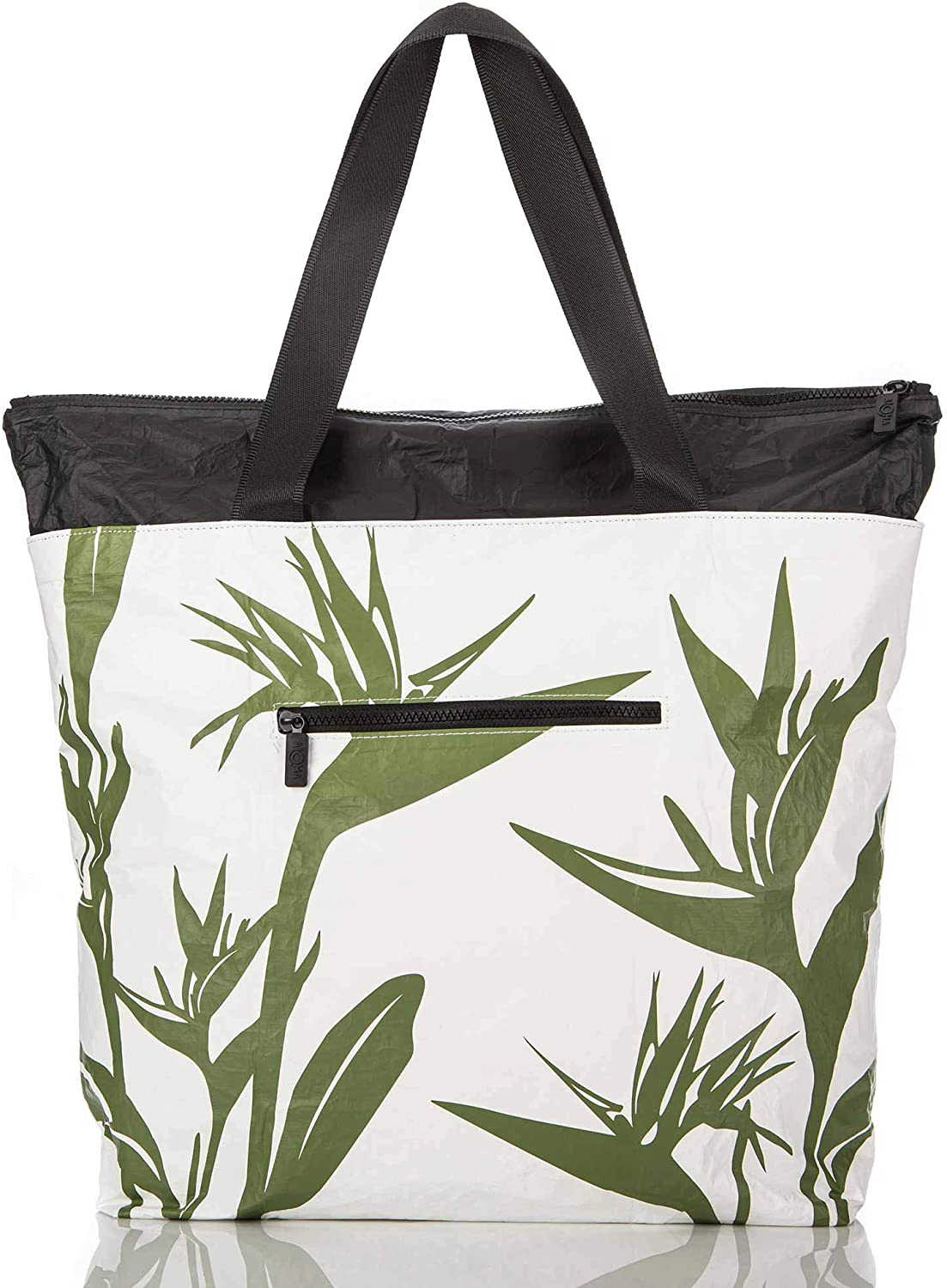 ALOHA Collection Day Tripper Tote
A Water-Resistant Beach Bag
Great for carrying your little beach finds as well as your money, credit cards, and I.D., water-resistant beach bags can be used both in town and on the beach. They come in lots of designs, colors, making it so you can customize your bag with your outfit.
There are several different options available, but the best come from the islands themselves. This means that you can either buy them ahead of time and have them shipped or you can buy them while in Hawaii.
Here are the best beach bags and totes for a pool or seaside trip!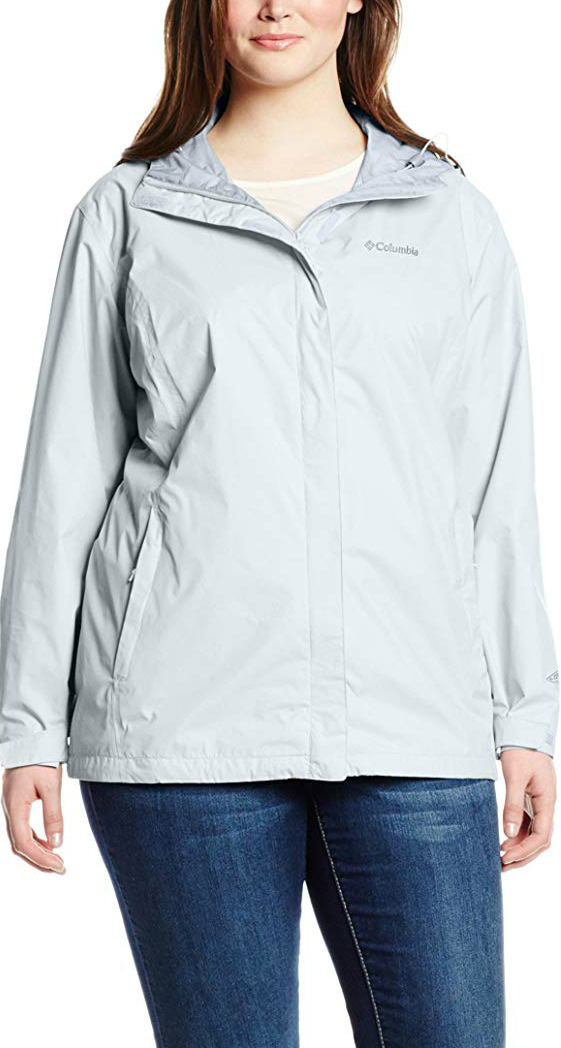 Waterproof Shoes and Jacket
Rain may not be the first thought when planning a Hawaiian vacation, but it's likely you'll experience it during your stay, so factor it into your decisions for what to wear in Hawaii. Hilo, on the Big Island, is especially wet. Kauai is home to Mt. Waialeale, one of the wettest places on earth. Even if you don't plan to trek up the mountain, be prepared for rain during your spring vacation.

A rain jacket is a good item to have, but make sure it's lightweight as the temperatures will likely still be hot even in the rain. Waterproof shoes are also helpful to staying comfortable through a rainy afternoon. When planning what to pack for Hawaii, you may opt for an umbrella over a rain jacket, but high winds may make the umbrella tricky to use.
The sun can be intense so it's important to pack a sun hat to help keep the sun off your face.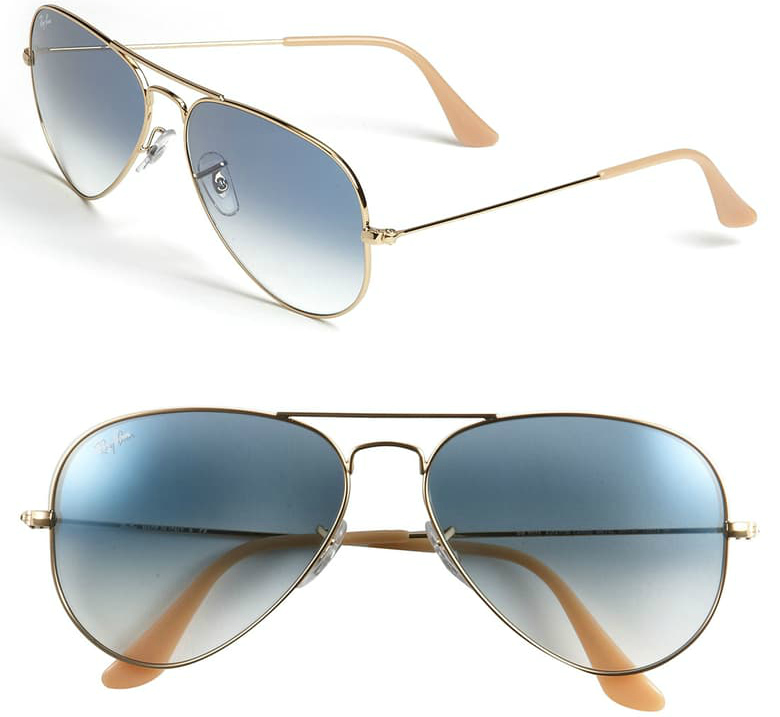 Stylish Sunglasses
Sunglasses are a no-brainer for a Hawaii packing list! You can easily buy a pair or two once you're there, but you'll find that the prices are a bit higher than on the mainland. Besides, sunglasses are so lightweight, you'll have no problem fitting a pair in your carryon, and they're the easiest decision you'll make when choosing what to wear in Hawaii. Make sure they're polarized!
Here are our favorite polarized sunglasses for every face shape!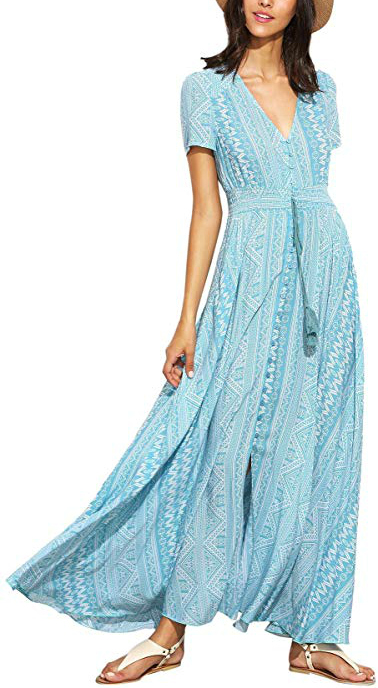 A Maxi Dress or Skirt
Whether you plan on spending most of your time at your resort or a few days strolling around town, you'll want to bring a maxi dress and maybe a maxi skirt to pair with a tank top when considering what to pack for Hawaii. These flowy outfits can then be mixed and matched with your favorite pieces of jewelry for daytime and nighttime looks. Plus, dresses make it easy to decide what to wear in Hawaii!
Update your travel wardrobe with these beautiful summer maxi dresses!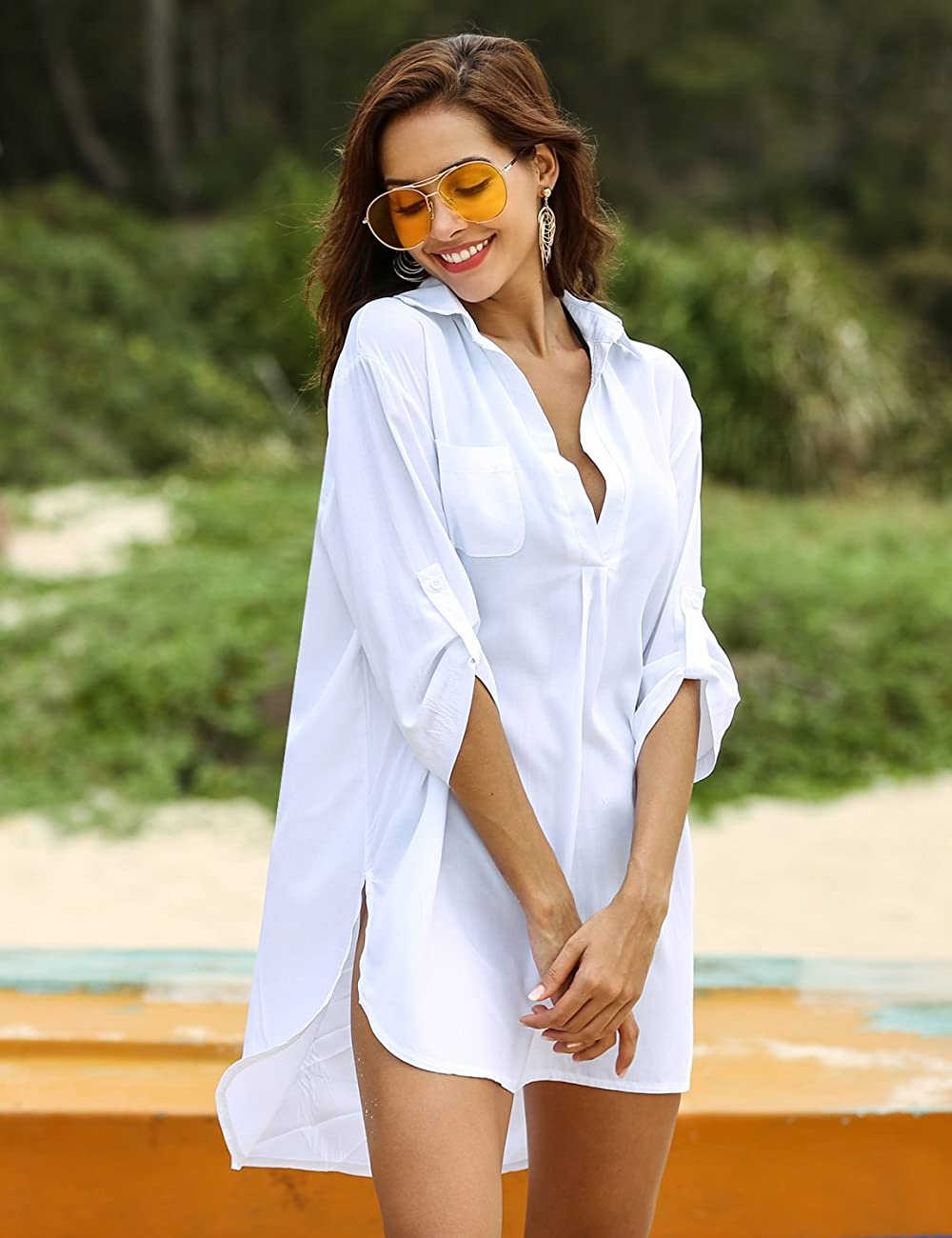 A Swimsuit Coverup
A swimsuit coverup will likely be a big part of your decision-making when choosing what to wear in Hawaii. There are lots of great swimsuit coverups to choose from, but the best option is a playful romper. This way, you'll not only have a stylish coverup that's easy to wear on the beach, but a great daytime outfit that will work anywhere.
Instead of packing two pieces of clothing into your carryon, you're only packing one. Add this item to your Hawaii packing list!
These are the best swimsuit coverups of the season!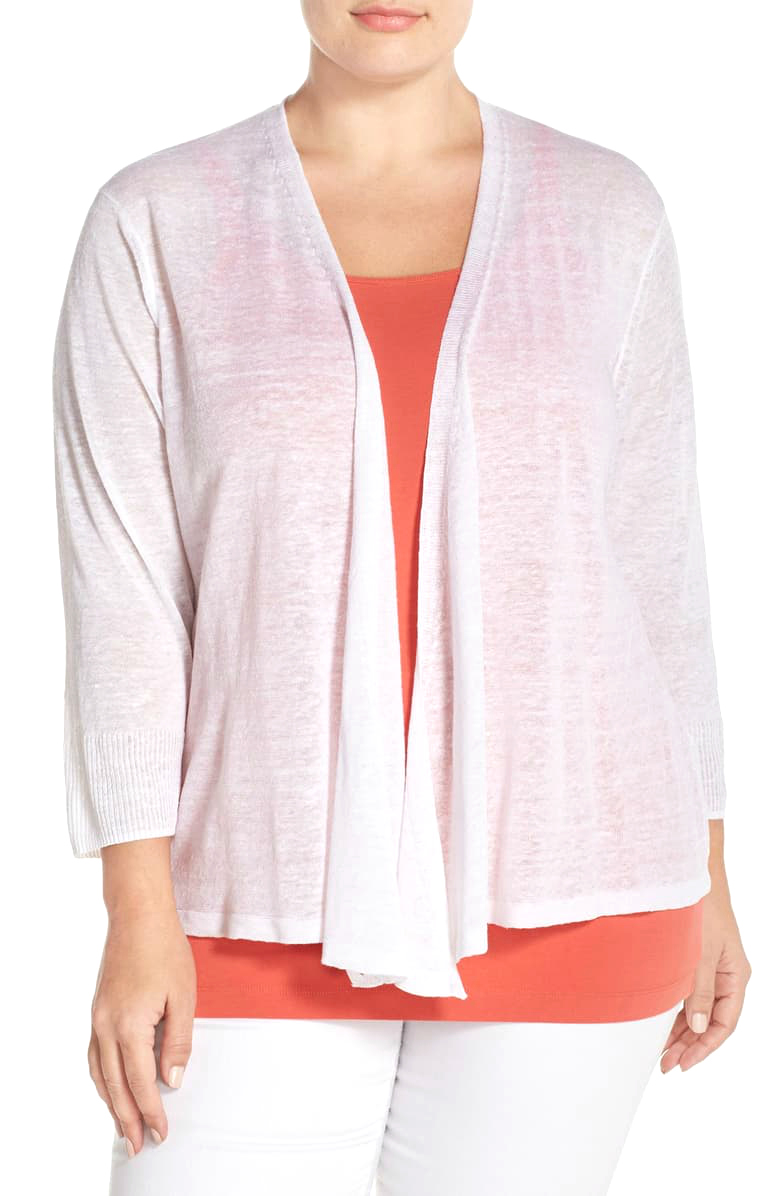 Three Quarter Sleeve Convertible Cardigan
A Lightweight Sweater
You'll likely only need a sweater for The Big Island. When driving through the center of The Big Island from Kona to Hilo, you'll find that the higher elevation equals colder weather, sometimes down to the 50°s F.

After living on the island for several years, I've found that the ultimate answer for what to wear in Hawaii is a maxi skirt, tank top, and a white knit sweater on top. Once you reach your destination, all you have to do is take the sweater off and you're good to go!
Find out why we love these lightweight jackets for summer travel!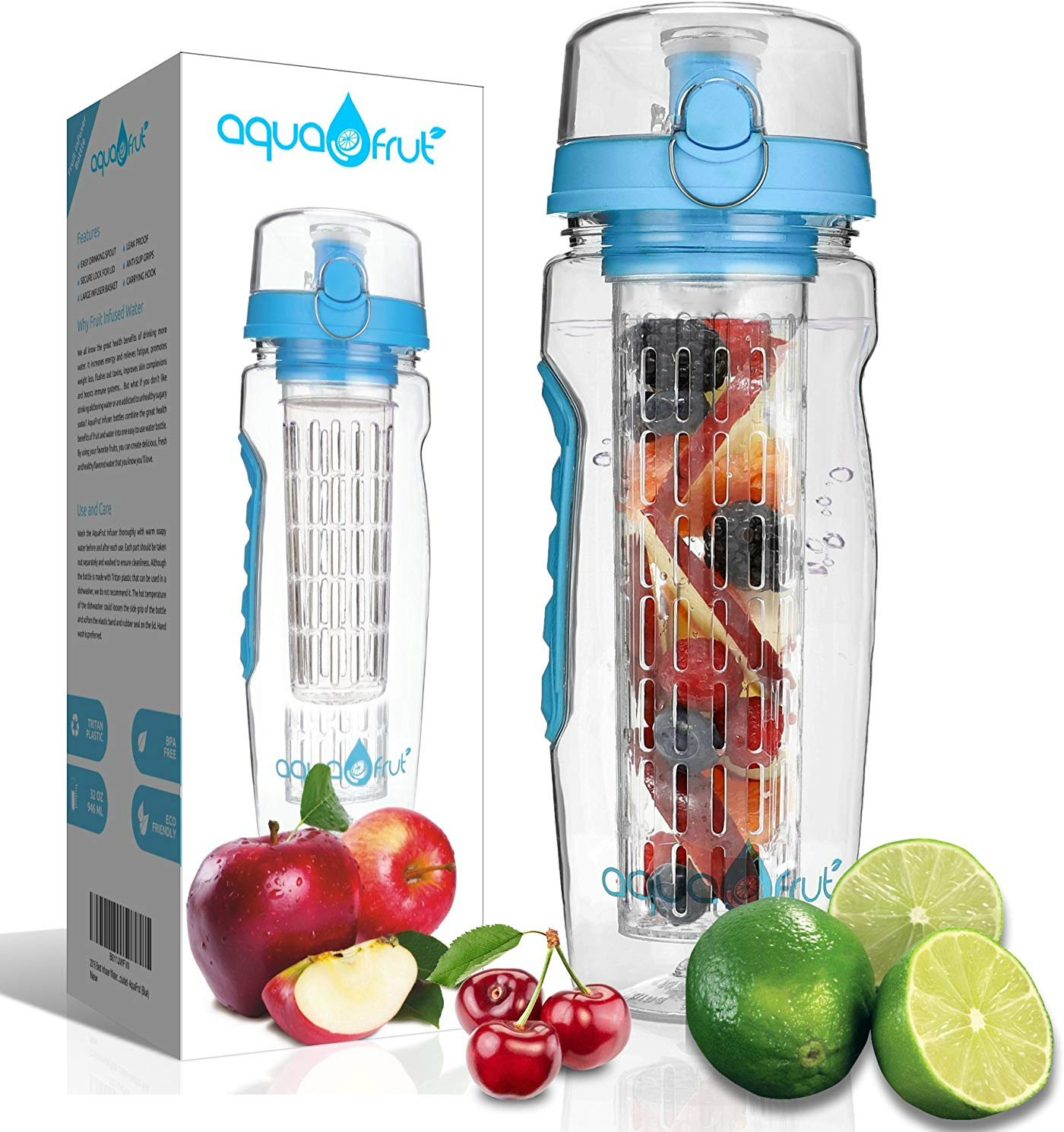 AquaFrut Fruit Infuser Water Bottle
A Water Bottle
If you plan on spending more than a few hours at the beach or on a hike on either island, you'll want to make sure you have water with you at all times. Even though you could easily buy drinks around the island, from plain water to fresh-pressed juice, if you're looking to save a bit of money, bringing your own water bottle is the way to go.
Love vitamin-infused water? Try this great bottle when planning what to pack for Hawaii trips! All you have to do is buy your own fruit at the local farmer's market and you're all set.
Is your skin dried out from too much time in the sun and wind? Read these after sun skin care tips to help rejuvenate dull, dry skin!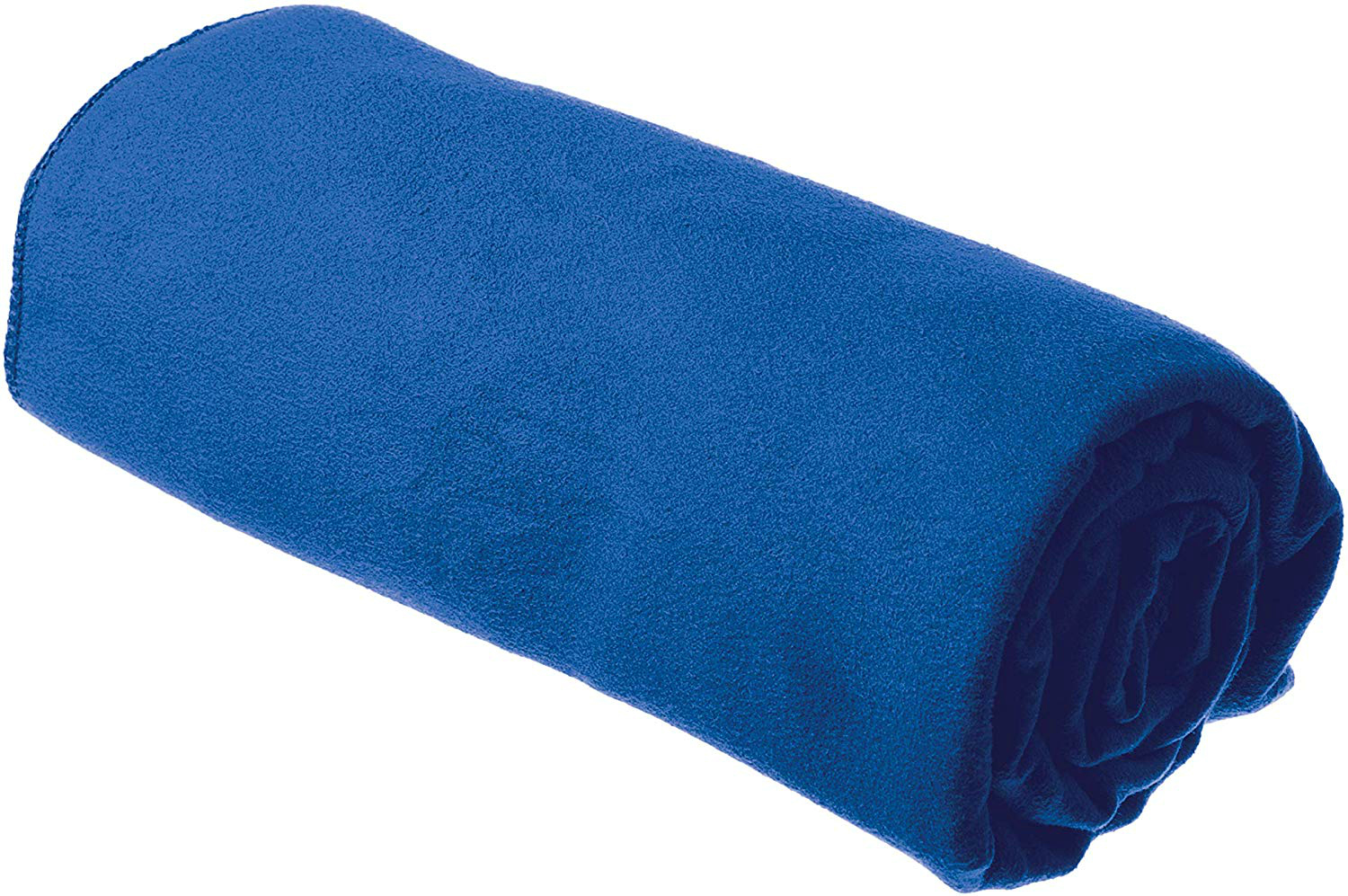 A Fast-Drying Towel
Great for small spaces, beach days, and keeping your rental car clean, a fast drying towel is a must-have for your Hawaii packing list! Not only do they hardly take up any carryon space, but they're great for those who'd rather not walk to the beach with a big load of items.
Also, more likely than not, you'll be in a rental car, right? Because these towels dry quickly, you can place the towel underneath you, your beach items, or your sandals, which makes it less likely that you'll have a sandy mess to clean up before returning your rental at the end of your stay.
Check out these ultra-light fast-drying towels for travel!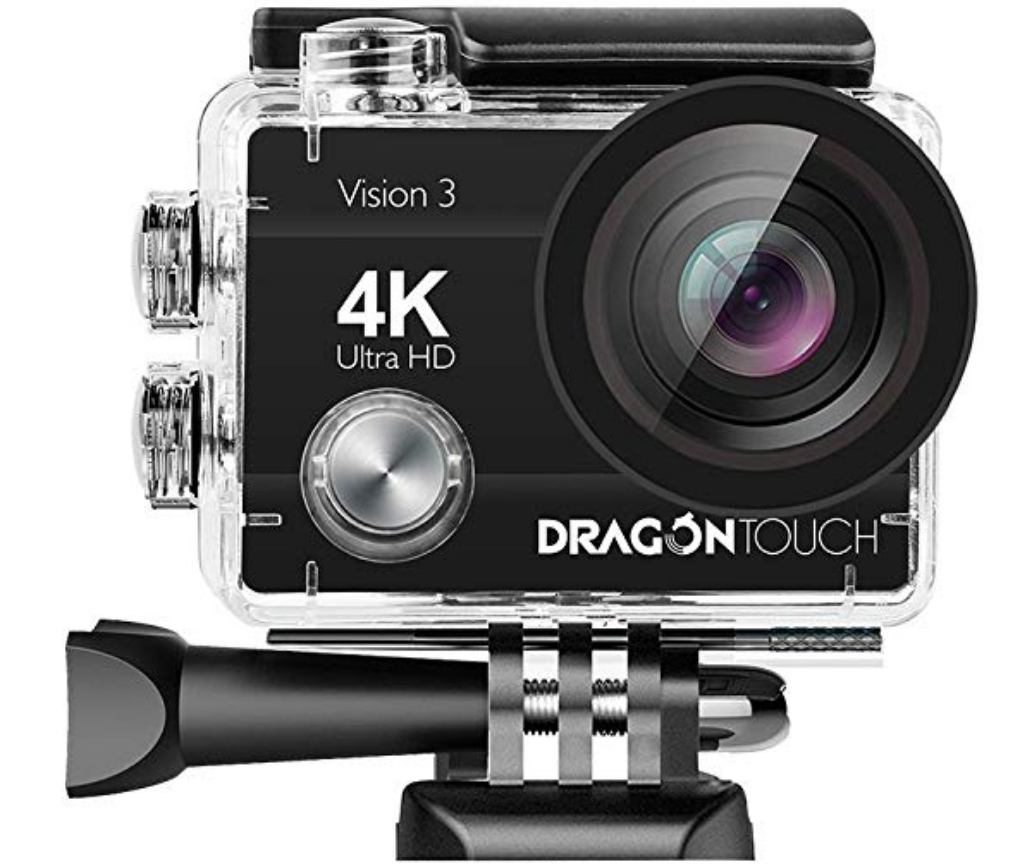 Dragon Touch Underwater Waterproof Camera
An Underwater Camera and Accessories
A trip to Hawaii isn't complete without some underwater photos. When deciding what to wear in Hawaii, consider a camera as one of your accessories. The ocean right off shore is filled with beautiful coral and schools of brightly-colored tropical fish, most of which are tame, making it easy to snap a few shots with them.
The key is to use a small underwater setup instead of a large, multi-thousand dollar setup that would end up taking all the space in your carryon.
When planning what to pack for Hawaii, the always popular choice is the GoPro, and for good reason. Not only is it super small and lightweight, but you can really play with accessories–like a color filter and a dome. The color filter is great for darker, deeper reefs and the dome is great for those cool half under the water, half over the water shots.
To help you choose your next camera for your travels, here's a list of the top waterproof cameras!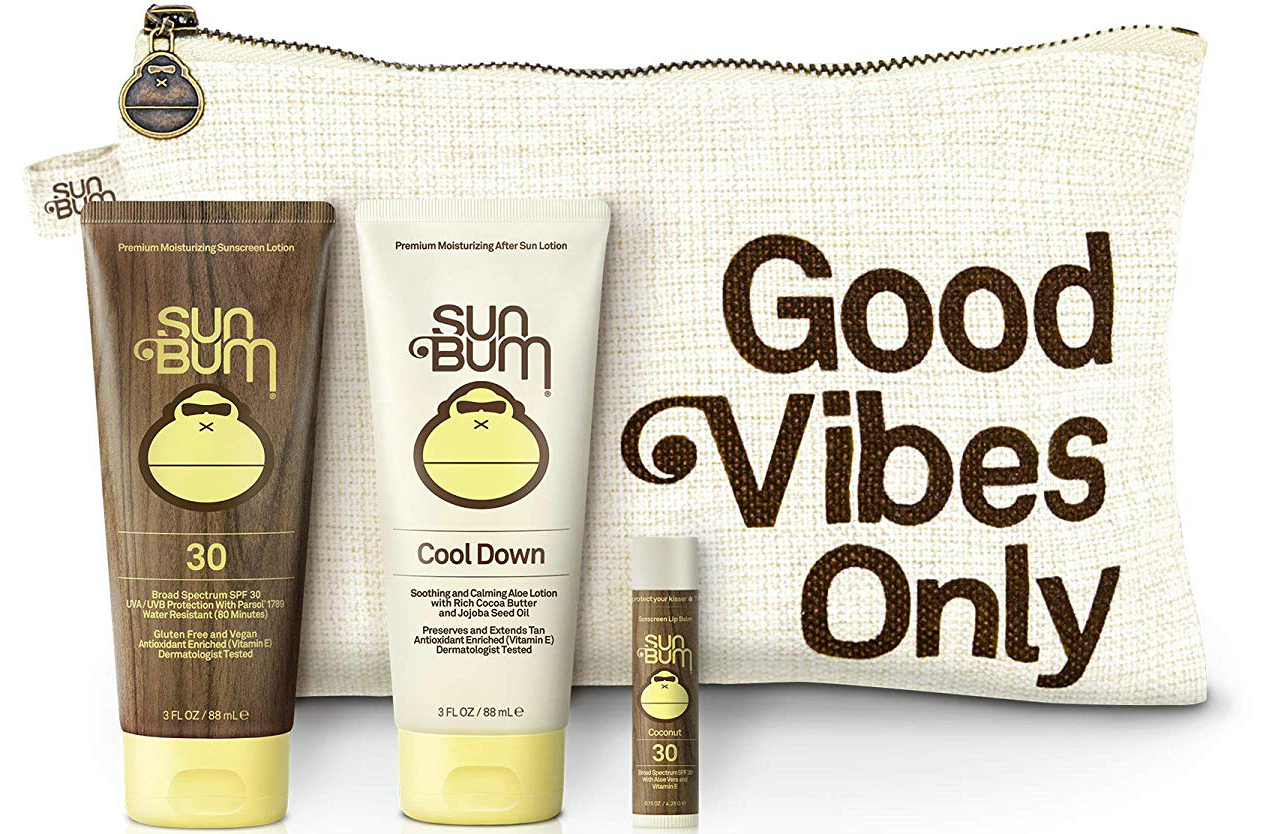 Sunscreen
Of course it almost goes without saying: reef safe sunscreen is super important in Hawaii! Your skin is important so protect it every day.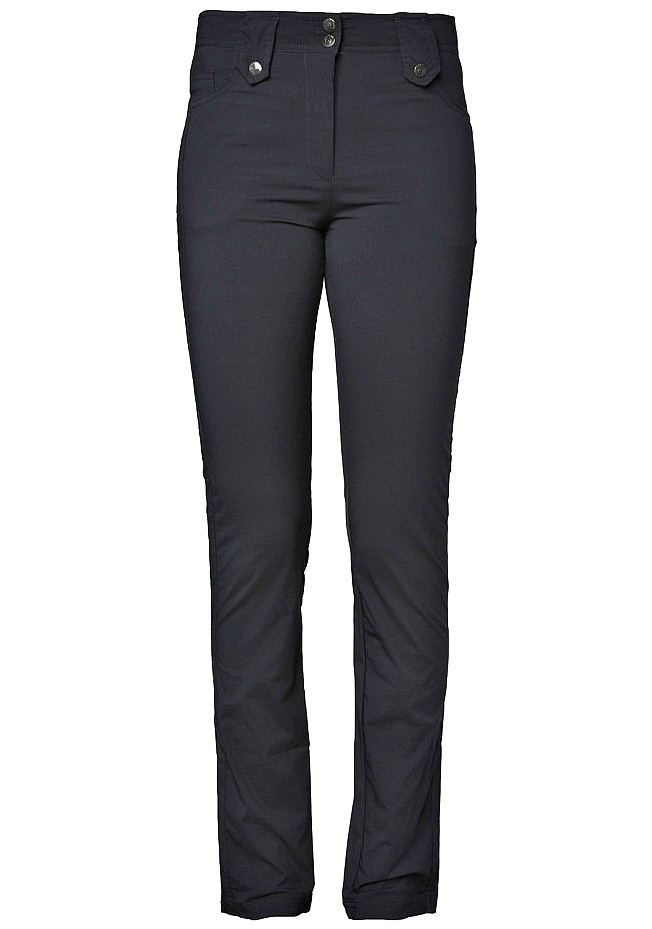 Outdoor Adventure Accessories
If you plan on participating in activities like horseback riding or all-terrain vehicle tours, It's a good idea to add at least one pair of long trousers to your Hawaii packing list.
For what to wear in Hawaii for outdoor adventures, don't forget hiking sandals for trails and crossing small streams. Hats are also a great accessory for adventures and hanging out at the beach.
For non-traditional hiking sandals, take a look at these water shoes. You might be surprised!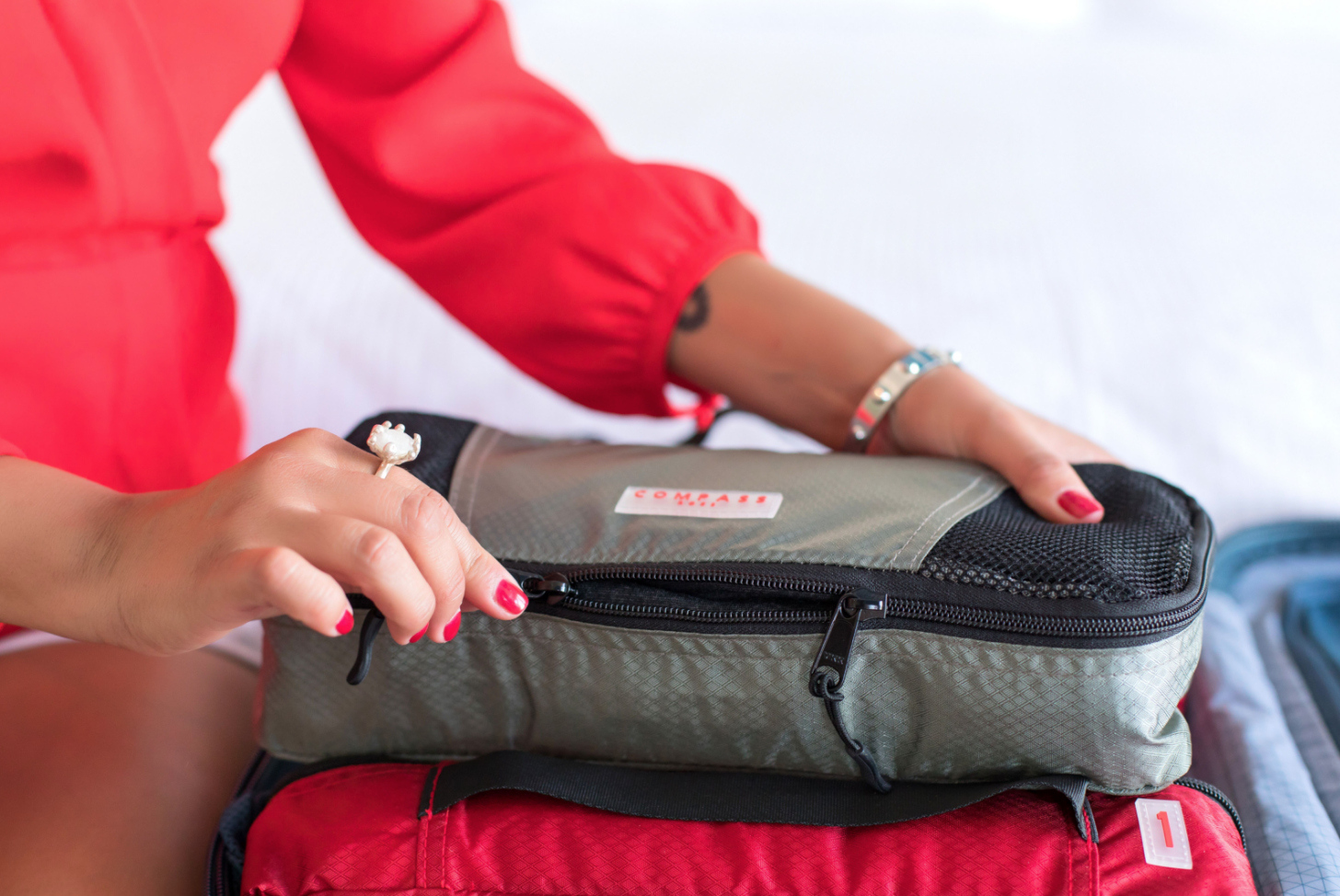 How to Organize Your Hawaii Packing List
Once you have chosen your outfits for this exciting trip,  we recommend using packing cubes to organize. We designed these ourselves and they're the only ones that have a unique color and numbering system, so it's easy to remember where you've packed everything on your wardrobe list which is demonstrated in the video below!
Learn our packing hacks with packing cubes in this video!
We also put together a five-part YouTube series showing the different methods to use packing cubes for travel. If you use this specific packing strategy, packing cubes can also compress your belongings. This is the secret to traveling carry-on only!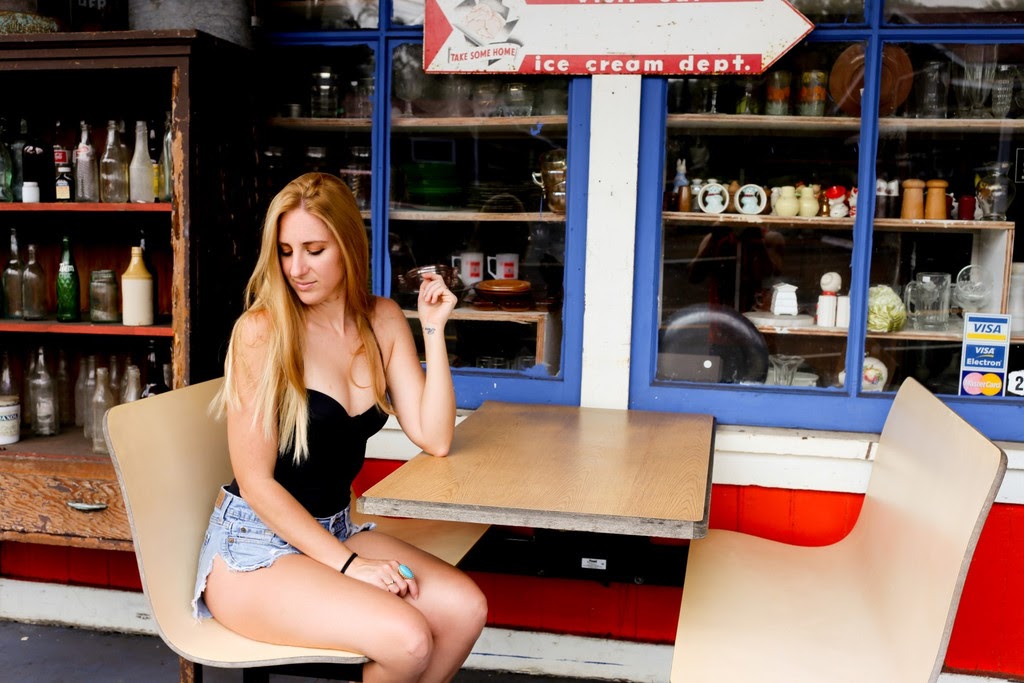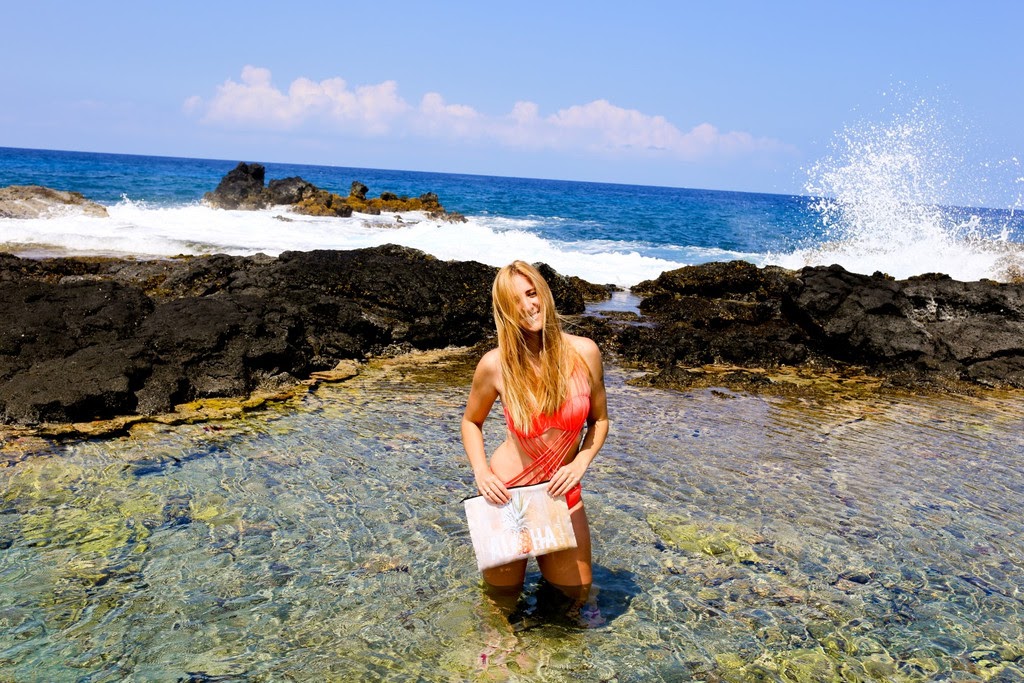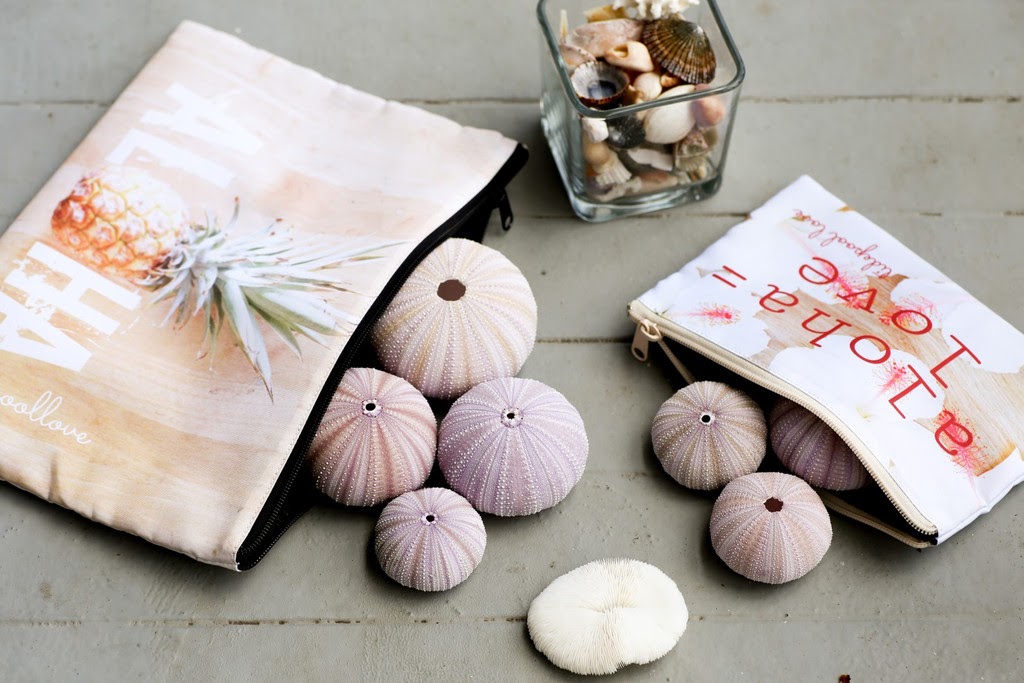 ---
What are your tips on what to pack for Hawaii? Share and comment below!
---
We also recommend these packing tips for Hawaii:
Suggested travel resources:
---
LIKED THIS POST? PIN THIS PIC TO SAVE IT!
---
We hope you've enjoyed this Hawaii packing list. Please share it with your friends on Facebook, Twitter, and Pinterest. Thanks for reading!
---
Author Bio: Rachel Campbell is a professional travel writer who has been slowly exploring the globe since 2013. Though her heart belongs to Florida and the Caribbean, she can still be found making snow angels in the cold white north from time to time. For more, follow The Florida Living Magazine along with her adventures on Instagram.
---