Headed on an extended trip and need to keep your luggage light? It's possible to live out of your suitcase for months at a time. Learn our readers' suggestions for living out of a suitcase for five weeks!
---
Living Out of a Suitcase
---
Table Of Contents
Travel Fashion Girl help! A reader asks:
How do you pack to live out of a suitcase for five weeks without unpacking everything for each leg of a trip? If shoes are on the bottom, for example, everything else has to be taken out to get them. Is it really possible to live out of a suitcase?
Yes! It is completely possible to live out of a suitcase for five weeks. In fact, I and many of our readers have lived out of a suitcase for months. It may seem like a difficult task, but it's totally doable if you follow a few tried-and-true tips. 
The right luggage, a capsule wardrobe with versatile clothing and shoes, planning your travel needs with packing lists, organizing with packing cubes, and doing laundry will help you live out of a suitcase for five weeks — or more. 
Read these posts on how to travel long-term:
Find the Right Suitcase
It all starts with the right suitcase. You want a suitcase that is easy to carry and navigate, and also roomy, easy to organize, and lightweight. For long trips, our readers prefer hard-shell suitcases.
One says, "I take a hard-shell suitcase because it offers double-sided packing, making it easy to keep everything organized." Another reader adds, "I prefer hard-shell luggage for organization, too."
You can use one side of a minimalist suitcase for clean clothes and the other side for your laundry; keep shoes on one side and clothing on the other; or use another organization method that works for you.
Learn how to choose the best luggage for travel abroad!
Organize with Packing Cubes
Our readers overwhelmingly agreed that the No. 1 tip for living out of a suitcase is to organize using packing cubes. The great thing about using packing cubes is that there are so many different ways to use them, such as by:
Destination

Outfit

Clothing type

Travel day
Watch this video on organizing using packing cubes.
One reader says, "I would use packing cubes with outfits for each day and place in a cube or two. Then, pack shoes around the cubes." Another reader says, "I pack in cubes by destination. Usually, one cube can fit at least four outfits when some items are repeated. If my suitcase is on the floor, then shoes will be on wheel side so not everything has to come out."
Skechers Flex Appeal 2.0 Sneaker
Follow the 3-Shoe Rule
In general, we recommend following the three-shoe rule. Wherever you're traveling and for however long, you most likely can get away with three pairs of shoes. The shoes you take will depend on the season and destination. For example, you might pack sneakers, sandals, and ankle boots for varying weather, or sandals, espadrilles, and sneakers for a beach destination.
One reader says, "I like to pack as few shoes as possible for space reasons. I have a few shoes that are versatile enough to wear with anything and are comfortable enough for long days of travel."
Follow our 10 steps to packing the best travel shoes for any trip!
Determine Your Wardrobe Heroes
If you've been reading TFG for a while, you know that there are a few items I bring with me on every trip, regardless of where I'm traveling. Some of these items include:
I love these items because they all share a few qualities in common. For one, they're stylish but not overly trendy, so they'll last for years without going out of fashion. Second, they're comfortable, which is a must for travel. Lastly, they're versatile, so I can pair them with so many other items.
Before your next trip, find the items you feel good in and would be happy to wear over and over again. If you can, find a mix of tops and bottoms, ideally in neutral tones, so you can wear them repeatedly.
Learn to mix and match your clothing to make the most outfits possible!
Do Laundry While Traveling
One thing many people don't realize is that packing for a five-week trip is the same as packing for a one-week trip. The one difference is laundry!
For long trips, you don't want to have to pack more than you need, but you also don't want to wear dirty clothing. The best middle ground is to wash your clothes while traveling with a system like the Scrubba Wash Bag. You can pack carry-on only while still feeling clean and comfy.
Many readers recommend washing your clothing about once a week. Even if you don't have laundry facilities, you can hand-wash items in a bathtub or sink at your accommodation. We promise it's easier and not as painful as you might think!
You have three options for doing laundry when you travel!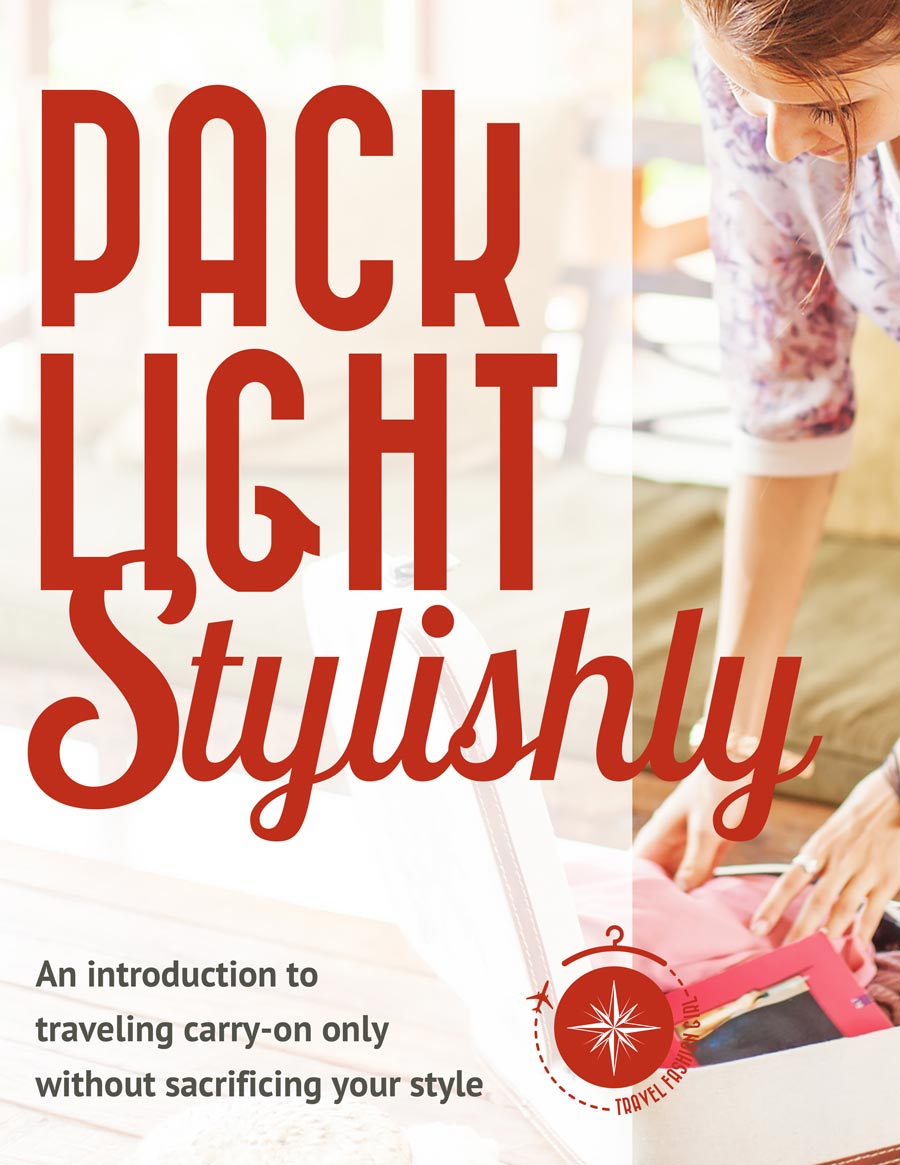 Create a Capsule Wardrobe
For some travelers, packing light equates to a vacation of repeated outfits. Luckily, this doesn't have to be true. By focusing on versatility, you can mix and match items to create countless outfits from just a few items. This is where a capsule wardrobe comes into play.
If you're trying to live out of a suitcase, the answer to your wardrobe needs is to follow one simple rule – the rule of three. This is more than wearing every piece you pack at least three times. Rather, it means you pack all items with the intention of wearing each in a variety of outfits that work for at least three different occasion types.
See how to implement the rule of three when creating a travel capsule wardrobe!
Columbia Pardon My Trench Rain Jacket
Check the Weather
Remember to always check the weather! Depending on where you're traveling, you might encounter cold weather, even in summer. Always check the weather for your countries to get the most accurate idea about what to pack.
Because many people visit multiple destinations, it's very common to experience mixed weather on your trip at any time of the year.
Read this 10-step guide to packing for different climates!
(Editable) Printable Checklist
Use a Packing Checklist for Guidance
Lastly, it's helpful to use a handy, physical checklist for all your packing needs. Lucky for you, we have one! Click here to access the editable Google Doc printable checklist that corresponds to this article.
The travel checklist features unique categories to help you pack for your trip efficiently, including a list of things to bring on vacation and other helpful reminders. It includes all the items listed in various categories and has spaces where you can fill in your own information:
You can write in an item's weight (lighter items means less overall baggage weight).

You can note if you need to purchase something or if you already own it.

Most importantly, you can organize where you'll pack each item.
You also can download the printer-friendly, PDF version here.
Destination Packing Lists
We have specific packing lists for destinations all over the world. Visit this page to find your destination!
And for every single trick in my packing book, read my full course "Stop Overpacking." I created the Stop Overpacking program to teach you my exact packing process — every secret, every detail, nothing is spared. Stop Overpacking will have you living out of a suitcase for five weeks — or even longer.
---
 What are your tips on how to live out of a suitcase for five weeks? Comment below! 
---
For more suitcase recommendations, please read:
---
LIKED THIS POST? PIN THIS PIC TO SAVE IT!
---
I hope you liked this post on living out of a suitcase for 5 weeks. Please share it with your friends on Facebook, Twitter, or Pinterest. Thanks for reading!
---