Support TFG by using the links in our articles to shop. We receive a small commission (at no extra cost to you) so we can continue to create helpful free content. As an Amazon Associate, we earn from qualifying purchases made on Amazon in addition to other retailers featured on the blog. Thank you, we appreciate your support!
Going to Munich soon? Then you can't miss out on Oktoberfest! Before heading to the world's largest beer festival and funfair, check out our readers' tips on what to wear to Oktoberfest!
---
How to Dress for Oktoberfest
---
Table Of Contents
Oktoberfest is not only Germany's biggest celebration, but it's also the world's largest beer festival, drawing, on average, over six million visitors over its three-week run. If you're headed to Munich for this celebration, you want to make sure you dress the part. 
Here's what our readers recommend for what to wear to Oktoberfest Munich style.
Oktoberfest Clothes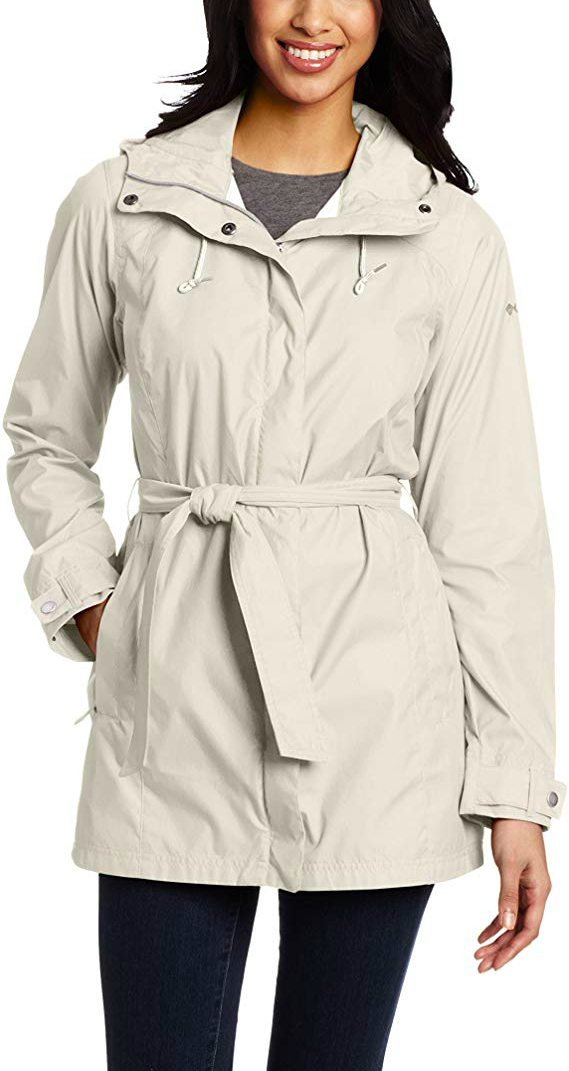 Columbia Pardon My Trench Rain Jacket

A Cozy Jacket
As it's October in Germany, it can get pretty chilly, so you'll want to pack a jacket, possibly one that is waterproof. 
One reader says, "I used a light fleece zip-up and my H2Off jacket from L.L. Bean daily. These were both a good choice!" Another adds, "Bring a trench rain coat. I took one last year and wasn't disappointed."
For pairing with Oktoberfest girl outfits, readers love the Columbia Pardon My Trench rain jacket. This street-savvy raincoat performs in the outdoors and features a lightweight, waterproof nylon construction in a flattering longer cut with a tie-adjustable waist for a versatile look and fit.
Take a look at these stylish and Insta-friendly travel raincoats for women!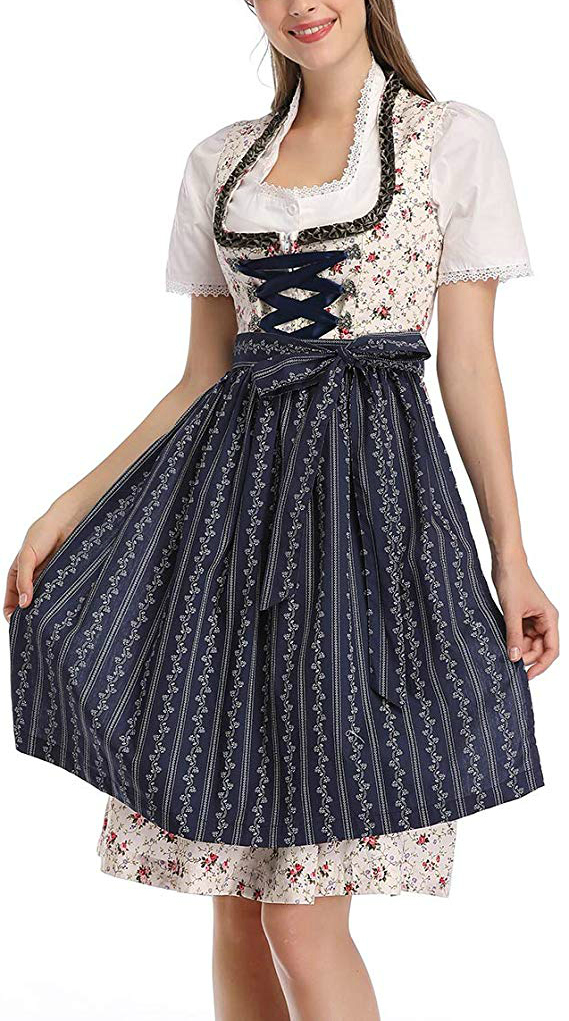 A Traditional Dirndl
If you're wondering what to wear to Oktoberfest then make note that locals wear a traditional dirndl and a trendy, yet untraditional option is to wear a pair of lederhosen under the dress. This Bavarian dress is a great way to get into the spirit of the event and embrace the local culture.
One reader says, "All the locals will be in dirndl and lederhosen. If you want to, join them! It's so much fun." Another adds, "I would highly recommend wearing a dirndl—it made it so much more fun and most people at the beer gardens (we went to Paulaner and Hofbrau) were wearing them."
It can be daunting to figure out the Oktoberfest what to wear options, but you can buy a dirndl cheaply at the store C&A in Munich, along with a blouse to wear underneath, or you can purchase these items online. One reader recommends buying one in Germany, explaining, "There are little shops outside the Munich train station and storefronts where you can buy them. They aren't cheap  – I think I paid € 60 for mine—but it was well worth it and I don't regret spending that money."
Another says, "We bought ours there and really enjoyed shopping. We went to the Karstark department store where they had a huge selection and everything you need. We spent a few hours there but all three of us got dirndl, shirts, aprons, etc."
However, if you'd rather shop ahead of time, several readers have ordered online, with one saying, "I ordered a dirndl from Amazon. It was made in Germany. They are quite expensive there, so I bought online to save money." Just remember, European sizing is different from US sizing! 
Readers agree, having choices on what to pack for Oktoberfest and where to buy suitable festival clothes offers a lot of flexibility when planning an event trip like this.
You'll want to look your best when you travel! Read my travel tips to Pack Light Stylishly!
Oktoberfest Shoes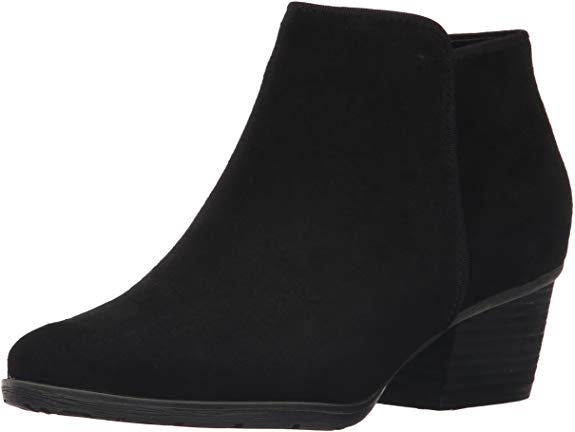 Comfy and Practical Shoes
An Oktoberfest girls outfit needs the right shoes and countless readers recommend packing at least two pairs of comfortable and waterproof shoes (for beer spillage). 
As one reader says, "At the Wiesn, no one cares if you're wearing the right shoes. You just need to be able to walk for five miles minimum and stand on a bench and sing and drink and still be able to walk home afterward."
For her trip, this reader wore walking flats on one of the days and fashion sneakers on the other, explaining, "It was very trendy for younger women to wear low cut, Euro-style sneakers with their dirndls. Even though I'm 20 years older, I did it anyway and was so happy I did. A local friend told me I was on-trend and they looked good so I felt justified!"
Another reader recommends boots, as they're waterproof and comfy, while still looking fashionable. You might be surprised at how many shoe options you can choose from when deciding how to dress for Oktoberfest!
Tip: Consider purchasing a pair you're okay with using just for this trip. One reader says, "You will NOT want to bring your shoes back home with you. My experience involved a lot of spilled beer and mud. Your feet will be the grossest you've ever seen them before." 
Read my review and find out why the Travel Fashion Girl readers and I love this comfortable boot for travel!
Oktoberfest Accessories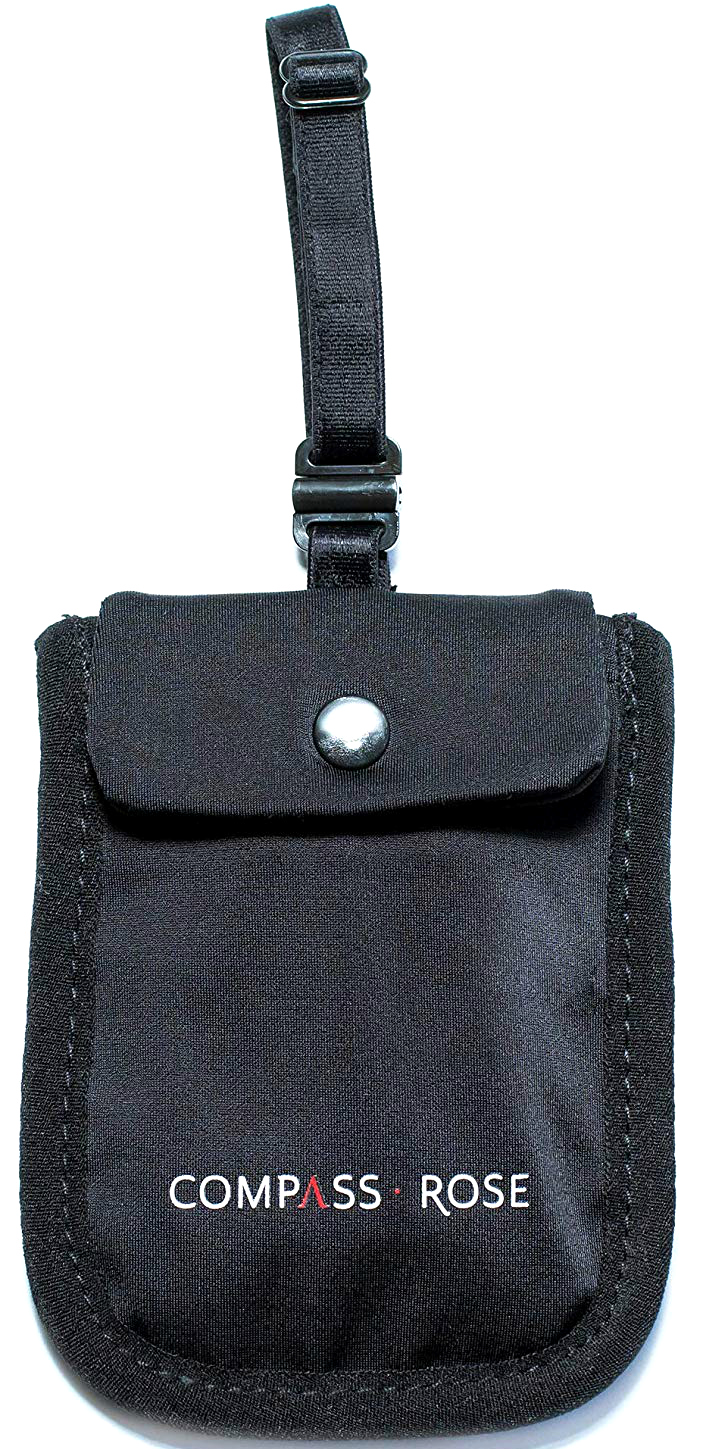 Bra Stash or Money Wallet
If your Oktoberfest fashion choice is wearing a dirndl, you don't want to distract from your cute outfit with a handbag. Instead, consider wearing a bra stash or money wallet. This allows you to enjoy the festival hands-free without having to worry about your cash, credit card, or identification.
One reader says, "I've been to Oktoberfest several times and am also a Girl Scout. I always wear a money wallet around my waist." Bra stashes and money wallets are similar in function, so it comes down to what style you find more comfortable to wear and access.
Here are the best money belts and anti-theft travel accessories for travel!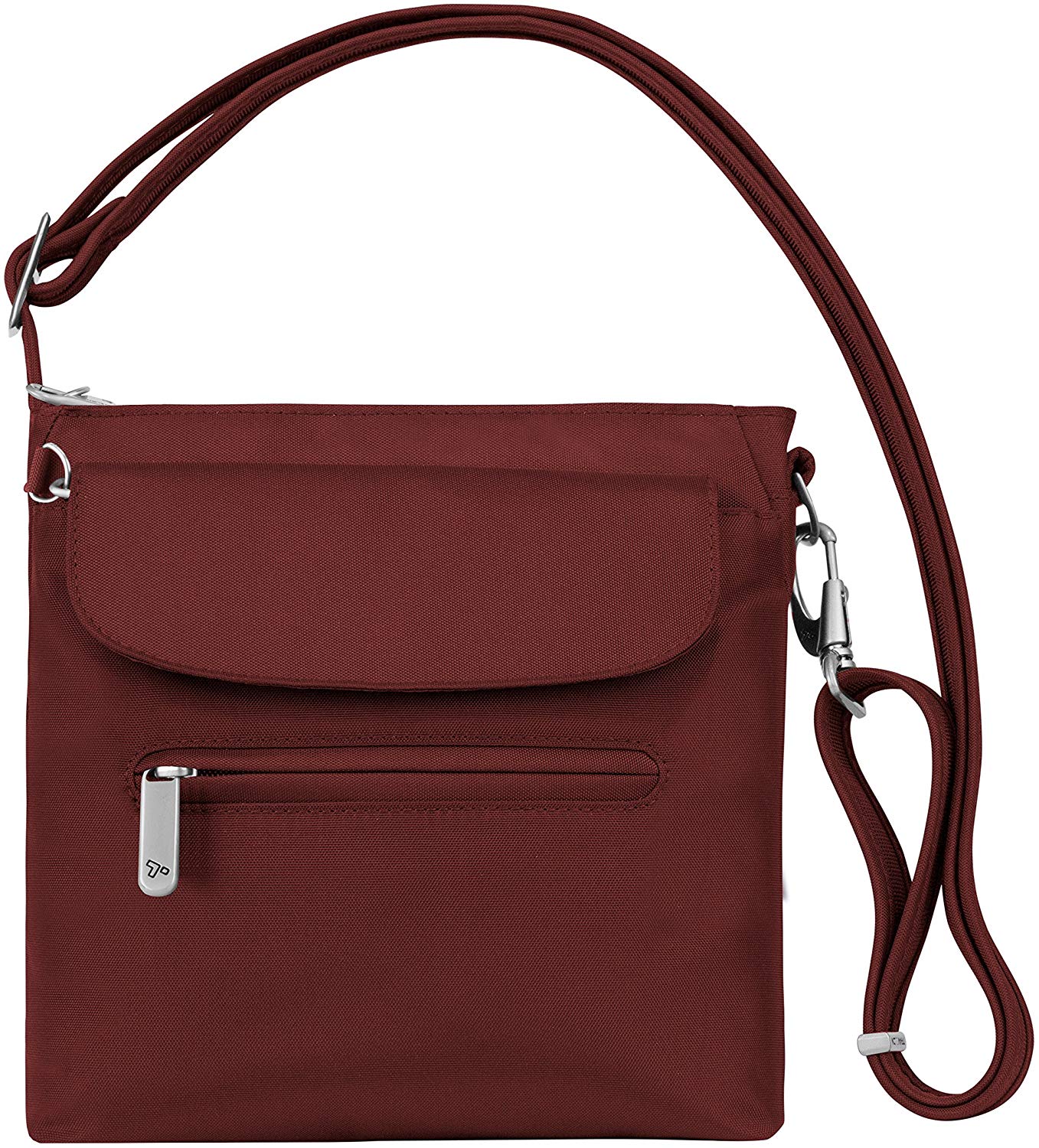 Crossbody Bag
When deciding on what to bring to Oktoberfest, If you wish to carry more items while out-and-about, consider using a crossbody bag. One reader says, "During the day and at the Wiesn, I used a small leather Fossil crossbody that what I needed perfectly," while another says, "I liked bringing a crossbody because I could drape my rain jacket over it."
Travelon's classic mini travel shoulder bags offer the spaciousness of a larger bag without the unwanted bulk that may come with it. With a lockable, RFID-protected main compartment, two exterior zippered pockets, and a lightweight feel even when full, this piece is secure, roomy, and organized.
We've rounded up the best anti-theft travel bags for women according to our readers!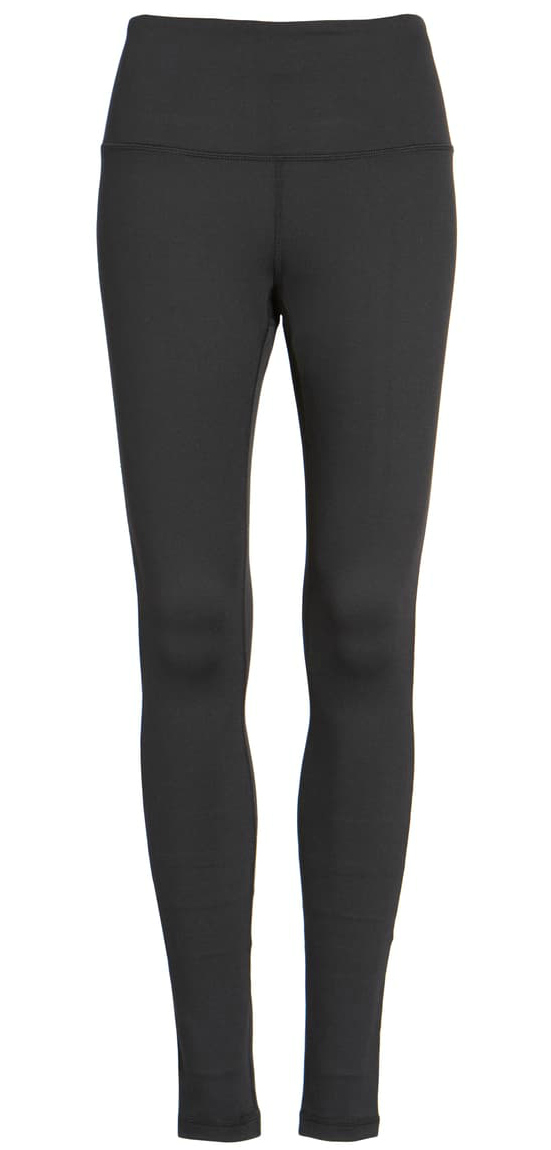 Zella Live In High Waist Leggings
What Do You Wear to Oktoberfest – Before and After
There may be travel days before and after the festival (or if you choose not to wear a dirndl) that you need to plan for. Luckily, one reader helpfully shares what she brought.
Oktoberfest packing list:
She adds, "I wore a dress and leggings on the plane for comfort. I didn't end up needing the tank top or long-sleeve shirt, and I did have to wash my pantyhose during the week. I found the three short-sleeve shirts were perfect to mix and match with the cardigans."
Our readers vote for the best leggings for women that travel!
What Not to Wear to Oktoberfest
Readers noted that shoes like flip-flops are not a good idea for foot coverage, especially in fall temperatures or walking around muddy areas. If your Oktoberfest wear includes a dirndl, ensure it's about knee-length. Try to adopt a culturally sensitive attitude as it can be viewed as disrespectful to wear a dirndl that's too short or skimpy. 
To be in the spirit of things, the best Oktoberfest outfits combine some German tradition with modern touches so you can have fuss-free fun at this world renowned beer festival!
Oktoberfest Travel Tips
Now that you've sorted out the right Oktoberfest womens clothes and shoe options, follow our readers' other tips for an enjoyable trip.
Read these Airbnb tips for more info!
We put together a post and a five-part YouTube series showing you the different ways to use packing cubes for festivals—learn this tried and true method!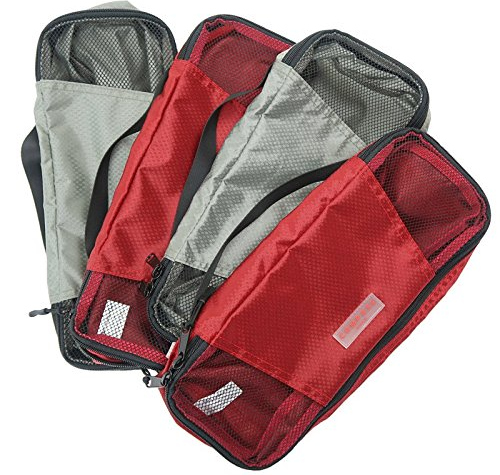 How to Pack for Oktoberfest
To get fully organized for a festival trip, our readers use packing cubes like these ones from Compass Rose. You can designate clothes and shoes by number and color, so you know what's in each bag which makes things easy to access, especially during a busy event like this! 
If you use this specific packing strategy, they can also compress your belongings. This is the secret to getting your packing list for Oktoberfest into carry-on only!
Buy Compass Rose Packing Cubes here!
---
What are your tips on what to wear to Oktoberfest? Share in the comments!
---
For more tips, please read these Europe packing lists:
Suggested travel resources:
---
LIKED THIS POST? PIN THIS PIC TO SAVE IT!
---
I hope you liked this post on what to wear to Oktoberfest. Please share it with your friends on Facebook, Twitter, and Pinterest. Thanks for reading!
---