Support TFG by using the links in our articles to shop. We receive a small commission (at no extra cost to you) so we can continue to create helpful free content. As an Amazon Associate, we earn from qualifying purchases made on Amazon in addition to other retailers featured on the blog. Thank you, we appreciate your support!
Headed to Italy this summer? This magical, beautiful, and delicious country is on the top of most travelers' European lists. Stay on trend while packing light with these five Italian outfits to inspire your travels to Milan, Verona, Venice, Cinque Terra, and Lake Como!
Read our complete Italy packing list for more tips!
---
5 Italian Outfits for Multi-City Trips to Italy
Written By: Liz Warren
---
Traveling to Italy without checking a bag is possible if you choose your Italian outfits wisely. Throughout my two-week trip, I visited five cities: Milan, Verona, Venice, Cinque Terra, and Lake Como, and I was able to comfortably fit everything I needed into one small suitcase with the help of packing cubes.
My secret? Light fabrics, specifically ones that are easy to layer and mix and match to create many outfits for your travel capsule wardrobe. Try some of these Italian outfits if you're heading to any of these cities this summer.
Looking for packing tips for Rome? Find out what to wear in Rome with this summer packing list!
Pants | Tank | Necklace | Scarf | Shoes | Bag | Earrings
Milan
Milan is kind of like the New York City of Italy. It's full of tall buildings and bustling with working professionals. You'll want to wear an outfit with urban influences so it's not so obvious that you're just visiting.
Check out these tips on how to dress like a local in Italy!
Try high-waisted linen pants, which will make you feel like you're at a resort without signaling to locals that you're in town for vacation. While you're there, you might want to stroll inside the Milan Cathedral for a tour—and that means you'll have to cover up.
Guards can and will turn you away if you're showing "too much skin," so make sure that whatever you choose to wear covers your thighs, chest, and shoulders.
Find out what to wear to the Vatican and other religious site!
Necklace | Flats | Sundress | Ring | Crossbody | Scarf
Verona
I like to consider Verona the city of romance. Why? It's home to Casa di Giulietta, the fictional site of Shakespeare's most famous scene in Romeo and Juliet.
Celebrate these characters' love with a romantic, dusty rose dress that's also practical for the heat you're bound to experience in the city. Pair it with lots of jewelry and comfortable ballet flats for a super feminine look.
These are the most cute and comfortable ballet flats for travel!
Just like in Milan, there are plenty of cathedrals you might want to visit. I quickly learned to always carry around a scarf for moments like these, where I didn't necessarily want to bundle up all day, but wanted to walk through some of the most sacred places in the world.
Tie a scarf to your bag if it's an especially hot day and you don't want the extra layer on your body.
Find out why a circle scarf is one of the most popular styles!
Shorts | Hat | Scarf | Bag | Top | Watch | Sandals
Venice
Venice is known as the "floating city" because it's surrounded by water, but don't be fooled. Temperatures in the summer can get uncomfortably high, and you're sure to be walking around all day long.
While rainfall doesn't vary much between summer and winter, the regularity of humid conditions can make daytime temperatures feel more extreme. Hot days can feel up to five degrees hotter (and cool days much cooler), so dressing appropriately for the weather (and pre-booking museum tours during the mid-afternoon) is a good idea.
Though it get cloudier as the temperatures drop in late summer, summertime highs can reach 82°F/28°C and lows of 63°F/18°C with 11-13 hours of sunshine.
You'll need to dress light and wear sandals that won't kill your feet.
Check out our round-up of stylish yet comfortable walking sandals!
From Venice, easy day trips by train, car, or ferry can be arranged in and around the region. To be ready for any occasion, it's best to err on the conservative side. Italians are famously well-dressed, and only western tourists would dare wear a baseball cap or workout sneakers or flip-flops. You will not see sportswear or yoga clothes in the city.
Locals might be seen wearing comfortable shoes—as long as they tastefully match fashionable attire. Italians also dress nicer to go out in the evening and avoid overly revealing clothing—especially near religious sites—although tops and dresses can appear fitted.
Avoid stilettos but bring wedges if you want to dress up.
Getting on and off boats to reach the hotel can be cumbersome, so pack light. It's also a good idea to carry around a purse backpack so you can store additional layers, like a light jacket or—you guessed it—a scarf.
Top your Italian outfits with a fedora or other cut hat to keep your face safe from the sun. It will also help you feel right at home if you decide to take a gondola ride through Venice's infamous canals.
These gorgeously designed cute purse backpacks are great for travel!
Poncho | Romper | Swimsuit | Hat | Sandals | Tote
Cinque Terra
Cinque Terra, which translates to "five lands," is one of my favorite places in the world. In one visit, you can hike around a mountain, sunbathe by the sea, and go on a scenic boat ride overlooking all the beautiful cliffs and hills.
You'll want to wear a lot of layers as part of your Italian outfits, since the temperatures will vary depending on the time of day and any activities you have planned, so start off with a bathing suit that you'll feel comfortable wearing all day.
Want some stylish cover-ups that you can wear on and off the sand? Read this!
On top of that, put on a printed romper that can double as a bathing suit cover up and pair it with a colorful poncho. When I visited, I took a boat out to Monterosso, and was happy to have a sweater when it got chilly out in the open sea.
Cinque Terra is another part of Italy that requires long stretches of walking, so choose shoes that are comfortable—and make sure they're easy to kick off when you want to run through its sandy beaches.
Here are more stylishly comfortable sandals for travel!
Jumpsuit | Hat | Earrings | Sandals | Necklace | Bracelet | Bag
Lake Como
I'll never forget sitting at a poolside table overlooking the lake and rolling hills of Lake Como. The jumpsuit I wore was one of the most perfect Italian outfits for the occasion.
For starters, it was made of lightweight cotton, which was great in the event that you got splashed by some water. Aside from how practical it is to wear a light jumpsuit in this part of town, it also gave me a touch of high fashion.
TFG loves Vacay Style for travel! They have 2-piece jumpsuits that you can wear together or separately!
Italy is home to some of the most fashion-focused cities, so it was nice to find a balance of comfort and style.
The sun reflects off the water in all directions, so it's a good idea to wear a floppy hat to keep the sun and hair out of your face. As a bonus, you won't have to worry about how the wind or humidity is affecting your hairstyle. And it's a great way to pull together your whole outfit!
Use these accessories and hats for a fun and stylish way to update your vacation do!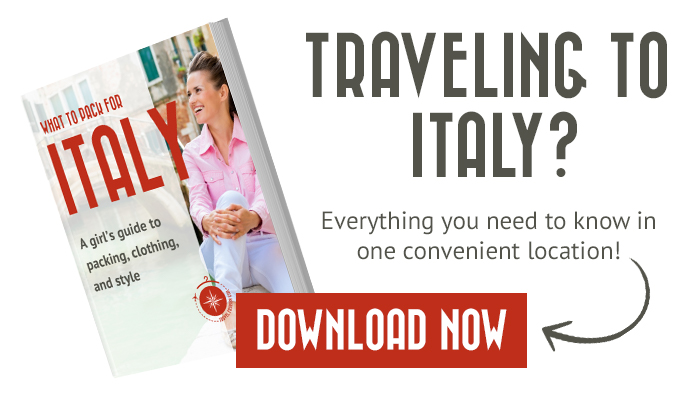 ---
What essentials do you recommend for the perfect Italian outfits? Share in the comments below!
---
For more ideas on how to pack for Europe, please read:
Suggested travel resources:
---
LIKED THIS POST? PIN THIS PIC TO SAVE IT!
---
I hope you liked this post on Italian outfits. Share it with your friends on Facebook, Twitter, and Pinterest. Thanks for reading!
---
Author Bio: Liz is a Boston-based writer with a severe case of wanderlust. She loves that her job allows her to combine travel and fashion, and she's always dreaming up her next trip (and wardrobe to go along with it). Follow her stylish adventures on Instagram & Twitter.
---