Support TFG by using the links in our articles to shop. We receive a small commission (at no extra cost to you) so we can continue to create helpful free content. We earn from qualifying purchases made to the featured retailers. Thank you, we appreciate your support!
If you're stumped on what socks to wear with your shoes when traveling, Bombas women's socks are considered to be the best by TFG readers. Find out more in our review below!
---
Bombas Review
---
Table Of Contents
Wearing the right shoes for travel is vital, especially when long bouts of walking are involved. Comfort is key and if you have specific foot issues, it's also important to ensure your shoes are supportive. The best wisdom to follow is the 3-shoe rule, which entails bringing a pair of comfy walking shoes for sightseeing, an activity shoe if you plan on doing things like hiking or exploring nature parks, and a "wild card" shoe, which is typically something a bit dressier, such as flats or sleek ankle boots.
And while finding the correct shoes is important, so are the socks you wear! The worst thing that can happen during a trip is if your socks keep slipping off, or don't let your feet breathe in your shoes. And oftentimes, socks seem like the one item that's forgotten or considered last, while wearing the right pair can actually make a difference in comfort when wearing shoes!
Check out the cutest and most comfortable walking shoes for travel, if you're looking for a pair that are supportive and can hold up during sightseeing excursions!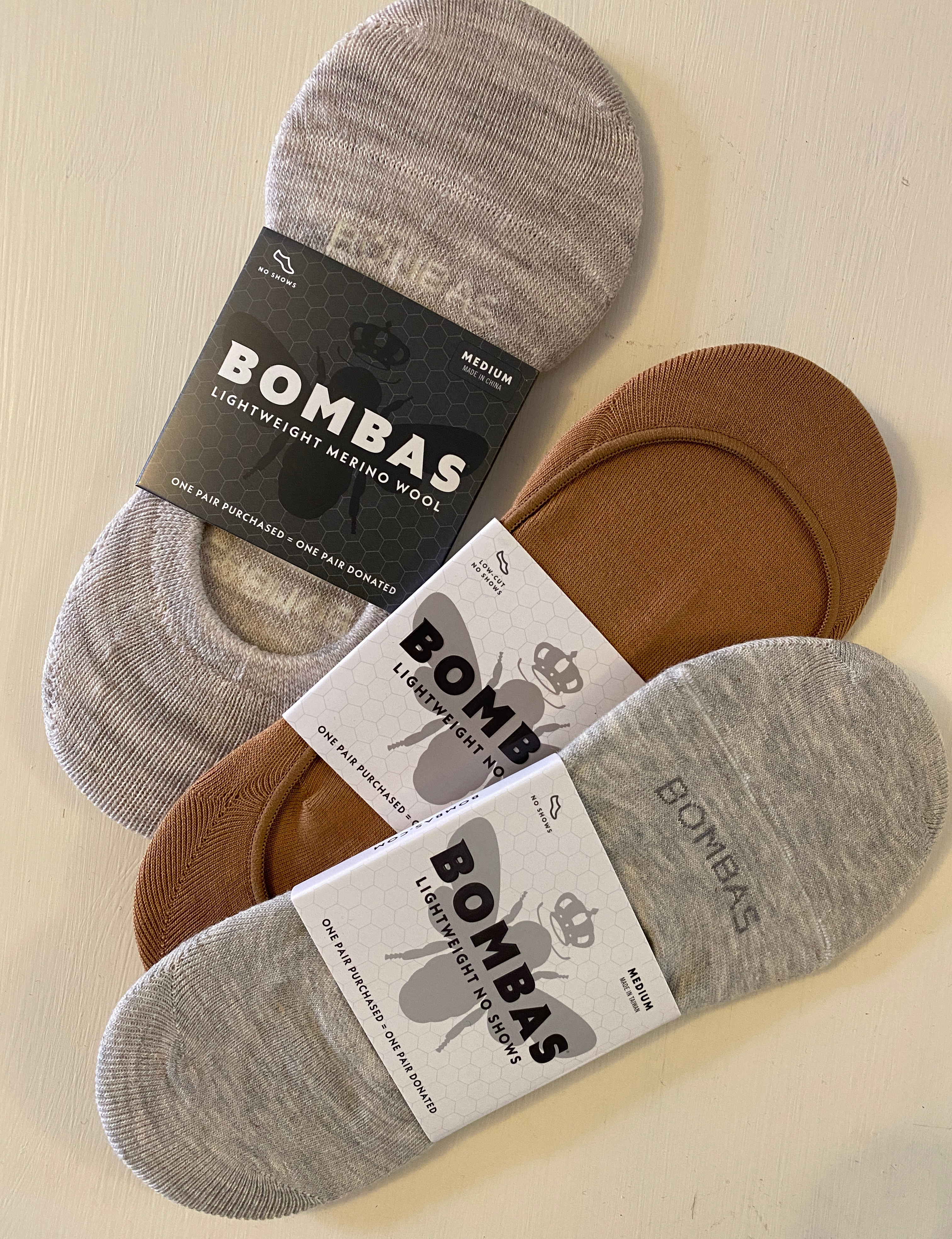 A treasure trove: Lightweight Merino Wool No Show, Low Cut No Show, and Lightweight No Shows
Introducing, Bombas cute socks for women! An entire brand devoted to making feet happy. Readers raved about Bombas socks forever, so I decided to try them out for myself. I never knew socks could be THIS good. Not only are they soft and comfortable, but they also actively protect feet as you're walking, by preventing slips, blisters, and rubbing.
While socks aren't the sexiest item to discuss (haha), continue reading this review to discover why Bombas are such a big hit with the TFG community!
Best Features of
Bombas Socks Women's
Styles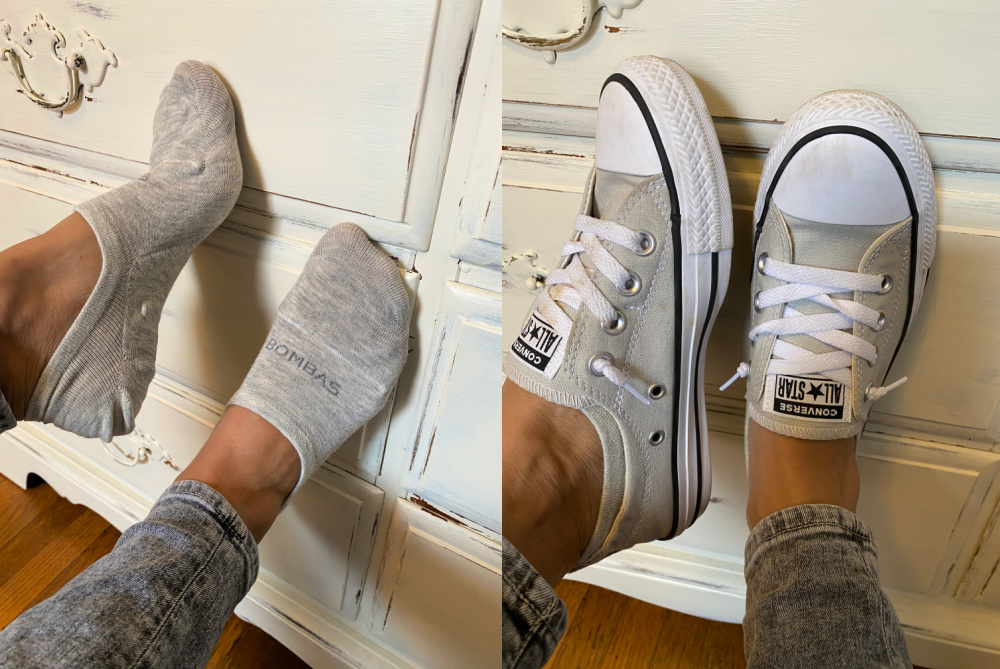 Trying out Bombas Lightweight No Show Socks with my Converse ​All Star Shoreline Slip On Sneakers
They're Comfortable and Well-Built
While socks may seem like a no-brainer to put on and wear, comfort is key to your feet having a good day. Bambas socks have no seams, which won't rub against your foot and cause friction, and thus blisters or raw spots. The company has also included important features like padding to protect feet against blisters or added special grips to the bottoms so there isn't slippage.
Reviews say over and over again that these are "very comfortable," and one reader, in particular, had this cute thing to say, "I love Bombas, they are like a little hug for my feet."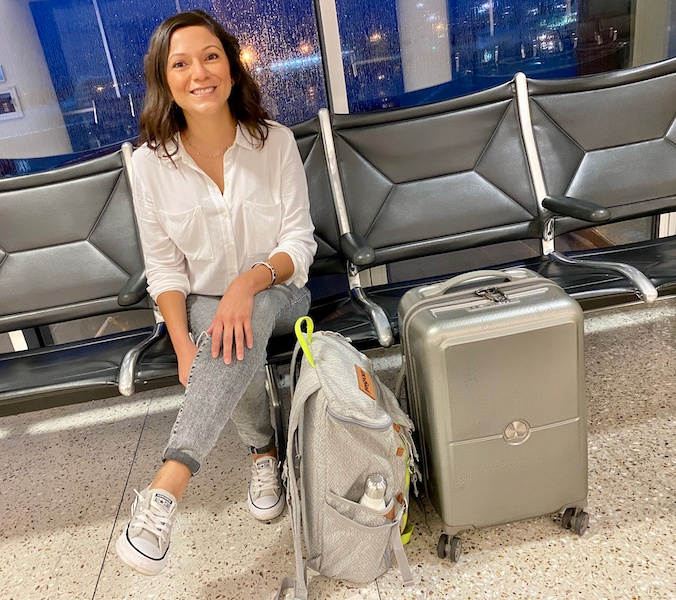 Hanging at airport in my Converse ​All Star Shoreline Slip On Sneakers and Bombas Lightweight No Show Socks 
For how much I travel, my feet need to feel energetic and protected, so my choice of socks matters. I usually wear the gray Lightweight Bomba No Show Socks with my gray Converse. While I tried the Lightweight Merino Wool No Show Socks as well, for my sneakers, the regular No Show Socks won out.
Another reader echoes how well constructed they are, "I love my Bombas! It's the no seam for me. So comfy and definitely the only no slide ones I've found to be truly effective."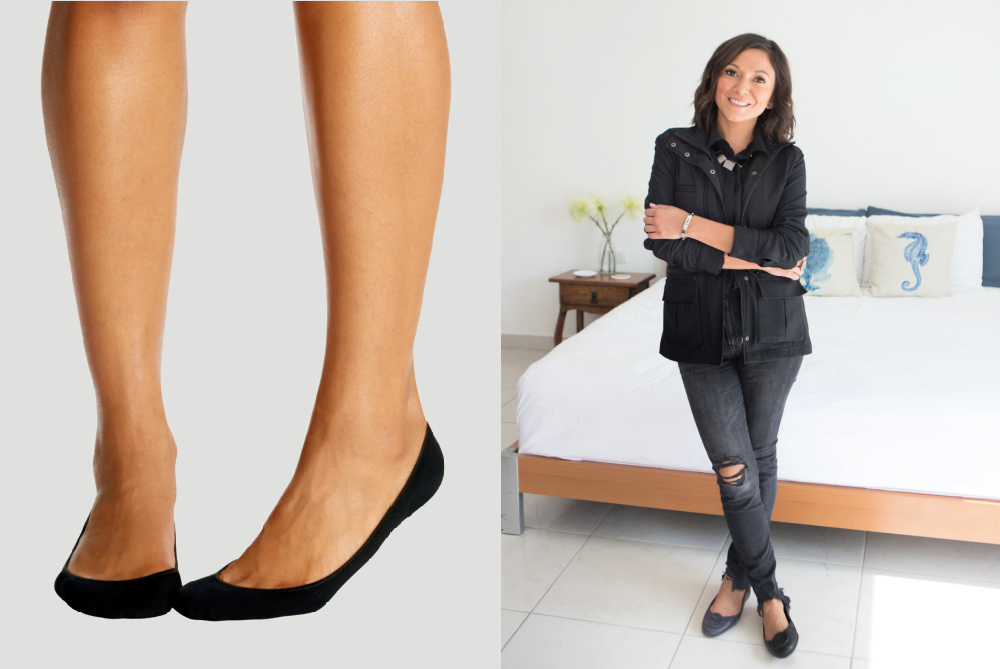 I'll wear Bombas Low-Cut No Show Socks with my Tory Burch Minnie Flats 
They Don't Slip Down
The most-reported complaint about socks, in general, is that they slip down when walking. Not so with Bombas! One reader says, "Bombas are the only ones that have stayed on my feet," while another adds, "I also love Bombas. They're the only sock I've worn that has stayed put!"
I've also found this to be the case, I especially put that to the test when I wore the Low-Cut No Show Socks with my Jibs Slip Ons and Tory Burch Minnie Travel Flats. Lower-cut socks can easily slip down until your sock is flopping around in your shoe. They stayed on for me, all throughout the airport where I was doing a lot of walking. One user shares their happy experience with the low-cut version, "They're terrific! They don't show when wearing a flat, and best of all, the heel stays in place and is comfortable!"
This review speaks to the other incredible feature, each Bombas sock has a built-in heel grip so your feet won't slide back and forth in a shoe either!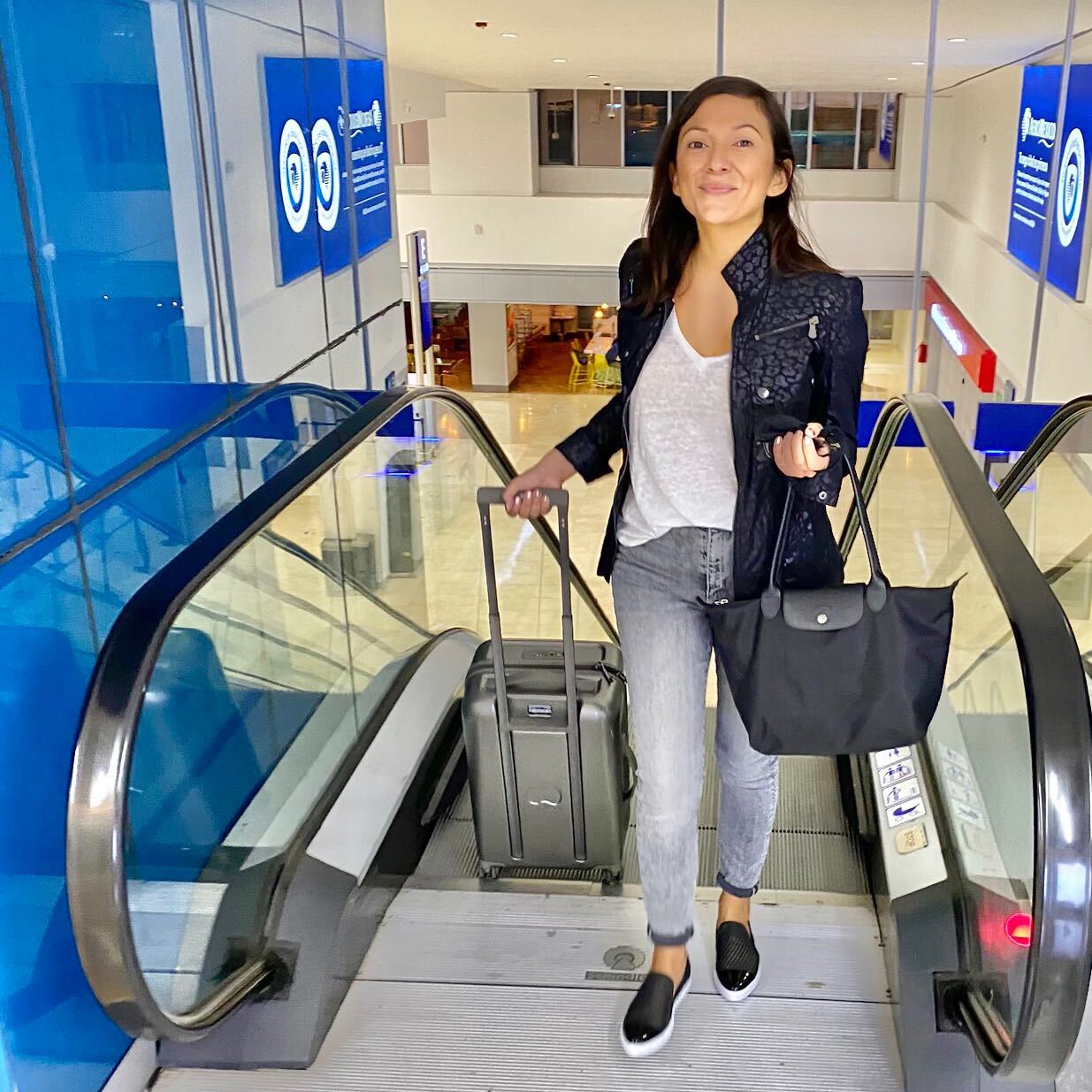 In my Bombas Low-Cut No Show Socks and Jibs Sneakers
In regards to sizing: With no the show socks, for example, I'm a size 6.5-7 and originally ordered the medium, but I found they were too long, thus I ended up ordering size small. They do come in S, M, and L sizing, so just review their size guide to determine fit. You may need to size up or down, depending on the sock you choose. The plus of this is Bombas customer service is very responsive and offers free returns!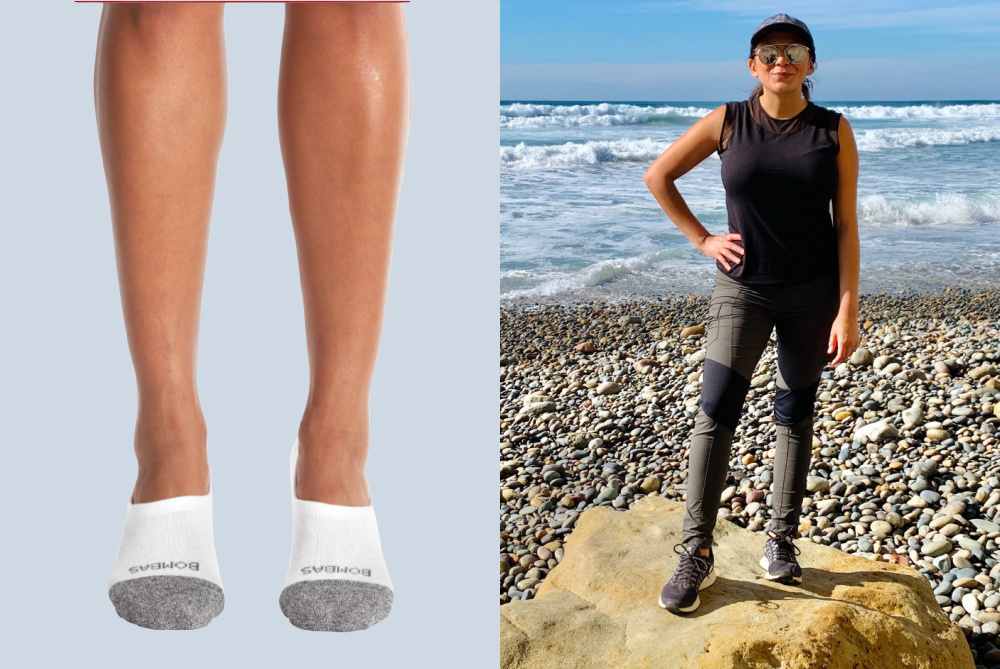 I'm obsessed with the Bombas Cushioned No Show Socks for working out!
They're Excellent for Multi-Purposes
What's also wonderful about the line of Bombas socks is they're handy for so many facets of life: be it travel, work, and leisure! 
I, for one, like the Cushioned No Show Socks for workouts because they feel comfortable and completely stay on. But the brand also carries socks for different purposes, and some wearers are creative with how they're used.
A reader elaborates, "I wear the women's Performance Running Ankle Socks for golf. Best golf socks ever! Also tried the compression socks and they are excellent as well. Love that they donate pairs when you buy from them."
Another reader shares, "I love them for traveling and use the Lightweight Merino No Show Socks and they hand wash and air dry in a flash. I also love the Merino Calf Socks for wearing in winter under boots. I think they fit better than Smartwool, and stay up better."
With so many uses and types of socks, it's no wonder a TFGer has this to say, "What a great sock and great company. I always feel like I'm doing something good for people in need as well as buying an excellent product. I give them as presents too."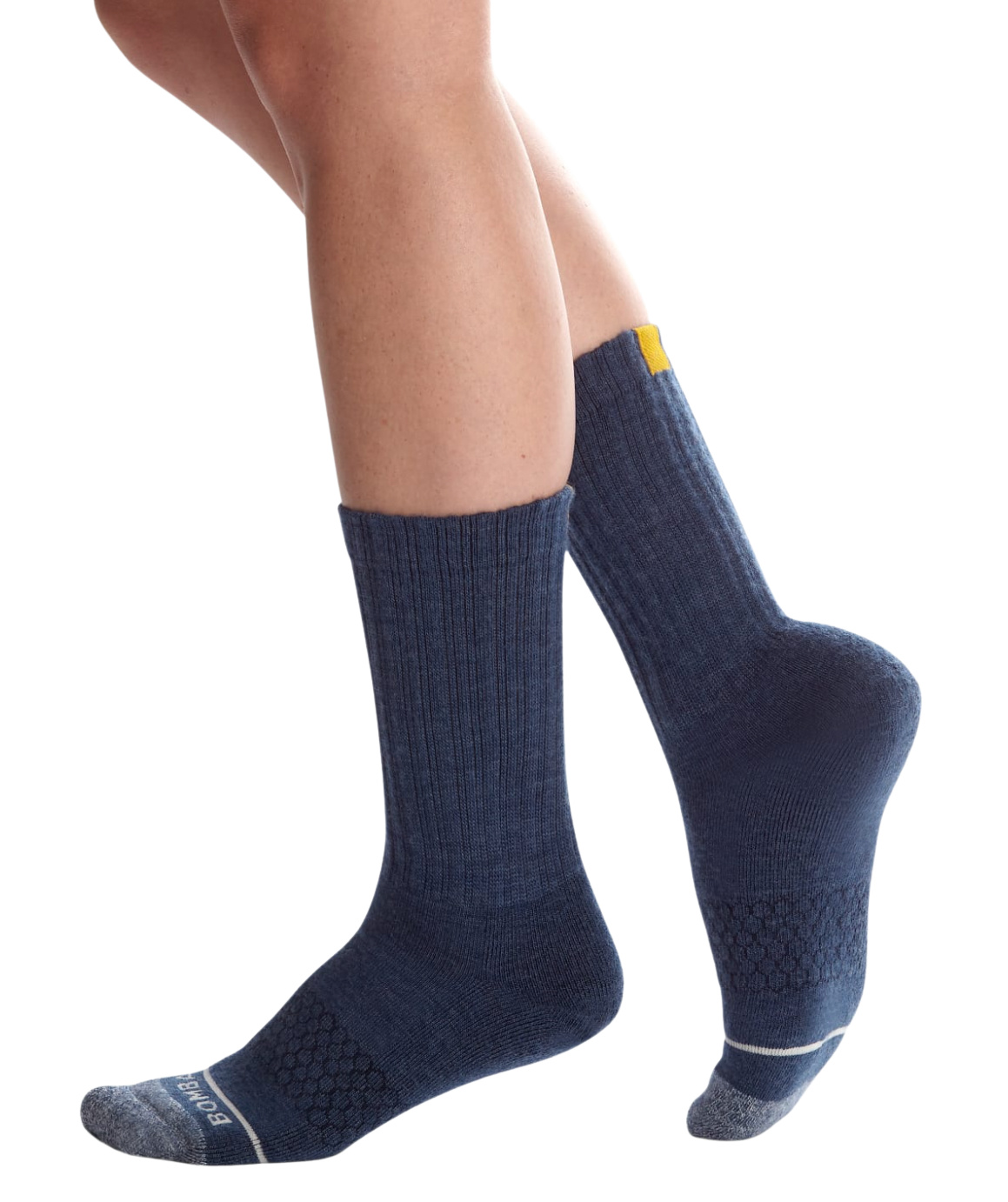 Bombas Cashmere Blend Calf Socks
They're Worth the Price
Many times a TFG community member has asked, "Are Bombas socks worth it?"
One thing vital for a great travel experience is to not sacrifice comfortable, quality shoes for cheaper, stiff ones, and the same wisdom applies to socks! Poorly built socks can rub against feet, cause blisters, and annoyingly slip down constantly!
Bombas socks average between $10-$12, which some readers feel is a bit to spend, while others feel confident in purchasing these and are happy to avoid the dreaded "graveyard sock drawer". One reader echoes their quality and price point, "Bombas are worth every penny. Not only are they comfy and they really do stay up, but the company donates a pair for every pair purchased."
What many TFGers emphasize is the longevity of their Bombas socks. One says, "I love Bombas. I have all the ankle socks, plus the non slip, and no shows. I have the heavier socks from my Ireland trip. They last forever and are so worth the price! Some of my Bombas socks are two years old and still going!"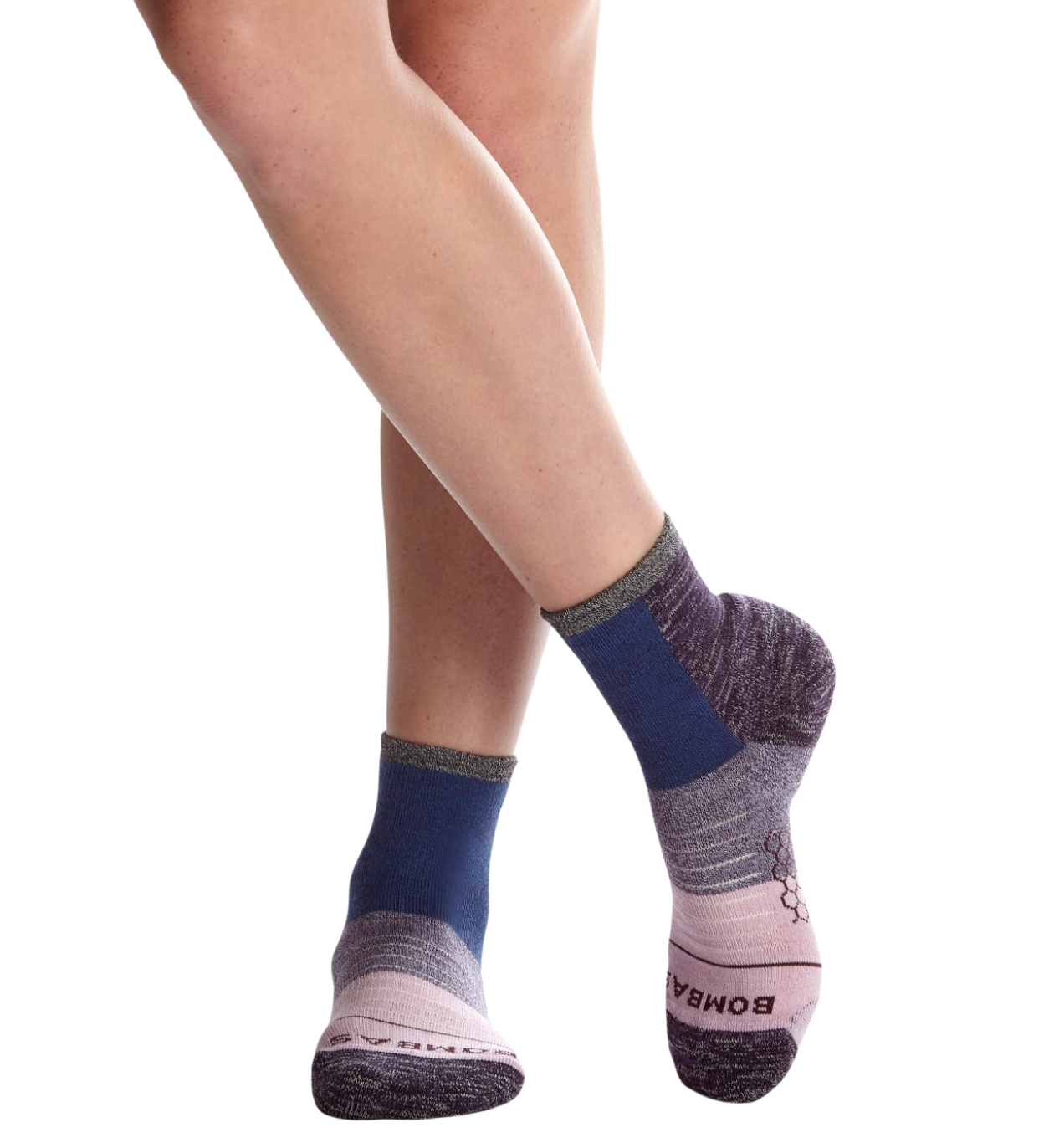 Bombas Merino Wool Hiking Quarter Socks
Pros and Cons
I first heard about Bombas socks from the readers and after trying them out myself, I couldn't believe how soft, comfy, and protected my feet felt! And I'm not the only one, as one reader shares how her misfortune turned around," I've never had luck with no shows—EVER!! And the lightweight no shows are a HUGE win—with booties and tennis shoes!" 
Another reader decided to roll the dice and try them out. "After seeing lots of recommendations about different no-show socks that won't get eaten by your sneakers, I decided to try Bombas. They arrived a couple of days ago, and I've done all sorts of walking to test them out. I LOVE THEM! Not only do they stay in place, but they are cushiony and very comfortable, too!!  They also donate one pair to someone in need for every pair ordered!!  If you're on the fence, I say try them. 100% happiness guaranteed!" 
However, one downside is the Bombas socks price can seem high, but most satisfied users feel it's worth the price and swear by their quality. One reader explains their level of satisfaction, "They are awesome! I gave away all of my others."
This TFG reader states why they're worth every penny, "These are the best socks I've bought. I usually wait for a Bombas socks sale but will buy them either way. I love their giving back program too. The quality and fit of the socks are like no other I've found."
So, while Bombas socks are pricier than others, you can try to buy them on sale and can count on them for multiple years, rather than deal with flimsy socks that unravel or wear down in the heel quickly. Overall, Bombas stand up to the rigors of travel and are considered a sound investment (for your feet)!
If you want further ideas, see this list of popular Bombas socks for anything from long boots to sports shoes!
More Recommended Bombas Socks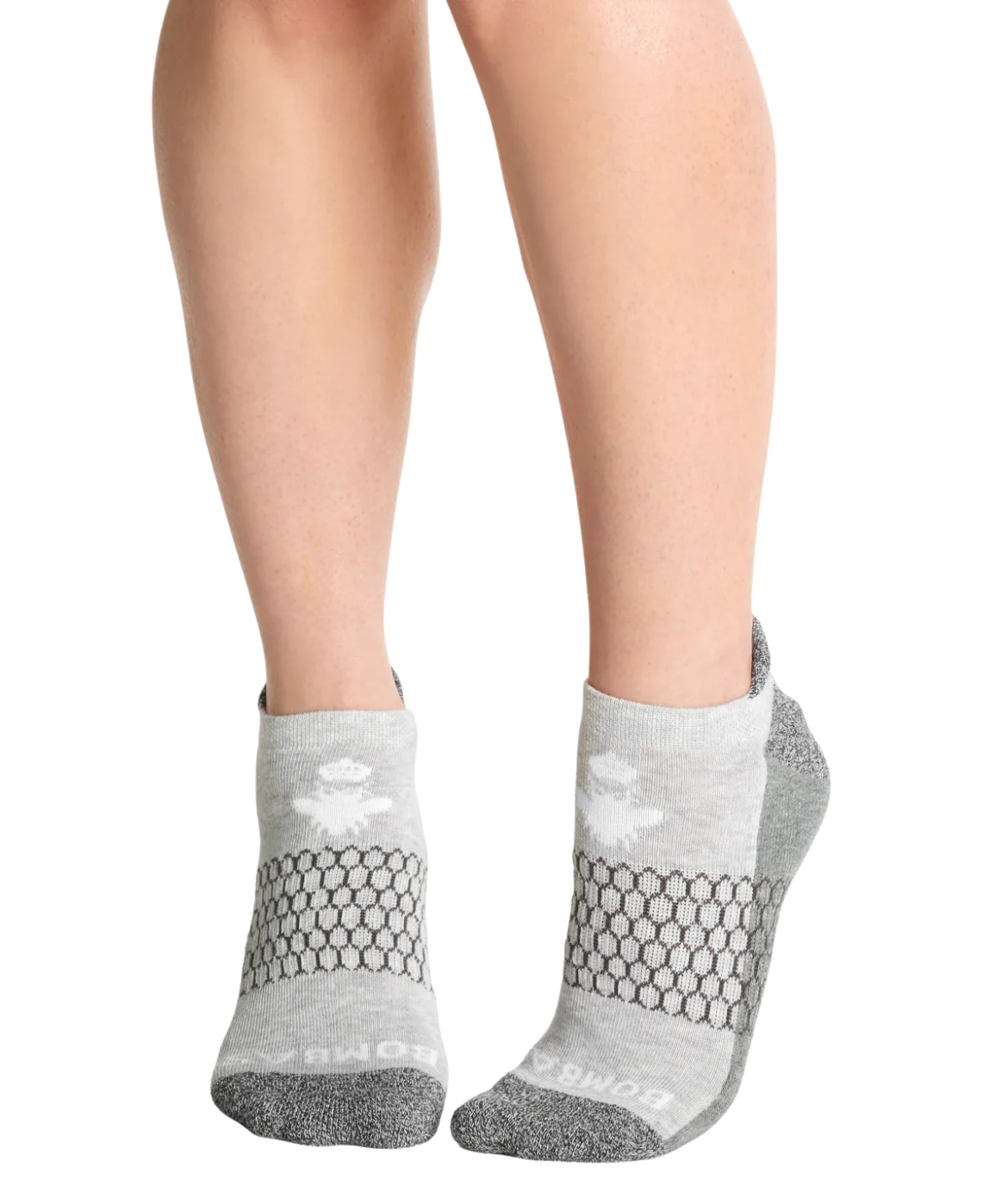 Bombas Original Ankle Socks With Arch Support
Best for Ankle Boots: Original Socks 
These were the very first pair of socks Bombas made and they're still a huge seller! The Original Bombas Ankle Socks come fully loaded with arch support, a comfortable seamless toe, and they won't slide down when on. Plus, they're made of a soft cotton!
These are ideal for ankle boots as this reviewer suggests, "I just love these. I even wear them in my UGGS."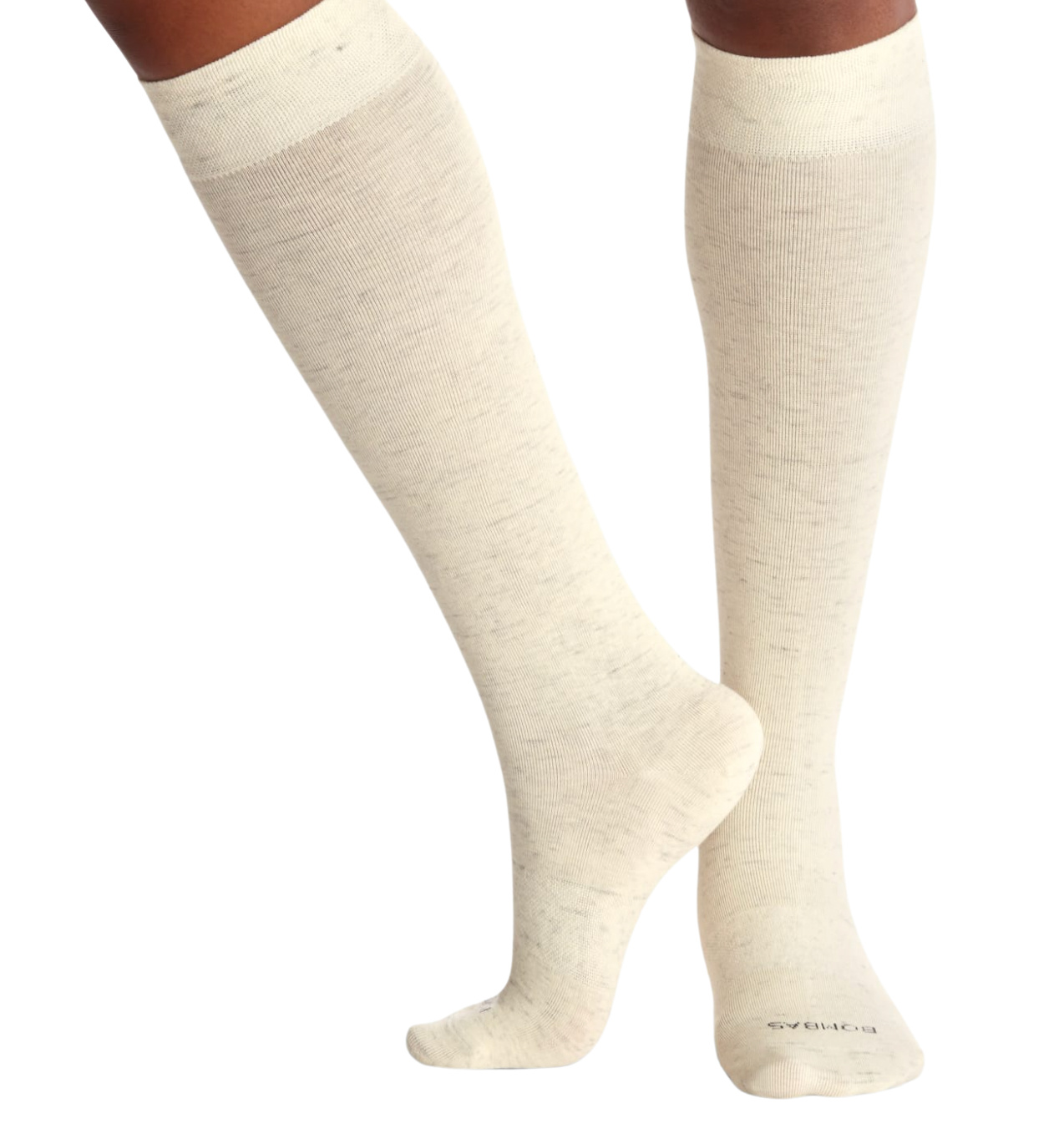 Bombas Lightweight Knee High Socks
Best for Long Boots: Lightweight Knee-Highs 
Knee high boots are highly popular as a versatile shoe, but the worst thing is when your socks constantly roll down till they're sitting half down the calf (so happened to me). The Lightweight Knee Socks could be the answer! 
They feel light so your legs breathe in your boots, have cushion in the footdbed, and will not slide down. 
One reviewer is quite happy with hers, "They fit without constricting and do not slide down even when jogging. Soft, supportive, cushiony. They don't move around on the feet, which some cushiony socks do. I have wide flat feet and wide calves. These socks fit beautifully and feel elegant on my legs."
When you want to wear long boots in colder weather, you could wear their long merino wool socks.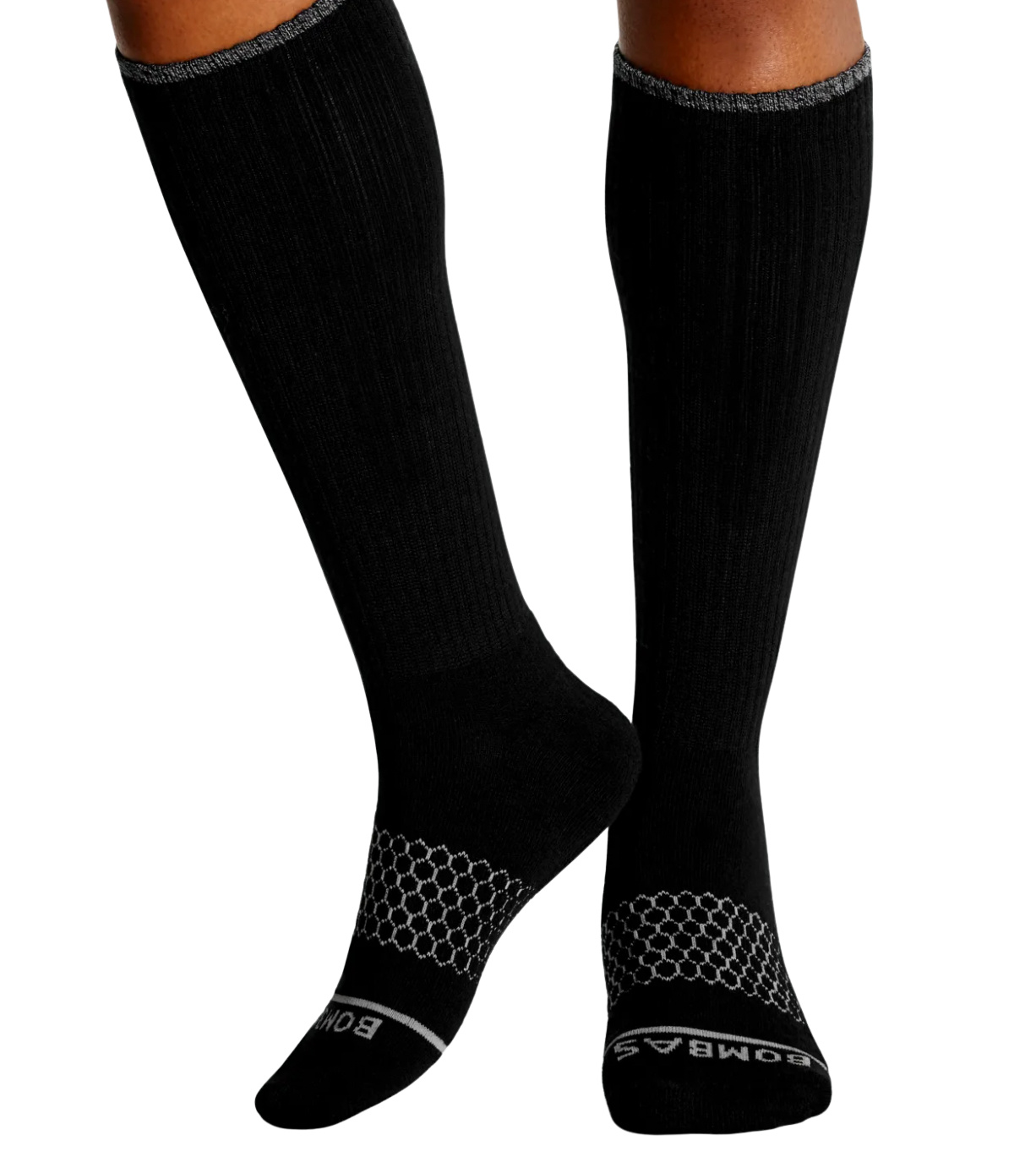 Bombas Merino Wool Knee-High Socks
Merino wool is a miracle fabric that keeps you warm but also dry, as it doesn't retain moisture, because as you sweat, you will shiver but not so in these Merino Wool Long Socks! Soft and toasty is how you'll feel, according to this happy wearer, "I'm very happy with my purchase. They stay up well and kept my feet and lower legs warm."
You can also get their merino wool socks in these lengths:
The amazing thing about merino is you can wear it year-round which is possible with these socks as well!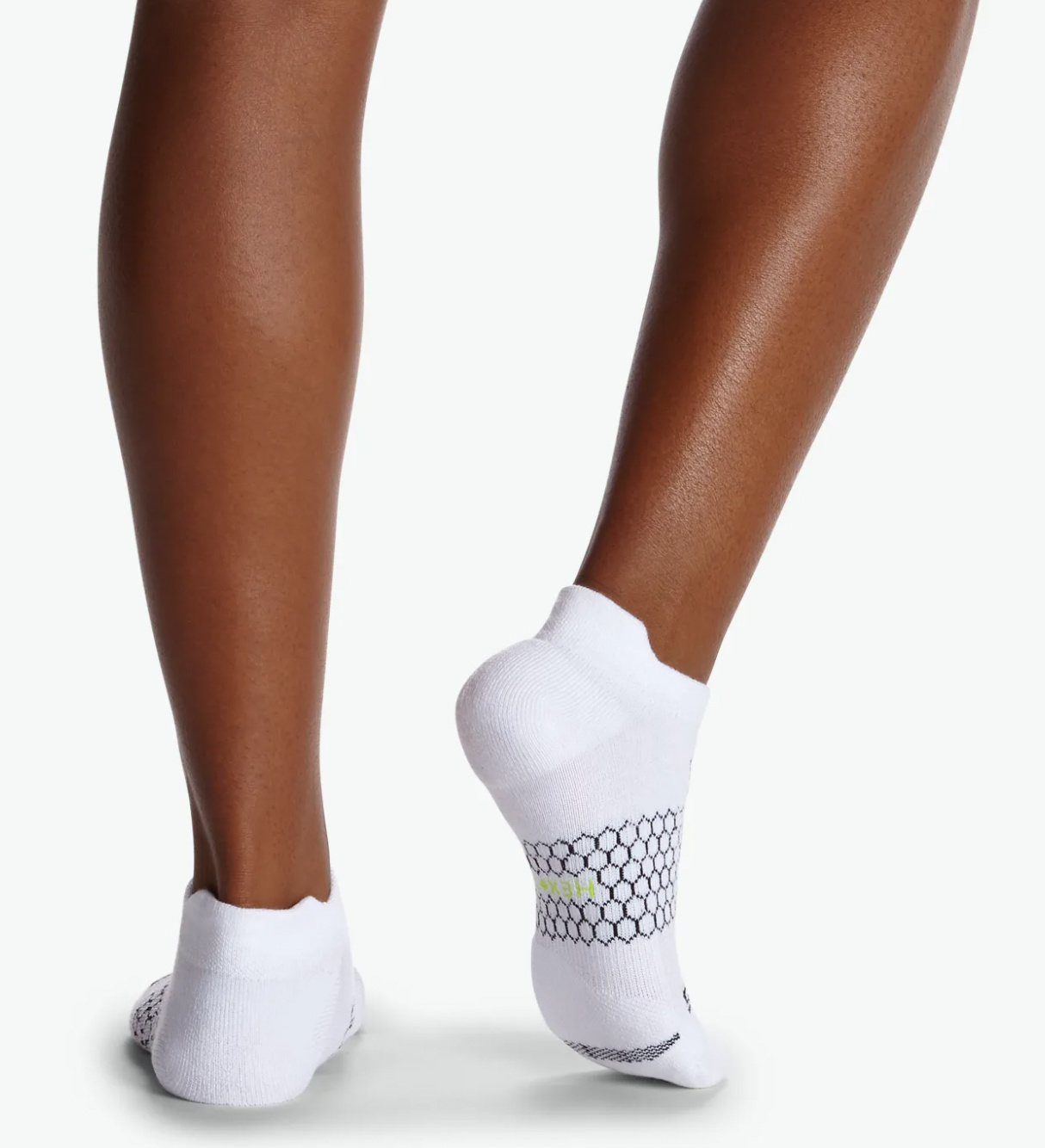 Bombas All-Purpose Performance Ankle Socks
Best for Sports Shoes: All-Purpose Performance Ankle Style
Whether you like to hike or golf during your travels, tough and breathable socks matter! The Performance Ankle Socks have venting for airflow during activity, has special stitching in the heel so they will stay put, and tons of cushioning to support and prevent blistering—the dreaded enemy of feet!. 
These are terrific catch-all socks for different physical activities and have over 2,000 reviews! One user describes them as "very comfortable for hiking and running," while another review says, "feel great on my feet and so comfortable for walking."
If you want sports socks of varying lengths, you could also grab these other All-Performance lengths:
You might want to check out their entire performance section, as socks specifically for hiking, cycling, and running are also available!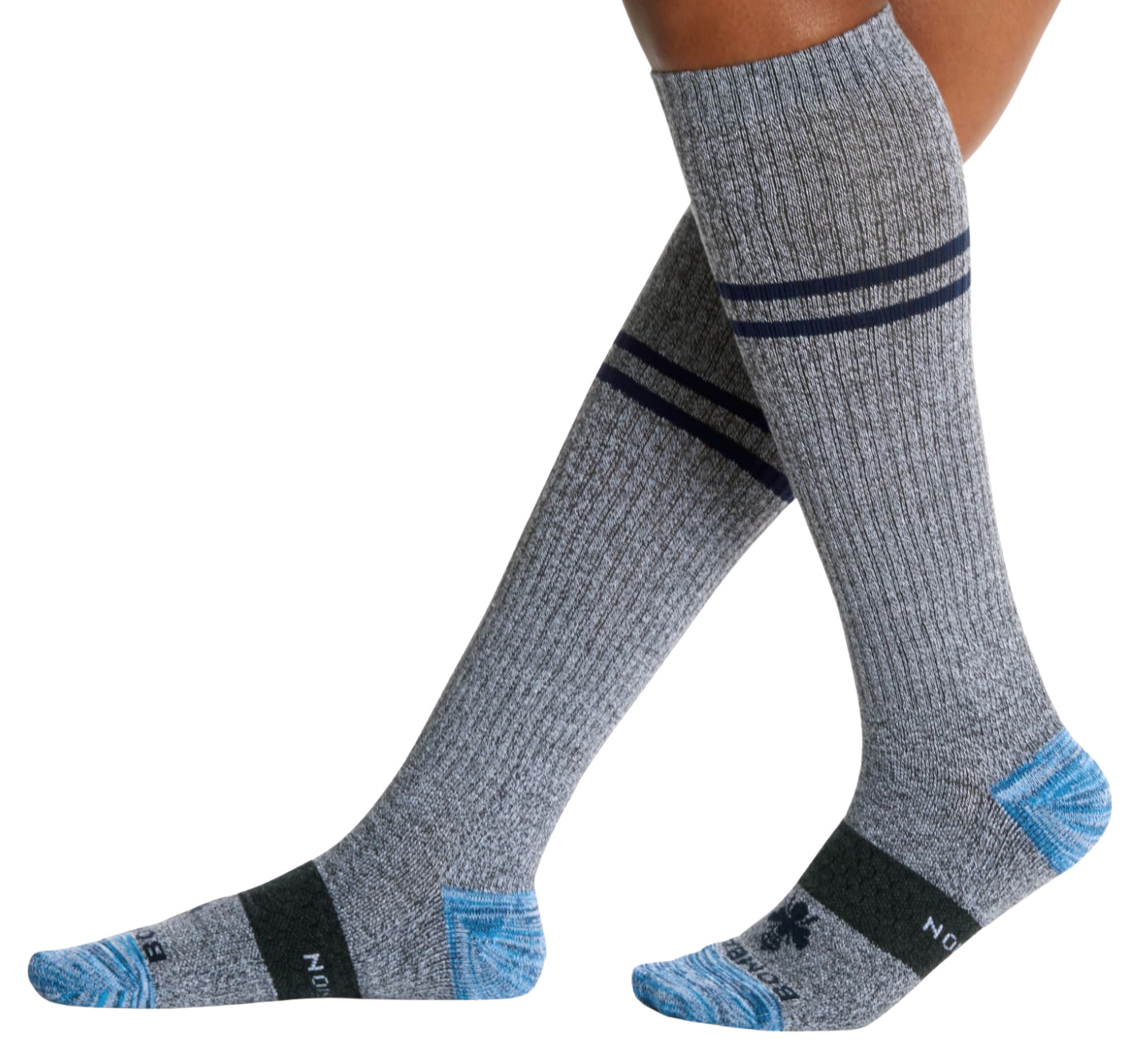 Bombas Everyday Compression Socks (15-20mmHg)
Best for Flights: Everyday Compression Socks
If you want to prevent swelling in your legs post-flight, the Everyday Socks are highly popular. They offer enough support without being too tight and have all the tell-tale hallmarks of quality; including a cushiony footbed and a sturdy heel. 
At a 15-20 mmHg compression level, these are perfect for traveling, sightseeing where you'll be walking all day, or for pregnancy, especially during a trip. Positive Bombas socks reviews are well over 6,000 and one says, "I love these compression socks!! They fit perfectly and my legs feel so good in them."   
If you need stronger compression, check out the Performance Bombas Compression Socks which have a 20-30mmHg compression level and are also moisture-wicking, ideal for anyone doing long hikes or heavier activity and want to stave off swelling at the end of the day!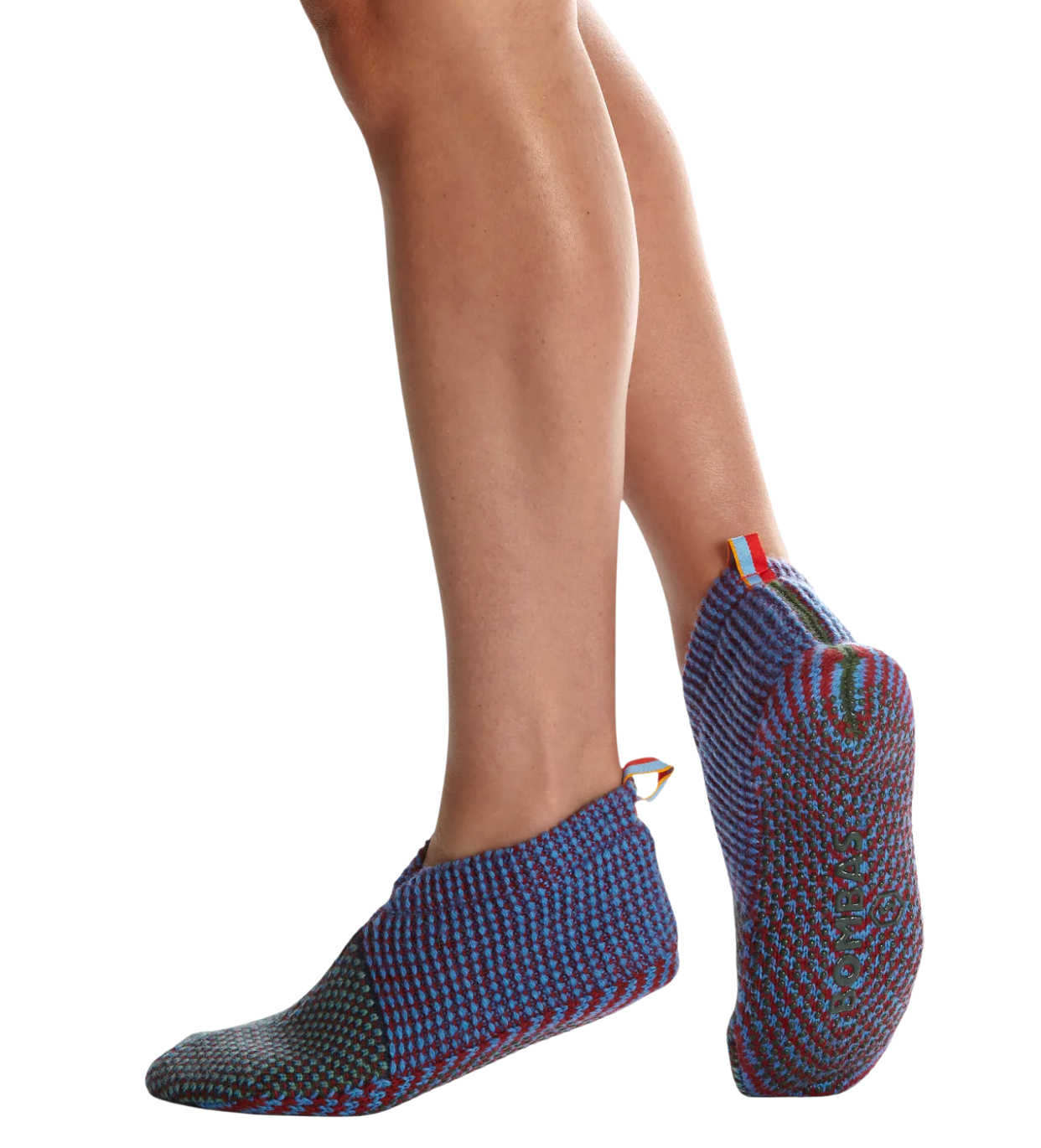 Best for Wearing in Your Hotel or Lounging: Gripper Slippers
Over here at TFG, we got pretty excited when Bombas introduced Gripper Bombas Slippers. Not only are these super cozy, they feel soft due to the brushed lining, and you won't slip on surfaces as the bottoms have special grips. 
And for traveling, they pack flat for easy transport. One reviewer didn't just buy them for herself. "So soft inside and grippy on the bottom. Bought some for my mom and sister too!"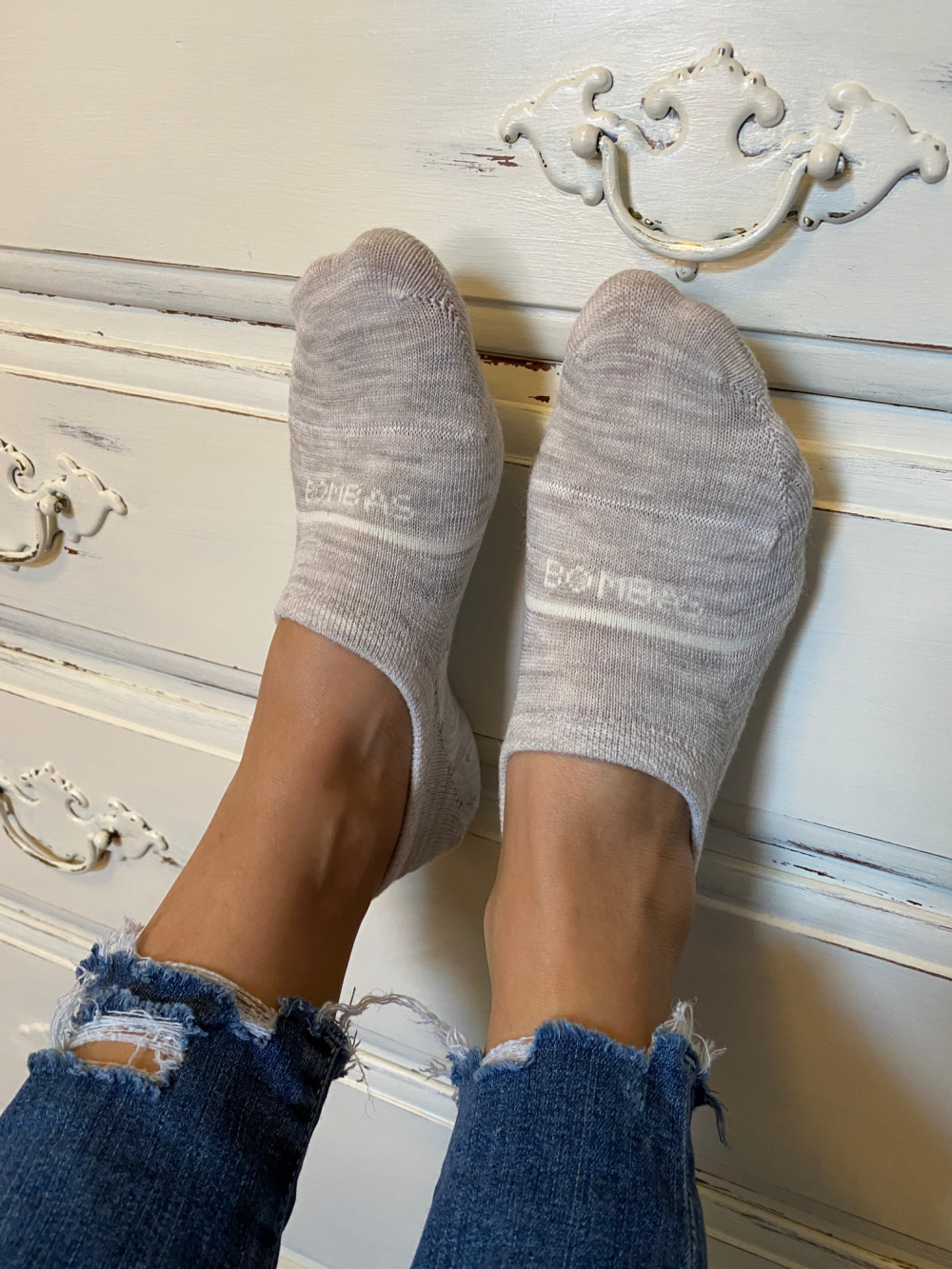 Bombas Lightweight Merino Wool No Show Socks 
Where to Buy Bombas Socks
You can pick up these amazing socks at bombas.com, and for an alternative place to buy them is Nordstrom, where on occasion they're on sale when the Bombas site may not be and at certain times Nordstrom offers free shipping!
---
What's been your experience with any Bombas socks women styles?  Share your thoughts with us below!
---
For more travel socks, please read:
---
LIKE THIS POST? PIN THIS PIC TO SAVE IT!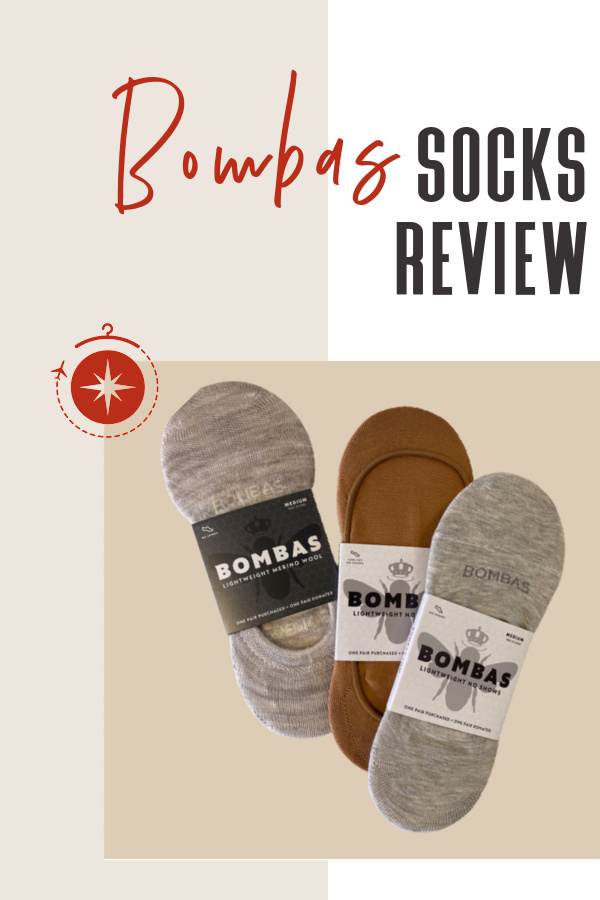 ---
We hope you found this review of
Bombas socks for women
helpful. Please share with your friends on Facebook, Twitter, and Pinterest. Thanks for reading!
---