Support TFG by using the links in our articles to shop. We receive a small commission (at no extra cost to you) so we can continue to create helpful free content. We earn from qualifying purchases made to the featured retailers. Thank you, we appreciate your support!
Whoever said "pack a weeks worth of outfits" left their packing advice open for too much interpretation. Find out 20 tips to avoid overpacking on TFG!
---
20 Tips to Avoid Overpacking
---
Table Of Contents
Delsey Luggage Helium Aero Carry On Luggage
Start with carry on size
Overpacking begins when you choose a travel bag or suitcase that is way too big. Start with carryon size options and exchange for a bigger size if necessary.
Here are more carry-on suitcase ideas:
Remove half of the items
Select everything you think you need for the trip and remove half of the items.
Compass Rose Compression Packing Cubes
Use a packing organizers
Use the rolling method along with organizers like Compass Rose Compression Packing Cubes to maximize the space in your bag. You might find out you don't need a jumbo suitcase and can fit everything into a carryon suitcase or travel backpack instead.
Watch the packing tutorial on Youtube!
In 2017, I launched Compass Rose Travel Accessories and my very first product was a 4-Piece Set of Carryon Packing Cubes. These are the only packing cubes sized to fit the exact width of a carryon suitcase and they also have a unique color-coded and numbered organization system – the only kind currently available anywhere on the market.
I put together a five-part YouTube series showing you the different methods to use packing cubes. If you use this specific packing strategy, they can also compress your belongings. This is the secret to traveling carryon only!
Pack less
Just because you are packing for a long term trip doesn't mean you have to pack more than you would on a one week vacation. Just 8 clothing items can make 26 unique outfits which can be enough for both a weekend city break and a month long trip.
Mix and match your clothing
After making the initial cut backs, lay out your clothing and determine how many travel outfits you can make. Have a private fashion show and play around with the clothing. You'll find out that you can mix and match your clothing in more ways than you imagined avoiding the need for too many items in your bag or suit case.
Taos Footwear Star Fashion Comfy Sneaker
3 pairs only
Shoes: 3 pairs of travel shoes is usually a good quantity to pack for any trip. For vacation you might need a pair of flip flops, nice sandals, and heels while for a backpacking trip it would be recommended to switch out those heels for some trainers.
Tarriss Jetsetter Digital Luggage Scale
Baggage allowance
The airline weight allowance shouldn't be your packing guideline. Strive to pack no more than 10kg or 22 lb. If your bag weighs more than 15kg or 33lb chances are you're overpacking.
Don't just pack
Don't pack "just in case" items. If you need it, you can buy it there.
Avoid packing too many electronics
By choosing one that can do it all. If you want internet access and an e-reader, choose a tablet like a Kindle Fire
. If you want some internet access and music, use an iPhone or iPod. Better yet, make the most of your travels, and leave the electronics at home.
The Travel Adapter featured above is a must-haves for frequent flyers. You can charge 3 devices at once and use it in over 150+ countries. Plus, it's red so you won't leave it behind on a white hotel room wall.
Use accessories
Play with small, light, and low maintenance accessories like scarves, belts, and a cute handbag that will add style to every outfit. Used as single accessory or together, they always update any travel outfit.
Shop Sizes XS-XL: Quince Cotton Modal Crew Neck Tee
Wear neutrals
Stick to one color story and remove any clothing items that are too close in style and color. For variation, choose prints in the same color pallet.
Clothing must be interchangeable
Make sure the pieces you choose go together. As ultra minimalist packer, out of the 4 items she packed on her 6 month journey in Central America, her short sleeve top didn't really go with her pants or skirt.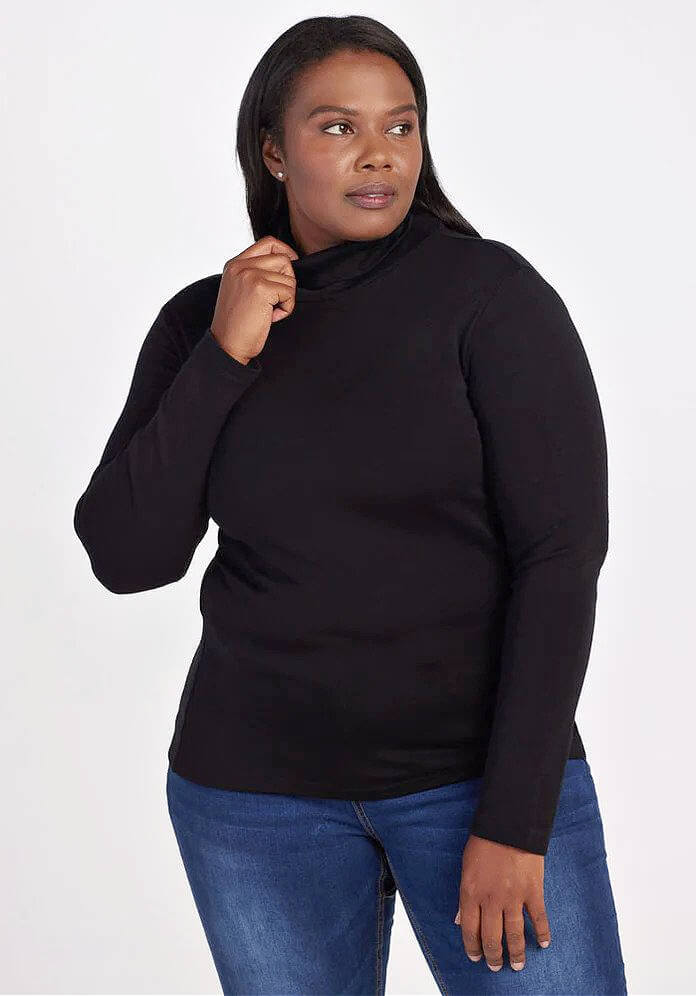 Shop Sizes XS-3X: Woolx
Pack more tops
Remember to pack more tops in the winter months and replace them with dresses in the summer.
Pack more tops than bottoms
One reader commented in the Ultimate RTW trip packing list, pack more tops than bottoms because a top will provide more of a change in your look instead of packing half and half.
Shop Eddie Bauer: Sizes XS-XXL | Petite S-L | Tall M-XXL | Plus 2X-3X
Clothing that has multiple uses
Try to choose clothing that has multiple uses and can be worn in more than one setting.
Know the weather
Know the weather before you go but don't pack more just because it's cold. All it means is that you'll have to layer your clothing and choose items carefully.
Avoid packing full size toiletries
If you absolutely cannot live without a certain brand, use reusable travel size containers
for these items. Most hotels offer basic soap and shampoo, and if you're a backpacker you can replenish travel size toiletries as you go along. You'll be surprised how far you can stretch travel sized toiletries.
Less make up
Pack multi-purpose travel makeup like the NARS Multiple
.
Lewis N. Clark Woolite Travel Laundry Liquid Soap
Do laundry
Remember that you can do laundry while you're traveling. You can choose to wash it yourself so you'll need a universal sink stopper plug; have the hotel service wash it; or take it to a local laundry service which is usually very affordable. Also, find out if your guest house, hotel, or hostel has laundry facilities you can use. Detergent can easily be purchased on the road – or just use shampoo.
Buy some souvenirs
After following all these tips and you find that you have plenty of room in your travel bag, don't fill it up just because there's space – save some room for souvenirs and shopping!
---
Do you have any tips to add to my packing strategies? Please comment below!
---
For more packing tips, please read:
---
LIKED THIS POST? PIN THIS PIC TO SAVE IT!
---
Hope you found this post on how to avoid overpacking useful. Please share with your friends on Facebook, Twitter, and Pinterest! Thanks for reading!