Support TFG by using the links in our articles to shop. We receive a small commission (at no extra cost to you) so we can continue to create helpful free content. As an Amazon Associate, we earn from qualifying purchases made on Amazon in addition to other retailers featured on the blog. Thank you, we appreciate your support!
Whether heading on a business trip or living the digital nomad lifestyle, you'll want to figure out the right clothing options that are sophisticated yet not overly corporate, stylish, and multipurpose — and we're here to help!
Sleek and professional with options for all kinds of travel activities, take a look at this ultimate Blended Travel packing list!
---
Business Trip Packing List
---
Table Of Contents
In my previous life, I worked for a company that required corporate business attire – in the fashion industry. No way was I going to wear a suit!
Twice a year, I packed a carry-on bag with a week's worth of professional yet fashion-conscious clothing for business meetings, dinners, and parties. In this minimalist packing list for business trips, I'm showing you how to mix and match ten pieces of clothing to create a minimum of 1-2 weeks' worth of outfits.
More and more women are now digital nomads, whether online entrepreneurs or working remotely. Alex, TFG's founder, and Editor-in-Chief, has been living this lifestyle for over 10 years! 
This new lifestyle of blending business and leisure travel requires a packing list that'll accommodate women who are often on the go and are not tied to one location, and will allow everything from business meetings to social networking events to outdoor excursions (if that's your thing)! 
Packing professionally yet functionally for both business and leisure travel doesn't have to be complicated. If you mix and match 3 bottoms with 4 tops, that equals 12 outfits. Add the dress and you have 2 full weeks of unique looks! If you're a fashionista that travels for business and likes to fly carry-on, learn how to build a business trip packing list with just ten pieces of clothing!
Tip: Creating a interchangeable capsule wardrobe is the key to simplified packing, which can easily fit into a carryon suitcase with the help of packing cubes to compress your clothing!
4 Tops + 3 Bottoms + 1 Dress + 2 Jackets
10-Piece Business Trip Packing List
If you're a true minimalist, you'll love this business packing list that includes just the essentials.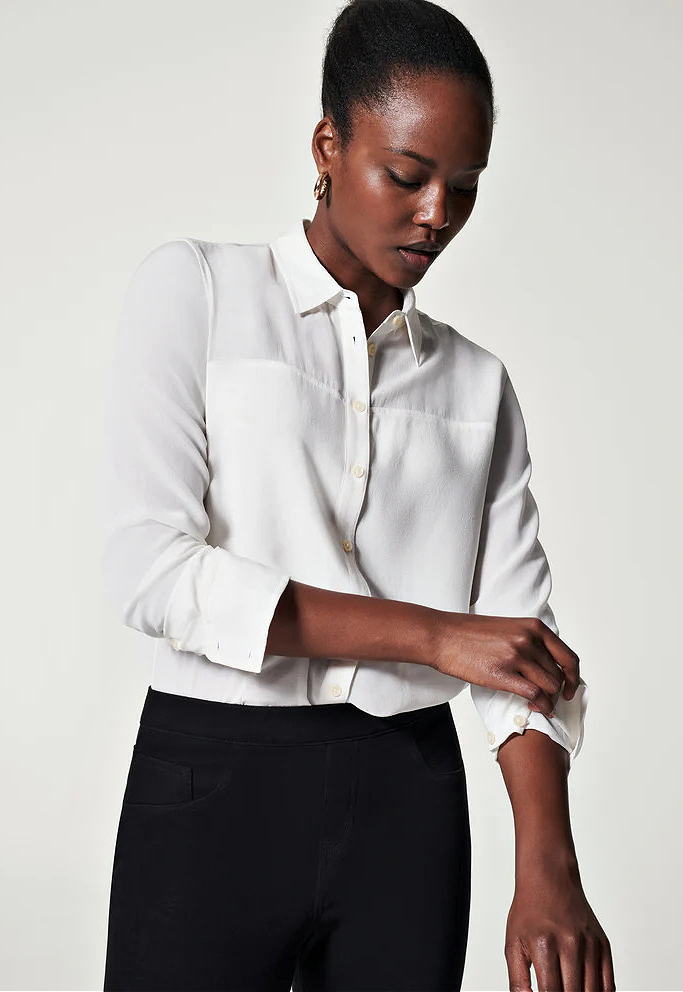 Spanx Silk Button Down | Sizes XS-3X
4 Tops
Your tops should be elevated and sleek but easy to maintain. And this doesn't mean you have to leave a classic white button down behind! Opt for a travel-friendly piece like Spanx's Low Maintenance Silk button down, which is so cute, comfy, and hassle-free. It's just as practical for a meeting as it is for a day of sightseeing. 
Your tops should also be able to be used in more than one scenario, so the more versatile, the better. Look for fabrics that are functional, breathable, and won't wrinkle easily.   
Take a look at the best white button down shirt womens styles to take on a trip!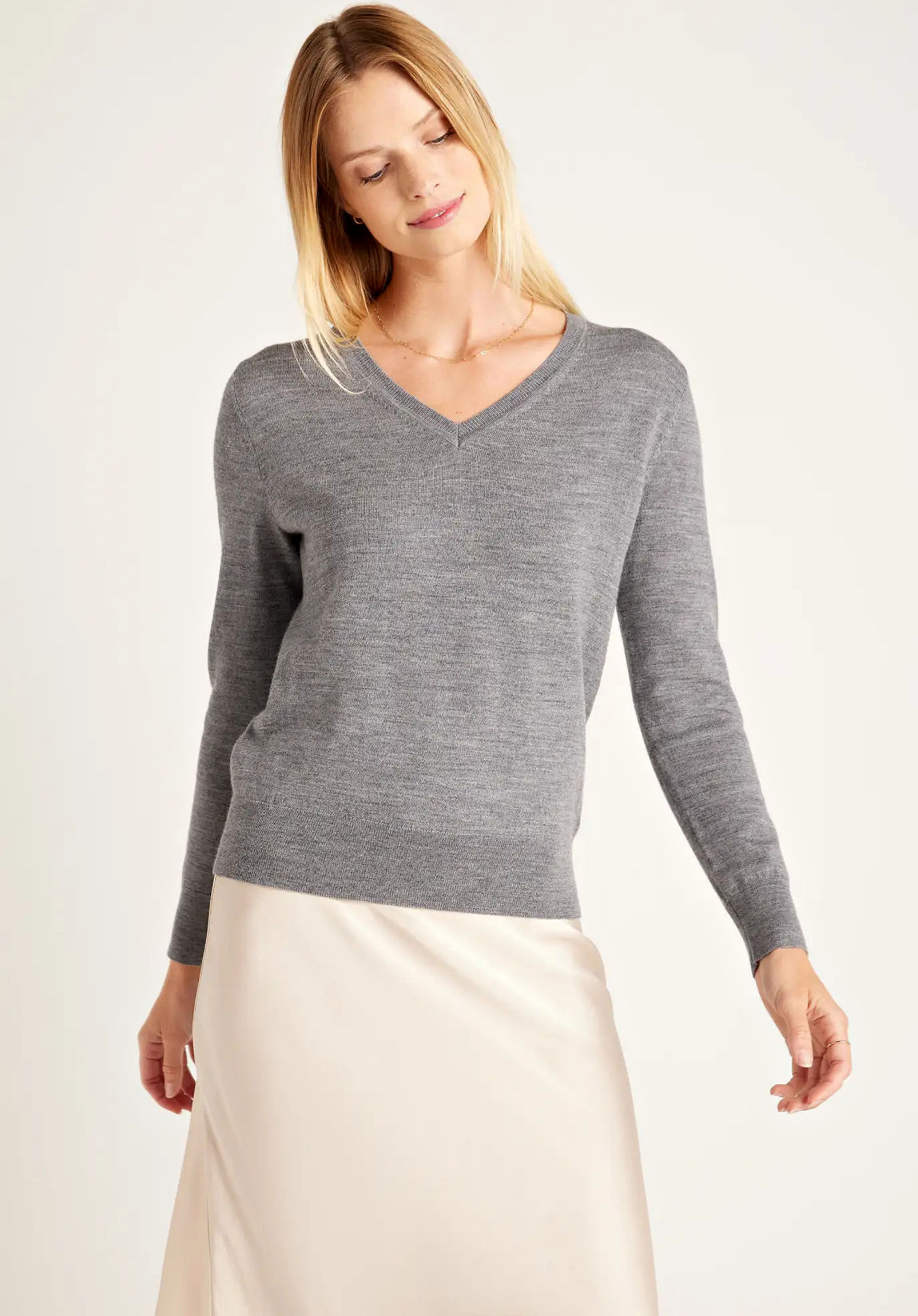 Quince Merino Wool V-Neck Sweater | Sizes XS-XL
Fabrics that can be worn multiple times while staying fresh and neat are a huge plus. Readers adore merino wool for this reason, as it's naturally moisture-wicking and odor-repellent, wrinkle-resistant, and easy to care for. This Quince merino wool sweater is a top pick by many readers, as it's super chic and suitable for all kinds of activities: from staying cozy on a flight to keeping warm in a chilly conference hall. 
Neutral colors are great options as they're professional and can easily mix and match with your pant options, but if you have a lot of black or neutral pants packed don't be afraid to throw some brightly colored tops into the mix to show some personality!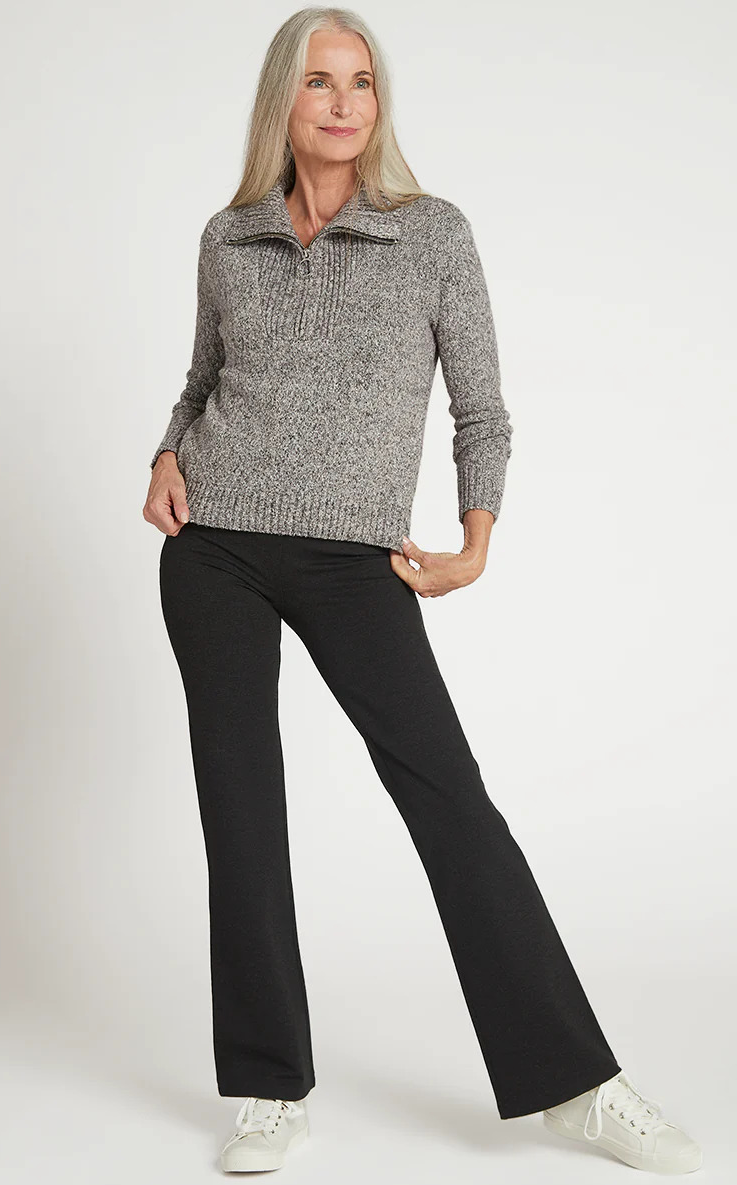 Shop Sizes XS-3X; Betabrand Boot-Cut Yoga Pant
3 Bottoms
Basic black is always a classic look, but you can change it up by choosing a seasonal fabric or print. For winter, tweed, corduroy, or velvet depending on the trends. For summer, a bright or pale hue in a lighter fabric is a good option.
Choose pants that look dressy but allow you to comfortably sit, move around, and walk in for long periods of time. Readers are obsessed with Betabrand's Dress Pant Yoga Pants for their breathable, legging-like comfort and polished look. They're great in all seasons, too!
Our readers voted for the best black travel pants and these were their favorite styles!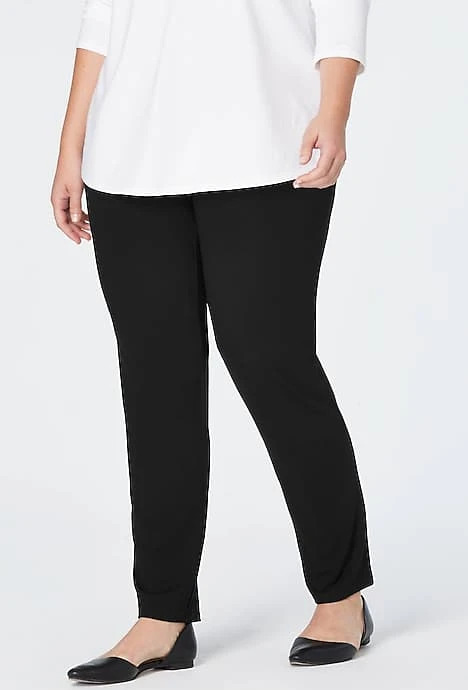 J.Jill Wearever Black Slim-Leg Pants
Sizes: Regular XS-4X | Petite XS-XL | Tall S-XL
Trousers
A pair of classic black trousers are a closet staple, but it's okay to change it up and add a fresh take on the pantsuit ensemble. Choose a different fabric, color, or style, whether it's a wide leg, boot cut, or slim fit. Check out the J.Jill Wearever Slim-Leg pants for awesome trousers you can wear to work and for other travel activities, too!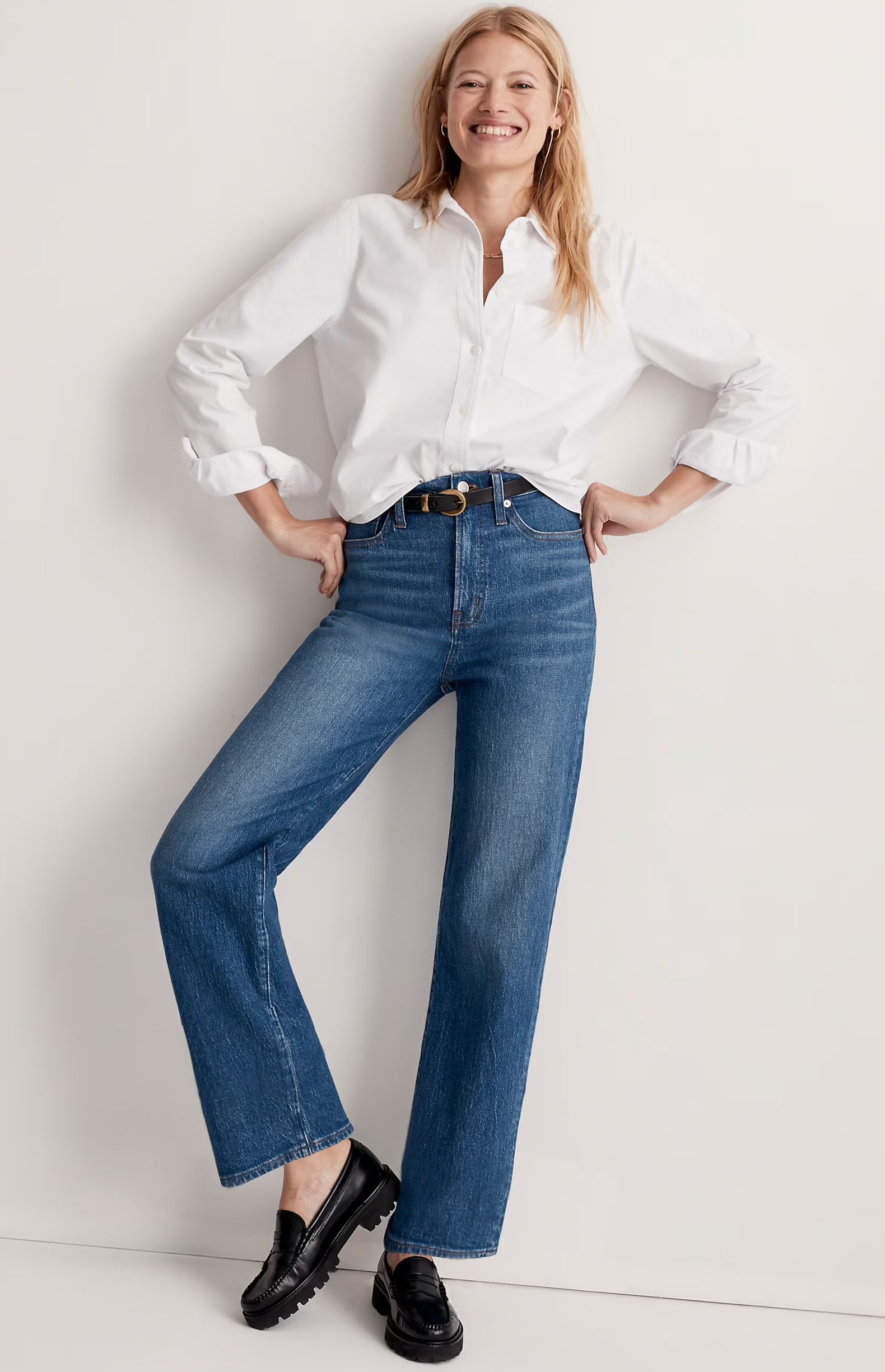 Shop Madewell Wide Leg Jeans: Nordstrom | Madewell (Sizes 23-33)
Jeans
Nothing feels better than a comfy pair of jeans, and since they're always in style and endlessly versatile, they're definitely a Blended Travel must-pack! While they may not be appropriate for work events or meetings, jeans are great for after-work drinks and networking events, sightseeing, running errands, or just enjoying some downtime. 
Readers especially love Madewell's flattering, comfortable, and versatile jeans for their travels!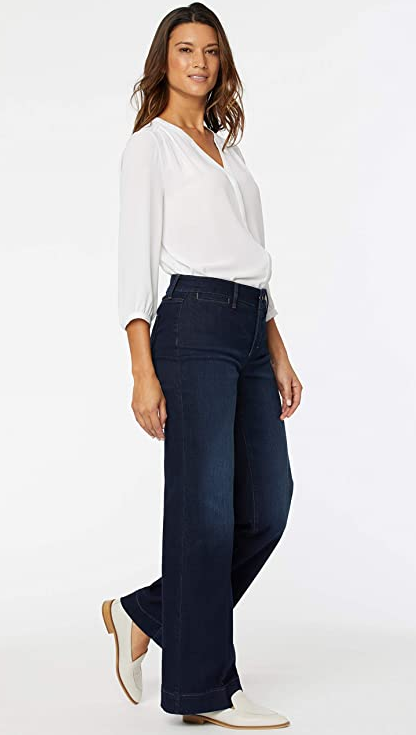 Shop NYDJ Teresa Jeans: Amazon | NYDJ (Sizes 0-18)
Readers suggest avoiding trendy jeans with rips or hardware. Choose a classic cut that will look great dressed up with a blazer and booties or casual and comfortable with sneakers.
These NYJD jeans have a dark wash and a chic wide leg, so they're perfectly polished for more casual business settings and will elevate your casual, off-duty looks.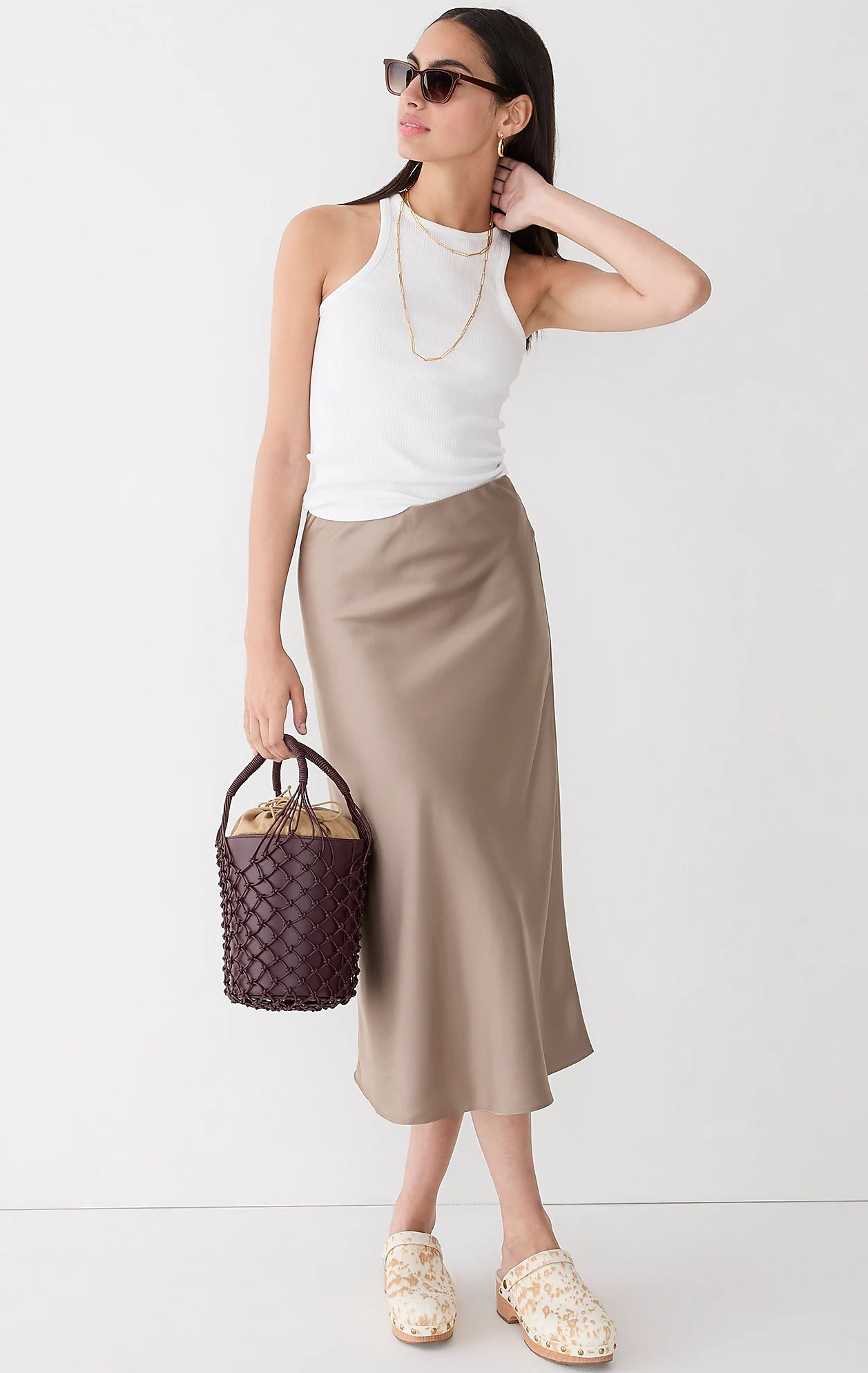 J.Crew Gwyneth Slip skirt | Sizes XXS-3X
Skirt
Choose a skirt that's not too high above the knee, especially in professional or more conservative environments. A couple of inches is a good rule of thumb.
Midi skirts and maxi skirts are a great way to dress a bit more modestly while being fashion-forward. They're super stylish and flattering, too! Plus, with a versatile pick like J. Crew's slip skirt, you can style it with a blazer and flats for work and then pair it with strappy sandals and a fun top for the evening. 
We've picked out some of the best travel skirts in a variety of lengths that are perfect for packing light!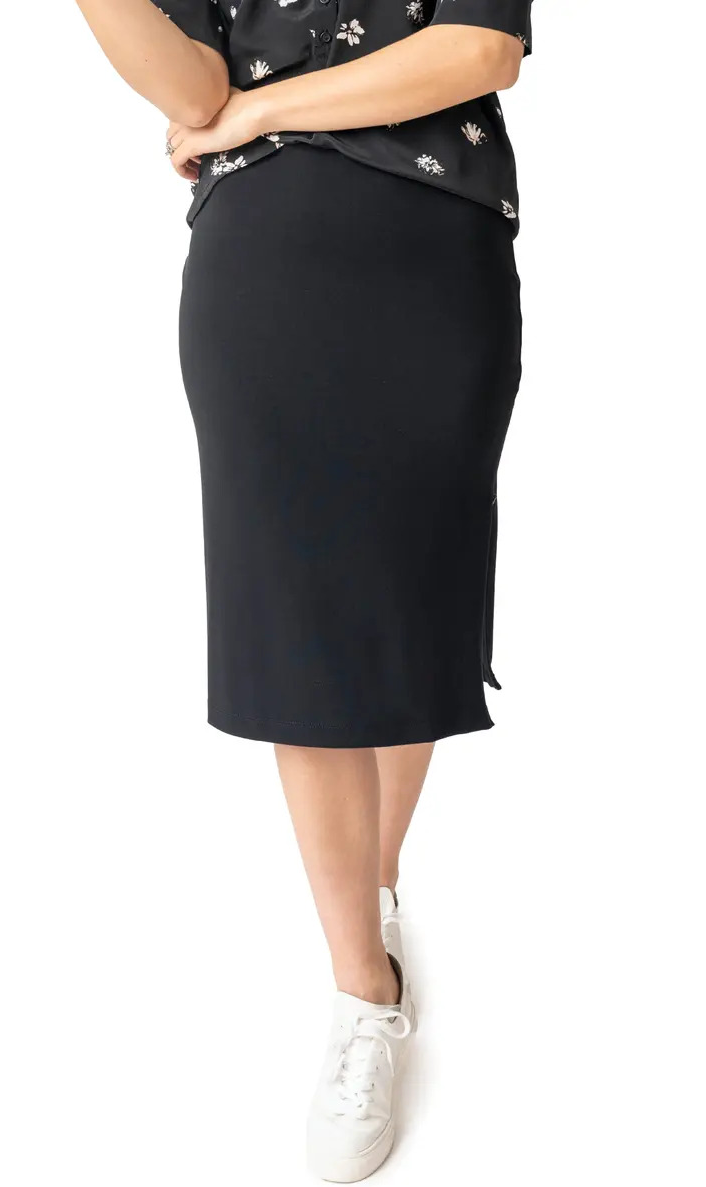 Gibsonlook Essential Zip Pencil Skirt | Sizes XXS-L
Pencil skirts are the quintessential business skirt, and this one from Gibsonlook is amazingly comfortable, figure-flattering, and offers plenty of mobility.  
If you're in a more relaxed environment, a shorter skirt can be toned down with a pair of tights and flats. Don't like skirts? Take another pair of trousers following the seasonal styles!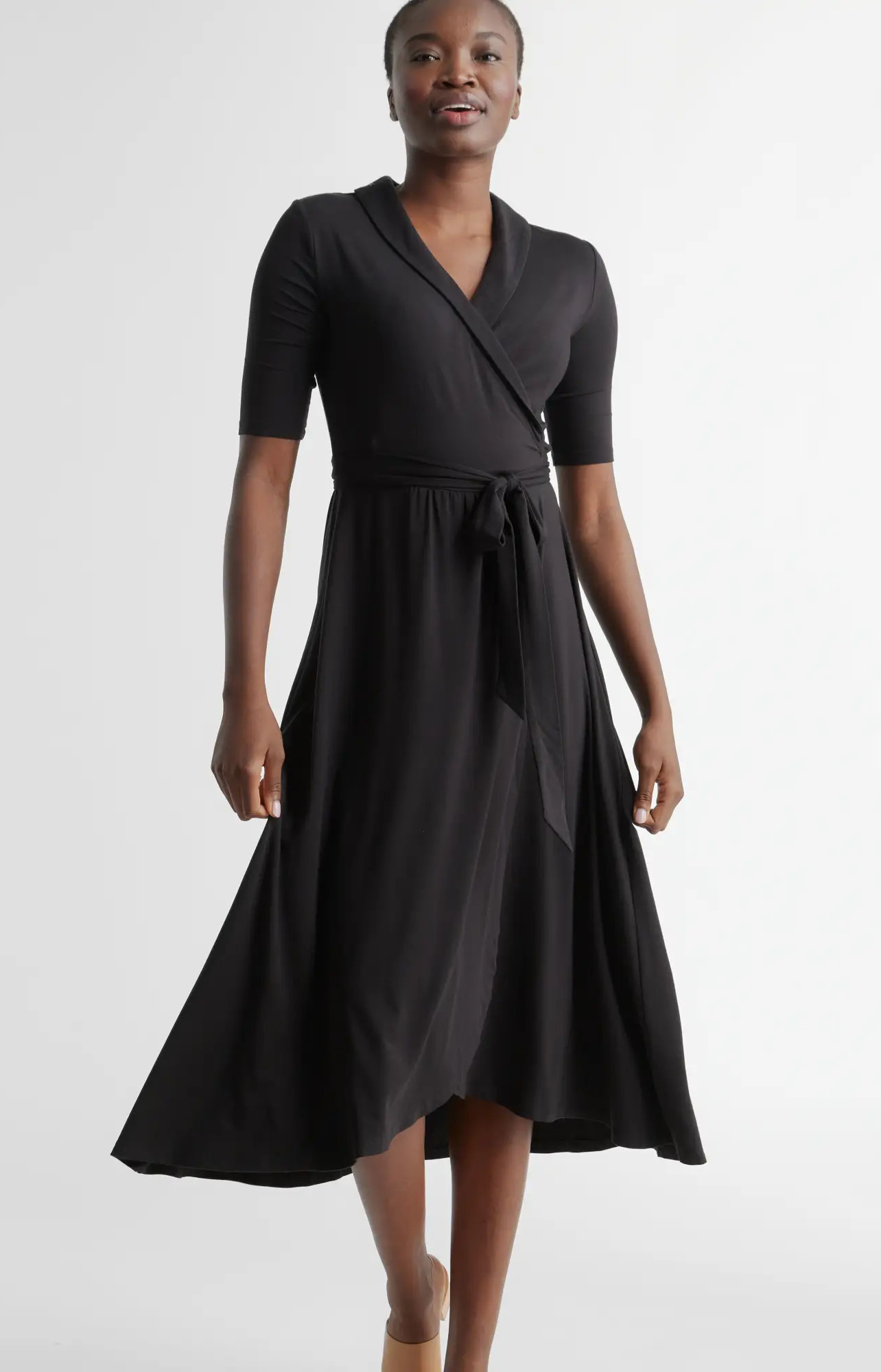 Quince Tencel Jersey Midi Wrap Dress | Sizes XS-XL
1 Dress
A classic black dress rocks in a business setting because it looks professional at work and can be paired with so many different blazer, sweater, and shoe options, giving you endless styling versatility. Throw on some wedges at night and you're ready to take on the town!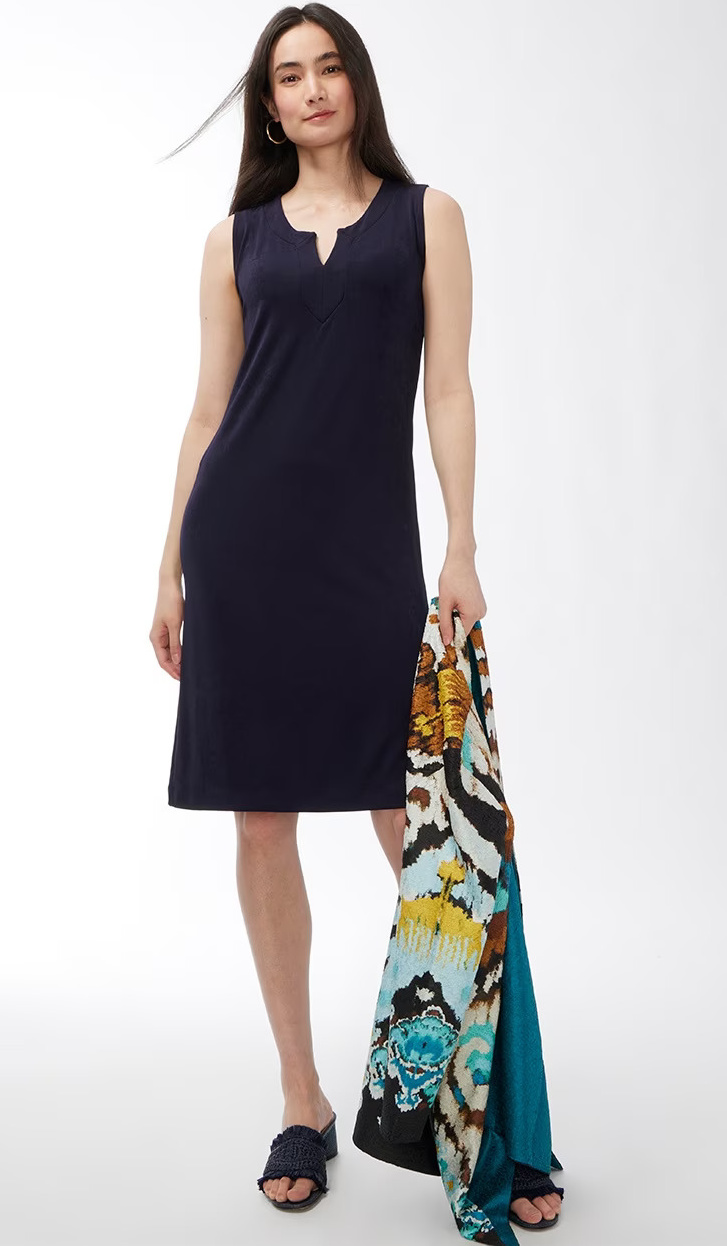 Chico's Kaftan Dress | Sizes 00-22
What's more important than the color of the dress, however, is the cut and style. Be sure the length and fit are appropriate for the situation as well as for the city you're traveling in.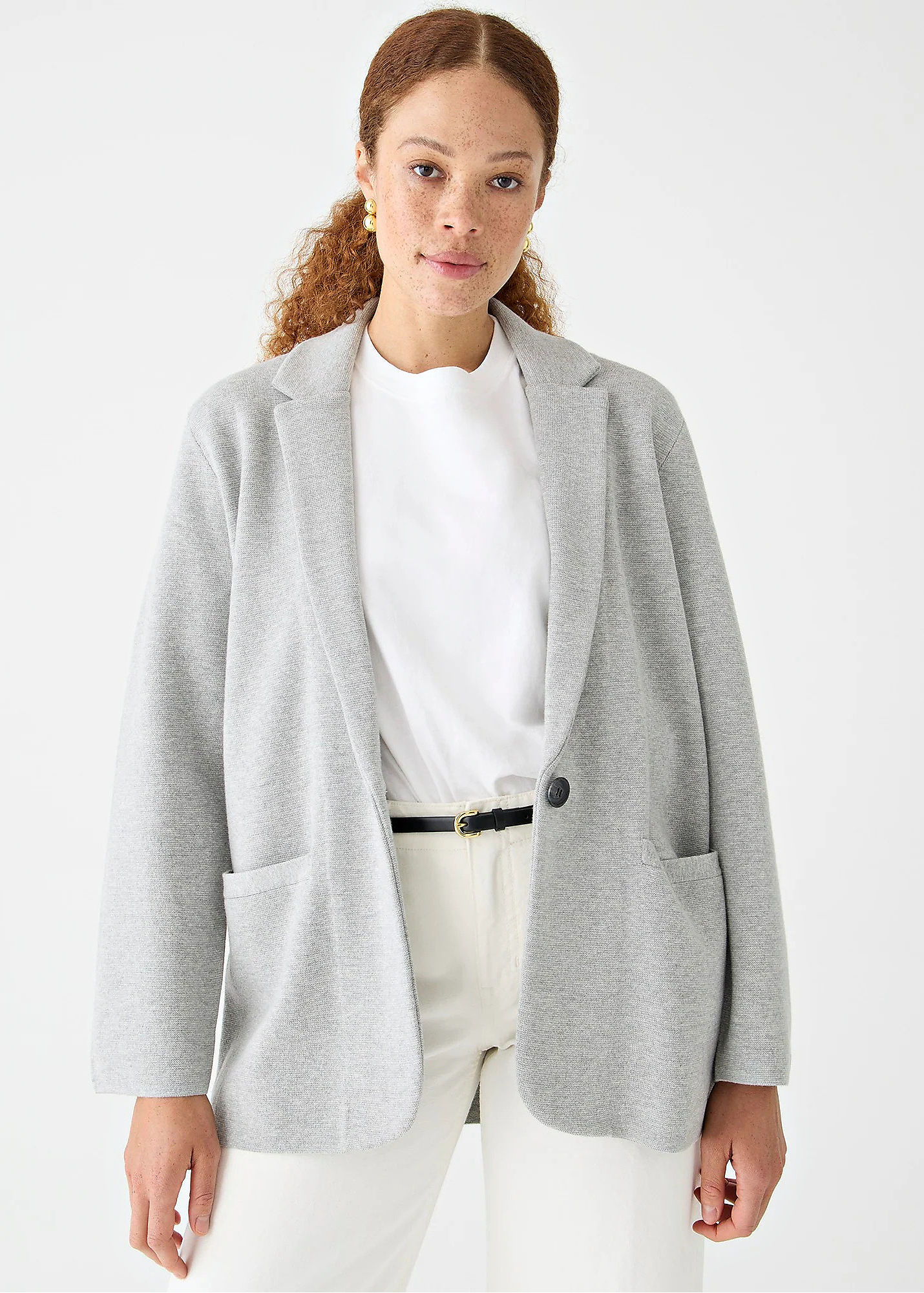 J.Crew Cecile Blazer | Sizes XXXS-3X
2 Jackets
A stylish travel blazer is another essential that'll get tons of use as a digital nomad, so be sure it's comfortable, versatile, and well-suited for the climate(s) you'll be in.
Choose a cut that's classic, fits perfectly, and is timeless. Many business travelers in the TFG community also agree that it's worth investing in a quality blazer and getting it tailored so you'll always look flawless!
Our readers share their favorite picks for the best travel blazers!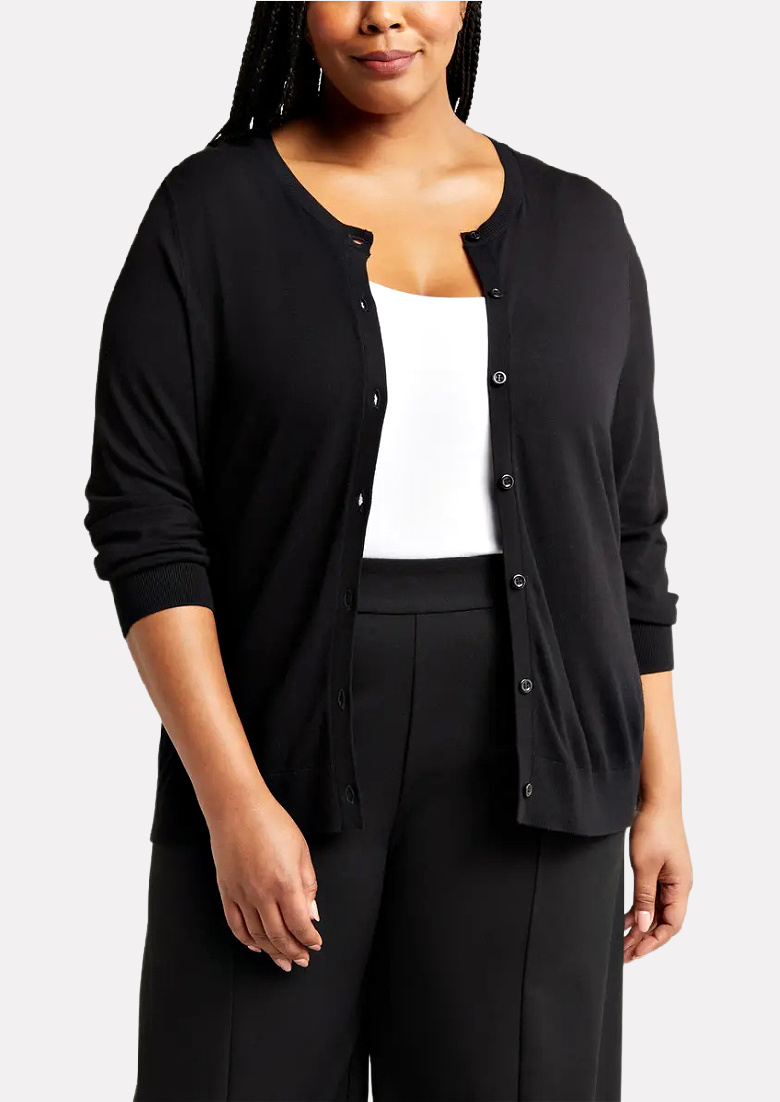 Nordstrom Crewneck Cardigan | Sizes 1X-3X
Along with your main blazer, take another blazer, coat, or cardigan to switch things up and to have a few useful options depending on the weather. Keep it simple and stylish with a neutral color, or choose a bold color or print to add some flair to your basics! 
Nordstrom's crewneck cardigan is a cute, soft, and cozy addition to any look, whether dressed up and ultra-professional or casual with jeans and a tee.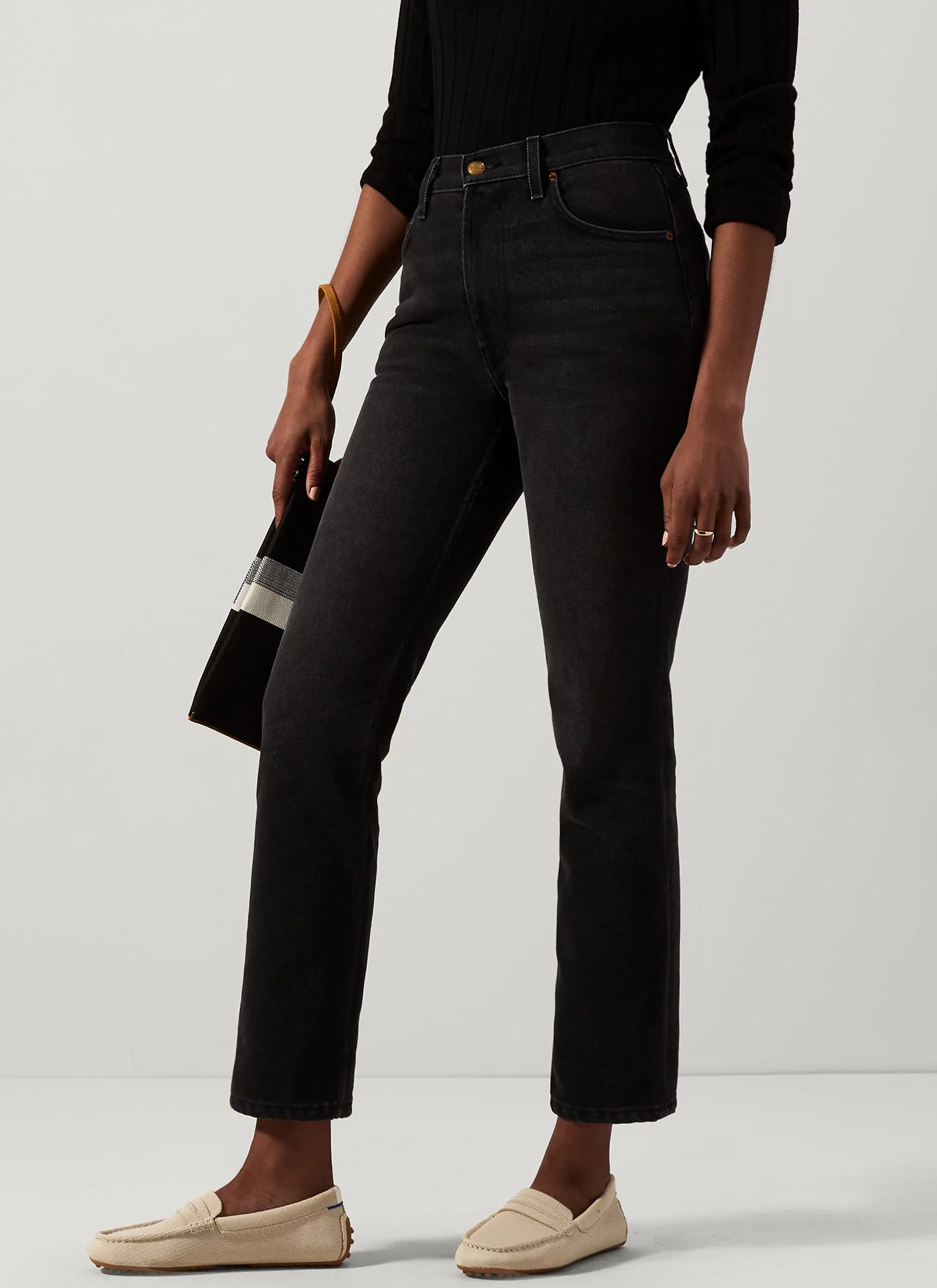 2-3 Pairs of Shoes
Shoes are SUPER important. When it comes to business, no matter what you're wearing on top, if your shoes are stylin', you're golden. Find an incredible pair of shoes that will keep your feet super comfy and leave all the other fashionistas drooling. You can wear the most simple outfit so long as you have statement shoes!
Definitely don't sacrifice comfort, though! Readers suggest bringing 2-3 pairs of fashionably practical shoes that you can rotate to help alleviate sore feet. This may sound like a lot for a 10-piece business packing list, but you'll thank me later.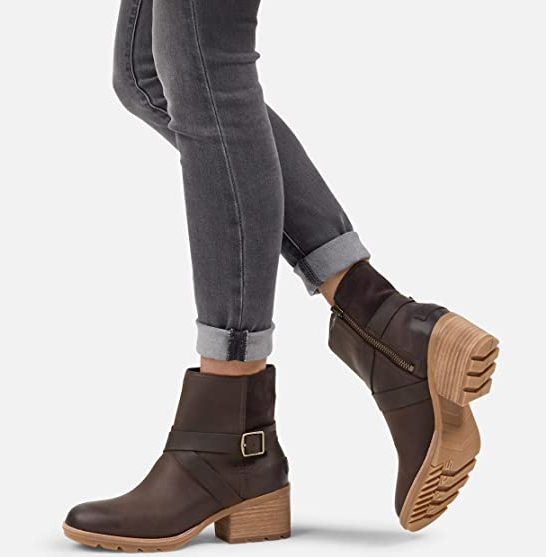 Since I was on my feet practically 20 hours a day during our big fashion events, I wasn't going to be caught dead in flats (at least for the first few days of our shows). 
Opt for sturdy and supportive loafers, chic leather boots, or any elevated options that'll give your feet the support and cushioning they need! Sorel is a top reader fave brand for their blend of comfort and style, and their Cate boots would look amazing with everything from trousers to dresses to jeans.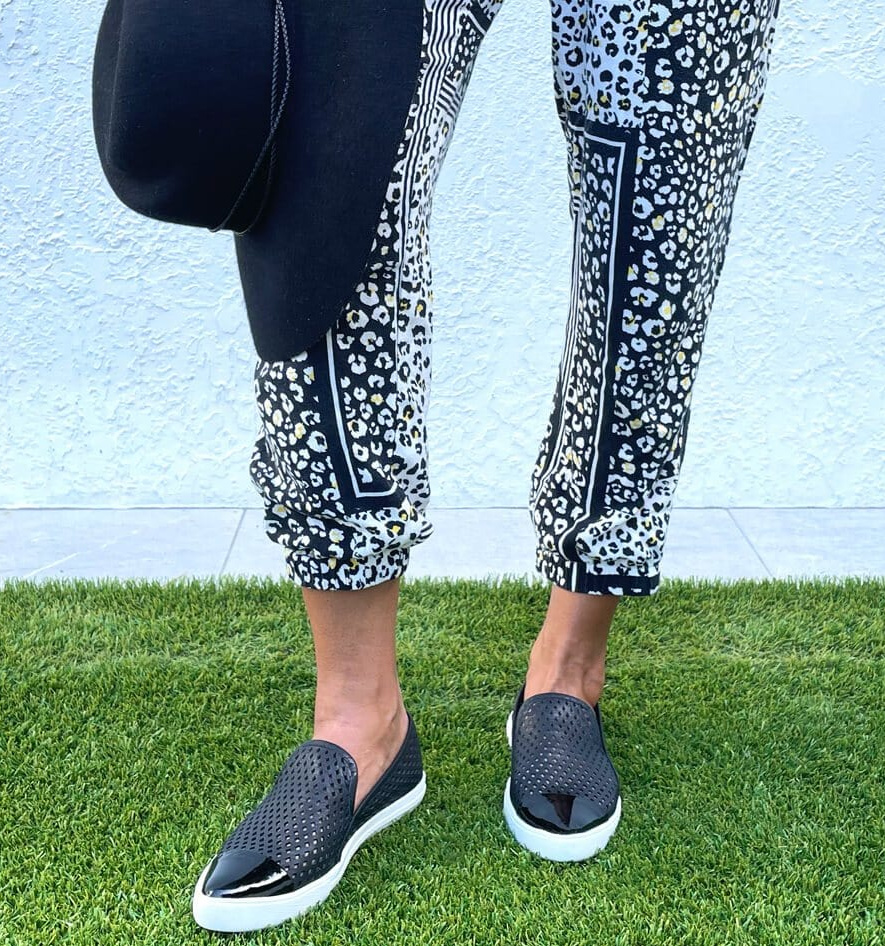 Jibs Slim Jet Black + Onyx – good for downtime or very biz casual meetings.
For those long days on my feet, I often wore heels with my secret weapon: Dr. Scholl's for Her High Heel insoles. They truly are a lifesaver! On so many occasions when I've had to work with sky high heels, these little babies have made the hours a little less painful.
The rest of the time, a pair of sexy flats work. Pointy or more narrow toes tend to look dressier and more fashion-forward than round toes. 
These Jibs Slim slip ons are a pair of cute sneakers that would be cute for downtime and could also work for business-casual meetings or events!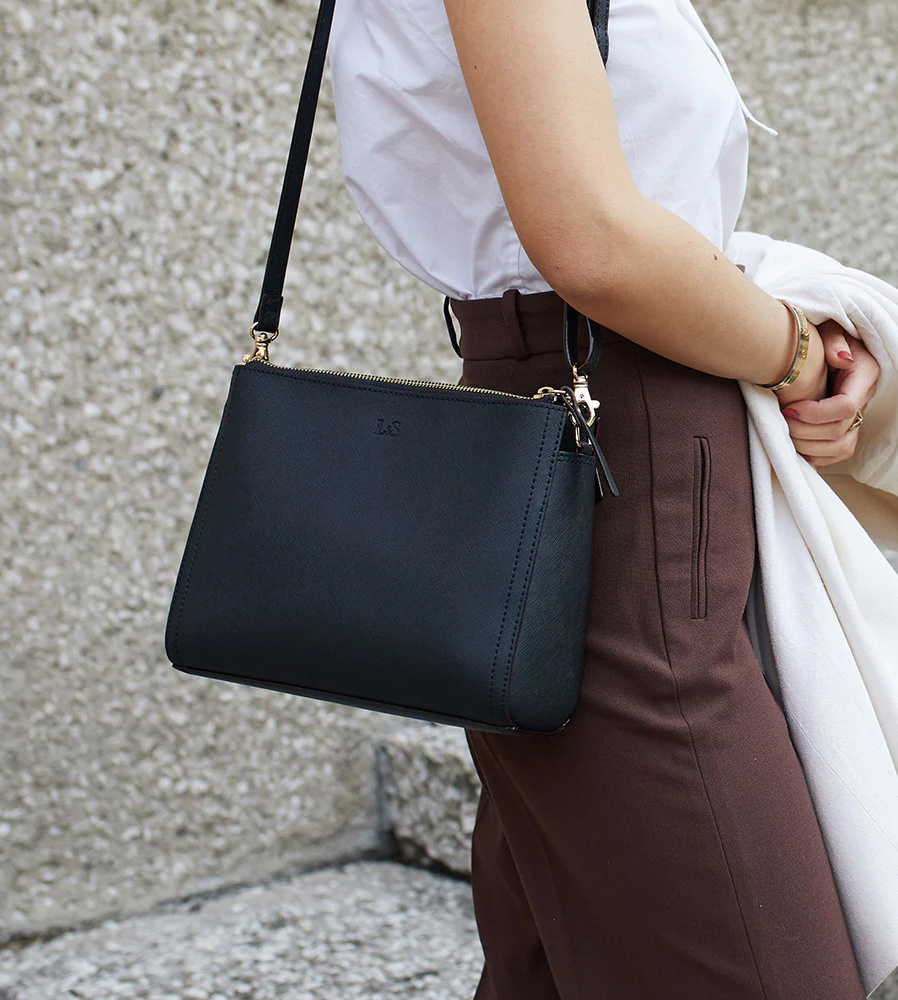 Accessories
Last, but certainly not least, the element of your business packing list is the accessories. 
In a professional environment, especially meetings, you definitely don't want excessive or flashy jewelry. Choose minimal yet sophisticated accessories, and make sure each piece counts – just like the shoes! 
The same goes for handbags. Go for something simple, chic, and functional, like the gorgeous Lo & Sons Pearl crossbody bag. 
This is an updated round-up of what the readers have chosen as their all time favorite cross body purses for travel!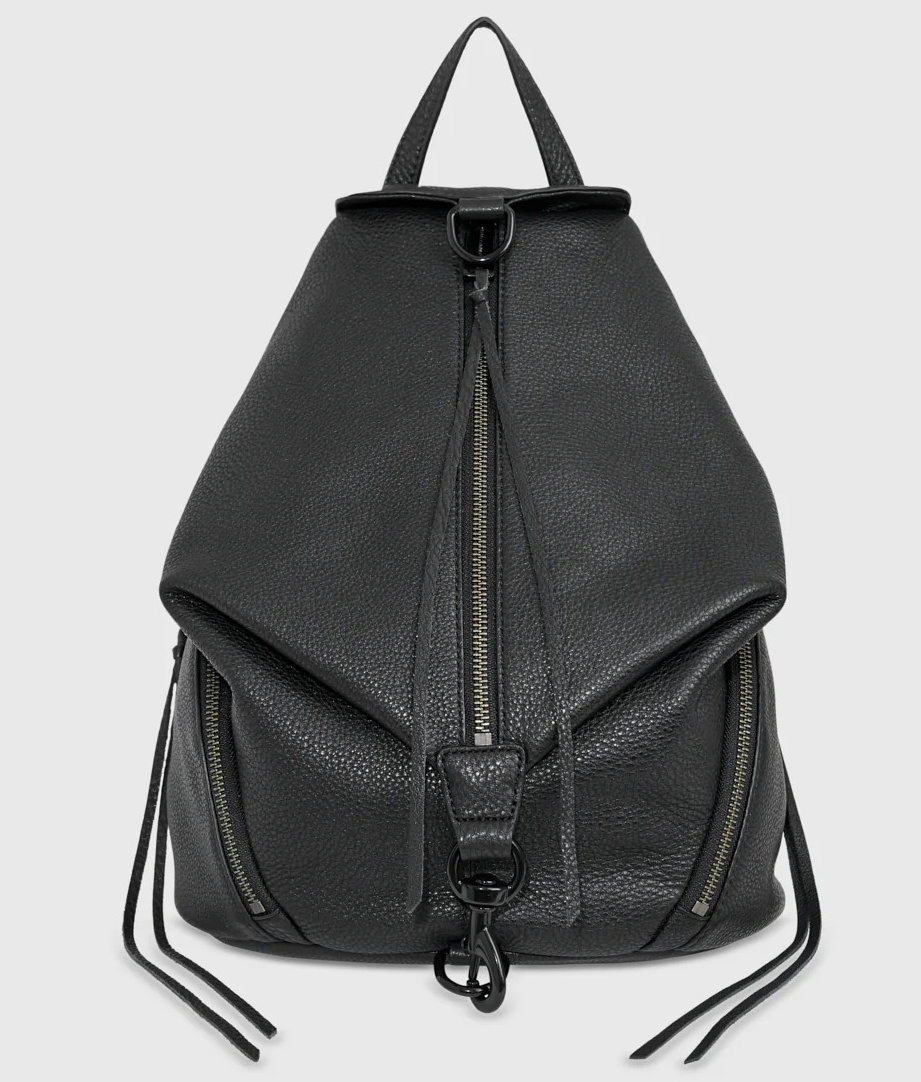 Rebecca Minkoff Julian Backpack
Take two bags: one for day-to-day wear that'll hold your essentials, and one that's a bit bigger if you're going to be out and about the entire day or just have more things to carry with you. 
And be sure that one of your options is sleek and slightly dressy — if you're traveling for work, chances are you'll have business dinners and need something for nice restaurants. 
A scarf or wrap has the ability to totally transform an outfit, so be sure to pack one. A classic black scarf is great in cooler climates and will add a chic touch to your look in practically every setting and if you're feeling bold, a colorful print adds some fun when it's warm! 
Alternate Business Look
Need to get more mileage out of your business trip packing list? Take a cue from these alternate business looks you can create.
And remember, DRESS for the job you WANT not the job you HAVE.
If you need a more conservative business trip packing list, check out the Travel Fashion Girl Facebook page featuring an alternative Business Trip Packing List for you.
---
Planning a mix of adventure and business? Check out designer travel clothing for women and the variety of travel outfits I created using just ten clothing pieces.
Comment and let me know which one you prefer, or share what you would add to your business trip packing list.
---
For more tips and ideas for a business trip packing list, please read:
---
LIKED THIS POST? PIN THE PIC BELOW TO SAVE IT!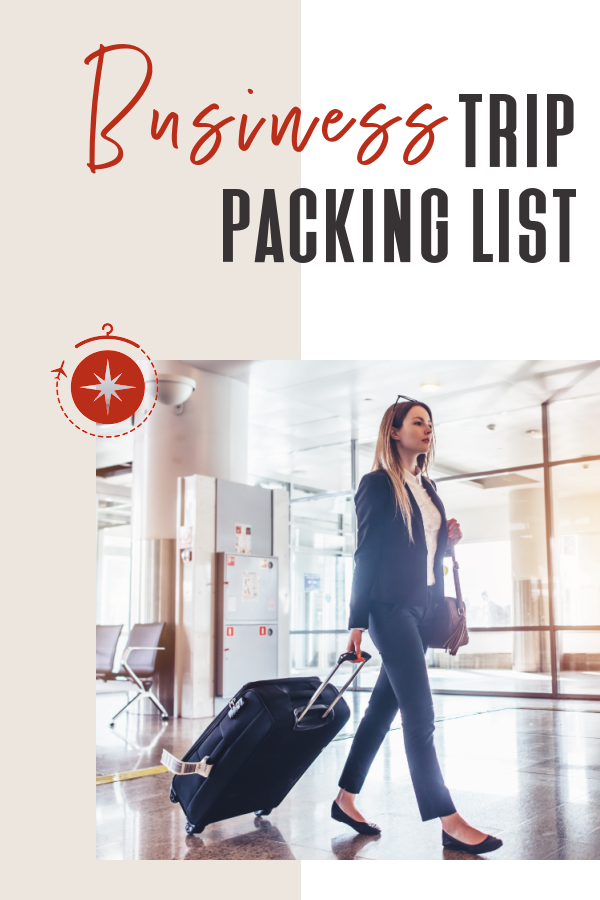 ---
I hope you liked this business trip packing list! Please share this post with your friends on Facebook, Twitter, and Pinterest. Thanks for reading!
---