Support TFG by using the links in our articles to shop. We receive a small commission (at no extra cost to you) so we can continue to create helpful free content. Thank you, we appreciate it!
Despite being a frequent flyer, I've gotten an increasing amount of back pain after flights so I turned to the TFG readers to see if they had any advice. Before heading on your next trip, find out how to alleviate back pain during flights!
---
How to Alleviate Back Pain During Flights
---
Table Of Contents
I'd previously written about the importance of keeping your back healthy while traveling. One of the ways to avoid back pain is to strengthen your muscles so I've been working with a personal trainer for several years, which has helped tremendously. Despite these efforts and being a full-time traveler for so many years, she noticed that my back pain seemed to increase after I flew and suggested I use heating pads.
Surprised by her observation and thankful for her recommendation, I decided to ask the TFG readers:
Has anyone ever used heating pads during a flight to ease back pain?
I was pleasantly surprised at their feedback, which you can see below. Here's how our readers alleviate back pain during flights:
ThermaCare Lower Back & Hip Heat Wraps
ThermaCare Muscle Heatwraps
Initially, my personal trainer suggested I use ThermaCare heatwraps, which have patented heat cells that penetrate deep to increase circulation and promote healing. These wraps provide eight hours of heat while you wear it, and eight additional hours of relief after you take it off.
Several readers love these, with one saying, "works wonders," and another adding, "They're great and I have used them on long flights. Toss them when you are done and you're even lighter than before. I always carry two just in case I start having a back issue. And I've never had a problem going through security with them."
Here's what our readers shared as their best tips on how to survive long flights!
Massage Balls
In addition to the single-use heating pads, another reader suggested I use massage tools to prevent pain and soothe sore muscles while at home. She also provided me with a couple of stretch videos and a custom program. Her recommendations worked extremely well! (Find out more about her techniques here!)
Because they work so well while I'm working in my desk on a daily basis, I thought I'd also test them out on the plane – I couldn't have been happier with the results.
I started feeling so much discomfort on my flight from London to Los Angeles that I decided to use them in the flight. Not only did they help alleviate back pain mid-flight but I actually had no pain for an entire week after the flight. Amazing. I will for sure bring them on every trip from now on.
Plus, I can also use them to massage my feet after a long day sightseeing! Thank you HealthLuxe Holly for recommending these!
Sunbeam Renue XL Tension Relief Heat Therapy Wrap
Heating Pad
Holly also recommended I use a traditional heating pad at home but it turns out some travelers also use them while traveling. Just because you're on a flight doesn't mean you can't use a heating pad as many plane seats now have outlets. One reader says, "I've used an actual plug in heating pad—I just check ahead of time to see if my flights have plugs. Worked like a dream!"
This heating pad is great because it's machine washable so you can keep it clean throughout your travels. Plus, the magnetic front closure provides a custom fit that securely increases contact with the treatment area. The snaps closure offers adjustability and a comfortable fit.
Perhaps the best alternative to an actual heating pad is a single-use heat pad featured previously.
Portable Electric Heating Pad
If you're worried about having to plug in a heating pad, an alternative is a USB-powered one you can connect to a power bank. This has Graphene heating films, which provide enough heat and pure far infrared radiation to relieve back abdominal stomach cramps and arthritic pain.
It's also nice and compact, and you can wrap it around your lower back under your clothing without anyone noticing. One reader says, "I love how portable it is. I can take it anywhere."
Tiger Balm Red Extra Strength Pain Relieving Ointment
Tiger Balm Ointment
It's tried and true, which is why we and our readers love Tiger Balm. Featuring natural herbal ingredients, this ointment helps relieve back pain, muscle pain, joint pain, abdominal pain, and cramps. It's especially good for flights because you can use it for nasal congestion, which we often get from the dry air and altitude.
And, best of all, it's in a very travel-friendly size container. One reader says, "I always bring a jar of Tiger Balm with me."
Here are a few airplane essentials to bring along that might make your flight bearable – even enjoyable!
Hot Water Bottle
When in doubt, follow the advice of someone who knows the most about flights: a flight attendant!
One reader says, "Flight attendant here. Do what many of us do. Get an old school hot water bottle. Have the crew fill it from the hot water spigot on the coffee maker. If that's too hot they can add water from the regular spigot."
A hot water bottle is easy to pack and lightweight, so it's perfect for a carryon bag. We love this one because the wide mouth is easy to fill and the anti-spurt lip prevents water spitting back out like those old rubber ones.
A Professional Treatment
Sometimes the best way to alleviate back pain during a flight is to get a treatment before your flight. This way, you can loosen up any knots in your back and relax your shoulders.
One reader says, "I usually do cupping, acupuncture, and massage after a long flight. I try to do it before, as well."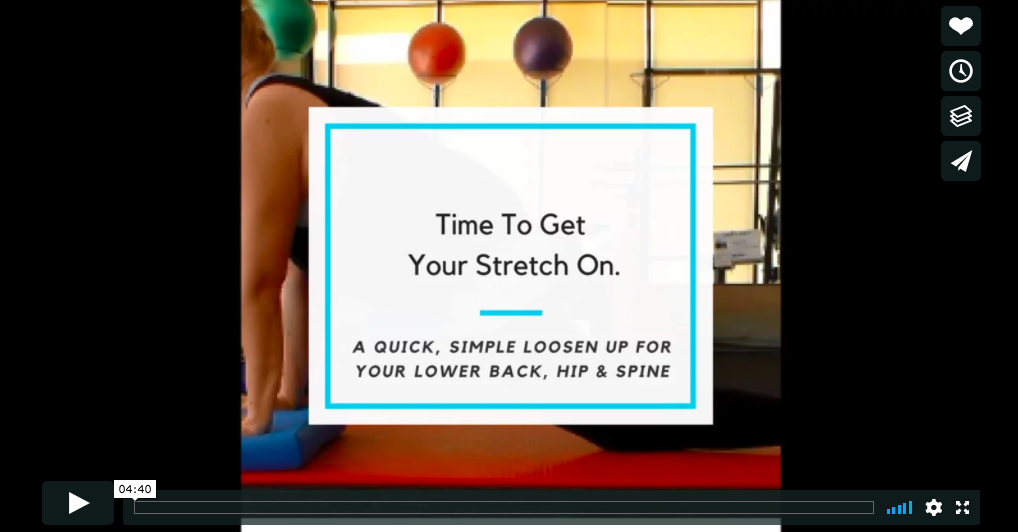 Sign up for HealthLuxe Holly's free video on how to quickly stretch your lower back, hip, and spine!
Stretch
Since you're already dressed in comfortable pants, like our favorite Zella leggings, you may as well stretch! One reader shares, "Doing some stretches mid-flight often helps my back. Knee to chest, mild twisting side to side, stand up and touch toes." 
Even if you don't experience back pain, stretching is helpful for keeping your blood flowing and to prevent cramps from sitting for so long.
Looking for comfortable leggings to wear on the flight? These are the best leggings for women that travel!
---
What are your tips on how to alleviate back pain during flights? Share in the comments below!
---
For more airplane essentials, please read:
---
LIKED THIS POST? PIN THIS PIC TO SAVE IT!
---
Hope you liked these tips on how to alleviate back pain during flights. Please share with your friends on Facebook, Twitter, and Pinterest. Thanks for reading!
---