Support TFG by using the links in our articles to shop. We receive a small commission (at no extra cost to you) so we can continue to create helpful free content. As an Amazon Associate, we earn from qualifying purchases made on Amazon in addition to other retailers featured on the blog. Thank you, we appreciate your support!
We always focus on the best clothing to wear when we travel, but there's something we rarely talk about: our health. In fact, a healthy back is the most important thing you can pack. Read my story to learn the changes I made due to back issues. Even if you don't suffer from back pain, these tips can help you, too!
---
The Importance of a Healthy Back
---
I've been on the road for over eight years, and half of that time I used a backpack. I loved traveling with a backpack because of the freedom and ease of movement. (Read about other benefits here!)
But four years later, I started having back problems. However, it wasn't because of my travel backpack, it was because of my work: blogging.
As a blogger, I spend a vast portion of my day sitting behind a laptop. Many people don't see how much work actually goes in behind the scenes.
Due to my own complacency, the results were not good for my lifestyle: I started developing back problems due to weakened muscles. It was no one's fault but my own.
I was no longer able to travel with a backpack, but even worse–I thought my bad back would change the types of adventures I'd be able to experience.
I didn't know how to make things right initially, but over the years I've discovered several changes that have helped me get my back healthy again. After all, the best thing you can pack is a healthy back!
If long hours behind a work desk are impacting your back health, keep reading for tips that have helped me strengthen my back and improve my travels!
Please note: I'm not a doctor and any feedback is based on my own experience. My tips are based on back pain due to muscle weakness, not accidents, spine fractures, or other major body injuries. Please consult with a doctor for the most accurate health advice!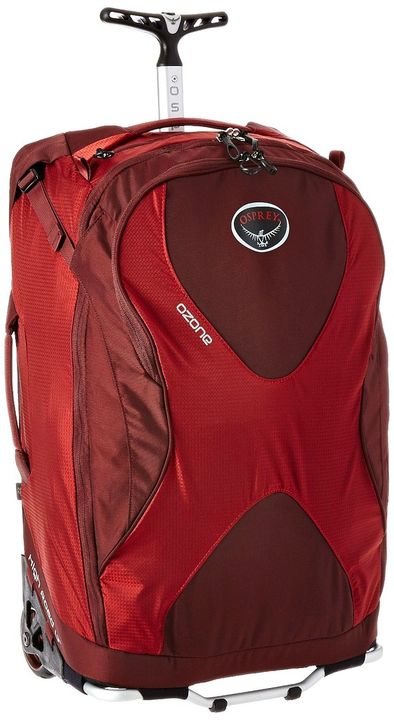 Osprey Ozone 22″/46L Wheeled Luggage
Lighten the Load: Luggage
Luggage and what you choose to put inside it are important and relatively easy solutions for travelers with back issues.
Keep these things in mind: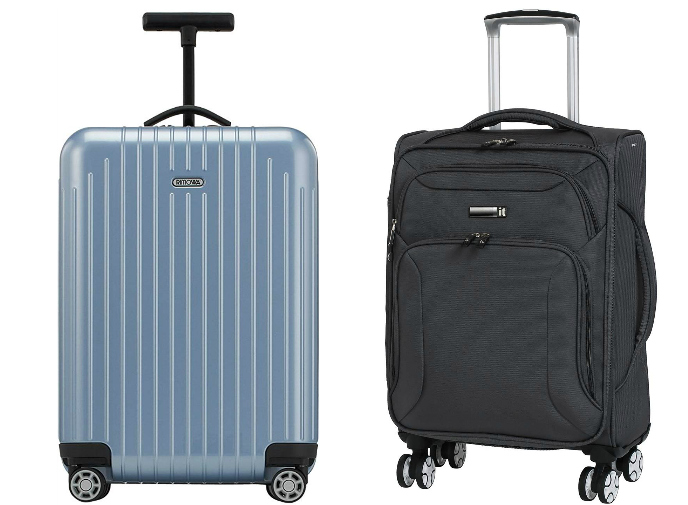 Rimowa Salsa Air | IT Luggage MegaLite Spinner
First off, look for an ultra-lightweight suitcase that's under 4lb / 2kg, such as the top-rated 3.15 lb IT Luggage MegaLite Spinner or the luxury 3.5 lb Rimowa Salsa Air.
When it comes to lightweight luggage, more bells and whistles means more weight. 
Due to my long-term travels, there is one feature I can't do without, and that's strong wheels. I travel with the Osprey Ozone 22". Weighing in at 4.4 lb, it's lightweight but built to last.
Tip: Most "Lightweight" or "Lite" bags weigh between 6-10lb–that is not lightweight!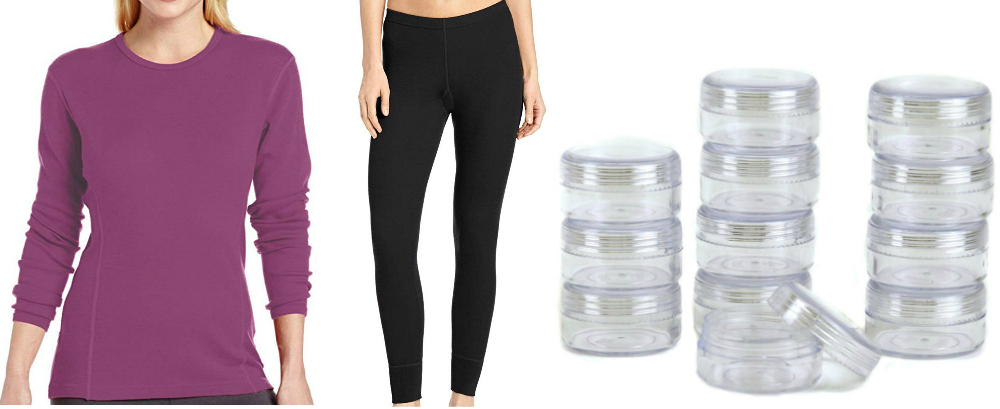 Thermal Top | Thermal Bottom | Small Makeup Pots
The next thing to focus on is choosing clothing that is lightweight but effective.
In summer, you can easily pack airy cotton clothes that don't weigh a thing. However, winter is a bit more challenging; the clever use of merino wool thermals like these will ensure you're always warm and snug without the bulk.
Using travel containers like these with just the exact amount of toiletries and beauty products you'll use also helps eliminate liquid weight.
Here are tips on how to pack as light as 7kg including your suitcase!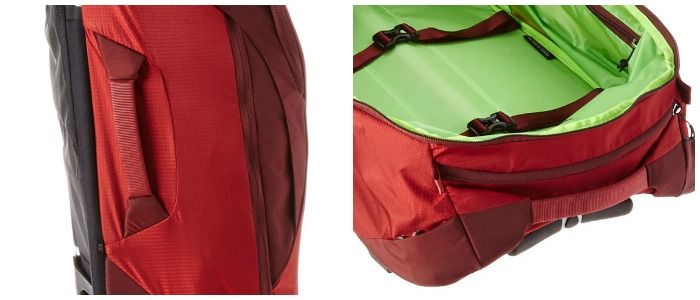 Osprey Ozone 22″/46L Wheeled Luggage
Finally, the suitcase you choose needs to have strong, comfortable handles on both the top and side or bottom so you can lift it with ease.
Not all hotels in Europe have elevators, especially the cute, private accommodation you might find on Airbnb. Bad back or not, it's in your best interest to have a bag that you are physically able to carry up several flights of stairs.
This means your suitcase and belongings need to be lightweight, and your suitcase should have handles you feel comfortable using.
Read these helpful guides for even more tips: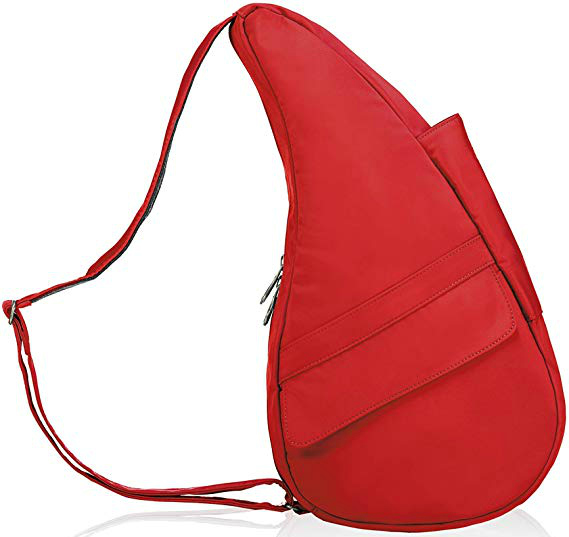 AmeriBag Healthy Back Bag Micro-Fiber
Purse vs. Backpack
When my back started to act up, I found it excruciating to have anything that placed too much pressure and weight on just one side of my body. This included duffles and shoulder bags.
I find it more comfortable to have a backpack purse than a shoulder purse because it distributes weight evenly without being heavy on just one shoulder.
For ideas, here is a full round-up of cute backpacks!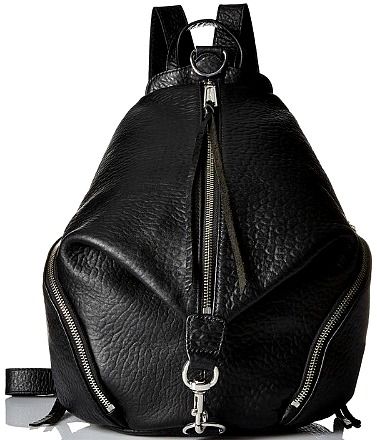 Rebecca Minkoff Julian Backpack
The main thing is to keep the weight of your belongings minimal and light–carry absolute essentials only!
For a day pack, some travelers like the "Healthy Back Bag", which is a good size to hold your daily sightseeing essentials, including a water bottle and tablet. For something smaller and safety conscious, I also have this cute backpack by anti-theft brand Travelon.
For my everyday purse, I opted to invest in an awesome bag I can use for everything everywhere, and you've read about it a million times on my blog: the Rebecca Minkoff Julian backpack.
I even used it to travel for one week luggage free!

Gizeh Birkenstocks | Naot Sabrina
Sole Support: Shoes
As my back problems increased, I realized that much of my discomfort started from either spending too much time sitting down or prolonged walking.
As reluctant as I was, I decided it was finally time to consider "comfort" shoes. Ugh! The problem was that comfort shoes looked horrific and that's the last thing any travel fashion girl wants to wear.
Fortunately for me, "ugly" shoes became trendy! Now there is a wide variety of comfortable footwear that is not only popular but some styles almost look like regular shoes, too.
I even have an entire section dedicated to comfortable travel shoes on TFG!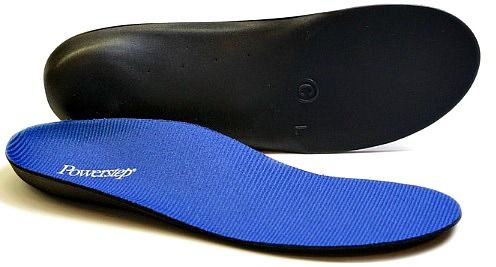 So far, the two shoes that have been the most comfortable to walk in with zero to minimal back pain have been my Gizeh Birkenstocks and Naot Sabrina. You can read more about my experience with both of them here.
For closed-toe shoes, I purchased custom orthotics that I insert into sneakers or boots. You can buy removable inserts here, but I preferred to have my own made at a local running store.
Generally speaking, I like traveling with boots in cold weather because mine have a rubber sole, sturdy heel, and a ½" – 1" heel, which helps provide support.
Take a look at some of the most recommended comfort boots!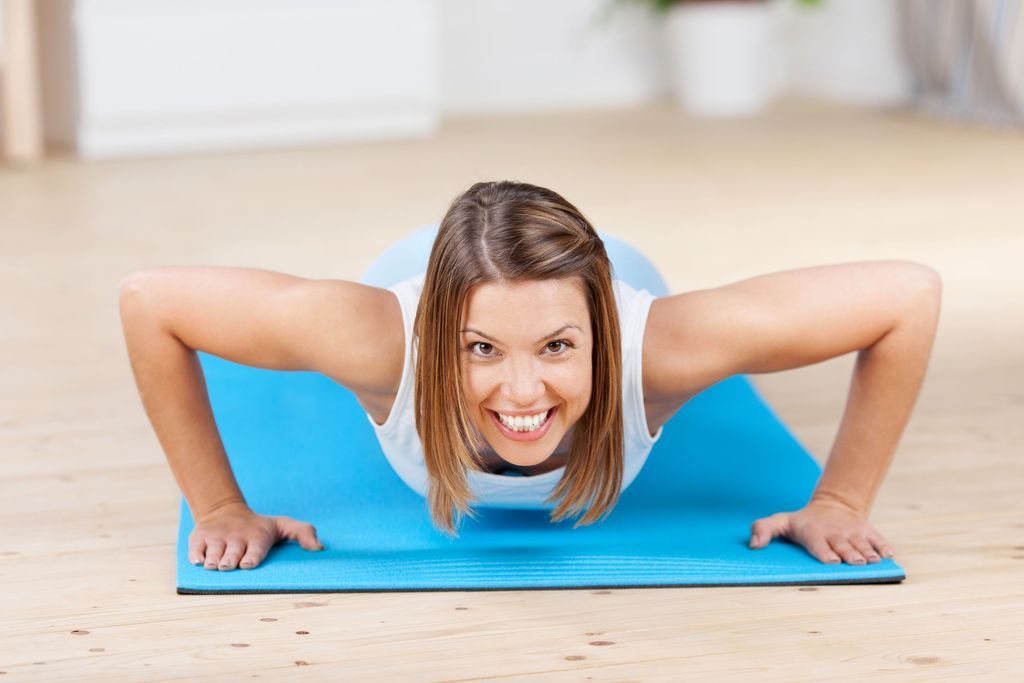 Muscle Matters: Strength Training
I made a new goal for New Year's. I didn't go to the gym to lose weight. I went to the gym to get healthy.
This mental attitude was far more effective for me because I knew I was working hard to improve my health, not my appearance.
The problem with back issues is that in order to strengthen your back, you need to strengthen your core, and in order to strengthen your core, you need to exercise…and if you have back pain, then it hurts to work out.
What do you do? It seems like you can't win!
My solution: I hired a personal trainer to help me slowly gain my strength back. Instead of spending (wasting) money on seeing a chiropractor twice a week, I paid a personal trainer to help me fix the root issue.
This was a great strategy and a worthwhile investment into my health.
We focused on getting strong from the bottom up, because you need strong legs to act as the initial support for your back. Focusing on my legs was a game changer.
I'd given up on working out because it hurt too much, but when we started with my legs I was able to manage. We didn't do anything that was painful.
The main thing to remember when you work out is that even if you don't have back problems, feeling sore or uncomfortable when you first go back to the gym happens to everyone.
You should consult with a doctor before doing any exercise and make sure to discuss your back with a personal trainer prior to starting. I worked with a few trainers before I finally found someone that had the patience, understanding, and knowledge to help me.
I did a variety of leg exercises with gym equipment, but the easiest exercise you can do on your own–anywhere anytime–is squats.
This article has a good video about how to do squats properly!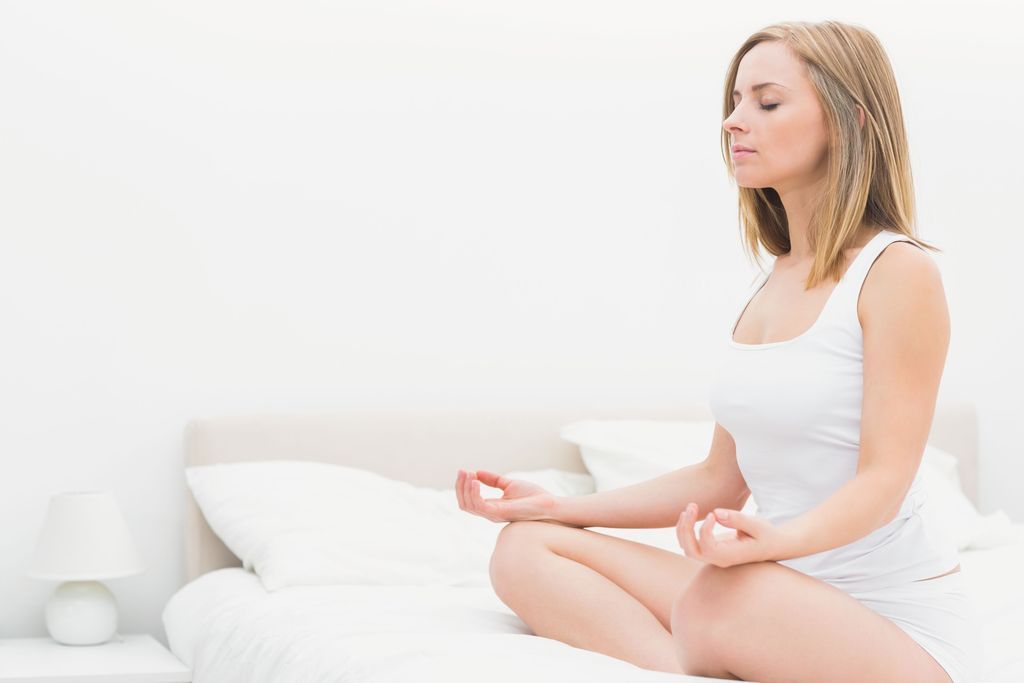 Focus on Flexibility: Stretching
I like yoga but I'm not a yogi by any means. While there are certain types of yoga that help with back pain like these, I've found that simple daily stretches make a huge difference.
These stretches have been particularly helpful. (Click each pose to learn more about it.)
I do those three different stretches, three times each, three to five times per week. If you do it every day, that's even better!
Enjoy your travels more with a healthy back. These solutions may not work for everyone, but they can definitely help you have a more enjoyable travel experience and more positive overall lifestyle.
---
While packing lighter and choosing comfortable footwear helped, the biggest improvement was through my strength training and stretches, which aided in the correction of the actual problem.
What's been the biggest help for your back problems? Comment below!
---
For more travel fitness tips, please read:
---
LIKED THIS POST? PIN THIS PIC TO SAVE IT!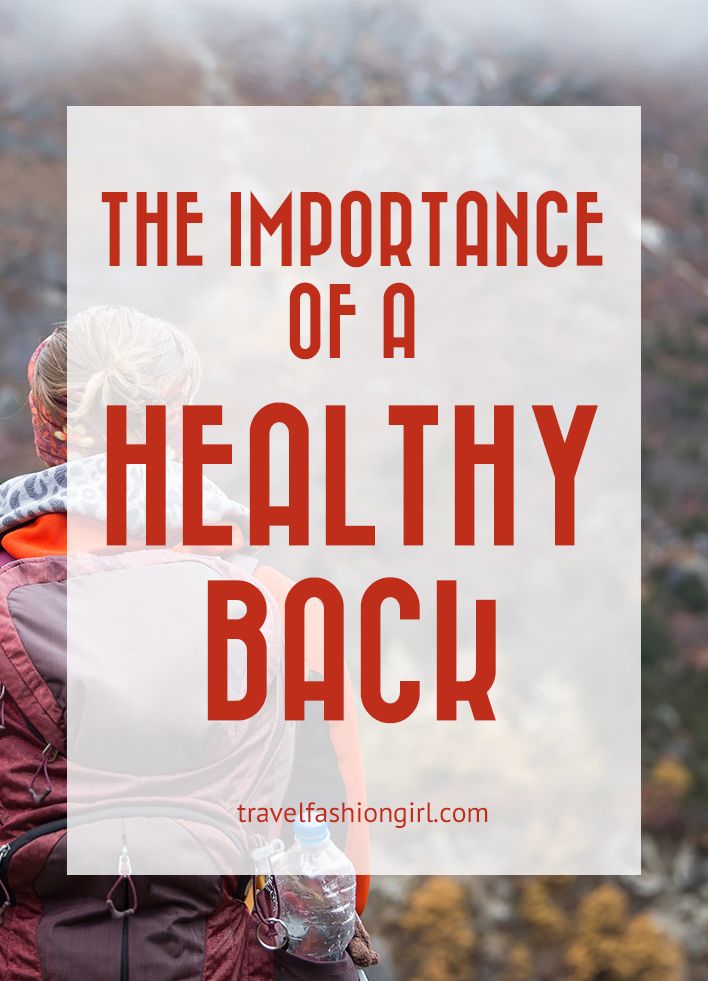 ---
We hope you enjoyed this post on the importance of a healthy back for travel. Please share it with your friends on Facebook, Twitter, and Pinterest. Thanks for reading!
---