Support TFG by using the links in our articles to shop. We receive a small commission (at no extra cost to you) so we can continue to create helpful free content. As an Amazon Associate, we earn from qualifying purchases made on Amazon in addition to other retailers featured on the blog. Thank you, we appreciate your support!
As you get ready for the holiday travel season, here are some fashionable airplane outfits for your fall adventures!
---
Airplane Outfits for Fall
---
Table Of Contents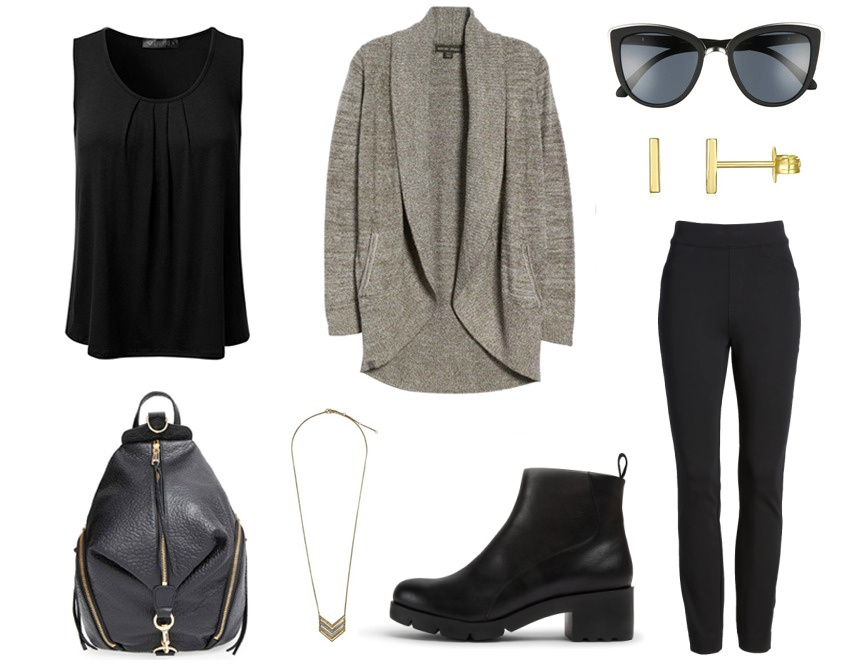 Sleeveless | Cardigan | Sunglasses | Earrings | Backpack | Necklace | Boots | Pants 
Go-To Airplane Outfit
Looking for an easy-to-wear ensemble? Look no further than this look right here. Easy, lightweight accessories play up the look and are also hassle-free when taking off—you'll be thankful for this while breezing through security!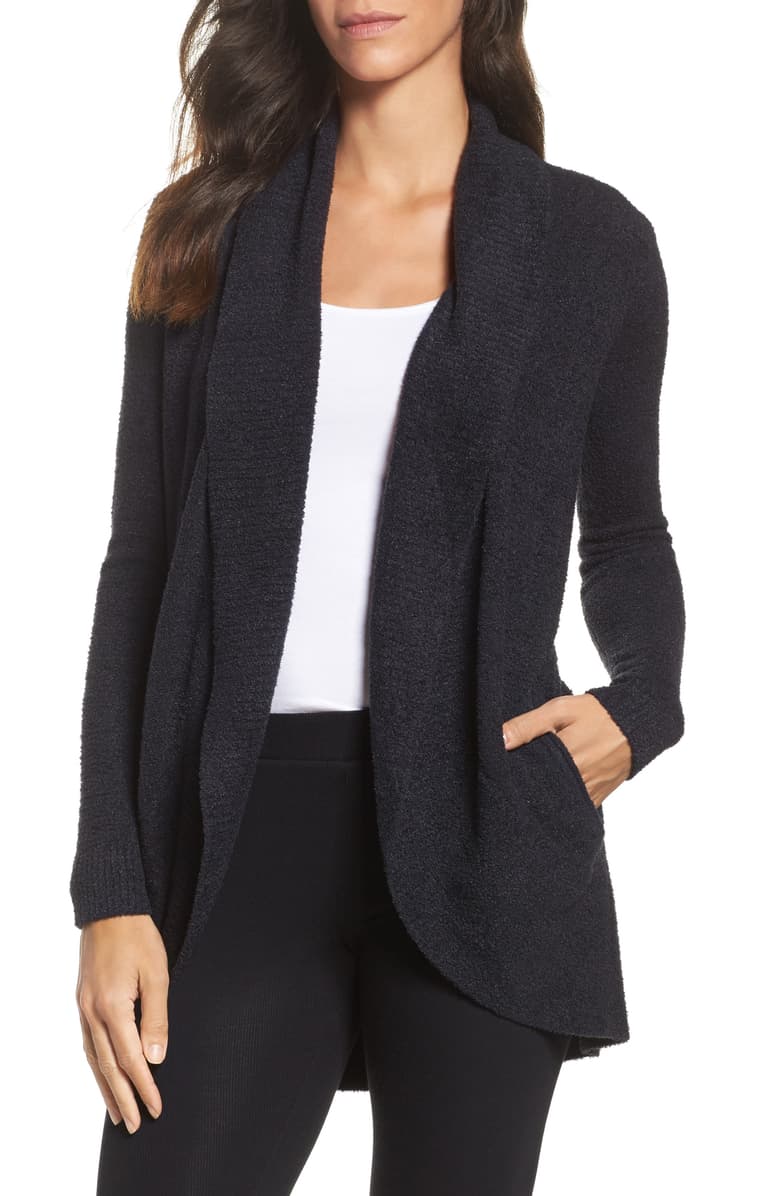 Barefoot Dreams CozyChic Lite® Circle Cardigan
Stylish Cardigan
This cardigan from Barefoot Dreams is seriously the coziest piece ever. If you are hoping to get some sleep, this will make you want to snuggle up fast. It can double as a pillow, and it's easy to take on and off.
A cardigan is a travel essential, as it's versatile enough to rock on the plane and at your destination. Style away!
Shop more cardigans: Amazon | Nordstrom
You'll want to look your best when you travel! Read my travel tips to Pack Light Stylishly!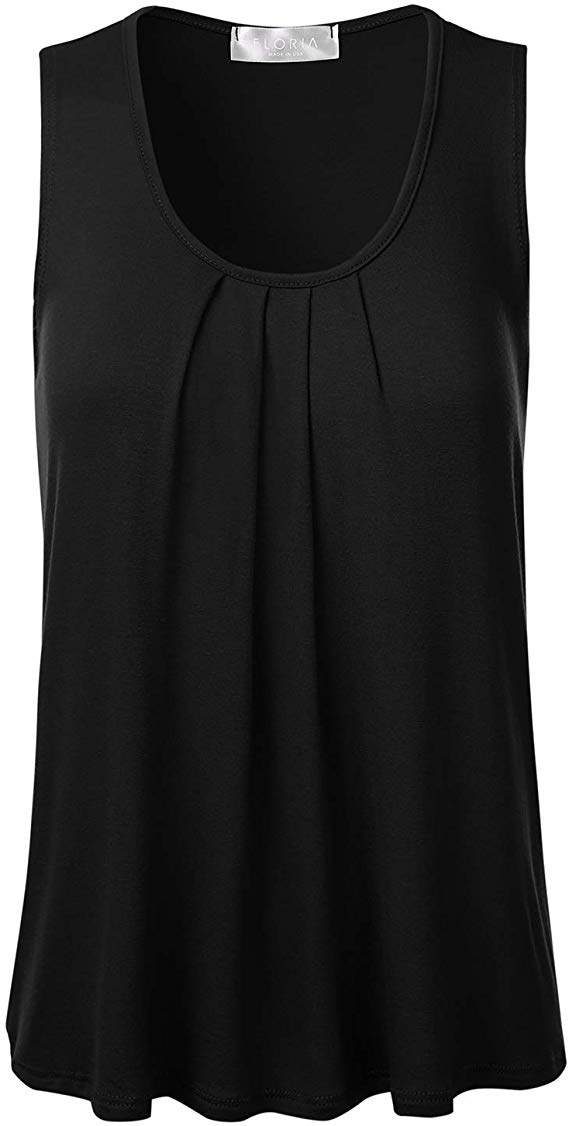 Womens Sleeveless Stretchy Blouse, Sizes S-3XL
Sleeveless Blouse
A simple, sleeveless blouse is another staple. With its comfortable feel and sleek look, a piece like this will take you from the tarmac to tapas in style. The black sleeveless blouse shown above is offered in a variety of different colors!
Made out of mostly rayon, this is a travel-friendly fabric that's less likely to wrinkle. This timeless piece is also free of embellishments which can be irritating while en route to your destination.
Shop more sleeveless blouses: Nordstrom | Amazon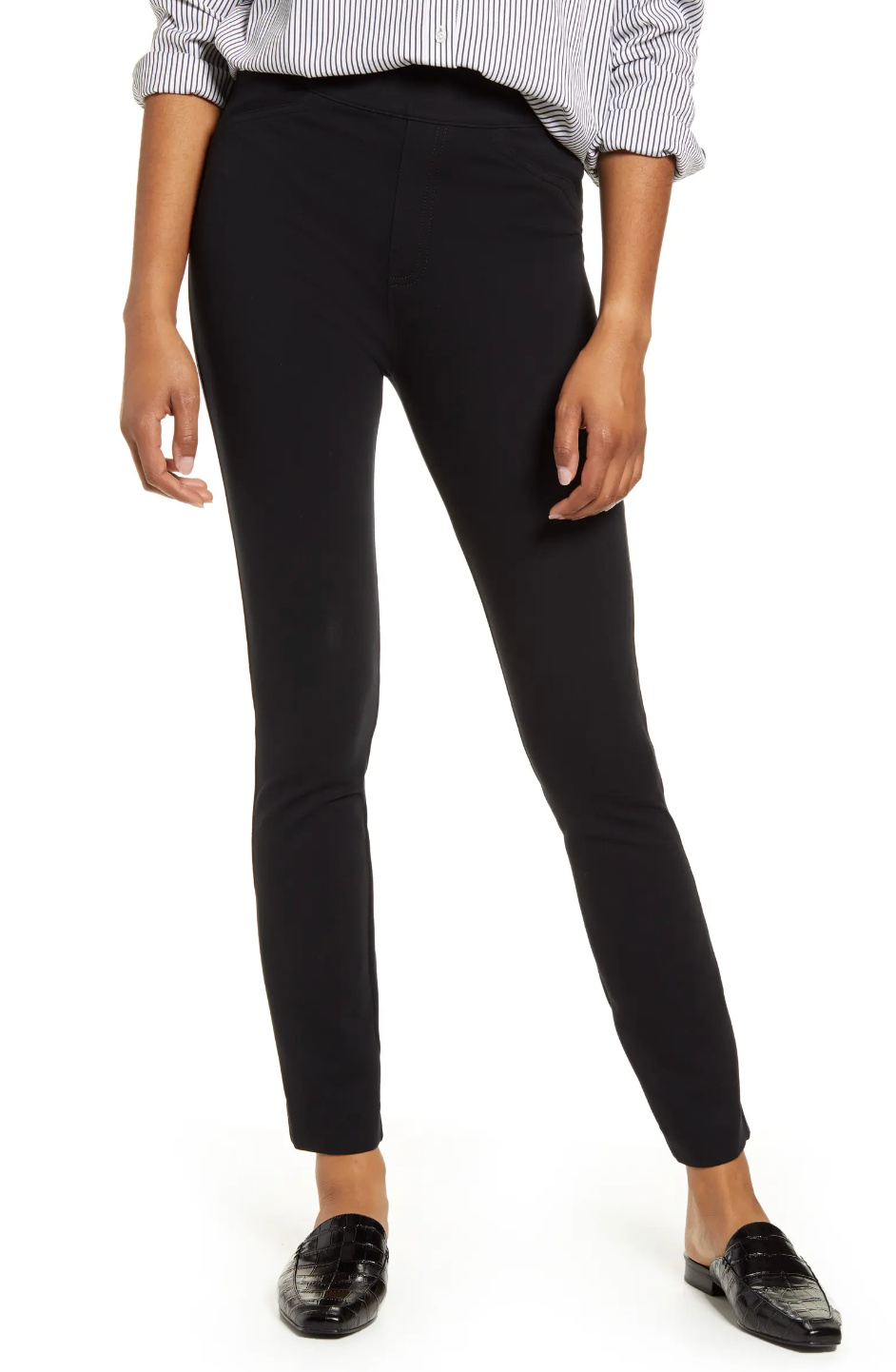 Spanx The Perfect Pant Back Seam Skinny Ankle Pants
Comfortable Pants
It's not often that a pant is designed with travel, practicality, AND fashion all in mind. The Perfect Pant pant by Spanx is by far our favorite exception. Hailed high and low as one of the best pants for travel, we can't think of a better piece to include within your wardrobe. Take these on a red-eye and start the next day in both ease and style.
Shop more black pants: Nordstrom | Amazon
Here are more the best black pants for travel!
Camper Women's Wanda Ankle Leather Boot
Sturdy Ankle Boots
There was no way we could suggest the ideal cold-weather outfit without the Wanda boot from Camper. This is a FANTASTIC shoe for travel (waterproof, cute, versatile—what's not to love?). We love how easy it is to slip this boot on and off.
They are perfect for giving your feet a nice stretch once you're seated and settled. Plus, if you get cold easily, the lining is made of a super warm material, too!
Shop more slip-on boots: Nordstrom | Amazon

Here is our round-up of the best ankle boots for fall!
Leggings | Sweater | Sunglasses | Tee | Sneakers | Crossbody | Earrings
Stylishly Comfortable Outfit
Take advantage of some funky trends and look fashionably comfortable on board! This look is the perfect blend of cozy and luxe, and you can easily rock it in an urban destination such as NYC.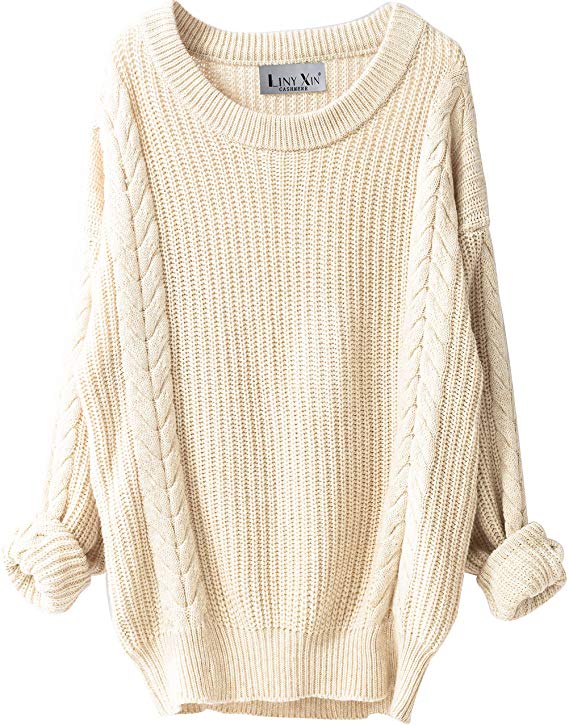 Liny Xin Cashmere Oversized Sweater
Cashmere Sweater
The sweater by Liny Xin is cute, comfortable, and can help offset bulk within luggage if worn on the plane vs. packed inside your suitcase. This is the best way to travel carry-on if you want to bring a cable-knit sweater on your trip.
Shop more oversized sweaters: Nordstrom | Amazon
Feel cozy with this round-up of the best merino wool sweaters!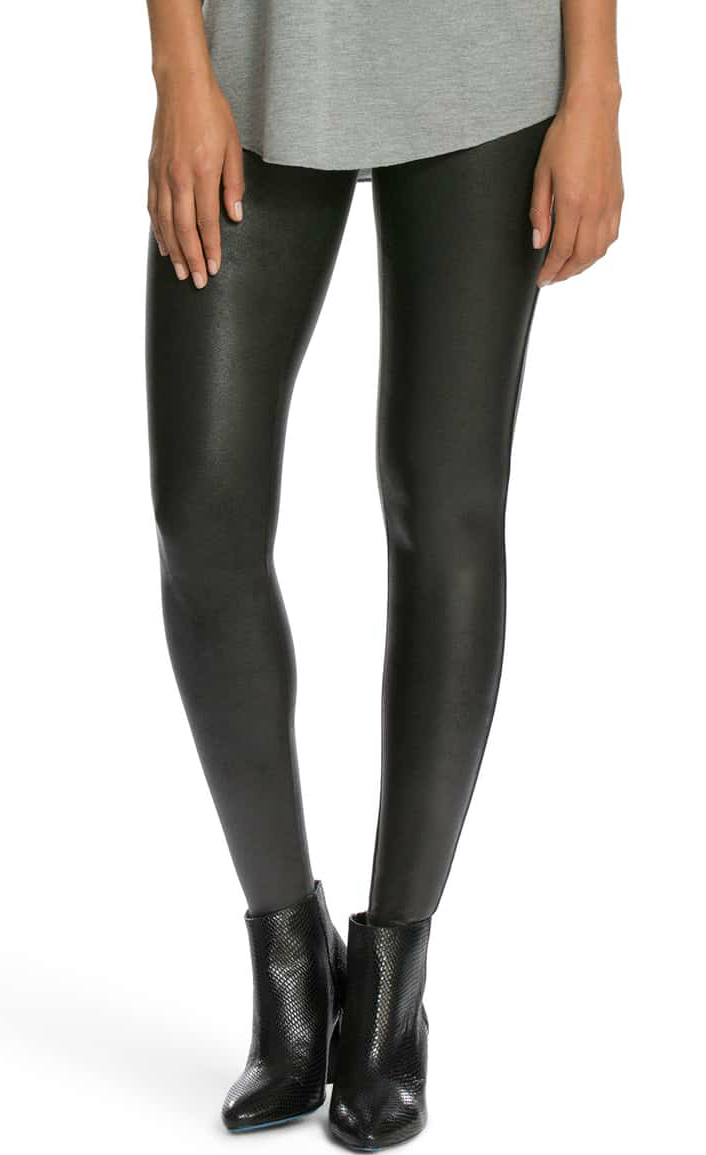 Leggings
You can't go wrong with a pair of Spanx faux leather leggings in your OOTD (outfit of the day). These ultra-cute leggings are shockingly comfortable and one of our go-to leggings!
With the comfort of a legging and the sleek sheen of faux leather, these are a hassle-free fashionista's dream. Keep rocking them upon arrival for an easy way to elevate any look.
Shop more faux leather leggings: Nordstrom | Amazon
Check out the best leggings for travel!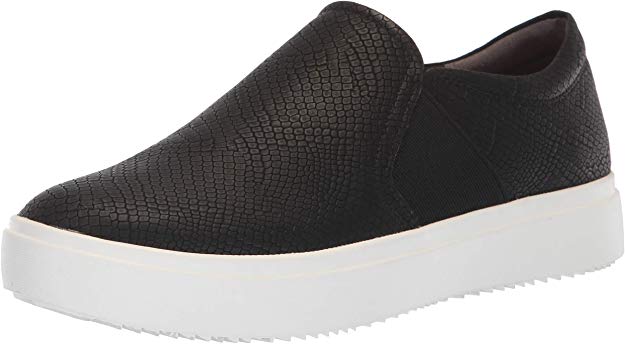 Dr. Scholl's Wander Up Sneaker
Slip-Ons
Few pieces make going through security easier than a pair of slip-on shoes. Save yourself the stress and opt for a cute pair like these from Dr. Scholls.
Shop more slip-on sneakers: Nordstrom | Amazon
We love this list of the most comfortable slip-on sneakers!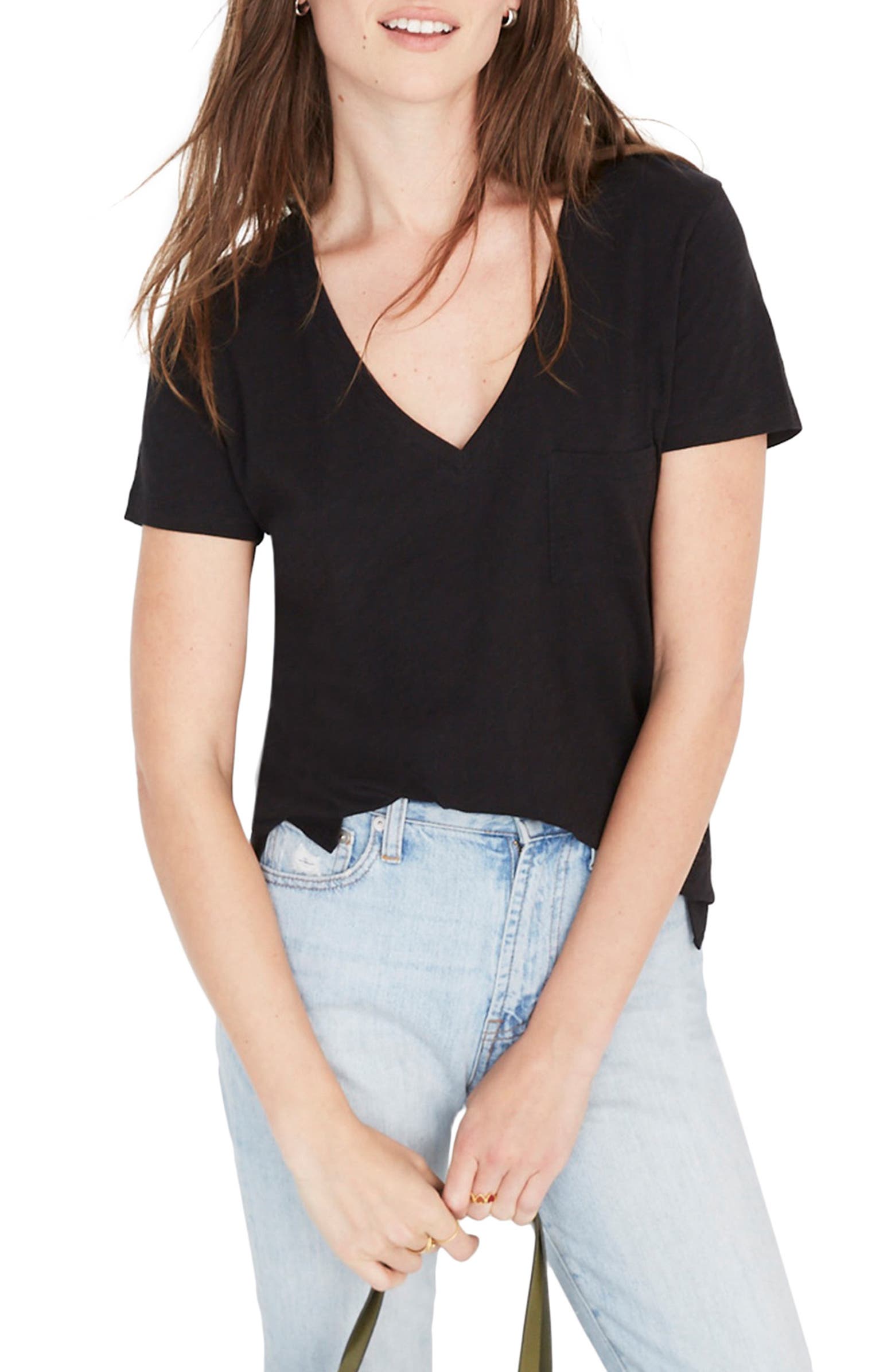 T-Shirt
This Madewell V-neck t-shirt adds just the right amount of flare, all while maintaining the look's minimalistic appeal. Stripes, in particular, are a universal classic, meaning you never have to worry about them going out of style. They're easy to play up any look in just about most destinations.
Shop more striped t-shirts: Nordstrom | Amazon
Gor for "classic" with the best t-shirts for women!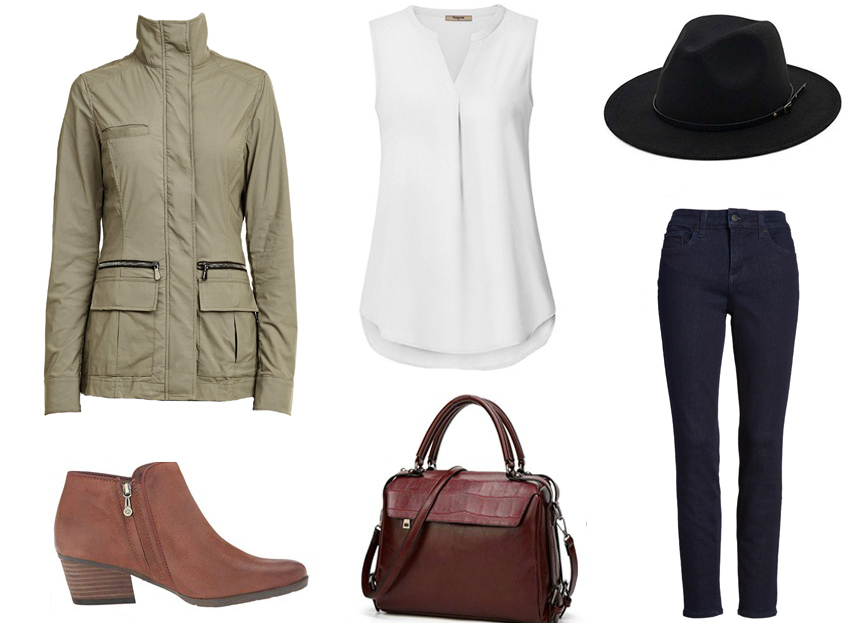 Jacket | Blouse | Hat | Boots | Crossbody | Jeans

City Chic Look
This is the perfect outfit for a quick weekend jaunt to mild destinations such as Los Angeles or Barcelona! The pieces combine urban trends with some fun flair, which makes it an easy year-round staple. Best of all? You can keep flaunting it (and various renditions of it) throughout your travels.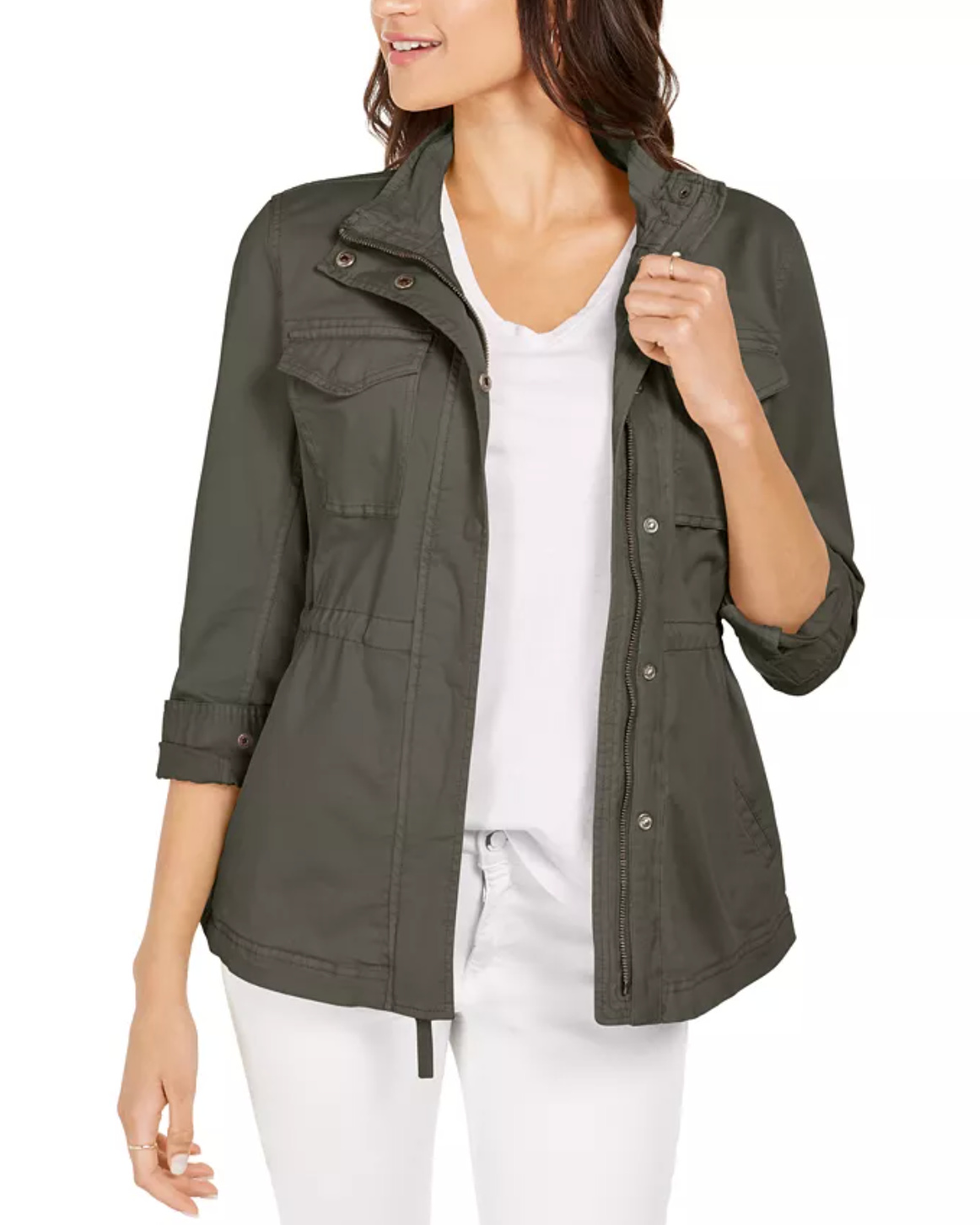 Style & Co Women's Twill Jacket
Softly Constructed Jacket
Another favorite from fashion brand Style & Co, this Twill jacket is the perfect mix of practicality and style. It's lightweight and functional while also showing off the trendy utility jacket look. Available in a variety of neutral tones, this piece will work beautifully with your travel wardrobe.
We especially love this jacket for flying to a warm-weather destination that may occasionally experience a gust of cold air.
Shop more travel jackets: Nordstrom | Amazon
Find out why this is the best travel jacket ever!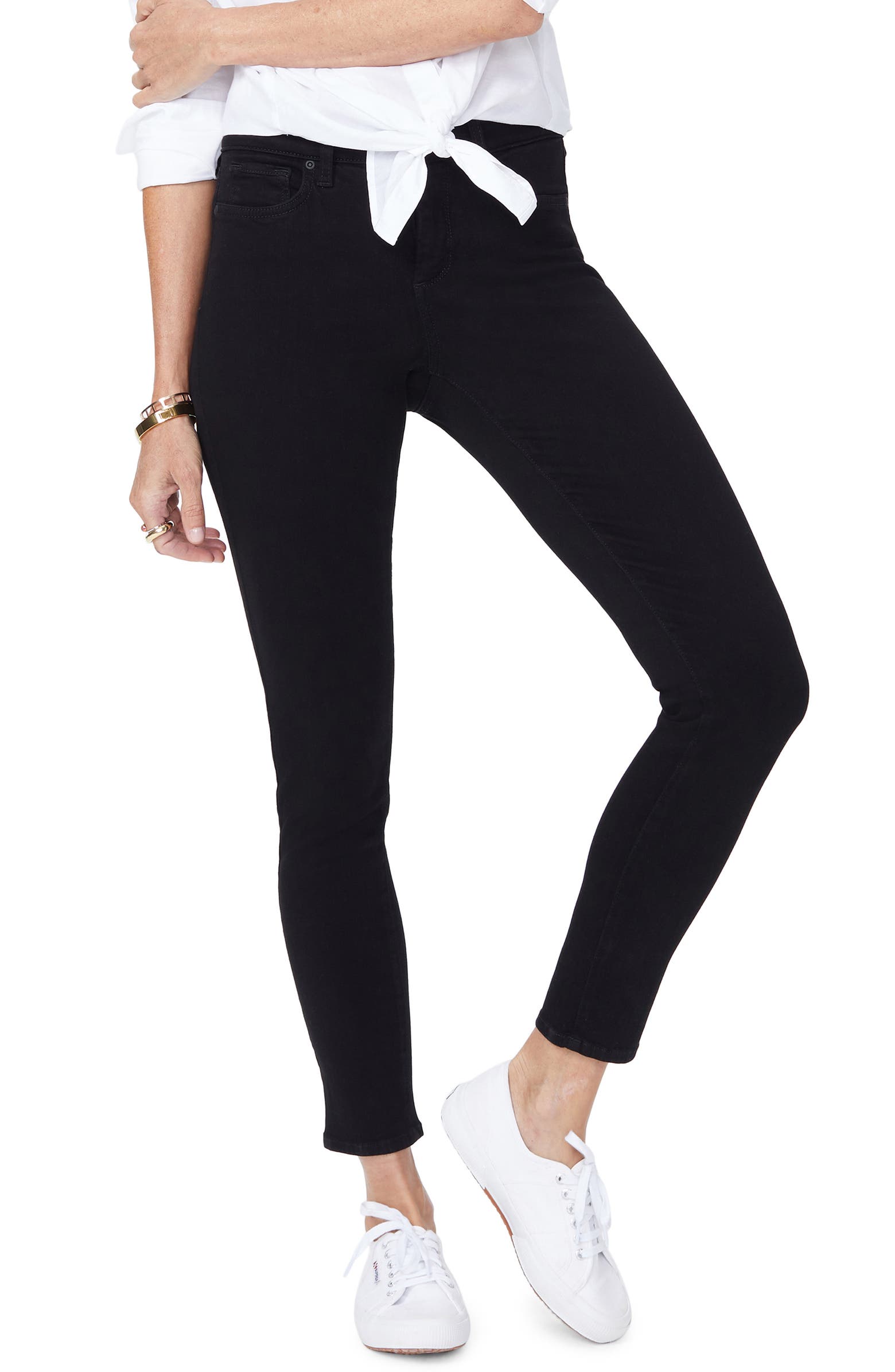 NYDJ Ami High Waist Skinny Jeans
Skinny Jeans
Is there anything more essential than a great pair of denim? We've shouted it from the TFG rooftops, and we'll repeat it—dark wash skinny jeans are a travel fashion must! These NYDJ skinny jeans definitely meet our standards. 
They're a universally classic piece, so you might as well work them into your travel ensemble. Wherever you land, you and your look will both be fabulous.
Shop more skinny jeans: Nordstrom | Amazon
Check out the best skinny jeans that you can rock on your travels!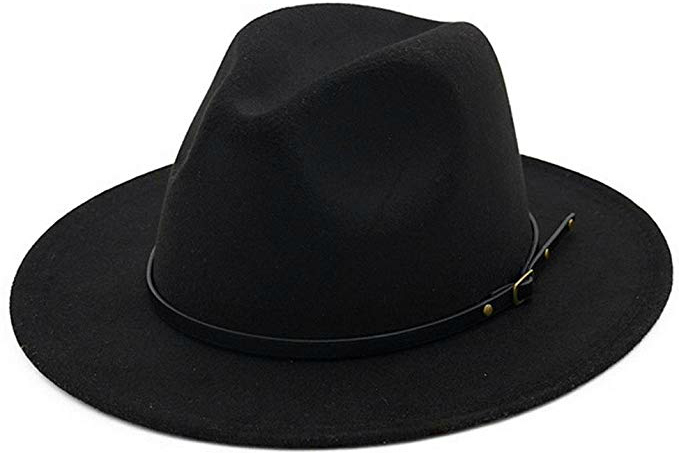 Lisianthus Belt Buckle Fedora Hat
Fedora Hat
We also love a fabulous hat, and this fedora from Lisianthus is an accessory worth taking on the plane with you. Generally, packable hats are great for weather protection or as a funky complement throughout your travels.
The Lisianthus can keep your head warm, and the sleek belt buckle adds a bit of polish. This fedora hat is a keeper!
Shop more packable hats: Nordstrom | Amazon
Blondo Villa Waterproof Ankle Boot
Urban Ankle Boots
The Villa boot by Blondo is a TFG favorite! Loved by readers and Alex alike, this is a great staple to work into your plane wardrobe. And seeing as it's the perfect ankle boot to bring to Europe and beyond, these are an easy travel must-have. 
Shop more waterproof boots: Nordstrom | Amazon
Read our full Blondo Villa review!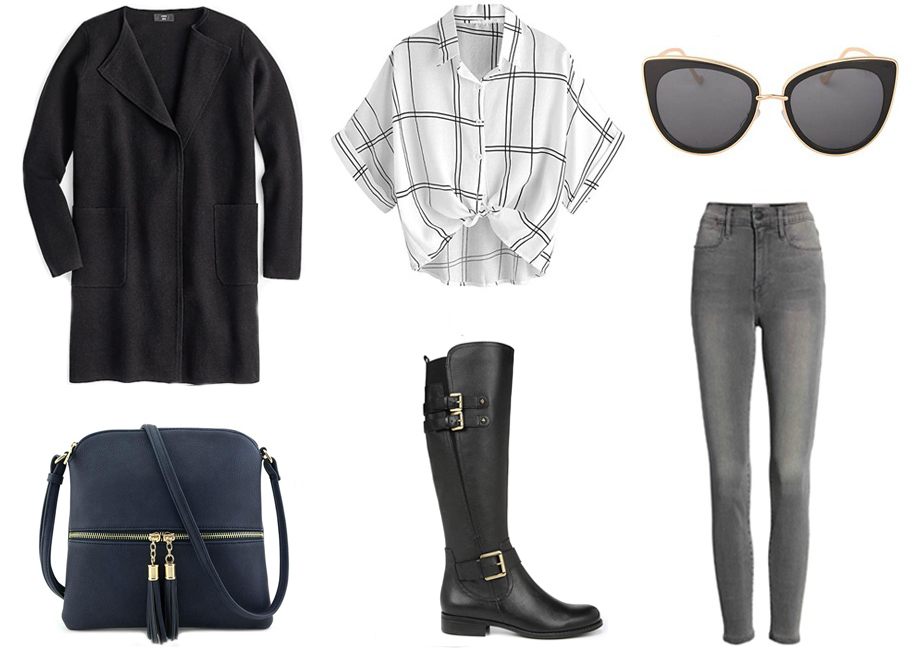 Coat | Blouse | Sunglasses | Crossbody | Boots | Jeans
Classically Structured Get-Up
Who wouldn't love a look that's sophisticated and practical enough to rock well after arrival? This will keep you looking stylish as you're en route to Paris or Rome. Plus, this incorporates the handy packing tip of wearing your bulkiest items on the plane.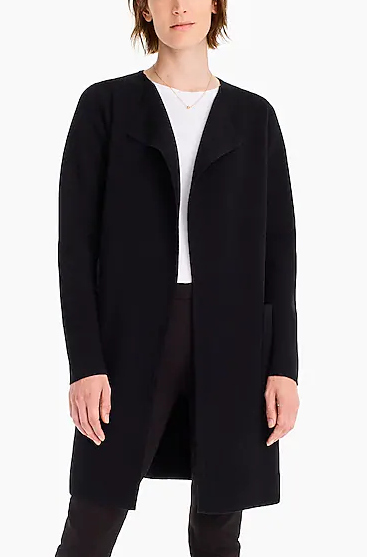 J. Crew Juliette Collarless Sweater-Blazer, Sizes XXS- 3XL
Sweater-Blazer
If you don't have to worry about packing an entire coat, this J.Crew sweater-blazer will leave plenty of space leftover in your bag for other travel goodies. We love how chic and structured this piece is and it's offered in multiple colors to suit any style!
Shop more asymmetrical coats: Nordstrom | Amazon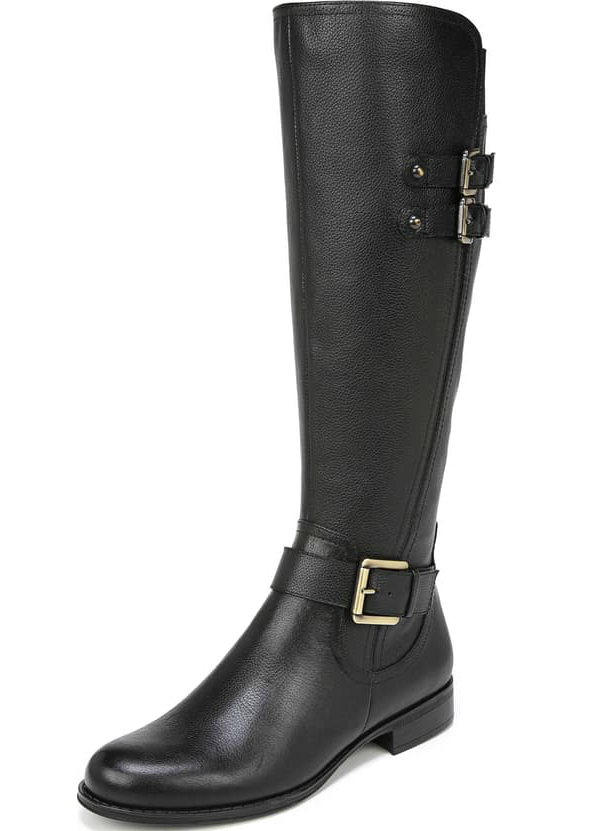 Naturalizer Jessie Knee High Riding Boot
Tall Boots
You can't go wrong with leather tall boots in classic black. Naturalizer's riding boot revitalizes the equestrian look into a commanding, empowering vibe. We sure adore the way they feel and incorporate into a travel look!
For extra comfort, sneak a pair of compression socks underneath. And these boots can be slipped on and off, so you can relax your footsies at any time!
Shop more tall boots: Nordstrom | Amazon
These are the best boots that you can wear on a plane!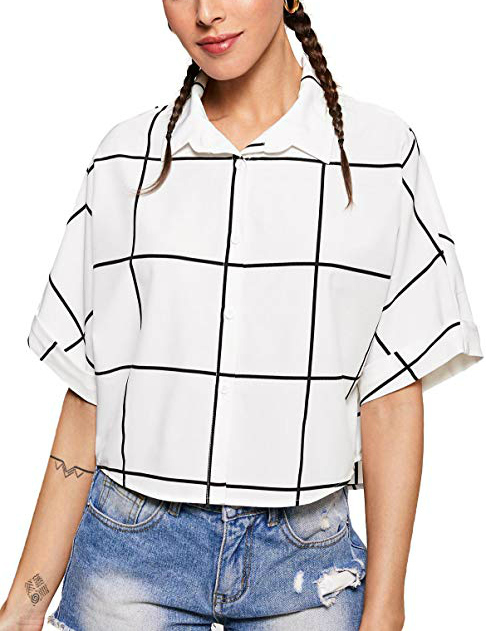 Printed Blouse


If a plain blouse isn't your cup of tea, finish off the look with a cute, printed piece like this one from MAKEMECHIC. The check pattern in a classic black and white is a great way to add some geometric fun to your outfit.  
The top above is lightweight, comfy, and an easy way to make a statement as you're off to your next destination.
Shop more print blouses: Nordstrom | Amazon
How the Editor-In-Chief Rocks Style en Route
Watch this video to start learning how to organize with packing cubes!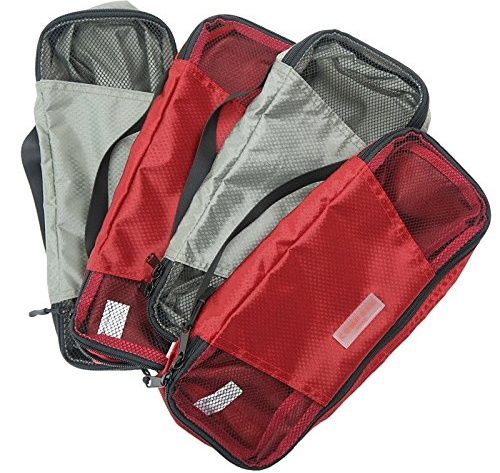 How to Pack Your Fall Airplane Outfit
Once you have an airplane outfit sorted out, then use slim packing cubes to save space. This allows you to travel carry-on only for all the clothes you intend to bring.
We put together a five-part YouTube series showing the different methods to use packing cubes for travel. If you use this specific packing strategy, packing cubes can also compress your belongings. This is the secret to traveling carry-on only!
---
Do you have airplane outfits that you love? Share and comment below!
---
For more ideas on fall travel fashion, please read:
---
LIKED THIS POST? PIN THIS PIC TO SAVE IT!
---
Hoped you liked this post on airplane outfits for fall travel. Please share it with your friends on Facebook, Twitter, or Pinterest. Thanks for reading!
---