Support TFG by using the links in our articles to shop. We receive a small commission (at no extra cost to you) so we can continue to create helpful free content. We earn from qualifying purchases made to the featured retailers. Thank you, we appreciate your support!
Have you ever traveled in winter when it's freezing cold while sightseeing outdoors but you roast the minute that you walk indoors? That's just one of the other challenges of packing for the winter. Find out what clothing tips our readers recommend to avoid having this issue!
---
Dressing Comfortably in Cold Weather
---
Table Of Contents
Travel Fashion Girl help! A reader asks:
I'm heading to the UK for Christmas. Does anyone have any tips for dressing for cold weather AND over-heated indoors? My usual outfit would consist of a thin merino base layer, jeans and wool blend jumper or dress, and coat – this works fine for outside but I overheat in shops and it's tricky to remove the base layer. I'm from Australia and I really struggle in the central heating.
As someone who has been living in England for the past few years, I can safely say this is all too accurate! While I've slowly become more used to the chilly winter weather, it can be more of a struggle finding a balance between staying warm when outdoors but not overheating once you step indoors.
Start by reading these tips on packing for cold weather travel:
Next, read these tried and true tips for dressing warmly for cold weather without overheating indoors: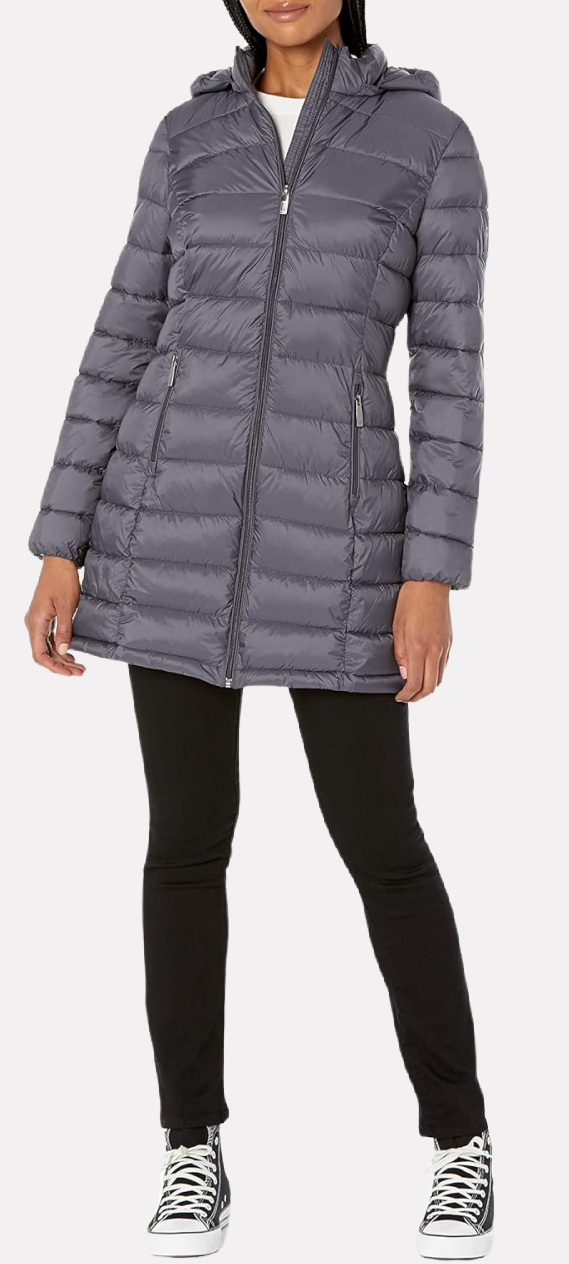 Calvin Klein Chevron-Quilted Packable Down Coat | Sizes XS-2X
Skip the Base Layer
For days when you plan to spend a lot of time indoors, skip the base layer altogether. Unless you're spending extended hours outdoors then you'll probably be warm enough with a wool pullover plus a good coat.
When I was recently doing a two-week course in London, I only wore a thin coat because I also overheated going from the warmth of the Tube directly to the heated building where I spent the rest of the day. I would briskly take a 30 minute walk back to my Airbnb in the evenings, so even without a thick coat or base layer, I was sweaty!
This strategy may not work for all days on your trip but it might be good for museum or shopping days.
Find out what's the best down jacket for your cold weather travels!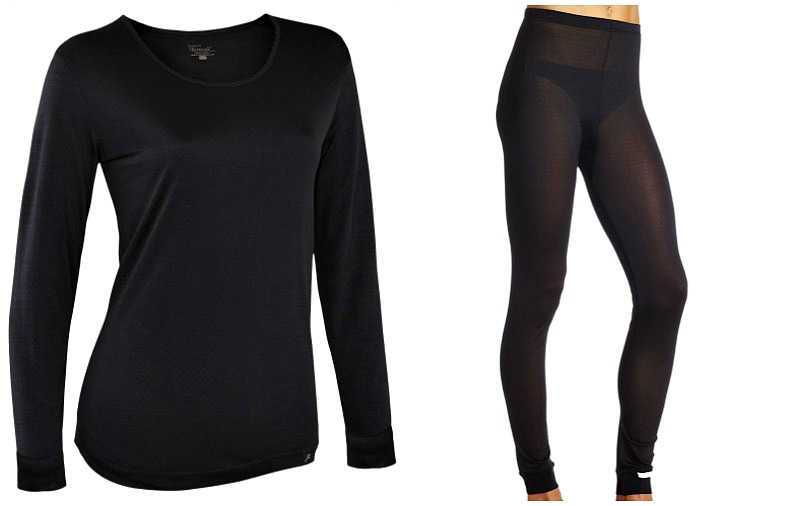 Terramar Thermasilk Top & Bottom | Sizes XS-XL
Layer, Layer, Layer
This is probably the most obvious tip, but layering is a must when going in and out of different temperatures. As one reader says, "It's all about the layers, including a hat and scarf (as those keep you warm, are quick and easy to take off, and pack up small)."
Think of an onion and its many layers. Start with thin pieces closest to your body and work your way up to thicker pieces until you reach the coat layer. Depending on how cold it is, this may mean wearing a thin shirt under a sweater under a vest under a coat. 
In terms of what types of fabrics to choose, the video below can help you select smart fabrics or brands that work well in winter so you can layer properly!
Watch this video to find out the right fabrics to layer for winter!
The key is to use thin layers so they're easy to store in your purse while you're indoors. You can also keep layers stored in a packing cube inside your day bag, too.
Learn more about how to layer clothes for winter!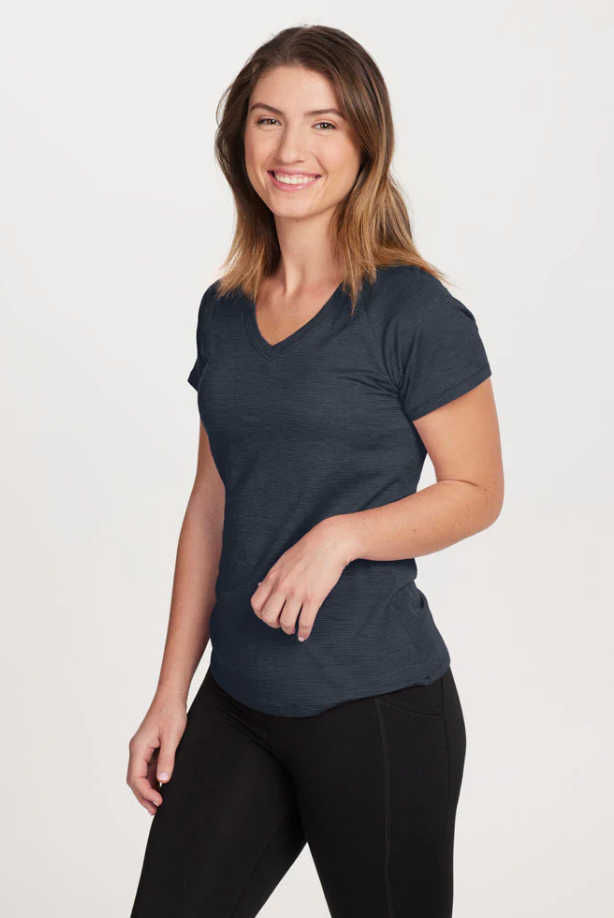 Woolx Mia Merino Wool V-Neck T-Shirt | Sizes XS-3X
Keep Your Base Layer Short Sleeved
Thermals tend to be long sleeved but you can use a short sleeved or sleeveless top as a base layer instead. When it's freezing outside, the last thing you can imagine wearing is a short sleeve shirt especially if it's made from merino wool. However, it's a good way to cool down when you go indoors or head down to the tube where it can get sweaty and muggy.
One reader explains, "I wear a base layer, a sweater, and a coat, and peel off as needed. My base layer is short sleeve as I'm prone to an occasional hot flash." Another adds, "I also wear a short sleeve layer, then a zip up long sleeve, then my main jacket on top."
Choose from this and this round up of the best thermals for women!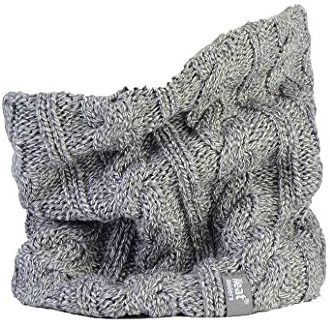 Thermal Winter Neck Warmer Gaitor
Don't Underestimate the Power of Accessories
While jewelry serves as an accent year-round, winter accessories are as functional as they are stylish. The ultimate accessory heroes are scarves, gloves, and hats, as they keep parts of your body warm that other clothing can't, such as your ears and the back of your neck.
One reader highly recommends hats and scarves, explaining, "The hat keeps in about 80% of your body heat and if you get a big blanket scarf you can wear it several ways and even leave it on indoors or wear it like a shawl."
Another reader adds, "A big scarf, hat, and gloves will keep the chill out until you're warm and they can be stuffed in your bag when not needed."
This strategy could be combined with the first one where you would skip the base layer altogether. Remember to use a purse, tote, or backpack with enough space to store your warm accessories once indoors.
Tip: use a small scarf like a neck gaitor so you stay warm when you're outdoors but you can easily store it away when indoors!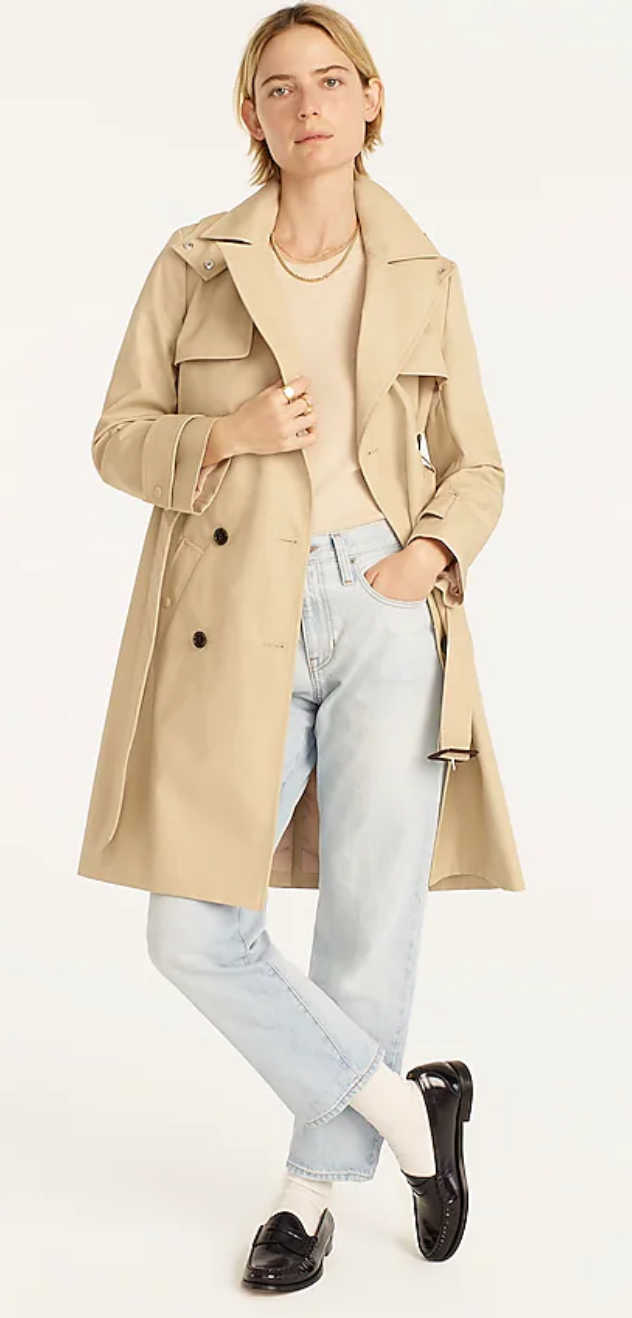 J.Crew Icon Trench Coat | Sizes 00-24
Wear a Long Coat
Skip the short puffers and jackets and go for a good old fashioned long duster coat. These help keep your bottom and legs warm, which can help you feel more comfortable when walking around outdoors. Plus, it's easy to take off when you go indoors.
Long coats are also great if you feel too much like a marshmallow when you layer. One UK reader says, "I like having a longer coat that is warm enough that I don't need under layers. I only wear under layers if I'm going to be outside for extended periods of time."
Keep in mind that you need quality underlayers if you're opting for a thin coat so stick to fabrics such as merino wool that are thing yet very warm.
Here are the top womens winter parkas that'll keep you toasty but are also comfortable and lightweight!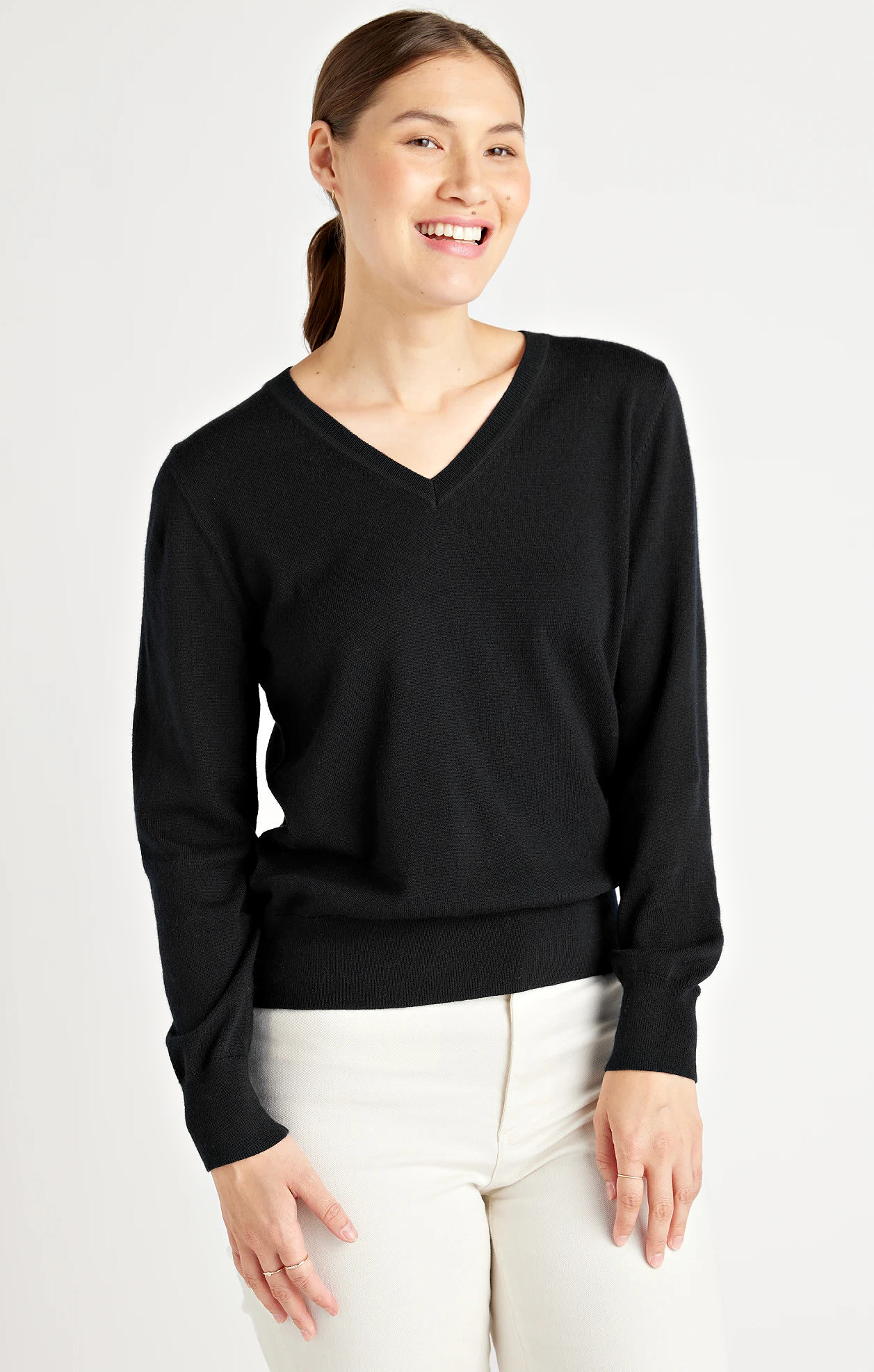 Quince Australian Merino Wool V-Neck Sweater | Sizes XS-XL
Look for the Right Fabrics
Fabrics play an important role for bundling up. While breathable, cotton isn't too warm, so you have to wear thicker layers to stay warm. But fabrics like merino wool insulates heat, keeping you warmer. Especially for base layers, look into fabrics that keep you most comfortable.
I'm obsessed with merino wool sweaters because they're light yet incredibly warm. I've had them for years and they remain in good quality even though I've worn them repeatedly. Depending on how cold it is, I'll layer two of them to keep me warm. To get a full list of choices, check out the best merino wool sweaters for women!
One reader says, "Merino layers help with the damp weather," while another suggests silk as a base layer, saying "That's what I'll wear into work in the mornings under my fancy pants. Silk provides a bit of extra wind block and warmth but it doesn't cause me to overheat once I'm inside." Silk thermals, such as these, are popular for their incredibly lightweight, breathable insulation, and deliciously soft feel.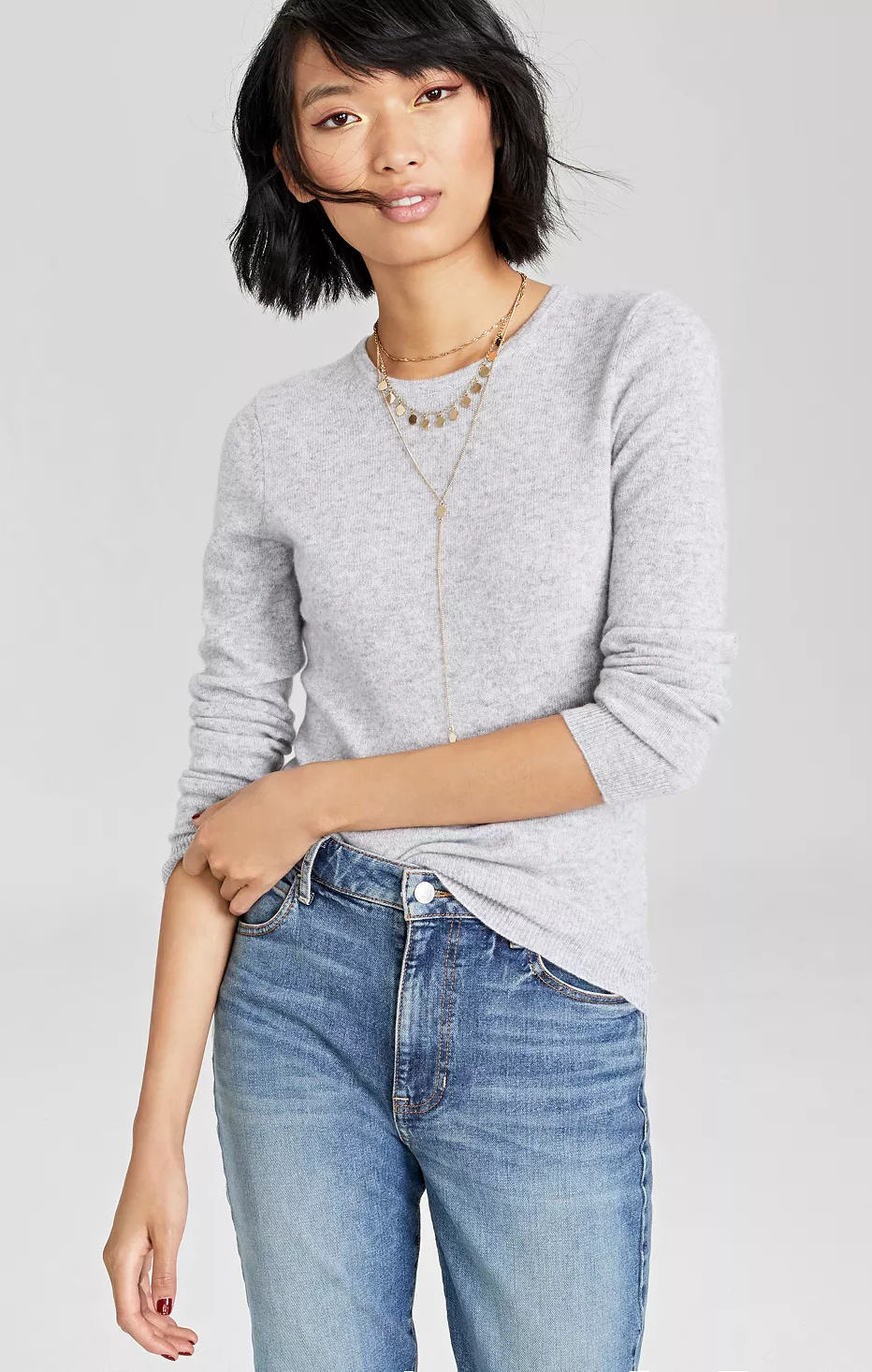 Macy's Cashmere Crewneck Sweater | Sizes XS-XXL
While merino wool reigns supreme for many travelers, some are allergic or don't like wool; cashmere has always been a suitable replacement but a costly option in comparison. It seems things have now changed with new brands emerging and offering products with these natural fibers at relatively affordable price points. Readers love these cashmere sweaters for their polished and timeless look, incredible warmth, and versatility.
Learn more about why merino wool is the best fabric for travel!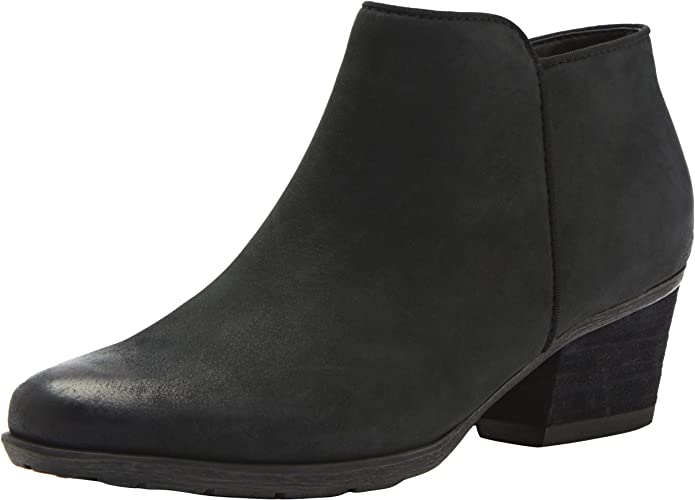 Blondo Villa Waterproof Fashion Boot
Don't Forget About Your Feet!
When we think about cold weather apparel, we often forget about our feet and toes, which are just as important. If anything, it's even more important to keep your feet warm, as they're closest to the wet or snowy ground.
Ankle boots are by far the most highly recommended shoes for winter by our readers and we agree. Boots win over sneakers for us because they offer more warmth covering your ankles and allowing you to discreetly wear layers and high socks underneath your jeans.
Take a look at the waterproof boots most recommended by the readers!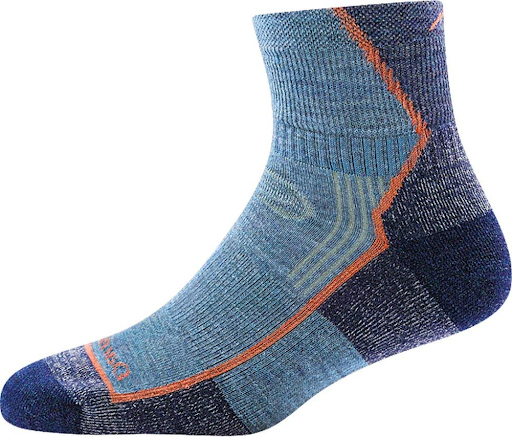 Darn Tough Vermont 1/4 Cushion Socks
One reader says, "Thick socks and waterproof boots are a must, as cold toes equals cold bones!" Consider wool socks (which tend to wick moisture) and go for a waterproof boot to keep your feet warm and dry in case it starts snowing or raining.
For more options, please read this post on the warmest socks for travel!
---
Do you have any tips to add on how to dress for cold weather without overheating indoors? Comment below!
---
For more ideas on what to wear in cold weather, please read:
---
LIKED THIS POST? PIN THIS PIC TO SAVE IT!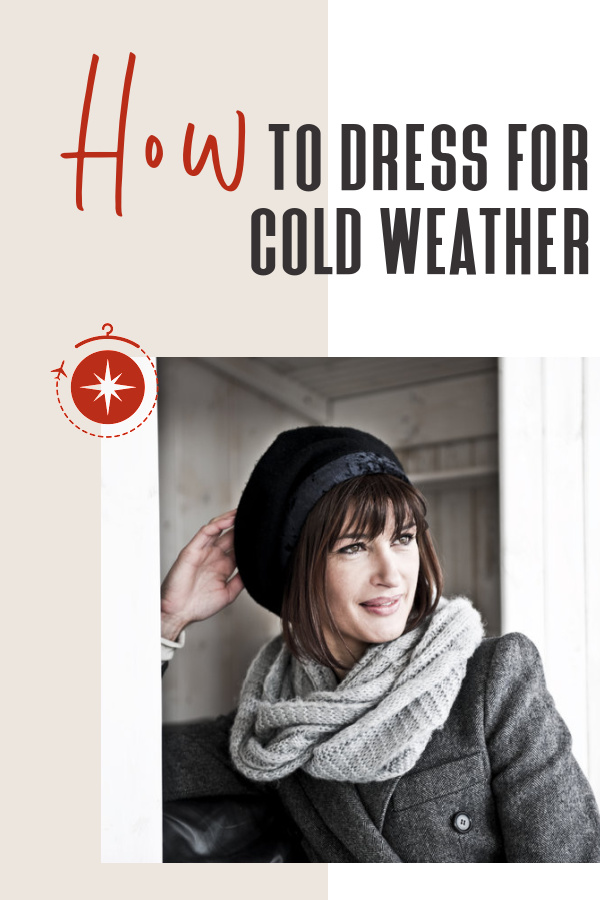 ---
I hope you liked this post on how to dress for cold weather without overheating indoors. Please share with your friends on Facebook, Twitter, and Pinterest. Thanks for reading!
---