Support TFG by using the links in our articles to shop. We receive a small commission (at no extra cost to you) so we can continue to create helpful free content. As an Amazon Associate, we earn from qualifying purchases made on Amazon in addition to other retailers featured on the blog. Thank you, we appreciate your support!
I was inspired by a question from a reader to put together this blog post on traveling to hot, beachy destinations while pregnant. Here are my top recommendations on everything from swimwear and shoes to airplane essentials! 
---
Pregnancy Travel to Hot Climates
---
Table Of Contents
Since becoming a mother, I've had to adjust to the different ways to travel; pregnancy definitely changed things a lot!  While I previously emphasized comfort in my travel capsule wardrobe and the shoes I wore, wearing lightweight, breathable clothing and supportive shoes for my increasingly swelling feet became even more important during my pregnancy.
A question was asked by one of our community members regarding traveling to warmer destinations while pregnant, so I thought I'd share my own packing experience!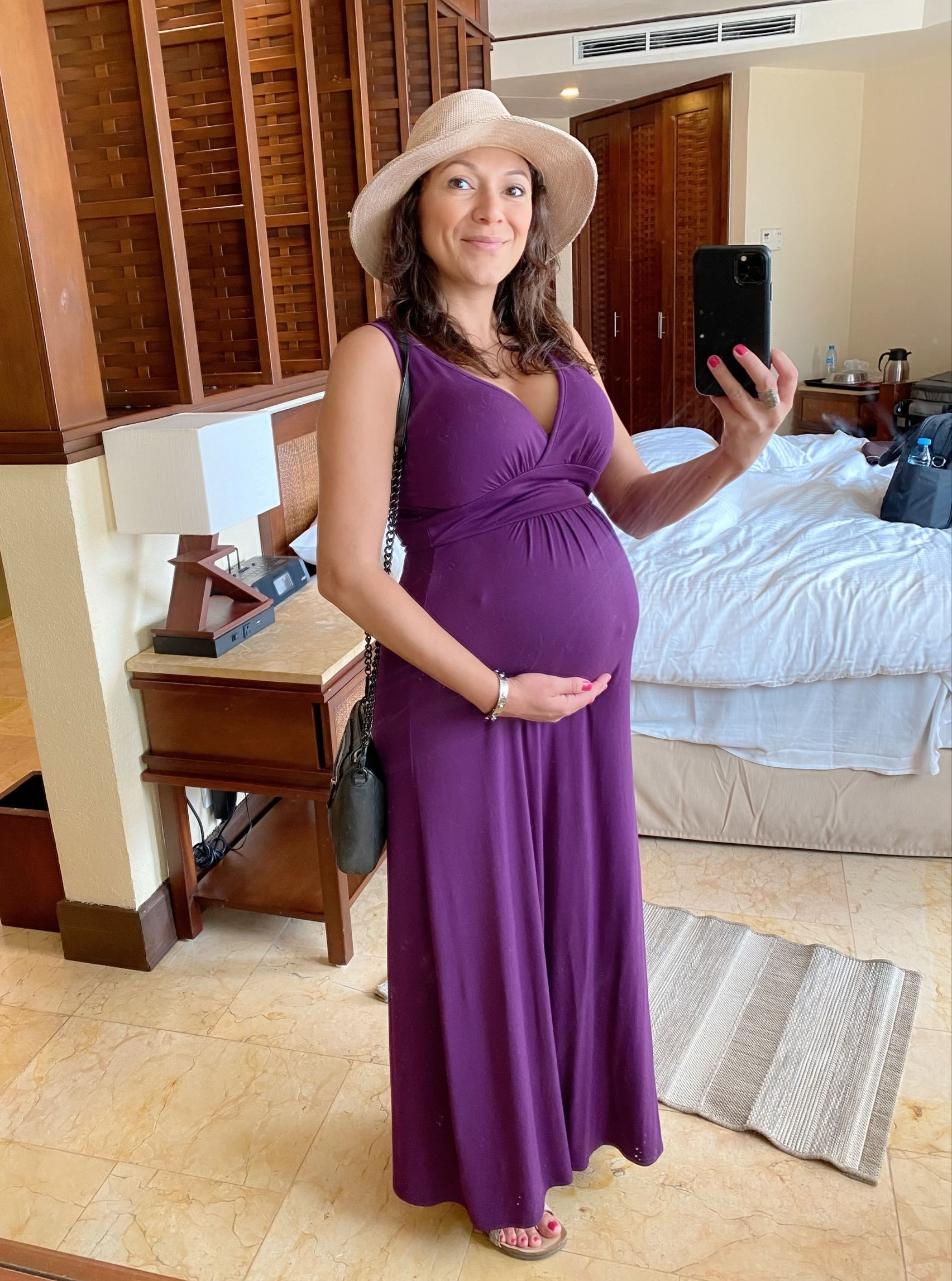 At a Cancun, Mexico resort wearing a non-maternity dress; the Loveappella Maxi Dress, with my Earth Origins Sandals (soo comfy when I was pregnant!!)
There are two vital things I learned while traveling pregnant to hotter destinations. First, whether you're buying new clothes or shopping your own closet, the main thing to keep in mind for a beach trip when you're pregnant is the heat! Stay hydrated and wear fresh clothing that doesn't stick to your body. Review this post for portable water bottles you could pack!
Second, choose lightweight fabrics such as 100% paperweight cotton, linen, or rayon, and avoid non-breathable synthetics such as polyester. Review this post for the best fabrics for travel. 
⁠⁠Below, I outline some of my favorite things I packed while traveling pregnant to hot climates!
Pregnancy Swimwear for Beach Destinations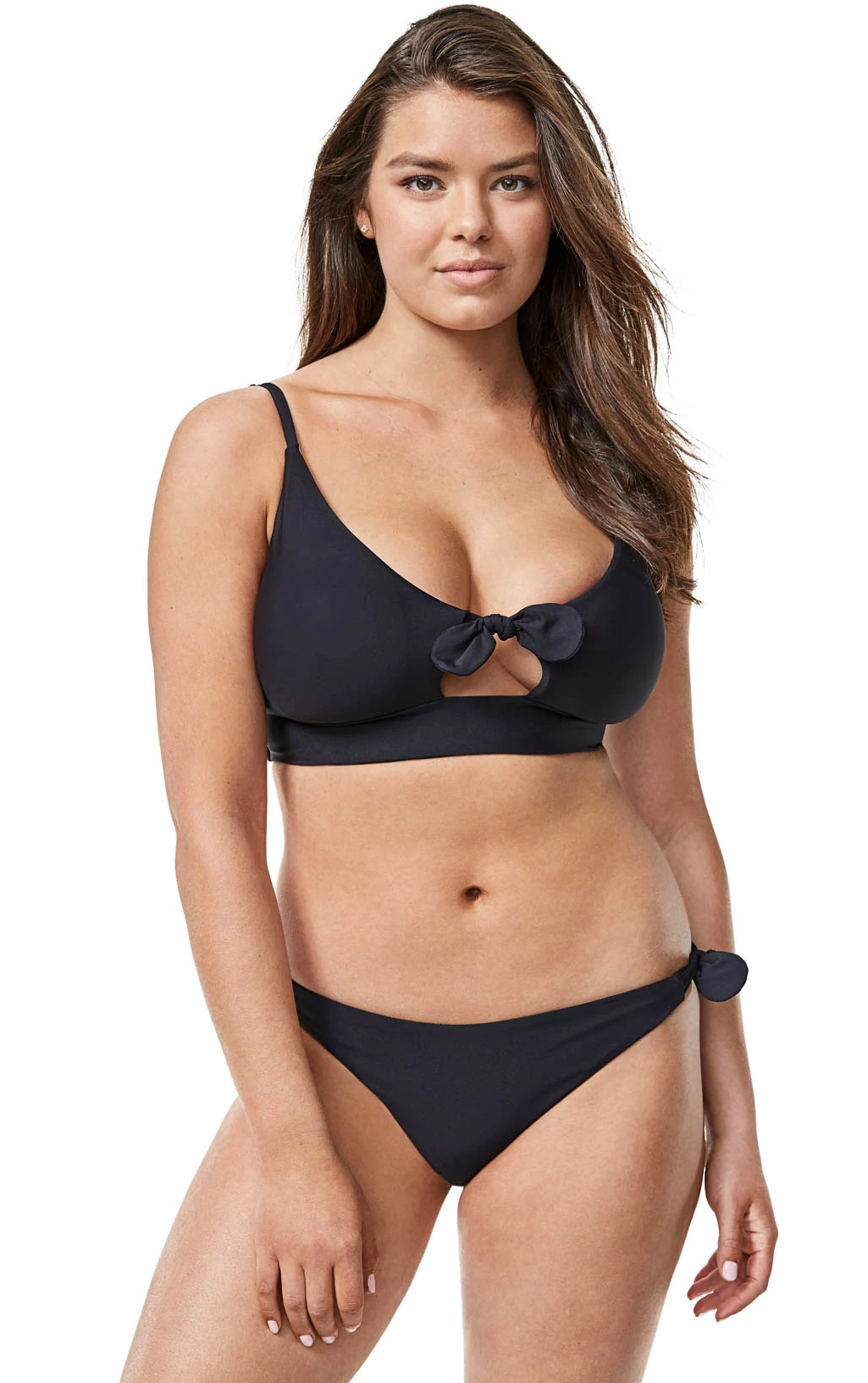 Charlie Textured Bralette Bikini Top | Dylan Hipster Bottom
⁠Bathing Suits
If you already own bikinis and feel comfortable wearing them, try them on to see how they fit. Some fabrics will work for the entirety of your pregnancy. My favorite bikini brand, MAXSWIM (made for busty gals), has fabric with generous give and minimal hardware, so it's a non-maternity bikini brand that works well for evolving curves. 
TFG shows you expert tips and tricks to find the most flattering swimsuit styles for your body type!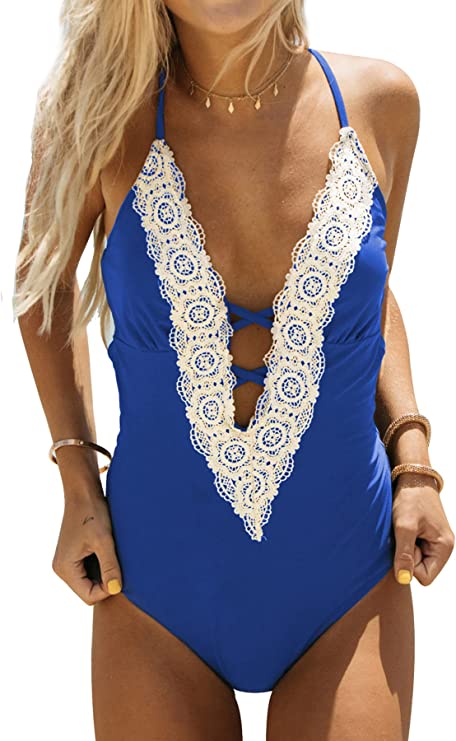 For a cute one-piece bathing suit that you can wear during and after pregnancy, this inexpensive option has fabric that can grow with your bump.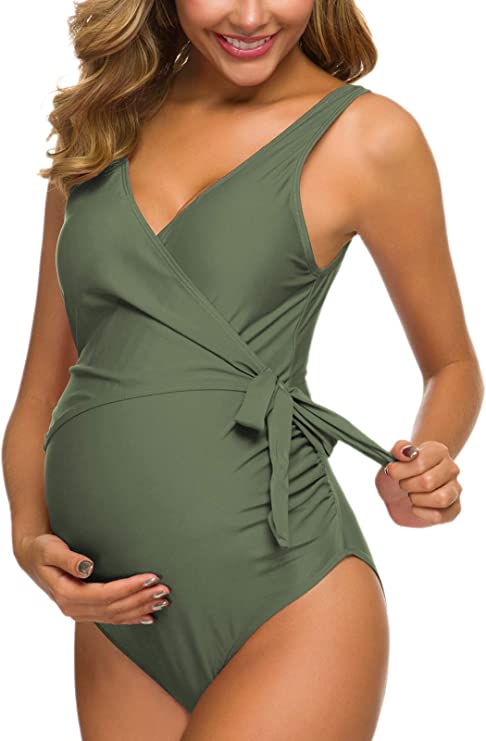 Maternity Swimsuits
For women that would prefer to wear a maternity-specific swimsuit or those further along in their pregnancy, Tempotrek's maternity one piece has a classic design with adequate coverage and is available in a range of sultry neutrals to vibrant brights.
TFG readers once again weigh in with their top choices for cute modest swimwear!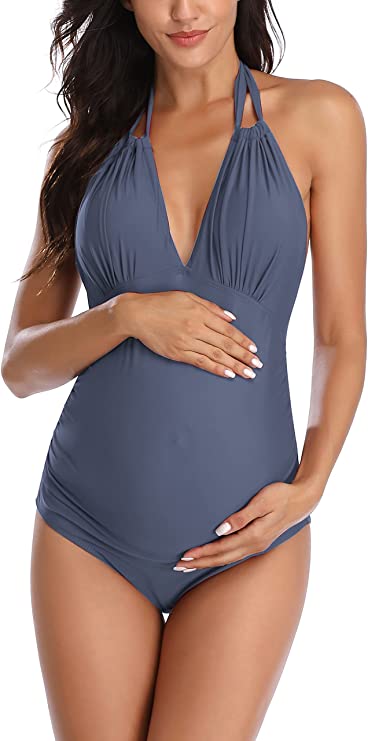 EastElegant Maternity Swimsuit
For an alternate yet elegant style that has a more generous fit in the tummy and bust, try this one piece.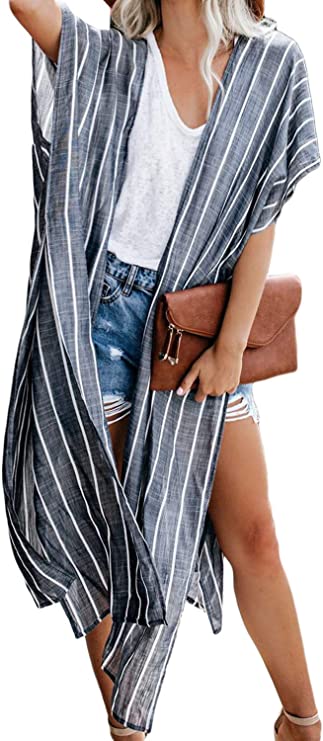 Beach Cover Ups
The best thing about beach cover ups is that they tend to have a looser fit, so you may already own things that will work while pregnant. If not, consider kimono style cover ups, like this one, which doesn't have buttons and can work with or without a bump. 
I love this particular kimono because it's lightweight and so versatile! Wear it over a bathing suit on the beach, drape it loosely over a dress in the evenings, or pair it with a tank and denim during the day.
Pregnancy Clothing for  Beach Destinations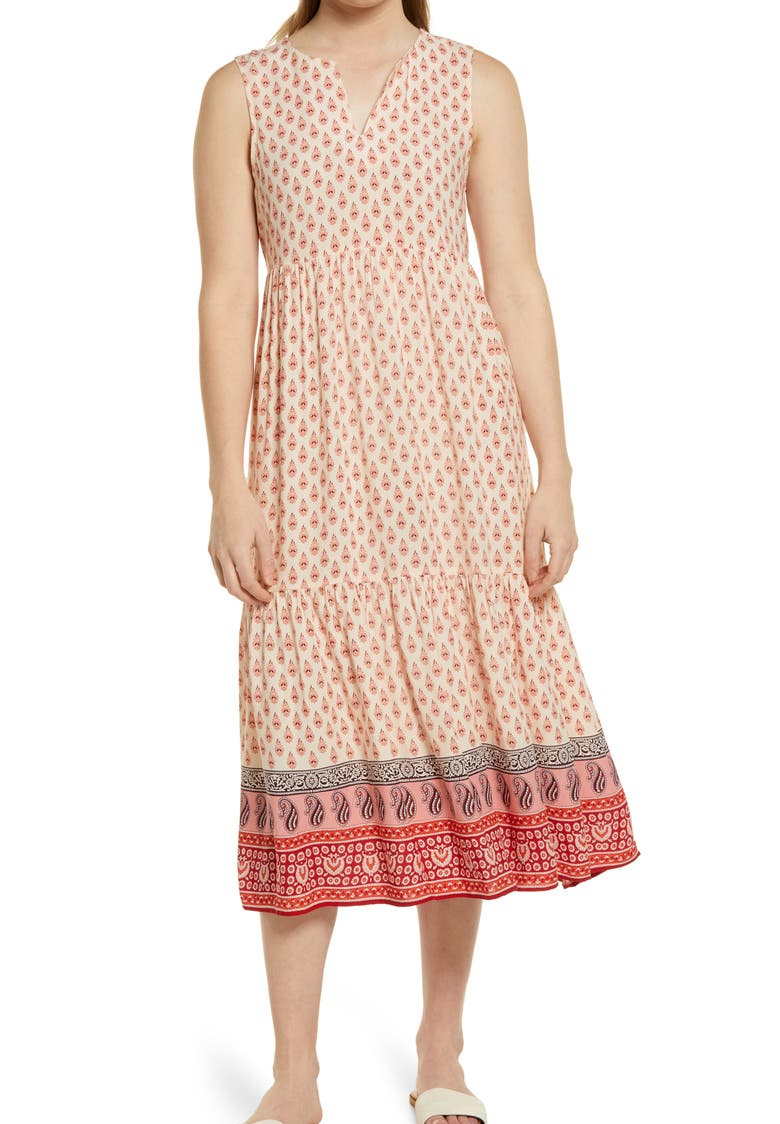 beachlunchlounge Ireana Tiered Ruffle Midi Dress
Sundresses
Depending on where you are in your pregnancy journey, your current beach dresses may work. Note that your bump or backside might lift and shorten knee length dresses, so they may appear shorter than you're used to. You can also opt for non-maternity styles like this or this.
H&M, Old Navy, and Target have a range of cute and lightweight maternity sundresses to choose from if you need bump-friendly styles that will evolve with your body.
Take a look at our readers' top sundress outfits that transform an everyday summer dress!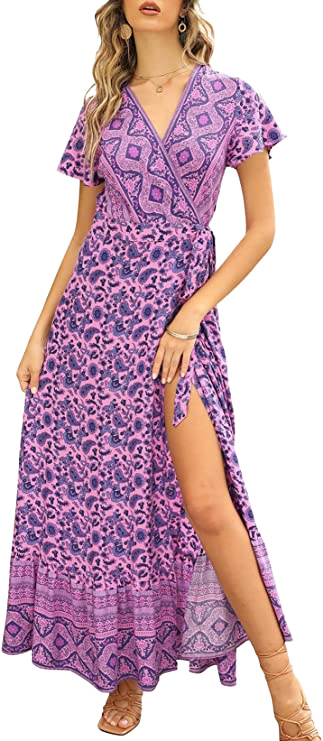 Zesica Women's Bohemian Floral Printed Wrap
Depending on your bump, you may need extra support from something such as the popular Belly Bandit to spend extended periods of time walking, standing, or sightseeing. This is particularly helpful if you're planning to wear dresses or skirts, but some women also appreciate the additional support offered over shorts and pants.
⁠Thigh chafing is another common concern when wearing dresses. Not all women experience thigh chafing, but there is an increased possibility while pregnant and also in hot climates. If you plan on wearing dresses, consider bringing a thigh chafing product to offer relief from your legs from rubbing together. ⁠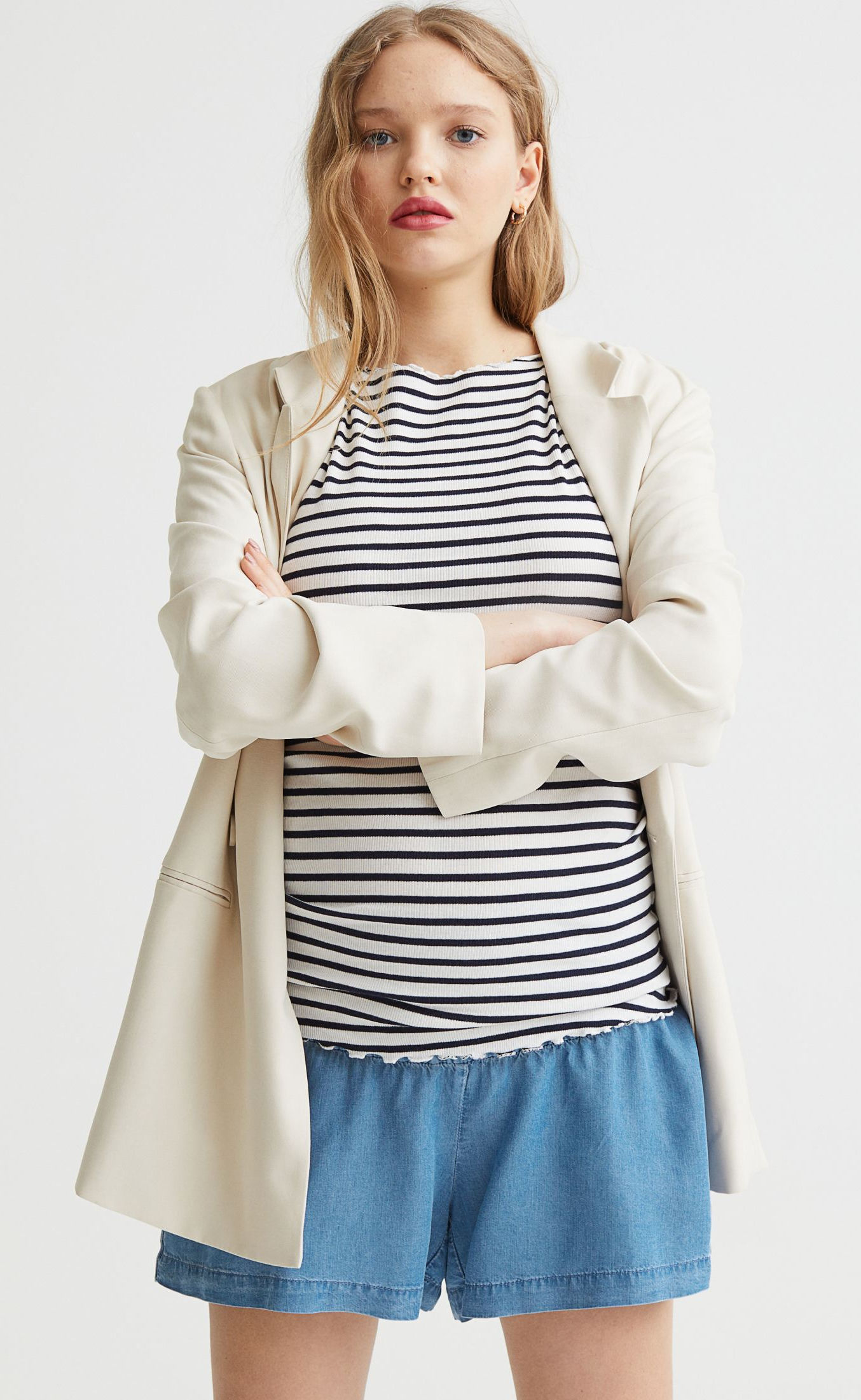 Maternity Shorts
The unexpected benefit of maternity denim is that it can help support your abdomen, so you don't need to wear a belly band, allowing for additional comfort in the heat. Plus, denim can be dressed up or down! I always shop H&M for denim shorts, and they do have maternity options, too!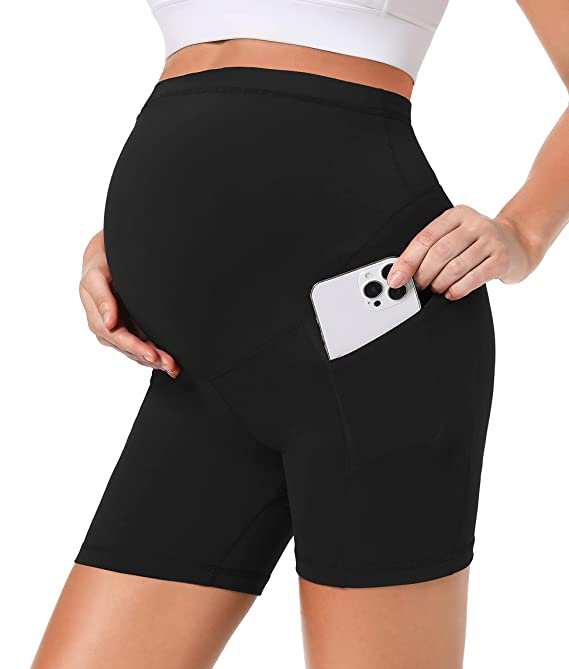 Foucome Women's Maternity Biker Shorts
A pair of solid black biking shorts like these can be very versatile when paired with a solid black tank. You can easily wear this simple two-piece ensemble to go for a hike and then throw your caftan and jewelry over it to dress it up, or even wear a button down blouse draped open for yet another different look!
Pregnancy Shoes for Beach Destinations

Sandals
Comfortable shoes are always a must when traveling. However, with the potential for water retention and swelling, ensure you bring only THE most comfortable shoes for your beach trip. Tip: as your bump gets bigger, sandals that are easy to remove are a major plus!
⁠⁠For women that don't experience back pain or require too much arch support, comfortable flip flops are perfect. The cushioned Reef Star Sassy flip flops are a reader favorite. If you're experiencing back pain or are further along in your pregnancy, consider flip flops with arch support such as the Vionic Dillon.
Here are comfortable walking sandals that are stylish, too!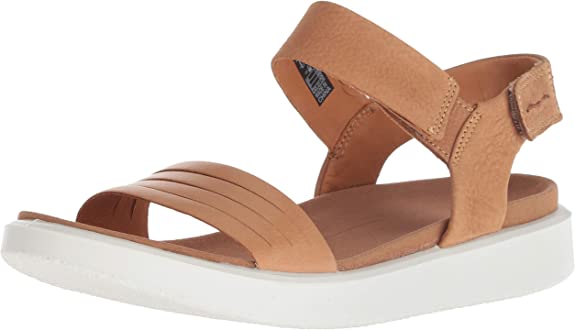 ECCO Women's Flowt Strap Sandal
Alternatively, you could go for pretty yet supportive sandals that you can walk in without pain and that you can dress up, too! A couple of good options for this are the Ecco Flowt, Birkenstocks, or the Earth Origins Foster.
If you're on a babymoon or want to dress up in the evenings, a comfortable, cushioned wedge like this pair from Vionic is perfect.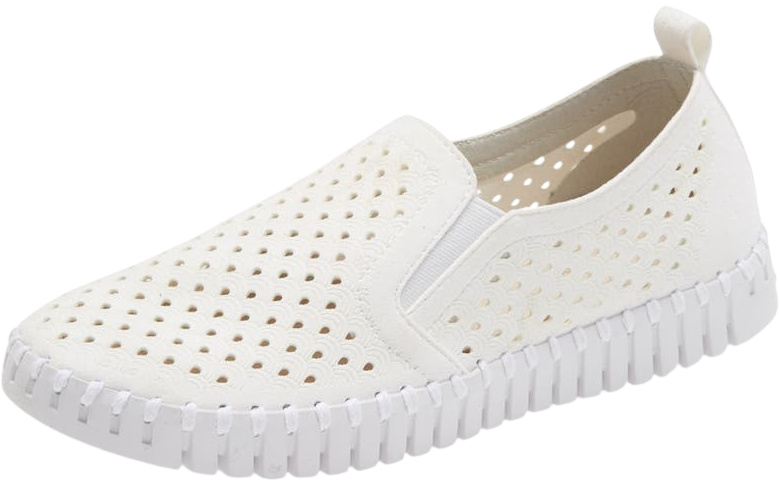 Ilse Jacobsen Tulip Slip-On Sneaker
Sneakers
If you plan on doing some sightseeing, bring comfortable but breathable sneakers such as these slip ons by Ilse Jacobsen, which are perforated, allowing you a little room if your feet swell.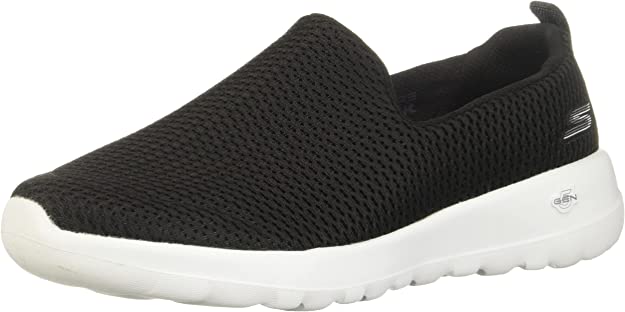 Skechers Women's Go Joy Walking Shoe Sneaker
The Skechers Go Walk slip ons are another fantastic pair that are beyond comfy and supportive, versatile in terms of styling, and easy to take on and off.
Pregnancy Sun Protection for Beach Destinations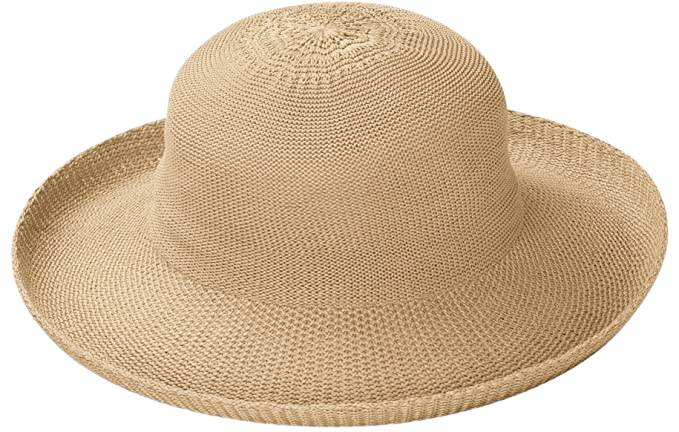 Wide Brim Sun Hat
Protect your face from hyperpigmentation or dark melasma patches with adequate sunscreen and a wide brim sun hat such as this packable option by Wallaroo, which also has SPF protection!
Take a look at their tried and tested sun hat recommendations!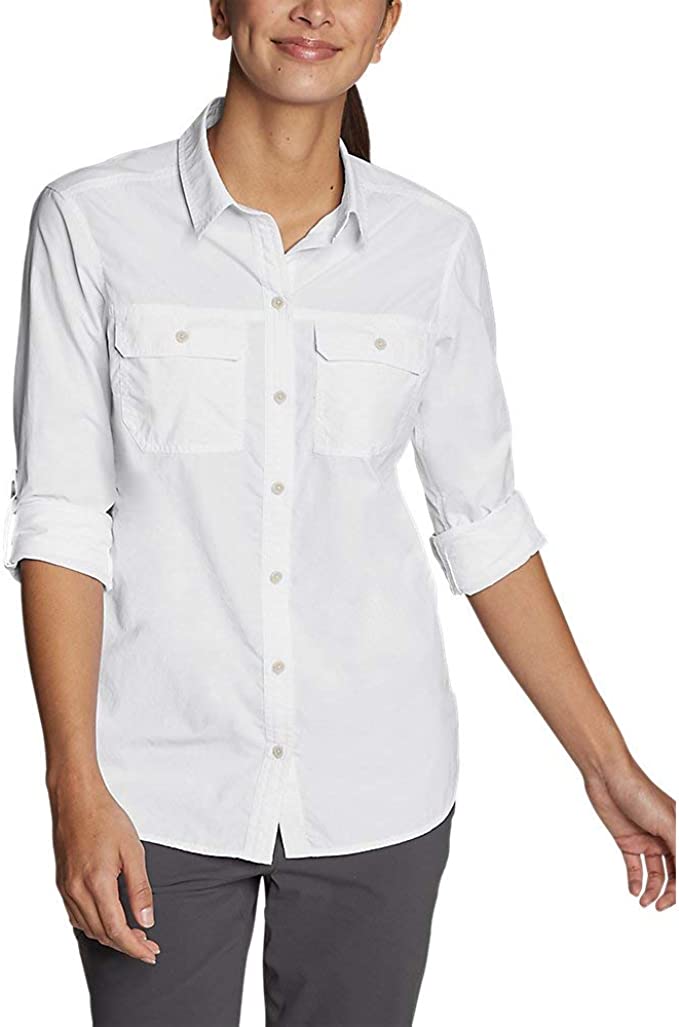 Shop Eddie Bauer Ripstop: Amazon | Eddie Bauer | Moosejaw
Long Sleeve Cover Up
Opt for a breathable long sleeve cover up shirt to protect your arms for the sun. Choose something that can also double up as a top or dress for maximum wear and has UPF properties.
Pregnancy Airplane Essentials 
⁠
⁠
⁠
Additional Essentials for
Traveling While Pregnant
⁠Bug spray

, depending on the destination, some tropical areas may have mosquitos that carry dengue or other diseases. Bring a non-toxic spray to keep the bites away. 

If you plan on taking any boat trips or have a long taxi ride from the airport to your hotel, bring along a pair of

sea bands

and/or ginger candy to keep your nausea at bay. 
---
What did you pack when traveling pregnant to a beach destination? Share with us in the comments!
---
For more tips on warm-weather travel, please read:
---
LIKE THIS POST? PIN THIS PIC TO SAVE IT!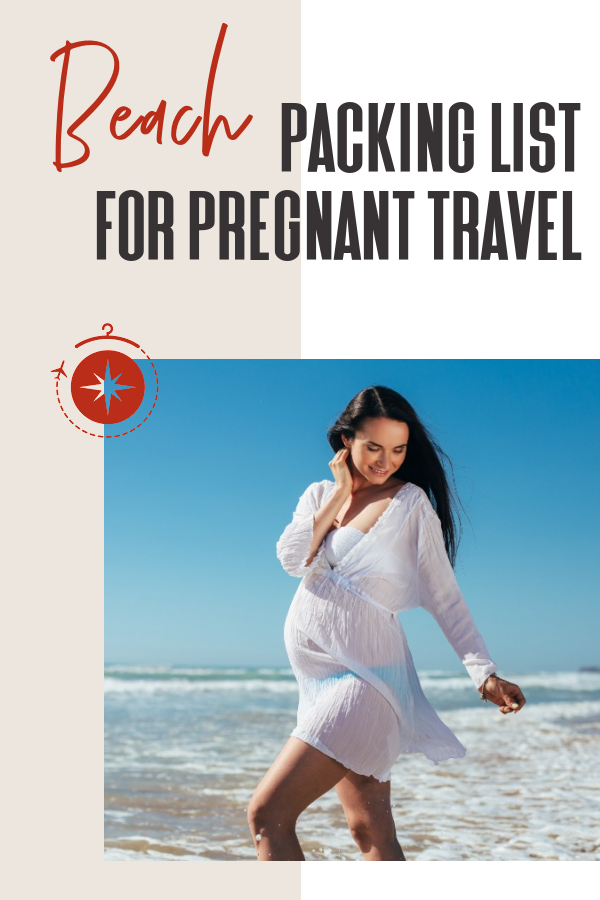 ---
We hope you liked this post on a pregnancy packing list for warm destination. Please share with your friends on Facebook, Twitter, and Pinterest. Thanks for reading!
---