Support TFG by using the links in our articles to shop. We receive a small commission (at no extra cost to you) so we can continue to create helpful free content. As an Amazon Associate, we earn from qualifying purchases made on Amazon in addition to other retailers featured on the blog. Thank you, we appreciate your support!
Both Naot and Vionic are known for offering comfortable sandals that are great for walking, especially during a trip. So it may be hard to decide between the two when looking for the right summer shoe. TFG readers are willing to share what they love about each in this comparison review, so check it out!
---
Naot Sabrina vs. Vionic Kirra Review
---
Table Of Contents
Summer sandals are super popular when the weather heats up, and that can make you want to pack up for a quick beach getaway. However, the difference between sandals at home vs. travel is all the walking you'll do during a trip. This means you'll need a comfortable pair that gives support, can work for a variety of outfits, and doesn't cause foot pain.
Two very popular reader picks are the Naot Sabrina and Vionic Kirra sandals. And I admit, I'm pretty partial to the Naot's—I did write a review about them after all!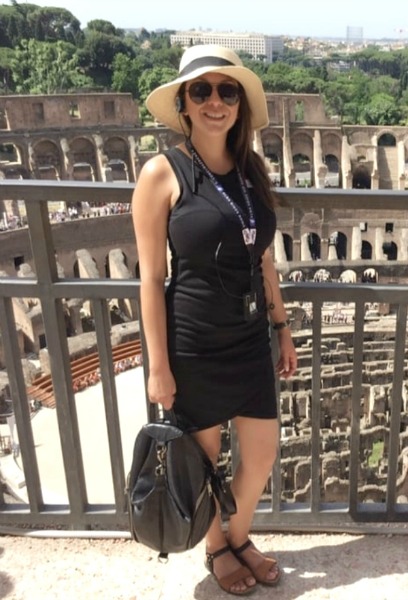 Alex in Naot Sabrina Sandals in Jet Black/Brown Nubuck with Leith Ruched Bodycon Dress
Both sandals are known for comfort, foot support, and chic style but if you had to choose, which one would you pick? When it comes to which sandals are best, the Facebook group has discussions about it regularly and readers have their favorites—and are willing to share their thoughts with you!
If you're looking for a pair of comfortable, cute sandals, keep reading to see our review of both of them!

Naot Sabrina Sandals in Jet Black/Brown Nubuck
Naot Sabrina Sandals Basics
Style: Naot Sabrina sandals, slip-on style, with metal ornament details and rivet features. Has gore inside instep and the backstrap to help against abrasion at the heel and ankle.
Material: Suede upper with a cork and latex footbed.
Colors: Available in 10 colors and patterns, such as brown nubuck, cheetah, gray, peach, pebble, and more. 
Heel Height: 0.75 inches.
Travel Type: Excellent for traveling through airports and sightseeing activities in a European city, or any city destination in late spring and summer! They do have arch support but are not for women with specific foot problems.
Find out the best sandals for travel this summer!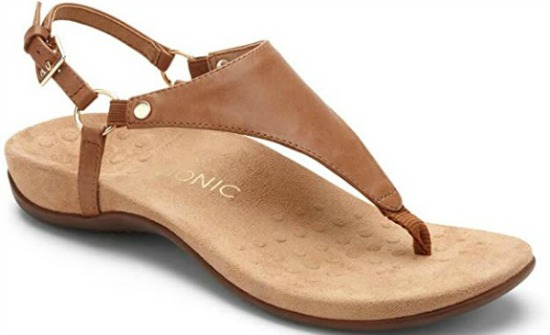 Vionic Kirra in Brown
Vionic Kirra Sandals Basics
Style: Vionic Kirra thong sandals, thong and adjustable strap at ankle.
Material: Leather, with adjustable back strap and an EVA footbed, and a rubber outsole.
Colors: Available in 13 colors, including white, metallic, brown, navy metallic, cherry, and more!
Heel Height: 1.25 inch.
Travel Type: Excellent for sightseeing activities in a European city, or any city destination in late spring and summer! They have a built-in orthotic that can support but may not help certain foot problems.
Here are comfortable walking sandals that are stylish, too!
Naot Sabrina and Vionic Kirra Sandal Features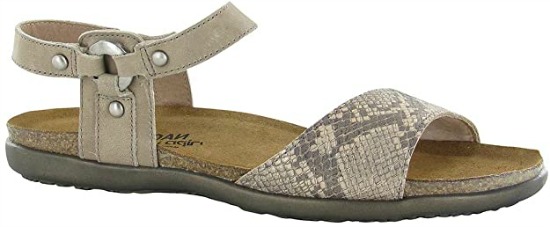 Naot Sabrina Sandals in Golden Cobra/Khaki Beige
Comfortable
Our readers are sharing their views on how these sandals fare on trips all around the world, and they say both have their merits. 
The Naot Sabrina sandals are super popular with TFG readers and offer good support as they fit around the ankle, but they also have an adjustable ankle strap that's elastic and is an easy slip-on/slip-off strap. Wearers report they have a supportive footbed and arch support which is key for a lot of travelers, especially those that need additional support. 
One TFG reader says of how comfortable they are, "I bought Naots before a trip to Turkey last fall. Oh, my goodness! I was able to walk everywhere wearing them, and my feet did not hurt!! I love them—worth the cost."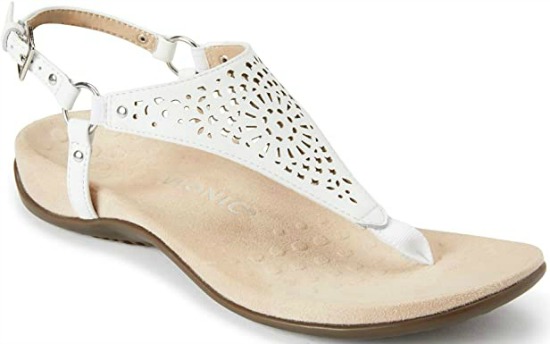 Vionic Kirra Sandals in White Perf Leather
The Vionic Kirra sandals continually land at the top of our readers' lists as well. They have a microfiber wrapped EVA footbed and the adjustable straps allow you to secure them to your ankle properly, along with a soft leather thong style that doesn't rub between the toes. 
When it comes to comfort, this TFG reader shares her experience with them. "These are the best shoes ever!! I'm a wedding photographer and I've worn the Vionic Kirra sandals for all of my weddings this summer. I'm carrying around 20-50 lbs of gear for 8-12 hours on my feet on wedding days. I swear these shoes have saved my feet, knees, and back!"
Overall, in terms of comfort, some wearers feel the Naots have a slight edge over the Vionic, as reports have mentioned they can slide around a little and may not work for consistent walking. This reader reiterates this point, saying, "Naot for walking, Vionic for dinners out. The Vionic gives great arch support but not enough upper structure for all-day walking. I have several pairs of both brands and do love them all."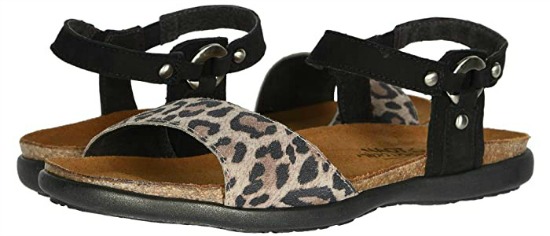 Naot Sabrina Sandals in Cheetah Suede/Black Combo
Support
Foot support is a big deal in travel shoes, and having that same standard in sandals is no different! Naot Sabrina sandal devotees talk about how the cork and latex footbed give excellent support where it really counts, long bouts of walking. One reader attests to this, saying, "I love the Sabrina — I have them on right now! Last summer I climbed Mont Royal in Montreal in them (this was somewhat unplanned) with no problem at all. The perfect sandal."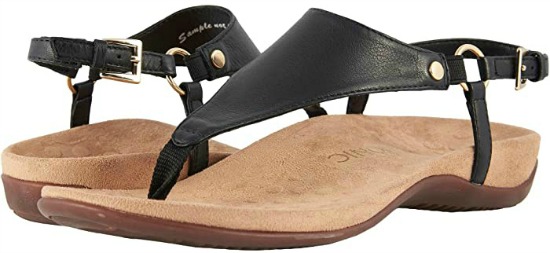 Vionic Kirra Sandals in Black
While readers who adore the Vionic Kirra sandal say the EVA footbed is designed to absorb impact when walking, and also mention that the arch support is more pronounced and can help women with heel pain. One TFG reader says, "I have fallen in love with Vionic sandals. I have foot pain (plantar fasciitis) and these have made all the difference!" 
Generally, if a bit more arch support is what you need, the Vionic Kirra may be the better choice for you. However, cork footbeds are universally known to support feet and that is a plus of the Naot Sabrina. This reader agrees, saying, "There are several footbeds made by Naot. To me, they are all comfortable, but my favorite styles are the ones with cork beds."

Naot Sandals in Rust Suede/Latte Brown
Durability 
Both the Naot and Vionic have sturdy rubber outsoles that are key when it comes to providing support between your feet and the pavement. Sturdiness also helps when it comes to maneuvering over different surfaces with ease, such as cobblestones or unevenly paved sidewalks. And because they're rubber, you'll be able to maintain stability and avoid slipping and falling (which you don't want to do when traveling!).
However, wearers do point out some differences. One reader mentions that she wore her Sabrina sandals in "London in the pouring rain and they dried quickly and were still new looking after getting soaked."

Vionic Sandals in Cherry
While another reader says of the Kirra sandals, "I live in Orlando and honestly would be reluctant to wear these at Disney. With all the heat, humidity, and most likely showers, I can foresee issues with them drying fast enough."
Though the Naot is more expensive than the Vionic, readers do report that they both last season after season. One reader has happily had her Vionic sandals for 7 years, while I've worn my Naot sandals across the world for 5 years and counting! 

Naot Sabrina Sandals in Beige Snake/Pewter
Style
There are no two ways about it, both the Naot Sabrina and the Vionic Kirra come in a multitude of gorgeous colors and patterns that can add pizzazz to any travel wardrobe. 
The Naots have a really cute hardware detail on the ankle and that they're available in a variety of great colors that are neutral based, but chic enough to go with anything.

Vionic Kirra Sandals in Gold Metallic
Similarly, the thong leather upper with metal rivets and buckle detail of the Vionics give them a classic, yet chic look. The range of colors like metallic, blue, and red, all the way to neutral colors such as black and tan, gives wearers a stylish range to work with.
Both look dazzling with shorts, pants, skirts, or leggings, and can be embellished with handbags and jewelry details.

Naot Sabrina Sandals in Olive
Versatility
One tenet of travel is that shoes need to be versatile. It's important that your shoes be able to work with different activities and outfits, so you aren't overpacking shoes. 
Some readers say the Naot Sabrina sandals tend to be a more daytime, sightseeing shoe, however, some feel it can transition to a beachside dinner without a problem! One reader says, "I bought Sabrina sandals for a 10-week trip and went to dinner in them tons. Basically wore them day and night (a departure for me)!"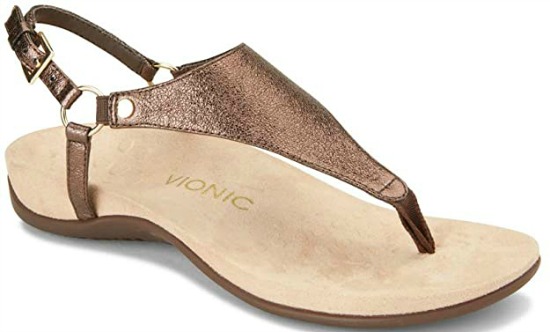 Vionic Kirra Sandals in Bronze Metallic
While other readers feel the opposite: that the Vionic Kirra sandals are stylish for evening wear, but don't hold up as strongly for tons of walking. This TFG reader had this to say, "That style of Vionics is a little hard to walk in. It was really "floppy" for me. I love them but have done better with flip flop style."
However, it can be up to each individual, your foot support needs, and the activities you have planned during your trip. One reader sums it up well, "Each foot is different. I have that Vionic and love it. I find the Vionic footbed slightly more comfortable to my foot than the Naot. But they are both good and I own a pair of each."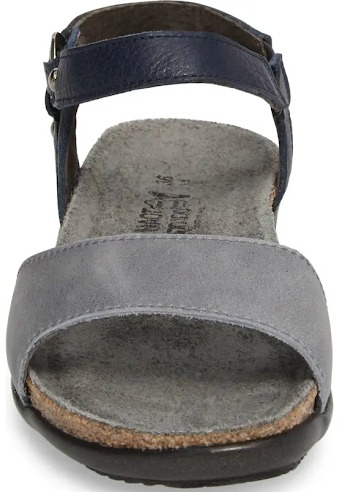 Naot Sabrina Sandals in Vintage Slate Leather
Fit
Many readers have said that Naot sandals can work for both narrow or wide feet. One says, "I bought these last summer for a trip to Paris, and they were fantastic. I have wide feet, but these worked well."
Another reader says of the Naots sizing, "I bought Naot narrow sandals that fit perfect and are super comfortable for lots of walking. Simply great!" One thing readers caution is that Naot Sabrina sandals only come in whole sizes, so if you're a half-size to size up. Though, some TFG readers with wide feet said the Naots simply didn't work for them.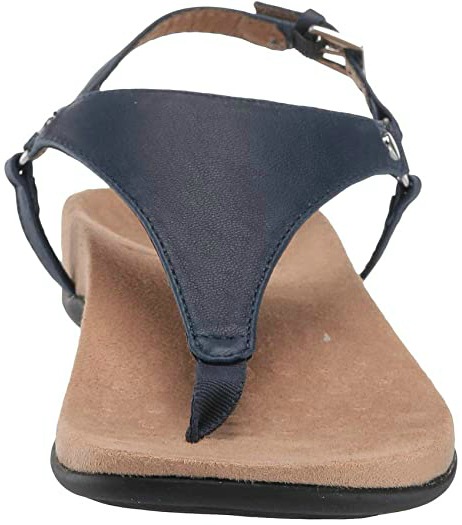 Vionic Kirra Sandals in Navy
Vionic sandal wearers report that they can actually run large, and some people have had to go a size down, otherwise, they end up slipping and sliding as you walk. One reader sounds in, "With that Vionic it took me a few sizes to get the correct fit. Maybe it's just my foot but went down a full size! I do love the supportive footbed." 
Overall, the "telegraphs" that come in say that sizing in these sandals can be some trial and error, and recommend you shop from an online retailer that has a good exchange or return policy.
Take a look at these beach sandals our readers rave about!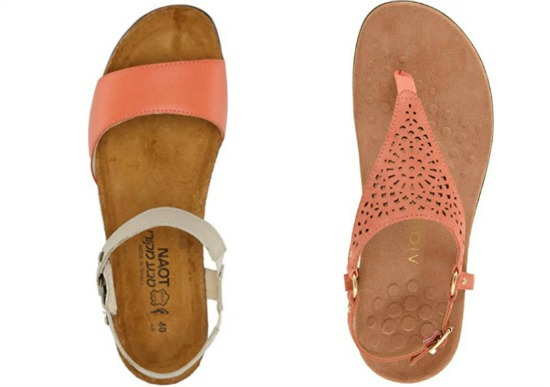 Naot Sabrina Sandals in Peach/Linen |  Vionic Kirra Sandals in Coral
Verdict
Overall, readers say the Naot Sabrina sandals make great walking shoes and have a comfortable cork footbed with a rubber outsole that won't slip on surfaces. The Naot fans also think this sandal has a casual shoe feel, but a chic look to go from day to evening. While some might bring them for strictly walking, but pack a secondary, dressier sandal for nights out. 
One reader says of her Naots, "I got these a few weeks ago and love them! They were comfortable from the beginning. I'm so glad I got them and am excited to use them for our upcoming trip to Europe!"
As for the Vionic Kirra sandals, readers love the built-in orthotic, and several who have foot conditions like plantar fasciitis swear by them for a pain-free walking experience. One reader sings their praises, "Vionics are the best. I wear them for work (I'm an RN), and for every day." However, there are some readers who see the Kirra as a fancier shoe (and pretty!), and may not use them for longer walking bouts.
See our top vacation picks for cute summer sandals for women!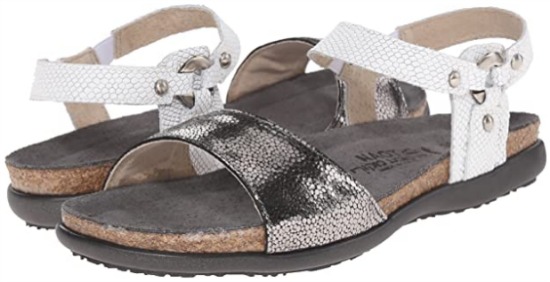 Naot Sabrina Sandals in Silver Pebble 
When it comes to sizing, Naots seem to accommodate both narrow and wide feet, while the Vionics are said to run a little big, so it's best to size down. The final recommendation is to purchase from an online retailer with a good exchange and return policy.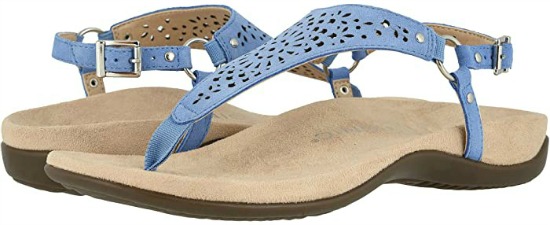 Vionic Kirra Sandals in Periwinkle Perf Suede
In terms of cost, Naot Sabrina sandals are more expensive than the Vionic Kirra sandals, which are priced nicely (so, why not buy more than one pair?), but one reader points out that "Naots are hand made, so that reflects the price," while another reader who recently bought them says her purchase "was totally worth it!"
In the end, it's best to weigh the pros and cons of both and try out each shoe to determine the right one for your trip needs! 
Learn more about the Naoat Sabrina sandals? Check out our thorough review!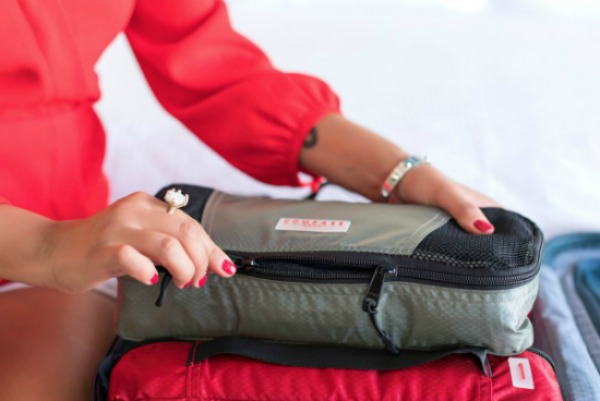 How to Pack Your Fave Sandals
Maybe you want to pack your sandals after wearing them on the plane or choose to wear a different pair home, start by selecting a container such as a shoe bag or a packing cube, then pack according to your type of luggage. See more in the video below.
Watch this video to start learning how to organize with packing cubes!
Whether you have a front loading or top loading backpack, it's crucial to put your shoes first, at the bottom. If you're planning to pack shoes in a rolling carry-on, remember that it stands sideways, so it's important to note how it functions when it is upright. Most often, your shoes will need to be packed close to the wheels, so that the luggage maintains its balance in transit.
Where to Buy
You can buy Naot Sabrina sandals at these retailers: Amazon, Zappos, Walmart, Nordstrom, Shoes.com, And you can purchase Vionic Kirra sandals here: Amazon, Zappos, Walmart, Shoes.com, DSW, belk.
Readers recommend to scope out sales throughout the year and snatch them up when you can!
Editor-in-Chief Alex Rock Her Faves: Naot Sabrina Sandals!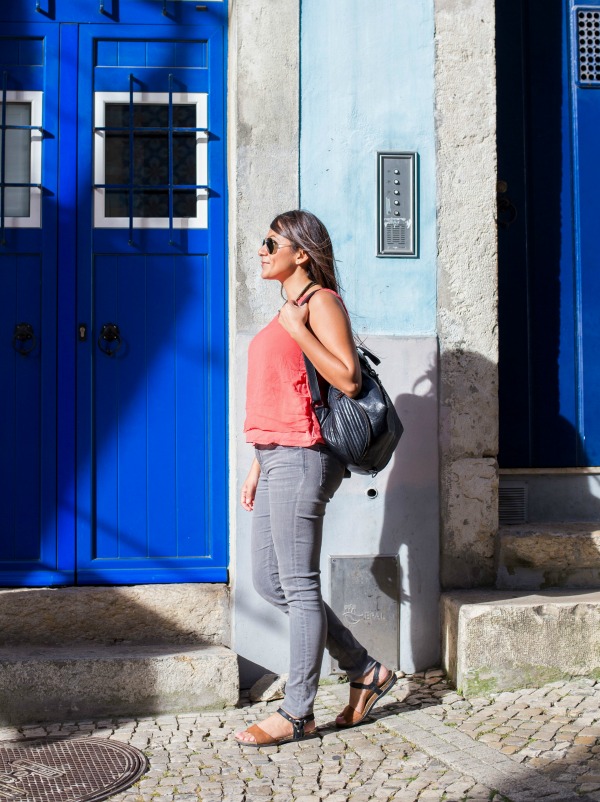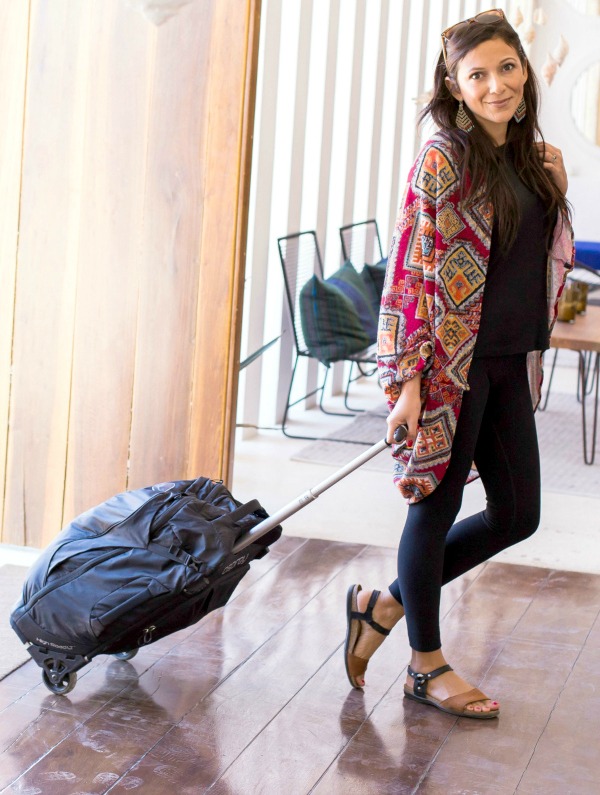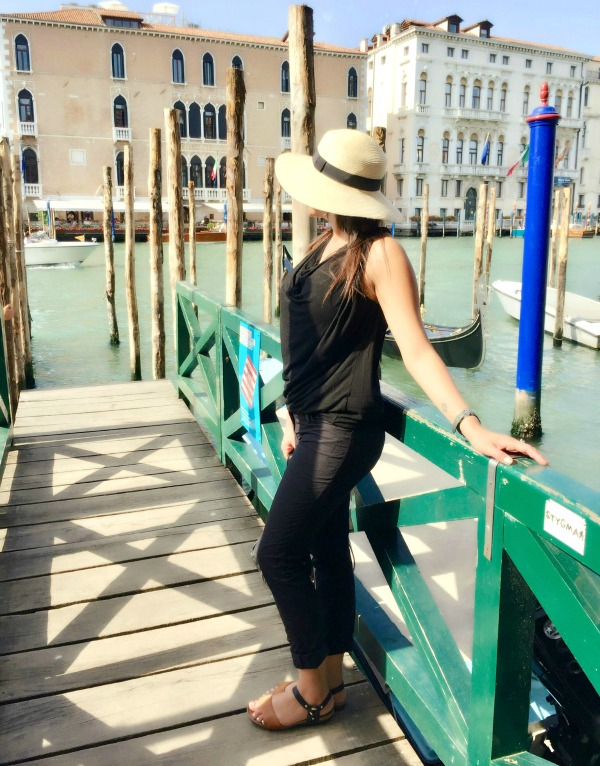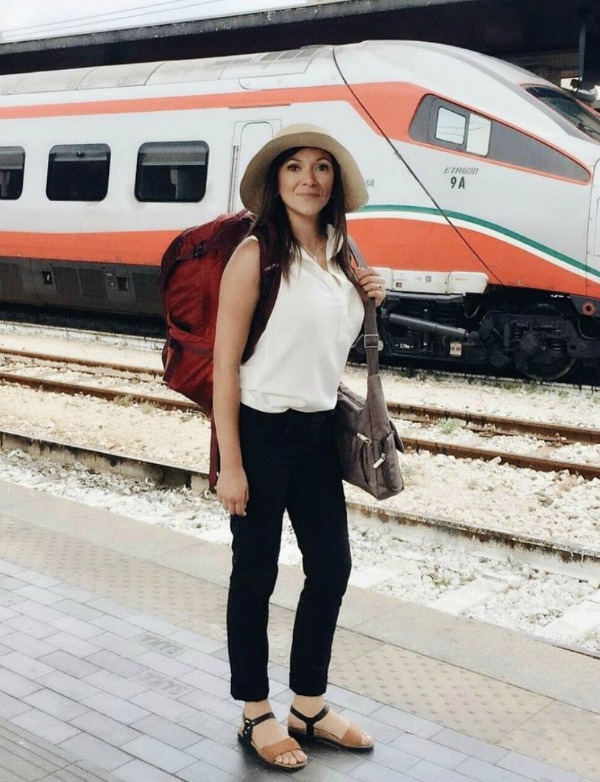 ---
What has been your experience with either the Naot Sabrina or Vionic Kirra sandals? Share your thoughts in the comments below!
---
For more travel sandals, please read:
---
LIKE THIS POST? PIN THIS PIC TO SAVE IT!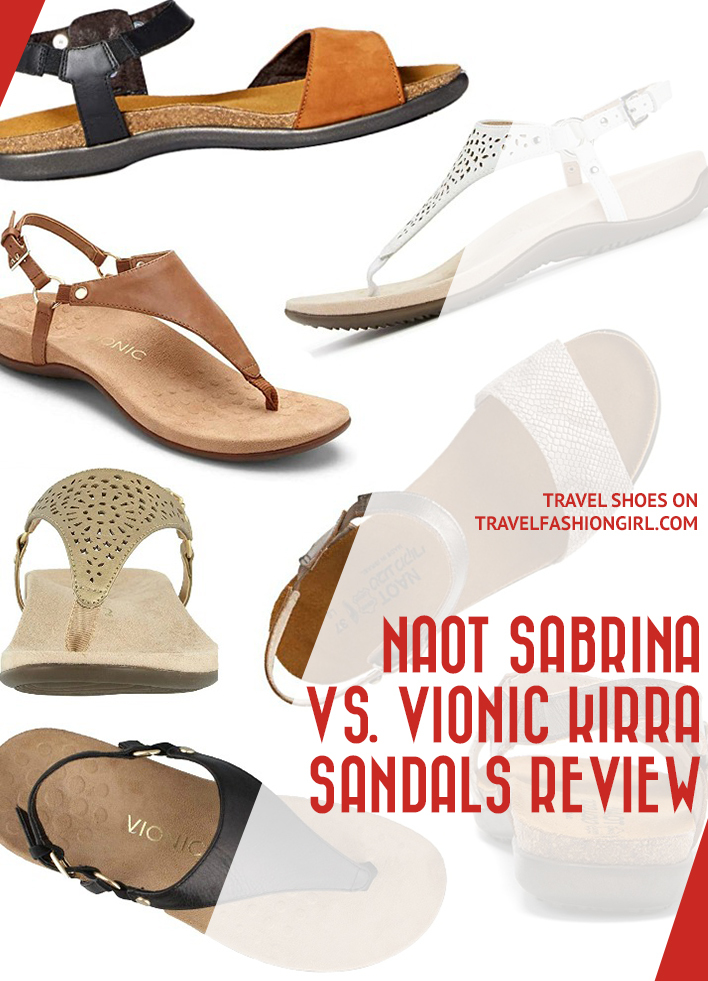 ---
We hope you found this comparison review on the Naot and Vionic sandals helpful. Please share with your friends on Facebook, Twitter, and Pinterest. Thanks for reading!
---