Support TFG by using the links in our articles to shop. We receive a small commission (at no extra cost to you) so we can continue to create helpful free content. As an Amazon Associate, we earn from qualifying purchases made on Amazon in addition to other retailers featured on the blog. Thank you, we appreciate your support!
The Naot Sabrina sandal is my ultimate favorite shoe for hot-weather destinations, or just kicking around in the summer. Find out why in this review!
---
Naot Sabrina Sandals Review
---
Table Of Contents
While I have totally traveled in cold weather and enjoy being in a winter wonderland, I have to say summer is one of my FAVE seasons! 
I tend to enjoy traveling in warmer climes a bit more and get pretty excited about pulling out my sandals and flip flops. And one particular pair I go to time and again are Naot Sabrina sandals. In my opinion, they're the cutest and most comfortable sandals for travel or for just walking!
I first discovered this shoe brand when I was traveling long term in places such as Southeast Asia, Europe, even at home in Southern California, and I absolutely loved these sandals wherever I wore them.
The best types of shoes for travel is one that can offer comfort, practicality, and the ability to work with your style. And Naot Sabrina sandals definitely fit the bill for me!
Find out more in my review below!

Naot Sabrina Sandals in Jet Black/Brown Nubuck
Naot Sabrina Sandals Specs
Brand and Style: Naot Sabrina sandals, slip-on style, with metal ornament details and rivet features. Has gore inside instep and there's a backstrap to help against abrasion at the heel and ankle.
Material: Suede upper with a cork and latex footbed. 
Colors: Comes in numerous modern shades such as slate, leopard print, black/brown, cobra print, olive, rust, and more.
Travel Type: Excellent for traveling through airports and sightseeing activities in a European city, or any city destination in spring and summer! They do have arch support but are not for women with specific foot problems.
Naot Sabrina Sandal
Features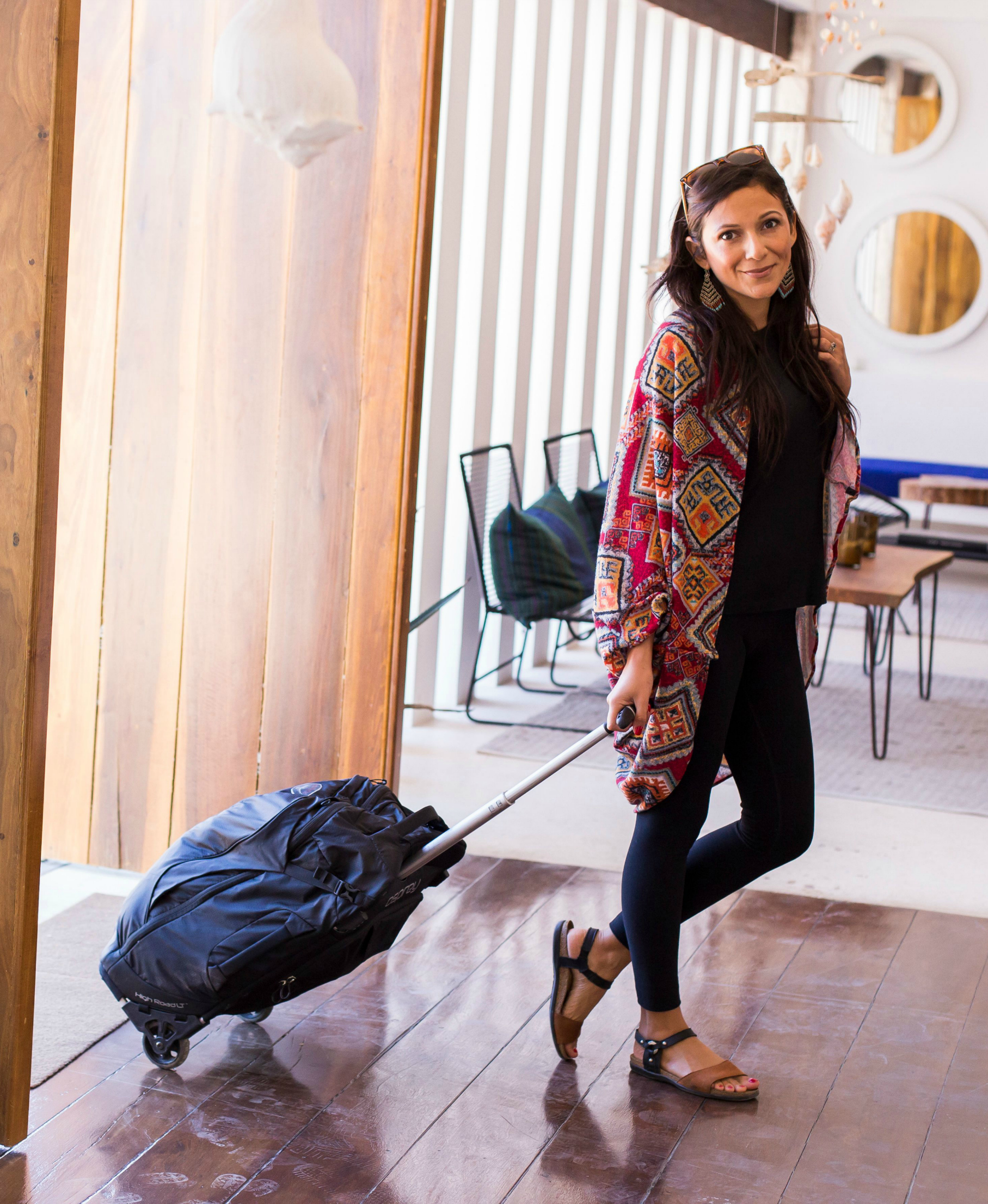 Naot Sabrina Sandals in Jet Black/Brown Nubuck with Osprey Ozone 46 Suitcase
Comfortable
The Sabrina sandals give mega support as they fit around my ankle, but they also have an adjustable ankle strap that has an easy slip-on/slip-off strap. So you can remove them with no problem, especially going to destinations such as Southeast Asia, where you're visiting temples and need to remove your shoes as is customary before entering. 
In addition, it has a really supportive footbed. There's definitely arch support here which is key for a lot of travelers, especially those that need additional support. One TFG reader agrees, saying, "So worth buying these! I walk a ton when I travel. Mine is five years old and still looks new and the tread is not worn."

Also, the sandals have a rubber sole as well. which is key when it comes to a good, sturdy shoe that's going to provide support between your foot and the pavement. Sturdiness also helps when it comes to maneuvering over different surfaces with ease. And because it's rubber, I'm able to maintain my stability and avoid slipping and falling (which you don't want to do when you're traveling!).
Learn more about the Osprey Ozone 46 in our review!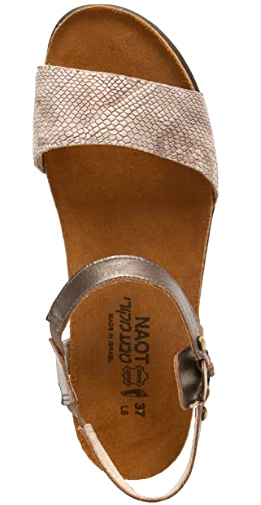 Naot Sabrina Sandal in Beige Snake/Pewter
One reader sums up her feelings on the Sabrina's durability, "I love Naots. Bought my first pair and wore them for several days in New York… my next pair for 17 days in Italy. So comfy and worth every single penny!"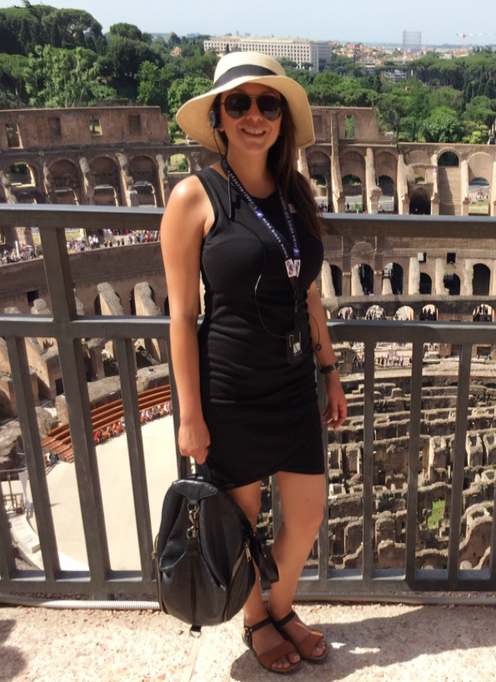 Naot Sabrina Sandals in Jet Black/Brown Nubuck with Leith Ruched Bodycon Dress
Styling
For such a comfy pair of sandals, I can't get over how stylish the Naot Sabrina is! I love how they have a really cute hardware detail on the ankle and that they're available in a variety of great colors that are neutral based, but chic enough to go with anything from pants, dresses, skirts, or shorts.
I wore them non-stop for four months full time traveling in Southeast Asia and never ran out of outfit ideas. And wore them around Europe, in big cities like Rome, and on all occasions planning how to wear them was never a problem!
One reader says of their look, "The Naot definitely has a look that could go from outdoor activities to dinner super easily."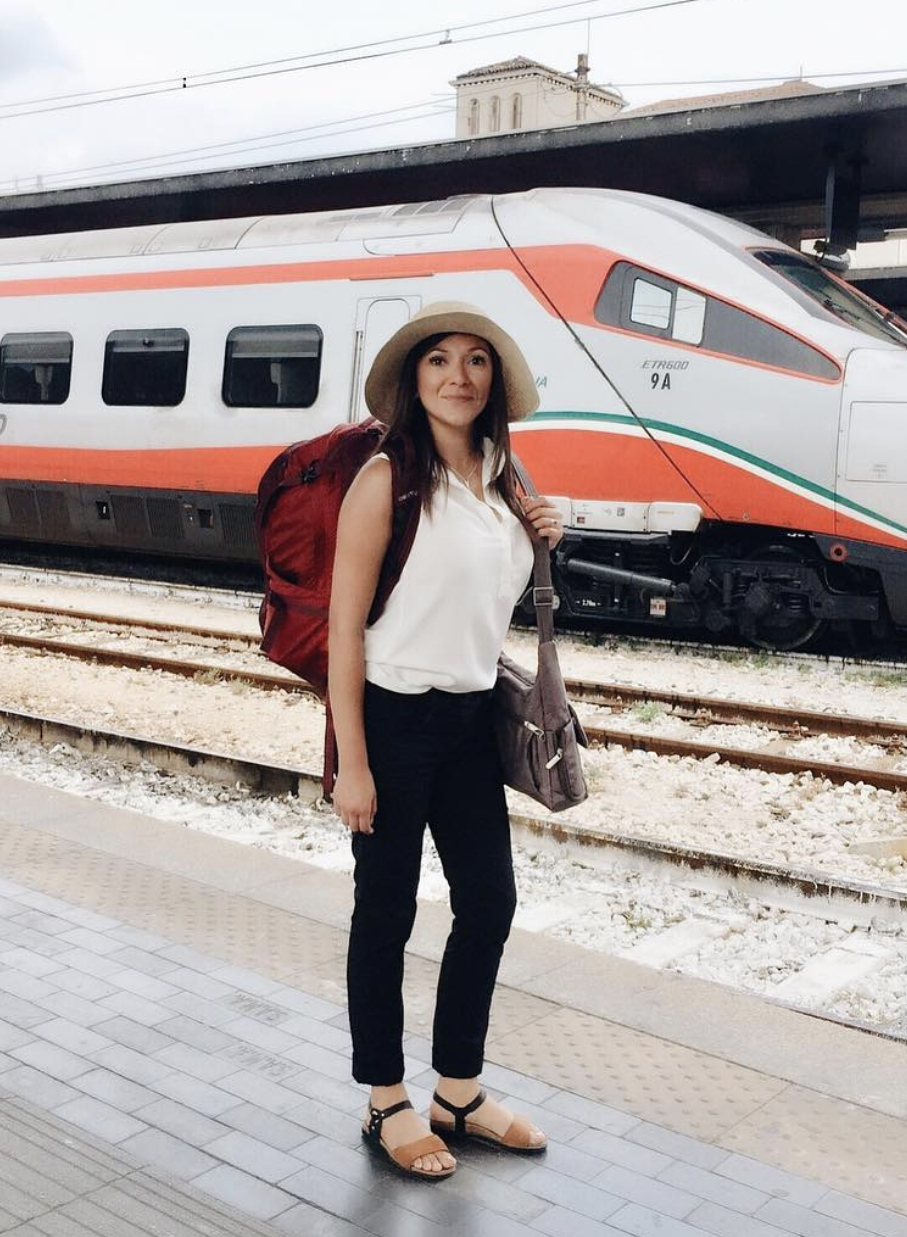 Naot Sabrina Sandals in Jet Black/Brown Nubuck
Versatility
One of the musts of a good pair of travel shoes is versatility. It's important that your shoes be able to work with different activities. The Naot Sabrina sandals can move from sightseeing settings to a beachside dinner without a problem!
They're not only cute and comfortable but mega versatile. I've worn them as a traveling shoe, taking European trains or planes, and as a sightseeing shoe in gorgeous places like Venice, where there is a lot of walking.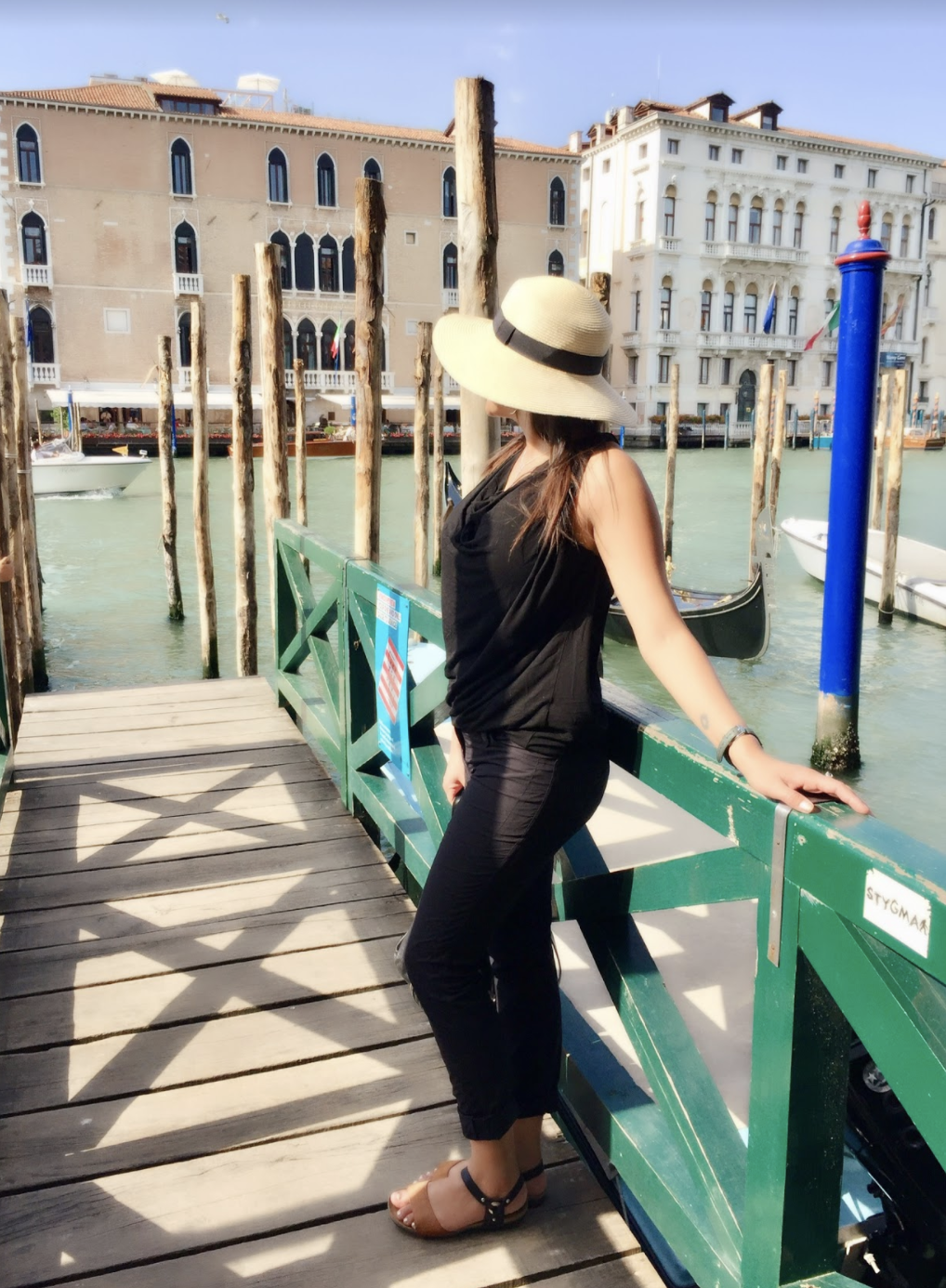 Naot Sabrina Sandals in Jet Black/Brown Nubuck with Michael Stars Drape Top
And when I wear them back in the US of my hometown of Los Angeles, I not only receive a lot of compliments but can go from being a "tourist" again to hanging out with friends for drinks at a swanky bar.
One TFG reader gives a passionate review of these! "I just bought Naot Sabrina sandals for my 10-week trip next week. From the moment I stepped into them, they were insanely comfortable and really lightweight! I'm doing a transatlantic cruise with dressy nights, as well as spending five weeks of the trip to Europe so I was looking for something comfortable but a little more dressy. This shoe ticked all the boxes for me."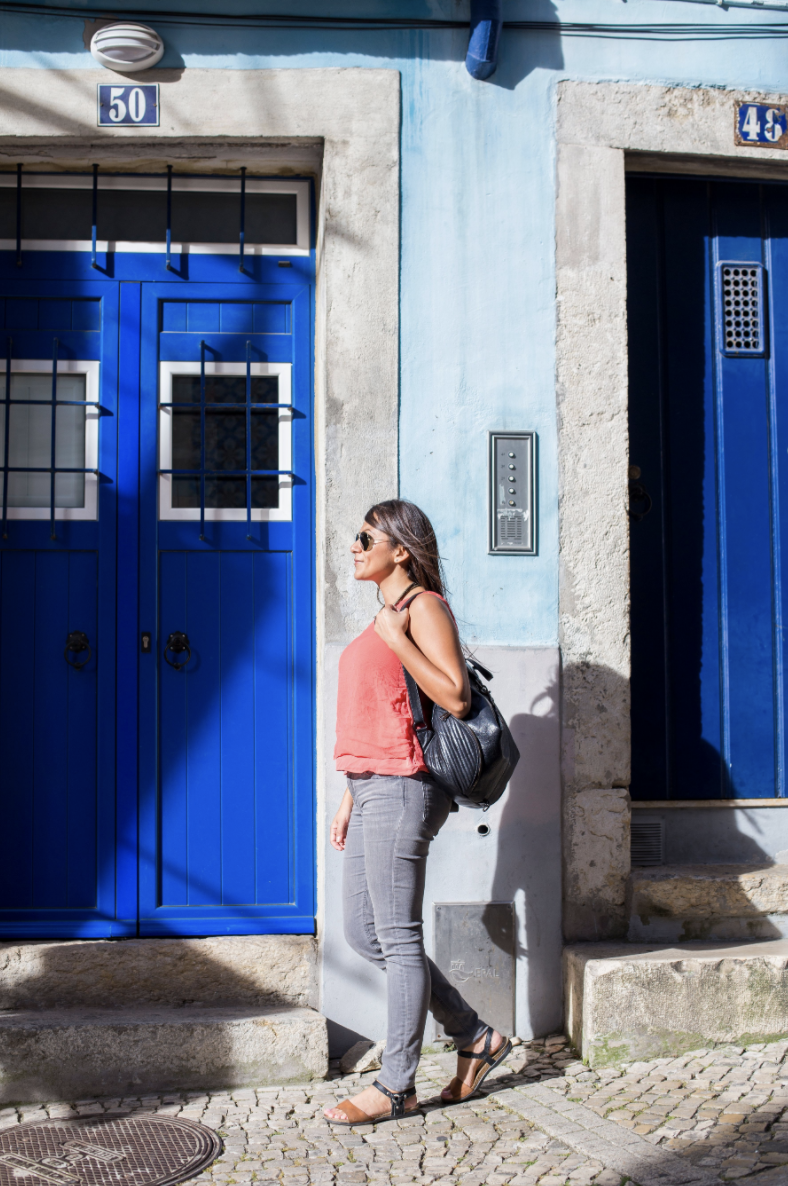 Naot Sabrina Sandals in Jet Black/Brown Nubuck with Rebecca Minkoff Backpack
Fit
If your feet swell in the heat, you know how important it is to have comfortable footwear to let them breathe. That's where Naot Sabrina shines—the brand makes walking shoes that fit like a glove and have the arch support you need while on the move.
Readers with wide or narrow feet report that these fit without much issue.  
One reader with narrow feet says, "I wear 7 AAA and bought Naot narrow sandals that fit perfectly and are comfortable for endless walking. Simply great!"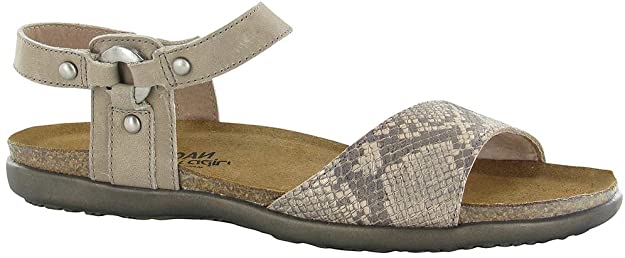 Naot Sabrina Sandal in Golden Cobra available on Amazon
While a reader with wider feet gives her perspective, "I bought these last summer for a trip to London, and they were fantastic. I have wide feet, but these worked well. They stretched out just a tiny bit and are perfectly comfortable for me. I even wore them in the pouring rain and they dried quickly and were still new looking after being soaked."
I, myself, have fairly narrow feet, so these work well for me. Note that these only come in whole sizes, and many readers say that if you're a half-size to size up.
Read our Rebecca Minkoff Backpack review!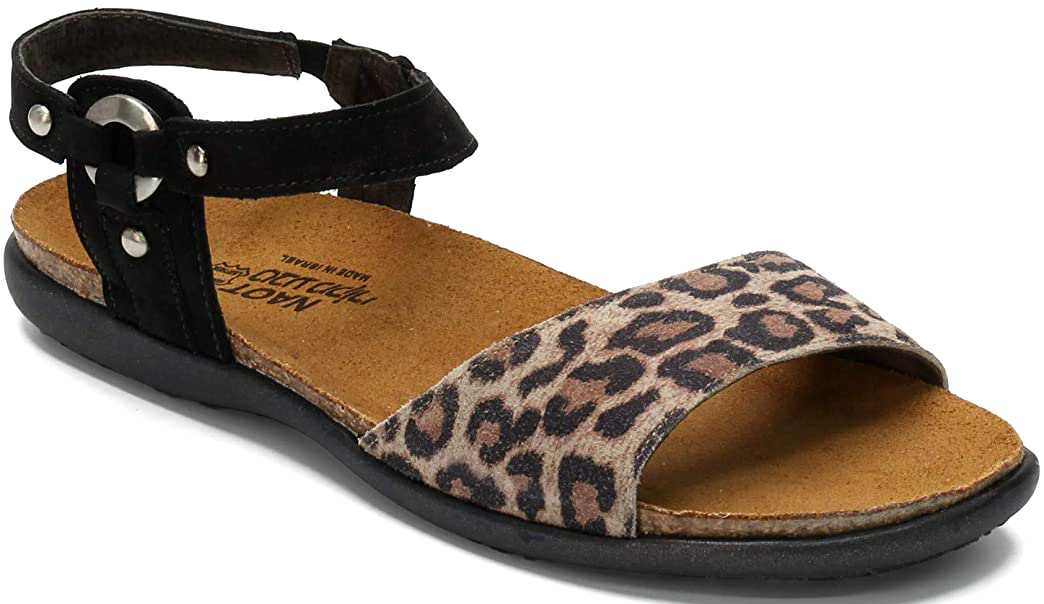 Naot Sabrina Sandal in Cheetah/Black Velvet available on Walmart
Pros
Naot Sabrina sandals are beyond comfortable, with arch support in the footbed, and a good rubber sole to keep your feet on the ground and not upended. You can easily slip them on and off, and the suede upper is durable.
Also, they're stylish and versatile for casual outings, evenings out, or anything in between, such as traveling days. Readers love the range of colors (so do I) and ways to match them with a number of tops and bottoms.
One reader had even her kids borrowing them on a trip! "I wore the Naot Sabrina all through Paris and Rome… The most comfortable shoe ever! And my 20 and 17-year-old daughters kept trying to borrow them so that must mean they're cute!"

Naot Sabrina Sandal in Rust Suede/Latte Brown available on Zappos
Cons
One thing that can be daunting is the cost. At around $140 regular priced, Naot Sabrina sandals are on the higher end.
However, many TFG readers report the willingness to try them out, despite the price factor. And some even manage to catch a Naot sandals clearance, as this reader conveys, "I lucked out on the snakeskin color, it was on sale at a local shoe store so I paid just over $100 with tax, but they're definitely worth the $140 price. So comfortable and pretty!"
They also don't come in half sizes, but it's recommended that you size up and that has worked for many users. Another reader mentions how she essentially can't live without them. "I wear Naots daily as I've suffered from plantar fasciitis and have found these to be the only shoes that I can wear comfortably!"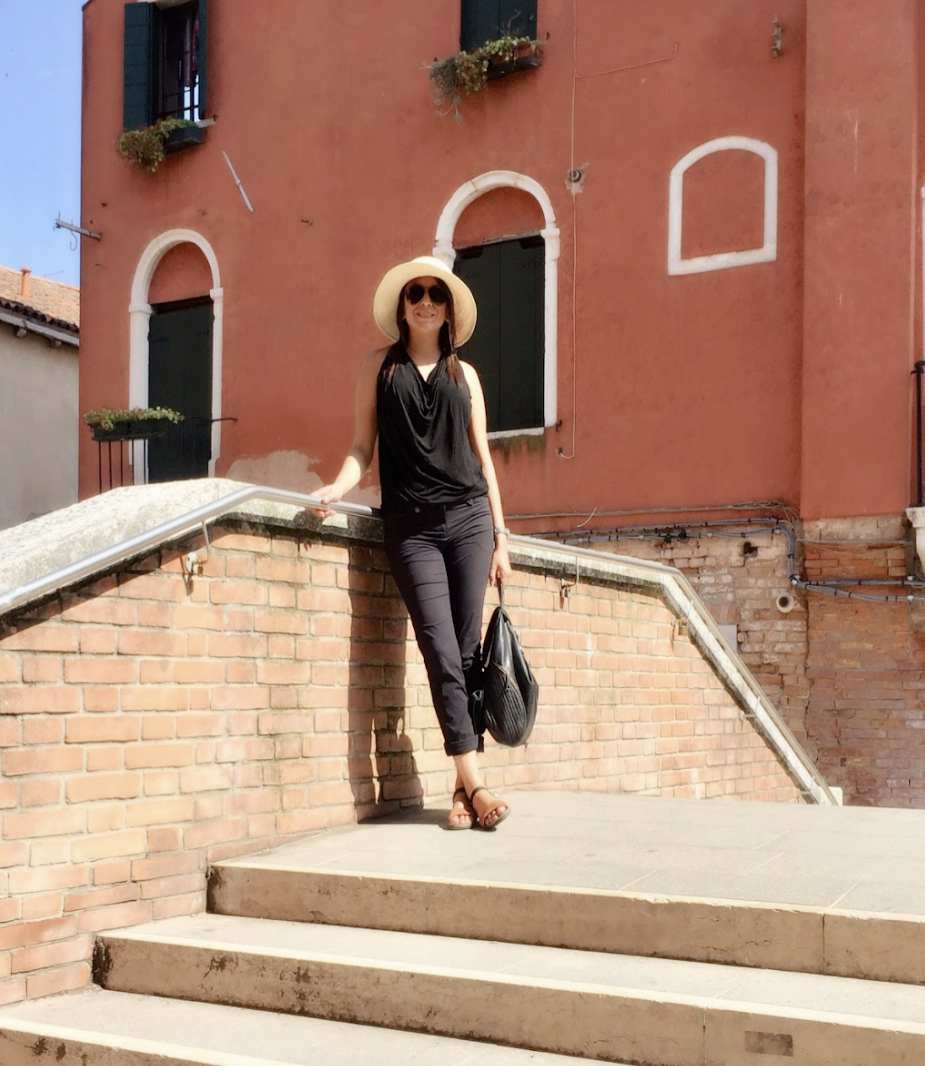 Naot Sabrina Sandals in Jet Black/Brown Nubuck
Verdict
While Naot sandals are on the expensive side, I personally feel the purchase is well worth it, having owned these for several years now—they've more than paid for themselves! And many of the Travel Fashion Girl readers who've also purchased them agree that these are truly some of the best travel sandals for summer or hot weather travels.
One reader echoes this, saying, "Finally bit the bullet due to price, but could wear them ALL DAY LONG! I have issues with my feet and these don't give me any problems. So happy with my purchase!"
From a construction standpoint, their elastic strap makes them easy to slip on and off which works for several travel situations. There's arch support from the cushiony cork footbed, and a sturdy rubber sole so you won't slip on surfaces, thus making it an excellent sandal to walk some distances (though obviously not a hiking shoe!). 
Lastly, the quality style of these sandals can't be ignored. The metal ornamental hardware adds a chic touch which makes these transition well from daytime to nighttime. Their beautiful range of colors to choose from can mix and match with a number of travel outfits. 
Conclusion: Naot Sabina sandals are my big go-to for summer travel and now for my regular capsule wardrobe!
Video:
Naot Sabrina Sandals Review
I did a video review on why Naot Sabrinas are not only comfy but a super stylish choice for walking sandals to travel in!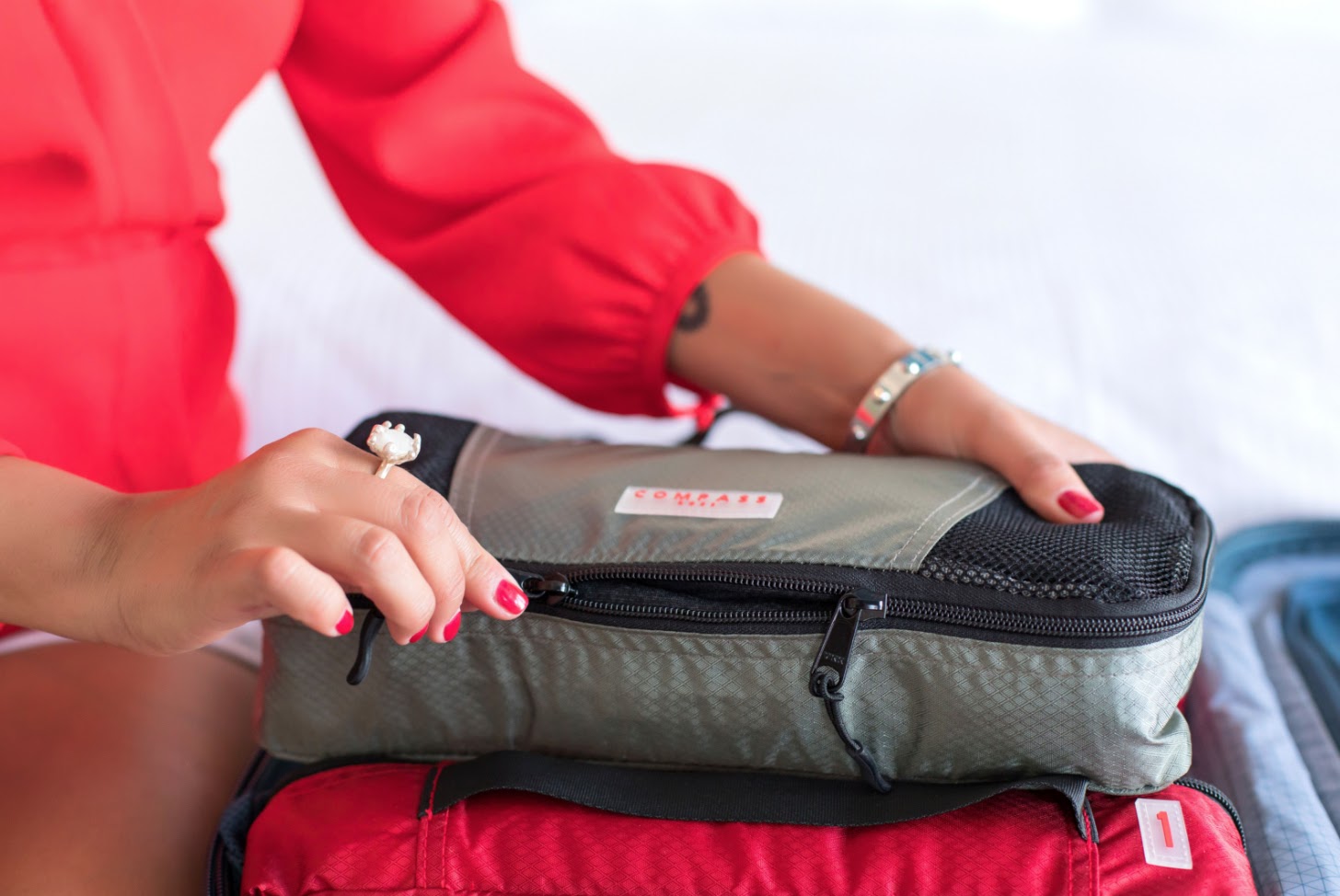 How to Pack Your Sabrina Sandals
Maybe you want to pack your sandals after wearing them on the plane or choose to wear a different pair home, start by selecting a container such as a shoe bag or a packing cube, then pack according to your type of luggage. See more in the video below.
Watch this video to start learning how to organize with packing cubes!
Whether you have a front loading or top loading backpack, it's crucial to put your shoes first, at the bottom. If you're planning to pack shoes in a rolling carry-on, remember that it stands sideways, so it's important to note how it functions when it is upright. Most often, your shoes will need to be packed close to the wheels, so that the luggage maintains its balance in transit.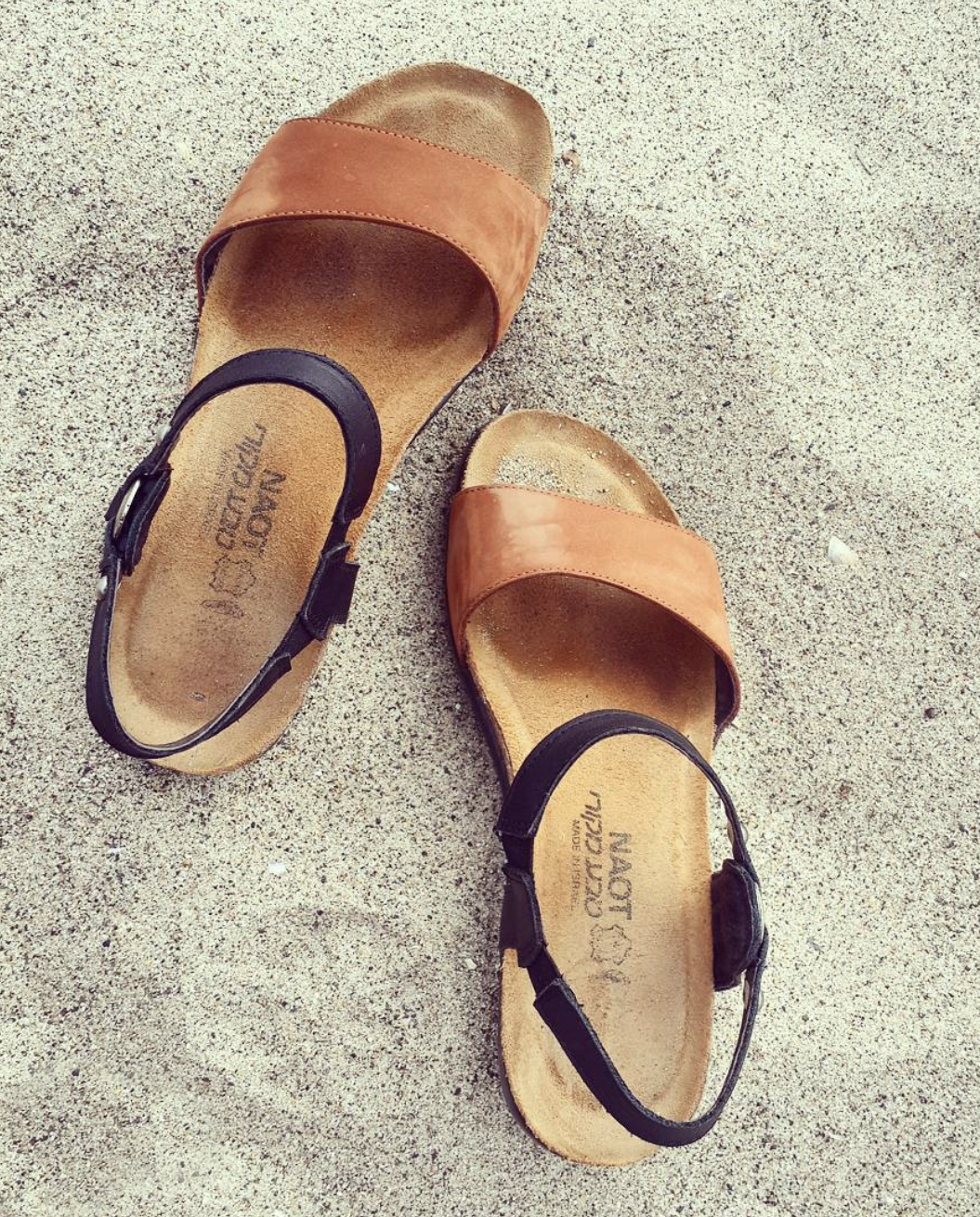 Where to Buy
Naot Sabrina Sandals
You can buy Naot sandals at these retailers: Amazon, Zappos, Walmart, Nordstrom, Shoes.Com, The Walking Co. Since they can be on the pricey side, look for a Sabrina sale which does happen throughout the year!
---
What has been your experience with Naot Sabrina sandals? Share your review of these shoes in the comments below!
---
For more travel sandals, please read:
---
LIKE THIS POST? PIN THIS PIC TO SAVE IT!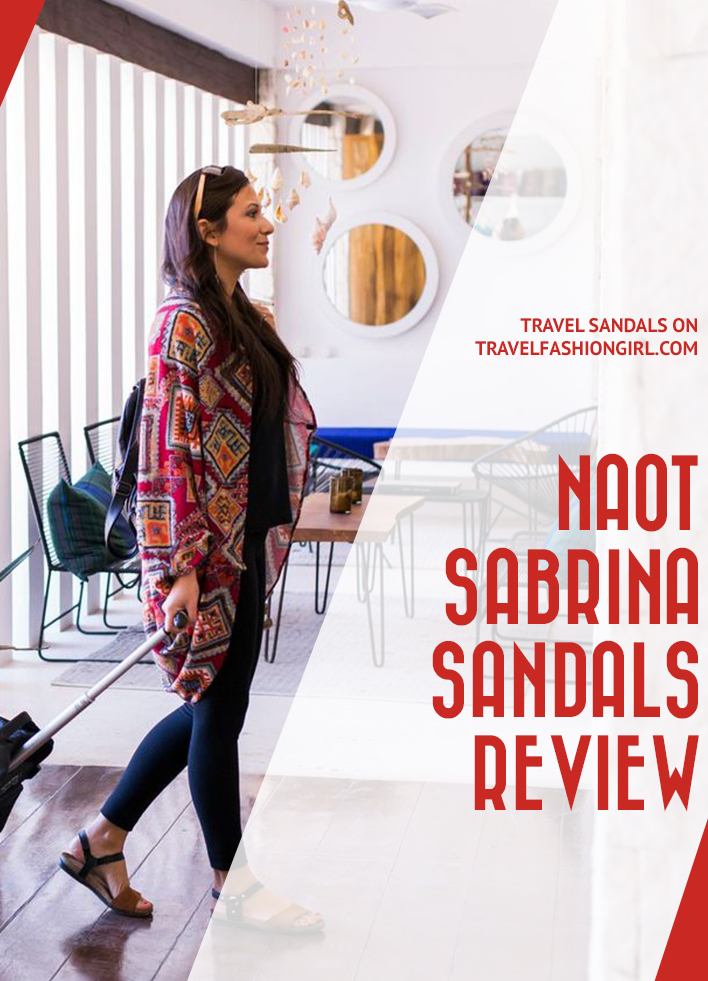 ---
We hope you found this review on Naot sandals helpful. Please share with your friends on Facebook, Twitter, and Pinterest. Thanks for reading!
---