This post contains affiliate links. Visit our Disclosure page for details.
---
Need tips on what to wear somewhere else? For a full listing of all our destinations, please visit our packing list page!
---
For the edition of Locals Approved Packing Lists La Carmina – a lover of Tokyo – has assisted in providing a reliable account of a locals view for a packing list for Japan when traveling to Tokyo. Keep reading to find out what to bring on your trip!
---
Packing List for Japan: Tokyo Travel Fashion Tips
Edited by Chantelle Mallin
---
La Carmina is an alternative Goth Japan fashion blogger and travel TV host (Travel Channel, National Geographic, Discovery, Food Network and more), she was born and raised in Vancouver but has been living in Tokyo on and off since she was a child.
Her popular La Carmina blog has led to international TV hosting and appearances, including New York Fashion Week and Hong Kong Social Media Week. She's a Huffington Post Travel journalist, author of 3 books (Penguin and Random House), and presents/coordinates TV shows about alternative culture for worldwide networks.
Visit her website for Tokyo street style, cute culture, and earless cats. Don't forget to follow her out on both Facebook and Twitter.
Thank you for your helpful insight La Carmina!
Tokyo Clothing Style
Japan is known throughout the world for setting the trends of innovative and out there styles. There is such a variety of different fashion styles, cultures and subcultures that it's hard for even the most dedicated to keep up, keep up to date by following Japanese style and fashion blogs (including La Carmina's).
Tokyo business dress is quite formalized; 'salary men' are expected to wear suits to work. However, when it comes to leisure time, anything goes. La Carmina notes – At the fetish/bizarre party Department H, I'll often see people take off their office clothes… and put on cyber costumes!
In district like Harajuku and Shibuya, youths express themselves through extravagant street style, such as vintage dolly dresses, all-white face makeup and colourful layers, the hot spots are famous for their animated Japanese street fashion and are the places to be to spot new and inventive fashions.
There aren't any particular rules to adhere involving dress, so don't stress. Do, however, use common sense. For example in business situations appropriate clothing would be required. Casual clothing is recommended for sightseeing, however it would be suggested you dress up for dining out and drinks, jeans aren't advised.
Travel Essentials
Tokyo climate is similar to that of Washington DC, it has four distinct seasons. The summers are hot and humid (pack mosquito repellent if your visiting in the summer months, however its quite easy to pick up in local drugstores). The winter's cold but moderate, rain is abundant, but don't waste space packing an umbrella, you can pick on up at most convenience stores for about $2.
Think light and small (ish) luggage when travelling to japan, the luggage space on trains and in coin lockers is quite minimal and the subway stations have vast pathways and some are without elevators.
As a tourist you'll probably end up taking the subway and walking a great deal so comfortable shoes are a must, shoes that you can easily slip on and off are also a good call – Japanese customs involve taking your shoes off at the door of homes.

Tokyo Shopping
If you've forgotten an item or just fancy updating your holiday wardrobe Tokyo has got it covered. For basic items such as socks, basic accessories, makeup and umbrella check out Don Quixote – a chain of large stores that sell inexpensive clothing, home ware, food and electronics, the most well-known location is not far from the Shinjuku subway's east exit.
Check out the 100 yen shops ('dollar' stores), they are a great find for travellers on a budget, there are plenty of 100 yen shops located around Japan, the largest in Tokyo in Daiso Harajuku in Takeshita Dora, a few seconds from Harajuku Station.
La Carmina recommends that visitors check out Tokyo's incredible street style boutiques, check out her blog for a guide to that best Gothic Lolita Punk stores in various neighbourhoods.
For full travel tips, check out this 7-day itinerary for Japan!
Japan Climate Overview
Japan consists of four major islands – Hokkaido, Honshu, Shikoku and Kyushu, and lots of smaller islands, the climate differs from region to region – most parts have four distinct seasons. The country varies from a cool temperate climate in the north to subtropical in the south, generally the summers are hot and humid and winters icy and chilly, June/July sees the most rainfall whereas August to October the most typhoons.
Northern Japan – Characterised by warm summers and long cold winters with abundant snow.
Central Japan – Characterised by hot humid summers and moderate to short winters, with certain areas having very heavy snow.
South West Japan – Characterised by long, hot humid summers and mild winters.
Tokyo – Characterised by a moderate and comfortable climate all year round due to its position in the temperate zone, the weather is often compared to the East Coast of the US.
Here's what to pack for Japan in every seasons:
V Neck | Blouse | Longsleeve | Shirt | Dress | Playsuit | Jeans | Pants | Raincoat | Jacket | Sweater | Skirt | Boots | Shoes | Scarf | Bag
Packing List for Japan: Tokyo in Spring
Weather
La Carmina says: Springtime is beautiful in Tokyo. Cherry blossom season generally takes place at the end of March, and pink blossoms cover the city. During the day, the weather is warm but there may be rain, and evenings can be cold.
Tokyo Packing List
The spring season runs from the months of March to May, the weather is considered mild and rainfall is relatively low. Along with Autumn, Spring is considered by many the best time to visit the city, temperatures are warm but not too hot, the famous cherry blossoms are out and there are plenty of festivals to enjoy.
Try to avoid (or book well in advance) Golden Week – it is the longest holiday of the year and the time when everyone travels and hotels/attractions are booked full.
The best advice for packing for spring would be to LAYER
The temperature from day to night can vary considerably, layering means you can easily and or remove clothing depending on the temperature.
Pack a pair of Capri pants, your favourite on trend jeans, various tops ranging from simple t's and tanks, printed blouse and flowering tunics – opt for neutral colours so outfits can be easily mixed and matched – and a selection of cute, comfortable dresses teamed with light tights, pack a few 'dressier' outfits if you plan on venturing out at night for drinks, meals or partying, think embellished camis and printed dresses.
Spring features some cooler days, so pack a light coat, such as a leather jacket, and cute sweater to add to your outfit if you're feeling a bit nippy, the temperature also drops cool at night – pack a warmer jacket or fleece to combat this, occasional rain showers will occur, don't forget you're an easily storable brolly.
Thinking shoes, pack comfortable options to adhere to the plenty of walking and exploring you'll be doing, think chic ankle boots, covered closed toe sandals and a pair of sneakers.
Top | Blouse | V Neck | Cami | Shirtdress | Dress | Shorts | Shorts | Jacket | Poncho | Blouse | Skirt | Flats | Shoes | Hat | Bag
Packing List for Japan: Tokyo in Summer
Weather
La Carmina says: In old Japanese movies, you can see people sweating and fanning themselves! It's humid and hot, it's typical Asia summer weather.
Tokyo Packing List
The summer months run from June until August, the season begins with a brief rainy period in June, which some years brings daily downpour whereas other years it doesn't seem like a rainy period at all. Check the local weather forecast before your trip to determine a clearer forecast.
Generally summer is hot and humid meaning conditions are extremely warm and sticky. To combat the clamminess stick to light clothing made from cottons and linens – these are breathable fabrics that absorb perspiration and allow body heat to escape, beat the heat and wear white and light coloured fabrics that reflect the sun and keep you cool.
Pack for the HOT weather and bring loose flowing shorts, numerous neutral coloured tanks, camis, sleeveless blouse and t's. You may find you need to change a few times in the day to combat the humidity.
A pair of harem pants and a button down maxi skirt will keep you cool whilst protecting you limbs from the sun's rays, add femininity to your travel wardrobe by packing a mix of cute printed cami dresses, these can be dressed up at night for delicious cocktails or an elegant meal.
Shoe wise it's got to be sandals, pack a pair that are open toed and comfortable, you'll probably doing you fair share of walking.
Accessorise your summer travel outfits with a pair of oversized sunglasses and a wide brimmed hat to combat the suns glare. Don't forget to pack a small but strong umbrella that will keep you dry if you happen to get caught in a summer shower.
Worth a note – In most places the air-con is whacked on high, bring a light jacket, cardigan or pashmina shawl to thrown on if you become slightly nippy, pack something that can be easily stored in your bag when not in use.

Top | Longsleeve | Vneck | Shirt | Shirtdress | Playsuit | Jeans | Jeans | Raincoat | Jacket | Sweater | Skirt | Boots | Shoes | Scarf | Bag
Packing List for Japan: Tokyo in Autumn
Weather
La Carmina says: Similar to east coast America cities like NYC and DC – brisk and comfortably chill.
Tokyo Packing List
The autumn seasons last from September until November, the temperatures are pleasant and the days clear, the autumn foliage creates a sea of beautiful colours across the country. Like spring, autumn is considered a great time to visit Tokyo, the season's climate is characterised by light breezed and mild but pleasant temperatures with less humidity, autumn plays host to many of Japans exhibitions, music concerts and sports tournaments.
The month of September is considered a rainy season in Tokyo it is also primary typhoon period – don't panic. Only a few typhoons are strong, they usually end with hard-hitting winds and periods of rain, be prepared they can cause disruption to the city's transportation timetables.
If you plan on visiting during this period pack a light waterproof jacket, an umbrella and quick drying clothes in a blended fabric such as poly-cotton – this way you'll get the quick drying properties of polyester and the lightweight breathable characteristics of cotton. The rain gives you the perfect opportunity to check out some of Tokyo's indoor tourist attractions such as the Mori Art Museum and the Museum of Photography.
Again, like spring, think layers (gain inspiration from Harajuku street style), pack a combination of long but light skirts, cropped trousers and durable leggings for the bottom, mix and match with button up printed shirts and blouses, casual t's and flowing tunics, accessories with a colourful cotton scarf to add a pop of colour to your outfit.
The temperatures in autumn can change substantially between night and day; pack a colourful sweater and light jacket to combat the chill, shoe wise think waterproof ankle boots, hard-wearing ballet pumps and a pair of sneakers.
Sweater | Knit | Longsleeve | Top | Dress | Playsuit | Black Jeans | Jeans | Coat | Wool Coat | Shirt | Bottom | Boots | Tall Boots | Scarf  | Bag
Packing List for Japan: Tokyo in Winter
Weather
La Carmina says: It's cold, especially for someone like me who grew up on the mild West Coast. You can expect snow and wind, but not to the extent that the streets pile up and subways close down.
Tokyo Packing List
The winter months last from December up until February, the temperatures are cool around 5 – 10ᵒC, snow is scarce but can happen – this can cause delays and affect the subway. Winters in Tokyo in characterised by chilly and grey days, the wind can be freezing cold, days are relatively short with sunset around 5.00pm.
For winter in Tokyo try sticking to fabrics such as wools, fleece and polyester that have the ability to retain warm air and keep moisture out keeping you lovely and toasty. Make sure to dress for the season so you can enjoy all Tokyo has to offer.
Packing warm clothing is a must
Opt for faux fur lined fleeces and winter style coats (try for ones with a hood in case your surprised by a cheeky rain shower), jeans, thick leggings and fitted trousers to keep your legs cosy, add a mix of long/mid sleeved t's, blouses and tunics to complete your look.
Opt for muted colour tones to match the season such as black, brown and plum. If your venturing somewhere fancy at night choose a cute wool dress and thick tights or dressy trousers, embellished cami and embroidered cardigan, remember to keep warm and layer up.
Shoe wise pack a pair of thick waterproof boots, preferable with fleece lining; these are an essential in the winter month, especially if you get caught in an occasional snow shower, a pair of cute lace up brogues can work well too.
Add to your packing wardrobe with snug accessories; include leather gloves, a colorful scarf and a woollen hat, Japanese accessories are cute and chic – think ear muffs shaped like hearts, pink Lolita coats with bow and faux fur trimmings and animal print gloves. La Carmina recommends Uniqlo's HeatTech collection – it's both fashion forward and functional.
Tokyo winters can be very dry so don't forget to pack your favorite skin lotion and moisturizer, if you have sensitive skin or a condition such as eczema be prepared to bring plenty of your prescription cream.
Tokyo Travel Tips
Tokyo is a buzzing city with plenty to do/eat/drink, make sure to fit in all you can and enjoy your experience to the fullest, check out –
Yoyogi Park – If you manage to visit on a weekend you'll be greeted by a hot spot for street musicians and unique fashionistas.
Meiji Shrine – A beautiful crafted shrine located in Shubuya, it is dedicated to the deified spirits of Emperor Meiji and his wife Empress Shōken.
Mori Arts Centre – A perfect excursion for if it's raining, home to the country's best modern art exhibitions it also includes a 52nd floor observation area with a 360 degrees bird's eye view.
Ueno Park – Perfect for experiencing your fair share of Japanese culture it is home to a significant number of shrines, temples, museums and galleries.
Omotesando – A perfect place for some serious window shopping – referred to as "Tokyo's Champs-Élysées"!
Tokyo has a world class public transport system to help you get around and explore the city, it is the fastest and most convenient way to travel – however avoiding the rush hour (7.30am to 9am) – if you can – might be considered wise, you can buy a prepaid fare card to use on the trains, subway and buses in Tokyo and Yokohama.

---
La Carmina says – 'Be open to new experiences. If you're on the fence about something (such as whether you should purchase an unusual garment, or try a new food), I say go for it. Get out of your hotel room, talk to the locals, and you'll inevitable learn and challenge yourself.'
Do you have any tips on what to bring to Japan and South Korea? Share in the comments below!
---
For more Asia Packing lists, please read:
Suggested Travel Resources:
---
LIKED THIS POST? PIN THIS PIC TO SAVE IT!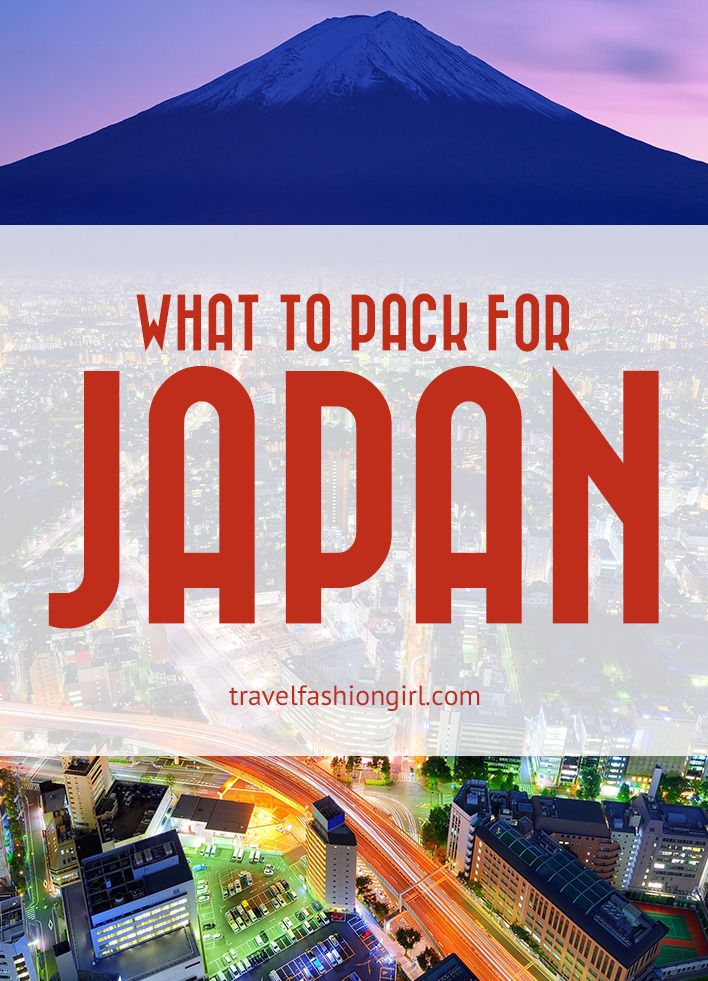 ---
Enjoy Your Trip to Japan and Tokyo! Please share it with your friends on Facebook, Twitter, or Pinterest. Thanks for sharing!
---
Liked this article? Check out similar posts: