Support TFG by using the links in our articles to shop. We receive a small commission (at no extra cost to you) so we can continue to create helpful free content. As an Amazon Associate, we earn from qualifying purchases made on Amazon in addition to other retailers featured on the blog. Thank you, we appreciate your support!
I've come to really love road trips over my 10+ years of travel and recently I did a refreshing trip to Utah and its gorgeous national parks. Read my travel diary and discover the items I brought along for my camping and hiking adventures!
---
My 2-Week Road Trip to Utah
---
Table Of Contents
I've come to realize something lately! I don't miss international travel as much because I yearn to be in nature at this time. 
So before I move back to Playa del Carmen, I recently did a 2-week trip to Utah and visited some amazing outdoor spots. It'd been a while since I'd done a substantial trip, so I got some great advice from the TFG Facebook Group and began planning! 
If you want to see the top highlights of my journey, check out my Instagram stories here and here! 
And if you want to know about some of the clothes and gear I brought, check out my National Park Checklist at Amazon. You can also visit my full Amazon Blogger Page and see my other shopping lists, such as my spring and summer finds and my decor picks!
But for the full list of ALL the items I brought, check out my National Park Packing List, where I cover what worked and what didn't!
If you want some extra packing help for Utah for camping and road trips, check out our packing guides:

I'm now going to share my trip diary, and kind of thrilled as it's been a while since I documented a journey. Hope you enjoy my trip report!
My Utah Road Trip Diary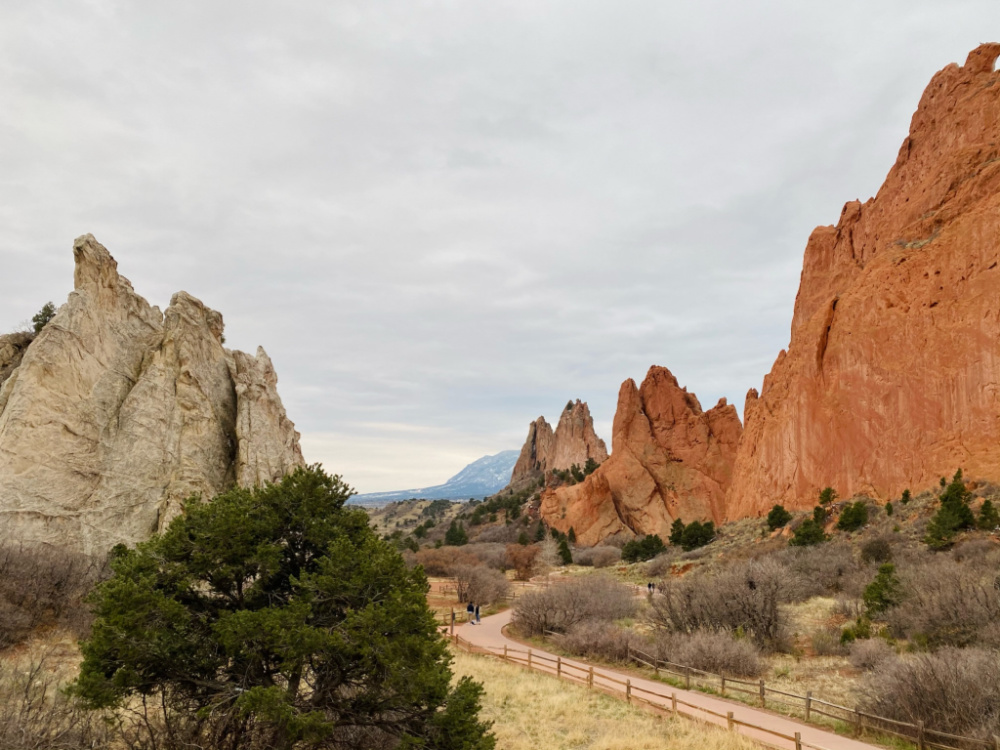 Viewpoint at Garden of the Gods
Day One: Monday 
Activity: Drive Day
Leisurely morning. Finished packing up the car and departed at 1 pm. 
Drove for about 8.5 hours, halfway to Colorado Springs to see the Garden of the Gods, the first official stop. Stopped at a brewery for lunch and spent the night in Lawrence, Kansas, where I stayed at the Hampton Inn. I was absolutely exhausted by 10 pm when I arrived. The check-in process was so fast, the room was incredibly clean, and the bed comfortable. Highly recommended!!
The breakfast options were limited due to Covid so you may want to call hotels in advance if you're looking forward to a hot breakfast in the morning. (Note that this was the ONLY Hampton Inn location on my trip that did not serve a hot breakfast.)
Tip: Every 10 nights you book with Hotels.com, you get 1 free night stay! After this booking, I earned 1 free night I plan to use for a staycation at a Playa del Carmen or Cancun resort!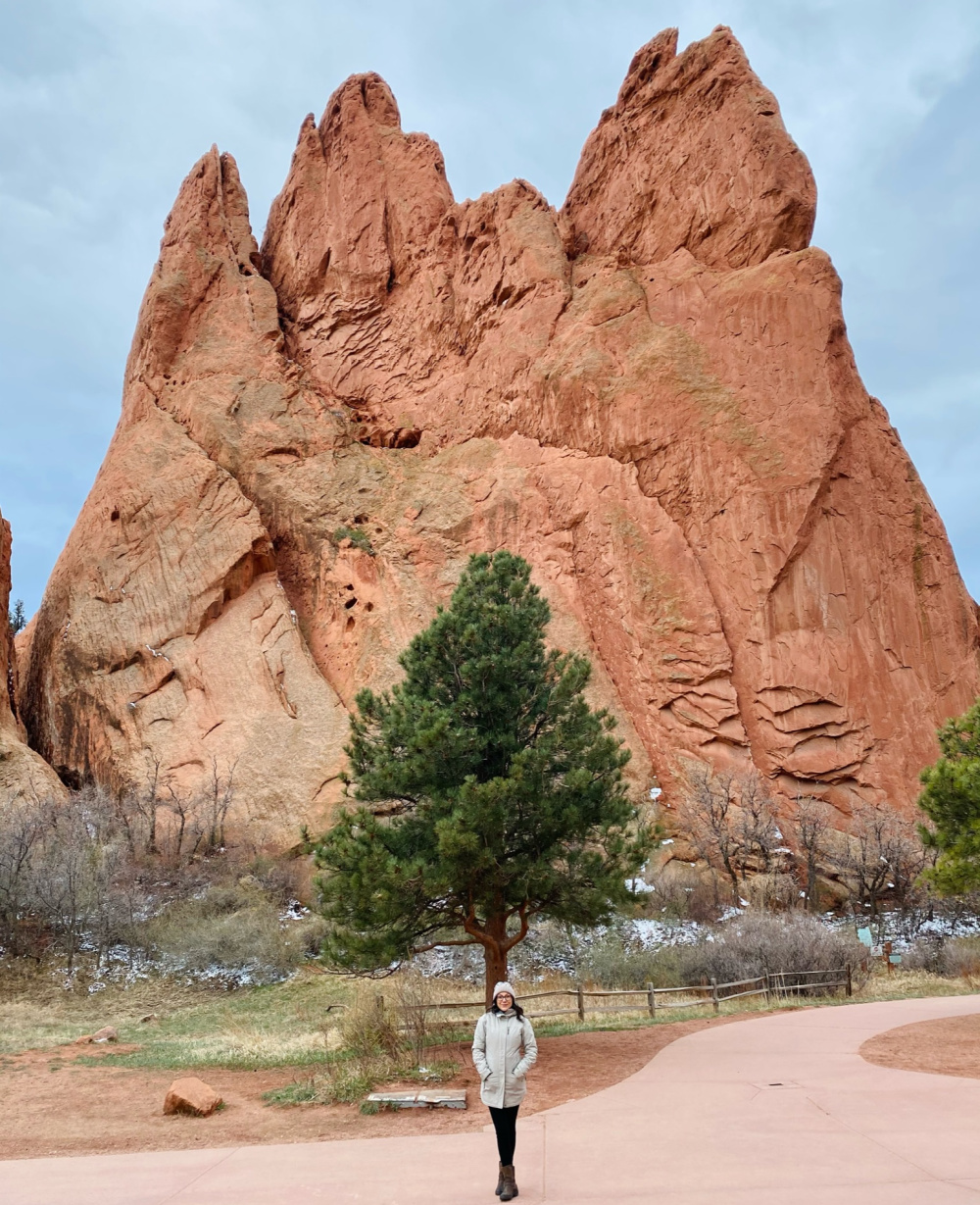 Feeling dwarfed by such amazing nature: Garden of the Gods
Day Two: Tuesday 
Activity: Garden of the Gods
I didn't realize that Lawrence is the official home of the show Supernatural!!! I'm a huge fan of the show and have been watching it for over 15 years. 
I was sooooo ridiculously excited to take a picture with the Lawrence sign, don't judge me. Any other Jensen Ackles fans? You'd totally understand my addiction to the show and my excitement about being in Lawrence.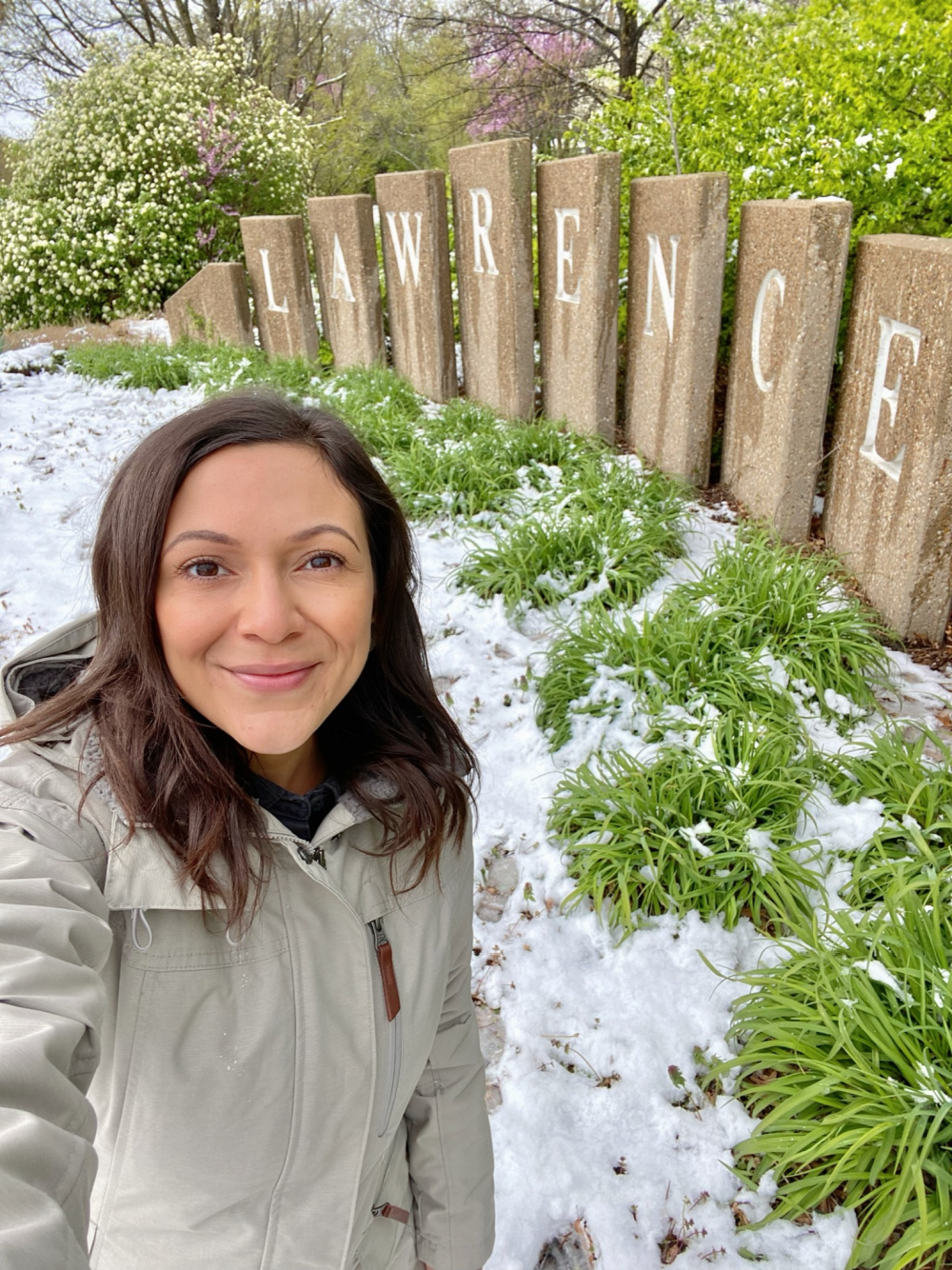 Fangirling at the Lawrence sign in my Columbia Jacket
That was the perfect start to the second day of the road trip, I was over the moon with this unexpected tourist spot!
Drove for another 8.5 hours stopping in Hays, Kansas for lunch at Tiger Burger for a delectable Mac and Cheese Burger. Oh-my-gosh. Sooo decadent and delicious! I'm glad I'll never see this restaurant again because I looove Mac and cheese and don't need such a tempting heart-attack-inducing fest on an everyday basis. But unique food stops like these are sooo worth it on a road trip and all part of the fun!
Due to the 2-hour time difference, I got to the Garden of the Gods at 6 pm, early enough to see it the same day as the sun set at 7:45 pm that day. It was so cold so I'm glad I had my warm insulated Columbia Jacket and winter accessories including merino wool thermals, hat, and gloves.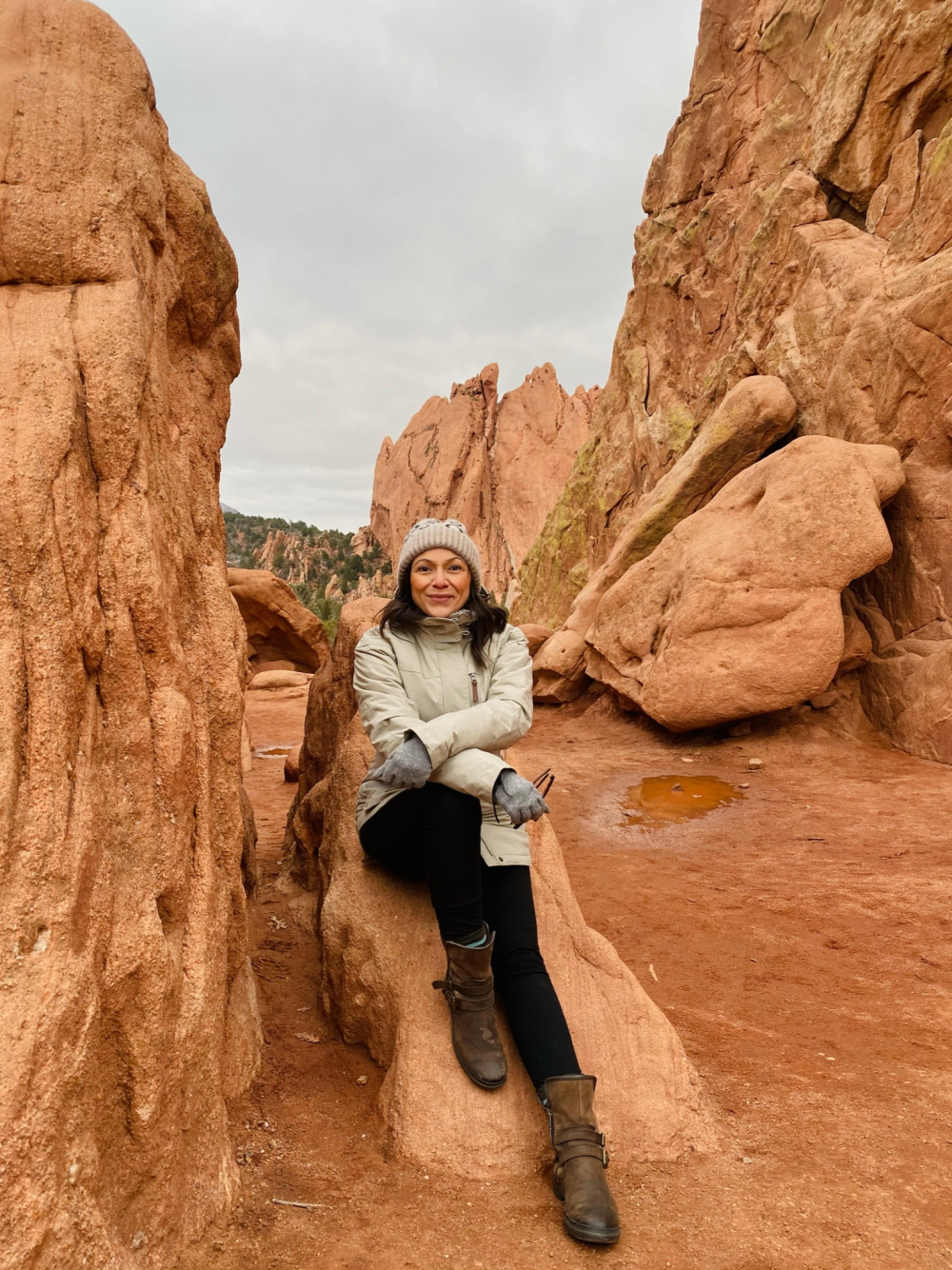 Feeling cozy at Garden of Gods in my Columbia Jacket and Ugg Simmens Boots (similar)
The small but beautiful national park is only about an hour round trip to walk-through and was worth a quick stop on the way to the Great Sand Dunes. The formations were awe-striking and the red peaks were a beautiful sight amidst the snow-capped mountains that surrounded it.
Had enough energy at the end of the day to keep driving another hour for an overnight stay in Pueblo, Colorado. Stayed at the Hampton Inn, which was slightly more dated than the last one but still had all the same amenities and comforts. Would stay there again.
Tip: when arriving at a hotel, try to find parking close to the entrance or next to a bright light if you're leaving gear in your car overnight, which I did because I had all my camping gear in the back. Accommodation for the first half of my trip was hotels and the second half I planned to camp.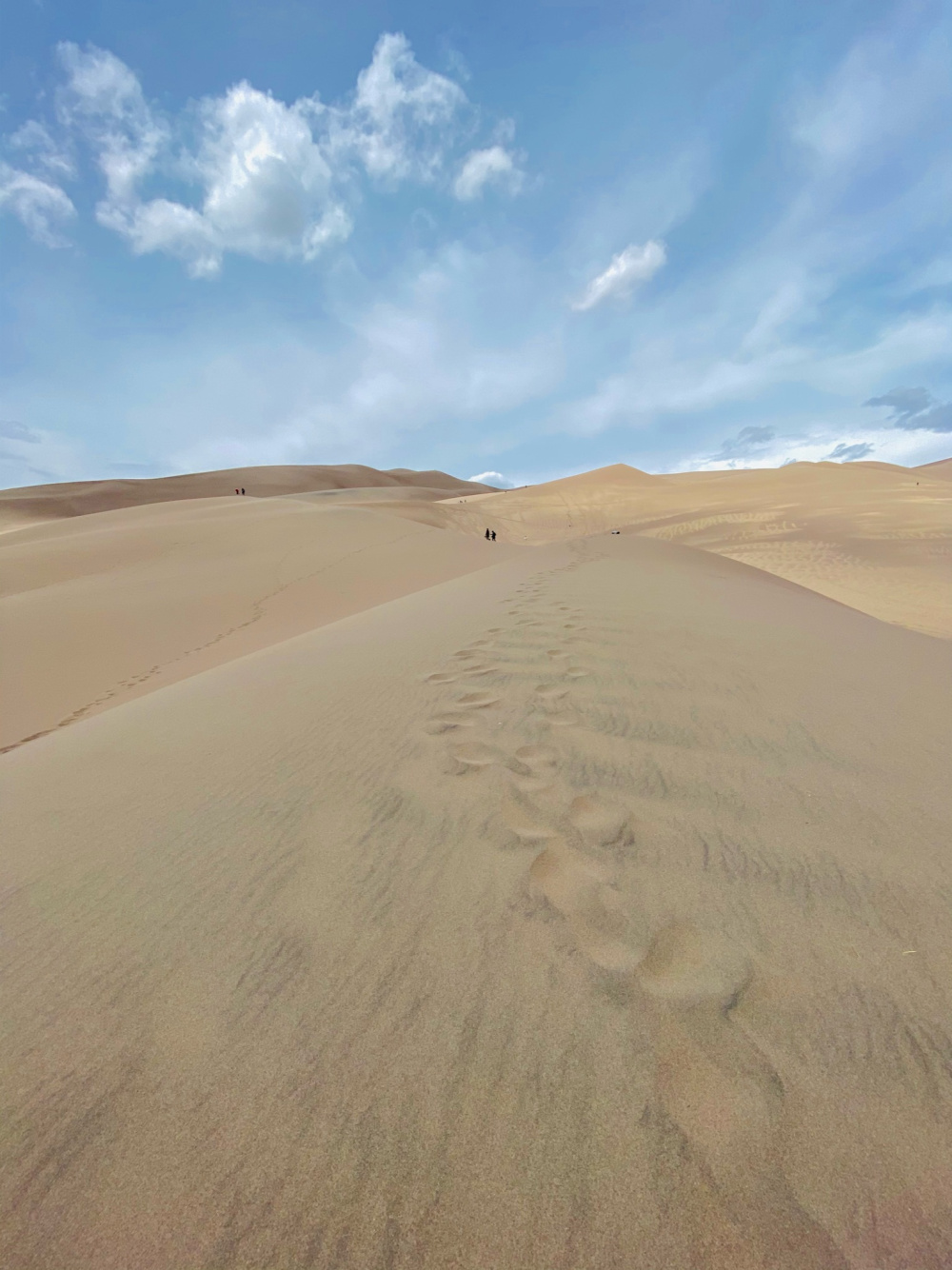 The endlessly fascinating views of Great Sand Dunes
Day Three: Wednesday 
Activity: Great Sand Dunes
Today's main stop was the Great Sand Dunes, recommended to me by the TFG readers in our Facebook community.
Wow, their recommendation did not disappoint!
After a leisurely morning with a hot breakfast this time, I made the 2-hour drive to dunes just in time for a mid-day hike. While I was a bit hesitant about this stop on the trip, it was a true treasure! The most unexpected landscape, a desert oasis at the base of a snow-peaked mountain range, and a challenging yet rewarding hike through the dunes. 
It was only a 2-hour round trip to the main peak and back to the parking lot but it was a challenging trek to walk a steep incline in the sand while the wind lashed out at you the higher you went. I made it ⅔ of the way up but decided to sit out the rest of the trek and sit down to just enjoy the view.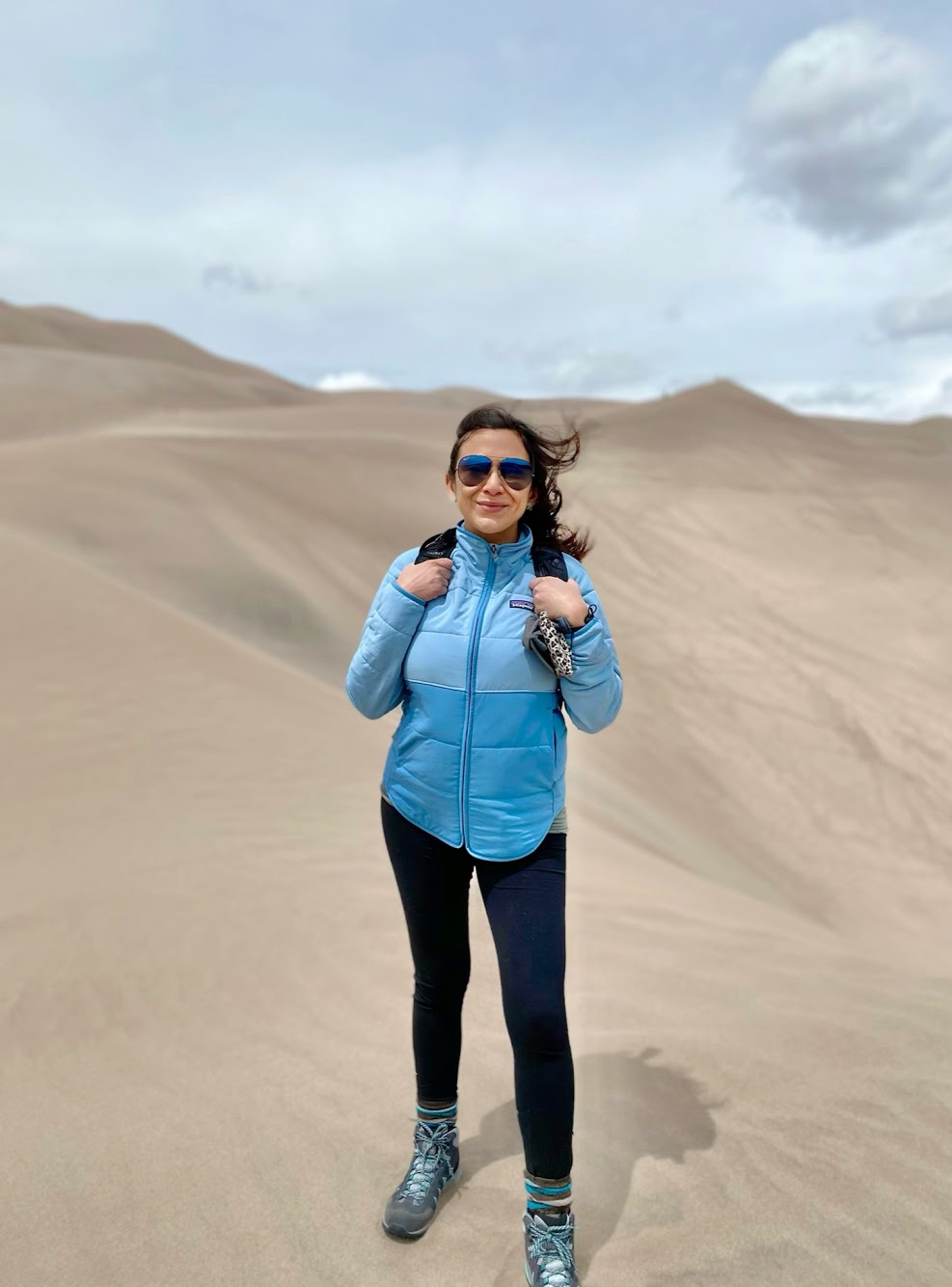 Tackling sand dunes in Patagonia Fleece Shell, Zella Leggings, and Scarpa Hiking Boots
While my new Patagonia fleece shell kept me nice and warm, I was so glad I had my Columbia waterproof jacket to offer some reprieve from the fierce wind and sand at the top of the dune. My sunglasses and face mask were also essential as my face, eyes, nose, ears, and even my mouth was covered in sand.
Despite what felt like a windy war zone, this was such an unreal landscape and USA road trip experience that it was one of the top highlights of the trip!
Just come prepared!
I made a quick stop at the nearby UFO Watchtower before making my way 3 hours west to spend the night at the Hampton Inn Durango. 
Tip: bring waterproof hiking shoes (to cross the small stream), waterproof jacket or windbreaker, sunglasses, and a buff scarf or mask to protect you from sand filled wind if you plan to do this hike.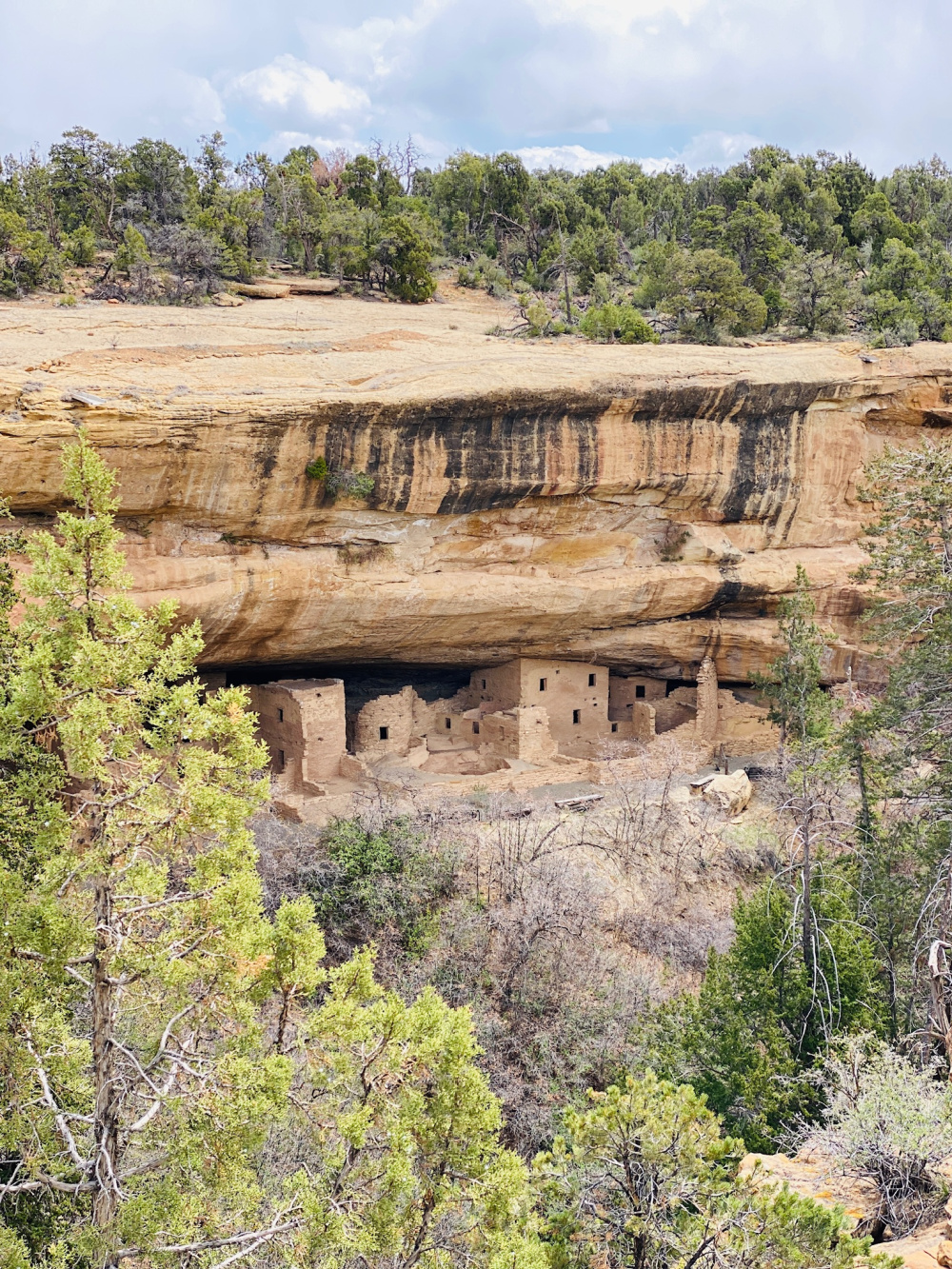 Cliff Palace at Mesa Verde
Day Four: Thursday 
Activity: Mesa Verde
Recommended by many readers, Mesa Verde was an unexpected treasure! Spent the day here stopping at the various Native American pueblos in awe at the villages built into the mountains and the underground dwellings scattered throughout the top.
The tours weren't running and I didn't do any of the hikes, but I would love to return in the summer when the Castle Rock opens to get a close-up view of the large and seemingly well-preserved ruins.
The main loop was open and it seemed that the ruins got more impressive the further into the drive. Highly recommended!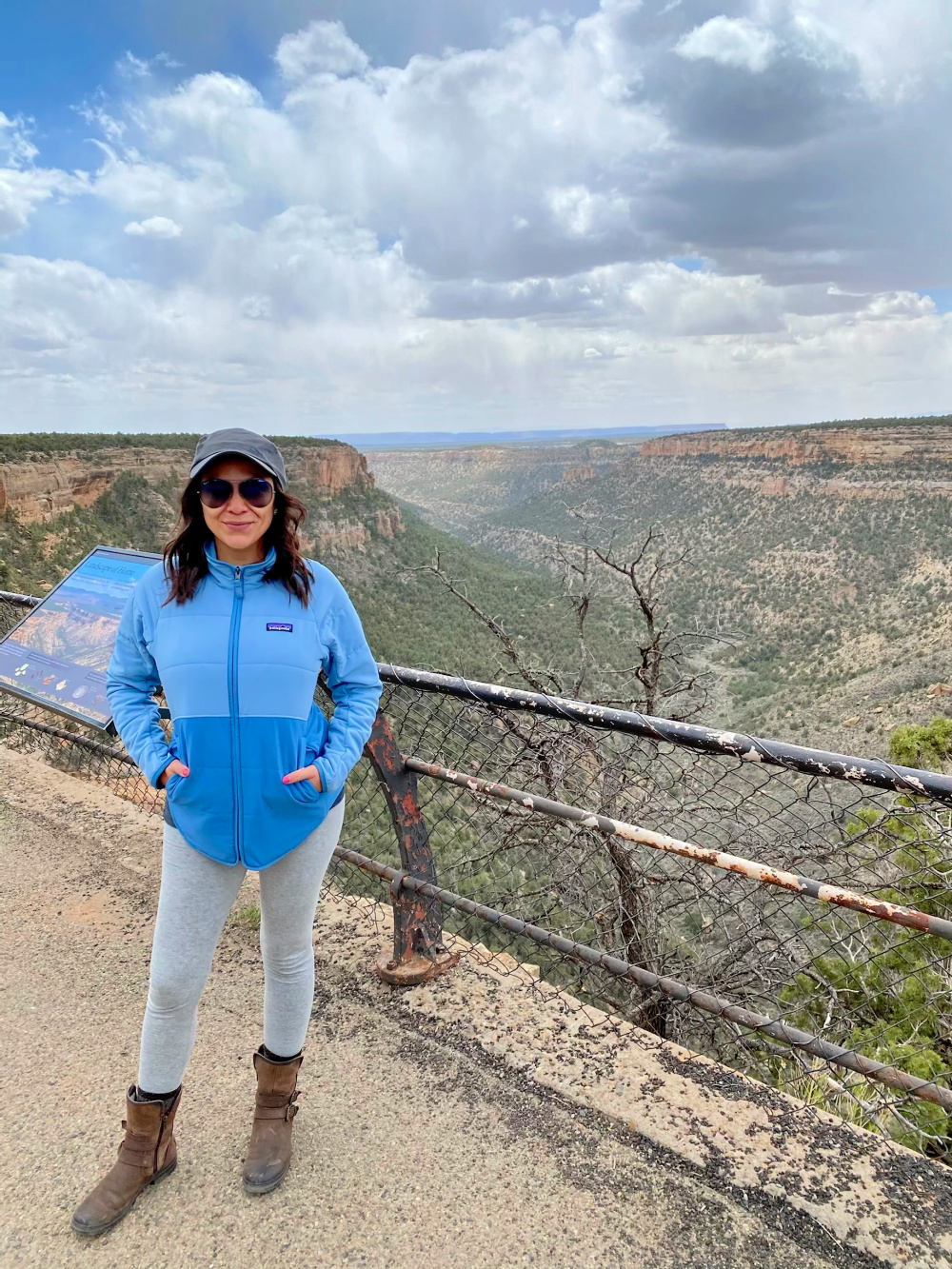 Loving the views of Mesa Verde in my Outdoor Research Hat, Patagonia Jacket, and Ugg Simmens Boots (similar)
The day started off really cold but I found myself peeling off my layers as the weather warmed a bit. The Patagonia shell has been the big winner on this trip for sure! It's the item I used the most during the trip.
Day Four ended up being a long day after making the lengthy drive to Flagstaff from Mesa Verde. 
If you also make this drive, note that gas stations through Navajo Nation closed at 8pm and restrooms closed earlier for cleaning at 7:30pm. Don't make my mistake and drive there too late or you'll have to wait.
Tip: pack a lunch and enjoy the scenery in one of the many picnic areas or viewpoints. And don't worry about the 40+ mile round trip drive in and out of the park. There were an abundance of bathrooms sprinkled at almost every viewing spot!
Day Five to Seven: Friday-Sunday 
Activity: Friday was spent driving to Los Angeles to spend the weekend with family and friends.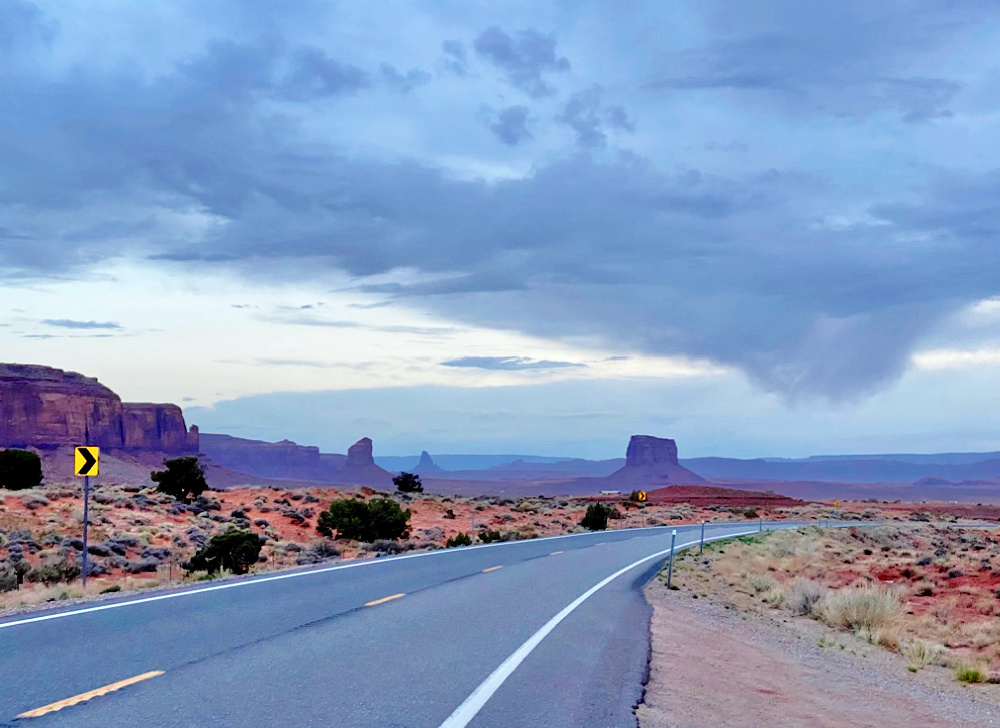 Such breathtaking views on the road!
Day Eight: Monday
Activity: Detour to Vegas
I was planning to drive from LA to Zion Under Canvas today then spend Day Nine hiking in Bryce Canyon, but with below freezing temperatures and snow on the forecast for Monday and Tuesday, I was on the hunt for warm weather. Los Angeles was colder than originally in the forecast so Vegas at 70℉ during the day seemed like the best option.
Fortunately, with the exception of my LA Airbnb, I was booking accommodation on the go so I didn't need to cancel any reservations. I made a last-minute change of plans and booked 2 nights at the Mandalay Bay.
To be honest, after a long 5-day drive and a lack of sleep in LA due to an Airbnb that was too bright for a proper night's sleep, I was desperate for a comfortable hotel bed and blackout curtains before the second half of the trip camping in a tent. 
A highlight for today was getting a chance to use my new travel telescope to see the Pink Supermoon at a rest stop between LA and Vegas. Perfect practice for the upcoming nights at the Dark Sky Parks.
Tip: I love booking accommodation on the go because of the flexibility, but it did take up a lot of driving time, which I'd rather spend enjoying the views out the window and just being in the moment. When on a road trip and not in the driver seat, remember to take a break from looking down at your phone and enjoy the view—it's a part of the experience! Don't blink or you might miss the epic formations that add to the natural beauty of the USA.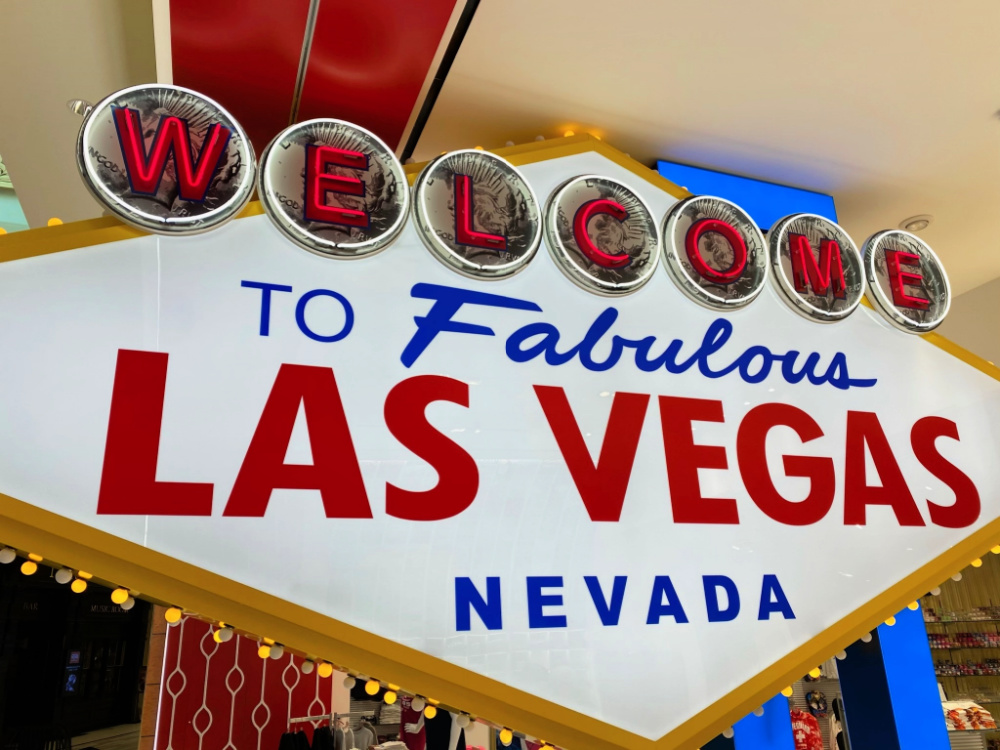 Short break in the "City of Lights" – Vegas!
Day Nine: Tuesday 
Activity: Poolside at the Mandalay Bay
Have you ever felt like you needed a vacation from your vacation after getting home at the end of a trip? Deciding to spend a day doing nothing at all just relaxing by the pool was an amazing idea. I wish I would've taken more time to relax on other trips so I think I'll be incorporating more down time in the future. I've been to Vegas countless times so no pressure to sightsee, just relax.
The hotel was surprisingly busy but nowhere to regular capacity. You were required to wear a mask even when lounging by the pool although some areas enforced this more than others. The buffet restaurants were closed so dining was a bit more limited than normal. 
I would've loved a massage at the Mandalay Spa but missed the last booking for the day. I love the plunge pools and hot tubs amenities at this spa but they were closed so no chance for a day pass.
Looking back I wish I would've chosen a resort on Red Rock to have a beautiful setting with a national park feel vs. the Vegas Strip which is better for fun than relaxation. However, I was so exhausted I just wanted to get in a comfortable bed and chose a hotel I was familiar with for ease.
Tip: always pack a bathing suit for any trip. You never know when the opportunity will arise for a dip in the pool or impromptu spa visit.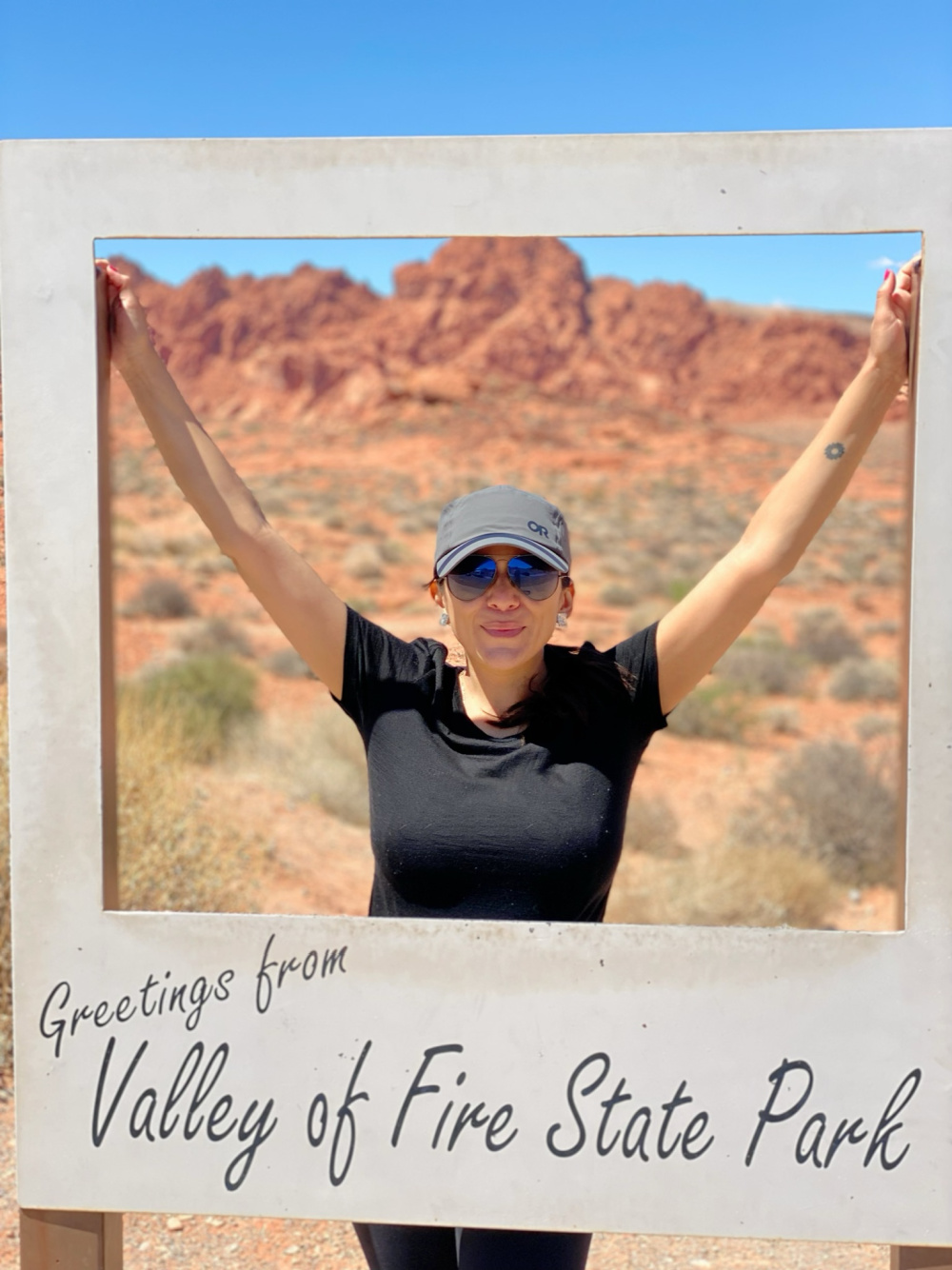 Iconic pic at Valley of Fire State Park in Icebreaker Tee, Outdoor Research Sun Cap, and Ray Ban Sunglasses
Day Ten: Wednesday 
Activity: Valley of Fire State Park and a glamping stop in Zion.
The original plan for today was to spend the afternoon hiking in or near Zion. While I've previously road-tripped through Utah and hiked and camped inside Zion, it actually was my least favorite of the national parks between Arches, Canyonlands, and Dead Horse State Park, so it was great to extend my trip a little and revisit Arches and Canyonlands a second time. 
Don't get me wrong, it was so beautiful but also super busy in comparison. Plus, one of the things that most enchants me about Utah is the red rock so the other parks are complete landscape eye candy for me.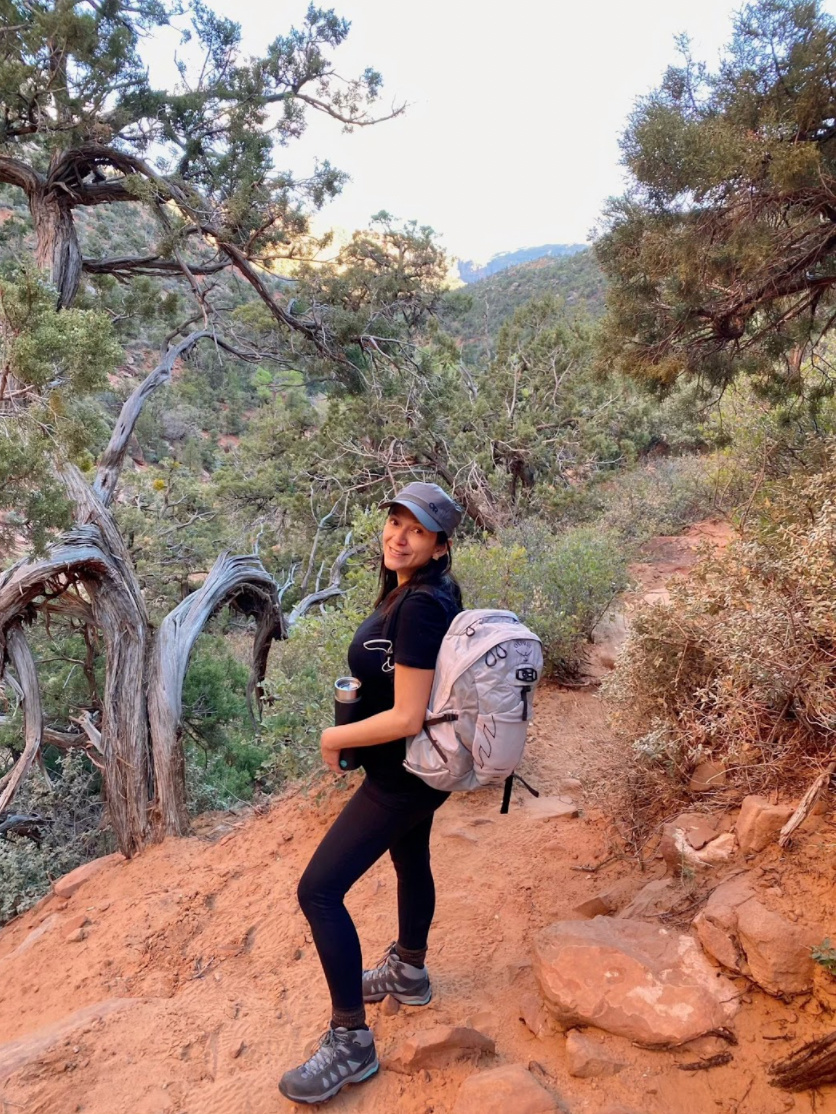 Hitting the trail in Zella Leggings, Icebreaker Tee, Scarpa Boots, and Osprey Tempest 20 Daypack

However, stopping at the Valley of Fire State Park threw the day off and I didn't get a chance to hike Zion. While it was a lovely park, I learned to skip side trips like this one and focus on my main stops due to time restrictions. Definitely recommend the Valley of Fire for trips with fewer parks to visit and shorter distances. In the future, I want to plan a trip to just visit Utah State Parks vs. National Parks.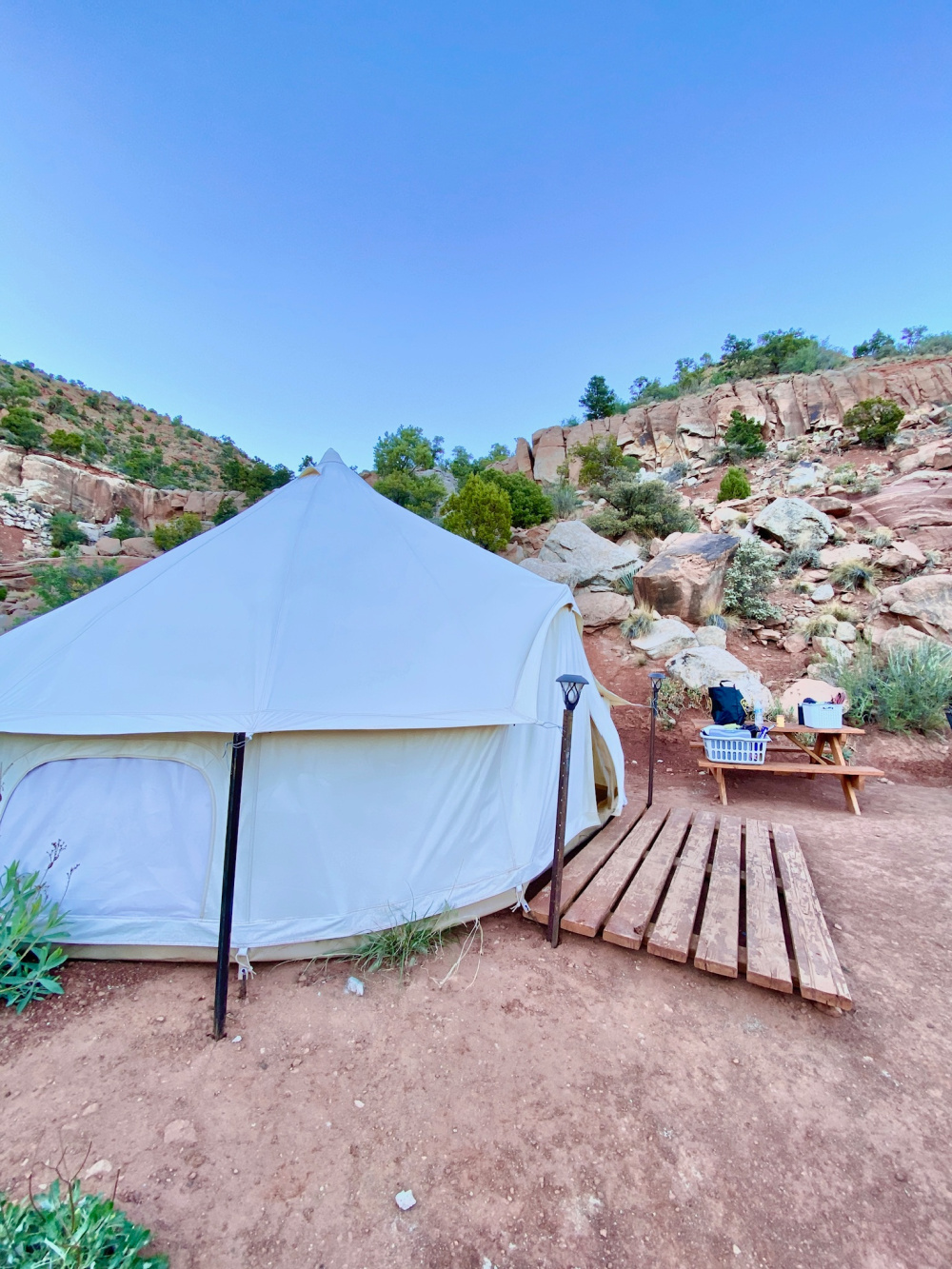 Incredible view from the Zion Glamping Adventures Site
Arriving at Zion around 5 pm and too late for a hike in the busy park, I ended up finding accommodation at Zion Glamping Adventures—one of the top highlights of the trip!! It was located about 30-40 minutes east of the park and it was such a treasure! The setting was out of this world and more magical than any other glamping site I'd looked at closer to Springdale and Zion.
I did a full Instagram story on the experience at Zion Glamping Adventures because I was so enchanted!!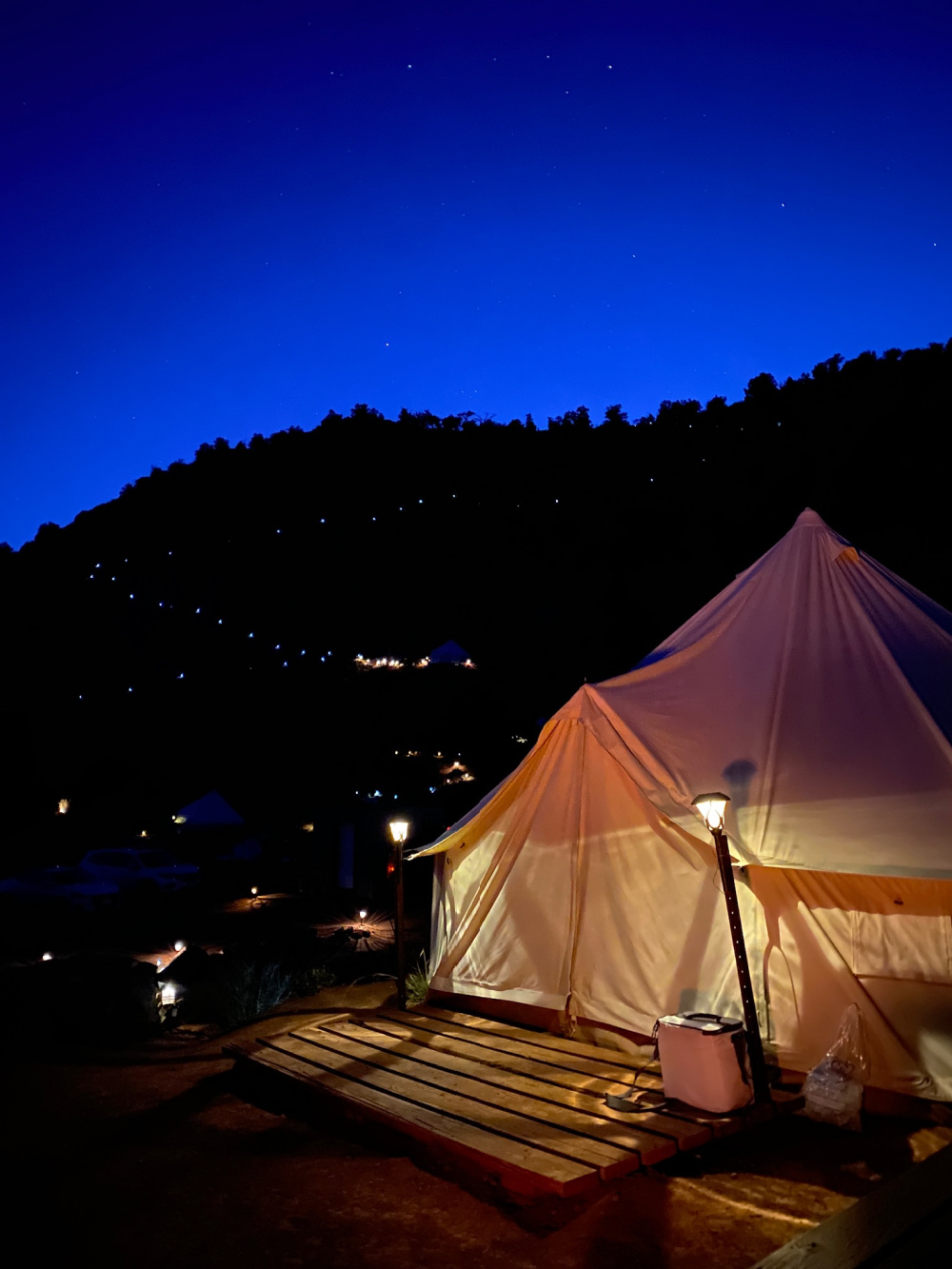 At night it was absolutely magical!
The glamping accommodations were not luxury if you're after an Instworthy picture. This place is all about travel and special experiences and not just about the 'Gram. It consisted of a comfortable, spacious tent with queen size bed, sofa bed, small table with two chairs, air conditioning, heating, and a private footprint with a firepit, grill, and picnic table. The area was dotted with solar lights and looked so beautiful at night. It was also well-priced at a fraction of what the more popular, luxury glamping tents cost in other places so that was the cherry on top!
This was the perfect balance between camping and hotels because I had the comfort of a hotel room with the nature aspect of camping. I made Good to Go and RightOnTrek backpacking and camping meals on my propane stove, enjoyed a fire and stargazed until midnight with my telescope.
Note that the bathrooms were shared but they were super comfortable, incredibly clean, and had hot showers.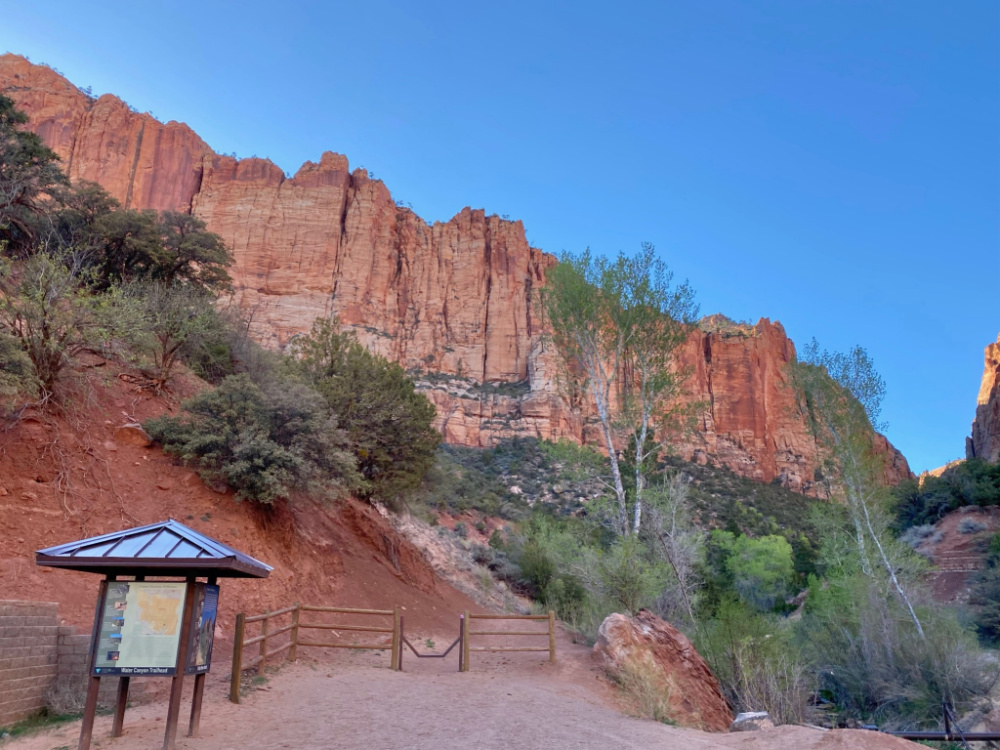 Start of trail at Water Canyon

As a bonus, Elizabeth, the host, recommended a nearby trail, Water Canyon, which made for a gorgeous one-hour sunset hike and was the perfect ending to the day. I only saw a handful of other people on the trail and felt as if I had stumbled upon a relatively untouched treasure without the Zion crowds.
I would've loved to have spent a few nights here doing more hikes and their horseback riding tour. I will be back in the future!  
If you're dreaming of a trip to Zion, I recommend reading our hiking packing guide!  
Tip: With all this driving and hiking I was clocking in, I was grateful for my Orange Mud car seat cover that doubles as a change towel with a secure clip! I could change into some post hiking clothes with discretion in the car while also keeping grime and sweat off my seat when the car got moving.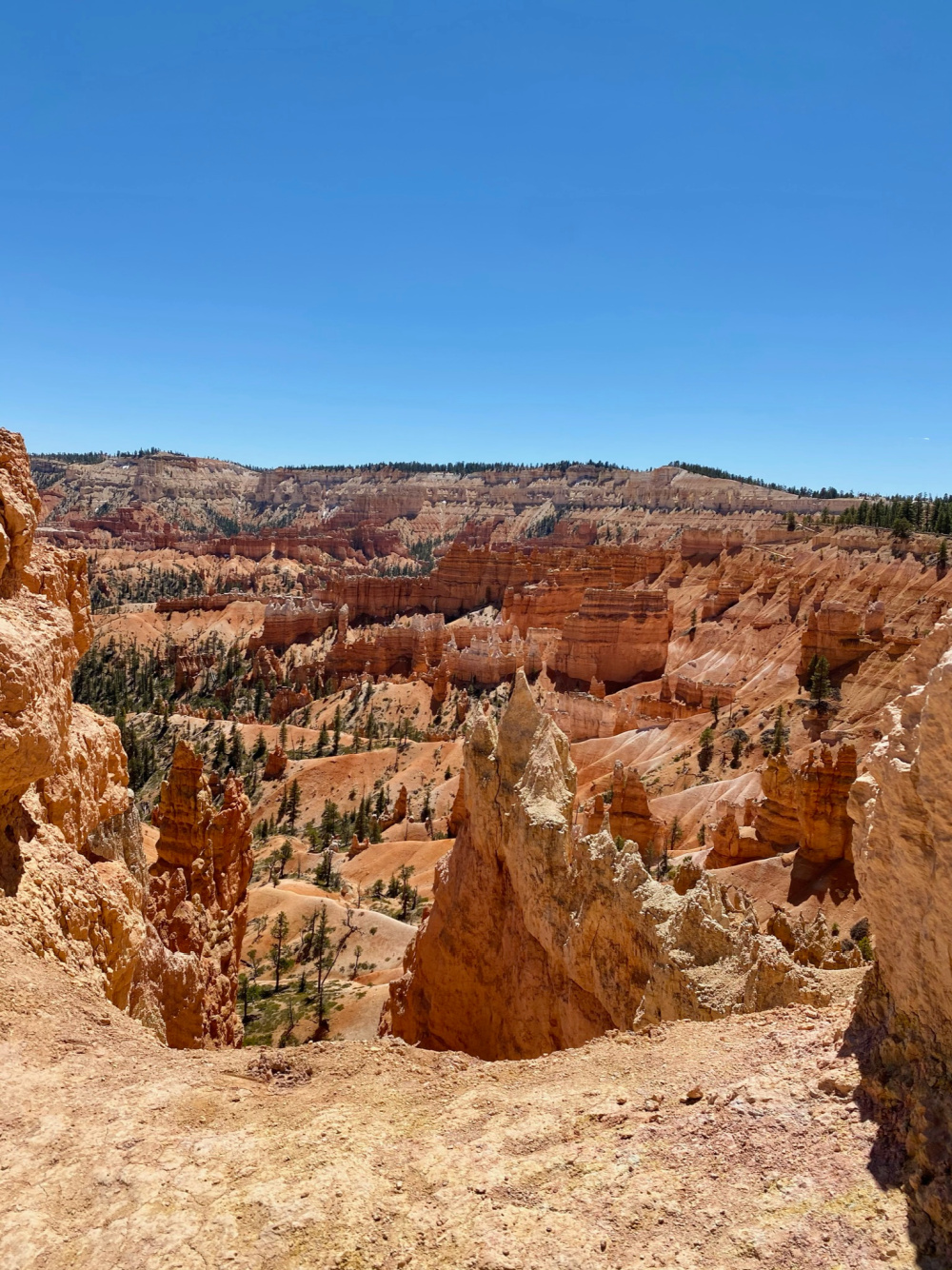 Gorgeous red rocks of Bryce National Park
Day Eleven: Thursday
Activity: Bryce National Park
Determined to make the most of my next destination, I drove directly to Bryce the next day arriving before noon and just in time to luck out on a campsite at the park. They're first come, first serve so I never thought I'd get to camp inside the park.
I spent the afternoon doing the Queen and Navajo combination loop trail at Bryce and fell in absolute love. This was it. Bryce has officially become my top favorite Utah park and I can't recommend it enough. The rock formations were out of this world!! From a distance, I felt like I was looking at the Amer Fort in Rajasthan, India, or the Ayutthaya temples in Thailand but completely natural and not man-made.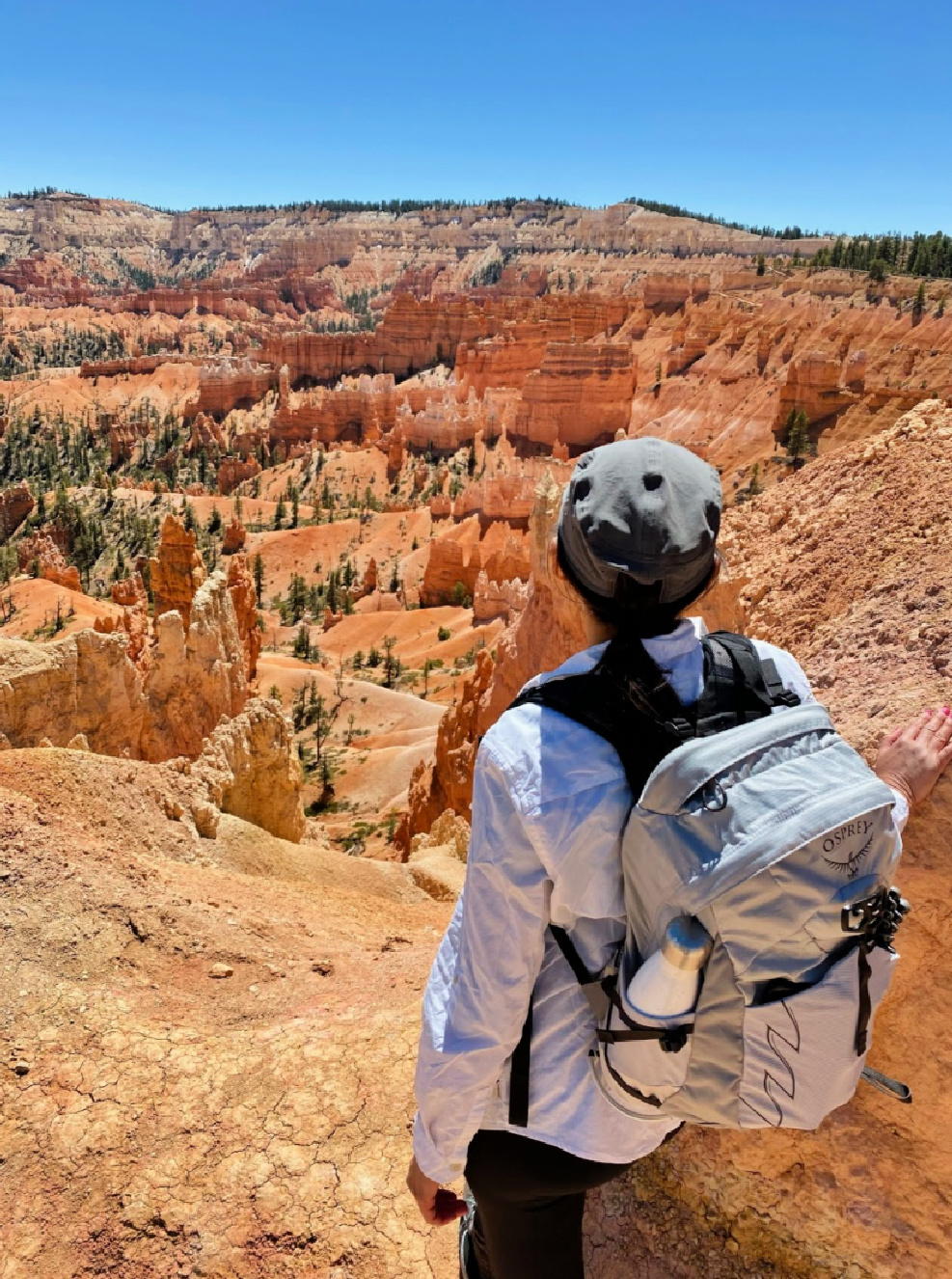 WOW! The view is amazing in my Eddie Bauer Ripstop Shirt, Zella Leggings, Outdoor Research Cap, and Osprey Tempest 20 Daypack
And then the colors!! Incredible. The landscape was incredible. There was a more awe-inspiring view at every turn! Pictures just don't do this place justice.
I was very happy to have had my Eddie Bauer long sleeve shirt to keep my arms cool over my Icebreaker tee in the strong sun in addition to my Trail Buddy hiking poles. The trek was moderate but steep with a 400+ foot elevation change into and then out of the canyon. Don't worry, if you want to visit, but don't want to do the hike, there are many accessible and spectacular views from the rim.
I will be back here again in the future to spend multiple days here! I also want to visit the nearby Red Canyon. The red rock was even more striking in this area, which made the drive into Bryce just that much more spectacular.
Spending the evening inside the park offered an epic view of the stars. The low temperature did hit 34℉ so I was glad I had both my Sea to Summit silk liner plus Kelty 20 down sleeping bag to keep me toasty inside my North Face Storm Break 2 tent. I wore my Merino 33 thermal top and bottoms, plus Kirkland merino wool socks to sleep. I should probably mention that I also had a Sable blow up mattress, which probably accounted for my comfort. I did bring my memory foam pillow from home so I was snug as a bug.
Tip: I always travel with my trusty headlamp but I also purchased two led lanterns for this trip and they were awesome in the tent and campsite. At under $20, they were incredibly convenient and I'll also be purchasing a second set to keep in Playa del Carmen for hurricane season.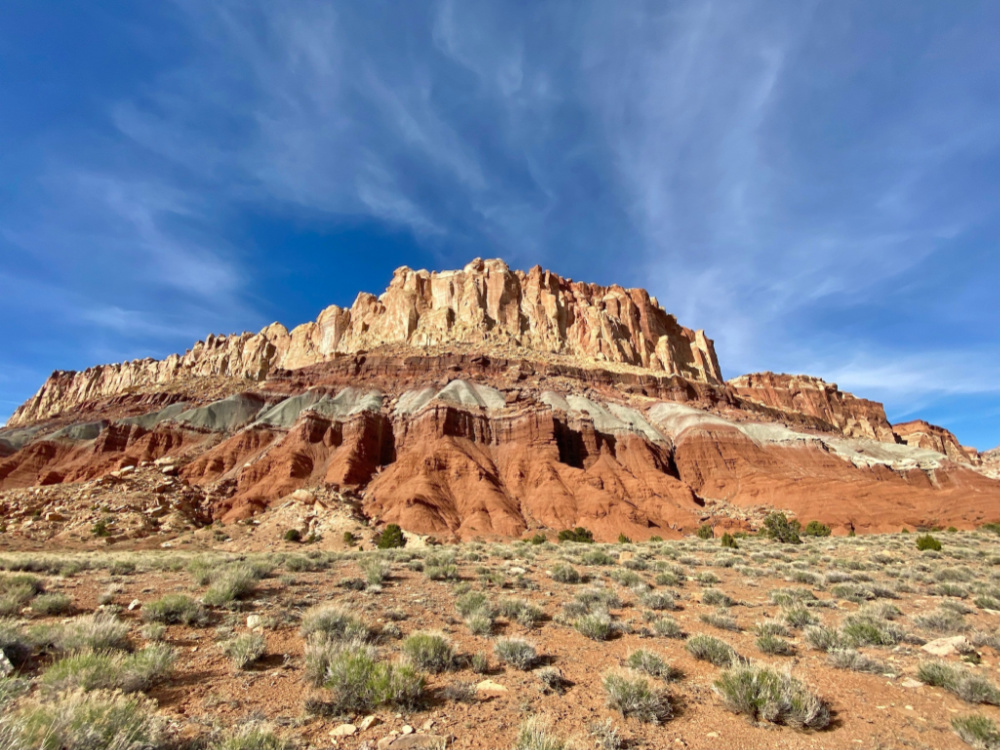 Incredible view of Capitol Reef
Day Twelve: Friday
Activity: Capitol Reef
Spent the morning packing up the campsite leaving before the checkout time of 11:30 am, and arrived at the Capitol Reef National Park around 2 pm. Had lunch in the picturesque picnic area in the park's Fruita Orchard then visited the Petroglyphs before making the 200-foot climb to Hickman's Arch.
I thoroughly enjoyed the setting and highly recommend the hike. I was grateful to have had my hiking poles, long sleeve hiking shirt, sun cap, and sturdy hiking shoes due to hot sun without shade plus the steep incline and descent to reach the beautiful arch.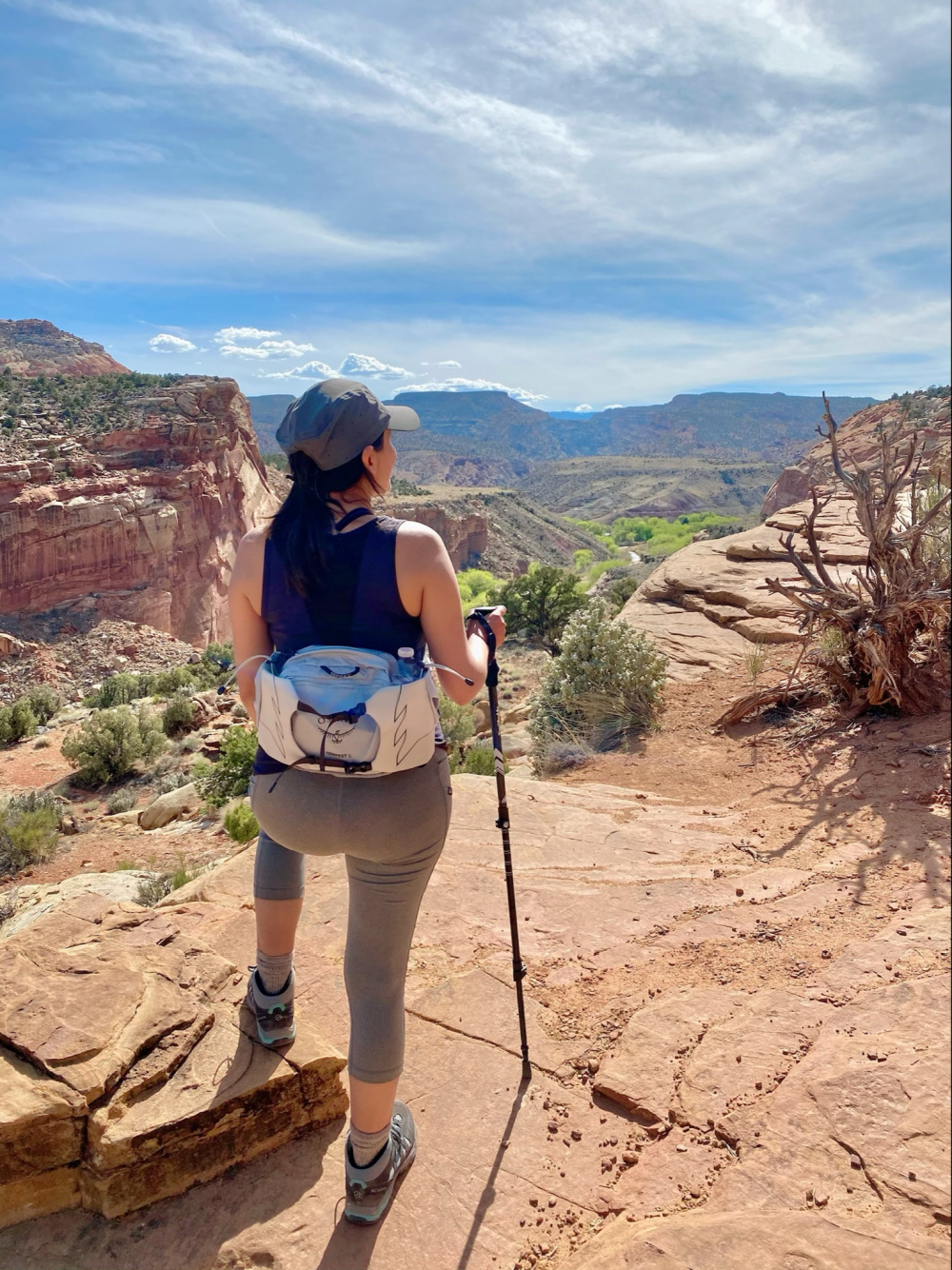 Enjoying Capitol Reef in Old Navy Tank Top (similar), Patagonia Tights, Osprey Tempest 6 Waist Pack, and holding Trail Buddy Hiking Poles
Overall, Capitol Reef is less busy than the other Utah National Parks and the drive around the park itself was absolutely stunning. The formations never cease to amaze me and the colors were striking especially as the sun started to set.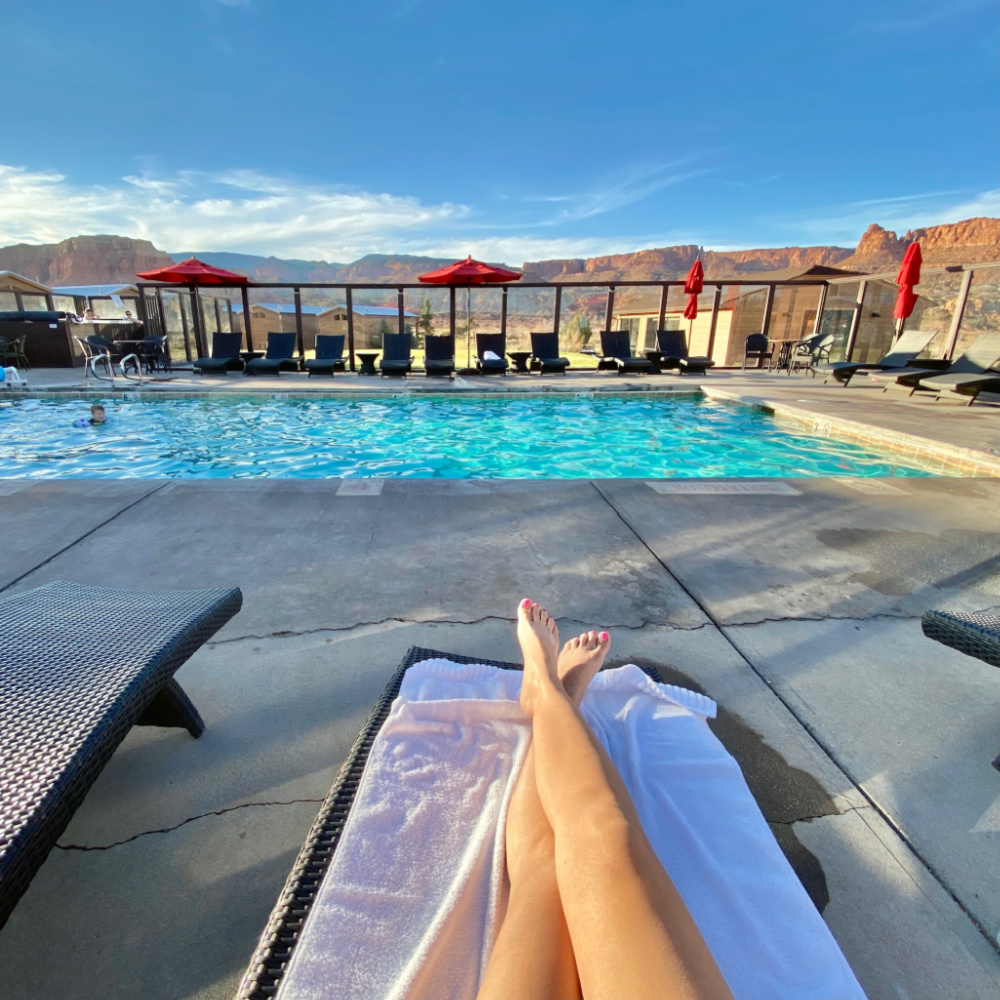 While I originally wanted to camp here as well, I was pretty exhausted from the journey and booked last minute into the Capitol Reef Resort. It was actually overbooked as with every other accommodation in the tiny town but to my relief, they had a last-minute cancellation and I felt like I'd won the lottery to spend the night in a comfortable hotel room. I had a chance to take a quick dip in the pool before heading to dinner at the hotel's restaurant, which was surprisingly delicious.
I spent the rest of the evening stargazing with my Gsyker travel telescope enjoying the star-filled night sky. I even saw a shooting star!
Tip: book accommodation for the Capitol Reef area in advance! You can also camp for free in the nearby BLM areas. However, you can spend the night at a hotel, while enjoying the free nearby campsites to cook dinner, lounge, and enjoy the dark Capitol Reef sky before retiring in your comfortable hotel bed for the evening.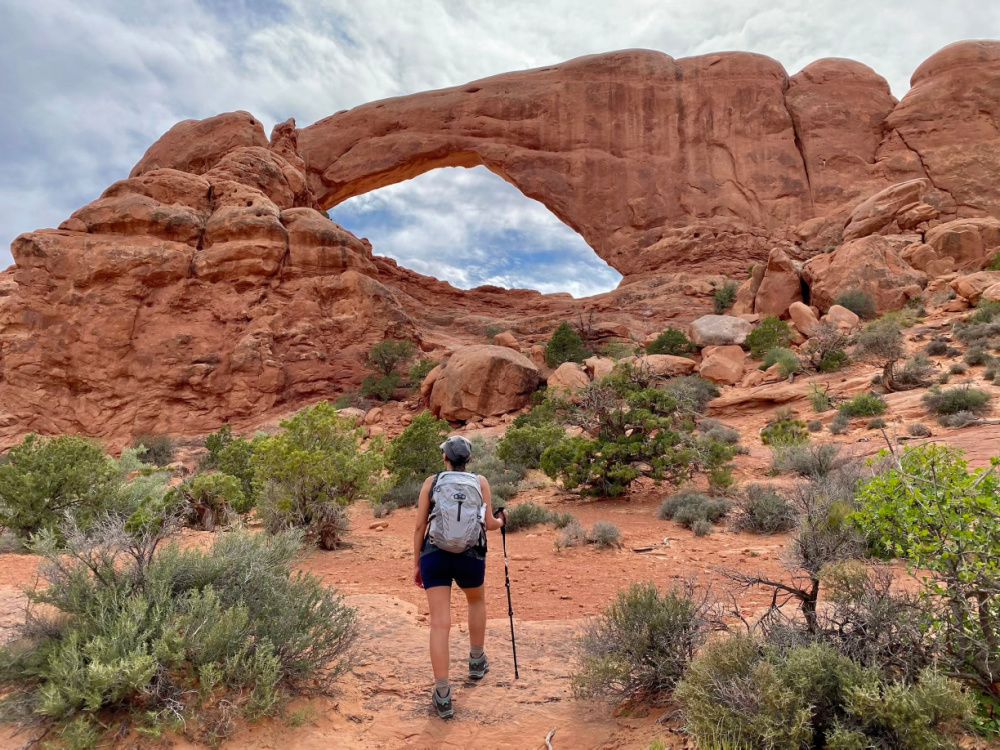 Exploring Arches National Park
Day Thirteen: Saturday
Activity: Arches
While I wasn't originally planning to visit the Moab national parks, I decided to make a quick stop at Arches and Canyonlands before making my way back.
I drove directly to Arches from Capitol Reef in the morning. I've previously been to Arches so I knew the main sights were easily accessible from my vehicle and my visits would consist of mostly short walks.
It was pretty busy I'd assume because it was a Saturday. However, using the primitive trail that was available instead of the paved walkway was a good way to get the North and South Windows all to myself!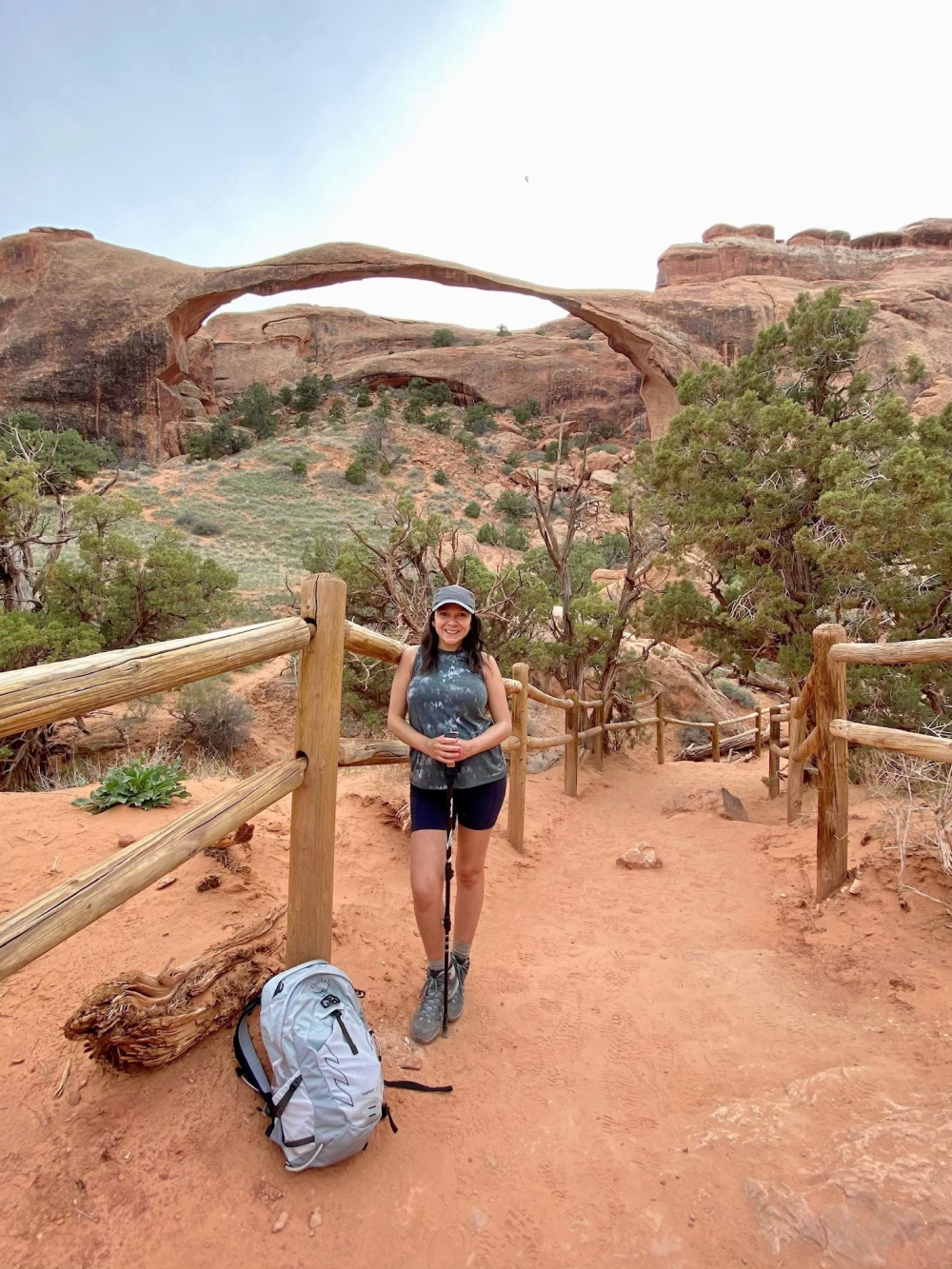 At Arches National Park in Eddie Bauer Tank Top, with Trail Buddy Hiking Poles, Scarpa Boots, and Osprey Tempest 20 Daypack
After stopping at a few of the viewing points, I ended the day with the Delicate Arch trail, which was so beautiful! I only did a couple of hours but it would've been awesome to do the five-hour hike as I did on my last trip.
I was happy to have my Eddie Bauer tank top which I bought last summer. It's nice, comfy, airy, and can also be worn off the trail. The downside is I wore yoga shorts because the weather was the hottest on this day and while buttery soft and super comfortable they're definitely not for hiking as they absorbed moisture instantly and felt gross and uncomfortable in the heat! Lesson learned! I should've just bought new hiking shorts.
Went to Trailhead Public House and Eatery for dinner and then enjoyed the starlit sky from the Arches Drive Bed and Breakfast in Moab that evening. It was actually my very first time staying at a proper B&B and it was very comfortable and homey. I was able to do laundry free of charge and also had a very generous and delicious breakfast in the morning.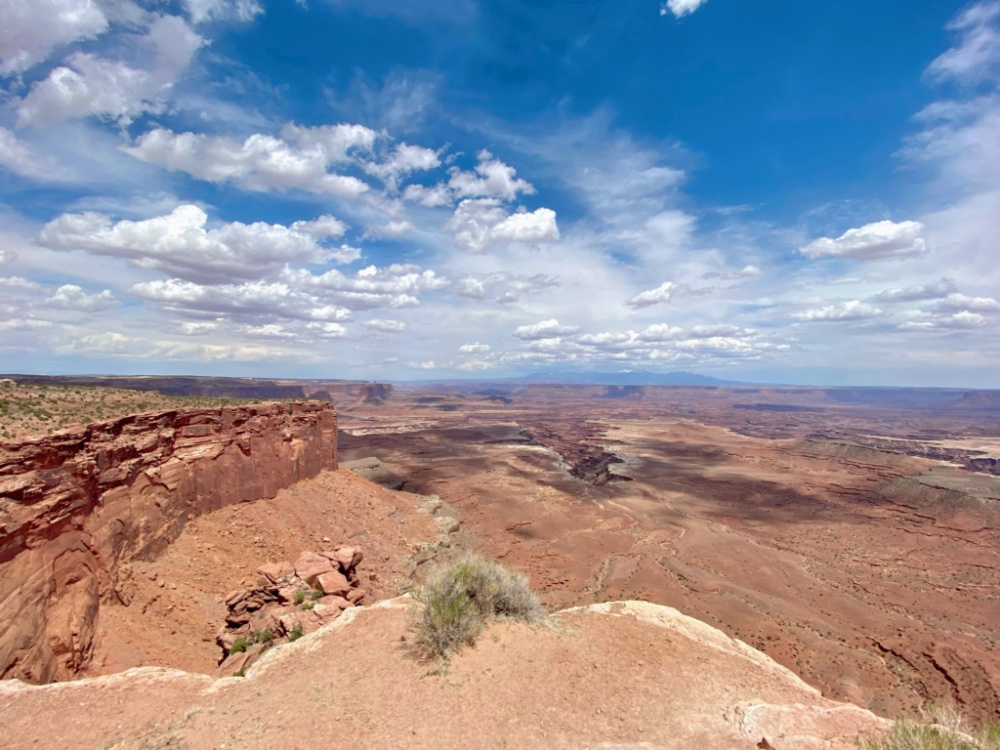 Amazing – the Canyonlands view!
Day Fourteen: Sunday
Activity: Canyonlands 
This was my favorite national park on my last trip and a second visit confirmed that it's still one of my favorites! (Bryce has now moved this one to the #2 spot on my list.) I loooove Canyonlands so much! It's definitely one of the most underrated parks. I believe it only gets one third of the visitors as nearby Arches, but it truly rivals the Grand Canyon in its beauty. 
There's something about the vastness of the canyon that enchants me. Walking around the rim, the view gets more spectacular at every turn. I truly encourage you to visit! Even though it was a Sunday, it was not as busy as Arches had been the day before and the last time I came here I don't remember seeing many people at all.
The weather was mild so it was the ideal weather to enjoy the park. I wore my freshly laundered Patagonia Tights with Old Navy Tank Top workout tank, layering my Eddie Bauer long sleeve to protect me from the sun. Note that I didn't wash my Eddie Bauer shirt on the entire trip and even though it's white, it didn't look dirty despite the dusty trails. Impressive!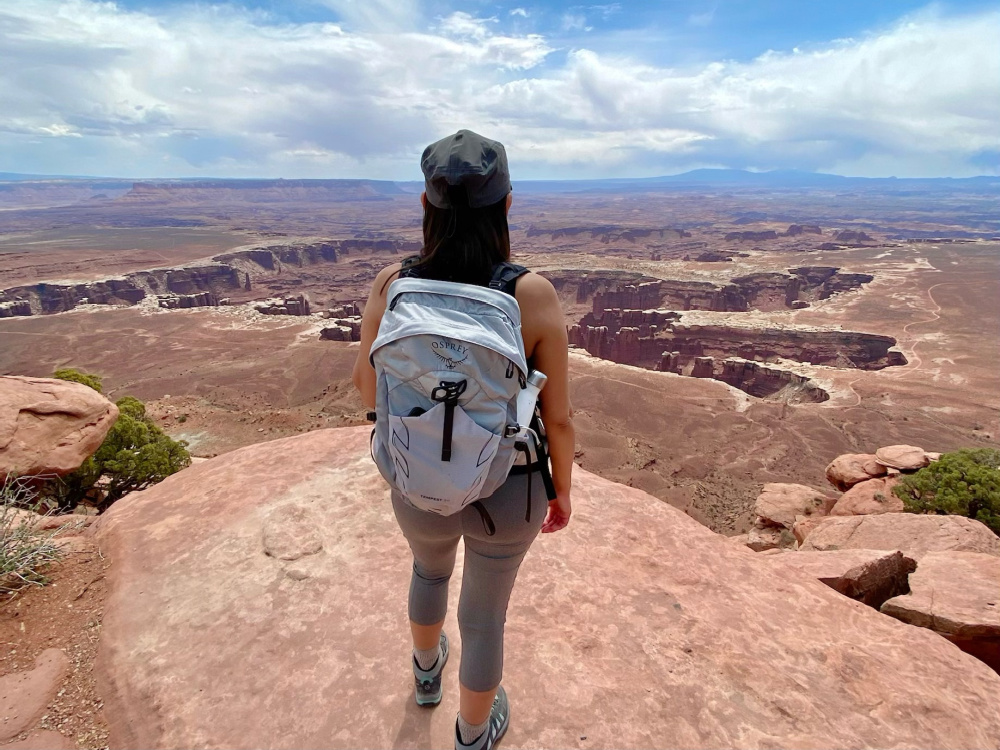 Taking in Canyonlands with Osprey Tempest 20 Daypack, Outdoor Research Sun Cap, Patagonia Tights, and Old Navy Tank Top
No need for my hiking poles on these relatively flat walks but I did bring along the Osprey Tempest 20 daypack instead of the Tempest 6 waistpack to carry a few extras like my lunch and a rain jacket as it looked like it might rain.
I spent most of the day at the park doing the easy White Rim Overlook trail and stopping at several of the viewpoints after that. I wasn't prepared to do a longer hike into the canyon on this trip, but I wouldn't mind doing one in the future.
This couldn't have been a better ending to my national park adventure!!!! So happy I saved Canyonlands for last!
I was planning to hang out at Moab for the week, but I decided to head back a little earlier than planned, especially as the weather seemed a bit rainy the next few days.
Tip: If you plan to camp in the area, the campgrounds at Arches and Canyonlands are always full, but try the nearby Dead Horse Point State Park camp site as an alternate option. It was fully booked on this trip by the time I decided to visit Moab, otherwise I would've loved to stay there again. The setting was stunning, especially at sunset!
Day Fifteen – Seventeen: Monday – Wednesday 
Activity: Drive Days
Drove back at a leisurely pace, working at the hotel during the day and driving in the afternoons. Having Hilton Gold status as a benefit through my American Express card, I was able to get late checkouts to catch up on work and have a little downtime. 
Not much to report on the drive back, but I couldn't wait to get back as I was absolutely exhausted!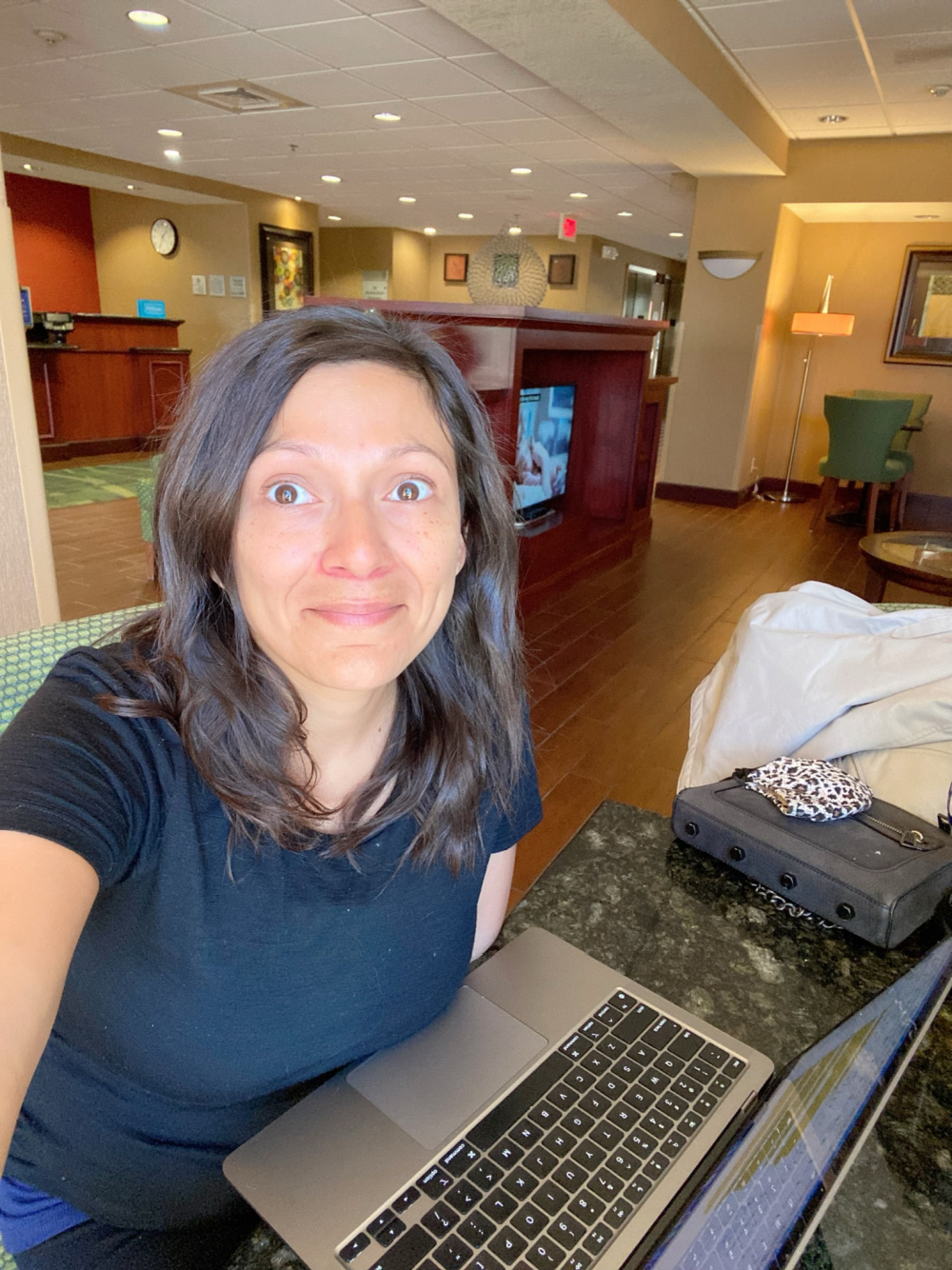 An unexpected surprise in Hays!
On a random note, I found out that the hotel I stayed at in Hays, KS was haunted. The scariest part is that I actually experienced the ghost for myself. Crazy I know!
This morning, I commented to my travel buddy that even though it sounded weird but I oddly thought there had been a ghost in my room the night before. They laughed at me but I swore I heard footsteps in the room before I went to bed. Secret: I've always been scared of the dark so I put myself to sleep with the thought that I hadn't heard the door open and I had closed the latch securely before getting in bed just to be certain. 
I fell asleep and forgot about the brief incident until I checked out in the morning. Before leaving and at the risk of sounding absolutely ridiculous, I embarrassingly asked the hotel manager, "I have a random question but is this hotel haunted?" Without any hesitation at all, he firmly answered with an instant and clear, "YES". 
He had said this in such a matter-of-fact manner that I thought he was for sure joking with me and I asked him repeatedly if he was messing with me. He continued to say yes, that it was haunted and that people had different experiences here, he'd seen something himself, and even the hotel staff had their own stories. 
I felt like there was a wooden board attached to my neck as I sat in the hotel lobby working on my laptop instilled with a mix of shock and a sedated sense of fear.
He asked another hotel worker about his experience and he just laughed mentioning doors opening and slamming shut and that's when I stopped listening. I didn't want to hear any more. I couldn't stop laughing nervously at this random occurrence at the end of my trip.
I've always been intrigued by ghost stories but never in my life would I have purposely stayed in a haunted hotel. As I continue to sit here in shock at the hotel lobby writing about this experience, all I could say is thank you Hampton Inn Hays for the most unexpected experience of this trip! 
Had an overnight stop at the Kansas City Blue Springs Hampton Inn and a delicious dinner at Joe's Kansas City Bar-Be-Que. Soooo yummy!!!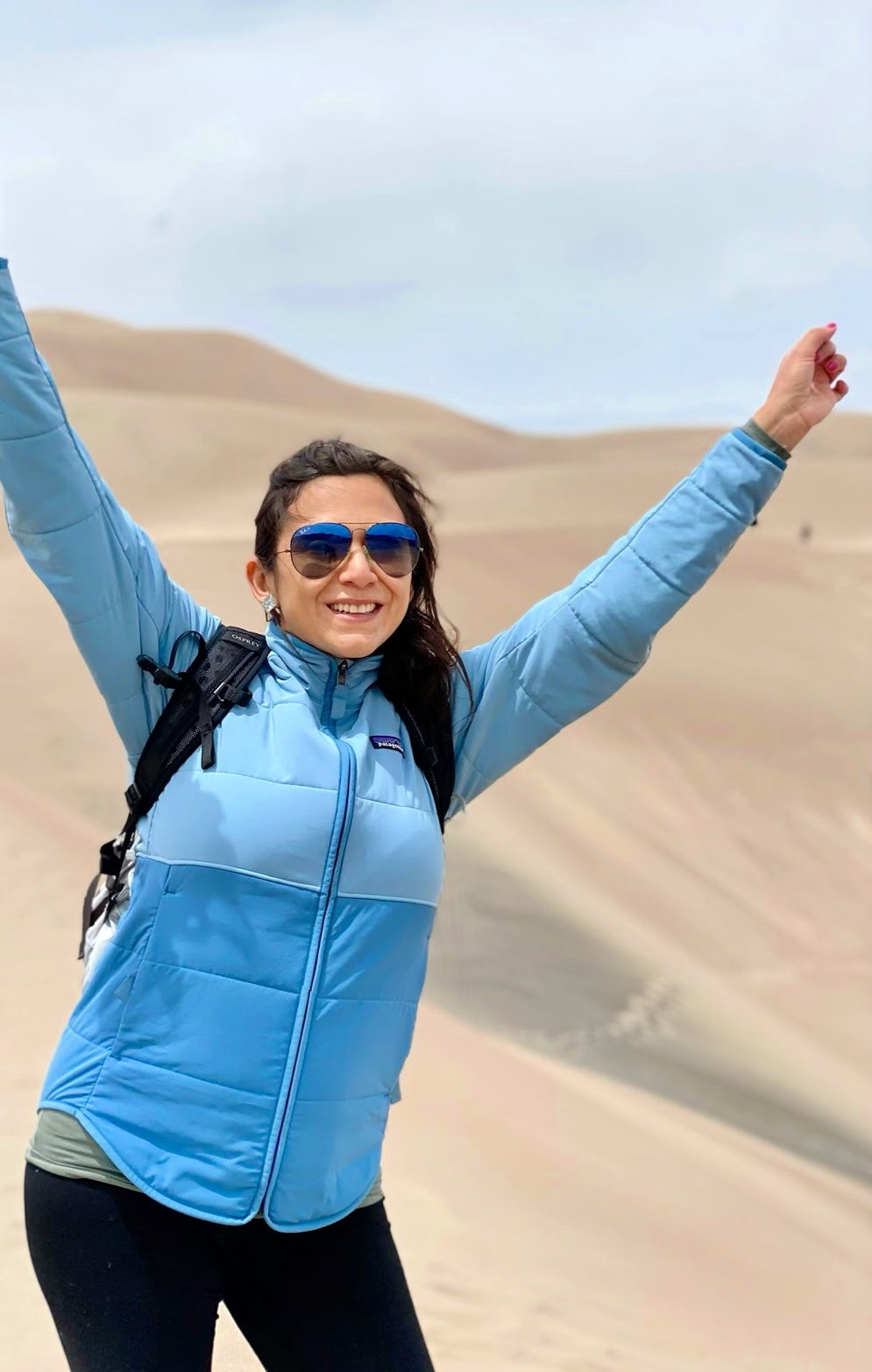 Feeling joyous in my Patagonia Fleece, Zella Leggings, and Ray Ban Sunglasses
My Final Thoughts
Many people prefer to travel slower and recommend only visiting one or two destinations per trip, but this all depends on your personal preferences. I prefer to sample various locations and stay longer in the ones I like or plan a second trip to revisit destinations. 
Also, my trip was fast but it suited my abilities as I was only capable of hiking a maximum of 2-3 hours per day. 
Averaging one park per day, this was a fast-paced trip and I wish I could've skipped LA to focus all of my time at the National Parks. However, visiting friends and family in LA wasn't something I wanted to miss. 
Originally, I was planning to spend more time in Bryce and Capitol Reef (camping 2-3 days in each location) and I wasn't planning to go to the Moab area at all but the weather changed these plans. I lost a couple of days by going to Vegas but then extended my trip to revisit Arches and Canyonlands, which I'd previously been to. 
That's the beauty of having a flexible schedule. You can adjust the pace of a trip to move faster or slower and update destinations as you see fit. 
Because I wasn't doing long hikes, driving in the morning then hiking in the afternoon worked out well. The parks seemed less crowded in the afternoons which was a big plus. Because of the fast pace, the only thing I'd change is that instead of camping and glamping, I would've planned to treat myself to a nice hotel or resort at the end of each day in order to rest and decompress at the end of the tiring day.
As I get a bit older, those creature comforts become way more appealing than my long-term travels when roughing it nightly for years was not an issue at all. What can I say? Maybe my hostel days are over but I can now experience and appreciate a cushy hotel bed.
Note: if the trip was slower and I was visiting less parks, camping would've been perfect! 
---
What are your favorite national parks in the US? Share in the comments!
---
If you want more help with camping or hiking ideas, please read: 
---
LIKE THIS POST? PIN THIS PIC TO SAVE IT!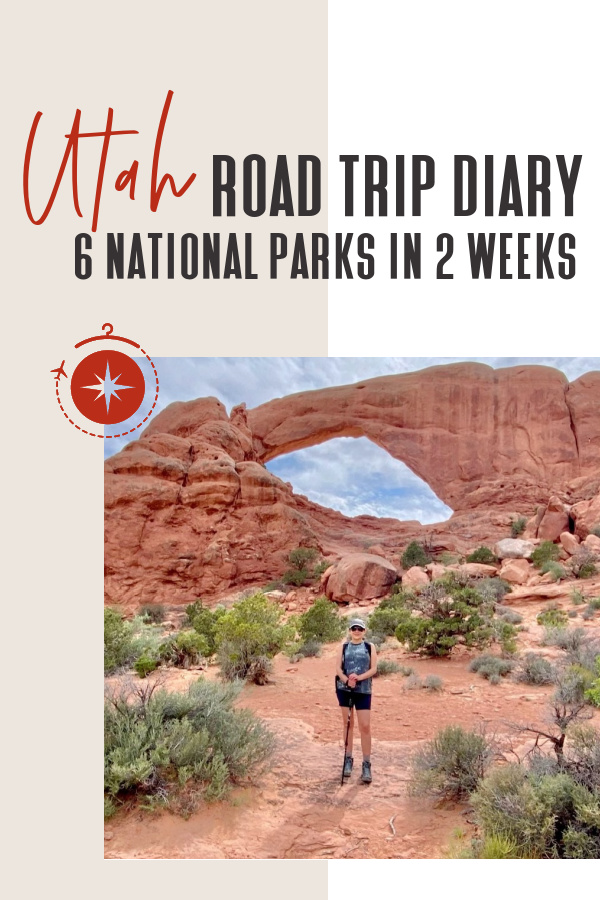 ---
We hope you liked this post on my 2-week Utah road trip
.
Please share with your friends on Facebook, Twitter, and Pinterest. Thanks for reading!
---