Support TFG by using the links in our articles to shop. We receive a small commission (at no extra cost to you) so we can continue to create helpful free content. Thank you, we appreciate it!
An overnight hiking and camping trip to a remote destination with lakes, rivers, ponds or beaches just screams summer travels. Some of the best national parks with a waterfront are just waiting to be explored.
Hiking trails, star gazing and swimming are on the list for this summer camping essentials checklist!
---
Summer Camping Essentials Checklist
Written By: Nina Thomas
---
Adventure is waiting so being prepared for a summer camping expedition is key to having a fun and enjoyable time. We'll be preparing for hot weather, swimming, mosquitos, sweat and sunburns.
For one or two nights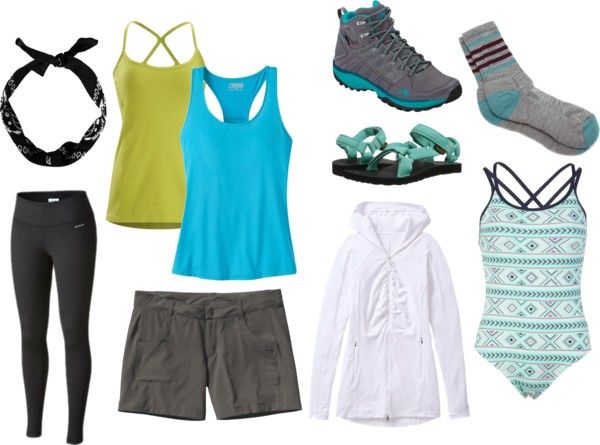 Tank / Tank / Jacket  / Swimsuit / Leggings / Short / Sandals / Shoes / Socks / Bandana
For clothing in your summer camping essentials checklist, you'll only need:
one pair of shorts
a pair of athletic pants
two tank tops
If you're hiking in the mornings when it's chillier, or for sleeping, you'll want a pair of pants. Camping by the water means a lot of mosquitos, so you'll want to have your legs covered as well as your arms.
Versatility is key to a capsule wardrobe. Learn more in my guide!
A jacket with a hood that can be worn if it rains, or at night when it's chillier is preferable. You won't need to bring a rain jacket if you have a hood because you're not as concerned about getting hypothermia with the summer heat!
You'll want a pair of hiking shoes and merino wool socks (which are moisture wicking). A pair of sandals with an ankle strap are good for swimming in lakes, ponds and rivers. You'll want some that can dry quickly and can be worn around at night to give your feet a break from the sweaty hiking boots.
Take a look at how to choose the best hiking boots!
A bandana can be used for many things when camping, including a sweat band, headband or neck-scarf. I always bring more than one and use one as a pee rag. Sounds gross, but is actually sterile, and works great for leave-no- trace campsites where you're required to pack everything out with you; saves you a lot of hassle to help you avoid carrying out all your toilet paper.
Use packing cubes to help you organize and even compress your belongings when out camping to maximize your space.
Camping Essentials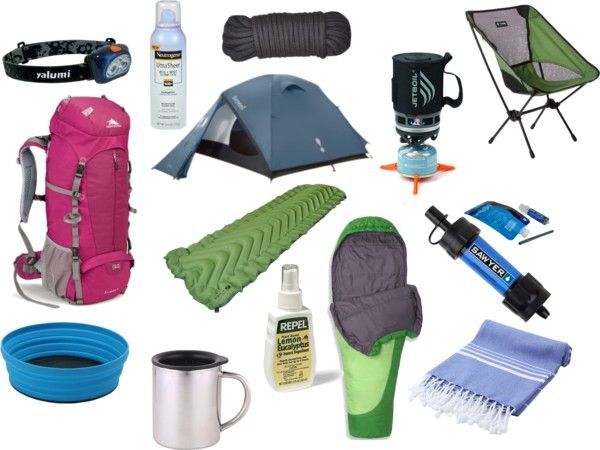 Headlamp / Camp Chair / Rope / Cooking System / Tent / High Sierra Explorer / Sleeping Pad / Sleeping Bag / Water Filtration / Towel / Bug Spray / Bowl /  Sunblock / Camp Cup
The obvious items that should be on your summer camping essentials checklist are:
sleeping bag
sleeping pad
tent
backpack
stove
fuel
needed cooking utensils
It's a common misconception that sleeping pads are unneeded because they're just for comfort. I've heard people say they can just rough it without one!
However, you're not just bringing them for comfort. Sleeping pads actually provide much needed insulation and protection from the ground that your sleeping bag won't completely cover. Always bring a sleeping pad!
Find out additional uses for sleeping bag liners while you travel!
Other items to bring if you'll be by water are a towel, chair and bug spray. You'll want sunscreen and bug spray no matter where you're going in the summer for obvious reasons, but it's especially true for a water destination camping trip.
For lakes, ponds and rivers, you can bring a water filter and get clean water right there. If you're by a beach with salt water, you may be required to pack all the water you'll need, in which case, packing a few water storage containers with a spout will be handy.
Bringing a rope will be useful as you can hang your bathing suit and towel to dry, and put your food in a high location. (Unless you wanted to share your breakfast with the rodents!)
I would recommend bringing a pair of binoculars for the evening stargazing. Some of the best views you'll see of the night are on a summer camping trip.
Camping in Autumn? Read this camping essentials checklist for fall!
---
What's on your summer camping essentials checklist? Please share in the comments below!
---
For more camping and hiking tips, please read:
---
---
Hope you liked our overnight summer camping essentials checklist. Please share with your friends on Facebook, Twitter and Pinterest. Thanks for reading!
---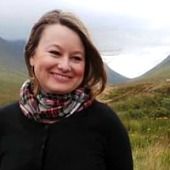 Author Bio: A travel lover and freelance writer from the United States Midwest. Traveling mostly as a couple with her husband, she is constantly looking for a beautiful view and a good adventure. For more practical travel tips and ideas from a Central Ohio Girl, check out her website: travelingwithnina.com or follow her on Twitter.
---