Support TFG by using the links in our articles to shop. We receive a small commission (at no extra cost to you) so we can continue to create helpful free content. As an Amazon Associate, we earn from qualifying purchases made on Amazon in addition to other retailers featured on the blog. Thank you, we appreciate your support!
If you are interested in outdoor activities or sports when you travel this season, you will usually find yourself in search of the best winter jackets. Even more important than the jacket itself is knowing exactly how to wear them to keep you warm. Keep reading to learn about layering for cold weather and some of our favorite jackets for travel!
---
Best Winter Jackets
Written By: Niki Landry
---
While shopping for outerwear you will quickly notice that prices are high and with so many options it can be hard to narrow down one perfect jacket. Most of these winter jackets are an investment, and something you will keep and wear for a longtime to come.
If you only need it for one trip, try and borrow from a friend or find a suitable less expensive alternative. It may not be a perfect fit or the most durable material, but it beats spending a fortune on something you will only wear once. You also can explore more on what winter clothing to choose by watching the video below.
This video can help you plan a packable winter wardrobe!
Keep in mind, though, that for extreme cold weather travel – your health shouldn't be negotiable!
The following outerwear is for travelers who find themselves constantly on the hunt for the best winter jackets to accommodate their outdoor trips. They need high performance, great quality, and style – and to achieve the trifecta of performance jackets you may need to spend a little more to get exactly what you want.
That being said, I like to find a style that suits my needs and then locate the best possible price for the jacket. I have never paid full price, and I only show the styles below as a starting point for your search.
Regularly check eBay and discount stores, buy out of season, take advantage of after-Thanksgiving sales or choose discontinued colors to save money. The video below might also help you figure out what to buy to better prepare for winter travel. 
Get started on organizing for winter travel with this video!  
Start by reading these posts to learn more about packing for cold weather:
Here are four examples of the best winter jackets for women that travel and four essential steps for layering for cold weather!
Columbia Pardon My Trench Rain Jacket

Rain Jacket
I use my raincoat constantly while I'm traveling. It is one thing that always gets packed no matter where I going. It's not just for rain, it makes a great outer shell for my base and mid layers of clothing and helps to block the wind.
Columbia Pardon My Trench Rain Jacket is a popular style and I own it in light gray. It is surprisingly easy to keep clean and washes well after each trip. I also like this contemporary pullover style that feels a little less technical and more fashionable.
When layering for cold weather, it's important that the outer layer is water-resistant or waterproof in order to keep you warm. If rain seeps through your jacket then the rest of your clothing will get wet and that's not good!
Take a look at the most popular rain jackets for women!
Patagonia Nano Puff Insulated Jacket
Insulated Jacket
If you are heading to cooler temps and need a jacket to keep you warm and toasty then an insulated jacket is essential when layering for cold weather. Light but warm these synthetic jackets are great for a range of outdoor activities and many pack down easily for transport.
I particularly like Patagonia's Nano Puff style for its versatility. I can throw it on early in the day and even when the sun comes out in full force I usually don't need to remove it. It's my go to piece if the weather is especially unpredictable. Another popular style is the Nano-Air jacket; I've read reviews that it's breathability, warmth, and softness is a great choice for hikers and climbers.
Here are the best down jacket for travel!
Nike Sportswear Tech Fleece Cape Jacket
Tech Fleece Jacket
Although I have yet to try one myself, I have these Nike technical fleece jackets on my radar. Much more streamlined than your typical fleece coat, they are a stylish alternative for travel. They have a range of styles from basic hoody to super trendy.
The tech cape above is right up my alley, but I'm not sure how it would hold up to actual athletic use. Although, it would be perfect jacket for your casual everyday outfits. The Windrunner seems like a better choice for any sporty adventures. These lightweight winter jackets would be great for any activity where you need a little warmth and a lot of mobility.
When layering for cold weather, you may only need either a down jacket or a fleece but when it's very cold having both will keep you toasty!
For more traditional options, take a look at these fleece travel jackets you voted for!
adidas Team Issue Fleece Pullover Hoodie
Running Jacket
Depending on your location and activities, you may only need to bring along a lightweight running or training jacket. A tight-fitting layer with sweat-wicking and quick-drying properties will keep you covered from the elements.
If you want to upgrade your protection go with a fleece lined or wind resistant style. Pullovers such as the Climawarm Sweatshirt are a simple choice that are easy to throw on and off as needed, and pack down very small.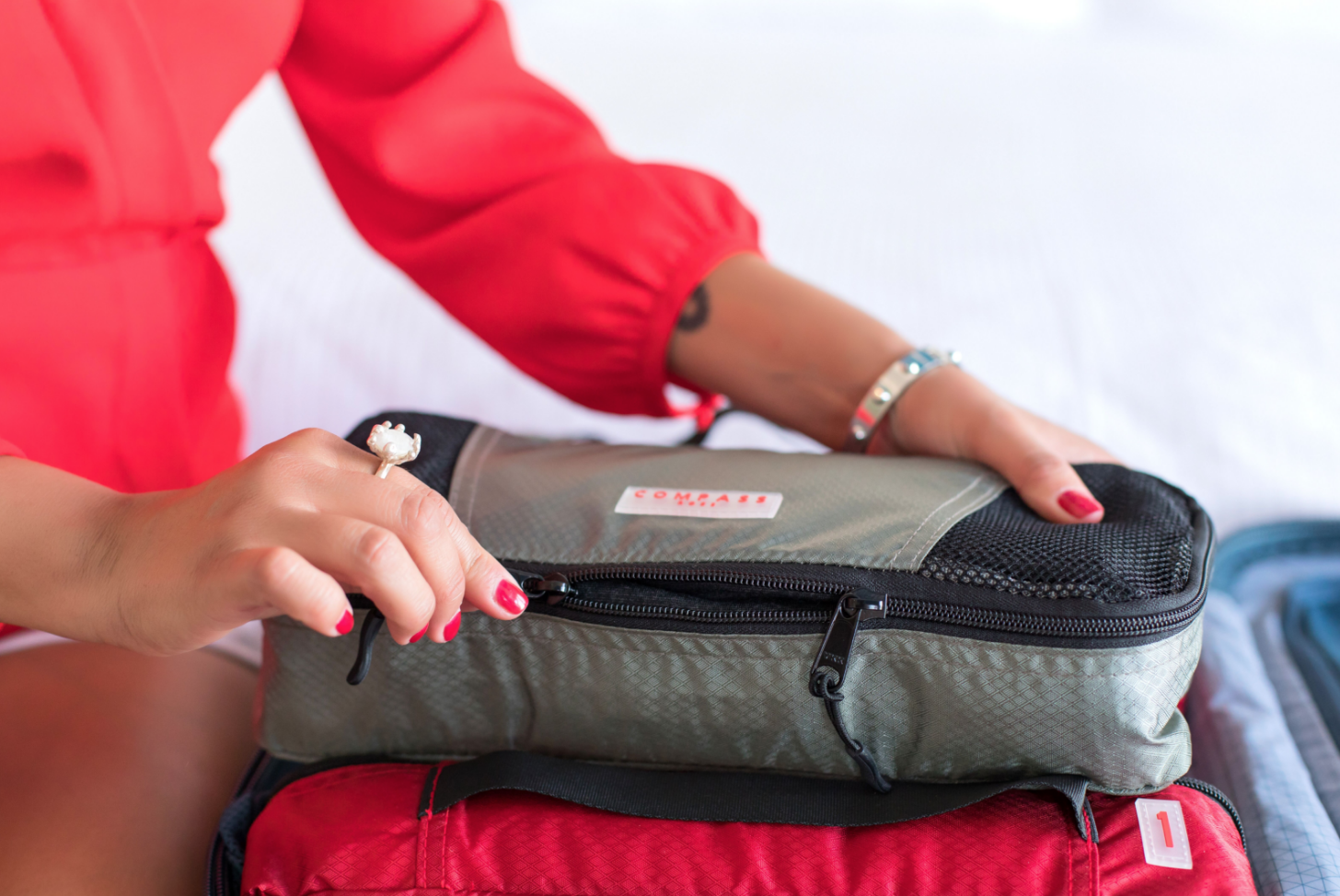 How to Pack Winter Jackets
Packing cubes can help organize all the layers you have in mind for winter travels. We designed our own brand of slim packing cubes, with a unique color and numbering system, so it's easy to remember where you've packed everything. See the video below for more.
Learn our packing hacks with packing cubes in the video!
We also put together a five-part YouTube series showing the different methods to use packing cubes for travel. If you use this specific packing strategy, packing cubes can also compress your belongings. This is the secret to traveling carry-on only!
---
Above are examples of some of the best winter jackets for non-specific outdoor activities while you are traveling. For example, if you are an avid skier or rock climber, you may need much more technical gear.
What are your tips on layering for cold weather? Please share in the comments below!
---
 For more cold weather travel tips, please read:
---
LIKED THIS POST? PIN THIS PIC TO SAVE IT!
---
Hope you liked this post on layering for cold weather and the best winter jackets for outdoor adventures. Please share with your friends on Facebook, Twitter and Pinterest. Thanks for reading!
---
Author Bio: Niki is an interior designer and artist from Louisiana. In addition to her design work, she writes for local and online publications sharing her experiences and passion for travel. Niki is currently adding stamps to her passport while building her design practice, Niki Landry Designs. nikilandry.com  nikilandrydesigns  niki-landry-designs-llc
---