Support TFG by using the links in our articles to shop. We receive a small commission (at no extra cost to you) so we can continue to create helpful free content. As an Amazon Associate, we earn from qualifying purchases made on Amazon in addition to other retailers featured on the blog. Thank you, we appreciate your support!
Wondering how to pack jewelry for your next trip? Our readers have all the tips you need and suggestions for the best travel jewelry cases in this ultimate jewelry packing list!
---
Jewelry Packing List
---
Table Of Contents
Travel Fashion Girl help! A reader asks:
One of my packing dilemmas (aside from shoes!) is selecting jewelry to travel with. What are your thoughts about necklaces vs. scarves, and what does your travel jewelry packing list look like?
Jewelry may be part of our daily lives at home, but it can be tricky when traveling. Because it's so small, jewelry is easy to lose, and there's nothing worse than tangled chains or missing earring backs. How to store jewelry safely for travel is important.
Many of us can't imagine an outfit complete without some sparkle. Particularly for those like us who prefer wearing neutral hues, jewelry spices up a "basic" outfit.
As one reader says, "I love a good necklace. I almost never wear prints, so I rely on jewelry to spice things up. I love scarves on other people, but I don't like them as well on me. I have several necklaces from Addison Weeks and Julie Vos that I usually throw in my bag whenever I travel."
Our readers share their opinions on traveling with necklaces and earrings, explain how they create their jewelry packing list, and pick their favorite travel jewelry case.
The Best Jewelry Organizers
To keep jewelry safe during travel, you'll want to organize each piece so they don't tangle or break. There are DIY tips for packing jewelry, but we (and many of our readers) prefer to use jewelry travel organizers that are made for keeping delicate pieces secure and untangled.
Here are just a few of the best travel jewelry organizers to use for your necklaces, bracelets, and earrings.
Best Jewelry Organizer: No Knot Travel Organizer
For a lightweight option that won't take up space in your luggage, the No Knot Travel Jewelry Organizer is an ideal traveling jewelry pouch. If you need to know how to store necklaces without tangling, this zip travel jewelry case has the solution, with spaces for necklaces, as well as earrings and rings. 
One reader says, "This is a product that I can't believe took so long to invent. I have spent untold hours over the years working to unknot my necklaces while traveling. My No Knot Necklace Carrier is so simple and easy to use. It also is perfect for earrings and other items of jewelry." 
According to TFG readers, these are the best travel jewelry cases to keep your belongs save and secure during your trip!
Wodison Travel Velvet Jewelry Roll
Best Jewelry Roll: Wodison Velvet Roll
Made of soft velvet, the Wodison travel jewelry roll is nice and smooth to the touch, offering great protection to all your pieces. This jewelry travel organizer features a 16-snap hanger, which how to keep necklaces from tangling.
One reader says it's "great to keep my special necklaces organized and safe! Love it!" Another adds, "I was looking for something to keep my necklaces from getting tangled. This works great!"
Learn to Pack Light Stylishly with my e-book!
Vlando Macaron Small Travel Jewelry Box
Best Travel Jewelry Box: Vlando Macaron Small Jewelry Box
If you prefer to travel light and only plan to bring a few pieces of jewelry, this Vlando Macaron jewelry box is the perfect fit. Although small, it's durable, so your jewelry won't get smashed or damaged. Pack a few earrings, rings, and necklaces, and you're set!
One reader says, "This is the perfect case to carry my special jewelry in for our trip. And, it's small enough to not load me down."
Learn how to choose the best luggage for travel abroad!
Ms. J Travel Jewelry Organizer
Best Travel Jewelry Case: Ms. J Travel Jewelry Organizer
Looking for a detachable pouch and earring panel that can be used separately or together? Try this one instead.
The Ms. J jewelry organizer can accommodate up to 4 necklaces, 16 pairs of studded earrings, and multiple rings and bangles.  The jewelry case provides plenty of storage space while traveling, whether for a short or long trip.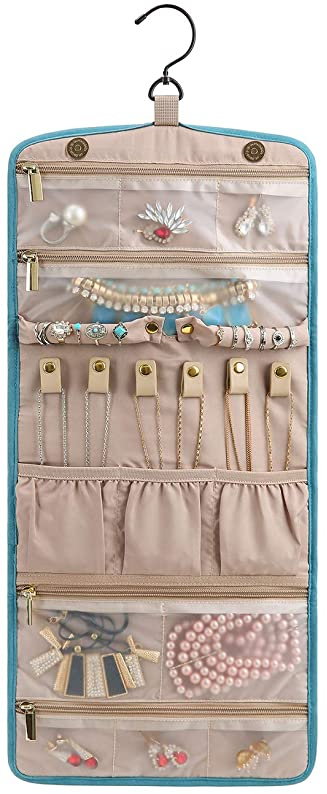 BAGSMART Hanging Travel Jewelry Organizer
Best Hanging Travel Jewelry Bag: Bagsmart Jewelry Organizer
This Bagsmart hanging jewelry roll has several different sized dividers to store each necklace to prevent them from tangling. The lightweight nylon hanging travel organizer is water resistant and durable, so it stores neatly in your luggage without losing its shape.
The flexible material allows more space to hold larger necklaces and bracelets. Hang this travel jewelry bag up in your hotel bathroom to easily access your pieces. This is one of our favorite options to pack necklaces — you can use it for various items, too!
A hanging toiletry bag will help keep you organized!
How does the weather affect travel jewelry packing?
Although your favorite pieces may be picked out before packing even begins, you might want to reevaluate those decisions before you start, based on the type of climate and weather you'll be experiencing. One reader says, "I always pack earrings, but I don't like necklaces when it is hot, so I may or may not bring them."
Read these tips on how to choose the best packing organizers!
What activities will affect travel jewelry choices?
Along with the weather, think about your trip's activities. Are you hiking up a mountain trail or cycling the world's curviest roads? Avoid metals that tarnish with moisture (sweat), such as gold and silver jewelry made with nickel, and instead stick to stainless steel jewelry – otherwise, they may lose their luster or turn your skin green!
You also may need jewelry pieces if you plan on going out. One reader says, "I like to have a couple of earrings and necklaces for night time to dress up your outfits, especially if you are traveling light."
Find out how to pack necklaces with these simple jewelry tips!
Create a Capsule Jewelry Wardrobe
You don't need endless options to spice up your wardrobe when you figure out how to travel with jewelry. A few key jewelry pieces can be used interchangeably, just like a good capsule wardrobe! One reader says, "I keep a pair of studs, a pair of dangles, maybe a ring and a bracelet."
Another adds, "I take one long silver chain and then two to four (depending on the length of my trip) different pendants. One necklace offers various looks without taking up a lot of space. I also typically take three pair of earrings, including the studs I wear on the plane."
One reader has a great tip if you're a fan of jewelry. She says, "I'm a jewelry girl. I can't seem to make scarves work for me. But I've learned to pare down on jewelry, too. Usually I only need one silver pair and one gold pair of earrings. I also take silver or mixed metal bracelets. I like to wear one on each wrist, plus a watch that goes with it all. Lastly, I have two necklaces that work with all my tops. Depending upon where we are going, I might swap out my good rings for fabulous fakes."
Learn how to use a capsule wardrobe so you can easily decide what to wear every day!
Silver Cuff Bracelet, Necklace, and Earrings Set
Stick to the Basics for Travel Jewelry
Even if you are big into jewelry, you may want to keep your collection lighter when you're traveling and rely on a few classic pieces. One reader says, "I used to bring lots of options, but I often don't actually wear them. I generally wear my watch, a pair of earrings that will go with everything, and a couple of bracelets."
Another adds, "I take very little jewelry with me, as I like to pick up these things on my travels!" And a third says, "The more I travel, the less jewelry I bring."
Stick to the basics by creating a travel capsule wardrobe for your clothing, too!
Leave Valuable Jewelry at Home
Most readers recommend leaving behind any expensive or valuable jewelry, just in case it gets lost, broken, or stolen. One reader says, "I don't want to risk the good stuff being lost or stolen, so I take a few simple gold chains and rings."
Another reader says, "I take fun inexpensive costume jewelry to jazz up my ensembles," while another adds, "I never bring expensive jewelry. I'll never forget the poor girl who was on her honeymoon in Mexico who went swimming and lost her diamond ring in the pool. She was devastated. I never bring anything I can't live without."
Learn how to stay safe while traveling with these anti-theft accessories!
---
What jewelry do you take when you travel, and how do you pack it? Share your ideas in the comments!
---
For more jewelry packing tips, please read:
---
LIKED THIS POST? PIN THIS PIC TO SAVE IT!
---
I hope you liked this post on the ultimate jewelry packing list. Please share with your friends on Facebook, Twitter, and Pinterest. Thanks for reading!
---