Support TFG by using the links in our articles to shop. We receive a small commission (at no extra cost to you) so we can continue to create helpful free content. As an Amazon Associate, we earn from qualifying purchases made on Amazon in addition to other retailers featured on the blog. Thank you, we appreciate your support!
Several readers have previously asked me how to travel with jewelry when you go abroad. Read on to learn several tips to consider when traveling with jewelry.
Scroll down to win a pair of luxury earrings from Toby Pomeroy!
---
How to Travel with Jewelry – 3 Things to Consider
---
Destination
One of the main things to consider when planning how to travel with jewelry is your destination. Have you researched the safety warnings for the city or country in which you'll be traveling?
Some destinations are notorious for pickpockets and theft. Madrid, for example, has a reputation for high reports of theft. "Google" your destination and review the government safety warnings prior to traveling.
Accomodation
The type of accommodation in which you'll be staying is also a factor when considering how to travel with jewelry. Are you staying at 5 star hotels, vacation rentals, or hostels?
Determine if your accommodation has a safe or lockers where you can safely store your valuables. Please read How to keep your Passport Safe for additional tips.
Activities
As with planning your capsule travel wardrobe, considering your planned activities is one of the major influencers in how and what you pack. Are your travels based on sightseeing, action sports, or other leisurely experiences?
While your jewelry may remain safely on your body while visiting the Eiffel Tower, it may be more at risk with an activity such as scuba diving in Thailand. Review your travel itinerary to help you decide if traveling with jewelry is a do or don't.
 Additional Tips for Traveling with Jewelry
If you have a valuable or ornate ring, you may want to turn it over in certain destinations so it looks like a wedding band drawing less attention to you. As legendary solo female traveler Evelyn Hannon recommends: travel to see not be seen.
An alternative place to wear a valuable memento is on a necklace chain. Keep it close to you but hidden
In certain destinations such as India, solo female travelers are encouraged to wear a wedding band to discourage unwanted suitors. Whether costume if your single or real if you're married, plan to pack a wedding band if traveling alone.
If you decide to leave your jewelry at home, bring along costume jewelry instead. Even one set of jewelry can transform a basic outfit from boring to fashionista.
If you decide on traveling with jewelry, consider using protective casing during transport and never place it in checked luggage. Always wear it or place it in your carry-on.
Consider purchasing insurance for fine jewelry such as Perfect Circle Jewelry Insurance. They offer worldwide protection, which includes repair for damage or replacements. Their coverage includes loss, theft, damage or mysterious disappearance.  I priced out an item with a $1000 value and got an estimate of only $25 a year for coverage. This is way more affordable than I ever imagined and a small price to pay for the safety of a priceless item – a new engagement ring for example (hint-hint).
Keep reading to learn more about their #TreasureTheVacation giveaway and find out how to travel with jewelry and peace of mind!
As a fun gift for you, Perfect Circle Jewelry Insurance by Jewelers Mutual is inviting you to #TreasureTheVacation and is hosting a special giveaway. Enter now for your chance to win a gorgeous set of silver hoop earrings by Toby Pomeroy – selling fair-trade luxury jewelry sourced from global destinations. So lust-worthy and eco-chic!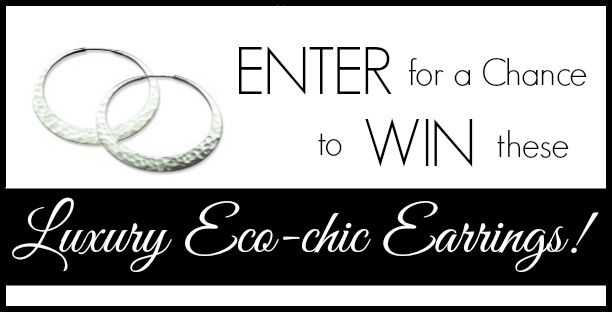 Giveaway Rules:
Contest is valid for US residents age 18 and over starting at 12:01 am July 9th, 2014 and ending at 11:59pm July 20th, 2014. One winner will be selected at random using Rafflecopter. The prize is one pair of silver hoop "Eclipse" earrings from Toby Pomeroy.The winner must claim their prize within 30 days. If prize is unclaimed by August 19th, 2014 at 11:59pm, they forfeit their prize and another winner will be chosen.
Jewelry Organizer
---

---
What are your tips when traveling with jewelry?
---
 I hope you enjoyed this post on how to travel with jewelry. Please share it with your friends on Facebook, Twitter, or Pinterest. Thanks for reading!
---
 Perfect Circle Jewelry Insurance by Jewelers Mutual sponsored this giveaway and the post "How to Travel with Jewelry".
---