Support TFG by using the links in our articles to shop. We receive a small commission (at no extra cost to you) so we can continue to create helpful free content. As an Amazon Associate, we earn from qualifying purchases made on Amazon in addition to other retailers featured on the blog. Thank you, we appreciate your support!
Don't let the fear of pickpockets in Europe stop you from having a blast at your dream destination. With these tools and some preparation and vigilance, you'll be sure to have a memorable and safe time!
---
Pickpockets in Europe: How to Stay Safe
---
Table Of Contents
Travel Fashion Help! A reader asks:
I haven't traveled to Europe in ages, and my husband and I just booked a trip to London and Paris. I'm trying to be sensible about what I bring; I'm reading a ton about keeping valuables close, but also to buy bags that are slashproof to keep it safe from pickpockets in Europe. Do you have any safety advice for traveling to avoid pickpockets in London and Paris?
If you have never visited London or Paris before or thought about safety in Italy, then you might find yourself overwhelmed with the crowded streets and busy metro lines.
As with many major cities, the most common problem for tourists (or locals) is theft. In fact, pickpocketing in Europe is at an all-time high, with cities in Spain topping the list. Besides making sure you're always aware of your surroundings, you also can take certain packing precautions when traveling Europe or other parts of the world.
We asked TFG readers for their top tips on how they keep their valuables safe from pickpockets in Europe. This is what they came up with.
Traveling to London, Ireland, Italy or Paris? Be sure to read my e-books to learn everything about travel to these top destinations!
Pickpocket Proof Bag: Anti-Theft Purse
As you sightsee and travel in Europe, you will need to carry cash and credit cards, your phone, maybe a camera, too. One of our favorite ways to combat pickpocketing in Europe is with an anti theft purse.
These bags come in different shapes, sizes, and styles, so you are sure to find the perfect one for you!
Travelon Anti Theft Classic Messenger Bag
Best Pickpocket Proof Bag: Travelon
Travelon makes TFG's favorite anti pickpocket bags, and we love this classic messenger bag. When it comes to finding the perfect pickpocket proof bags, you're going to want to with a trusted designer like Travelon.
The Travelon Anti-Theft Classic Messenger Bag has all the components of what you're looking for in a purse if you're worried about pickpockets in Europe: it's a cross-body bag that's slashproof, has locking compartments, and RFID-blocking card and passport slots.
Best of all, it looks like your average purse, meaning it doesn't stand out!
Looking for the perfect anti theft bag for you? Take a look at our round-up of the best anti-theft travel bags for women!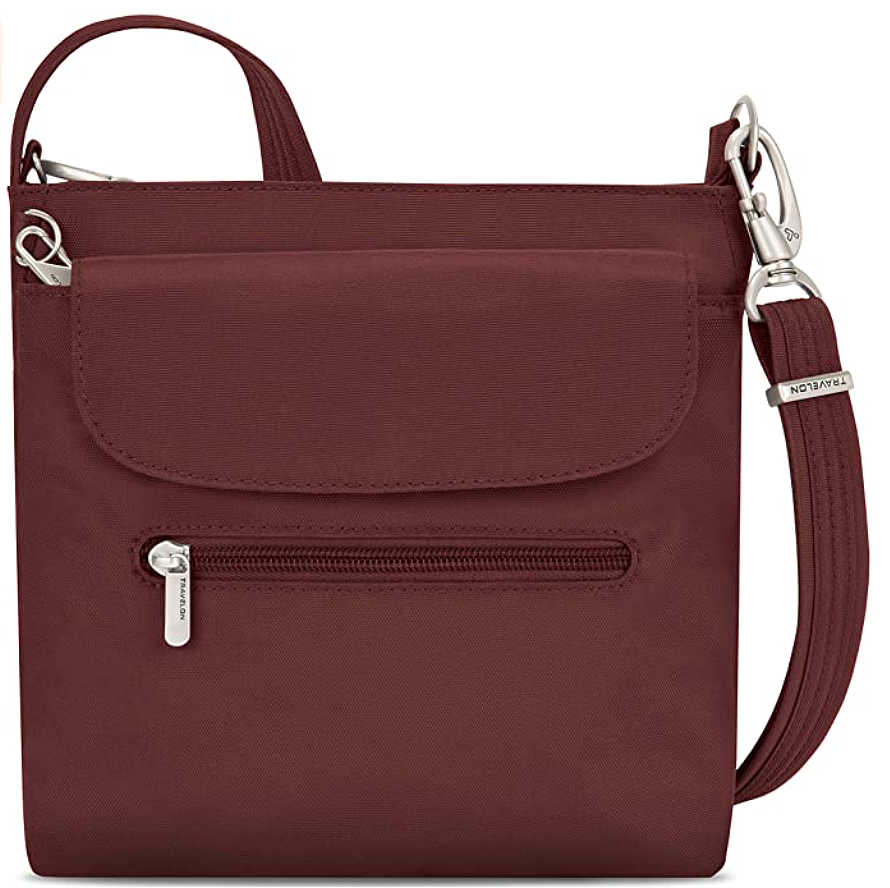 Travelon Anti Theft Classic Mini Shoulder Bag
Why are Crossbody Bags Great For Anti Theft?
Crossbody bags are one of the best ways to prevent pickpocketing because they allow you to keep an eye on your valuables. If you wear a crossbody purse, keep it in front of you at all times when you're out and about. That way, you'll be able to see your valuables, no matter where you are!
The Travelon Classic Mini is another great bag for when you're looking for how to prevent pickpockets in Europe. Its convertible strap means that it can be either a crossbody or a shoulder bag, plus the strap can be attached to a post or a chair!
Follow these tips if you are pickpocketed while traveling!
Travelon Anti Theft Cross Body Bag
If you're walking along the side of a road with your pickpocket proof bag, make sure you've placed the purse on the other side of your body — away from traffic. Having your bag on the opposite side of the road can help prevent roadside thefts.
If you're not a huge fan of the synthetic bags built by Travelon, you could instead go with a leather crossbody bag. It will help you to both protect your valuables and look stylish!
Read more about why female travelers love cross body purses for travel!
Travelon Anti Theft Signature 3 Compartment Crossbody
How to Prevent Pickpockets: Use a Slash-Proof Bag
If you're in a popular tourist area, chances are it will be crowded. This makes it an ideal hunting ground for pickpockets!
One of the ways pickpockets in Europe do their best work is by slashing or cutting a bag open. If you're surrounded by a large group of people, this can be done quickly and without immediate notice. And by the time you do notice, your belongings are long gone!
Enter slash-proof bags!
Read my review of the Travelon crossbody bag!
Pacsafe Metrosafe LS250 Anti-Theft Shoulder Bag
Slash-proof bags come in various shapes and sizes, whether you're looking for a shoulder bag, messenger bag, backpack, or crossbody bag. And they add a layer of security, to ease your mind when traveling through Europe.
The straps of slash-proof bags often have mesh metal built into them. Plus, most come with RFID blocking pockets that help prevent pickpockets from scanning your passport or credit cards!
Don't carry your passport with you when sightseeing! Lock it in your accommodation!
Travelon Anti-theft Purse Backpack
Choosing a slash-proof and sturdy material is one of the best ways to protect your belongings.
In addition to the Travelon anti-theft purses that have great feminine styles, TFG readers recommend PacSafe slash-proof bags because they last years!
Or, if you're more inclined to use a travel backpack, Travelon also makes a pickpocket proof backpack.
Read my review of a packable Travelon backpack!
How to Carry Cash in Europe
Getting yourself the right purse isn't the only precaution that you can take to prevent pickpocketing in Europe. You also can get an anti pickpocket wallet!
Compass Rose RFID Secret Bra Wallet
Hide Your Cash with a Secret Bra Wallet
Our most recommended alternative to a money belt is a secret bra wallet, which is the perfect anti theft device to keep your valuables safe. A secret bra stash attaches to your bra to keep small personal items safe, such as extra money, credit cards, or a hotel key.
When you go to the ATM machine, store the majority of your money in the secret wallet and place only the amount of money you'll need for the day in your regular wallet.
Travel Neck Pouch with RFID Blocking
Prevent Pickpockets with a Neck Wallet
For those days when you're actively traveling (like those days spent on flights or trains) and need to carry all of your valuables, keep everything under your clothes using a neck wallet.
Neck pouches or neck wallets are perfect to hold your passport, credit cards, and cash. And if you're out-and-about taking in more touristy sights, this anti-theft device can help you keep things away from pickpockets in Paris, London, Rome, or Barcelona.
TFG has a great roundup of our favorite neck wallets, plus some tips and tricks for the most effective ways to use them!
Travelon RFID Blocking Double Zip Wallet
Traditional Anti Pickpocketing Wallet
While a neck wallet is a great anti-theft device, it won't give you easy access to your items. Instead, you can keep a small amount of cash in a wrist wallet.
With a wrist wallet, you won't have to pull out your neck wallet in public areas. You should never access any of your under-clothing anti-theft products in public, or in front of anyone. Pulling it out means alerting pickpockets to the fact that it's there, which defeats the purpose of hiding your valuables under your clothing!
Watch this video to learn 10 anti-theft travel tips!
Clever Travel Companion Tank Top
Other Anti Theft Products
Beyond purses and wallets, there are a few other great anti theft products that can help you keep your money and other valuables safe while you're abroad (or even at home)!
A money belt is essentially a smaller, more secret fanny pack that you hide in front of your body under your shirt. It can hold your money, credit cards, and even your phone!
A travel underwear is perfect for avoiding pickpockets in Europe. These clever anti theft devices have secret pockets hidden all over for cards, money, hotel keys, and other valuables.
A pocketed scarf is exactly what it sounds like: a scarf with secret pockets in it to hide some of your favorite things that you keep with you during your travels (like your phone).
Or you can go with a tank top with secret pocket. Granted, there's a zipper where the pocket opens, so it's not exactly a "secret," but it's still a great way to avoid pickpocketing.
If you're looking for clothing designed to protect your belongings, our readers share their recommendations for concealed pocket clothing!
Lock Your Luggage
If you are in a busy area and want to be cautious (like perhaps an airport or a touristy area), you can take the extra step of securing the zipper of your bag with a small padlock. Try to find something small and subtle. Having an obvious padlock on your backpack or bag could serve to make you more of a target!
A luggage padlock doesn't guarantee that your luggage won't be broken into. But it does help prevent opportunistic theft. Here at TFG, we recommend that you only buy a suitcase that has lockable zippers or a built-in locking system.
Please read my top ten tried and tested anti-theft travel tips for more information on how to properly use these items!
Watch this video for more tips on how to keep your stuff safe while traveling.
More Important Information to Prevent Pickpockets in Europe
Best Way to Avoid Pickpockets: Leave Valuables
No valuables, no problem! You can keep your stuff safe from pickpockets in Europe by not taking valuables with you while you travel! Some TFG readers even opt to leave their engagement or wedding rings at home for fear of losing them, forgetting them in their hotel room, or simply not wanting to attract any unwanted attention with their bling.
If there are valuables you simply cannot part with, leave them at home or at least leave them at the hotel room when you're out sightseeing. Keep your valuables and passport locked away in the hotel. Make sure to leave at the very least one ATM card in the safe with your passport, so in a worst-case scenario, you still have access to your ID and money. Unfortunately, it does happen.
TFG highly recommends that you split up your cash and cards. The cash you need for the day should go inside your purse (preferably a pickpocket proof bag). Then stash additional "emergency" cash and credit cards in anti-theft items such as the bra stash. Everything else (including your passport) should stay safely tucked away inside your hotel safe or locked suitcase.
Hotel Safe Tip: Check your hotel safe as soon as you get into your room. If you have any issues with it throughout your trip, tell the hotel immediately.
Look Like a Local: Try Not to Stand Out
While locals aren't immune from pickpockets in Europe, thieves do tend to target tourists more often. You can avoid unwanted attention by steering away from overly touristy places. Plus, you'll want to make sure your anti theft devices aren't obviously anti theft, because locals wouldn't carry an "anti-theft bag." Carrying a normal looking purse will help you blend in.
Also, most locals probably wouldn't walk around with an outdoor backpack in the middle of the city. We love using backpacks to explore cities but choose a cute purse backpack that offers the convenience of a traditional backpack without making you stand out like a sore thumb.
Learn to Pack Light Stylishly with my e-book!
Be Vigilant to Avoid Pickpockets
Ensure you're extra vigilant on the metro and while walking on crowded, tourist-packed streets. No matter how distracted you get, do not lose sight of your belongings!
Refer to our packing lists so you can bring the right clothes and dress appropriately for the city style, weather, and your activities!
Travelon Anti-Theft Waist Pack
Are Fanny Packs Safe in Europe?
At TFG, we highly recommend a money belt over a fanny pack because they are smaller and built to be hidden. But fanny packs (or waist packs) can also help prevent pickpockets in Europe.
If you want a hands-free option for your travels and go with a fanny pack, make sure you wear the back in front of you. Wearing it behind you will make it easier for pickpockets. Travelon makes an anti theft fanny pack that is slash proof and has locking pockets.
What Destinations Should I Bring My Anti Theft Bag To?
While we know there tend to be issued with pickpockets in Europe, you should really make sure you have anti pickpocket devices with you on all of your travels. It's better to be safe than sorry!
---
Do you have any tips on how to avoid pickpockets in Europe? Please share in the comments!
---
For more Europe-related articles, please read:
---
LIKED THIS POST? PIN THIS PIC TO SAVE IT!
---
I hope you liked this post on avoiding pickpockets in Europe. Please share with your friends on Facebook, Twitter, and Pinterest. Thanks for reading!
---