Support TFG by using the links in our articles to shop. We receive a small commission (at no extra cost to you) so we can continue to create helpful free content. As an Amazon Associate, we earn from qualifying purchases made on Amazon in addition to other retailers featured on the blog. Thank you, we appreciate your support!
Arizona is a state full of beautiful and unexpected sites. I experienced an amazing road trip in 2018 and wanted to share my tips. Keep reading to find out what to pack for an Arizona road trip.
---
Arizona Road Trip Packing List
---
Table Of Contents
Starting and ending in Los Angeles, my Arizona road trip was a leisurely and relatively slow paced ten days and included the Grand Canyon, Flagstaff, Page, Prescott, and Sedona.
On a previous trip to the national parks in Utah, I'd driven a Jucy campervan and camped. Read about my trip here!
This time around, we opted for a combination of hotels and Airbnb accommodations while visiting Arizona's national parks. While the comforts of a hotel or home can't be beat, I did miss the immense feeling of serenity from waking up surrounded by the natural beauty of the parks.
There were three of us in total, and even though we drove instead of flying, we still each packed with just a carry-on and a personal item. While it may be tempting to bring a bunch of stuff in a car just because there's space, it's much more convenient to have minimal luggage when checking in and out of hotels every other night. 
Read my tips below for more info on what to wear for an Arizona road trip!
Tee | Leggings | Sunglasses | Necklace | Sandals | Backpack
Kicking Off the Road Trip
We drove from LA on a Friday, leaving at 10am and arriving in Williams, Arizona around 6pm. No traffic! We also took the back road on the 14 rather than drive through the city.
I wore my Zella leggings, a comfy tee, and Ipanema sandals for a comfortable outfit on the eight-hour journey. It was the perfect combination of relaxed and stylish.
Williams was a cute old town and I recommend the Red Raven restaurant for a delicious steak dinner. For an interesting saloon type bar, we visited the World Famous while we waited to be seated for dinner. Reservations suggested!
I booked a two-bed, one-night stay at the Days Inn through Booking.com, which was under $100 and included breakfast. The room was basic but clean and the staff was nice. They even gave us a discounted rate when I signed up for Wyndham Rewards.
Jacket | Sleeveless | Jeans | Sunglasses | Boots | Sunscreen | Earrings
Visiting the Grand Canyon
We spent the next day in the Grand Canyon South Rim. It was National Park Day, which meant that many of the parks were free including the Grand Canyon. Bonus!
Tip: If you're only spending a short time there, park in the lot next to the Yavapai Point and Geology Museum instead of the Visitor's Center, which is incredibly crowded but only a 20 minute walk away.
Read more about what to wear for the Grand Canyon!
Since I was only there for the day and we weren't hiking or camping, I wore a tank top, jacket, jeans, and my Ugg boots – a TFG reader boot favorite! The weather was around 60-70 degrees with a light wind and strong sun. I was comfortable in my outfit and, while it wasn't too hot, I still recommend wearing sunscreen. 
After the Grand Canyon, we continued our Arizona road trip to spend two nights in Flagstaff, which served as the perfect base to visit the Petrified Forest and Painted Desert, Meteor Crater, and Two Guns, which we did in one day.
Tip: If you're planning to visit many of the parks on the same trip I suggest you consider getting the annual pass, which pays for itself after visiting a few parks.
Blouse | Leggings | Backpack | Sunglasses | Necklace | Boots
Exploring the Painted Desert
The Painted Desert was one of the highlights of the trip! It was gorgeous! If you're thinking about visiting, the Painted Desert is about one and a half hours from Flagstaff and is on the same route as the Meteor Crater and Two Guns.
More importantly, the Painted Desert shares the same road as the Petrified Forest with one awe inspiring site after the other. You can easily start at the Painted Desert or the Petrified Forest and exit at the other. I highly recommend it!
I wore this incredibly versatile Michael Stars top with my Zella leggings and Ugg boots to spend the day comfortably exploring the parks. I kept my jacket and Lululemon hoodie in my backpack in case it got cold.
We stayed at the Hampton Inn East Flagstaff, which I booked with Hilton Honors points. We were incredibly happy with this hotel as it has a modern decor, extremely clean rooms, and generous breakfast options. For dinner in Flagstaff, we went with the Lumberyard Brewery, which was recommended by several of the TFG readers.
Tip: I'm absolutely OBSESSED with the Michael Stars versatile drape top (shown in my pic above). It's always sold out so I constantly visit this page to see what new colors are available. I scoop them up asap!
Sunglasses | Bracelet | Backpack | Dress | Sunscreen | Earrings | Sandals
Enjoying Lake Powell
After Flagstaff, we made our way to Page and went directly to Glen Canyon to see Lake Powell after checking in to our two-bedroom town home from Airbnb.
We weren't planning to visit this destination but did so based on a reader recommendation. It was so worth it! The views were out of this world and the area reminded me a little bit of the desert mountains against the Red Sea in Dahab. I loved the diversity of the geography in Arizona!
I wore this comfortable Toad&Co Liv dress for the journey from Flagstaff to Lake Powell and paired it with my Ipanema sandals.
Backpack | Blouse | Necklace | Shorts | Sunglasses | Shoes
Experiencing Antelope Canyon
The next day, we visited the scenic Horseshoe Bend before making our way to the Antelope Canyon. That day I wore the same Michael Stars top I previously mentioned but this time in a black color. I seriously love this top!
Because we would be doing some light hiking and walking, I paired the top with olive green shorts and my go-to Nike running shoes. The weather was around 85 degrees, so I was happy with my choices.
I visited so many beautiful places during my Arizona road trip and Horseshoe Bend was one of them. It's an easy and worthwhile stop before going to the Antelope Canyon. You don't need to take a tour and it's free, too.
That afternoon, we visited the Upper Antelope Canyon with Antelope Canyon Tours and our guide Nita was incredible. Even though we booked the regular sightseeing tour instead of the photography tour, she still helped all of us with our phones and camera so we could capture the beauty of the canyon.
The Upper Canyon was easy to access and the walk was completely flat. Even though we didn't go during the "magic" sunlight hour, it was still impressive and beautiful, so don't worry if you can't book the prime time.
The walls of the canyon were magical and I experienced a feeling of serenity being so close to the intricate geological formations. If you're planning an Arizona road trip, don't miss the Antelope Canyon. It is definitely a must see!
Tip: the difference between the Lower and Upper Antelope Canyon seems to be the ease in accessibility. Because my friend didn't feel comfortable with the walk into the Lower Canyon, we opted for the flat and easy-to-access Upper Canyon.
Upon getting back from our tour, we drove to the nearby Antelope Point Marina to enjoy an inexpensive and enjoyable one-hour tour around the lake. We did the last boat tour at 5pm, which was a peaceful way to end the day.
Similar to Glen Canyon, the setting felt completely different and even reminded me of the Galapagos in some areas. As a bonus, our entrance fee from Glen Canyon also included access to the Antelope Point Marina so that was an unexpected benefit.
Necklace | Sunglasses | Romper | Backpack | Sandals
Traveling to Prescott
The next day, we drove to Prescott, which is a small town outside of Sedona. Here we stayed in an incredible cabin in the woods that we booked through Airbnb.
It was just down the road from Linx Lake and a great way to start winding down from an adventurous trip. The setting was so peaceful and we even saw a herd of deer one morning as we had breakfast.
We did laundry while in our Airbnb in Page so I was able to re-wear some of the pieces I really liked. In fact, because I washed my clothes I ended up only using half the clothes I packed in my carry-on!
That evening we went into Whiskey Row in Prescott to visit the old saloons and Old West-inspired architecture. We enjoyed a yummy dinner at the Prescott Brewing Company.
The next day we went back into town for another tasty meal. We had breakfast at the Lone Spur before driving to Cottonwood for a day of wine and olive oil tasting.
I wore what ended up being one of my favorite items of the trip! It was the Sunkissed black romper from Toad&Co (similar). I loved it so much that I also wore it on the last day of the trip to drive back to LA. It's so cute and comfortable and now I want it in every color!
Backpack | Blouse | Necklace | Shorts | Sunglasses | Shoes
Exploring Sedona
After our two-night stay in Prescott, we made our way to Sedona and headed straight to Uptown for the 2.0 Scenic Rim tour with the Pink Jeep company.
It seemed as if every reader recommended the Pink Jeep Tours, so I didn't want to miss out. Our guide, Mike, was entertaining, friendly, and incredibly informative. It was another great recommendation and a beautiful welcome to Sedona!
I wore my olive shorts and running shoes and paired them with my blue Michael Stars top instead of my black one. This was an easy-to-wear outfit for the drive and some light walking.
We saved Sedona as our last stop so we could end our trip in the relaxing setting of the Diamond Resort that we booked through Airbnb. It was a good value for a two-bedroom condo style accommodation in Sedona, which tends to be expensive. We relaxed on the last two days so we could take advantage of the amenities, such as the pool and jacuzzi, in an enchanted setting surrounded by the red rock formations that surround the city.
We spent our last day lounging in the pool and also snuck in a visit to the shopping plaza Tlaquepaque in between.
We ended the day with a meal at Elote, a restaurant also recommended by the readers. It was a delicious take on Mexican food. The one and a half hour wait was worth it. (They don't take reservations).
I actually wore the same Toad&Co romper AGAIN because it was so pretty, comfortable, and easy-to-wear. I paired it with a pair of tan (faux) leather sandals from Target.
During the entire trip I alternated between two day bags: my Rebecca Minkoff Julian and my Marc Jacobs nylon biker backpack (similar). I liked having the nylon bag because I was able to wipe away any dust. As always, the Julian backpack was perfect for all my belongings. It's not only my travel purse – it's my everyday bag, too.
Read the full Rebecca Minkoff backpack here featuring the readers' feedback!
This is a video from my trip featuring a few extra road trip tips:
A few general tips on packing for a road trip include:
You can also read these road trip articles for more information:
---
What are your tips on what to pack for an Arizona road trip? Please share in the comments below!
---
For more tips on USA road trip, please read:
Suggested travel resources:
---
LIKED THIS POST? PIN THIS PIC TO SAVE IT!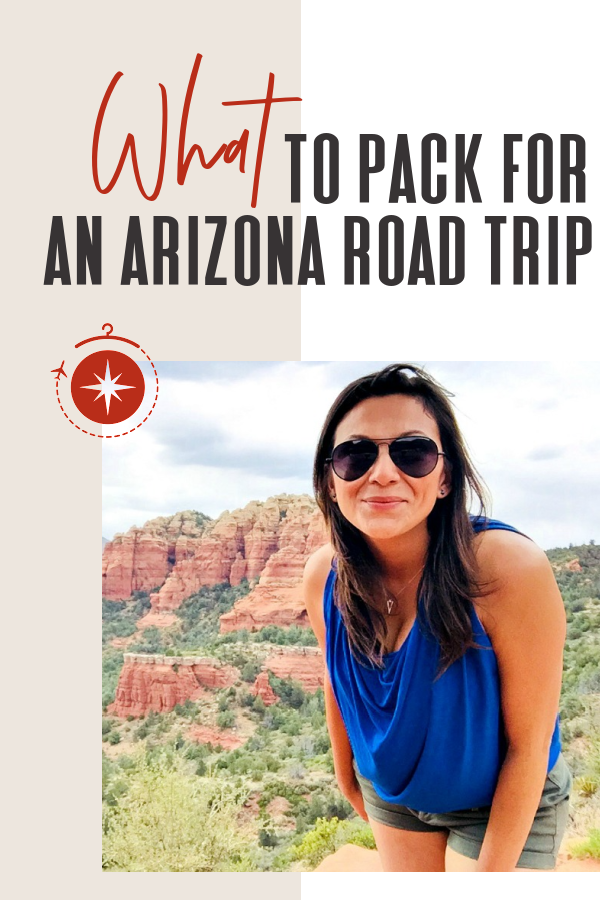 ---
We hope you liked this post on what to pack for an Arizona road trip. Please share with your friends on Facebook, Twitter, and Pinterest. Thanks for reading!
---