Support TFG by using the links in our articles to shop. We receive a small commission (at no extra cost to you) so we can continue to create helpful free content. Thank you, we appreciate it!
Headed out to the open road? While traveling by car allows for more luggage space than flying, you'll experience more MPGs and less stress by packing efficiently! Find out what's on our USA road trip packing list!
---
Road Trip Packing List
Written By: Jessica Lippe
---
Table Of Contents
Here's our road trip packing list for the USA:
Road Trip Packing List: Car Essentials
Emergency Car Kit
At the minimum, bring jumper cables and a rain poncho. You can find a variety of kits online or in the auto section of big stores, as well as other items that will help prevent roadside hazards.
First Aid Kit
So you've already got a kit to help with minor emergencies for your car, you should have one for yourself, too!
Fix a Flat, Spare Tire and Pump
Nothing ruins a road trip faster than having only three wheels!
AAA or Other Roadside Assistance Membership
Don't know how to change a tire? No worries. With a roadside assistance membership, you can get help with troubles like flat tires, lockouts, and towing.
If you decide against purchasing a membership, at least write down the phone number to a nationwide towing company.
Extra Fluids (Oil, Coolant, and Wiper Fluid)
Check these under the hood before a long haul and refill as needed.
Gas Rewards Card
North America has a lot of big brand gas stations that reward their customers. Some offer cash back or require a minimum purchase or line of credit, but my favorite is Kroger Fuel Rewards.
You automatically save at least three cents a gallon just by showing your free card at most gas stations with the Kroger logo. (The actual name for the gas station varies by region.)
Use your card at Kroger-brand grocery stores and you can save even more on each gallon of gas.
Road Trip Packing List: Necessities
Tent and Camping Gear
Disregard this if you plan to stay at hostels or hotels during your entire trip, but consider staying a few nights at a campground to possibly save some money and guarantee an overnight parking space.
For an awesome glamping experience, check out my Jucy Camper rental review!
Inflatable Mattress or Mattress Pad
Again, this mostly only applies to those camping. If you have any trouble sleeping, you'll appreciate having something soft.
Want to look your best when traveling but still be comfortable. Read my travel tips to Pack Light Stylishly!
Sleeping Bag and Pillow
Even if you're not camping, it's still a good idea to bring a sleeping bag and pillow just in case your couchsurfing host doesn't have enough blankets or you spend a night in the car. If you have an SUV or van, having one or two people sleep in the back of the car is a great alternative to setting up and tearing down camp each day.
If it's extra cold, take a sleeping liner. This is why we love to travel with one!
GPS
Not only will this device get you to your destination, but you can also use it to look up nearby attractions or restaurants for spontaneous side trips. Oh, and you can use it to go geocaching, too.
Road Map, Atlas and Guidebooks
Technology is great. But technology can crash or lose its charge, so don't forget to bring the paper version of a GPS.
Find out why we still like using travel guides!
Coleman 16-Can Soft Cooler with Removable Liner
Ice Chest
Unless you're eating out for every meal, an ice chest is the best way to store your road trip food. Don't buy food for your entire trip–grocery stores are abundant everywhere in North America and you can shop where the food is cheapest.
To keep things cool, buy a bag of ice whenever you go grocery shopping. Or fill milk jugs and other bottles with water and freeze them when you have access to a freezer.
Road Trip Packing List: Personal Items
Drawers for Clothes
If you have a great organizational system for your luggage, by all means stick with the suitcase. For everyone else, plastic or fabric drawers  may be a better option since they save space in your car and you can see where everything is packed.
You can also just pull out a drawer, carry it into your lodging, and store it under the bed for the night instead of hauling all your luggage in and out each day. Or consider using packing cubes to organize your belongings!
This luggage organizer is the perfect option to take your clothes straight from your luggage to the car and into a hotel closet when needed! Pack and unpack in seconds while staying organized the entire time!
Toiletry Bag
Camp bathrooms and hostel bathrooms can be a long walk away. You'll thank yourself for bringing an organized toiletry tote.
Choose from our round up of the best hanging toiletry bags!
Travel Mug and or Water Bottle
Don't get dehydrated while on the road. Most gas stations and convenience stores will let you fill up your water bottle (cold or hot water) for free, but you don't have to settle for just water.
Carry a stash of drink packets to make on-the-go lemonade, tea, hot chocolate, or coffee.
Sun Protection
Yes, you can get sunburned while driving! Wear sunscreen and polarized sunglasses.
This is why we recommend polarized sunglasses for travel!
Smartphone with Car Charger
With awesome road trip apps like GasBuddy and Roadside America, plus the fact that you'll probably need to make calls for lodging reservations, roadside assistance, and talking to your family and friends, you should keep your smartphone fully charged and ready to go.
(If you're the driver, don't talk on your phone without Bluetooth or headset–it's illegal in the US!)
If you're traveling from outside of the US, learn about the difference in voltage.
Travelon Folding Packable Tote Sling
Reusable Tote
Grocery shopping, souvenir shopping, organizing the little things in your back seat, carrying things to and from your hotel room… a reusable tote will have many road trip functions.
These are a few more packable totes to choose from!
Snacks
Road trips require snacking. Need I say more?
Road Trip Packing List: Entertainment
Music
Most cars can play music from an iPhone or a CD. (Or if it's an old car, a tape deck!) Also, search the radio stations. Sometimes local stations are advertised on billboards.
Audio Books
Listening to music for several hours straight can get monotonous. Change it up with an educational audio book or gripping novel.
Bicycle
If your car doesn't have room, skip this one. (You can rent a bike in many cities anyway.) A bicycle is a great way to get some exercise and save on gas money while exploring an area at a slower pace.
A General Plan
Have a time frame for your trip and a list of must-see places. But also allow for some spontaneity. North America is home to many unique destinations that are often found simply by keeping your eyes open.
Look for brown attraction signs, billboards, and random roadside oddities that might lead you to a new mini adventure!
---
What's on your road trip packing list? Comment below!
---
For more tips on road trips, please read:
Suggested travel resources:
---
LIKED THIS POST? PIN THIS PIC TO SAVE IT!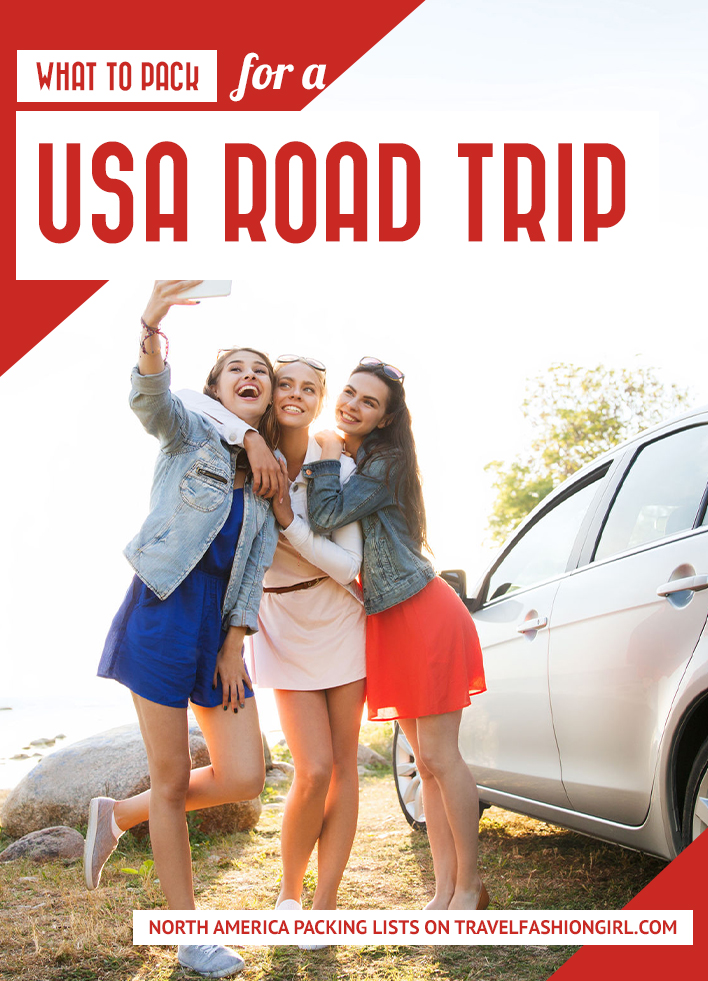 ---
I hope you liked this post on our USA road trip packing list. Please share it with your friends on Facebook, Twitter, or Pinterest. Thanks for reading!
---
Author Bio: Jessica Lippe craves uncommon adventure and has fond memories in Northern Italy as part of last summer's Mediterranean Trek. Read about her travels and other adventures at JessicaLippe.com.
---