Support TFG by using the links in our articles to shop. We receive a small commission (at no extra cost to you) so we can continue to create helpful free content. We earn from qualifying purchases made to the featured retailers. Thank you, we appreciate your support!
If you're traveling to cold-weather destinations in the winter, you need to know what to wear. Yes, the temperatures will be low, you might experience a wind chill, and it might be snowy, too. Learn to dress like a local with this guide, and you'll stay warm when you visit!
---
What to Wear in Winter
---
Table Of Contents
If you dress in layers, you can enjoy winter travel in cold and snowy places, be it in the great outdoors, visiting museums, shopping, taking in nightlife in various cities, trying the local cuisine, or enjoying a drive down winding roads with picturesque scenery of farms, fields, and forests.
Use this guide to choose winter outfits, including coat, boots, warm pants, accessories, and everything else you need to stay warm in winter destinations.
You can also read these general tips on packing for winter travel:
Eddie Bauer Girl on the Go Trench Coat
Which Winter Coat Should I Wear?
It's not a question of if you need a winter coat, that's a given. Instead, you need to decide which one you want to wear. That's a matter of personal opinion. Depending on your age and activity level, you could choose a down jacket, a lined trench coat, a wool coat, or even a parka. The length can vary depending on your preference, too.
It's a good idea to choose something that will keep out the wind, so a waterproof or windproof coat is ideal. The Eddie Bauer Girl on the Girl waterproof trench coat with a removable lining holds up well even in cold weather.
The waterproof material keeps out the wind, and the extra length keeps you warmer overall. As a bonus, the fleece-lined pockets zip shut, and the interior zip pocket is perfect for a cellphone, lip balm, ID, and cash.
If you take the lining out, this trench coat will transition well to a rain jacket for warmer weather. The hood zips off easily, as well.
If you'll be outside for long periods or in very low temperatures, choose a long down coat, parka, or ski-type coat for maximum warmth.
Shop more winter coats: Nordstrom | Amazon
Find out how to choose the right winter jacket for you with these tips! 
Do I Need Boots?
Yes, you need boots in cold weather destinations in winter. Even if it's not snowy, there will be slush, residue from salt and sand they put on the roads to melt ice and snow, and it's cold. You can get away with regular shoes, but they will get dirty, and they might not keep your feet as warm and protected as you'd like.
When it's really cold or you have deep snow, choose something like Sorel boots. 
They come in many styles. Carry a pair of shoes to change into if you're going someplace where you don't want to wear your winter boots inside.
If it's not as cold or you won't have a lot of snow, choose a pair of waterproof ankle boots instead. They go with everything and are surprisingly sturdy, even in snow and slush.
They would not work well for deep snow, but around town and between your accommodation and the car, they are great. Then, with ankle boots, there's no need to carry another pair of shoes.
Shop more winter boots: Nordstrom | Amazon
Keep your feet warm and dry with our list of the the best waterproof boots!
TIP: If your shoes or boots get salt or slush residue on them, use a buffing sponge to spiff them up.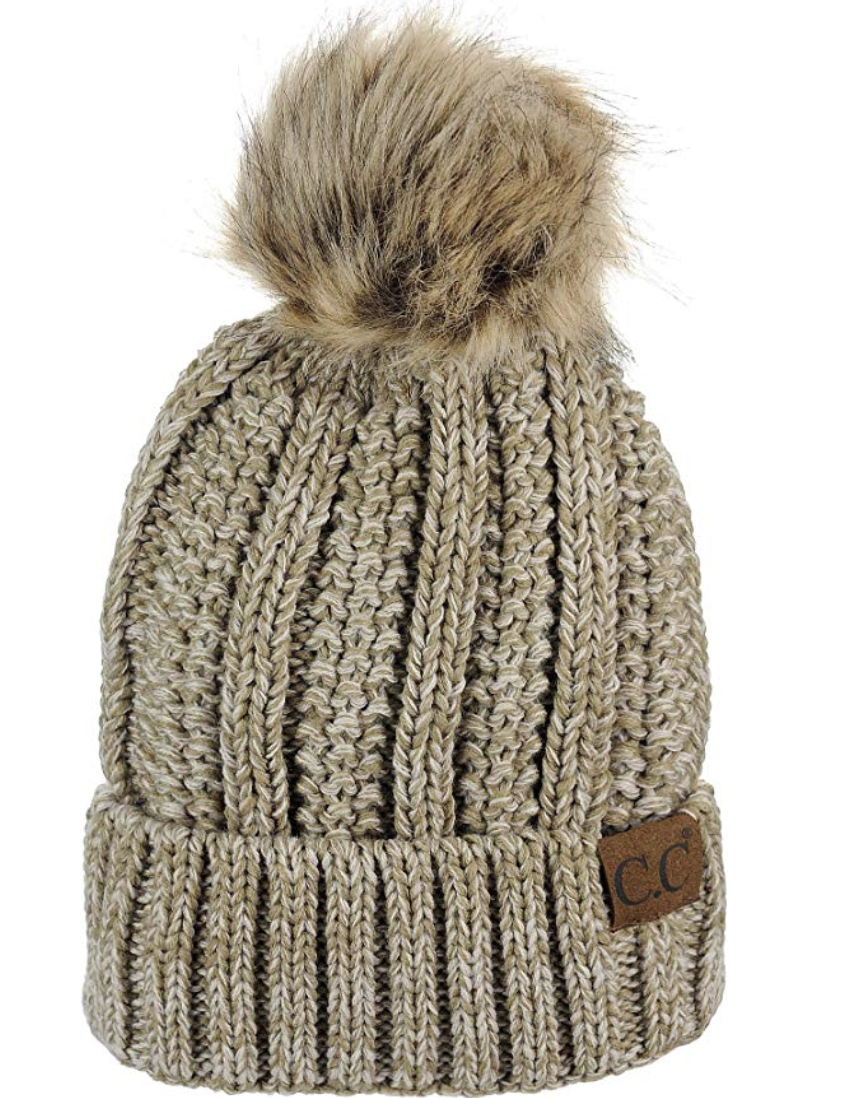 Which Accessories Do I Need?
Wear a hat and gloves! Choose a warm cozy hat, like this one that is fleece lined, or something that covers your ears.
Choose a scarf that suits you. A pashmina scarf can be dressy, but traditional scarf in merino wool will be warmer. Even a knit scarf can be warm and pretty. Get one you can wrap around your neck and head if you're going to be outside for any amount of time.
Warm gloves are necessary. Look for Thinsulate gloves with leather grips on the fingers and palms and tech-friendly tips. If it's really cold or you're going to be outside for a longer time, layer a pair of insulated mittens over your gloves.
Your accessories will complete your cute winter outfits, so pick items to fit your personal style!
Shop more winter accessories: Nordstrom | Amazon
These are the warmest thermals to keep out the winter chill.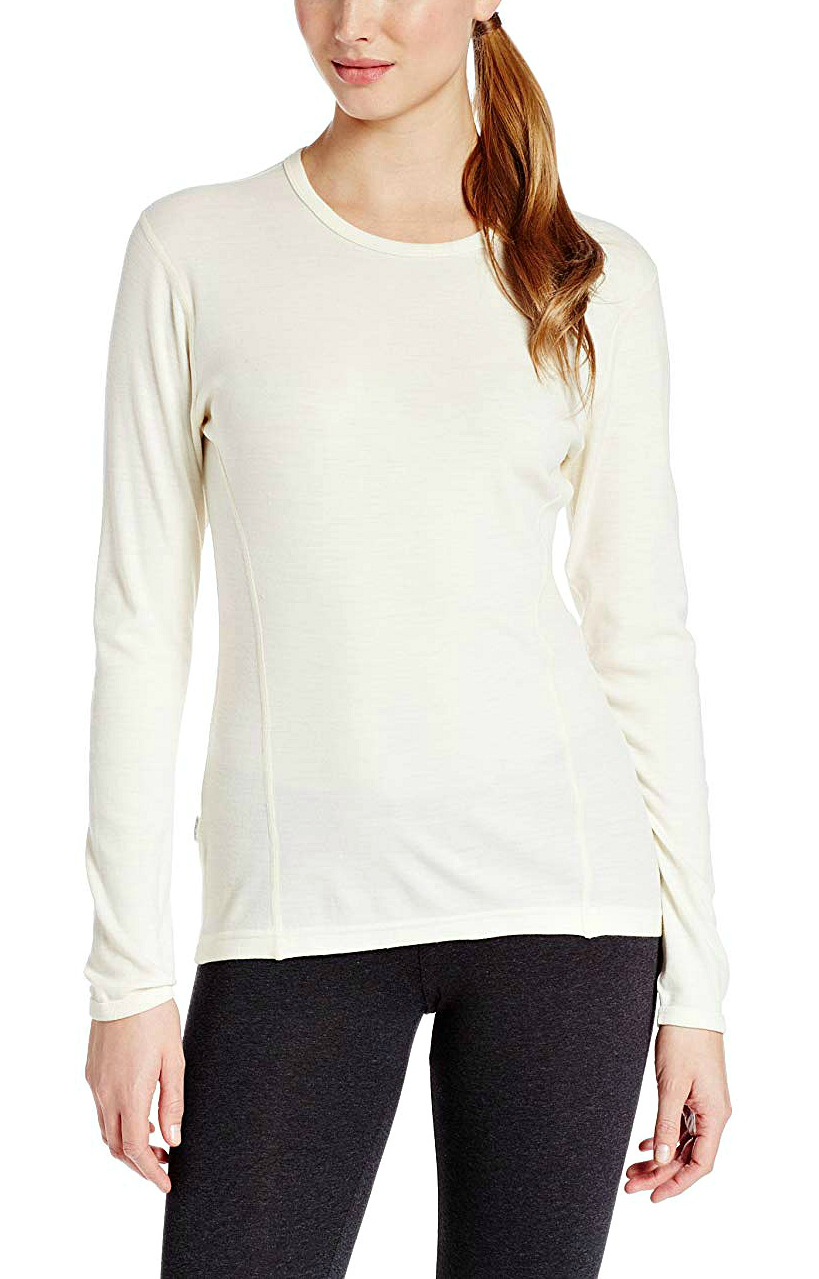 Minus33 Merino Wool Ossipee Midweight Crew
Which Tops Should I Wear?
Layer your tops for optimum warmth. Start with a thermal base layer. A long-sleeve thermal top in merino wool or silk will start you off. Then, choose a long-sleeve top and sweaters made from merino wool, alpaca or cashmere. 
If you're feeling cold, choose both. That way, when you go inside where it's warm, you can remove layers so you don't overheat.
Shop more winter thermals: Nordstrom | Amazon
Learn why merino wool is the ultimate fabric for travel! 
Camii Mia Sportswear Outdoor Hiking Fleece Pants
Which Bottoms Should I Wear?
Again, start with a thermal layer under your jeans, pants, or skirts. If you are wearing a skirt or dress, layer at least two pairs of tights – including fleece-lined tights. You wouldn't want to do any outdoor activities like this, but it's fine for going in and out.
For outdoor activities, choose an outer layer, like the fleece-lined winter pants above. They will keep you comfortable and warm, while allowing enough movement for activities, such as snowshoeing. 
However, they don't look like bulky snow pants. You can wear them inside, and no one notices that they are warm winter pants. Fleece leggings or merino wool leggings are other popular winter options that you can wear on their own or underneath your pants.
Shop more winter pants: Nordstrom | Amazon
 These are our readers recommendations for the warmest cold-weather pants!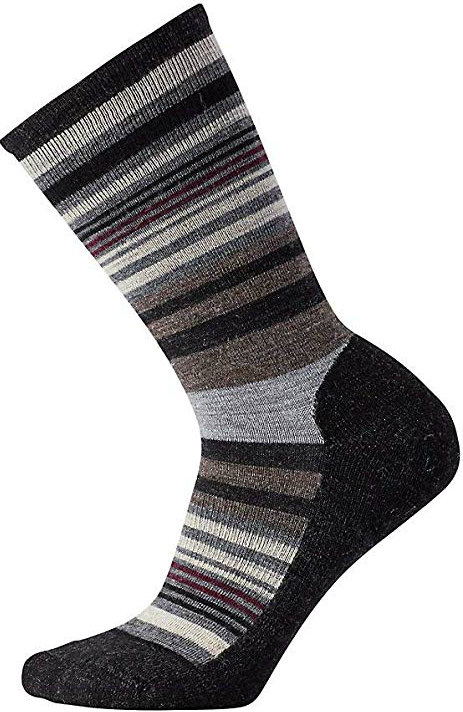 Which Socks Should I Wear?
Smartwool is a favorite brand of merino wool socks. There are many different styles and colors of winter socks, so choose which one you like best. You can wear them over tights, even, to keep your feet extra warm in your boots.
If you plan to wear thicker socks in your boots, wear them when you try on the boots to be sure you're getting the right size with the extra thickness.
Shop more merino socks: Nordstrom | Amazon
These are our readers go-to warm socks for winter travel
Carfia Vintage Polarized Sunglasses
What Else Do I Need for Winter Destinations?
Sunglasses: If it's sunny and snowy, you'll want to tone down the glare with sunglasses.
Chapstick: Get a lip balm with an SPF in it, especially if you'll be outside doing any activities.
Lotion: The cold and wind can do a number on your skin, so bring your favorite lotion along to keep your skin hydrated.
Water bottle: Keep the rest of you hydrated with a water bottle, especially if you're doing outside activities.
Purse: A crossbody bag will work well over your winter coat and is less likely to slide off your shoulder when you're out and about. Leather always looks stylish and will stand up to snow or sleet better than a fabric bag.
Read about how to Pack Light Stylishly for all destinations with our e-book!
It's important to note that bulky fabrics won't necessarily make you feel warmer! You have to choose the right cold weather fabrics and layer your items strategically as explained in the preparation video below.
Watch this video to learn what to pack and prepare for winter travel!
We also created a three-part video series on how to prepare for winter travel overall; including the right fabrics, shoes, and accessories to stay warm during your arctic adventure!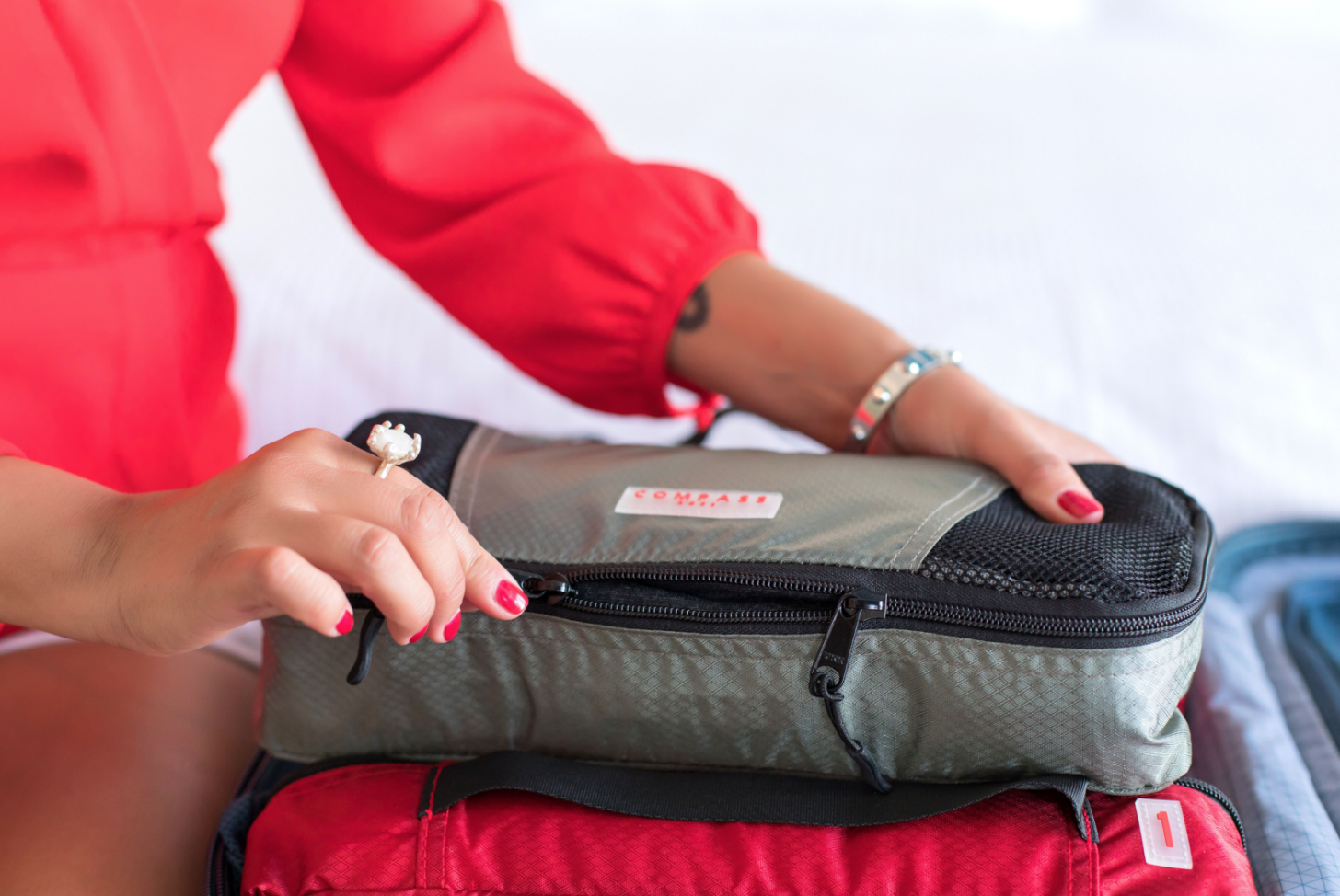 How to Pack Winter Clothes for Travel
Packing cubes can help organize all the layers you have in mind for winter travels. We designed our own brand of slim packing cubes, with a unique color and numbering system, so it's easy to remember where you've packed everything as demonstrated in the video below.
Learn our packing hacks with packing cubes in the video above!
We also put together a five-part YouTube series showing the different methods to use packing cubes for travel. If you use this specific packing strategy, packing cubes can also compress your belongings. This is the secret to traveling carry-on only!
What Can I Expect from the Weather?
Check the weather before you travel, so you know if you should expect snow and extreme cold. While some winters are mild, you also can get cold snaps and weather events, which make it dangerous to be outside. Take the wind chill into account, too. Even a light wind can make it feel much colder. Plan ahead so you're prepared for it. It's better to be too warm than too cold when it comes to winter!
---
What's your favorite winter wear item? Share and comment below!
---
For more on what to pack and wear in winter, please read: 
---
LIKED THIS POST? PIN THIS PIC TO SAVE IT!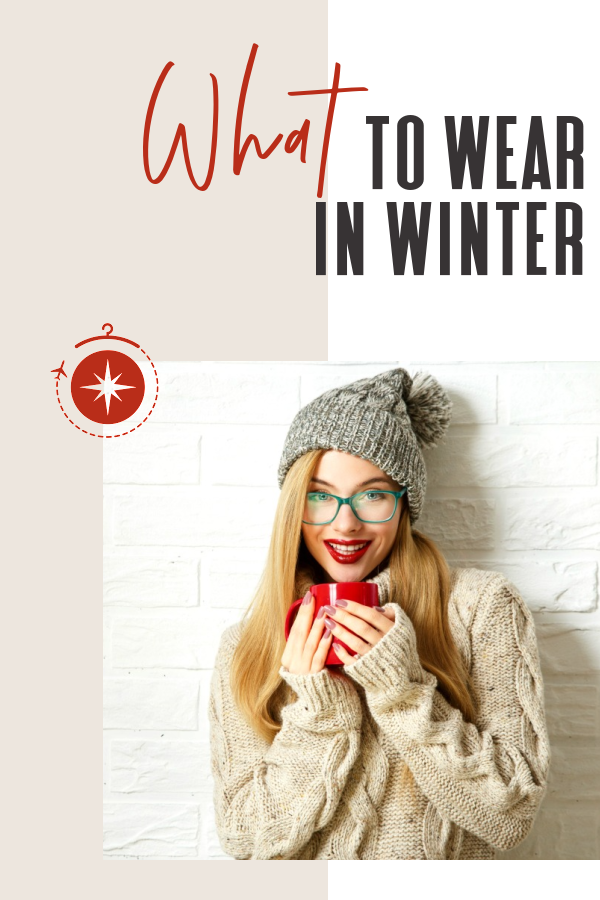 ---
We hope you found this article about what to wear in winter helpful. Please share with your friends on Facebook, Twitter, and Pinterest. Thank you for reading!
---