Support TFG by using the links in our articles to shop. We receive a small commission (at no extra cost to you) so we can continue to create helpful free content. As an Amazon Associate, we earn from qualifying purchases made on Amazon in addition to other retailers featured on the blog. Thank you, we appreciate your support!
Let's face it. Not all of us girls are brave enough to face the world without our lovely eye shadows, blushes, and mascara. I can't live without my blush or mascara. Follow these tips to protect your favorite products and learn how to pack makeup for travel!
---
How to Pack Makeup for Travel
---
Even the Ultimate Minimalist traveler Deanne Ballard felt the need to buy an eye liner while traveling with just a day pack and 4 clothing items.
However, it's a great idea to minimize your travel makeup when you hit the road. Not only will you save space but you'll probably find that you don't wear as much makeup when you're traveling than you do at home. When planning how to pack makeup for travel, the first thing to keep in mind is downsizing.
You'll want to look your best when you travel! Makeup adds the perfect finishing touch to your carefully planned outfits from your capsule wardrobe.
Follow these 10 Tips to Help Downsize Your Travel Makeup
Wrap up your make up bag
My favorite tip for how to pack makeup for travel is to wrap up your cosmetics bag with your clothing and add it to your packing cube to make a protective barrier around it. A fleece or sweater makes for a nice cushion for your travel makeup bag to avoid it from breaking.
Replace expensive makeup brands
Replace expensive makeup brands with regular drug store labels if you're traveling for an extended period of time. They'll work just as good and be less painful to lose if they break or get lost. Plus, if you need to replenish, drug store brands like Maybelline and Cover Girl are widely available worldwide. Read more long term travel packing tips!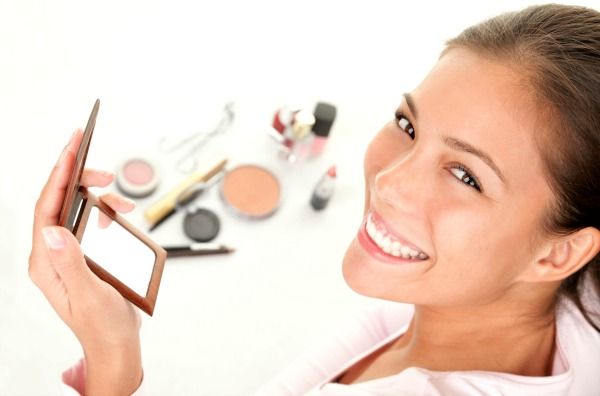 Replace regular mascara
Replace regular mascara with the waterproof kind. Sweat and an abundance of waterproof activates will leave you with racoon eyes and that's never any fun.
Less eye shadows
Avoid bringing more than two-four eye shadows. Make sure the colors you choose match all your outfits. Use shading to minimize and maximize the depth of the color hue. It's amazing the different tones you can get with just two colors. As a bonus, add water to an eye shadow to transform it into eye liner!
Depotting
Depot your makeup into smaller containers such as these or create your own custom DIY makeup palletes! You don't really need a full size bottle of foundation on a 2 week trip do you? Even 3oz travel sizes can be too much. Depotting allows you to take only what you need, save space, and weight!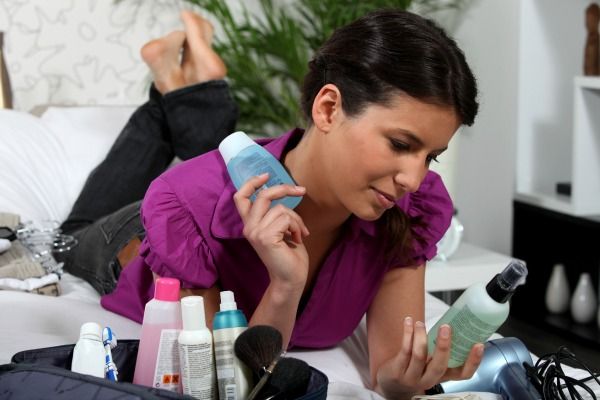 Lip or Eye Liner
Lip or eye liner may melt when in extremely hot climates. Maybe you should consider leaving them at home or using eye shadow to line your eyes instead. Can't do without? Try a waterproof liner!
Lip Gloss or Lip Balm
Instead of lipstick, choose a tinted lip gloss or moisturizing lip balm. Lip balm is a travel essential anyway. Might as well get one with a bit of tint.
Not being able to replace your makeup
Don't worry about not being able to replace your makeup in other countries. Girls all over the world like to wear makeup too 😉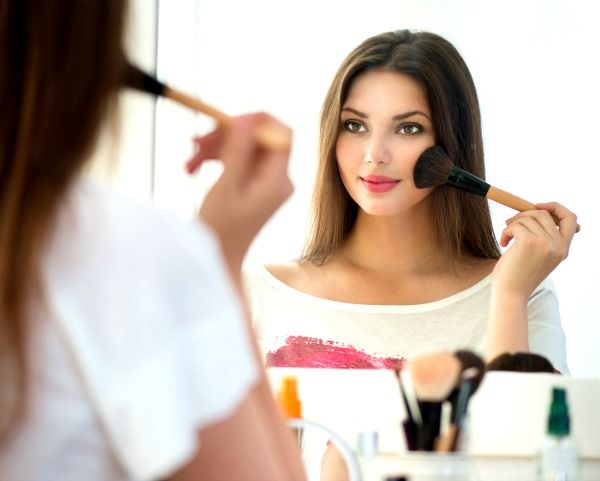 Multi-use productse
Look for multi-use products such as Nars Multiple which also acts as an eye shadow and lip color. Benefit's Benetint is also another popular choice.
Instead of using foundation
Instead of using foundation, use concealer to treat problem spots or the under eye area. Better yet, how about going all natural? If you can't stand to go without foundation, try a lightweight CC Cream or Tinted Moisturizer.
---
This article isn't meant to encourage you to pack travel makeup. Just giving you advice in case you're like many other travel fashion girls who need at least a few travel cosmetics essentials.
What are your tips for how to pack makeup for travel? Comment and share!
---
For more travel makeup tips, please read:
---
Hope you liked this post on how to pack makeup for travel! Don't forget to share on Facebook, Twitter, and Pinterest. Thanks for reading!
---