Support TFG by using the links in our articles to shop. We receive a small commission (at no extra cost to you) so we can continue to create helpful free content. We earn from qualifying purchases made to the featured retailers. Thank you, we appreciate your support!
The Amalfi Coast is a 43-mile stretch of Italian coastline just around the bend from Naples. The coastline is made up of romantic towns and delivers a touch of drama via its rocky shoreline.
Traveling to the Amalfi Coast in summer or fall? Keep reading for our tips on what to wear in the Amalfi Coast!
---
What to Wear in the Amalfi Coast
Written By: Maggie Fogg and Marijs Vrancken
---
Colorful small houses dotted along the mountains, rows of orange umbrellas and gelato everywhere. The Amalfi Coast has so much to offer.
Just a quick transit from Napoli away, the famous Amalfi coast is on the list of many tourists in Italy. Especially in summer, a packing list to the Amalfi Coast will quickly turn into a survival guide to a highly condensed tourist area.
But while during summer months, coastal towns are crowded with tourists, but the fall – particularly September or early October – is a perfect time to enjoy the relaxation, fine dining, and stunning vistas of the area.
Here's a quick review on what you need to know for what to wear to the Amalfi Coast:
Amalfi Coast Clothing Style
Italian fashion is classically well-tailored, stylishly put-together, and undeniably glamorous. Style on the Amalfi Coast is no different – particularly if your goal is to look like a local rather than a tourist.
The coast is a prime vacation spot, so this resort-like area tends much more towards "chic" than "casual". You'll find the Amalfi Coast to be sophisticated, yet with a relaxed and effortless feel. Silhouettes tend more towards comfort, rather than structure. Color palettes tend to be vibrant and upbeat, rather than the muted color stories often seen in the city.
Here are few more guides to help you when packing for Italy:
While the Italians might leave their high heels and tight pencil skirts in the cities, coastal fashion is all about adding flowy dresses, big sunglasses and floppy hats to your travel capsule wardrobe. Even while relaxing on the coast, Italian style is always well put-together, enviable, and fashion-forward.
Accessories often take the lead in Italian fashion, and it's no different on the coast; however, women may change up their focus from bags and shoes to sunglasses, wraps, and scarves. Keep this in mind when choosing what to wear in the Amalfi Coast.
The key to packing light is to use packing cubes to compress your clothing as shown in this video!
Hat | Blouse | Dress 1 | Dress 2 | Swimsuit | Bag | Sunglasses | Sunscreen | Sandals | Earrings | Lipstick | Necklace | Tote
What to Wear on the Amalfi Coast in Summer
With summer in full force, crowds of people go to the Amalfi coast to get their year's dose of vitamin D. With highs of 85F/29C and lows of 64F/18C in the months of July and August, expect plenty of sunshine. With the crush of tourists around, it might even feel a little bit hotter.
Start by reading these general tips on packing for summer travel:
If you are a bit more flexible in your planning and you are visiting the area in late fall or early spring, expect highs of 9F/26C and a lot fewer people.
Amalfi Coast Packing List for Summer
The Amalfi Coast is the perfect location to try wearing statement pieces you might not want to wear on more casual beaches in other parts of Europe. Compiling your wardrobe with colorful maxi dresses, off-the-shoulder styles and bright kaftans suit Capri and Amalfi just fine.
As you won't always be stylishly sipping a glass of cold white wine under a big umbrella, basics are always good to pack. A pair of white jeans with a colorful top or a cute little romper will go a long way.
We've got a roundup of 20 beautiful maxi dresses – get ready to update your travel wardrobe with these versatile styles!
Packing a glamorous pair of sandals is also a no-brainer when packing for the Amalfi coast. A big floppy hat or straw hat and a pair of Italian sunglasses will protect you from the sun and will keep you stylish.
Even though you might not be wearing them all the time, put a pair of flip-flops in your bag. On days where you decide to sunbath or swim in the ocean, you'll need them to get back and forth from the water.
Find out the benefits of polarized sunglasses for women who travel, plus my top picks!
The pebble beaches that can be found everywhere in the area can get very hot.
Packing several pairs of stylish bikinis or swimsuits is a must, as well. Combine with a bright sarong and a straw tote to fit in perfectly.
You can also use these best summer handbags to infuse style into your vacation this season!
Blazer | Scarf | Dress | Jumpsuit | Earrings | Sunglasses | Bracelet | Wedge | Blouse | Lipstick | Bag
What to Wear on the Amalfi Coast in Fall
Early fall on the Amalfi Coast is the perfect time to visit. In September, the lion's share of tourists have cleared out, but the weather remains warm and sunny.
Start by reading these general tips on packing for autumn travel:
Temperatures in early fall are quite like late summer, with average highs of 77°F / 25°C and lows of 65°F / 18°C. The month of October is also fairly nice although slightly windier and with fewer sunny days.
Amalfi Coast Packing List for Fall
The Amalfi Coast has a resort-like feel, so a stylish statement piece for the fall would be a beautiful wide-leg jumpsuit. Relaxed yet stylish silhouettes like wrap dresses or semi-full midi skirts are easy to wear and offer comfort in a stylish package.
A romantic off-the shoulder maxi dress with a sexy slit is a pretty piece for a sunset dinner along cliffs. Cream-colored skinny jeans are a versatile choice for dressing up or dressing down, depending on your mood.
Take a look at sundress outfits that transform an everyday summer dress!
Round out your packing with pieces that work well for layering – a sleeveless top is perfect for a warmer day. If it gets cooler, you can layer on a chic blazer or cozy fine wool sweater.
As for shoes, a beautifully made wedge sandal in a soft leather and a warm, neutral tone like a cinnamon or creamy caramel color is a perfect style.
Wear these comfortable wedges abroad and at home, too!
The style also works perfectly from day to night in a relaxed coastal atmosphere like Amalfi or Positano, where dressier looks for evening will still carry a relaxed resort-like feel.
In the early fall, the weather will still be beautiful and quite warm, but in preparation for cooler nights and unseasonably chilly days, you'll want to pack a light coat.
Find out how to turn any one of your dresses into versatile dresses!
Try a versatile and comfortable coat like this easy duster style, which gives a sophisticated finish to even casual outfits. Choosing a warm neutral color like a rust, camel, or dusty rose hue is perfect for fall without appearing too drab or heavy.
Along with jewelry, there's one very important accessory that no woman should forget, and that's an oversized, chic pair of sunglasses. Sunshine on the coast in September is still good, with more than fifty percent of days being quite sunny!
Want to pack light? Use one of these customizable capsule wardrobes!
Amalfi Coast Packing Don'ts
Being the centre of fashion-focused locals flaunting effortless style, leaving a cap and any other practical tourist items such as a money pouch at home will allow you to blend in best.
Capri and Amalfi are all about class, take a beautiful purse and a straw hat instead! You can find foldable hats if you want to save on luggage space and when it comes to purses, buy a local straw tote and only carry it on the way home.
To help simplify the packing process, take a look on our 10 step packing guide for a trip to Italy!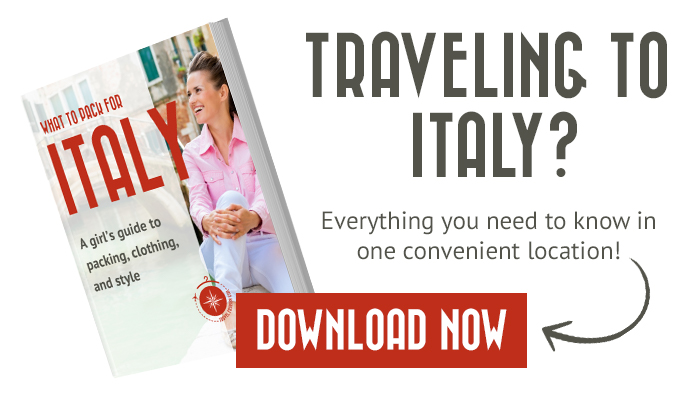 ---
What are your tips on what to wear in the Amalfi Coast in summer or fall? Please comment below!
---
For more packing tips, please visit these Europe Packing Lists:
Suggested travel resources:
---
LIKED THIS POST? PIN THIS PIC TO SAVE IT!
---
I hope you enjoyed this post on what to wear in the Amalfi Coast. Please share with your friends on Facebook, Twitter, and Pinterest. Thanks for reading!
---
Author Bio: Maggie Fogg is a full-time traveler and writer. She left Toronto with a one-way ticket to Spain and has been making her way around the globe ever since. Currently, you can find her dancing and hiking her way around South America. Follow Maggie on Instagram.
---
Author Bio: Marijs left the fashion industry to travel the world two years ago. Leaving her shoes behind was one of the hardest things she's ever done. For her, travel is all about seeing incredible nature and wildlife. The biggest bonus is meeting amazing people, telling stories, and capturing moments on her blog Rooftop Antics. Thirty countries later, Marijs is now based in Australia, working remotely, and traveling the rest of New Zealand, Southeast Asia, and the Pacific Islands.
---