Support TFG by using the links in our articles to shop. We receive a small commission (at no extra cost to you) so we can continue to create helpful free content. As an Amazon Associate, we earn from qualifying purchases made on Amazon in addition to other retailers featured on the blog. Thank you, we appreciate your support!
How do you choose your travel clothing? Is it about style? Color? Fabric? Well, consider these three points together and you'll get Adea – great layering clothes for travel.
Over the past year I've had the opportunity to test out several of Adea's clothing items and their fabric makes them not only ideal layering clothes for travel but also pieces you can wear alone.
Fabric is one of the most important aspects of packing light, adding one or all of my Adea pieces to my suitcase is a no brainer. Let's have a look at each of their pieces to find out why.
---
A Look Into Comfortable Travel Clothing: Adea
---
Adea pursues the idea of designing layering clothes for travel (and home) with style, a wide color selection, and wrinkle-resistant fabric. The Italian-inspired brand stands behind their claim that a "good wardrobe foundation is the building blocks" for a traveler's unique style.
They offer comfortable and versatile clothing basics that are elegant and luxurious. Travel Fashion Girl takes a peek into four of Adea's well-loved items: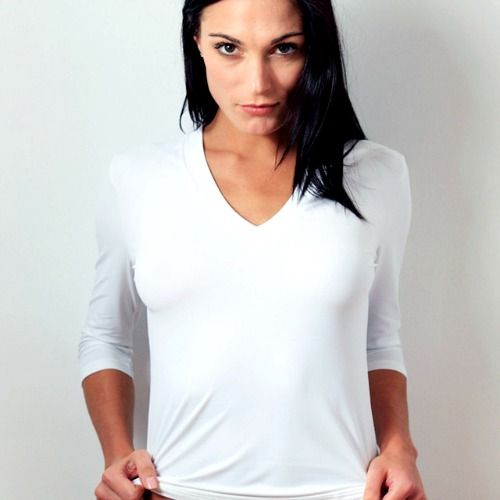 This 3/4 sleeve v-neck top is versatile and can be easily worn in various destinations.
Adea's 3/4 Layering Top
To be perfectly honest, I was very unimpressed with the styling when it came in the mail. It didn't seem like anything very special upon my first inspection. Once I tried it on, however, it fit like a glove and it was so comfortable that I quickly changed my mind.
I took it on my 10 day road trip to Utah. While LA was scorching hot Utah was 25 degrees colder and this top made a surprisingly good transition between the two weather patterns. Not only did it keep my skin cool but it was extremely comfortable for the long drive.
This top gets the thumbs up for me for its versatility and comfort. It would make a great basic in anyone's travel wardrobe. You could take it pretty much anywhere and it would make a great piece for transitional climates.
Please visit Adea's 3/4 Layering Top for more product details!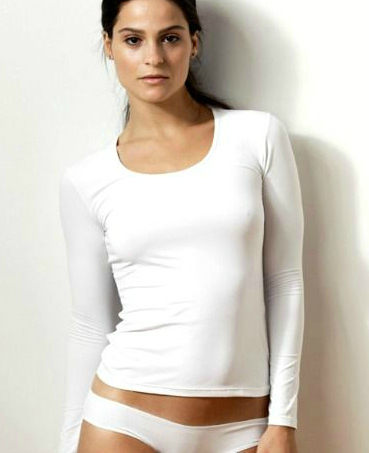 Best for cold weather, Adea's Long Sleeve tops are the perfect layering clothes for travel.
Adea's Long Sleeve Scoop Neck Layering Top
Made with the same Italian microfiber as the rest of the line, the fabric lies cool against your skin while wicking away moisture and adding a light layer of warmth. I love this top against my skin because it feels weightless. It packs so tiny in my packing cube which helps when packing for colder climates.
It's also a popular top for skiing because it's comfortable and allows you to move with ease. It offers you a soft layer of protection from the elements without constricting your movement or trapping moisture. I haven't tried it in tropical climates hut I'm curious about how it would do as a light layer to combat mosquitos…
Please visit Adea's Long Sleeve Scoop Neck Layering Top for more details!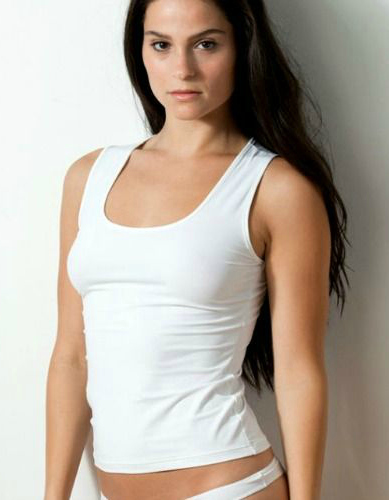 Adea's Camisole is described as "Bra-Friendly," hiding unsightly bra straps and comes in a wide array of hues.
Adea's Bra-Friendly Camisole
Camisole tops are a must when traveling to hot climates and are essential layering clothes for travel in the cold. I've traveled with this piece the longest and I have to say that it is always a must have item in my bag.
This is why:
I can wear it to sleep or to workout
It hand washes easily and dries super quickly even in tropical climates
It wicks away moisture making it the ideal top for trekking or just walking around in the blistering South East Asia sun
It's my preferred top for the beach because the salt water doesn't stain the fabric and my wet bikini top spots dry faster than other tops
It's also my preferred top to take on scuba diving trips or liveaboards because it keeps me fresh in between dives and is always dry by the time I come back from the next dive
The fabric doesn't easily absorb scents so I was able to wear it for 7 days straight in Raja Ampat where washing clothing wasn't really an option
I hate wearing spaghetti strap tops so this bra-friendly cami was a great solution
The neckline is low enough to keep your cool but high enough that your cleavage isn't hanging out -a big plus in my book
It's available in tons of fun colors
It weighs nothing and takes zero room in my bag
I only have two small gripes with this top: the sizing makes it difficult to get the right fit and I wish the Bra-Friendly straps were just slightly thinner. However, the pros far out weight the cons so this top is always a must in my bag.
For more details on this product, please visit Adea's Bra-Friendly Camisole and read my initial review!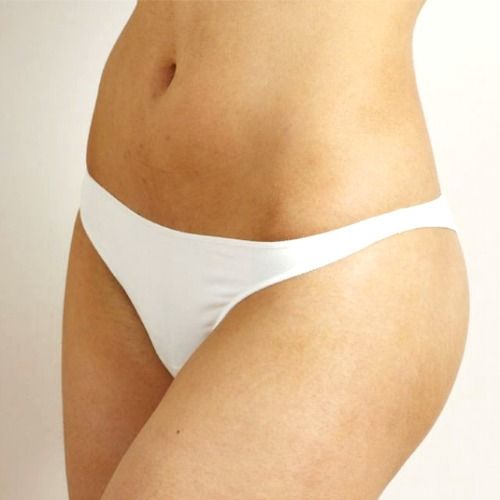 Adea's own low-rise thong offers comfortable fabric and a classic style.
Adea's Low-Rise Whipstitch Thong
Choosing good underwear is something all travelers must consider.  This thong offers cotton lining in the crotch, while the entire garment makes use of Italian microfiber.
This is the only Adea item I've worn that I'm not crazy about. The fabric is great for all of the above mentioned reasons but it's not the most comfortable fit. I have a feeling it's because the one I have is a size too small for me. It's a shame too because the fabric is perfect for travel underwear.
Please visit Adea's Low-Rise Whipstitch Thong for more details!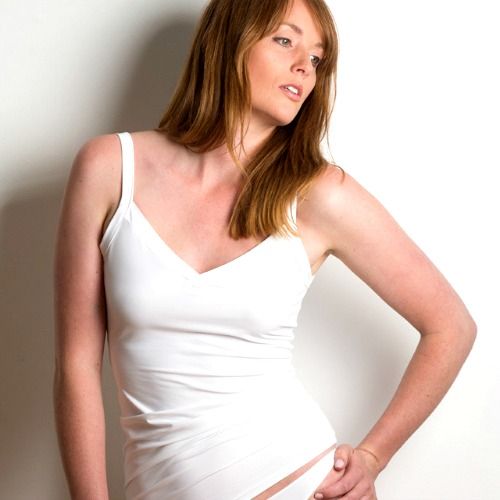 Please visit Adea's Extra Long Reversible Camisole for more details.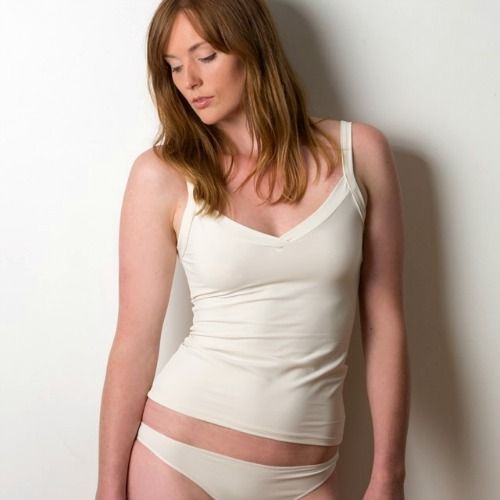 Please visit Adea's Reversible Camisole with Wide Straps for more details.
Adea's Extra Long Reversible Camisole
September 2015 Update: I've been using this reversible camisole top the past summer underneath thin fabric tops and I've loved it. Because one side has a scoop-shape and the other side is a v-shape it goes with a variety of blouses. This is pretty much the only layering camisole I own.
Because I'm short, the straps are slightly too long for me but since it's an under layer anyway it hasn't been too much of an issue. It's just nice to have a layer that's light and cool against your skin.
Adea Garments Specifications:
Made from Italian micro fiber. This intelligent, stretch fabric gives off the feeling of a second skin. Adea's products promises to suit all kinds of movements in all temperatures, making these basic pieces a vital part of one's ensemble.
Wrinkle-free fabric that slides off with other clothing
All items are designed to hug the wearer's curves without restricting their movement
Breathable
Quick Drying
Lightweight
Made in Italy and the US
---
What's the verdict? Adea's layering clothes for travel are definitely TFG Approved! For more details, please visit MyAdea.com.
---
If you want more ideas on Travel Clothing, please read the following:
---
I hope you enjoyed this review on Adea's layering clothes for travel. Don't forget to share this post with your friends on Facebook, Twitter, and Pinterest. Thanks for reading!
---
This post is written on behalf of Adea. However, my opinions are honest and my own.