Support TFG by using the links in our articles to shop. We receive a small commission (at no extra cost to you) so we can continue to create helpful free content. We earn from qualifying purchases made to the featured retailers. Thank you, we appreciate your support!
With its wide range of travel-friendly bags, the Sherpani brand has become incredibly popular in the TFG community. Find out what readers have to say in this Sherpani review!
---
Sherpani Bags Reviews
---
Table Of Contents
Offering everything from crossbody purses to anti-theft backpacks to luggage, Sherpani is a brand that speaks to the modern (and stylish) traveler! 
From their quality to their travel-friendly features to their fun designs, we've broken it all down and even listed some of the most popular picks among TFG readers. Check it out!
Best Features of Sherpani Bags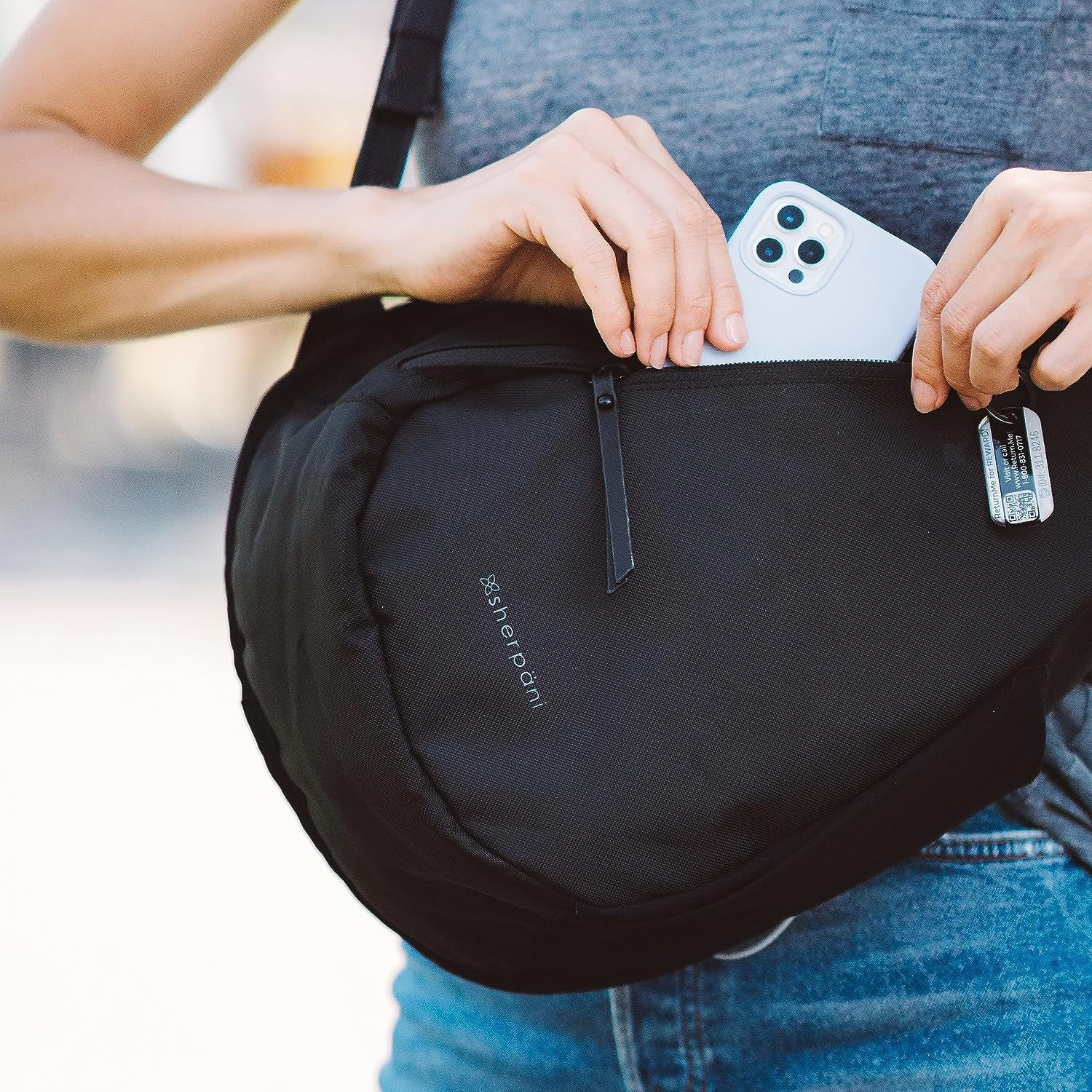 The Esprit Sling has anti-theft features and hidden pockets!
They're Well Designed and Easy to Organize Essentials
When it comes to functionality, Sherpani bags totally hit the mark with their lightweight designs and organizational features. Whether opting for a larger backpack or a smaller crossbody purse, you'll be sure to find plenty of storage and secure pockets. One reader shares, "I love Sherpani bags. Super functional!" 
Another TFGer says of the popular Vale bag, "So many fantastic features. One negative is there is no interior key leash. But there are lots of secure pockets and different straps, so it works as a crossbody, tote, and shoulder bag." Many of their other bags are convertible, too, which is beyond handy for switching things up on the go.
We've rounded up the best anti theft travel bags for women, and our readers have voted for their favorite styles.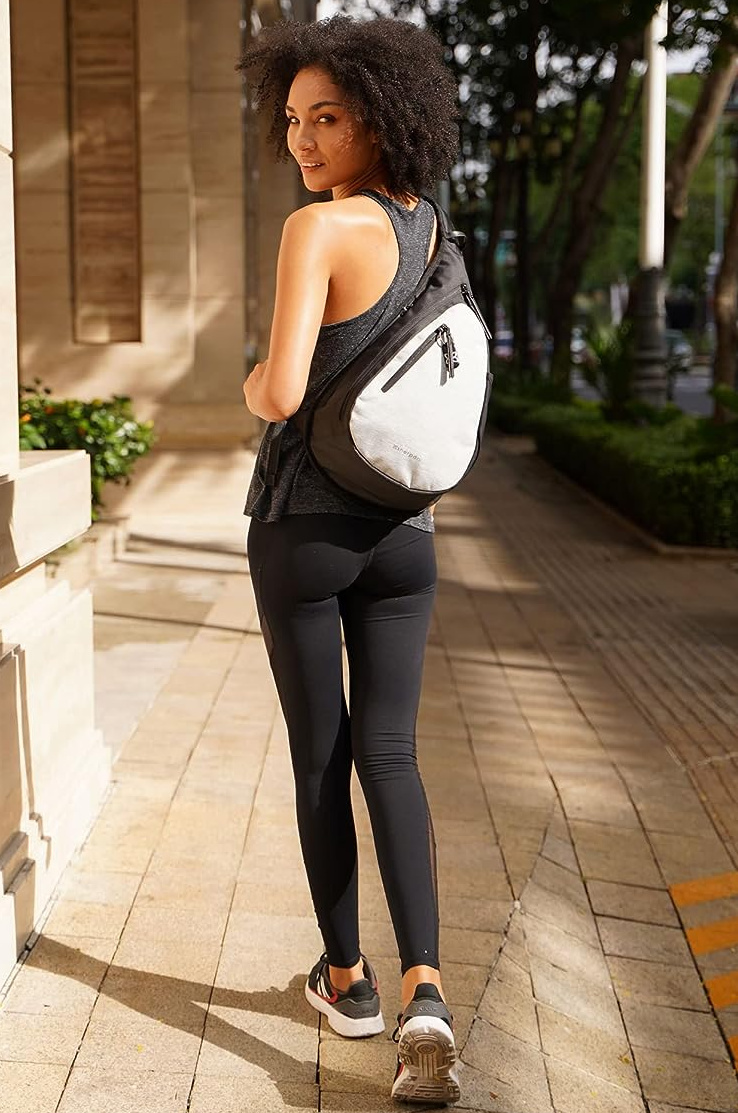 It's so easy to carry the Esprit Sling and organize essentials when sightseeing!
With such thoughtfully designed features like padded laptop sleeves, multiple compartments, and variously-sized pockets including side water bottle pockets, pen holders, and key fobs, a lot of readers love to use Sherpani bags for business travel. One TFG says, "I use the Sherpani Soleil bag almost daily and travel with it often for work. It holds everything I need and I often even have a second pair of shoes in there, too!" 
Another adds, "I travel for work and my Sherpani bag is with me daily. The size keeps me from overpacking. I wear it as a backpack most of the time, but love the versatility. (And the trolley sleeve!)"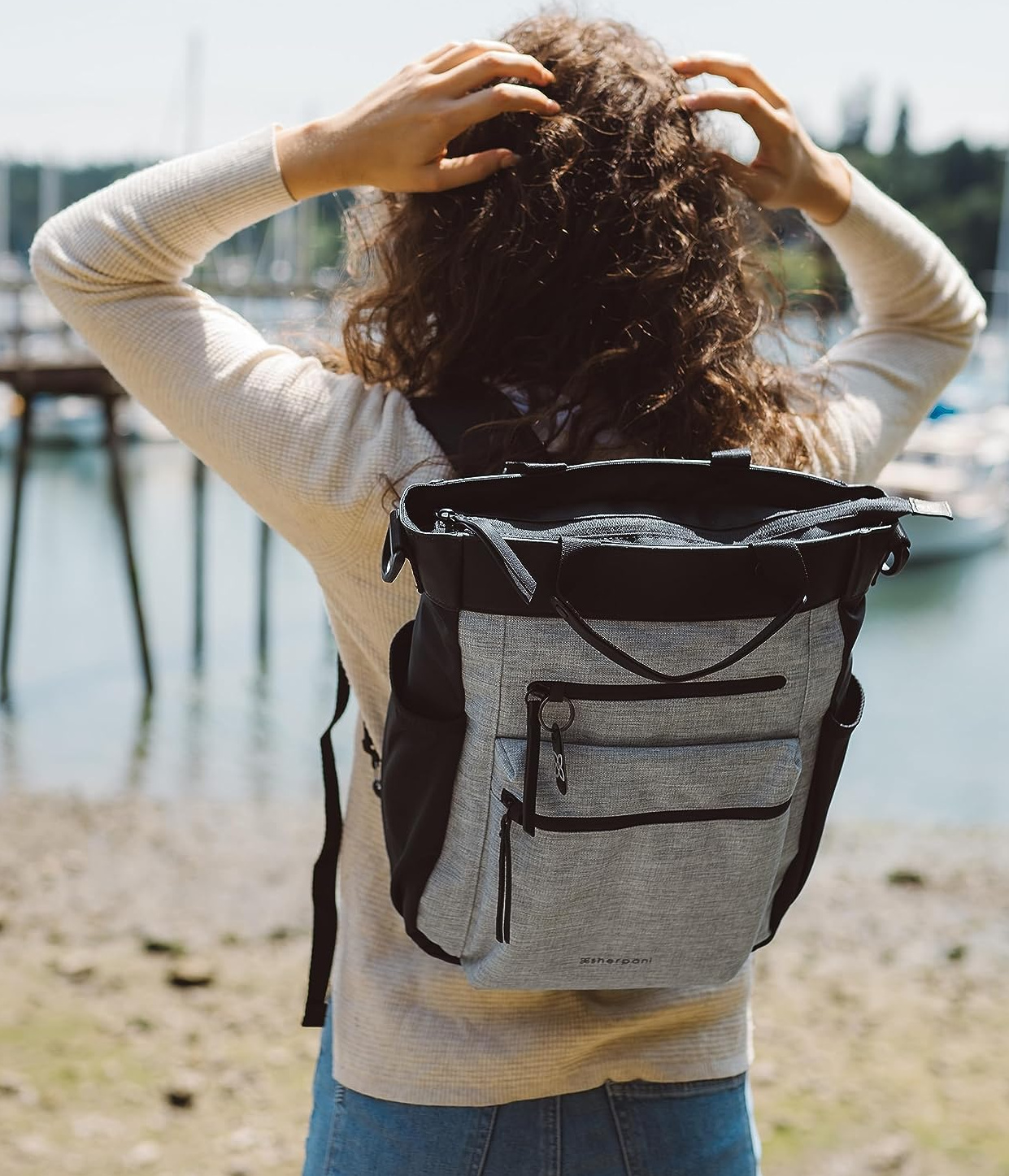 The Soleil Convertible Backpack's versatile functionality and anti-theft features have made it a top seller for Europe!
They're High Quality and Durable
Another great aspect of Sherpani bags that keeps readers continuously coming back for more is their top-notch quality. Many TFGs share that they've had their Sherpanis for years and years and that they've held up very well throughout the wear and tear that comes with travel. 
A reader shares, "I have an anti-theft backpack, an anti-theft crossbody, and a cute small regular backpack, all Sherpani. I have had them for years. Great women-owned company!"
Their bags are constructed with high-quality materials that are described as sturdy and practical yet sleek.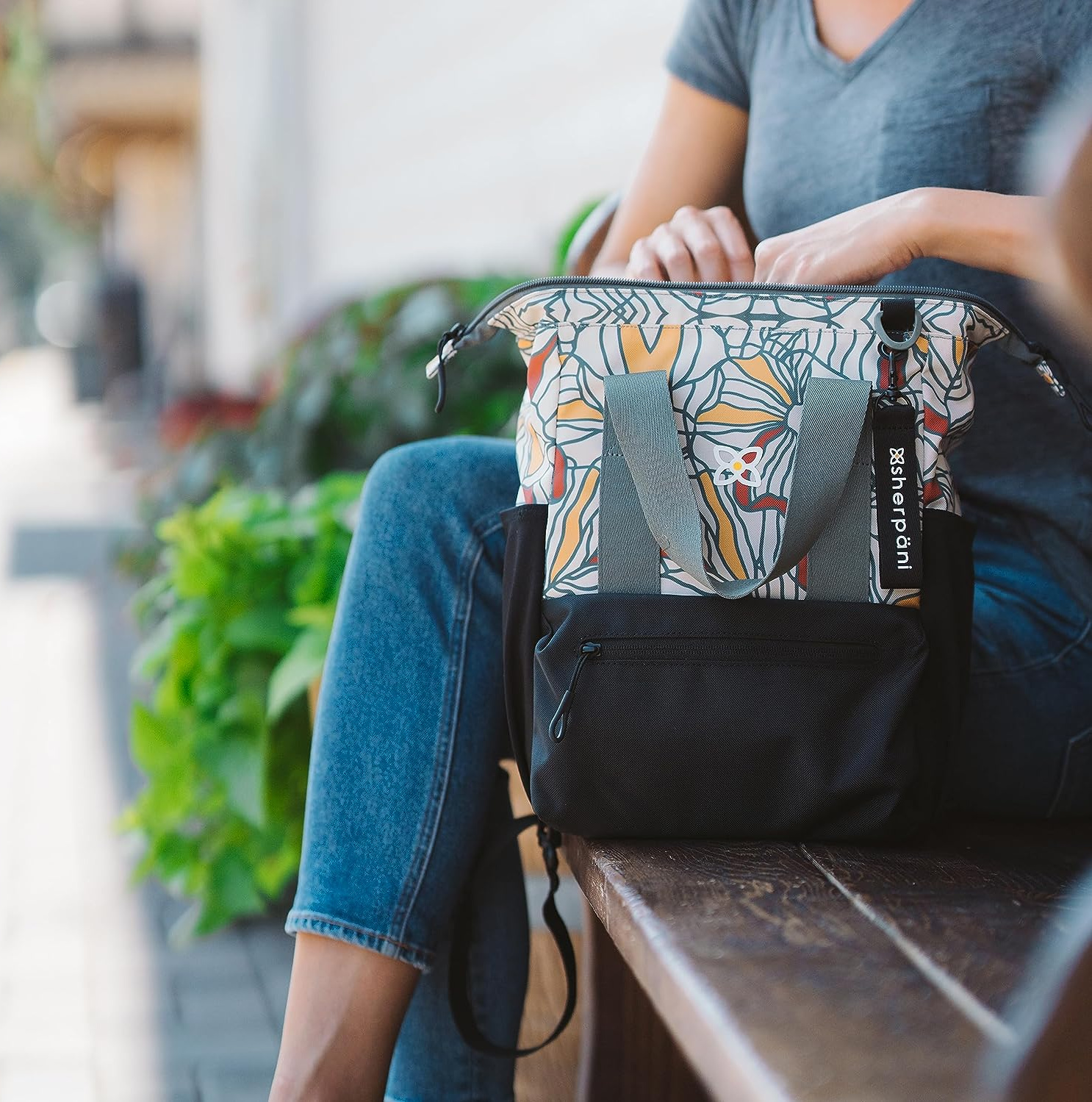 Readers love the quality and practicality of the Dispatch Backpack!
One reader speaks to the durability of her Dispatch bag, sharing, "It's a great size and has lots of pockets to hold everything you need – I carried stuff for me and my two kids in mine. The water-resistant fabric definitely came in handy when we were on a boat and I looked down to see my bag sitting in a pool of water – the water ran right off and inside, everything was still perfectly dry!" 
As a major bonus when it comes to quality, the brand prides itself on its use of recycled fabrics, non-toxic dyes, fair labor agreements, and chemical restrictions, so these are bags you can feel great about carrying!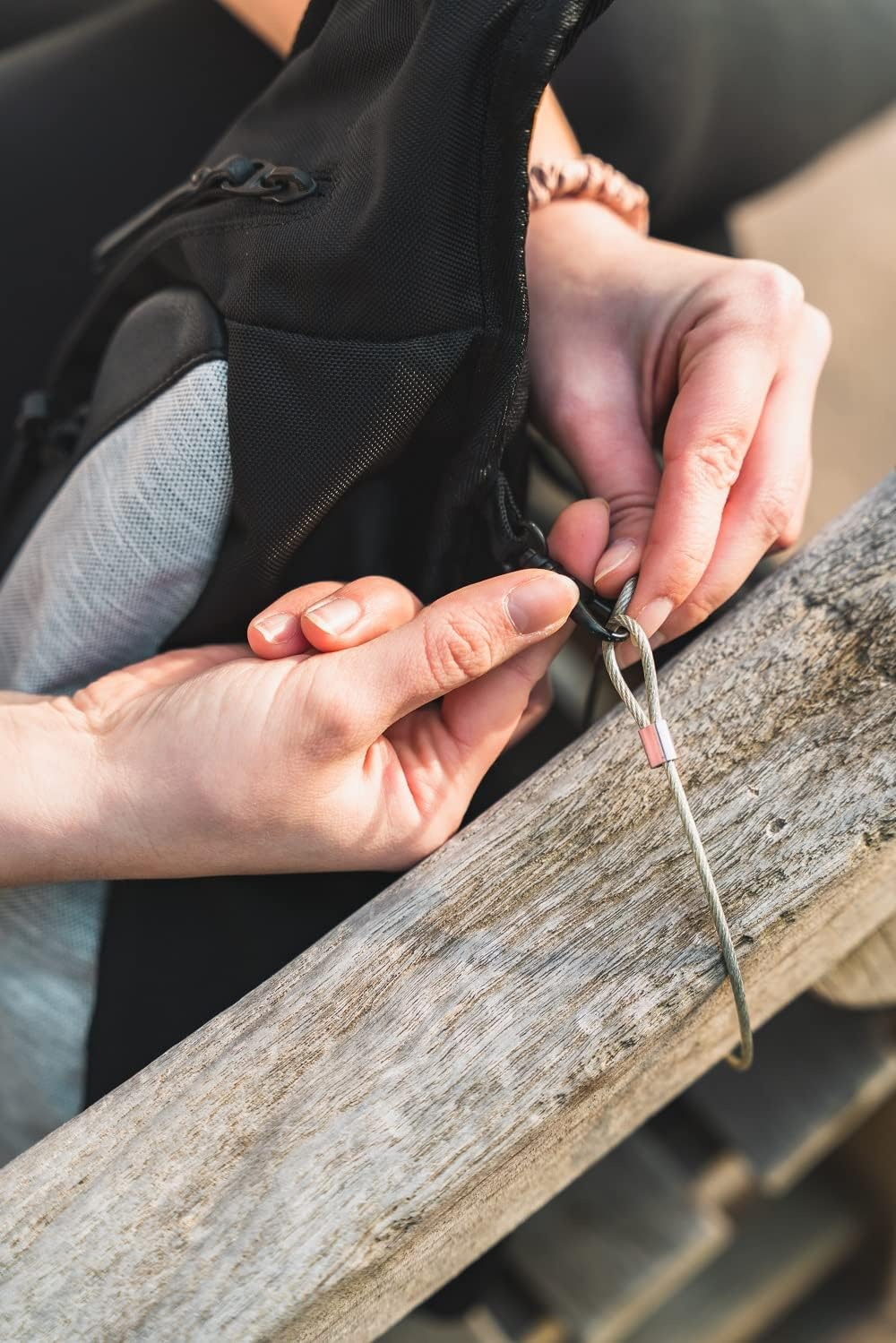 Many Sherpani's bags have anti-theft features, such as RFID blocking, locking zippers, and more!
They Have Great Anti-Theft Features
When it comes to a great travel bag, readers often look for anti-theft features, especially when traveling to destinations like Europe where there's a higher chance of pick-pocketing. 
A lot of Sherpani bags offer subtle yet super effective anti-theft features, including lockable zippers, a chair loop lock system, slash-proof straps and bottom lining, and RFID protection. 
One wearer says of her Pica bag, "I've never come close to someone trying to get into it. It's anti-slash, and when you use the tether and a lock, no one will bother to attempt anything. Plus, on a crowded train or bus, you can wear it on the front. Pickpockets go for easy or grab and go — this isn't it."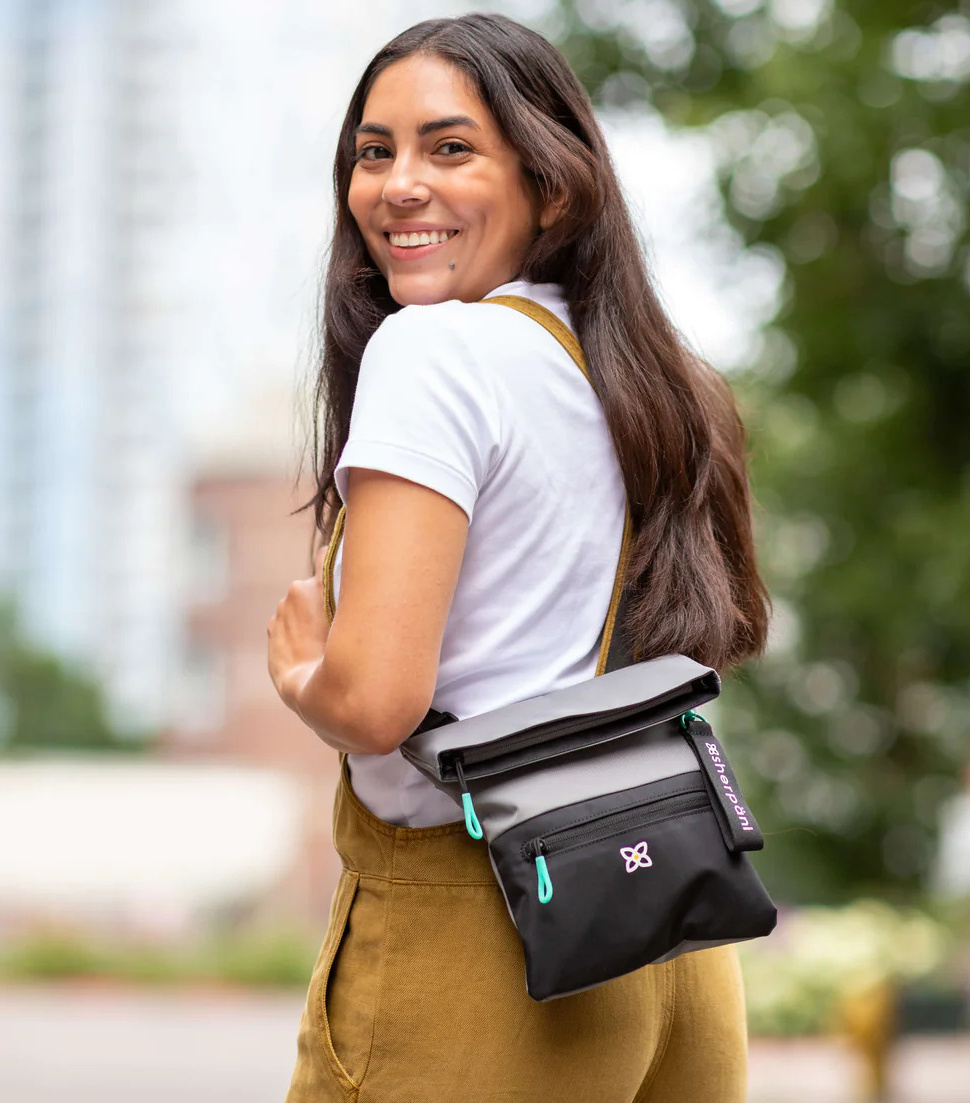 The Pica Crossbody Purse has you covered with RFID protection and lots of zippered pockets to keep things stored safely.
Another reader goes into more detail about her Geo tote bag, "It's slash-proof, fully RFID, (not just a little pocket), locking zippers and a chair lock. While it's not good to leave your purse or hang it at the back of your chair, it's comforting to know you don't get to have a hawk's eye on it while you enjoy your margarita or Margherita, whichever the case may be!" 
These cute bags will give you so much security and peace of mind as you explore new places — and they'll do it in style! 
Check out a roundup of the best money belts for travel so you can theft-proof your gear!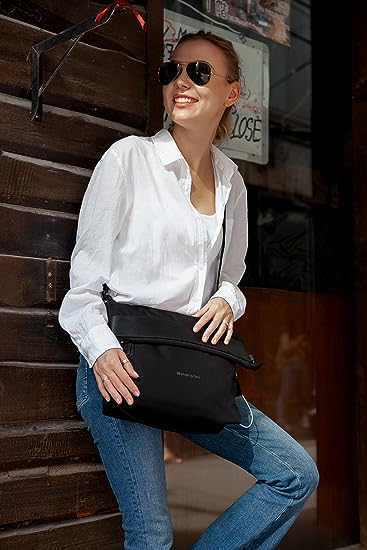 The Vale Crossbody Bag is a chic foldover style that goes with any travel outfit!
They're Stylish and Fun
Sherpani bags are known for their cute styles and fun color options! You can keep things neutral with their monochromatic designs, or add some brightness to your travel wardrobe with bags that feature gorgeous pops of color! 
The designs are feminine and polished, too, often designed with high-quality vegan leather trim for a luxe look, as well as clean, subtle detailing. They're functional without looking like it, and a lot of readers love how versatile this makes them!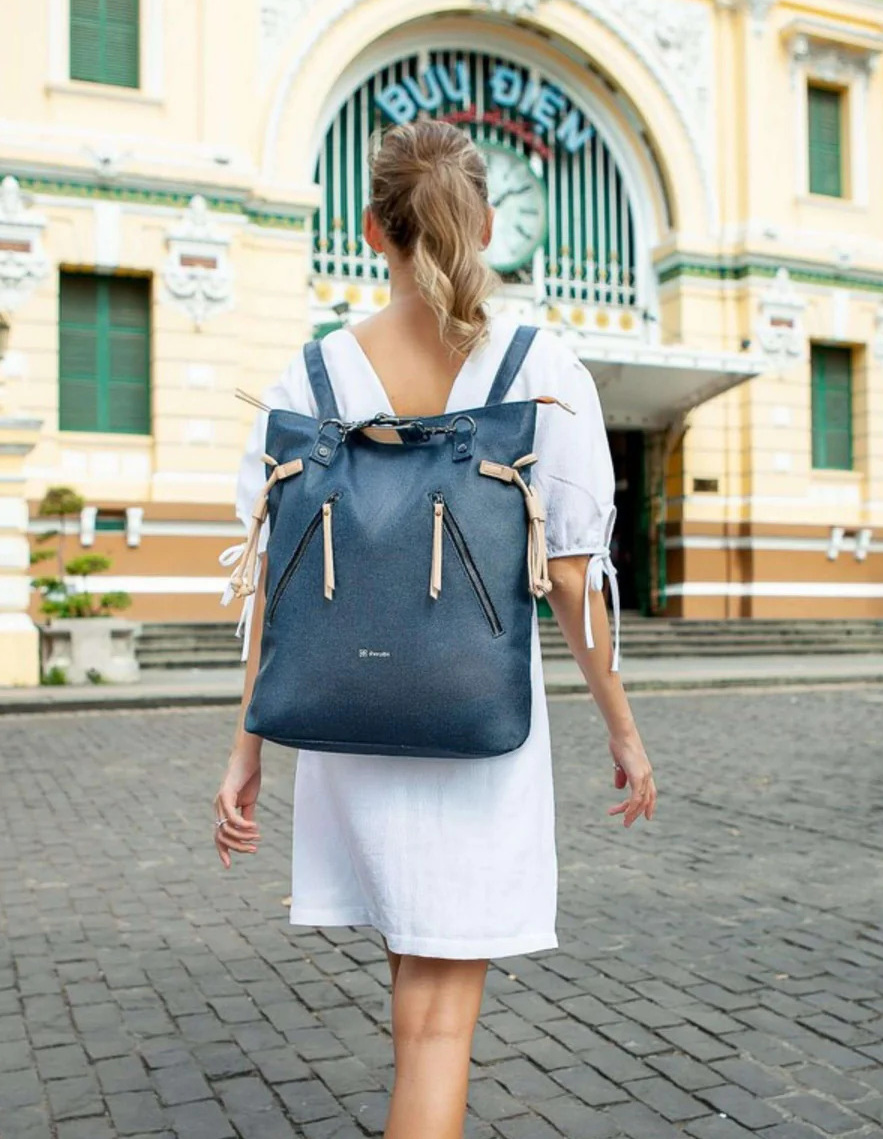 A reader says the Tempest Convertible Backpack is pretty enough to carry around Paris or Rome!
A reader says, "I used a Sherpani bag as my commuter workhorse for a long time. I liked best that I could go on the train with it as a backpack and then hide the backpack straps and use it as a tote for meetings outside the office." Another reader with the Tempest shares that her favorite part about the bag is that, "It's a convertible backpack, but it doesn't look too backpacky." 
Another reader raves about her Sherpani bag, saying, "It's everything I could ever wish for. Stylish with a sexy sheen to it, leather handles, and a slim silhouette."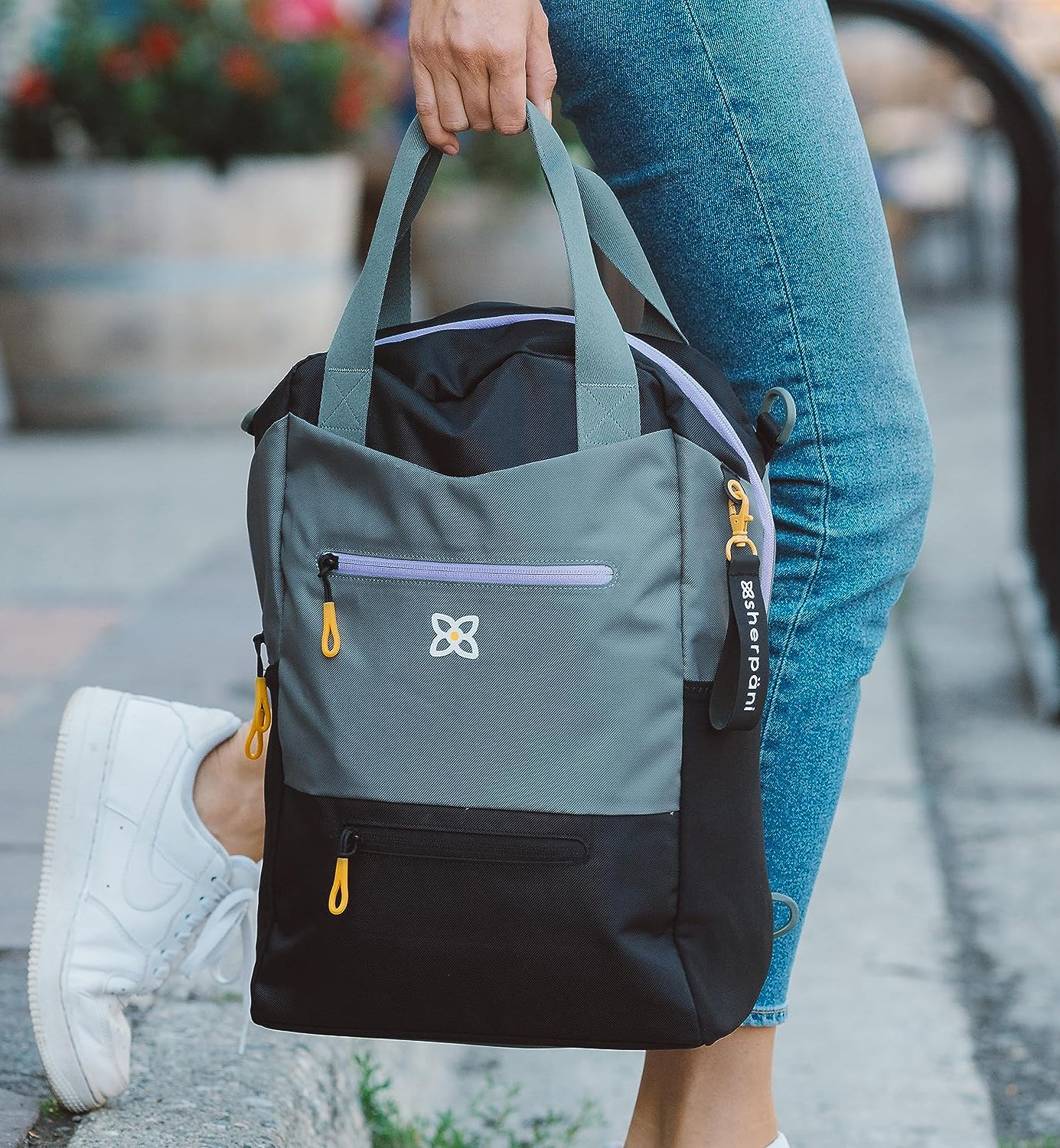 The Camden Convertible Bag is $100 but will last several trips and is super versatile!
They're Worth the Price
Sherpani certainly checks the boxes for style and functionality, but are they worth the price? With so many readers sharing that they've had their Sherpani bags for years and years, as well as the countless Sherpani recommendations within the TFG community, it's safe to say that price-wise they're worth it!
One reader shares, "The Soleil has been my personal item for the past five years. Every time I try to find something better, I come back to it."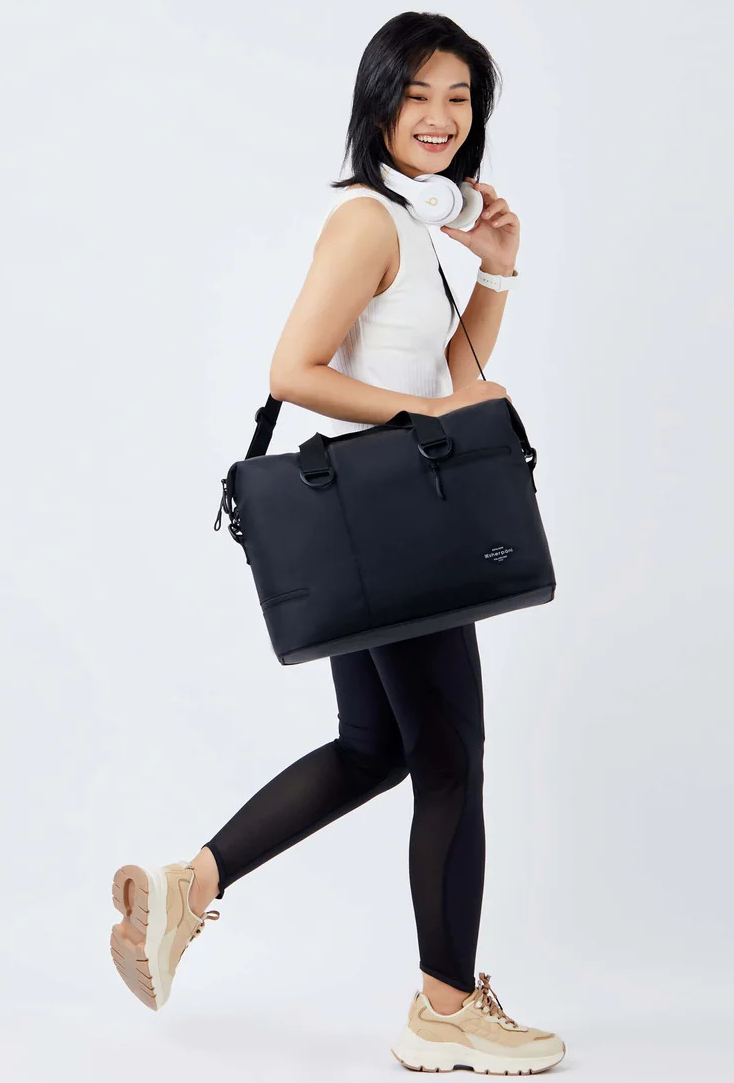 At about $89, the Sola Weekender Bag has a zippered bottom to keep toiletries and RFID protection!
Another reader says, "I have been using Sherpani bags for years. They hold up very well."
Aside from the high-quality construction that'll hold up beautifully to the rigors of travel, another factor that makes Sherpani such a worthwhile investment is its security features. Keeping your belongings safe and sound from theft or damage is crucial, and Sherpani makes it easy!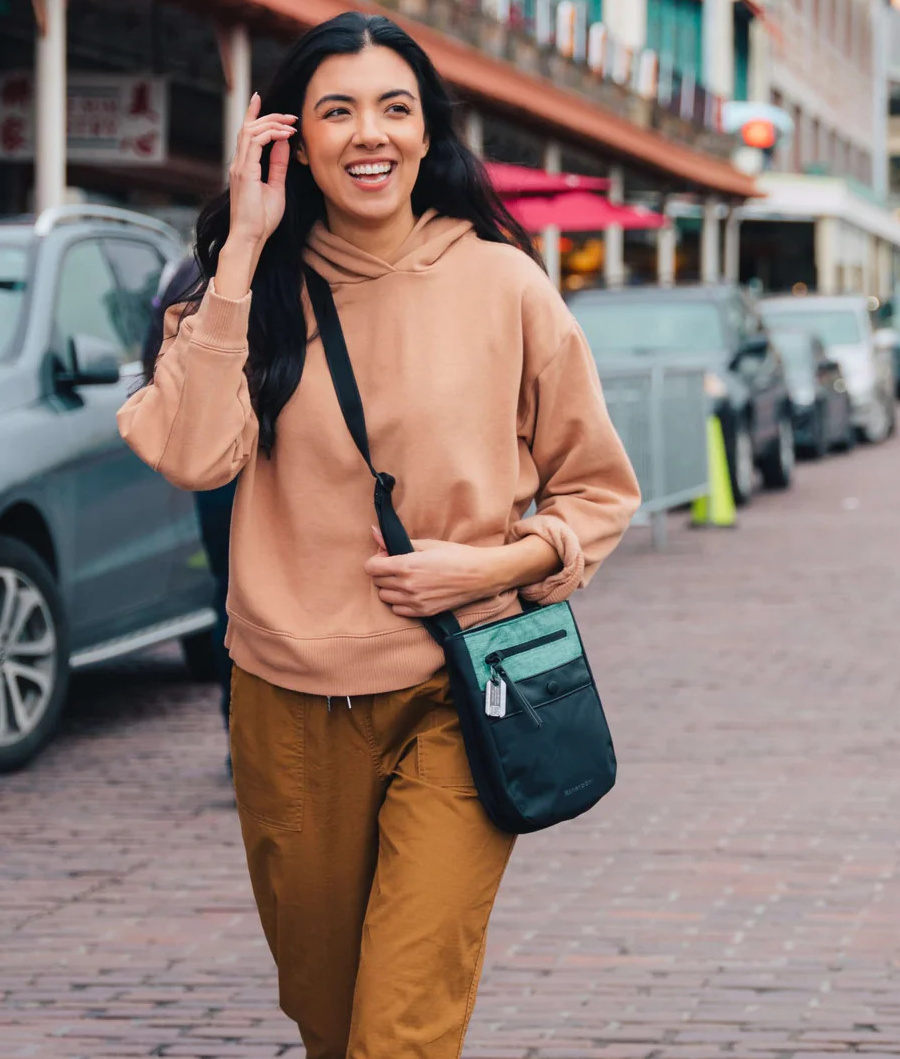 This cute crossbody bag, called the Prima is durable, with all the anti-theft features!
Pros
Sherpani bags are cute, secure, long-lasting, and ultra-practical for travel. The brand's anti-theft range is a major plus, keeping its wearers feeling secure and confident as they explore new places.  
One reader details how versatile these bags are, sharing, "Love my new Sherpani Dispatch bag! I bought this bag for a recent multi-country work and touristy trip. It was fantastic to take on the plane because it fit all of my odds and ends and my laptop. I used it every day at my work conference where it looked nice and professional as a tote bag, and then when I did my touring, I unzipped the hidden backpack straps and used it as a backpack. It also can fit on the back handle of a suitcase!"
The bags are also lightweight and comfortable to carry, with one reader confirming that they're "super light compared to most packs!"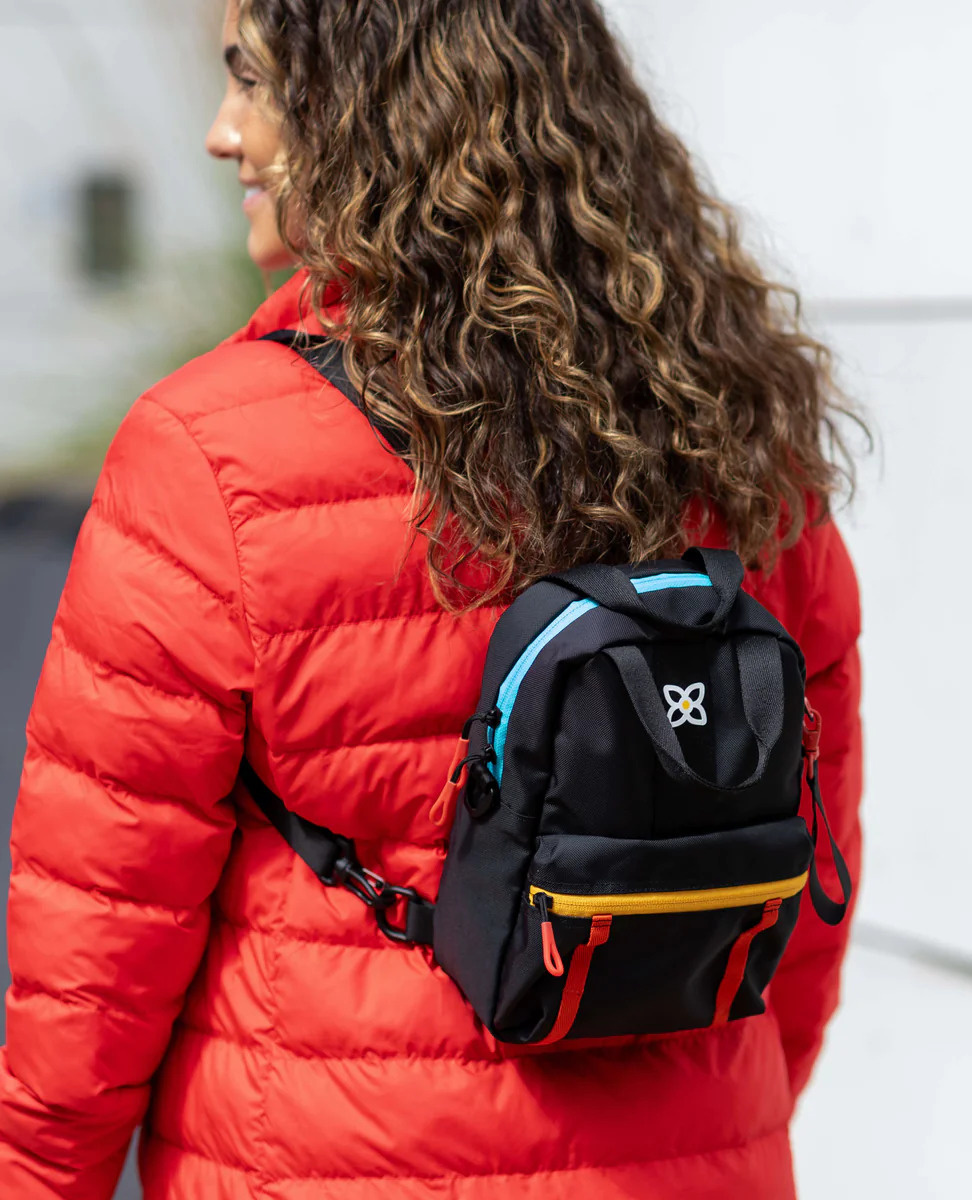 The Logan Backpack is small and lightweight and in some fun colors!
Sherpani's designs are chic and feminine, whether you go for something bright and bold or minimal. And with such a wide range of styles to choose from, whether totes or suitcases, bold or minimal, there's something for every type of traveler! 
The durability is yet another major bonus, as well as the eco-friendly construction. And to top it off, readers highlight the fact that Sherpani is a women-run company with great customer service!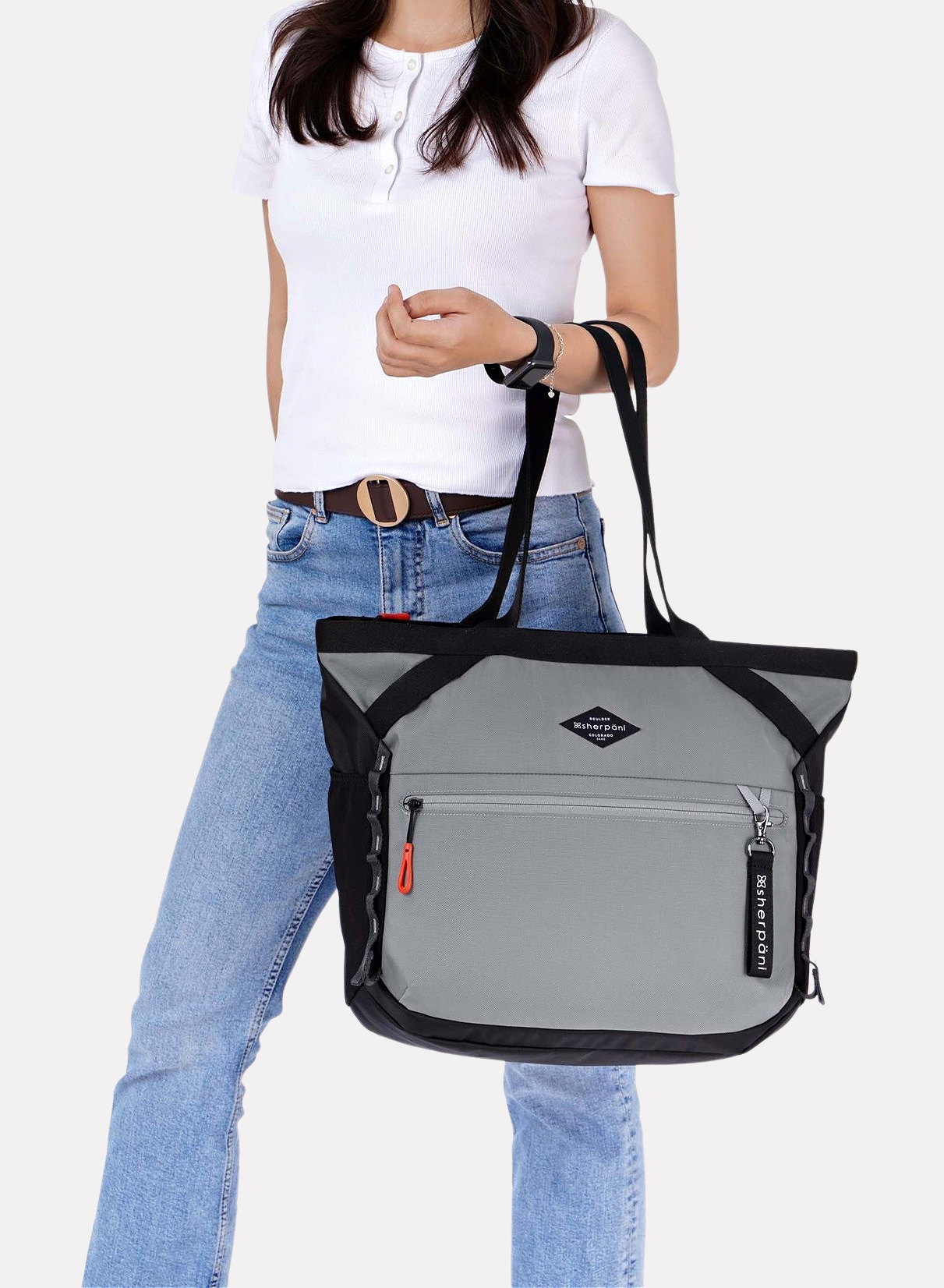 The Stride Tote has flexible handles and a sizeable amount of compartments to organize items!
Cons
Along with all the praise, some readers have shared a few things to keep in mind when considering Sherpani bags. 
In the convertible styles, some readers share that the top handles can be a bit bothersome when using the bag as a backpack (though others share that it doesn't bother them at all). One TFG says, "It bothered me, so I returned mine," while another says, "I have it and the handles don't bother me – though yes, I would prefer them to be a little floppier." 
Check out these top-recommended carry on luggage that international flights will accept!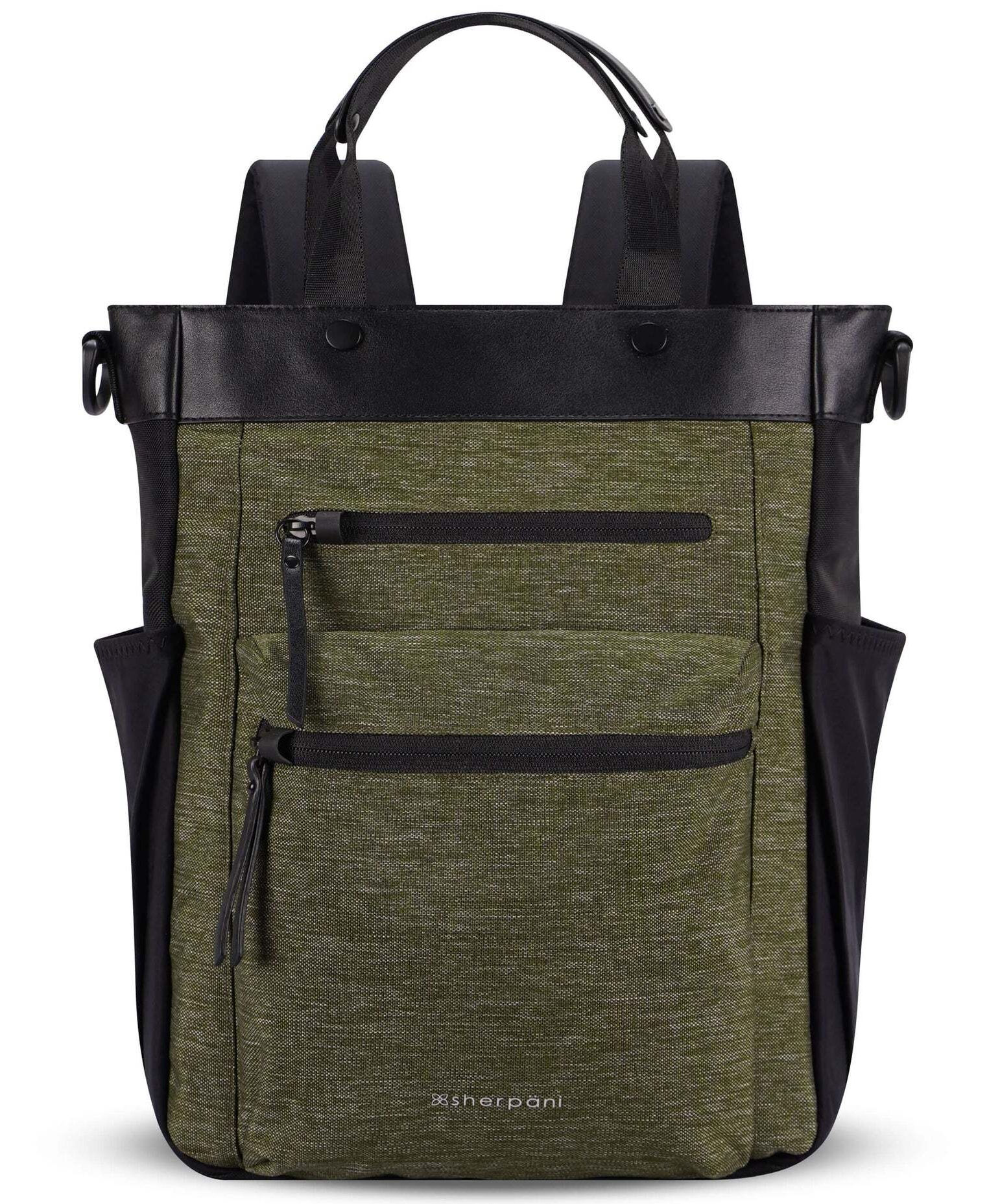 The Soleil Convertible Bag has solid construction and durable handles and though some feel it's heavier, many readers adore it for European travels!
Another reader with a Sherpani bag commented on the weight of her Soleil bag, saying, "While I like it fine for shorter trips, I found it to be a little heavier than I'd like and would prefer something a little roomier for longer trips," while others readers report that it's very light for what it is. 
While the convertible styles may take some getting used to, overall, readers love the brand's versatility and quality. So, if you're on the hunt for a great travel bag, definitely consider Sherpani!
More Recommended Sherpani Travel Bags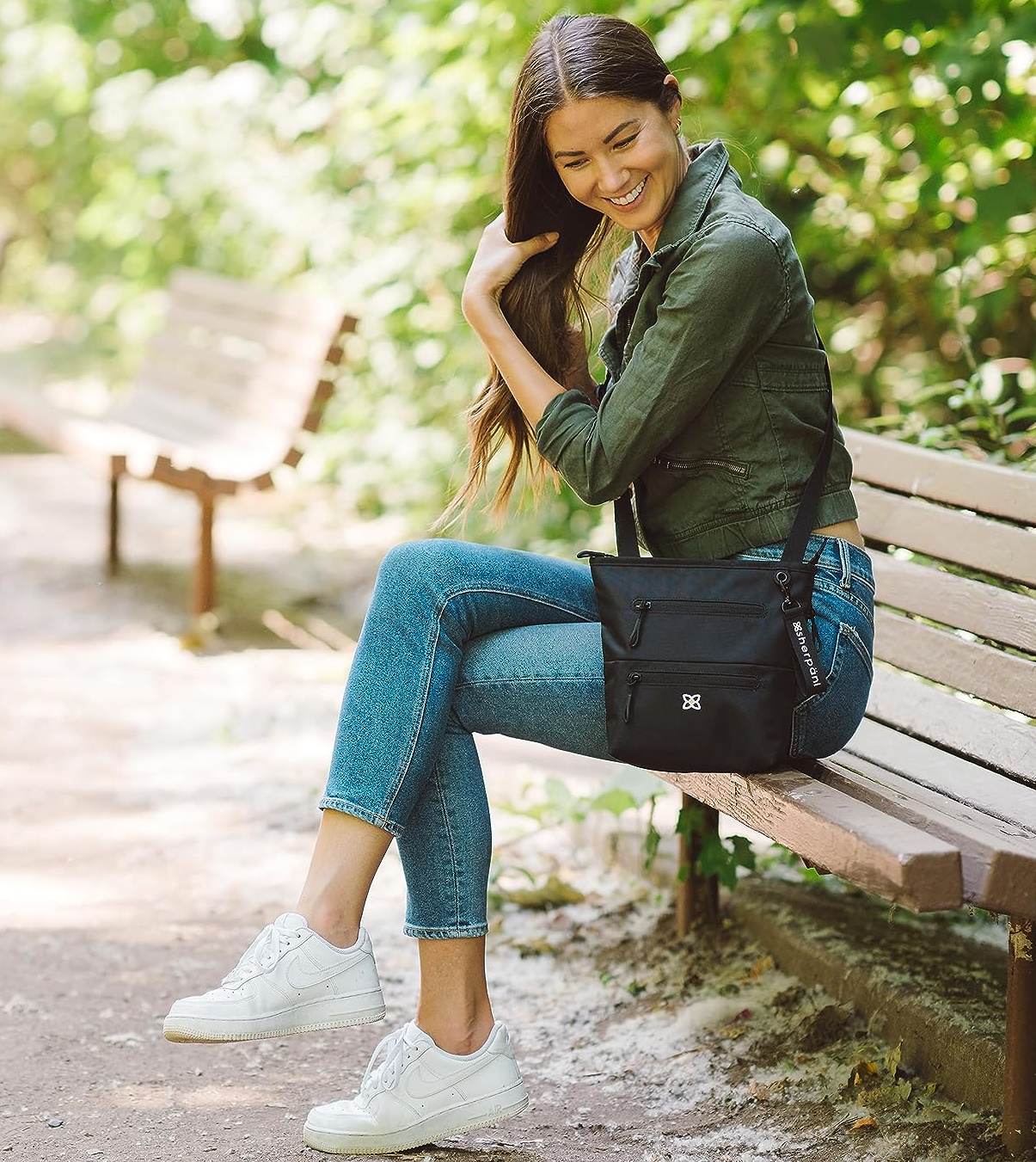 Sadie Crossbody Bag
If having plenty of pockets is a must, then you'll absolutely adore the Sadie crossbody bag. Decked out with plenty of interior and exterior pockets, this bag will keep all of your travel necessities organized and at the ready, and its RFID lining adds protection. This bag is roomy inside yet lightweight and compact, comfortable on the shoulders, and made from 100% recycled materials!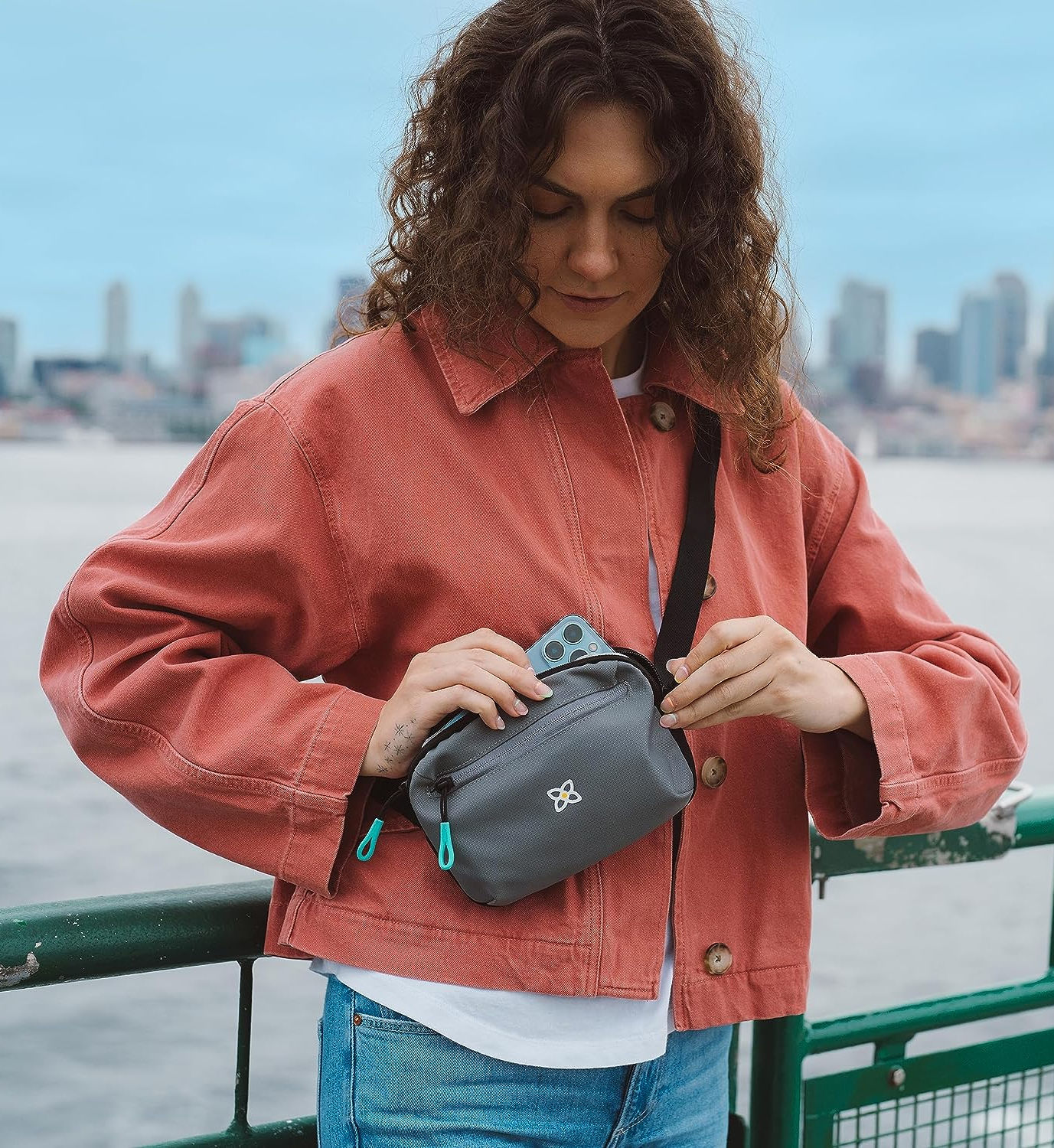 Hyk Belt Bag
On days when you're keeping it light, the Hyk belt bag has just the right amount of space for the essentials and will keep everything organized and easy to access. This cutie is RFID-protected and water-resistant, too, so drizzly days or accidental spills are no biggie! The adjustable belt allows you to wear it on your waist, crossbody, or slung over your shoulder, and wearers love how weightless it feels, and that it's so multi-use.
We recommend the best travel bags with trolley sleeve, because a trolley sleeve is one of the most helpful features a bag can have for travel!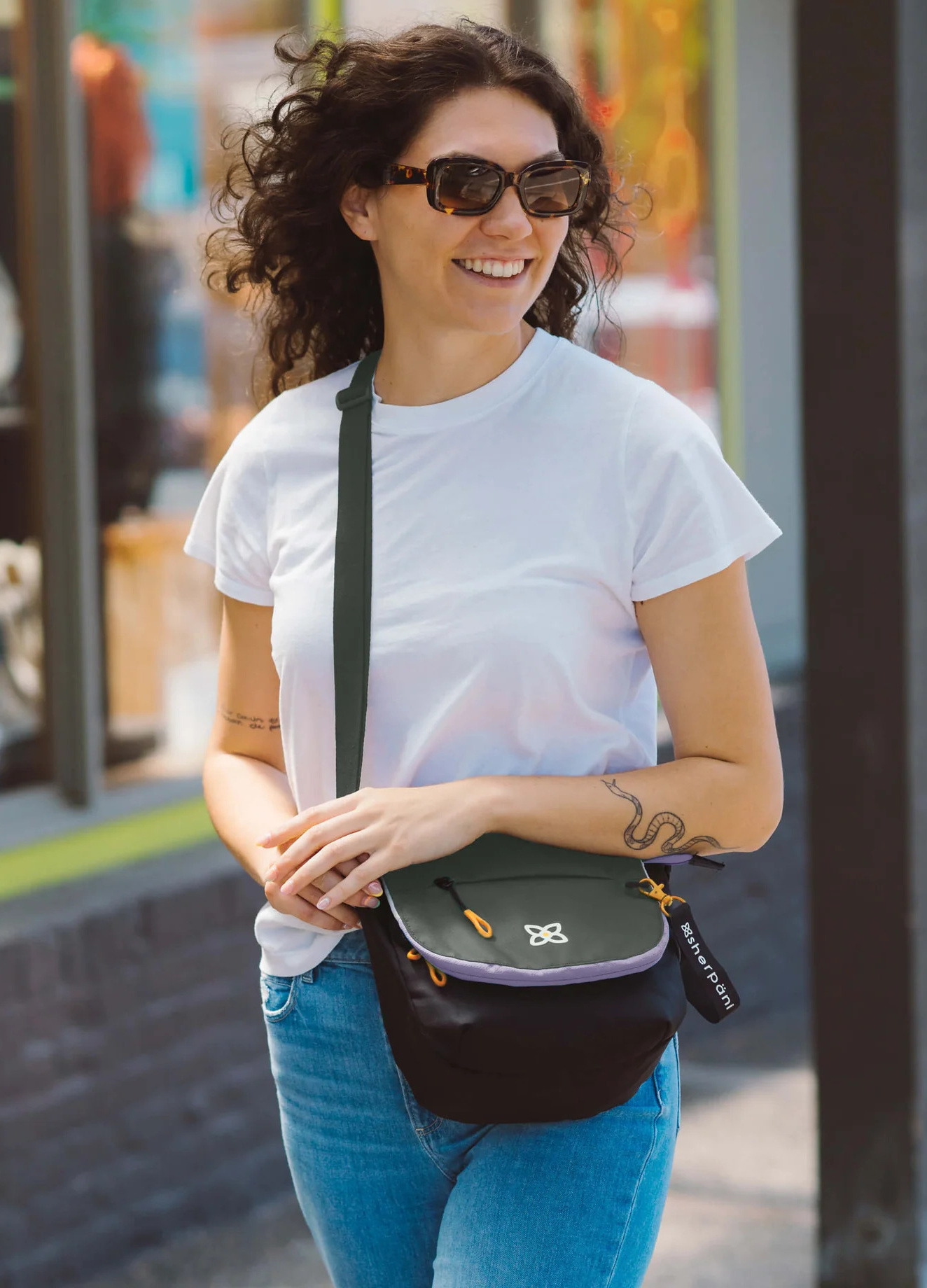 Milli Crossbody Bag
Constructed from recycled, lightweight, and water-resistant fabric, this mini messenger bag will keep its contents safe and sound. Its ultra-comfy strap is wide and adjustable, and its multiple pockets make reaching for your phone or other essentials quick and easy. An RFID-lined pocket, subtle yet adorable design, and versatility make it all the better! 
If you're looking for something even more compact, check out the Skye purse. It can go from a shoulder bag to a crossbody with a change of strap and is the perfect size for just holding the necessities. 
One happy user says this crossbody has "Lots of compartments and easily holds a large phone in the back zipper pocket. The magnetic closure is great, and it doesn't get drenched in the rain!"
Meridian 22" Hardside Carry On Suitcase
The Meridian 22" suitcase boasts an anti-crush exterior, so you can rest assured that your items inside will be safe and sound despite any rough handling. The interior offers three organizational compartments, compression straps, and pockets, and it's finished off with expandable zippers, a TSA lock, and smooth spinner wheels — all while staying amazingly lightweight at just 6 lbs! 
A reviewer says this met the dimension requirements in the U.S. and Europe and was very easy to travel with, especially the tiny wheels being able to handle bumpy streets. It comes in a few other colors too besides what's pictured.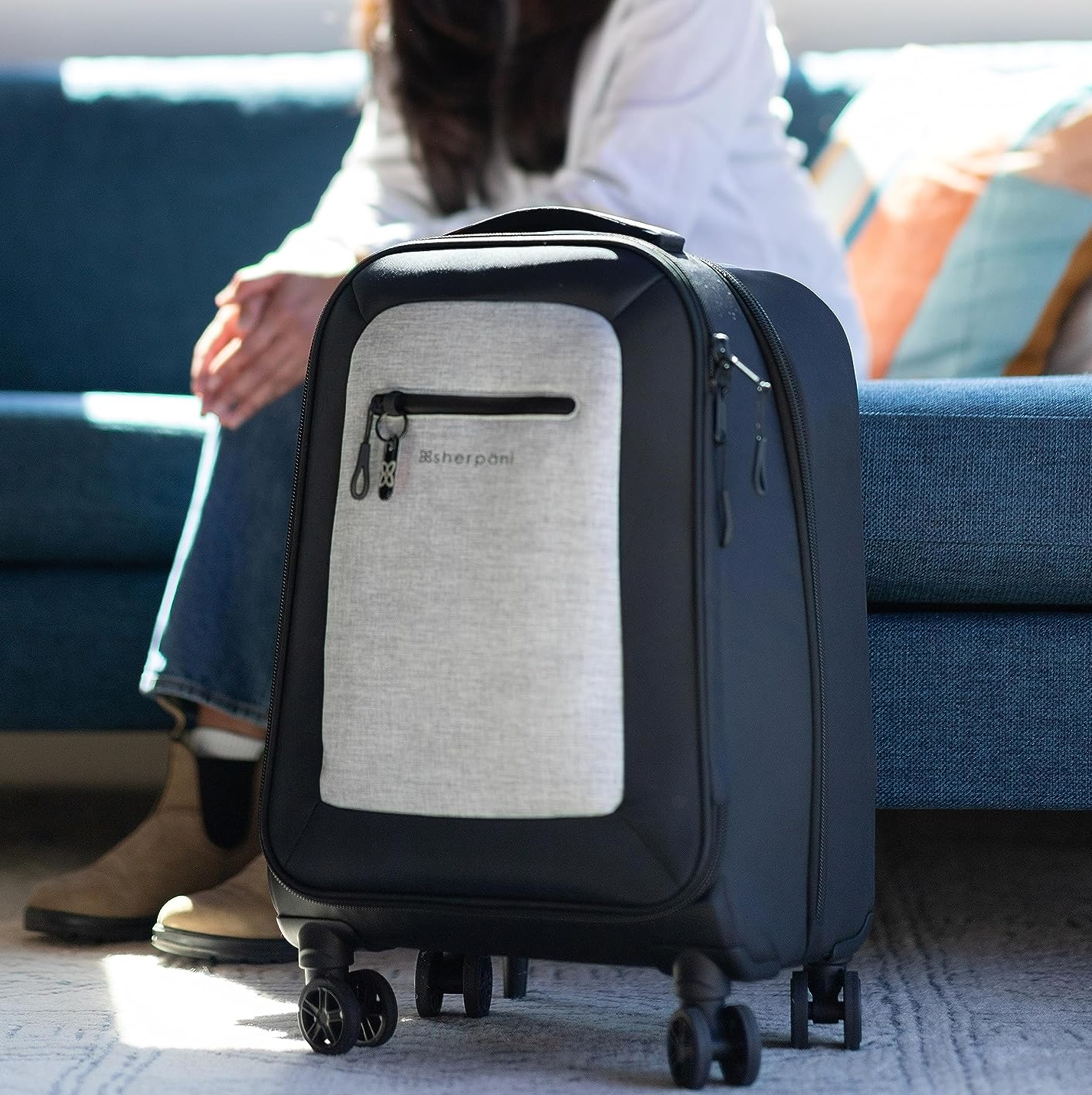 Latitude 22" Softside Carry On Suitcase
The Latitude suitcase is just as functional as it is adorable, with a unique, rounded silhouette, a color blocked design, and a compact size that'll fit in almost any overhead bin. It has three interior pockets and an exterior pocket, with a spacious interior that you can pack full without being weighed down. A zipper lock and a chair loop wire lock will keep it safe, too! 
One intrepid traveler says this bag is incredibly lightweight, rolls like a dream, and has much more room inside than it seems. And it's durable and cute and doesn't blend in with every other bag out there.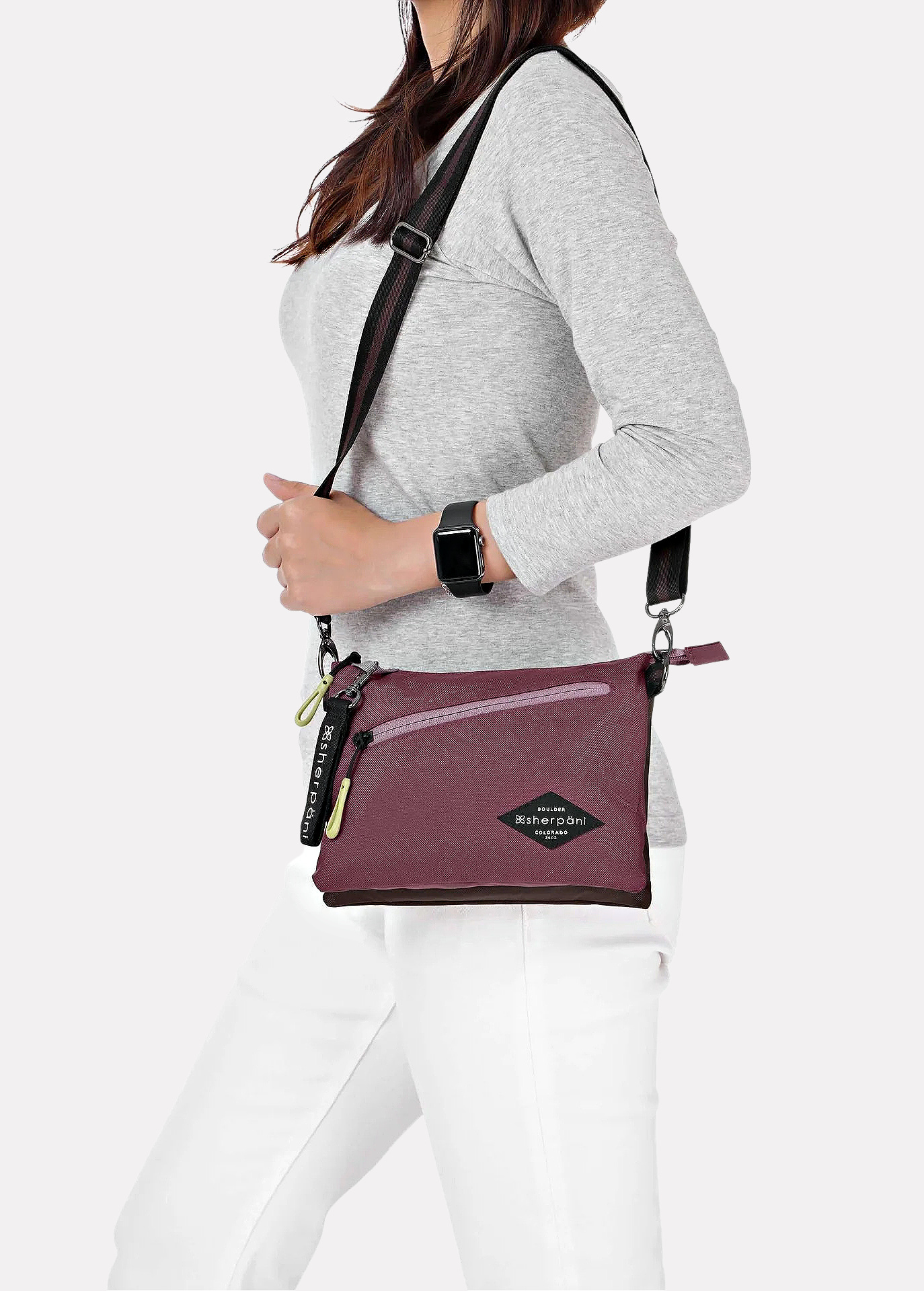 Zoom Crossbody Bag
Whether you need a compact crossbody for a day out and about or a little storage pouch to hold the necessities in a larger bag, the Zoom is a unique and ultra-versatile piece that you won't want to travel without! Its convertible nature means it'll adapt to whatever you need it for, and the durability and RFID protection are added bonuses.
It has pockets on the interior and exterior and comes in a range of colors that give it a fun and modern edge. And it's so versatile, the straps can be removed so it can be used as a clutch for dinners at restaurants!
Not sure what the best travel day bag for your next trip is? Check it out!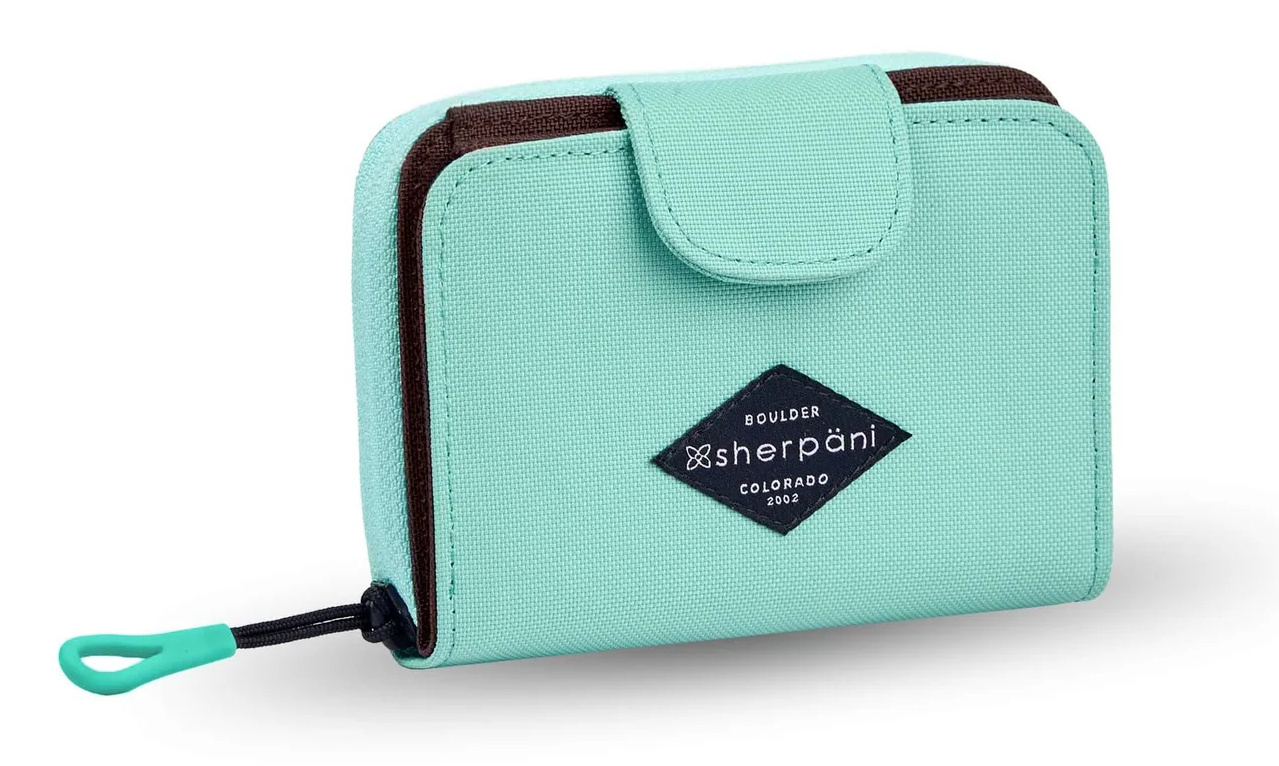 Barcelona Wallet
A compact and secure wallet is a must when traveling, and the Barcelona wallet checks all the boxes. Inside, you'll find 3 slip pockets, 3 card slots, 2 clear card slots, and a pocket for cash, all lined with RFID for security. 
It's a sustainable, stylish, and practical pick that fits a small handbag. Truly, this will keep you organized and last for years and years of travel to come!
Still slim but a tad larger in size, the Tulum wallet is another stylish and easygoing pick with fantastic organization and RFID protection!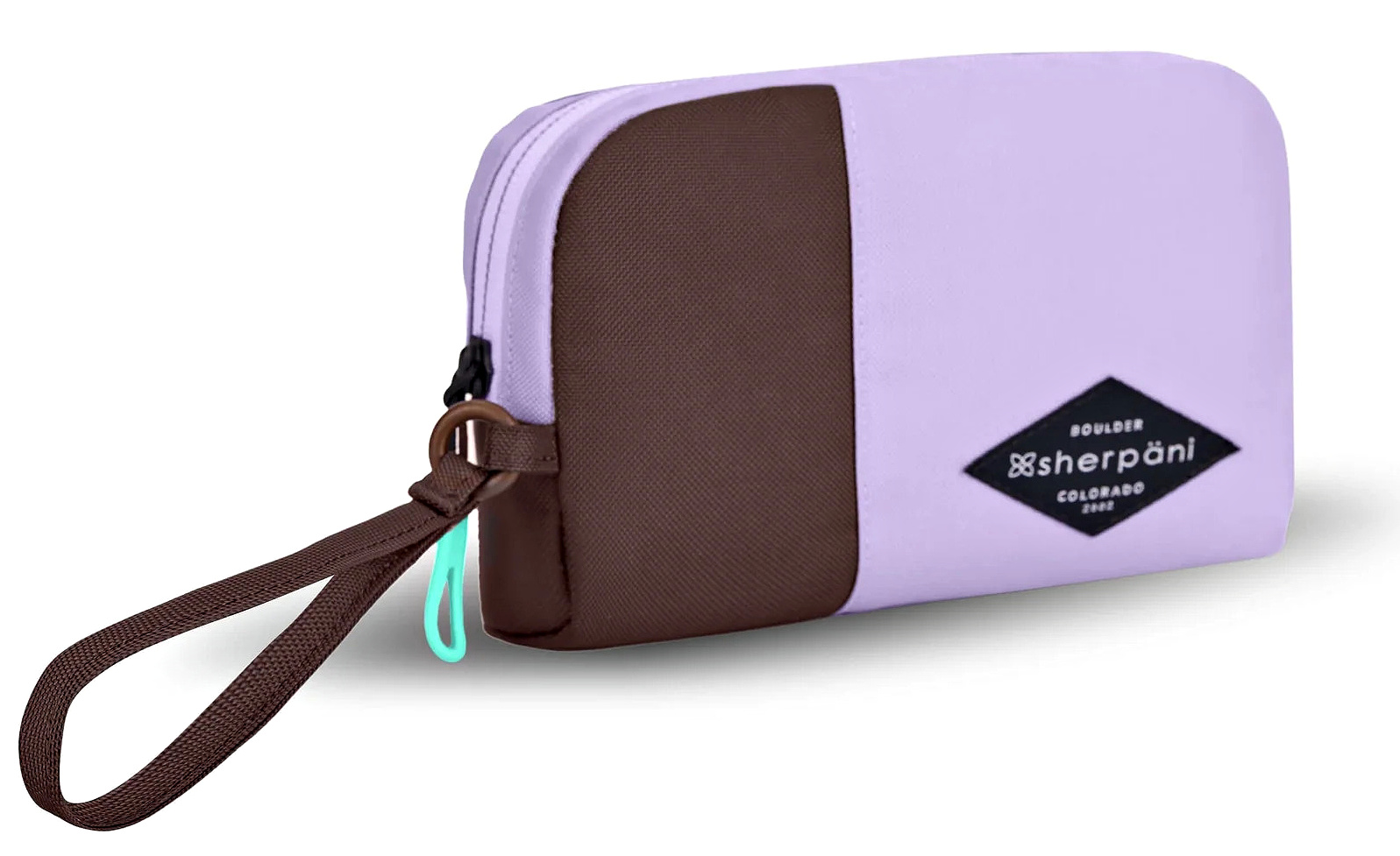 Jolie Wristlet Pouch
A wristlet is such a handy travel item that can be used for all kinds of activities, whether heading out to grab a morning coffee, storing the essentials for dinner and a night out, or even using it as a cosmetic bag. This Jolie wristlet has an interior pocket for cash and cards, plenty of room for your phone and a few other must-haves, and, of course, is RFID-lined! 
The durable fabric is offered in a range of cute color combos, making it a cute accessory, too.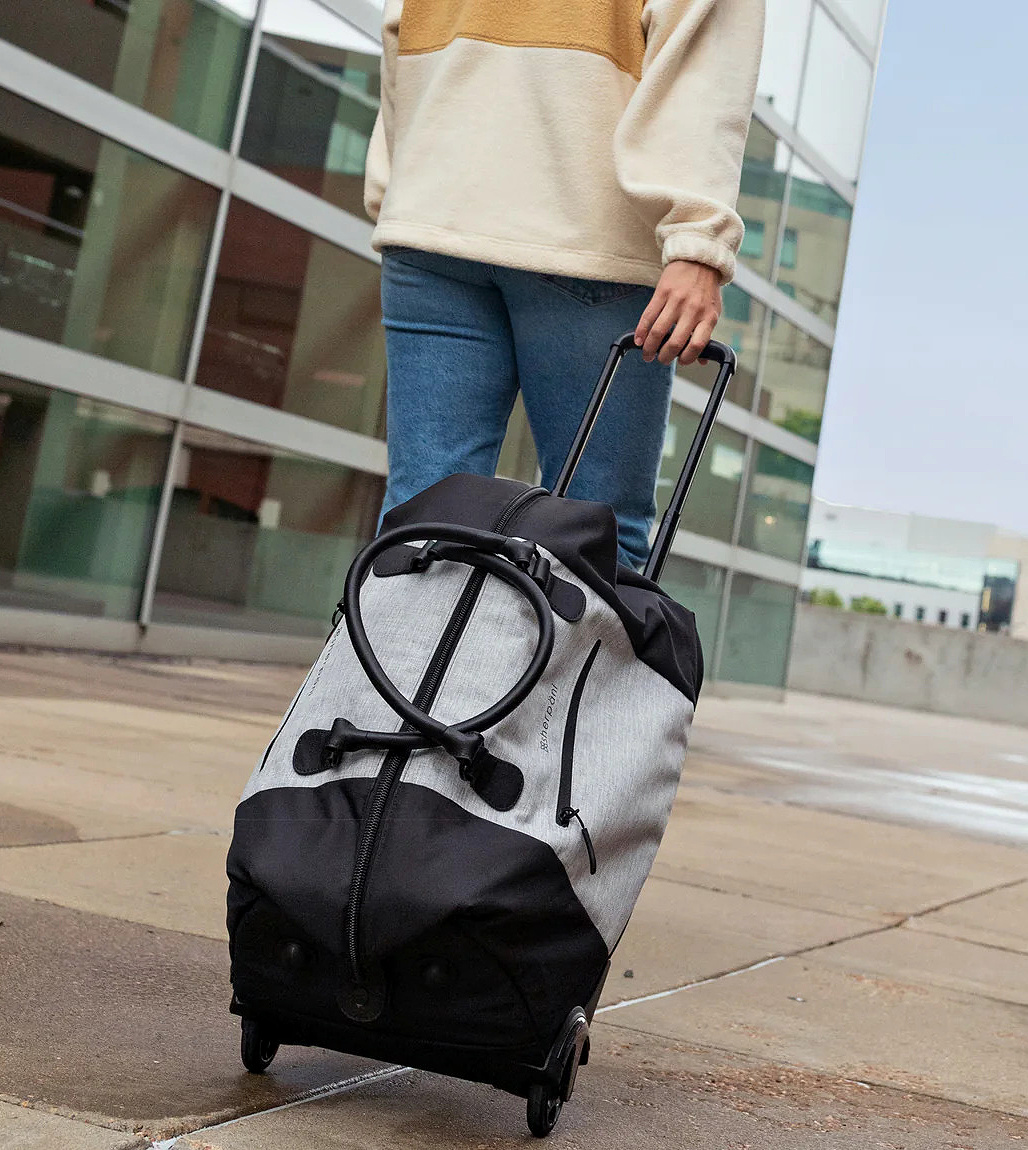 If you need a wheeled duffle for a special trip, the Trip Duffle has a 42L capacity and a retractable handle!
Where to Buy Sherpani Bags
You can get these popular anti-theft bags at the Sherpani site directly or on Amazon.
---
Now it's your turn. Share your thoughts on your favorite Sherpani bag in the comments below and why you love it so much!
---
For more travel bag reviews, please read:
---
LIKED THIS POST? PIN THIS PIC TO SAVE IT!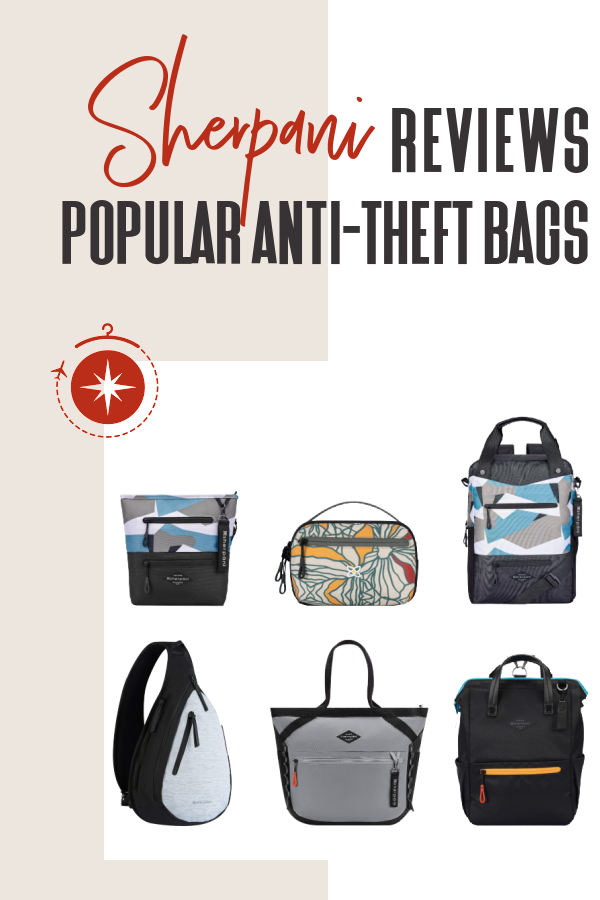 ---
We hope you liked this Sherpani bags review. Share this post with your friends on Facebook, Twitter, and Pinterest. Thanks for reading!
---