Support TFG by using the links in our articles to shop. We receive a small commission (at no extra cost to you) so we can continue to create helpful free content. We earn from qualifying purchases made to the featured retailers. Thank you, we appreciate your support!
One of the most popular under-the-seat trolley bags or personal items is the Ecosusi Overnight Weekender Bag. But how does it rate overall? Read our complete review! 
---
Ecosusi Bag Review
---
Table Of Contents
The Ecosusi Overnight Weekender Bag is well-loved by TFG readers as a personal onboard item or a bag to take for a weekend or overnight jaunt. It's also economical, going for less than $100, which is attractive if you don't want to spend a lot on a personal item. 
Because it's so popular, I decided to also give it a try for one of my short trips to the Red River Gorge in Kentucky. Find out in the following review if this budget-friendly bag makes a good travel companion!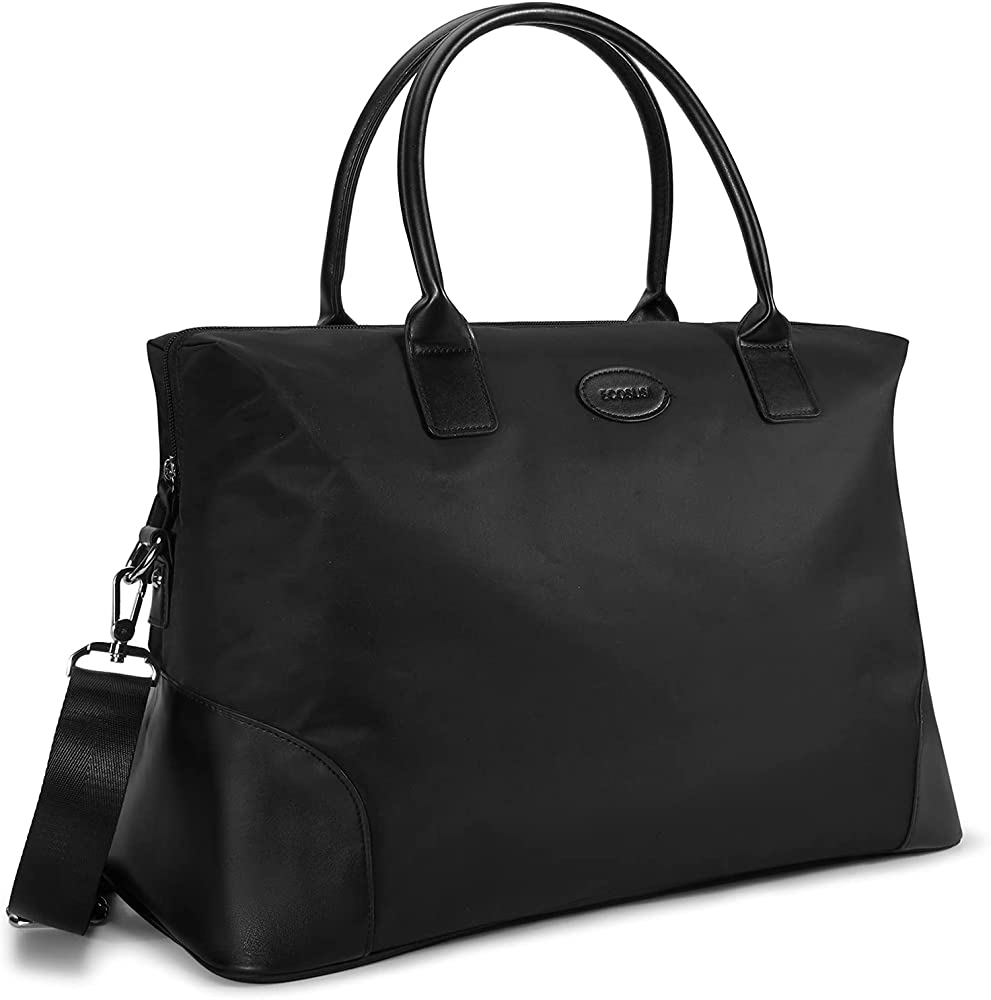 Ecosusi Weekender Bag in black
Ecosusi Weekender Bag Specs
Brand and Style: Ecosusi Overnight Weekender Bag 
Dimensions and Weight: Length 18.5″, Height 8.4″, Top width 5.9″, Bottom width 7.8″, and weighs 1.8 lb (0.8 kg). Accommodates a carry on size for most airlines (double-check with your airline though)
Fabric: Water repellent nylon and vegan leather trim, with a polyester lining
Features: Has a main zippered compartment for clothes or toiletries, a padded velcro pocket for laptop or tablet, and extra pockets for small items like a phone, keys, and so on. It has an adjustable shoulder strap that's detachable and double carrying handles, along with a trolley sleeve 
Colors: red, black, and beige
Travel Type: This is suitable for a weekend or overnight trip, or as a personal onboard item for a flight. It can work for business travel for short jaunts, but it's not recommended overall for long-term travel
Ecosusi Weekender Duffle Bag Features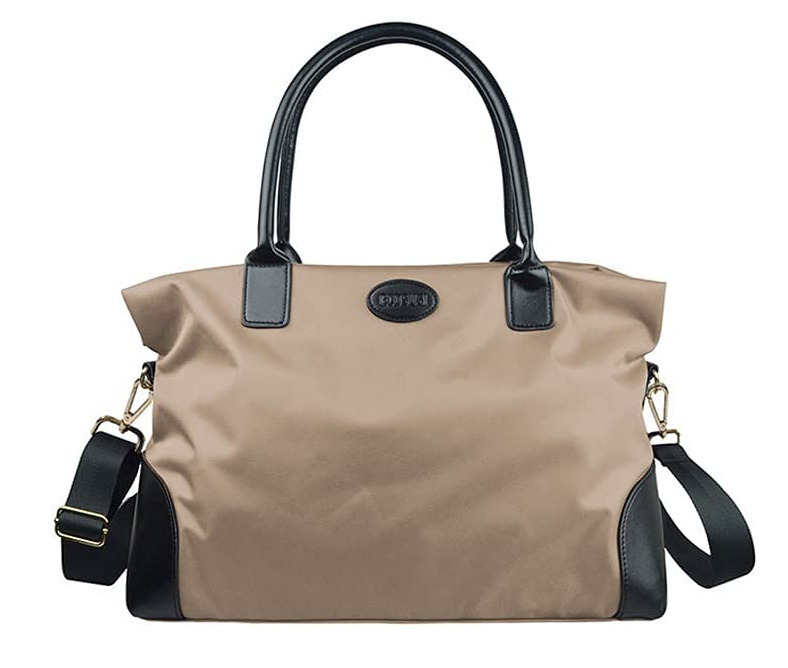 Ecosusi Weekender Bag in beige
Size and Material

Because it's so popular, I wanted to try the Ecosusi Weekender Overnight Bag out for myself. Normally, I use the Nomad Lane Bento Bag, which has been a total game-changer. You can read a full review about it here. However, since the price point is a little bit on the higher end, I wanted to check out a few of the different options, including the Ecosusi.
When it comes to size, the Ecosusi is 18.5″ long, 8.4″ in height, and the top width is 5.9″, It weighs 1.8 lb (0.8 kg), so perfect for a carry on size. In terms of material, it's water-repellent nylon and I had used it for a weekend trip to the Red River Gorge in Kentucky. This is one of my favorite places that I've been to in the U.S. but it's a very unexpected location, and I absolutely fell in love with it. So when I'm in the area, I try to go and visit at least once a year.
The bag itself doesn't have a ton of compartments, and in terms of how it moves and feels, my personal preference is that I normally like a softer bag if it's going to be for a weekender bag or personal item. However, many reviews say the Ecosusi is "well-made and feels sturdy, and won't fall apart."
I feel the Nomad Lane is very structured, which I like. It has adequate compartments for me to fit my packing cubes and the majority of things I need. It's not perfect, but I do like the compartments. They're very helpful to accommodate everything. So while the Ecosusi doesn't have tons of compartments, it came down to what I was using it for, which was a shorter trip.
Sidenote: If anybody is interested in the Nomad Lane Bag, we do have a 15% coupon code, which is TFG 15.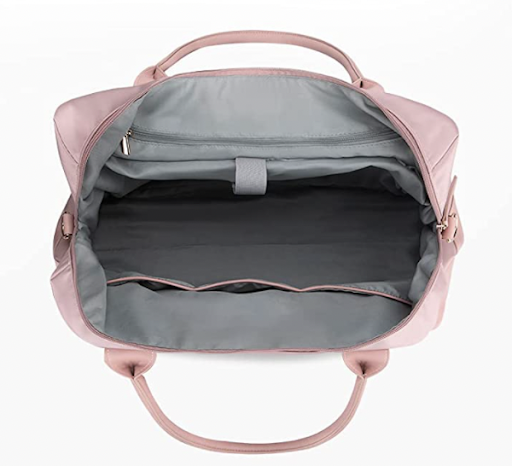 Ecosusi Weekender Bag in Pink
Storage and Organization
The Ecosusi Overnight Weekender Bag is an open style without many compartments, but it does have a padded sleeve for a laptop or tablet, and it has some pockets on the side. While I prefer more compartments, I'm not opposed to bags with just one opening. There are a lot of times those are some of my favorite bags to use. But in this case, I found the materials to be a little too rigid and the zipper to be of not the highest quality, which kept me from really maximizing my space the way I normally would with a bag that has a slightly softer fabric.
Your luggage is one of the most important things that you can choose because if your zipper breaks or a wheel falls off, or a handle falls off, (and I speak from experience), then that really messes up your trip. Especially if you're going somewhere like Europe, when there are endless flights of stairs and sometimes elevators don't work, and sometimes a lot of places don't have elevators, and the last thing you want to do is have to deal with a broken suitcase.
However, for this trip, I knew exactly what I was going to need, and it was going to be a very easy trip to pack for. In terms of other features, it has a zippered pocket where the trolley sleeve is, which is useful to store a boarding pass and passport. 
A TFG reader who bought this bag to use as a personal item says it can hold what they need by implementing external organizers. "It fits a laptop plus everything I need on the plane. I use a small toiletry bag, leather clutch, and a small cross-body bag as organizers. That way I can also bring more bags to use for all kinds of occasions."
Read these tips on how to pack for 5kg baggage allowance!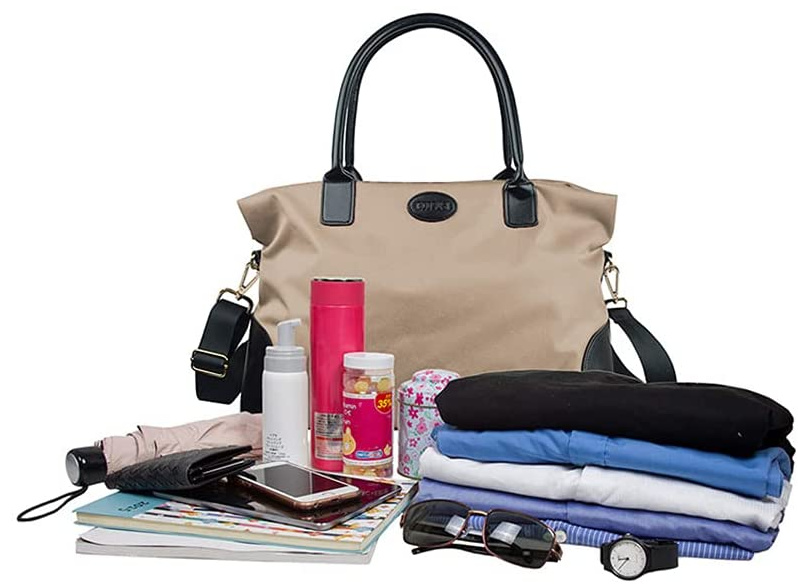 Ecosusi Weekender Bag in Beige

Packability 
When it came to packing the Ecosusi bag, my trip to Red River Gorge was a three-day, two-night trip, so my clothes would only consist of three hiking tops, three hiking bottoms, plus maybe one or two things to wear while lounging at the cabin, and PJs. So, it was very straightforward to pack a travel wardrobe for this particular trip. In addition, I always pack a light jacket, sweater, or fleece just in case the temperatures drop in the evening.
Basically, all I needed was a few packing cubes, full of clothes, my hiking boots, flip-flops, and maybe, just maybe, a pair of slip-on sneakers to hang out to use while at the cabin. But I ended up not packing them anyway.
As I filled the bag, it could hold everything I needed. I had two packing cubes, my toiletry bag, a makeup bag, my laptop, a sweater, and a few random other odds and ends that I wanted to bring.
While everything fit in the bag when it came to closing it, I struggled with the zipper. Zippers are one of the most important things I look for in luggage. Maybe this is due to traveling for over a decade but I really appreciate the power of a durable zipper when you're trying to fit everything into your suitcase From manufacturing the Compass Rose Packing Cubes, I learned that the best quality zippers are YKK and with a less expensive zipper you really run the risk of a zipper ripping very easily.
Luckily, I managed to fit everything in and finally close the bag. A TFG reader also shares their experience with packing the Ecosusi. "I just packed it to try and it's going to be perfect. Holds what I need including a change of clothes and I can comfortably roll my suitcase with it attached."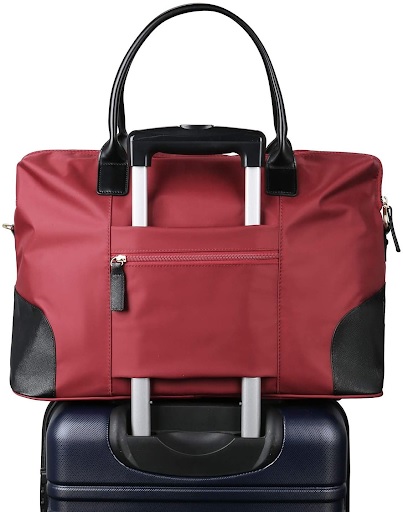 Ecosusi Weekender Bag in Red
Extra Features
The Ecosusi is a no-nonsense bag, with minimal features. It has the trolley sleeve, which is super handy to slide over a carry on suitcase and the sleeve also has a zippered pocket—good to store a passport or boarding pass. 
There's also a shoulder strap and the top handles for ease of carrying, so you can wear it over the shoulder or as a cross body. One reviewer loves these extra features and says, " I like that the longer strap is able to be taken off the bag to make it look more like a purse and less like a travel bag. It's really handy!"
Something worth noting is the laptop sleeve, as that elevates the bag above a tote, such as my Longchamp bag, which doesn't have one. I can also see myself using this in scenarios where I would need to take a bit more, but am not bringing a purse, which was the case for my Kentucky trip.  
And again, the trolley sleeve is an asset. There have been so many times I didn't want to travel with the Longchamp as a personal item when I'm flying because it doesn't have those features, which I find to be essential for personal items. And a user feels this is "my favorite feature, as I can slide the back opening over the handles of my rolling suitcase to make it easier to carry through the airport."
You'll want to look your best when you travel! Read my travel tips to Pack Light Stylishly!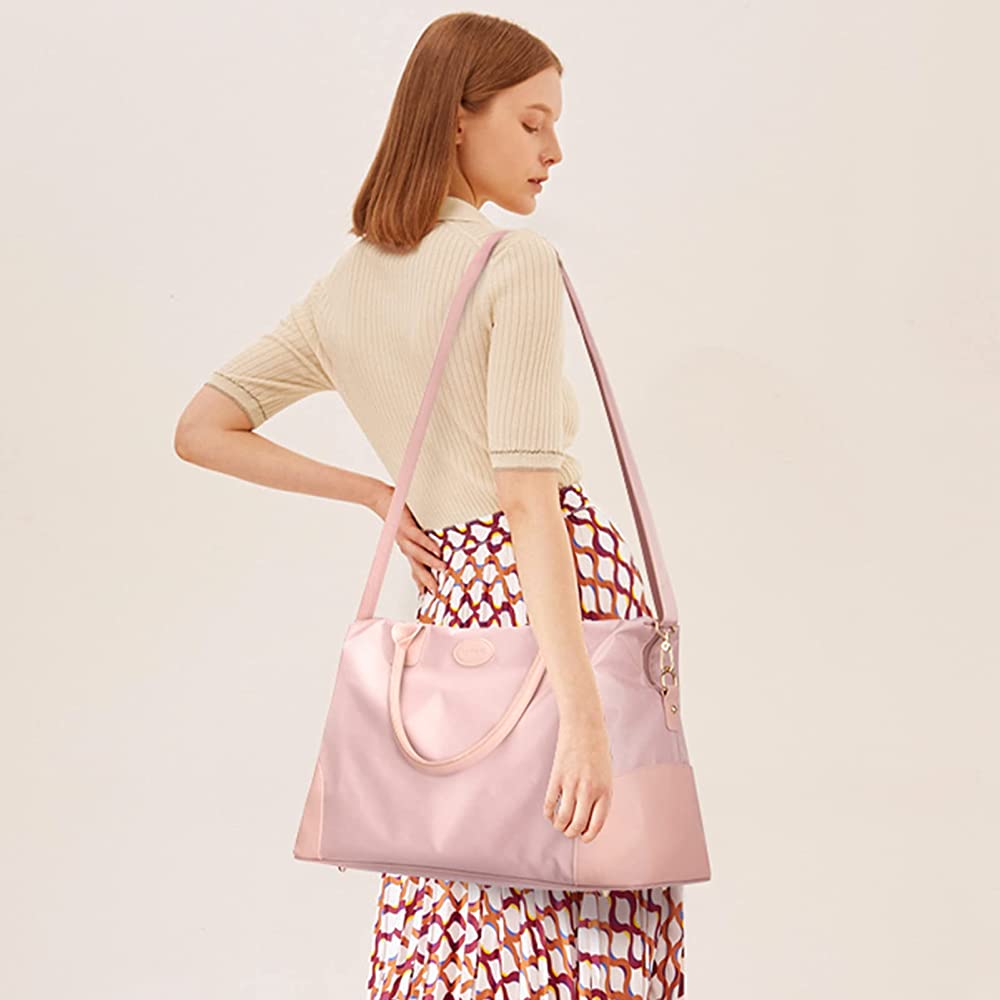 Ecosusi Weekender Bag in Pink
Pros
My initial thoughts as I started packing my things in the Ecosusi Weekender Duffle Bag is it's ideal for a short trip, as an overnight or weekend jaunt. Also, if you were using it as a personal item to travel on a plane and had a main suitcase and hand bag to carry the majority of your things, and were only bringing essentials, like a laptop, a sweater, and whatnot, then this bag would be perfect because it would just be the minimal.
Alternatively, this bag can also be used for road trips or even a spa or gym bag at home. With regard to the price point, the Ecosusi is under $100 and is available in a few different colors. So it's much more reasonable than another brand. 
And the biggest plus is it has a trolley sleeve and can just put it over your suitcase. It also has a back pocket with the sleeve, which I love because that's where I like to put my passport for ease and convenience while I'm going through the airport. 
One happy user feels that the Ecosusi can work for even international trips. "I love this bag! It meets the smaller size requirements for a personal item on European airlines and holds a good deal of items. It works for travel and became a day bag/beach bag while out and about."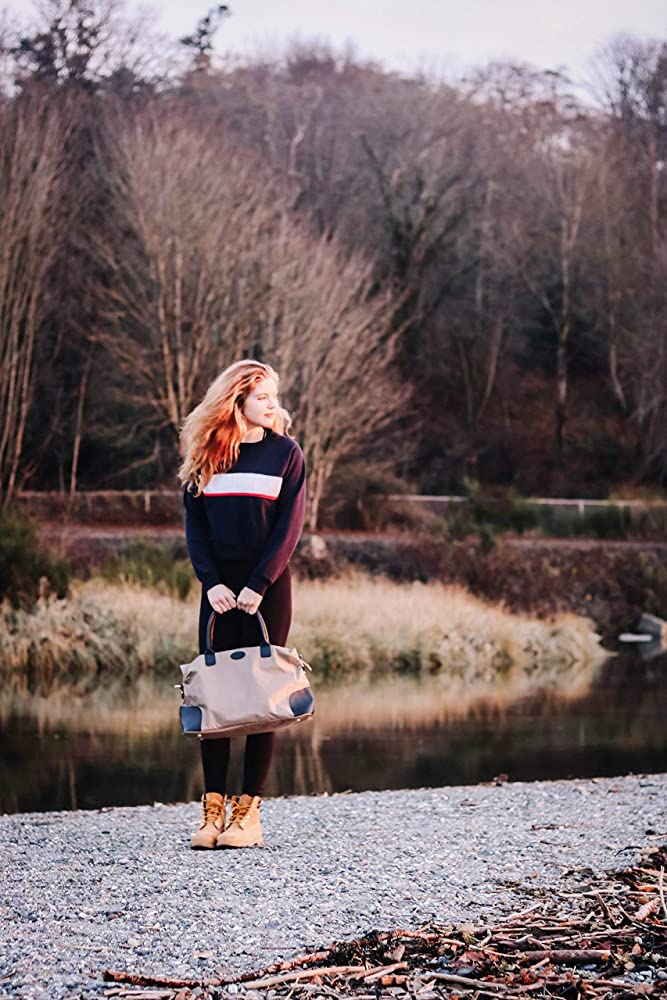 Ecosusi Weekender Bag in Beige
Cons
The downside of the Ecosusi Bag for me is how it wouldn't work for my international travels or my more long-term travels. Because I'm a frequent flyer, I try to choose products that I know are going to last me the test of time and I can get a lot of usage out of them. And over the years, I've become really brand loyal to certain companies because I know that they're not going to let me down.
In this price category, you could find a bag that is slightly better quality for a very similar price point. And we've listed a range of bags in various price points in our articles on the best trolley sleeve bags, and also in our best personal items article. So I recommend you have a look at those.
Regarding the Ecosusi's quality, it's a minimal nylon material, when compared to a Longchamp, has different quality material.  
One user who's a frequent traveler says, "It's too small for what I need it for. I'm traveling to Europe and want a carry on that's more like a duffle. It's a great 'carry on' so if you're going on a short trip and don't need the extra space, then this bag is perfect."
Our readers chose the best travel bags with trolley sleeve. Take a look at their top recommendations!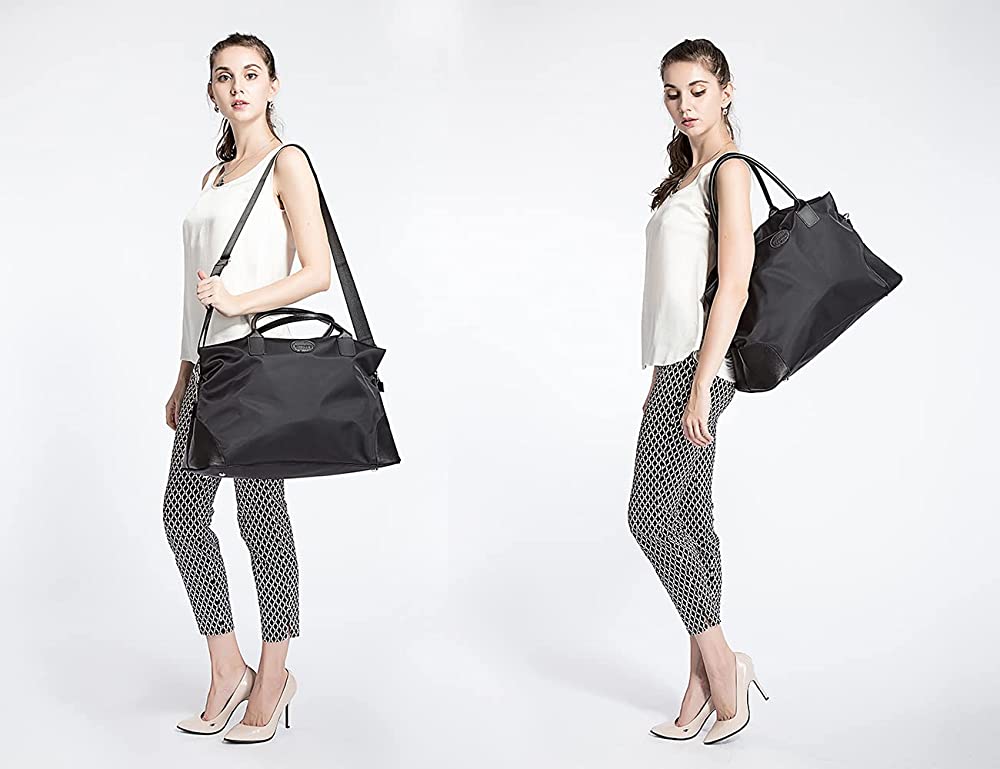 Ecosusi Weekender Bag in Black
Verdict
So is the Ecosusi Weekender Bag recommended? Yes, definitely! If you're looking for something more budget-friendly, you don't plan to use it as your main weekender bag, or maybe just use it as an overnight bag for the occasional trip, then it's ideal for those purposes. And it's a good-looking bag with a very clean design, available in a few colors. 
If you travel frequently or longer than an average vacation, you may prefer a bag that can give you the confidence to travel with it more long-term. And while it's not ideal for frequent business travel, it could be fine for doubling as a gym/spa bag, and storing a laptop when shuffling between work or leisure activities.
It serves its purpose for travelers that don't need to use it on a frequent basis. And again, for travelers that are looking for a personal item to hold their laptop and a few essentials, something just a little bit larger than a purse, or a tote, that has very functional features, such as the trolley sleeve, a passport sleeve, and a laptop sleeve.
One loyal user adores it completely and says, "I've owned this bag for almost two years now and I love it! I use it as my 'personal item' every time I fly (it's just small enough to squeeze under the plane seats) and it's a great overnight/weekend bag. It fits everything I need!"
​

Compass Rose Carry On Packing Cubes
How to Pack Your Ecosusi Bag
I could fit at least two packing cubes in this bag, which was awesome! If you're new to using these great organizational space savers, the video below offers a thorough tutorial.
Learn our hacks with packing cubes in this video!
We also put together a five-part YouTube series showing the different methods to use packing cubes for travel. If you utilize this specific packing strategy, packing cubes can also compress your belongings. This is the secret to traveling carry-on only!
Read my full review on the Nomad Lane Bento bag to find out why TFG readers and I have become such great fans of this bag!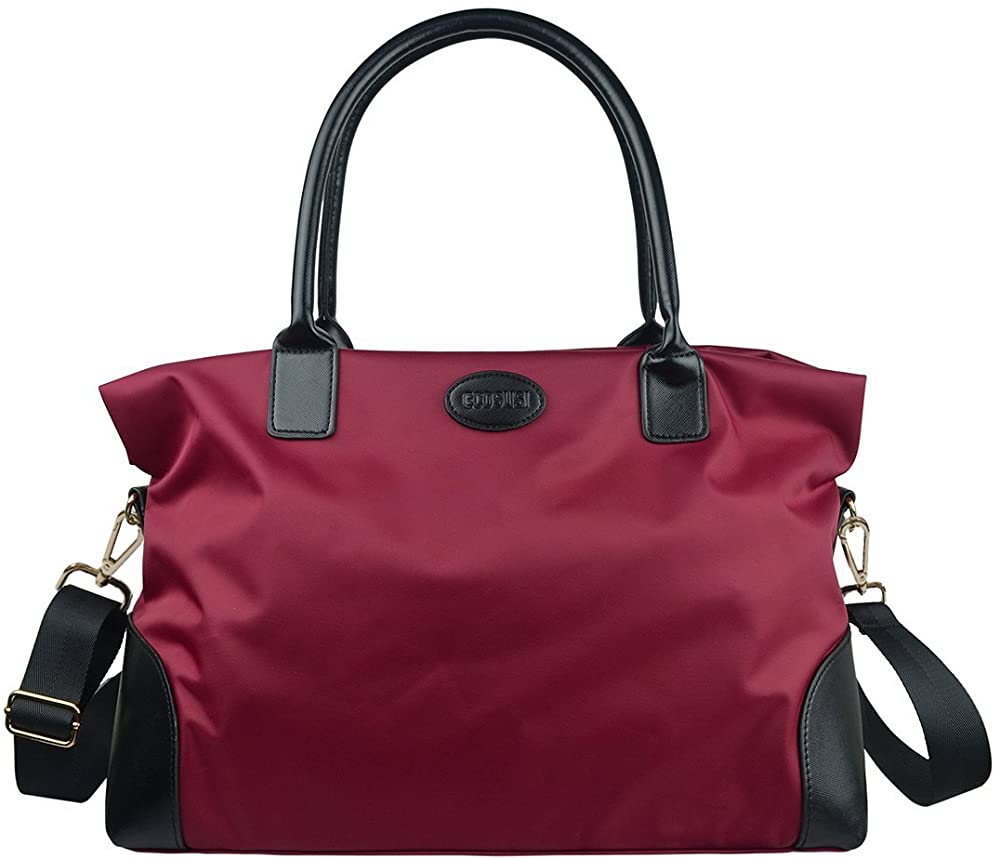 Ecosusi Weekender Bag in Red
Where to Buy the Ecosusi Overnight Weekender Bag
You can grab this super popular bag on Amazon.com!
---
What's been your experience with the Ecosusi Weekender Bag?  Share your thoughts below!
---
For more travel bags or luggage, please read:
---
LIKE THIS POST? PIN THIS PIC TO SAVE IT!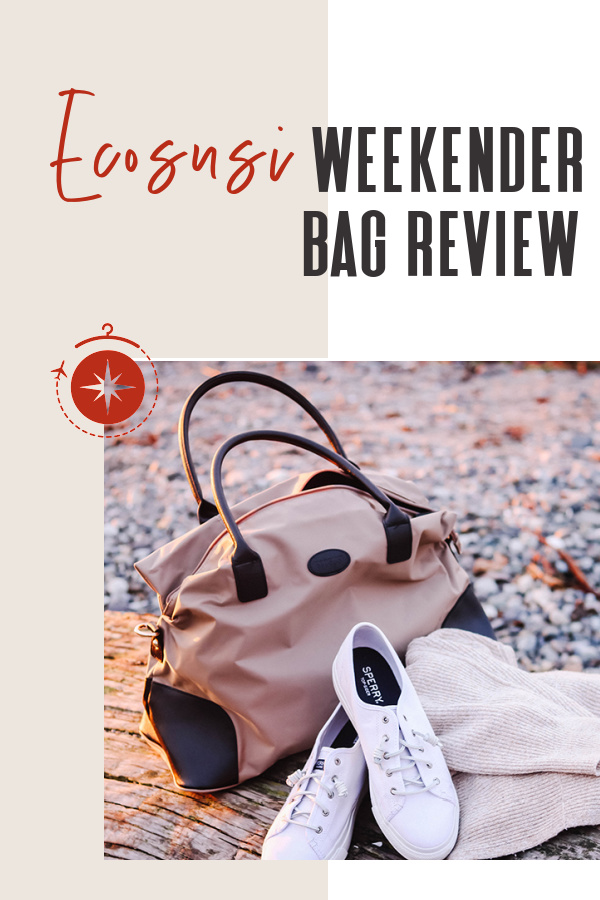 ---
We hope you found this Ecosusi Overnight Weekender Bag review helpful. Please share with your friends on Facebook, Twitter, and Pinterest. Thanks for reading!
---