Support TFG by using the links in our articles to shop. We receive a small commission (at no extra cost to you) so we can continue to create helpful free content. As an Amazon Associate, we earn from qualifying purchases made on Amazon in addition to other retailers featured on the blog. Thank you, we appreciate your support!
For outdoor enthusiasts, the Osprey Tempest 20 backpack is lightweight and easy to carry for a day or weekend of hiking. Find out why this daypack comes highly recommended in the TFG community in our complete review below!
---
Osprey Tempest 20 Women's Hiking Backpack
---
Table Of Contents
The Osprey Tempest 20 women's hiking backpack is an incredible hiking backpack that our readers adore. This backpack is functional, versatile, and adventure-ready. I also used it on a two-week camping and hiking trip through Utah's national parks!
So many TFG group members have traveled extensively with this bag, and have nothing but wonderful things to say—keep reading this review for more details!
Osprey Tempest 20 Backpack
Specs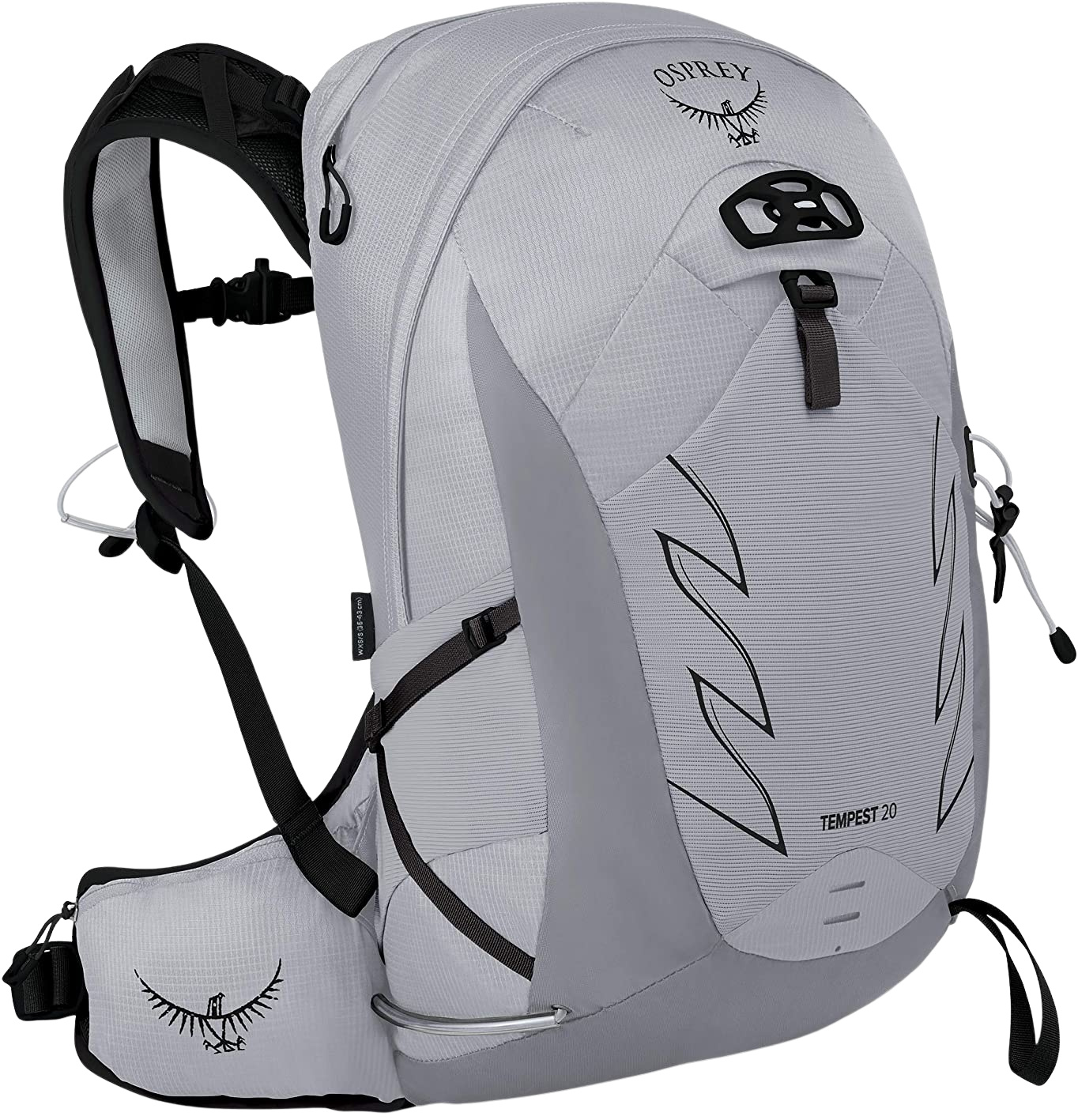 Osprey Tempest 20 Backpack in Aluminum Grey
Shop: Amazon | Osprey | REI
Brand and Style: Osprey Tempest 20 Women's Hiking Backpack 
Dimensions and Weight: 20.08 x 10.63 x 9.06 inches and 1.98 pounds
Fabric: High-quality recycled nylon
Features: Dual-zipper access to the main compartment, adjustable shoulder harness, external hydration sleeves, Lidlock helmet attachment, and a women's specific fit
Colors: Comes in gray, orange, green, black, and purple 
Travel Type: Ideal for camping and day-hiking, or any outdoor adventure where you want a pack but don't need to carry too much gear
Looking to buy a new travel backpack for your trip? Here's your guide to choose the best travel backpack!
Osprey Tempest 20 Backpack Features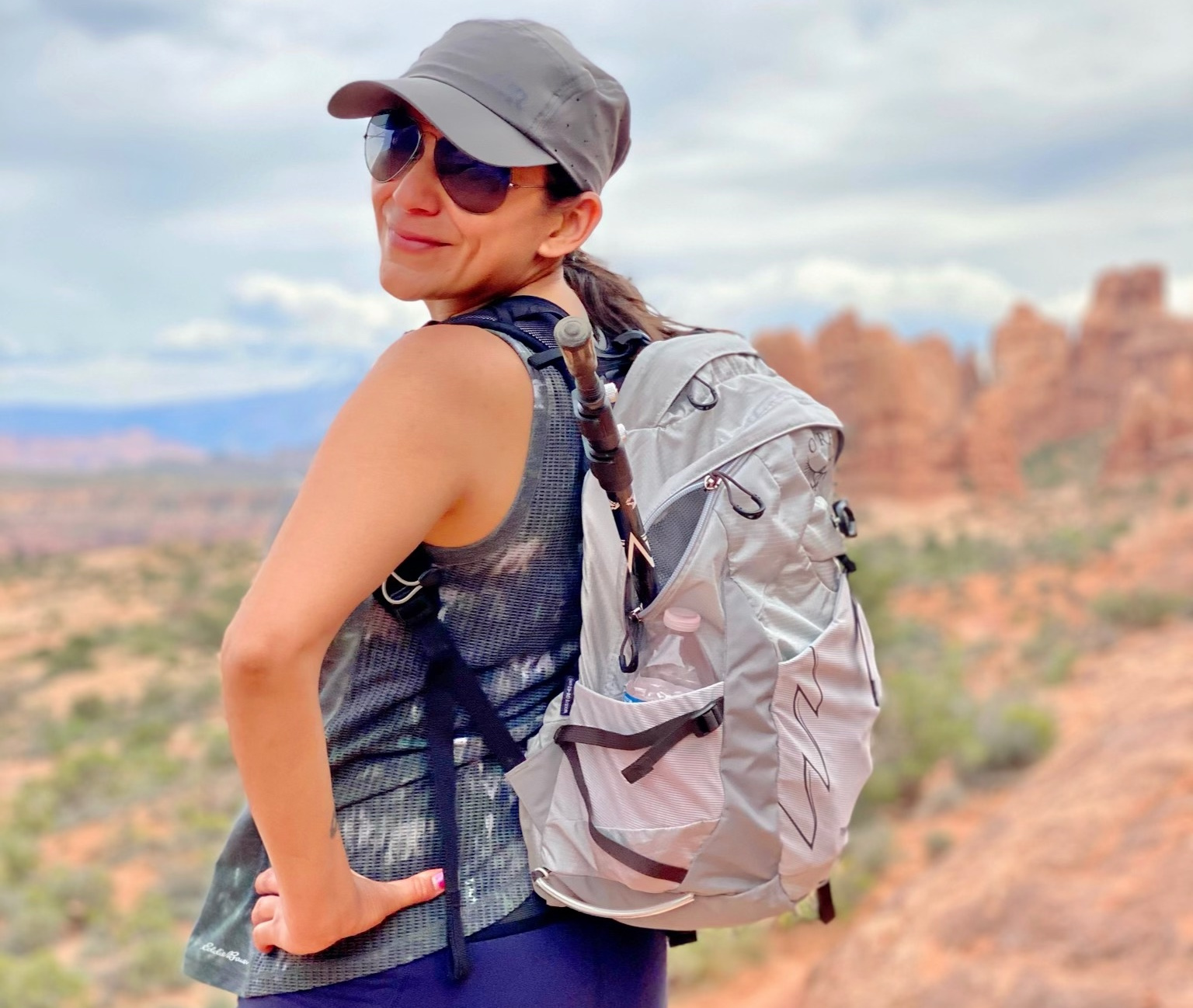 Osprey Tempest 20 Backpack in use at Arches National Park – it holds water perfectly!
Size and Material
The Osprey Tempest 20 backpack is a smaller hiking backpack that is absolutely perfect for camping trips, climbing trips, day hikes, and any other outdoor trips where you'll be out and about for part of the day. 
When I brought this bag along on a two-week hiking trip across Utah, I originally wished I had the size 22 for a little extra space on my multi-day trips, but the 20 size actually ended up being absolutely perfect for this trip! 
Osprey's signature ripstop fabric made it super easy for me to keep this bag clean, despite the insane amount of sand blown at me on the Great Sand Dunes or the dusty Utah red rock! Made with recycled, high-tenacity nylon, this bag is amazingly durable and will hold up really well over time. 
One reader says, "It's been my personal item and day pack for several years and shows no signs of wear."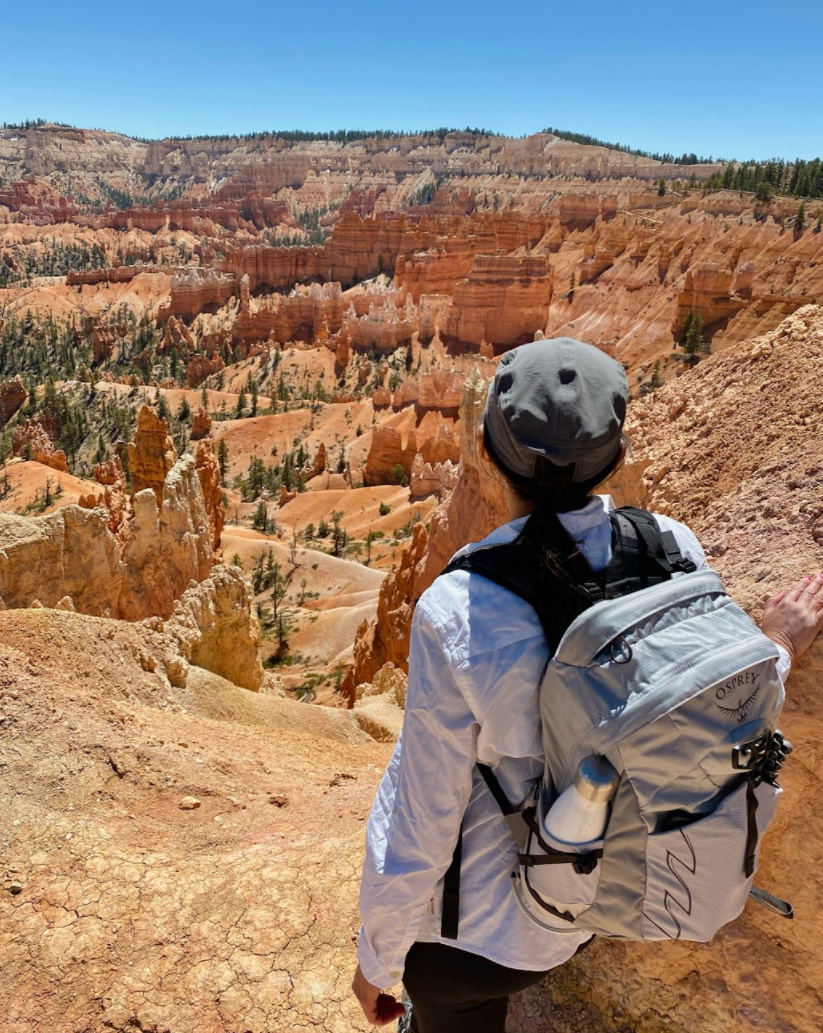 Conquering an incline at Bryce National Park with my Osprey Tempest 20 Backpack
Functionality
While on the smaller side for a daypack, the Osprey Tempest 20 makes up for it in its functional features. The features mark all the points on my wishlist: hiking pole inserts, mesh exterior pocket for quick access to my waterproof jacket or phone with mini-tripod, 2 mesh pockets for water bottles, and a main compartment with just enough space for some snacks, silk thermals, Columbia waterproof jacket, and Patagonia shell. 
The mesh pocket across the front, as well as the two pockets on the hip belt, allowing for easy access to essentials. You can also purchase an external hydration sleeve to go with it that accommodates up to 3L.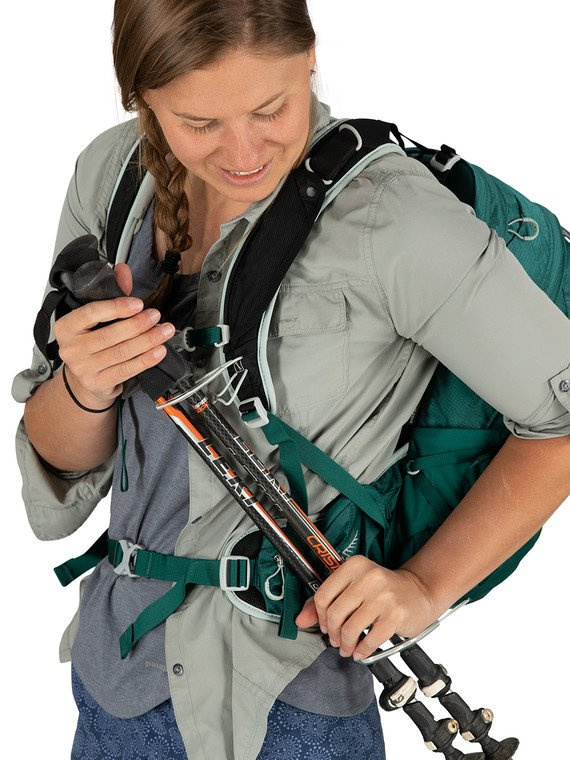 The Osprey Tempest 20 Backpack carries hiking poles!
The helmet attachment is also really convenient, which allows you to easily attach and carry your helmet if you're bringing one along. When it comes to this bag, Osprey has thought of it all! 
One traveler shares, "I've taken it everywhere. Does great on excursions, easy to take through airports."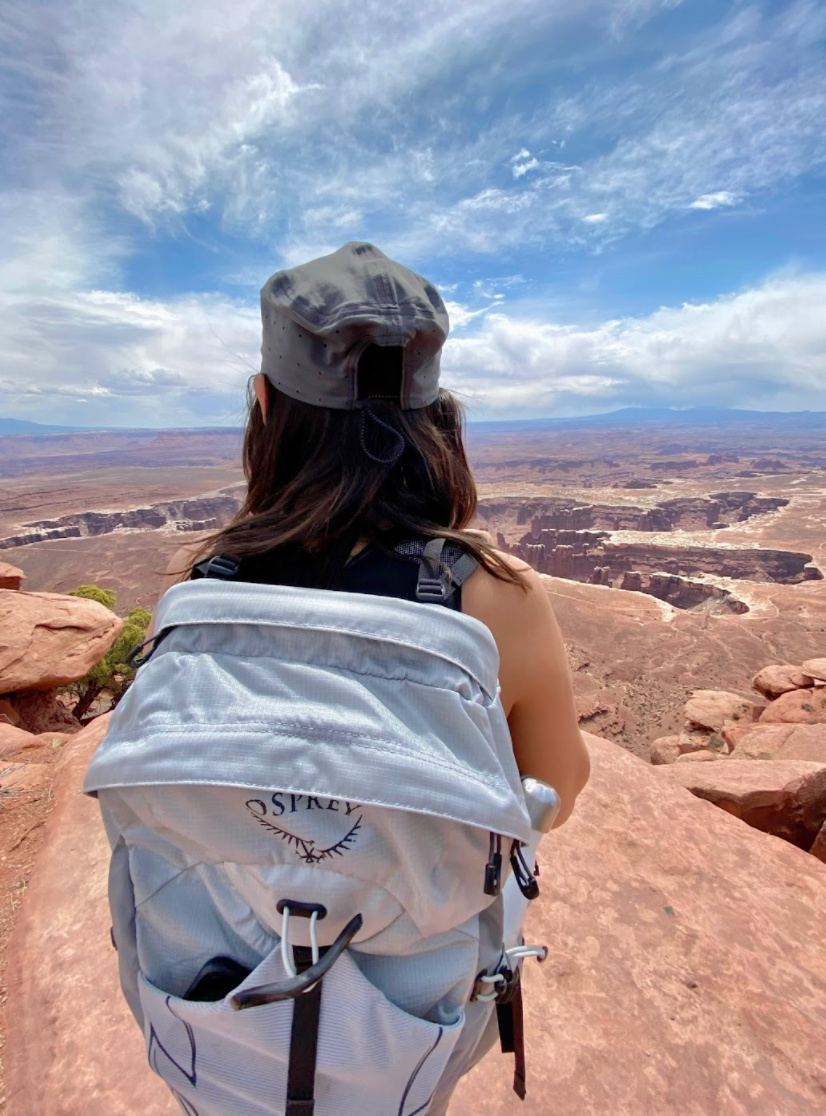 The Osprey Tempest 20 Backpack is lightweight to carry!
Comfort and Fit
The Osprey Tempest 20 daypack is made of super lightweight fabric, so it's easy on the shoulders during hikes or activities where you'll be wearing it for extended periods of time. During my hiking trip, I really loved that it felt feather-light. Because I've had back issues, I prioritize lightweight backpacks, and this is as good as it gets! The air stream increased my comfort level because it felt breathable and light on my back.
The back panel and suspension are really where this pack shines. It has flexible support which means you don't have a rigid frame. Stretchy foam in the shoulder straps and belt also makes this pack fit really well.
Osprey makes amazing backpacks! Here's a list of the best Osprey backpacks, pick your favorite!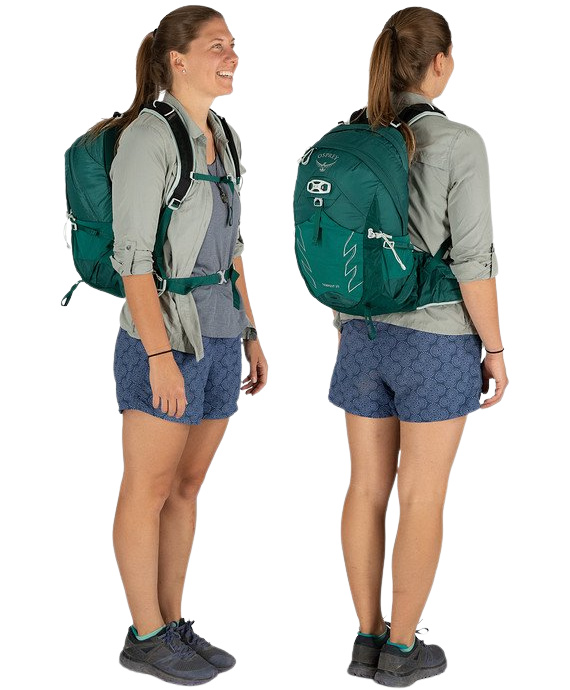 Demonstration of how well the Osprey Tempest 20 Pack fits!
Featuring a continuous-wrap harness and hip belt and injection-molded AirScape back panel that moves with you as you hike. 
One wearer gives an impressive review, "​​I brought this bag to a 15-hour long race in the woods. We had different legs that involved trekking, mountain biking, and paddling canoes. I know I overpacked but I did not feel the weight at all! Loved the helmet latch, as I only wear my helmet when I have to. The buckle that sits on the hip provided so much support off my shoulders."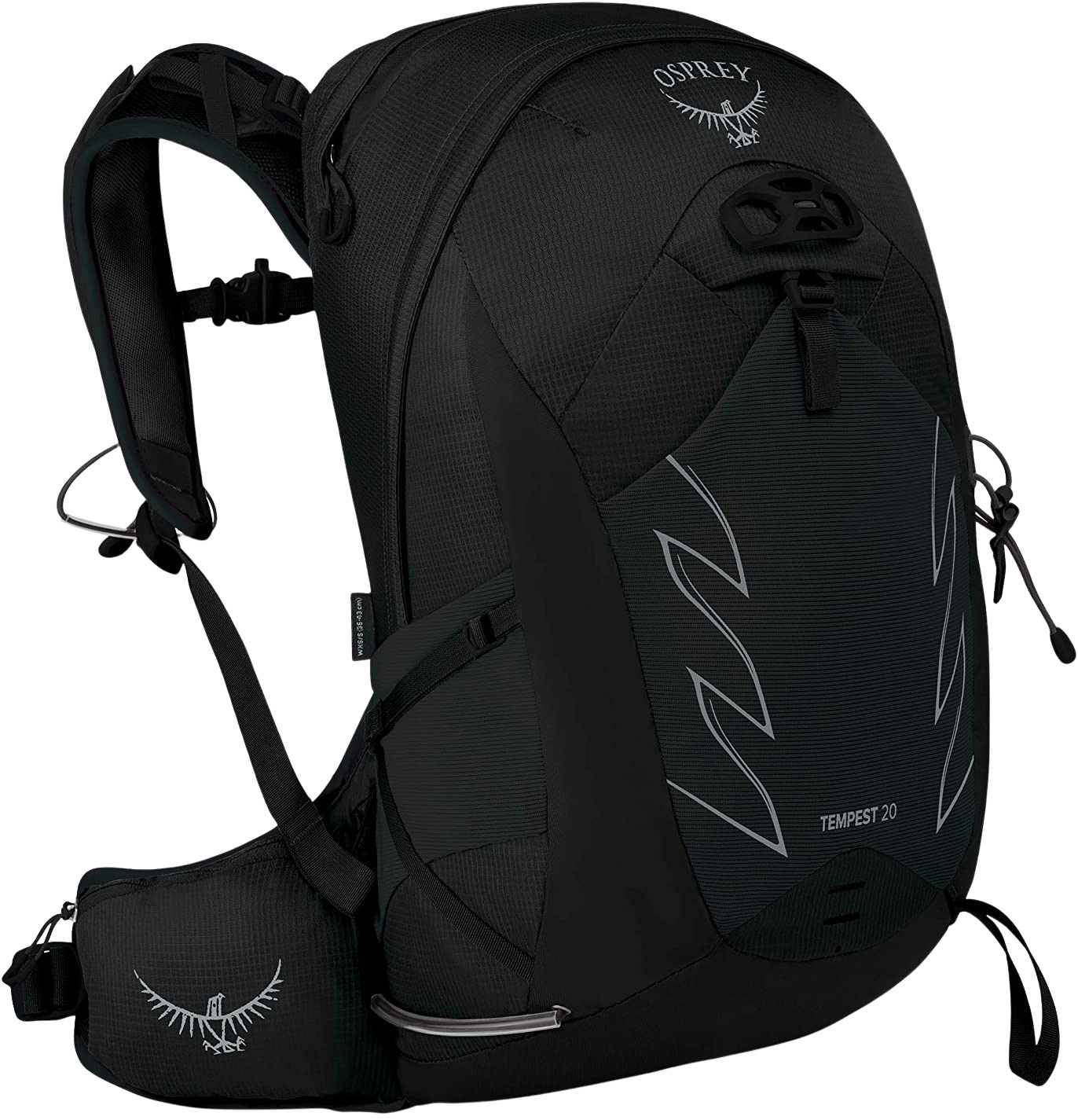 Opsrey Tempest 20 Backpack in Stealth Black
Shop: Amazon | Osprey | REI

Pros
The Osprey Tempest 20 has an abundance of functional features that make this daypack superior. With a ton of handy pockets, you can easily grab what you need while on the go. The interior space has ample room for snacks, a jacket, or any other larger items you want to carry along with you on your outdoor excursion. 
One standout feature for me is the hiking pole attachment. When I'm doing steeper hikes, I feel better having hiking poles for my knees, so this feature is a major pro for me!
One reviewer shares her pros: "Love this backpack, made for a woman's body. The vented back is awesome for hiking in the heat. Great storage and very comfortable. Pretty colors too!"
Another readers shares, "Osprey also has a lifetime warranty, so worth getting one for sure! I hope you love it as much as I love mine, they are great bags."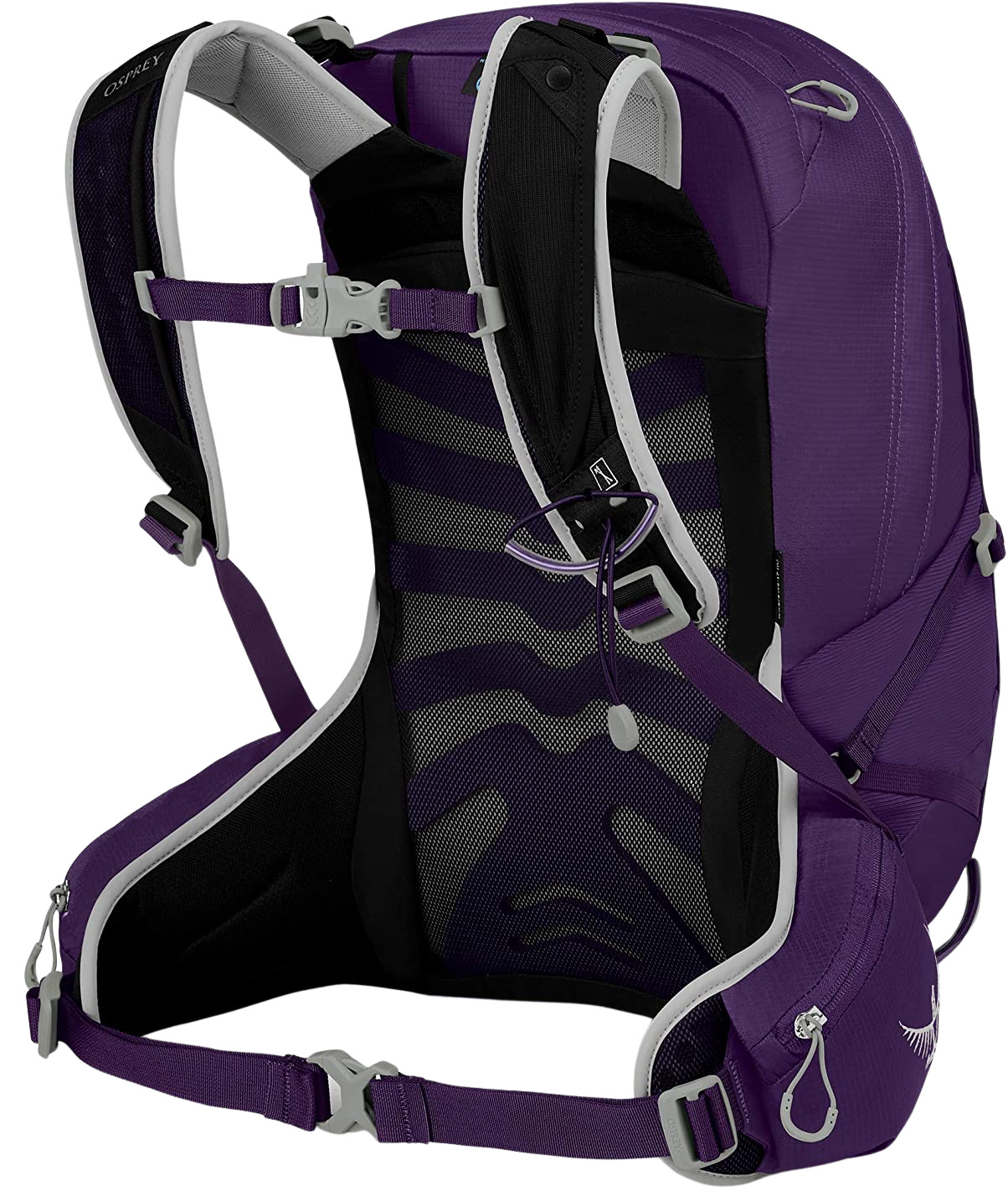 Osprey Tempest 20 Backpack in Violac Purple
Shop: Amazon | Osprey | REI

Cons
For as efficiently as this bag can be packed, some wearers still find it a tad small for longer hikes or outings. With this one, you'll have to pack a little lighter, so it's ideal for shorter hikes, bike rides, or activities where you'll be out and about for shorter periods of time. 
One solution is to take a larger pack that can fit a bit more, such as the Osprey Mira 22 or the Osprey Sirrus 24.
Additionally, the flexibility and lightness of the pack slightly sacrifices its ability to support a significant amount of weight, especially if you're also carrying a lot of water. It is definitely durable, but I wouldn't stuff it too tight.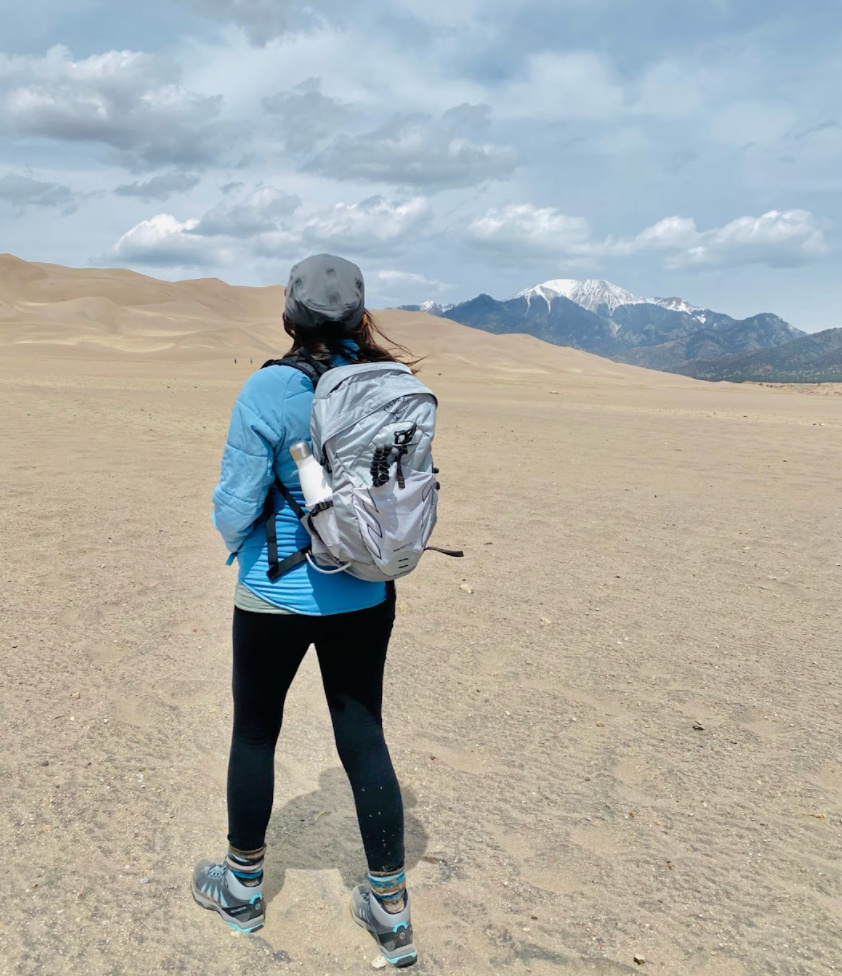 Hiking the Great Sand Dunes with my Osprey Tempest 20 Backpack
Verdict
The Osprey Tempest 20 women's backpack is a winner! Osprey is a brand that first impressed me on my 9-month round-the-world trip with the Aura 65L, and it's been my go-to travel and outdoor gear brand ever since! Our readers obsess over their Osprey bags, too, and for good reason! 
 As for the Osprey Tempest 20, it's the perfect choice for a day pack. It's small but spacious enough to fit all you need. It's incredibly functional, comfortable, and looks quite cute for such a practical bag! 
While it might not hold a ton, many TFG readers absolutely love the Tempest and can't recommend it enough. I found it worked really well for my needs during my Utah trip and look forward to using it again on another outdoor adventure.
A happy user shares their overall review, "Great pack, exceeded my expectations. Not too big not too small for a day hike and extremely lightweight."
If you're spending time outdoors this summer, check out our list of top hiking sandals!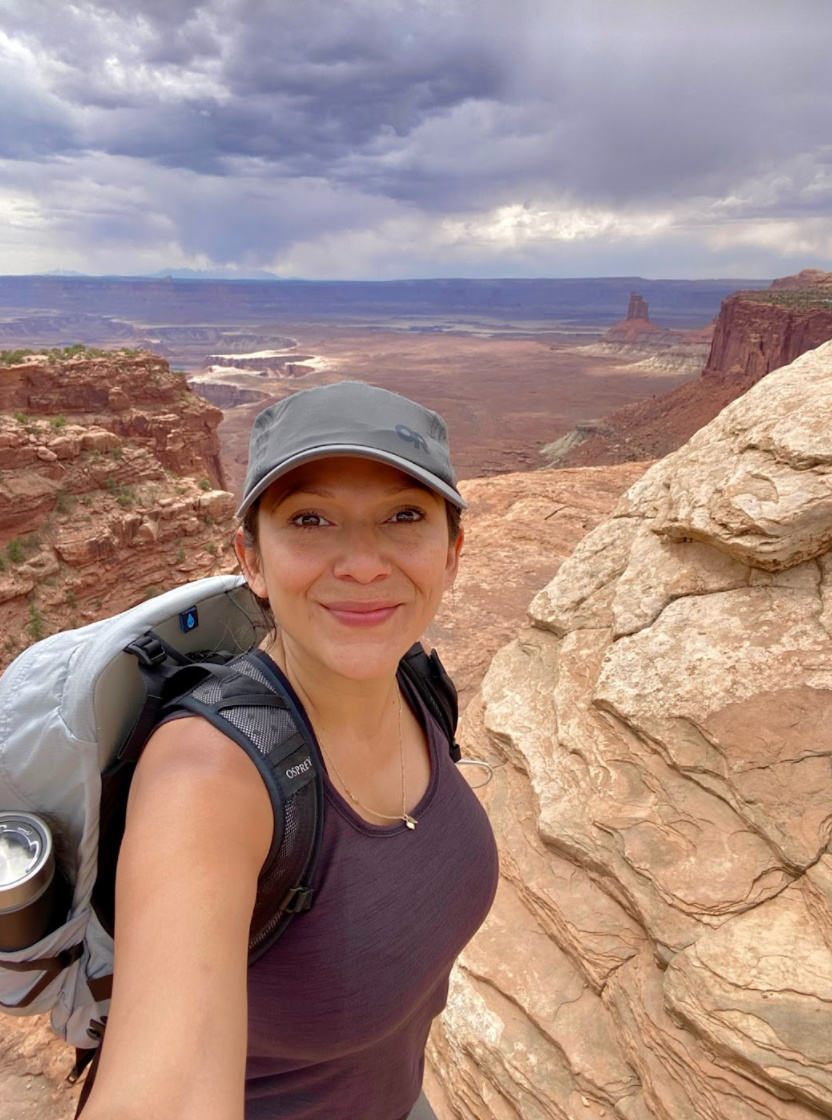 Taking in Canyonlands with Osprey Tempest 20 Daypack
Where to Buy Osprey Hiking Backpacks
The best place to buy women's Osprey hiking backpacks is Amazon. They are sometimes slightly cheaper than buying direct from Osprey.com, and you can look out for sales such as Prime Day. However, both sites also work in the end, just depends on where you want to spend your dollars!
More Reader Recommended Osprey Hiking Backpacks for Women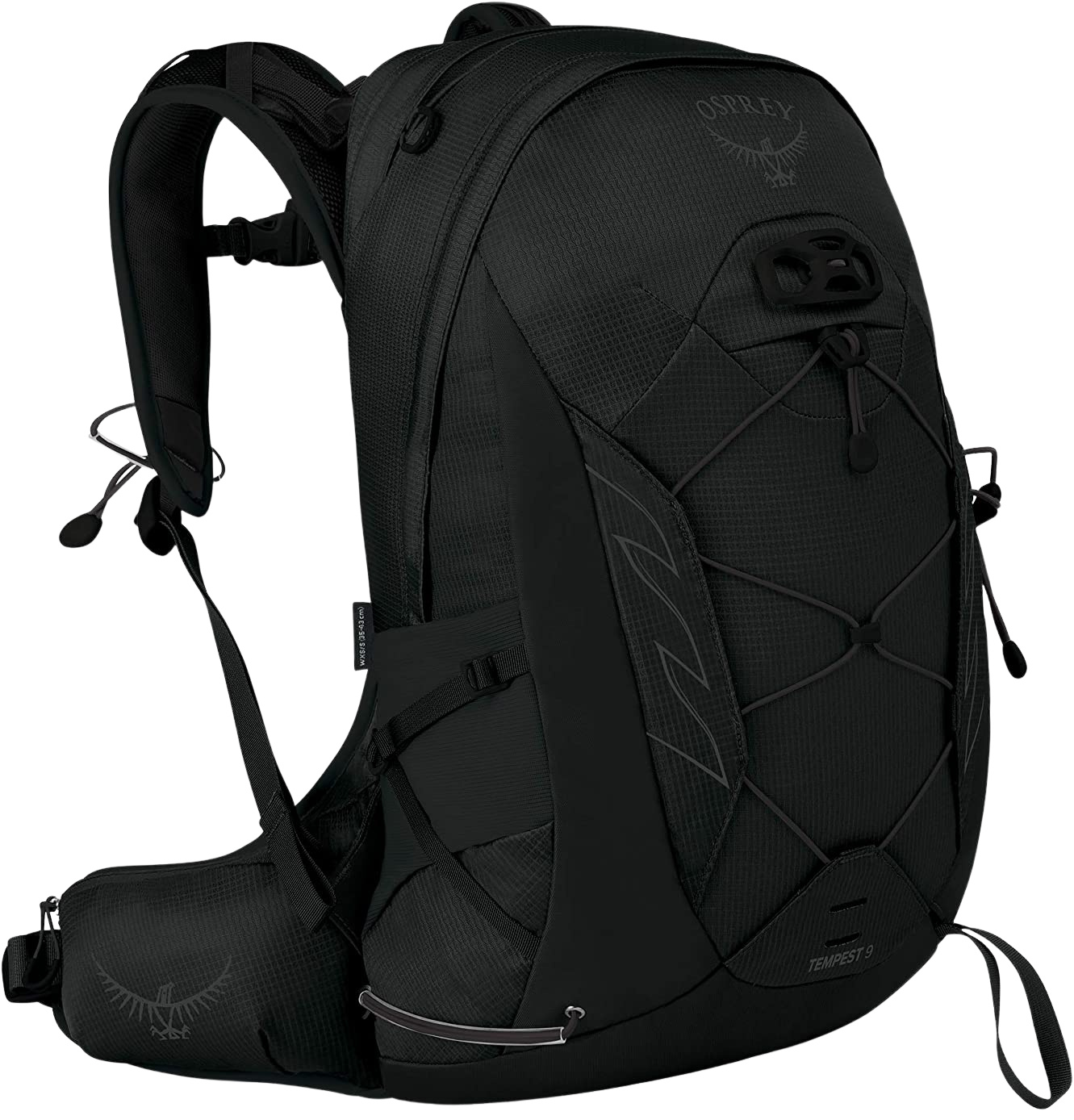 Osprey Tempest 9
A backpack created to be extremely versatile, the Osprey Tempest 9 daypack is designed for dynamic body movement. The Tempest is lightweight and well-ventilated, and its BioStretch harness and hipbelt molds to your body and move with you. You won't feel unencumbered while wearing this popular, sporty pack. 
A happy reviewer says, "I love that it accommodates my large 2.5 gallon hydration system. And the waist straps are nice to help keep the weight off your shoulders."
Planning an overnight camping trip? Here's our suggested Hiking and Camping Supplies List!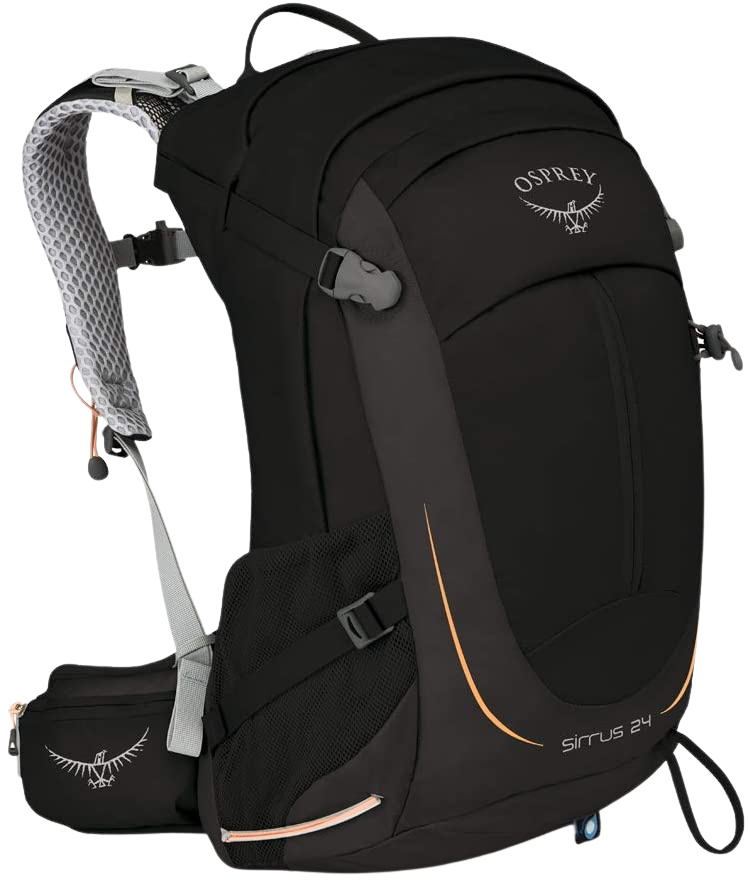 Osprey Sirrus 24

The Osprey Sirrus 24 backpack is the go-to choice for those who prefer panel-loading organization. Its removable raincover keeps your gear and pack protected from wet or humid environments, so your belongings will stay fresh and dry. The pack has Osprey's trusted functional storage features, and the women's specific fit makes it extremely comfortable to wear. 
One hiker shares, "I love the pockets and that it comes with a raincover. What really sold me is the antigravity mesh panel. I used this pack for a summer hike in Zion. It was 90+ degrees out and my back stayed cool!"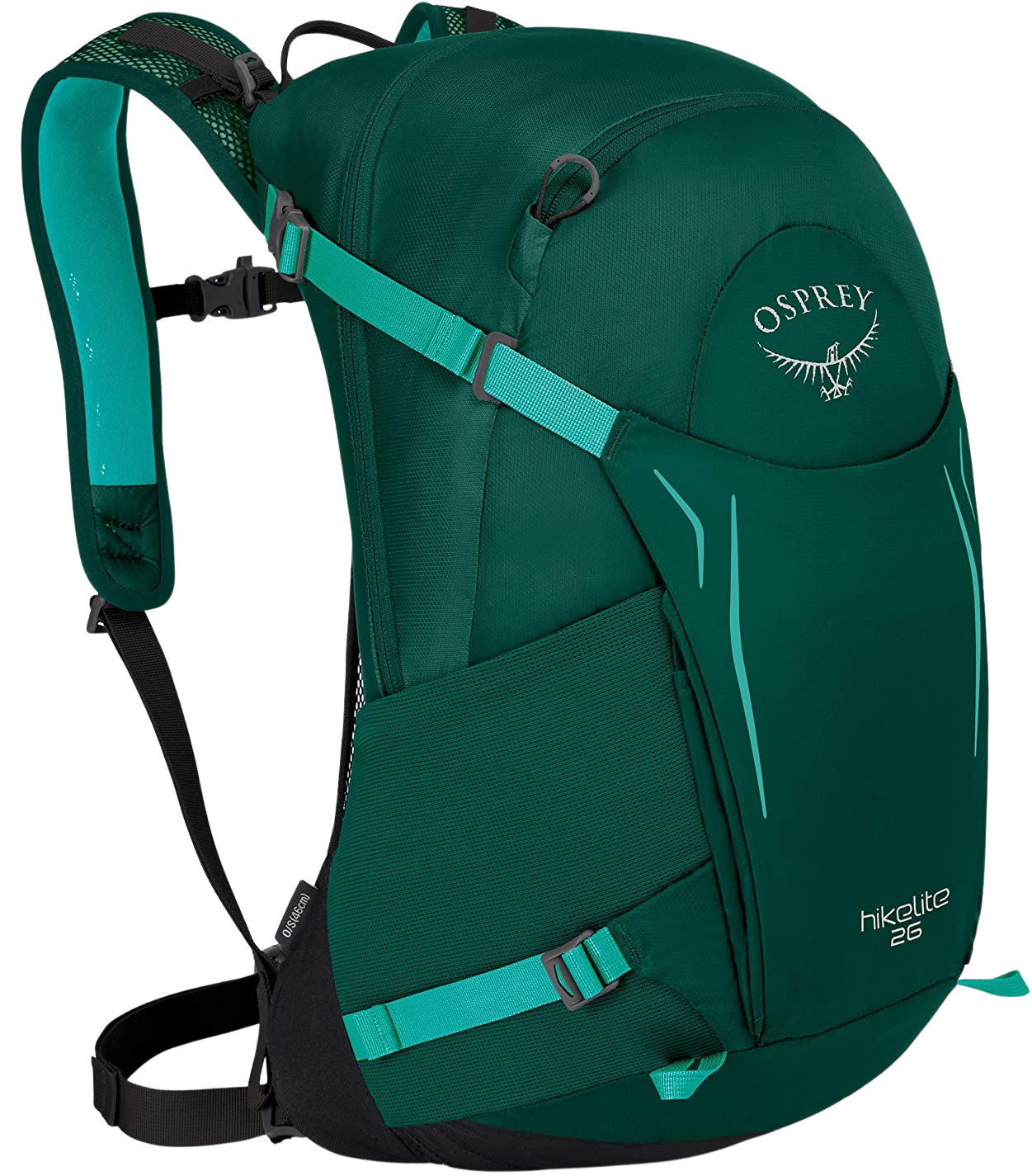 Osprey Hikelite 26
Osprey's Hikelite 26 pack is a simple yet highly technical pack that's perfect for day hikes, but is versatile enough for everyday use, too. This backpack has a ventilated backpanel that will keep you cool and comfortable, even on super hot or active days. It's really comfortable, holds a lot of gear for its size, and can handle extreme weather. 
One wearer shares, "If you love day hikes and are looking for something light, stylish, and big enough to carry all your gear this is the bag for you!!!"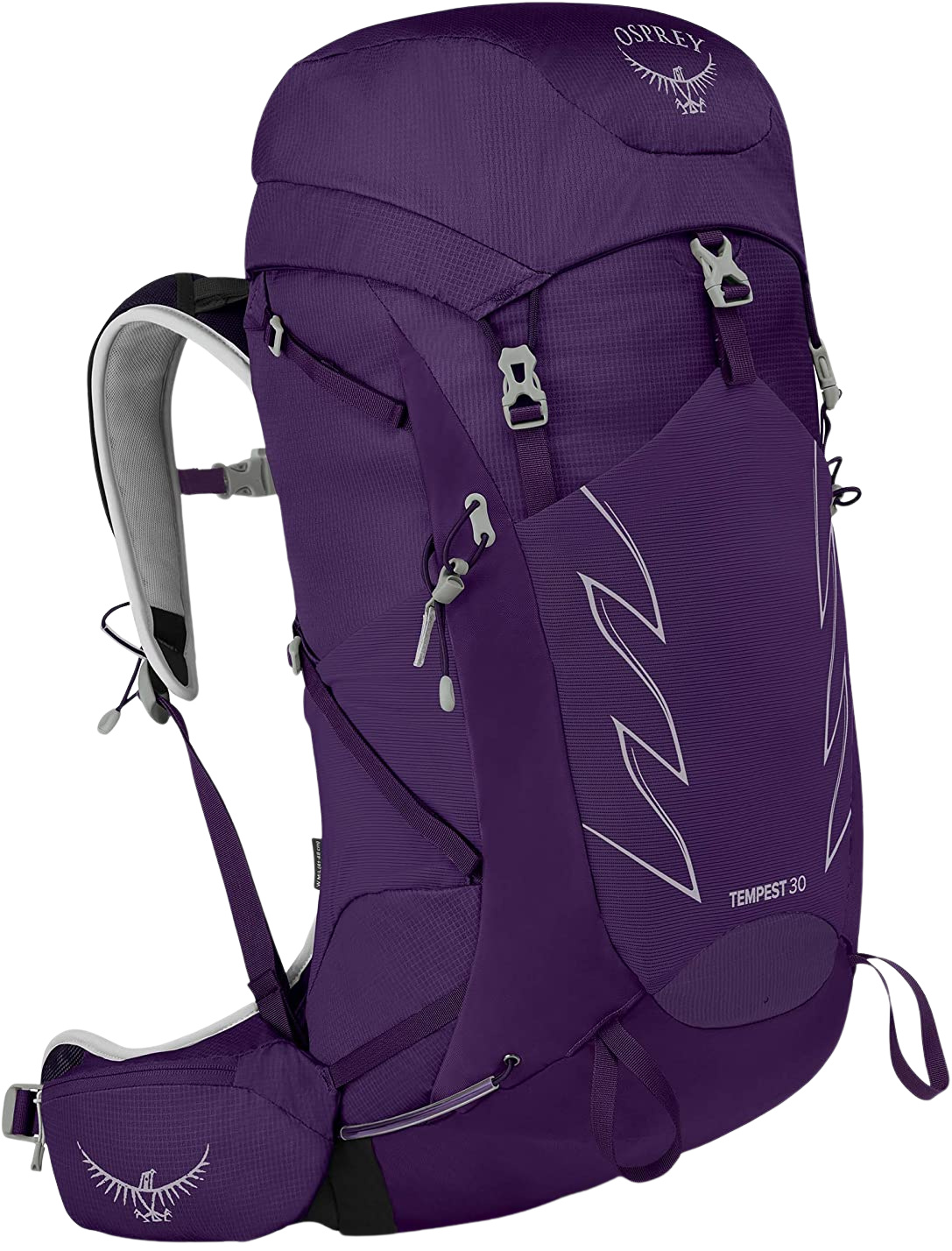 Osprey Tempest 30 
The Osprey Tempest 30 hiking backpack was made to support any adventure you bring it on! This is a bigger pack that can be loaded with a good amount of clothing, gear, and snacks, so it's perfect for those longer treks or camping getaways. What's awesome about this pack is that even though the weight might be heavier, its back panel and hipbelt move with your body, so you won't be burdened by its bulk. 
It features top load access to the main compartment, and has a multitude of pockets, sleeves, and clips to safely hold all of your belongings–even things like hiking poles and an ice ax! 
One hiker says, "It held larger water containers for me and kept me hydrated while hiking. You can have this thing packed to the brim or lightly packed, and it carries well. It doesn't feel heavy. Lots of support while wearing this with the straps."
Packing for a hike on the trail soon? Here's our hiking gear list!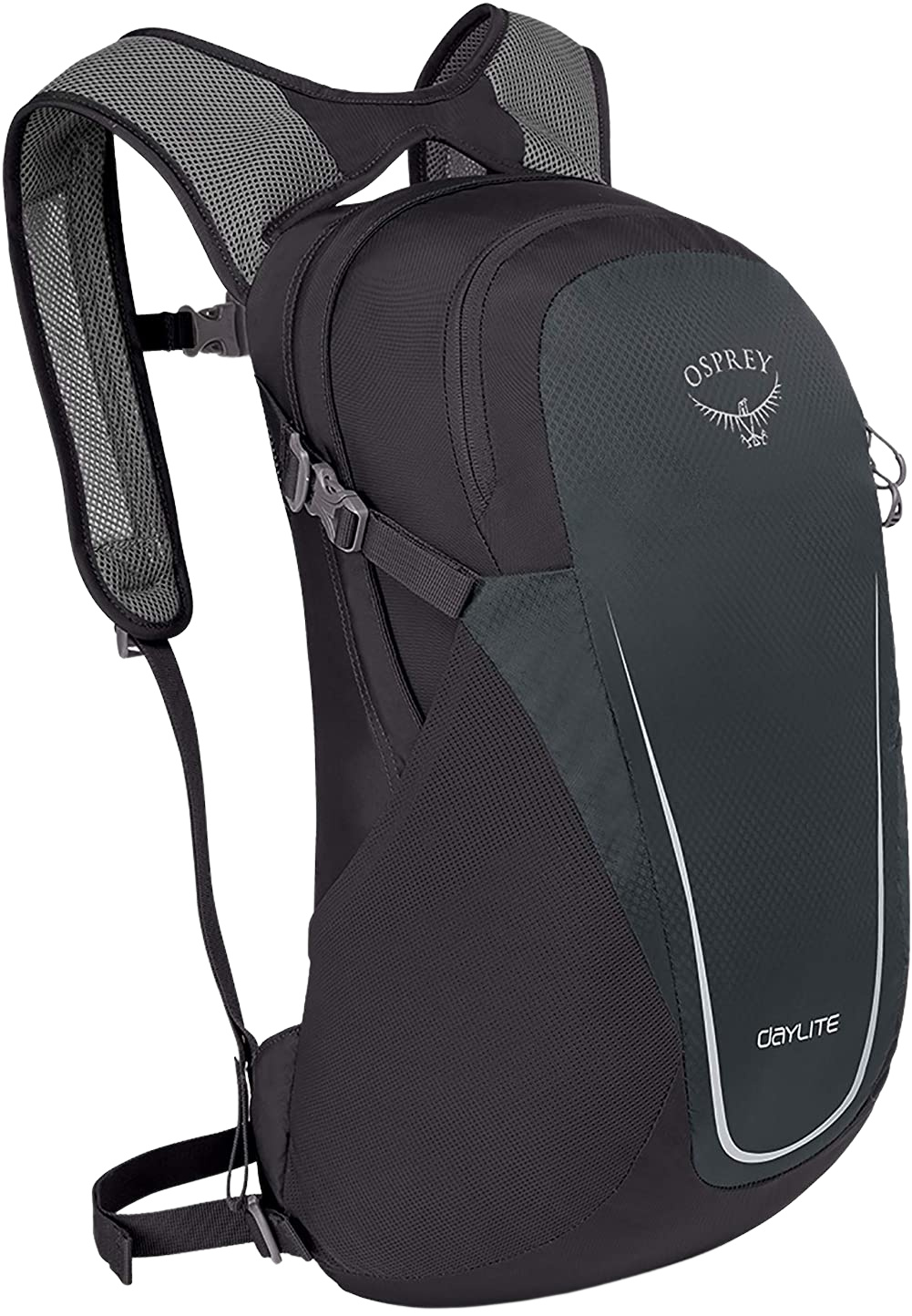 Osprey Daylite Daypack
The Osprey Daylite Daypack was made to attach to a number of Osprey's larger packs and travel bags. It can then be conveniently used as a separate pack for day trips.
A large zippered panel allows for easy access to the main compartment. The mesh pockets on each side hold water bottles and other items, while the front pocket features a mesh organizer and key clip to secure your smaller items. 
One wearer shares, "I'm addicted to this thing. I can wear it anywhere—back home on day hikes or trail runs in the West, and all around my current home in New York. It's small, but packs more than I expected! Great front pocket with lots of compartments!"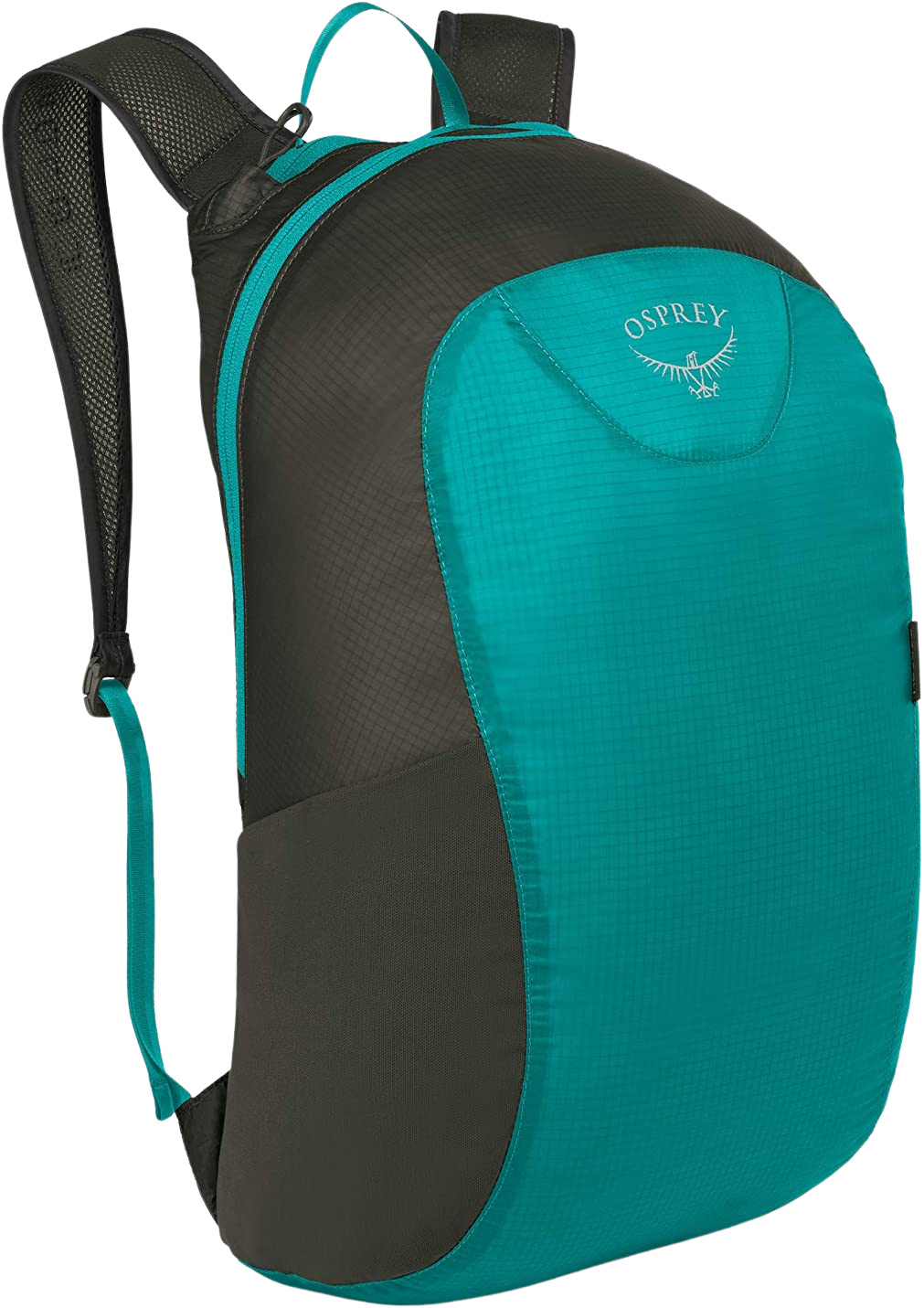 Osprey Ultralight Stuff Pack
While camping, backpacking, or traveling in general, there's often a need for a smaller backpack to carry essentials just for the day, and then stow away when not in use. The Osprey Ultralight Stuff Pack does just that. When in use, this super lightweight pack holds all you need with convenient storage and has a super comfortable fit. And when not in use, it stuffs into its own compact, built-in storage pocket. Amazing! 
One user raves, "I absolutely love this little backpack. It was a Godsend to me when I recently walked 800 km across northern Spain. I took it as my afternoon/evening pack to carry valuables, leaving my main pack at the hostel. Very light, but very strong and spacious. Comfortable to wear. One of the best kit purchases I've ever made!"
---
What's been your experience with the Osprey hiking backpack? Share with us in the comments!
---
For more women's hiking gear, please read:
---
LIKE THIS POST? PIN THIS PIC TO SAVE IT!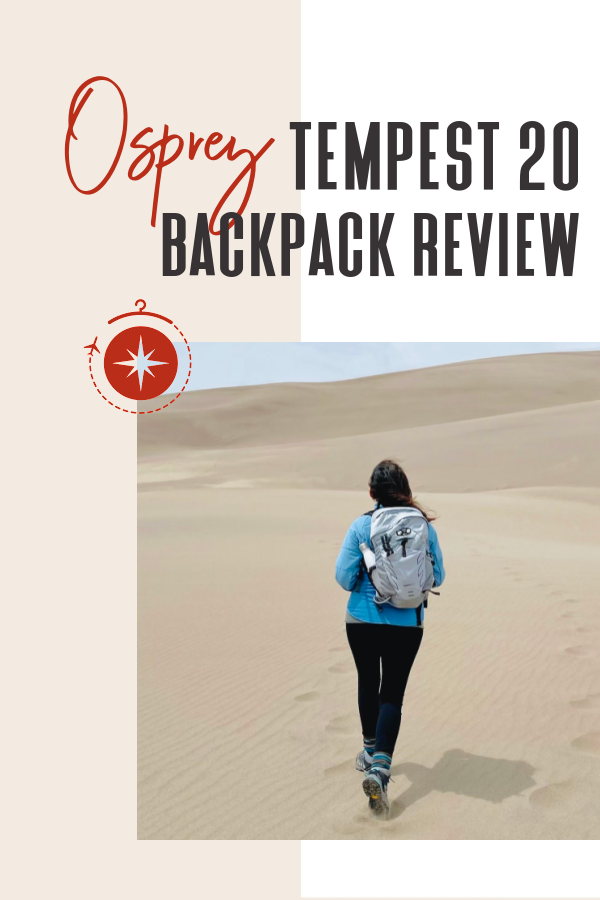 ---
We hope you liked this review on the Osprey Tempest 20 women's hiking backpack. Please share with your friends on Facebook, Twitter, and Pinterest. Thanks for reading!
---