Support TFG by using the links in our articles to shop. We receive a small commission (at no extra cost to you) so we can continue to create helpful free content. As an Amazon Associate, we earn from qualifying purchases made on Amazon in addition to other retailers featured on the blog. Thank you, we appreciate your support!
Do you want a pair of shoes that will take you far but keep you warm and glam? Read on and meet your next pair of boots for fall and winter travels!
---
Boots for Fall and Winter
---
Table Of Contents
As the autumn wind slowly makes its way into cities all over the world, you know it's about time to ditch those open-toed, strappy sandals and change into a pair of boots that will keep your toes toasty.
But as a fashionable jetsetter, you don't want to buy just any boot to cover your feet. You want a pair of shoes that will take you far, warm, and glam.
Thus, we've searched for the best boots for winter and fall, and here are our picks!
Fall Winter Boots Trends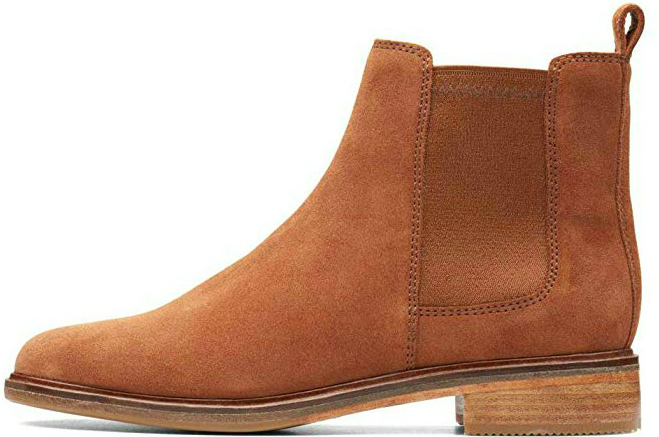 CLARKS Clarkdale Arlo Chelsea Boot
Flat Ankle Boot
These beautiful booties hit the sweet spot for several reasons: they're versatile, edgy, and trendy. We love the way they can be easily mixed and matched with other wardrobes.
Their simple, basic style can be used throughout the A/W season and perhaps even in spring!
You only need three pairs of shoes for any trip. Find out how with Pack Light Stylishly!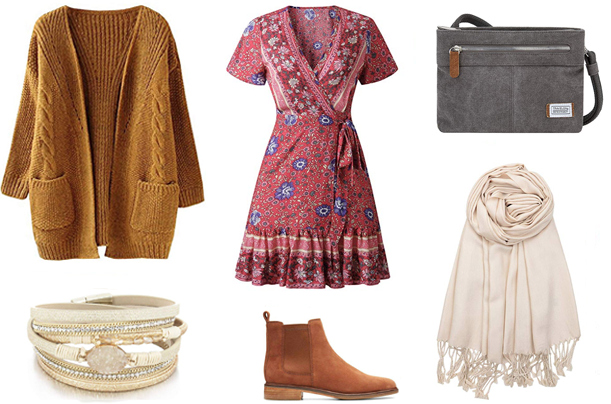 Cardigan | Dress | Bag | Bracelet | Boots | Scarf
Booties with a heel evoke fun, woodland-like fashion that is perfect for skirts and dresses. Pair with a toasty cardigan and scarf in fall hues for a seasonally stylish getup.
On the other hand, flat-soled Chelseas are perfect for the girls-on-the-go, so that you can pair them with trousers and blazers for a more androgynous or tomboy appeal.
Where to wear: Madrid  | Santa Fe | Cape Town
Shop more Chelsea boots: Nordstrom | Amazon
Take a look at these other hacks to wear one dress, many ways!
Warm Waterproof Boots
Winter fall boots can be fun, too. For you feisty girls, moto boots give off a fashion-forward charm with its mid-knee cut. With its many styles, you can find the right motos to match your personality.
The most-seen pairs? Buckled moto boots combine a sense of flair and function with its adjustable width. Studded moto boots, now slowly becoming popular, pushes the edginess of the footwear.
Packing cubes make the perfect shoe bags to protect your luggage from dirty shoes. Take a look at other shoe bag ideas here!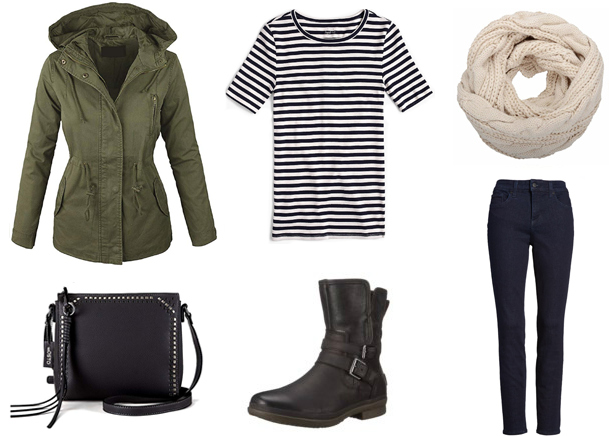 Jacket | Tee | Scarf | Bag | Boots | Jeans
What catches our eyes, however, is the minimalist quilted trend that is entirely wearable with just about anything.
Embellished moto boots can be over-the-top at times; for those who are traveling, you might want to choose something with a basic design and color to easily match your wardrobe.
Where to wear: Portland | Amsterdam | Kyoto
Shop more moto boots: Nordstrom | Amazon
These are the most versatile travel pants for women!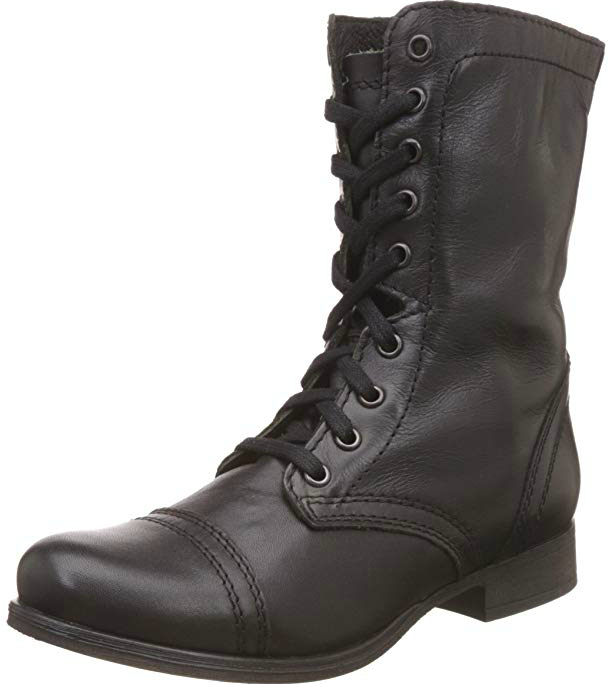 Steve Madden Troopa Lace-Up Boot
Combat Boot
A close relative to the edgy moto boot, lace-up boots are a killer style to rock once the autumn leaves begin to fall.
The "Troopa" from Steve Madden comes equipped with side zip closure and a sturdy leather upper. Looks-wise, they'll add an edgy touch to any outfit they're paired with.
Like most boots, they're super versatile and would pair beautifully with a denim skirt, a blouse, and some toasty foldover socks. This outfit is great for a mild fall day out—if you need to be warmer, though, we suggest swapping out the skirt for jeans or changing the top to a long-sleeved sweater.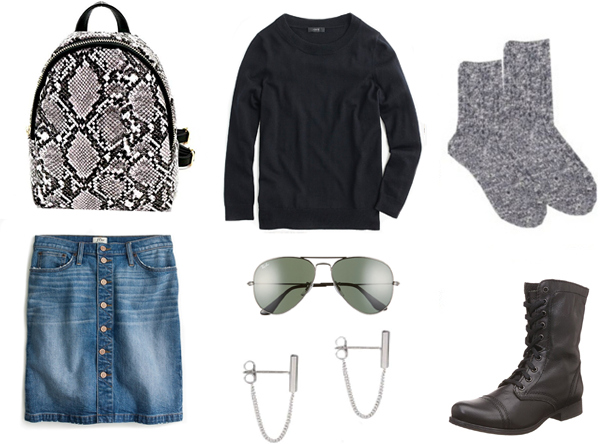 Backpack | Sweater | Socks | Skirt | Sunglasses | Earrings | Boots
For an autumn-worthy getup, pair lace-up boots with a denim mini skirt, oversized sweater partially tucked in, and some cozy fold over socks.
For extra warmth, you can always wear tights underneath, as well. Stick with a classic black or go bold with a colored burgundy pair!
Where to wear: NYC | Hong Kong | London
Shop more combat boots: Nordstrom | Amazon
Take a look at these skirt outfits to learn how to wear them in cold weather!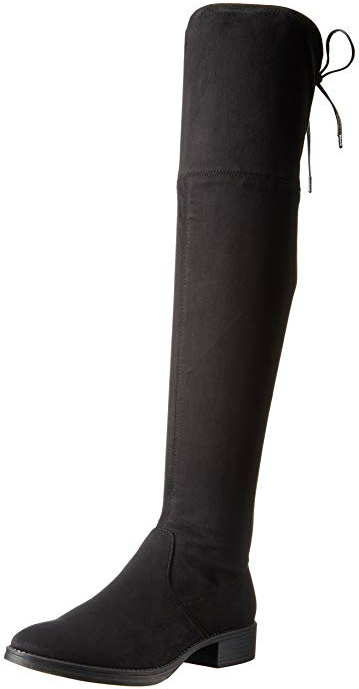 Circus by Sam Edelman Peyton Boot
Over the Knee Boot
Dramatic, equestrian-inspired boots will always be included in the fall and winter boot style favorites. Why? It keeps a traveler's feet warmer (because of its extended shaft height), and it has a high fashion silhouette that will add instant drama to your look.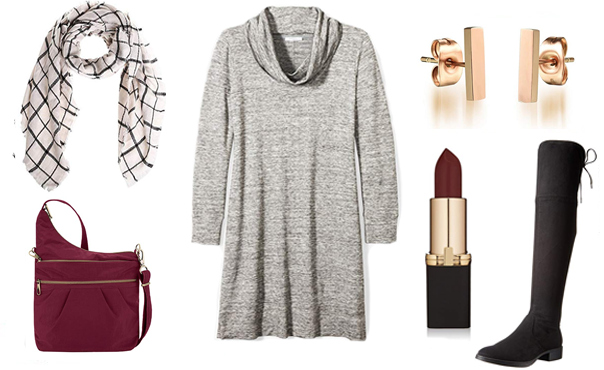 Scarf | Dress | Earrings | Bag | Lipstick | Boots 
Wear them with dresses, skirts, and leggings to create some bold charm in your travel wardrobe
Where to wear: Paris | San Francisco | Toronto
Shop more over the knee boots: Nordstrom | Amazon
Enhance basics with color and texture using scarves, gloves, and hats. Check out these winter accessories for women!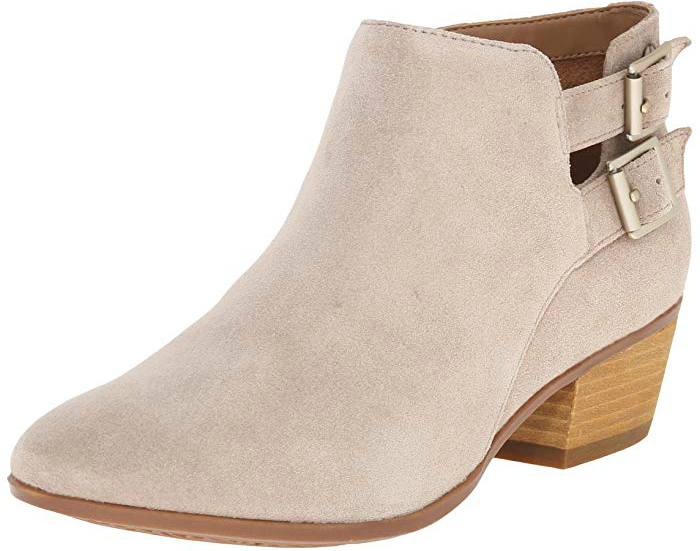 Versatile, Neutral Boot
We're not leaving out a classic, versatile boot from our top picks; in fact, it's an autumnal favorite and a timeless keeper.
Pull it on when you want to have a lovely day out with your friends in the chilly streets. Slip it over your frosty toes, and you can quickly warm up in style.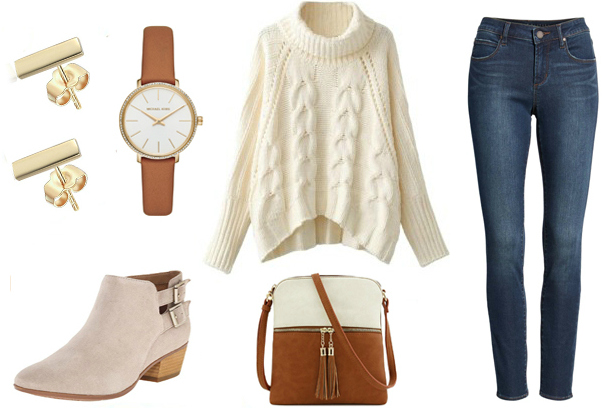 Earrings | Watch | Sweater | Jeans | Boots | Bag
It perfectly pairs up with your casual clothing to your semi-formal wardrobe; with just a hint of creativity, you can make this footwear work with most of your dresses too! Your apparel options depend on the boots' toe style as well as the color.
Common favorite hues include sunset brown, graphite, navy, and of course, charcoal black. However, this time, why not choose a stacked heel boot with an extraordinary tone?
Where to wear: Los Angeles | Copenhagen | Seoul
Shop more neutral boots: Nordstrom | Amazon
These are our all-time favorite layering tops for travel and to wear at home, too!
How Editor-In-Chief Alex Rocks Boots for Fall and Winter Travel
Watch this video to start learning how to organize with packing cubes!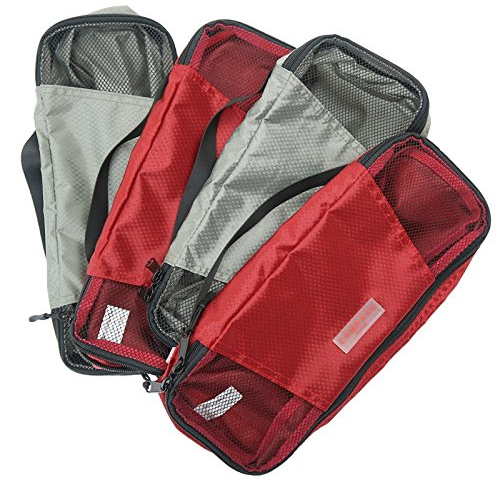 How to Pack Boots for Fall and Winter
Determining how to pack boots for travel can be difficult, especially if you're trying to pack light and avoid a shoe poking through a bag. To make it easier, start by choosing a container such as a shoe bag or a packing cube, then pack according to your type of luggage.
Whether you have a front loading or top loading backpack, it's crucial to put your shoes first, at the bottom. If you're planning to pack shoes in a rolling carry-on, remember that it stands sideways, so it's important to note how it functions when it is upright. Most often, your shoes will need to be packed close to the wheels, so that the luggage maintains its balance in transit.
To store, use washable shoe bags, gallon size Ziploc bags, or plastic shower caps to keep your belongings separate from your shoes.
We put together a five-part YouTube series showing the different methods to use packing cubes for travel. If you use this specific packing strategy, packing cubes can also compress your belongings. This is the secret to traveling carry-on only!
---
Have you found the best boots for fall and winter? Share and comment below!
---
For more fall and winter boots, please read:
---
LIKED THIS POST? PIN THIS PIC TO SAVE IT!
---
Hoped you liked this post on the best boots for fall and winter. Don't forget to share with your friends on Facebook, Twitter, and Pinterest. Thanks for reading!
---