Support TFG by using the links in our articles to shop. We receive a small commission (at no extra cost to you) so we can continue to create helpful free content. As an Amazon Associate, we earn from qualifying purchases made on Amazon in addition to other retailers featured on the blog. Thank you, we appreciate your support!
Wondering how to pack for a cruise to South America? Check out our packing tips for a month living on and off a cruise ship while exploring Latin America's most beautiful port cities.
---
How to Pack for a Cruise to South America
Written By: Lola Méndez
---
Most round-trip Latin American cruises will embark from Ft. Lauderdale, Florida and make port stops in Aruba; Cartagena, Colombia; the San Blas Islands; and then cross the Panama Canal to Panama City in Central America.
From there they will head towards Puntarenas, Costa Rica and then to Esmeraldas and Guayaquil in Ecuador and then back again in reverse to the same destinations.
Check out these packing tips for the destinations mentioned above:
Being at sea is also a destination. Hours will pass with nothing in sight but the deep blue sea kissing the bright blue sky in the horizon. If you're lucky, you'll spot a variety of marine life during your cruise; dolphins love to play in the warm ocean waters in this part of Latin America.
One at-sea destination not to miss is the famous line-crossing ceremony that's performed as the vessel crosses the Equator. The tradition commemorates a sailor's first trip across the line that divides the Northern and Southern Hemisphere.
Start by reading these general tips for packing for a cruise:
Weather in Latin America


Most of the countries you'll be visiting are located around the Equator. You can expect humid and hot weather year-round. Keep this in mind when packing and stick to lightweight, breathable fabrics like cotton, linen, silk, and other natural fibers.
The dry season is summer, which lasts from mid-November to April. The rainy season is from May to early-November but days are often sunny with rainfall and thunderstorms in the evenings.
Check out this helpful guide to packing for different climates!
Style Guide
Each country you visit has its own unique history, cultural heritage, and flair for style. There are a variety of trends that are standard throughout this tropical region: bright colors, fun prints, linen neutrals, and all-white breezy ensembles are key.
Stay true to your own personal style and don't get too caught up in what cruise ship style should or should not be. Pack your favorite pieces to curate a memorable wardrobe that you'll enjoy looking back on when you cherish photos from your vacation.
Find out how to wear white clothes on vacation, plus what to wear underneath!
Resist the urge to pack high heels as they'll be hard to balance in onboard and they aren't ideal for sightseeing. Instead, opt for low-heeled shoes and glam up your looks with fun sunglasses and colorful clothing. Mix and match items are key. Try to only bring pieces that can be versatile and worn in various ways.
Leave space in your suitcase for buying accessories as you travel. In Cartagena, Colombia you'll be able to buy beautiful handmade silver jewelry and in San Blas, Panama you'll discover the local bright needlepoint tropical motifs known as Mola.
Blouse | Kaftan | Tee | Cardigan | Shorts | Clutch | Hat | Swimsuit 1 | Swimsuit 2 | Dress | Shirtdress | Scarf | Tote | Sandals | Flip Flops | Sneakers
The Packing List
You'll want to look your best when you travel! Read my travel tips to Pack Light Stylishly!
What to Bring
Footwear
You'll need a pair of sneakers for excursions including beautiful hikes in Panama or Costa Rica. You may even be daring and hike up an active mud volcano in Colombia to take a bath in mud with healing properties.
There will be many walking tours including one in Guayaquil, Ecuador to Iguana Park where hundreds of the friendly reptiles live. Maybe wearing Puma sneakers will bring you luck to see an actual puma; they roam in the Panama jungle.
A pair of flip-flops will get a lot of wear aboard the cruise and on the beautiful beaches you'll visit in Panama, Aruba, and Costa Rica.
Resist the urge to bring your favorite pair of killer heels as you really won't have an opportunity to wear them during your month at sea. Balancing in stilettos on a rocking ship is basically impossible!
Instead, opt for a flat pair of fancy embellished sandals or pack a set with a very low heel – under one inch – to ensure comfort.
Check out these comfortable walking sandals that are stylish, too!
Dresses
Choose a sundress that can be dressed up for semi-formal dinners and can also be tossed over a swimsuit. The versatile piece could even be transformed by wearing a blouse on top to transform the dress into a skirt.
Pack a coverup to wear on the ship and also on the beach. It's perfectly acceptable to walk around the cruise ship and attend breakfast or lunch in a coverup. A piece that's 100% cotton will be lightweight in these warm tropical climates.
These are the best swimsuit coverups of the season!
Many passengers take the formal evening dress code very seriously. If you have a beautiful dress hanging in your closet with the tags still attached, this is exactly the luxurious occasion you've been waiting for to wear it!
It won't be a versatile piece, and you'll probably only wear it to dinner, but try to reinvent it each time you do wear it by switching up your accessories to make it feel new. Have some fun!
Get ready to update your travel wardrobe with these versatile, pretty styles for your vacation maxi dresses!
Handbags
You really only need two bags in addition to your luggage. Pack a cotton tote bag that will serve as your carryon bag on your flight, your day bag during excursions, and a beach/pool carryall on days when you're soaking up the sun.
For more ideas, take a look on our top picks for the best beach bags and totes!
You should also pack a small evening bag for events onboard the cruise ship like the formal dinners, dance performances, and comedy shows.
Not only is a clutch stylish, is can double as a pouch to keep your cell phone and wallet separate from the rest of the items floating around in your tote bag.
Layers
Evenings can be chillier than you'd think in the tropics, especially indoors in the air conditioned dining areas, library, computer room, and shops.
To combat the shifting temperature, pack a lightweight scarf. A bright option can also serve as a sarong, towel, and transform your minimal wardrobe if you wrap it as a dress, shirt, or skirt.
It won't ever be cold enough to make a jacket necessary, but you may want to pack a loose, open-front sweater to layer over your outfits whenever you catch a chill.
These cardigan sweaters are a brilliant layering piece to join you on your next trip!
Mix and Match Basics
Try sticking to a minimal wardrobe and only pack two tops and one pair of shorts. The only time you'll really need to get dressed up on board is for formal dinners, and you've already packed a dress for that occasion.
To keep things simple, pack a pair of denim shorts that can be worn for excursions or thrown over your swimsuit. Choose one summer blouse and one t-shirt that can also be worn for exercise or on hikes.
These stylish summer shorts for women will take you from day to night, city to sea, and so much more!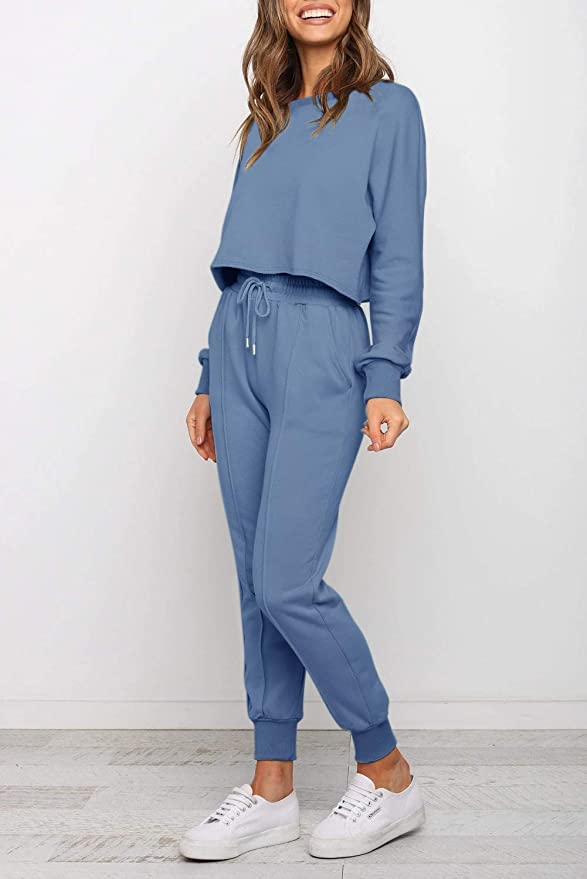 Make sure to pack something comfortable for sleeping and lounging. A two-piece sweatsuit is ideal as the top can be worn as a layer during chilly evenings and the pants can be worn for jungle hikes when you want to project your legs from scratches and bug bites.
Sunscreen | Sun Hat | Sunglasses
The Essentials
For fun in the sand, surf, and sun, you must bring sunblock, a sun hat, and sunglasses. The last crucial ingredient is a swimsuit!
The majority of your time will likely be spent clad in a bikini lounging by the ship's swimming pool and soaking up the sun.
From sassy two-pieces, to sleek one-pieces, and sporty tankinis, here are the best swimsuits.
Wi-Fi is not easily accessible onboard a cruise ship. You'll need a great book to read when relaxing on board.
It's believed that García Márquez's famous story Love in the Time of Cholera is set in Cartagena, Colombia. To save space, only pack one book; most cruise ships have a library.
Water Bottle | Diva Cup | Dramamine
If you're worried that you may be prone to seasickness, packing Dramamine will be essential to keep your experience an enjoyable one. Remember to take one before you actually start to feel ill. (Get the less drowsy kind!)
If you're on a month-long cruise, you're destined to get your period at some point during your vacation. Don't let this stop your fun by causing you to waste your precious onshore hours rushing around looking for a pharmacy.
Instead pack a menstrual cup, like the Diva Cup. With 12-hour leak protection, you'll be able to swim freely in the ocean, hike through the jungle, and sleep through the night without any anxiety about your period making an unfriendly appearance on your carefully curated vacation ensembles.
If you're worried about being seasick? Here are our reader reviews and suggestions for anti-nausea products and remedies!
In many of the countries you're visiting, potable water may not be very accessible. Packing a reusable water bottle will come in handy to keep you hydrated.
---
TFG Travel Tip: Our readers say they love the new Pack Gear Organizer for easy cruise packing and unpacking!
What are your tips on how to pack for a cruise to South America? Please share them below!
---
For more cruise packing tips, please read:
Suggested travel resource:
---
LIKED THIS POST? PIN THIS PIC TO SAVE IT!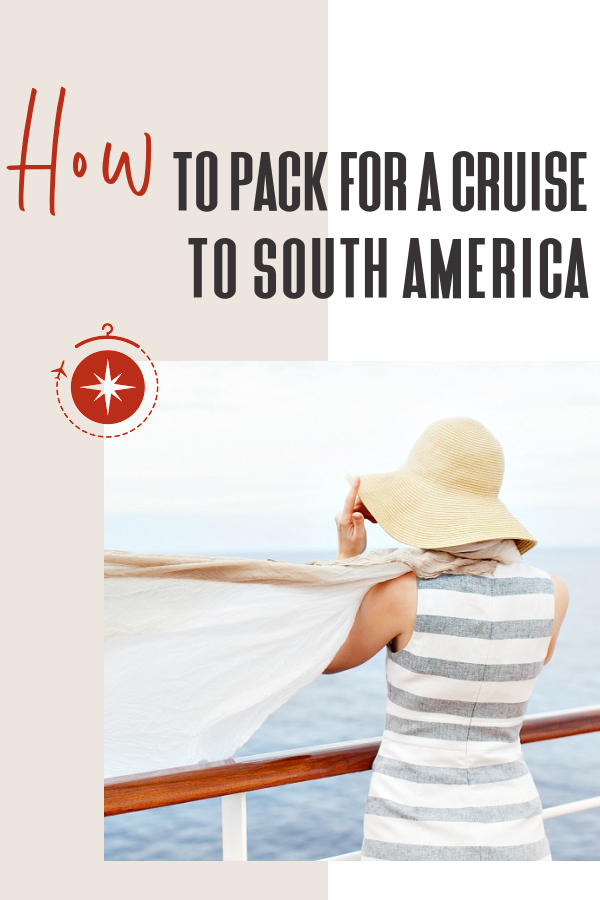 ---
I hope you enjoyed this post on how to pack for a cruise to South America. Please share it with your friends on Facebook, Twitter, or Pinterest. Thanks for reading!
---
Author Bio: Lola Méndez is a full-time traveler sharing her adventures on Miss Filatelista as she adds to her collection of passport stamps. She travels to develop her own worldview and has explored 46 countries. Passionate about sustainable travel she seeks out ethical experiences that benefit local communities. You can follow her on Facebook, Instagram, and Twitter.
---