Support TFG by using the links in our articles to shop. We receive a small commission (at no extra cost to you) so we can continue to create helpful free content. As an Amazon Associate, we earn from qualifying purchases made on Amazon in addition to other retailers featured on the blog. Thank you, we appreciate your support!
If you're sick and tired of wearing dull all black outfits when traveling, read this. From boring to fantastic change the way you plan your travel wardrobe!
---
How to Wear All Black Outfits
Written by: Nina Thomas
---
Black is a traveler's dream color. Not only does it hide stains well, but it can also be mixed and matched with pretty much any other color. It's easy to find and you probably already own several black items, which could make it the more affordable option as your base. If you're planning on enjoying some good food and wine, you may need something that is more forgiving and black is known to be slimming. As a bonus, when visiting European countries people tend to prefer classic, chic styling so all black outfits help build a stress-free travel wardrobe.
While you can choose to pack more than one base color, picking just one makes things simpler especially for those who may be having trouble deciding what to bring and what to leave home.
Capsule wardrobes are a key component for anyone who wants to pack light. Part of any capsule wardrobe is picking a base color, usually a neutral such as black, brown, tan, or navy blue. Learn more in my guide!
Black is my go-to base color because it's safe and simple. This is my easy step-by-step process to use it as a base without wearing the same all black outfits repeatedly.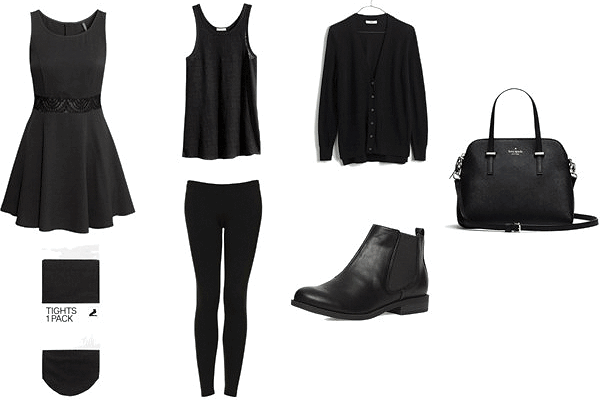 Crepe dress / Sleeveless top / Cardigan / Ankle leggings / Tights / Chelsea boots / Shoulder bag
Step 1
When you've picked your base color, in this case black, you will need to select specific pieces in that color that are versatile enough to create many outfits. Make sure your neutral pieces are the items you plan to wear the most. This most likely includes: a pair of pants, a skirt or dress, tights and/or leggings, shoe and/or boots, cardigan and tank top.
Use slim packing cubes to pack your capsule wardrobe and save space.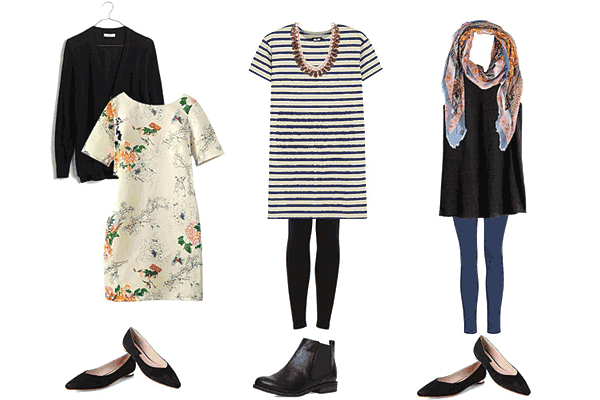 Outfit 1: Cardigan / Dress / Shoes    Outfit 2:  Mini dress / Leggings / Chelsea boots   Outfit 3: Scarf / Top / Cropped jeans / Shoes
Step 2
With these pieces in tow, you can carefully select a few additional items that will give your all black outfits a pop of color such as a printed skirt, a fun necklace or a scarf. Even though you are wearing a lot of the same color, these accents will add an interesting touch to your look and increase your outfit options.
Even though this palette appears to have multiple colors and patterns, at the base of it all is black which really pulls all of these seemingly unmatchable items together.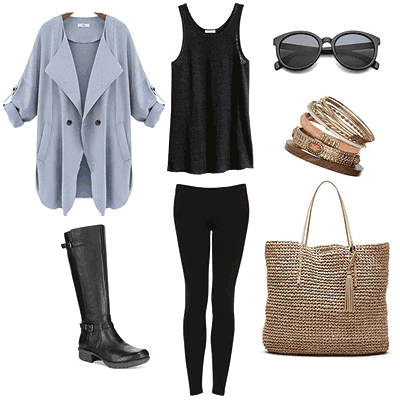 Trench Coat / Sleeveless top / Ankle leggings / Tall boots / Sunglasses / Bangles / Woven tote
Step 3
Scarves and jewelry take up little room and can brighten up any monochromatic outfit. By carefully selecting base-colored items that go with everything, you can feel free to be creative in the jewelry, scarves, and outerwear categories. Don't be afraid to bring that leopard print t-shirt or that bright-floral scarf. They will actually mix and match more than you think!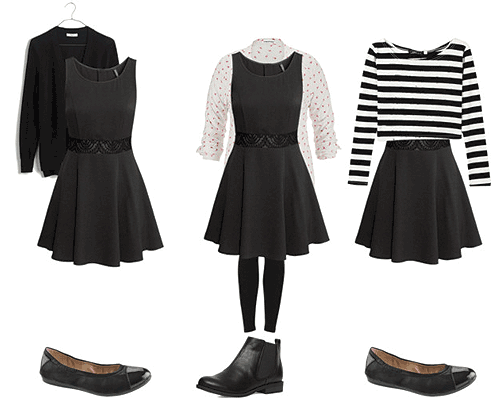 Outfit 1: Cardigan / Crepe dress / Flats     Outfit 2: Button down top / Crepe dress / Chelsea boots   Outfit 3: Crop shirt / Crepe dress / Flats
Step 4
Bringing the famous little black dress can prove to be a great way to create multiple outfit combinations. You don't have to purchase a special dress that's convertible. You just need to bring the right clothing items that make it look like it's convertible. Wearing a shirt under the dress or over the dress adds color and enough difference that you may not even be able to tell it's the same item. No more boring all black outfits in your travel wardrobe!
Take a look at this post for the most versatile shoes to match any outfit!
---
With black as your base, the possibilities truly are endless. You can create thousands of combinations, not just all black outfits. Experiment with your clothes and see what you create!
What items do you add to your favorite all black outfits? Share in the comments!
---
For more capsule wardrobe tips, please read:
---
Hope you liked this post on how to wear all black outfits for travel. Please share it with your friends on Facebook, Twitter and Pinterest. Thanks for reading!
---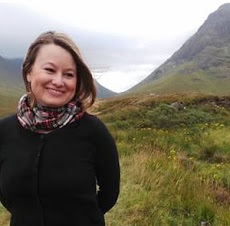 Author Bio: A travel lover and freelance writer from the United States Midwest. Traveling mostly as a couple with her husband, she is constantly looking for a beautiful view and a good adventure. Some of her travel highlights include horseback riding in the Ecuadorian Andes, hiking on top of Mount Etna in Sicily, and sheep-gazing in the Cotswolds. Her favorite travel tips are "do as the locals do" and purchase packing cubes. For more practical travel tips and ideas from a Central Ohio Girl, check out her website:travelingwithnina.com or follow her on Twitter.
---