Support TFG by using the links in our articles to shop. We receive a small commission (at no extra cost to you) so we can continue to create helpful free content. As an Amazon Associate, we earn from qualifying purchases made on Amazon in addition to other retailers featured on the blog. Thank you, we appreciate your support!
You have packed, repacked, organized your outfits and collected what you think are the best shoes for travel…to the point of exhaustion.
You suddenly realize your four-inch heels may look cute and give your butt a little extra lift, but you can't walk around in them for more than five minutes.  All is not lost! Here are some tips to save your soles and choose the best travel shoes.
---
The Importance of Packing the Best Shoes for Travel
---
Table Of Contents
The main idea is to bring proper footwear and not overpack shoes that you simply don't need. Here's a hot tip: for travel shoes, three is the magic number. Learn more about how to create a travel capsule wardrobe with just three pairs of shoes!
When deciding how to choose the best shoes for travel, there are 6 things to consider:
Support
Comfort
Weight
Durability
Functionality
Style
Start by reading choosing the best travel shoes for any trip!
Walking Shoes
Skechers Performance Go Walk 3 Slip-On Walking Shoe
Skechers Go Walks 3
First, you need a quality, comfortable pair of walking shoes with solid support. This is the pair of shoes you'll be wearing the majority of the time, so it needs to be comfortable. If you're doing lots of sightseeing, you don't want to putter out because you twisted your ankle in the cracks of the Great Wall!
Skechers is known for creating comfortable walking shoes, and the memory foam footbed in the Go Walk slip-ons  makes them the most popular walking shoes among women for travel. These have a ton of cushioning to keep your feet happy when sightseeing. As a bonus, they're easy on the wallet, too.
Packing cubes make the perfect shoe bags to protect your luggage from dirty shoes. Take a look at other shoe bag ideas here!  
Jambu Blossom Encore Flat
If you're hitting the city streets, check out these fun tennis shoe styles or stick to a classic pair of TOMS.
If you want to go the mary jane style route, check out the Jambu Blossom Encore which is a huge hit with our readers!
Check out the most comfortable and cute walking shoes for travel according to our readers!
Ecco Footwear Flash T-Strap Gladiator Sandal
Ecco T-Strap Gladiator Sandal
The best shoes for travel are the ones you can wear with a variety of different outfits and that you also enjoy wearing.
Ecco has a fantastic assortment of walking sandals for travel like the Flash T-strap, all of which provide great support and are perfect for the style-conscious traveler that seeks a balance of comfort and fashion.
Blondo Villa Waterproof Ankle Bootie
Blondo Villa Waterproof

Ankle Bootie
For visiting destinations in the shoulder season or with unpredictable weather, a pair of ankle booties like the ones shown above from Blondo are the best walking shoes. Read my full review here!
These ankle boots are waterproof, so it serves as both a stylish shoe and a rain boot. You can wear them in different weather conditions, and you can easily dress them up or down. And because they're a comfort shoe, you can wear them all day long.
Dress Shoe: Flats
Bandolino Edition Leather Ballet Flat
Bandolino Leather Ballet Flat
Your second pair of shoes is where you can add a little more style, like something dressier to dress up your outfits. It's a bonus if they're comfortable and can alternate with your walking shoes to add variety!
Make sure they are travel friendly: packable and able to withstand wear, versatile with several travel outfits, and durable–you want them to last the duration of your trip.
The ballet flats like the Bandolino shown above are NOT the best walking shoes for a full day of sightseeing. They're the perfect option for a dressy, chic shoe on light travel days or evenings. However, we don't recommend you spend eight hours walking in them.
Teva Ysidro Stitch Sandal
If you are going on an active trip in tropical climates, you may decide to pack travel sandals like the ones mentioned in this article as your walking shoe, but you may want to consider a pair of flip flops as well.
The Ysidro stitch from Teva has a sleek look that will enhance any casual or sporty look. It has soft leather footbed offers luxurious comfort. Universal strapping system offers an excellent secure fit and multiple points of adjustment for easy adjustability.
Dress Shoe: Sandals
Vionic Rest Nala Thong Sandal
The Vionic Nala Thong gives you the practicality of a flip flop with a stylish twist–perfect for transitioning from beach to evening wear, which also replaces the need to pack an additional dressy shoe!
FitFlop Women's The Skinny Flip Flop
FitFlop The Skinny Flip Flop
In the heat, sandals are great because they are comfortable, allow your feet to breathe, and can give your skirts and dresses a little flair.
FitFlops have been quite fashionable in recent years and are very popular amongst our readers. These are by far one of THE best and most comfortable sandals in the summer.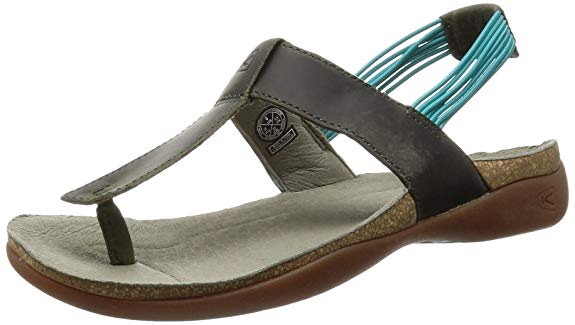 Keen Dauntless Posted Sandal
Keen is another brand that specializes in making good walking sandals that are all about functionality. Ranging from trendy straps to sleek, modern silhouettes, these are definitely a step up from utilitarian travel shoe styles and and a step in the right direction!
These sandals are often equipped with features such as shock absorption, non-marking rubber outsoles, adjustability and a comfortable footbed. These selections will easily get you through the day in comfort!
Check out our round-up of comfortable walking sandals that don't sacrifice style!
Activity Shoe
Clarks Annadel Eirwyn Wedge Sandal
Clarks Annadel Eirwyn Wedge
If you prefer wearing heels over flat shoes, here are the most practical, comfy heels for travel and this is the most versatile color.
Wedges are not only a great heel option for female travelers and are an ideal choice for the cobblestone streets but they're also ultra fashionable and offered in a variety of cute styles. As well as being perfect for if you need something dressier.
Our readers rated Clarks as the best brand with the most comfortable wedge sandals. Not only does Clarks specialize in creating travel-friendly footwear but their comfy wedges like this Annadel Eirwyn are particularly stylish.
Wedges are back and more travel friendly than ever! Check out what's on our list!
Merrell Siren Hex Q2 E-Mesh Hiking Boot
Merrell Siren Hiking Boot
Your activity shoe is what you choose to pack for the special activity you will do on your trip. Whether it's hiking, dancing, working out, or whatever–this category is for that shoe that you can't wear all the time but need for your special activity.
If you're planning to go hiking, a pair of hybrid trainer/hiking shoes would work well, like the Merrell Siren Sport. Go to an outdoors store before you leave and try on different styles and colors.
If you are traveling for business or a wedding, a pair of nice thong sandals or cute flats  make great replacements for heels.
UGG Women's Blayre Ii Winter Boot
UGG Blayre Ii Winter Boot
UGG Women's Blayre Ii Winter Boot is a warm and comfy option if your travel plans include a hike in a colder climate. TFG readers love UGG boots, and this cozy, lined boot is a great activity shoe when you have an all-day hike planned, and you need something more durable with a sturdy heel.
To learn more on how to choose your activity shoes, read this post!
Dr. Scholl's Massaging Gel Insoles
Additional Things to Consider
Make sure to break in all travel shoes before you leave! Wear them around your town at least a couple times. Take them out for a hike or two if that's what you're into. The last thing you want is for your comfortable shoes to give you blisters!
When traveling, taking care of your feet is essential; they literally take you everywhere! You must be good to those toes–you will enjoy yourself much more by not worrying about blisters and pain.
It also pays to spend a little extra money to ensure the quality of your footwear when you're trying to decide on the best shoes for travel.
If all fails, and your footwear isn't working out, you can buy shoes anywhere in the world. Just pick up a new pair if you didn't make the best choices–it happened to me!
A sample of travel shoe combinations for tropical climates
---
What do you think are the best shoes for travel? Share in the comments below!
---
For more on the best shoes for travel, please read: 
---
LIKED THIS POST? PIN THIS PIC TO SAVE IT!
---
I hope you enjoyed this post on how to choose the best shoes for travel. Please share with your friends on Facebook, Twitter, and Pinterest. Thanks for reading!
---
Author Bio: Tara is a native Californian and newbie world traveler, having just backpacked through Europe and continuing throughout Southeast Asia. An enthusiast of all things organic, she also loves to read, write, and bake in her spare time and currently keeps her own travel blog, Traveling Days.
---