This post contains affiliate links. Visit our Disclosure page for details.
Wondering what to wear in Finland in winter? These local approved packing tips will tell you exactly what you need!
---
What to Wear in Finland in Winter
Written By: Christina Prendergast
---
Packing for a winter vacation can be tricky, especially if you're visiting a location with extreme weather conditions. Read these tips to learn how to stay warm in cold weather!

As you start your Finland travel planning, the main thing to keep in mind is that snow can start to fall in November/December and can last right up until the beginning the May! With winter temperatures plummeting to -22°F/-30°C, we've compiled a list of ten tips for packing smart and ensuring you enjoy your trip!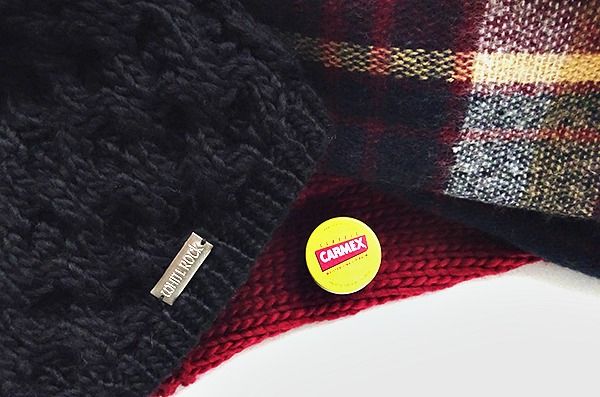 Here's what to wear in Finland in winter:
Boots: Warm, Dry & Comfortable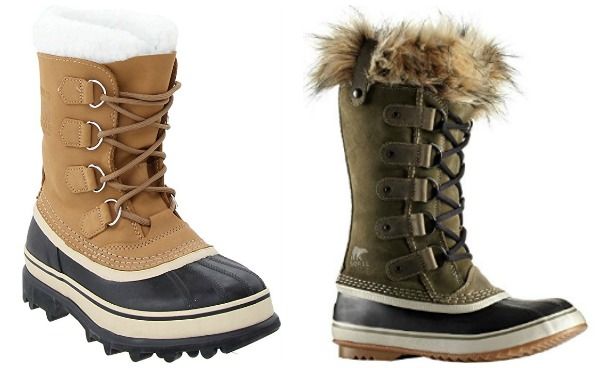 Caribou Boot / Joan Of Arctic Boot
If you don't ordinarily visit places with a harsh winter climate, the likelihood is that you don't own a pair of snow boots.
Snow boots are an essential part of every Finn's winter wardrobe and if you're planning on exploring some of Finland's forests and nature trails, you'll need them for getting through any areas of deep snow.
Your snow boots will not only need to be waterproof (including the upper part) but they'll need a good grip on the bottom to avoid slipping.
This style of boot may not be the most dainty-looking, but trust me, if you want to explore Finland on foot during the winter months, protecting your feet from the elements needs to take priority.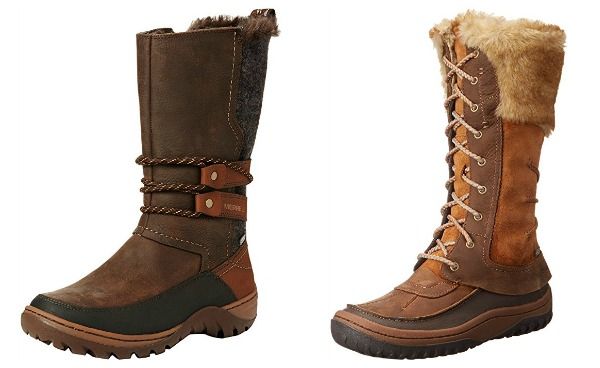 Waterproof Snow Boot / Waterproof Winter Boot
If exploring the outdoors isn't your thing and investing in a pair of snow boots doesn't seem worth it, make sure that you still opt for a pair of winter boots when planning what to wear in Finland in winter. They will need to keep your feet as dry and warm as possible.
Even in shallow snow, calf or knee-high boots are more advisable than ankle boots for keeping out the cold. Avoid materials such as canvas or suede; moisture can rest on the surface and seep through.
It's also recommended that you go up a size when purchasing winter boots to allow for extra thick socks like these. Avoid cotton socks.
Tip: Whether you choose to pack your boots in a suitcase or wear them through the airport to save on space, always make sure you've broken in your boots properly before you go. The only thing worse than cold feet is sore feet!
Here's a wide selection of the shoes our readers voted as the best waterproof rain and snow boots.
Coat: Think Long, Not Short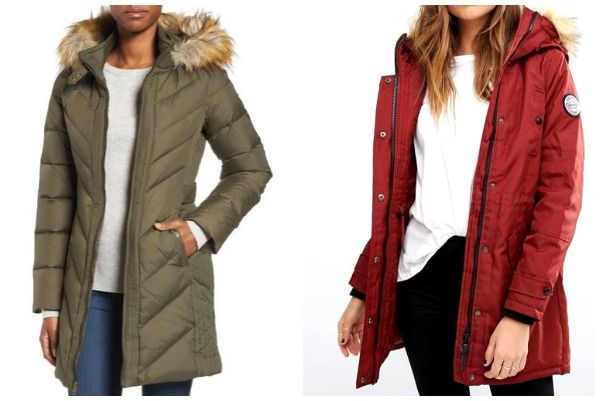 Faux Fur Trim Hooded Jacket / Parka With Faux Fur Collar
Deciding which coat to pack for any vacation can be difficult, but when planning what to wear in Finland in winter, there's only one kind of coat you should choose.
While short ski-jackets are definitely ski essentials, when it comes to a non activity-based snow holiday, a long coat will definitely serve you better.
Short styles will leave your legs completely exposed to the elements, while a longer coat (at least mid-thigh), will ensure that Jack Frost's nipping is kept to a minimum.
A hood is also essential when it comes to choosing a coat to pack for Finland. You never know when it might start snowing again, so being able to protect your head from an icy intrusion is a must.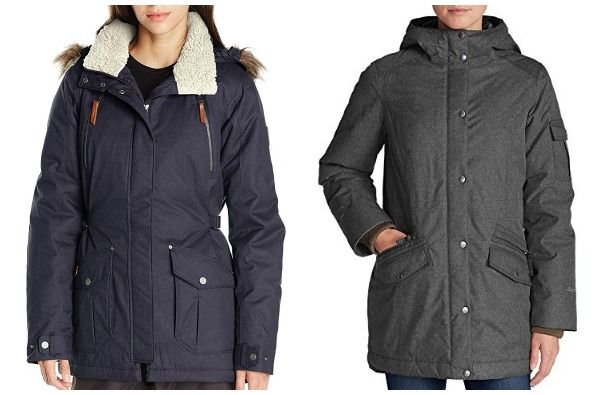 TurboDown Jacket / Superior Down Parka
If possible, opt for a coat that is fully lined on the inside or feels a bit heavier than your normal everyday jacket. Faux-fur lining is a great choice for winter, but if that's not your thing then anything with a bit of weight to it should do the job.
Keep in mind, though: unless you have access to a dryer on your trip, you'll find it very difficult to dry clothes if they get wet. So be sure to avoid materials that are likely to absorb too much moisture. Snow might look fluffy, but it's still very, very wet!
Thermals: Are They Really Necessary?
Ibex Woolies Shirt / Ibex Woolies Bottom
If you're planning on being outdoors, thermals are essential! Thermal underwear such as "long johns" are a good start. These items are an absolute must as you plan what to wear in Finland in winter.
Merino wool is preferable but a silk thermal top and silk bottom also work well without the bulk.
Locations in the north of Finland (such as Lapland) get the coldest in winter, so if you tend to feel the cold more than others, thermal underwear is a necessity.
Here's how to choose the warmest long underwear for women.

Insulated Thermal Knit Beanie / Outdoor Gloves / Thermal Socks
In general, the biggest priority when it comes to thermal clothing should be ensuring that you've packed yourself a thermal hat, gloves, and socks. 
These three items, teamed with a long winter coat, will keep you as comfortable as possible without feeling too restricted. You'll be able to find thermal-lined woolly hats and gloves online, or at any well-stocked camping shop.
Take a look at these stylish winter accessories!
Scarf: The Softer The Better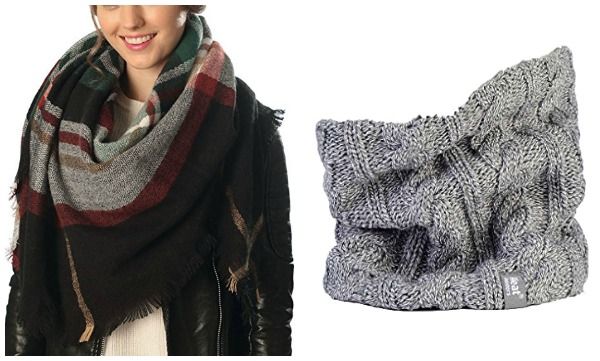 Oversized Blanket Scarf / Thermal Scarf
This might sound obvious, but you'd be surprised at how many people visiting Finland forget to pack a scarf!
Oversized blanket scarves are a firm favorite with winter travelers as they're great for throwing around your shoulders if you're feeling a bit chilly indoors. Choose a color that will go with everything, and go with the softest material you can find.
Tip: If you know someone who lives near a Primark store, it might be a good idea to have them check out the affordable scarves stocked during the winter months. Get them to pick you up a few different colors and anything you don't bring with you can be kept for next year!
Take a look at more stylish winter scarves!

Warm Clothes: Sensible Over Fashionable
Basic Scoop Neck / Flare Tunic Top
When planning what to wear in Finland in winter, it's safe to say that all of your favorite t-shirts, tank tops, and yoga pants will definitely need to be left at home. Instead, save space in your suitcase for items such as sweaters, cardigans, and jeans.
Packing basic items such as long-sleeved tops and thick leggings like these will be a big help in layering your clothing.
While black is usually a good choice for these particular items, try not to worry too much about everything matching – Finns love to wear multiple colors at once!
If you're looking for something to wear to go out, avoid prioritizing style over warmth. In Finland, it's normal to dress casually when going out to a bar or nightclub.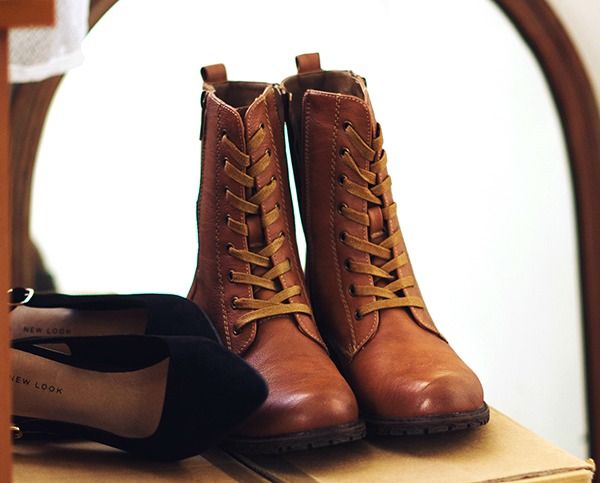 Tyler Double Zip-SVL Winter Boot
A nice top and pair of jeans is a popular choice for Finns, especially in winter. As for shoes, you'll see very few women risking a pair of high heels when on a night out in Finland.
The icy sidewalks and cold temperatures make stiletto heels an extremely impractical choice, so unless you plan on being carried around all night–proceed with caution when choosing your footwear.
Tip: If you really can't live without the extra few inches on a night out, try going for a boot with a chunky heel that might handle the snow-covered ground a bit better than your usual heels of choice.
Pajamas: No Teddies or Babydolls Here!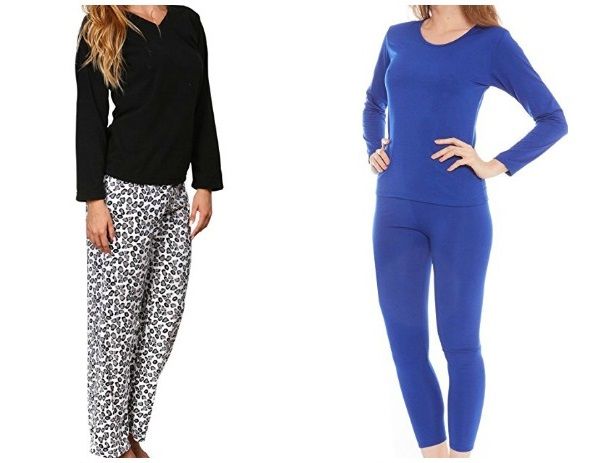 Cozy Plush Pajama Set / Fleece Lined Thermal Underwear Set
Hotels in Finland definitely know how to handle the colder months. You'll find yourself craving the warmth of the reception area after a long day of sightseeing, and at night, you won't even notice the plummeting temperatures outside your window.
If staying at standard hotels, filling up your case with extra-heavy pajamas won't be necessary.
If you're going down the more rustic route and plan on staying in an older-style log cabin–pajamas at night are a must. Long-sleeved and long-legged is the way to go.
Here are more tips on how to choose the best travel pajamas!
Indoor socks/slippers: Cold Feet Anyone?

Something you'll learn quickly when you visit Finland is that people generally don't wear shoes inside their homes. (This also applies to other parts of Europe, including England!)
Upon entering someone's home, you'll notice a designated area for guests to place their shoes (usually a rack or large box). While this works perfectly for keeping your home unaffected by the outdoor elements, it can also mean cold feet for unprepared guests.
As  you consider what to wear in Finland in winter it's a good idea to always have a pair of fluffy socks in your handbag that can be popped on your feet over your normal socks if you're feeling particularly cold. If you're planning on staying in someone's house for your entire trip instead of a hotel or guesthouse, bring a pair of light slippers to walk around in.
Note: Don't worry–other than in homes, you can wear shoes indoors everywhere else!
Hand Warmers: The Best Things Come in Small Packages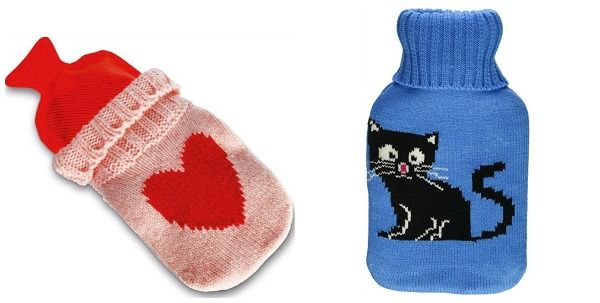 Mini Hand Warmer / Rubber Hot Water Bottle
There are some occasions during a Finnish winter when not even thermal gloves are enough to keep your fingers warm. Hand warmers are a small but extremely useful thing to add to your bag if visiting in the winter.
They can easily be kept in your coat pocket for any particularly icy encounters. After use, just pop them into boiling water for 10 minutes (hotels and restaurants are usually kind enough to oblige!) and they'll be ready to go again.
Remember: These items count as liquid so be aware of this if you're only bringing carry-on luggage with you. Here's how to downsize liquids.
Sauna Attire: Bathing Suit in Winter?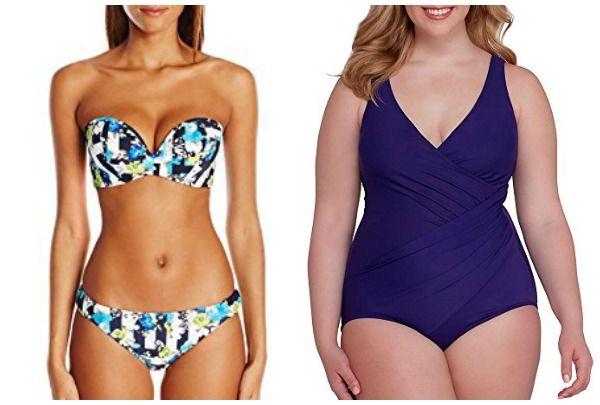 Suki Gather Bikini / One Piece Surplice Plus
Whether it's in an outhouse or inside their homes, Finns enjoy spending time in saunas year-round. If you're lucky enough to be asked to join native Finns in the sauna, don't let the issue of sauna attire put you off.
While some Finns enjoy being naked in the sauna when they're alone, it's common for swimwear to be worn (even when with friends). So don't forget this item when planning what to wear in Finland in winter!
While packing a bathing suit for a winter trip might seem unusual, it could mean the difference between getting to experience an authentic Finnish sauna comfortably or not.
A Finnish sauna is like nothing you've ever experienced before, so we recommended packing your bathing suit and trying it out at least once!
Lip balm: Essential for a date with Jack Frost
Carmex Lip Balm / Burt's Bees Natural Lip Balm
Lip balm might be something that you have in your handbag all the time, but when visiting Finland, you'll definitely need a reliable brand. Even if your lips are generally fine in cold conditions, an icy breeze can make them sore and dry in no time at all.
Carmex is a popular brand of lip balm and while it usually seems to last forever, pack two in case one goes missing!
Read these tips on how to care for your skin in winter weather!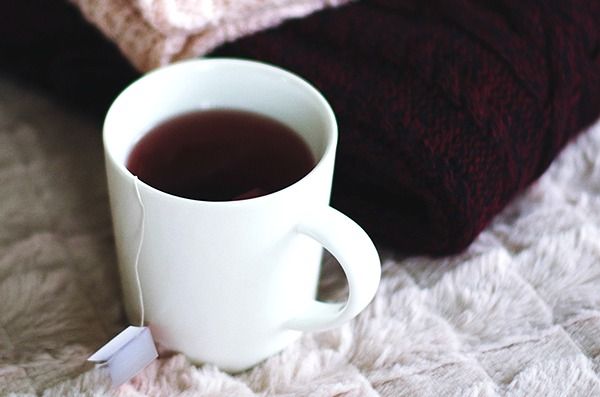 ---
What are your tips on what to wear in Finland in winter? Share in the comments!
---
Please note: Most of Europe's budget airlines have this carryon bag allowance: 55cm x 40cm x 20cm. Always check your airline's baggage rules in advance.
---
LIKED THIS POST? PIN THIS PIC TO SAVE IT!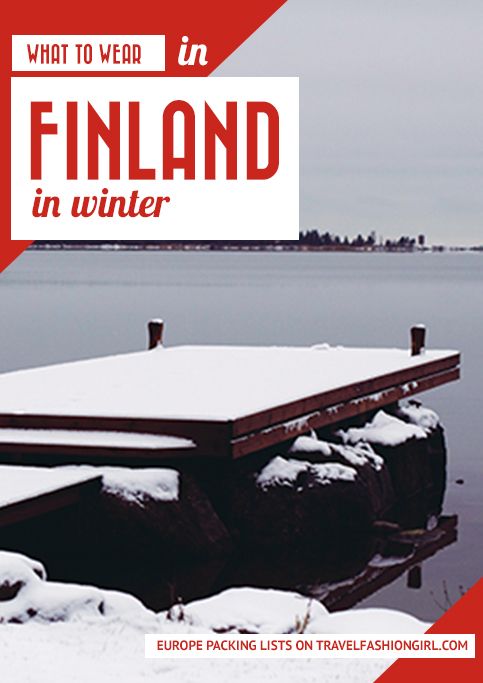 ---
For more tips, please read these Europe packing lists:
Suggested travel resources:
Please read our Ultimate Packing List for Europe featuring stylish outfits and travel tips for 9 countries.
---
I hope you liked this post on what to wear in Finland in winter. Please share with your friends on Facebook, Twitter, and Pinterest. Thanks for reading!
---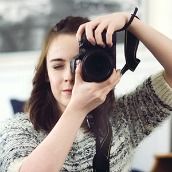 Author Bio:Christina Prendergast is a digital content producer from Ireland. Currently splitting her time between Ireland and Finland, Christina is definitely no stranger to packing. Be sure to check out her colorful Instagram profile to see the best of both her worlds–with some other destinations thrown in for good measure!
---
Liked this article? Check out similar posts: