Support TFG by using the links in our articles to shop. We receive a small commission (at no extra cost to you) so we can continue to create helpful free content. As an Amazon Associate, we earn from qualifying purchases made on Amazon in addition to other retailers featured on the blog. Thank you, we appreciate your support!
Rain can be a nuisance when you travel if you're not prepared. Don't let rain ruin your trip. Take a look at these four rainy day outfits for different travel scenarios!
---
Rainy Day Outfits
Written By: Nina Thomas
---
I like to be prepared for all types of weather, but sometimes when you choose to travel somewhere during the country's rainy season, you need to be even more prepared for the weather when planning your travel capsule wardrobe.
Rain can be a nuisance if you haven't prepared for it. However, if you have the essential items, it will just be part of the trip, not a deal-breaker.
Here are a few tips on how to ensure rain will never ruin your trip:
The type of clothing you'll need will depend on the day's activities and how heavy the rain will be. Here are four rainy day outfit ideas!
 T-shirt | Rain Jacket | Bra | Pants | Socks | Boots | Bag
Rainy Day Outfits: Hiking or Exploring
A quality rain jacket, good hiking boots and a waterproof bag will be good to have with you. A bra made with synthetic material is also good to help you dry faster. (Rain and sweat! Double bonus.)
If you're going to be outside hiking or exploring, you'll definitely want to wear moisture-wicking pants and socks. Having a good pair of socks that keep your feet dry, and not swampy is key. Your feet will already sweat while you hike, additional moisture can increase the likeliness of developing blisters. Make sure to purchase socks with a wool blend.
Trekking in torrential rain or snow? Pack waterproof pants and a plastic poncho as well.
Trench | Lipstick | Tights | Dress | Bag | Earrings | Boots
Rainy Day Outfits: Light Rain
If you're walking to and from destinations in light rain, a good trench coat will help to keep your outfit and hair dry.
Tights and a dress are a good option, especially if you don't want to wear hiking pants around a city. Tights are also made of synthetic material that dry fast.
Leather boots will keep your feet dry, and will be able to withstand mud as you encounter it. You can use a water resistant spray to help keep water out and protect your shoes.
You can easily roll up your rain coat into a packing cube without any issues until you need it.
Longsleeve | Pants | Umbrella | Bag | Earrings | Boots
Jeans are OK for light rain although we don't recommended wearing them for heavy rainy days or when you're outside in the rain for extended periods of time. (Wearing wet clothes in cold temperatures can cause hypothermia.)
Learn about how to choose the best fabrics for travel.
A compact travel umbrella will block a drizzle, and can be stowed in your day bag when not in use. Don't be afraid to pick up a brightly-colored umbrella. Especially if the day is cloudy, it can really brighten up your photographs.
However, if you opt to skip the umbrella a light hooded jacket will usually work just fine. Wool blend socks are key to keeping your feet dry.
Poncho | Dress | Crossbody | Earrings | Tights | Boots
Rainy Day Outfits: Outdoor Sightseeing in All-day Rain
Choose one of these travel rain coats for women that fall below your hips. Alternatively, I recommend a durable poncho that keeps your whole body dry, but also gives you some breathability and flexibility.
Believe it or not, a dress and wool-blend tights, and a small leather bag (which is also waterproof) is any easy to wear outfit in the rain. Your clothing can dry easier, too.
Choose clothing you wear comfortably under your poncho or rain jacket. For heavy rain, we recommend a sturdy umbrella (a compact option from home or wait to purchase one abroad if needed).
While you don't have to pack rain boots for most trips abroad, a pair of waterproof boots like one of these is definitely encouraged. You'll see that there are many stylish options to choose from!
Now, would be a good time to use your water-proof camera, like a GoPro, to take photographs. Brightly colored lipstick and dangle earrings make a fun way to make you feel flirty, even in the pouring rain and cloudy weather!
Here are some tips on how to weather-proof your makeup!
---
What are your style tips for rainy day outfits? Share and comment below!
---
For more seasonal packing tips, please read:
---
LIKED THIS POST? PIN THIS PIC TO SAVE IT!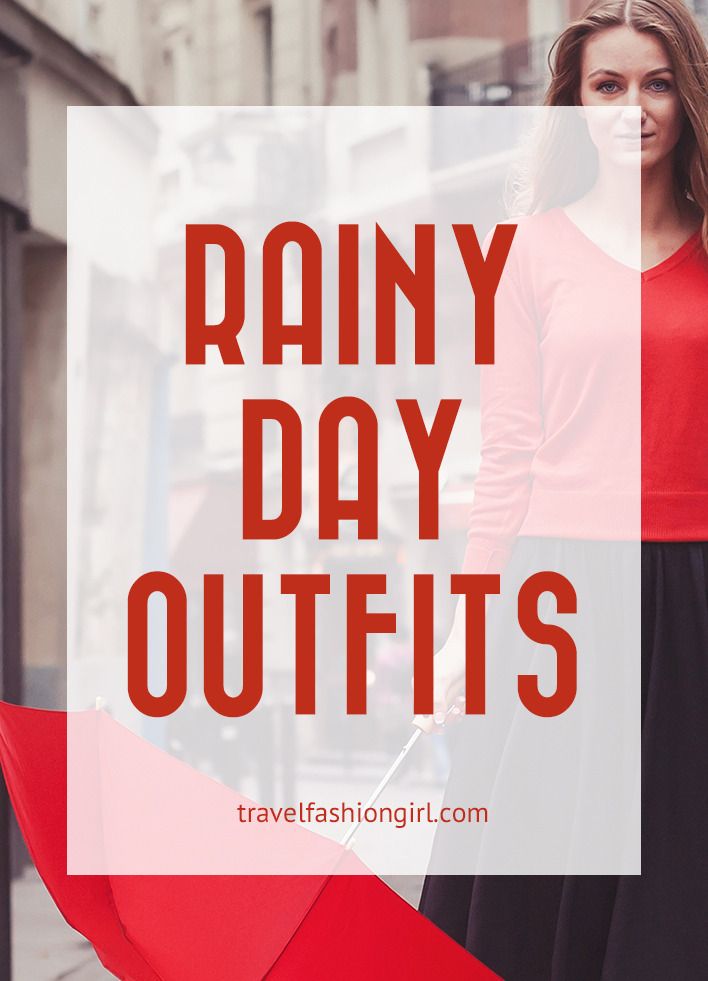 ---
Hope you liked this post on rainy day outfits. Please share with your friends on Facebook, Twitter, and Pinterest. Thanks for reading!
---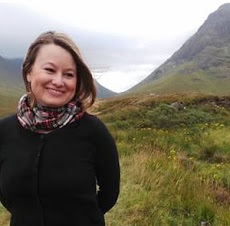 Author Bio: Nina Thomas is constantly looking for a beautiful view and a good adventure. Her travel highlights include horseback riding in the Ecuadorian Andes, hiking on top of Mount Etna in Sicily, and sheep-gazing in the Cotswolds. For more practical travel tips and ideas from a Central Ohio Girl, check out  Traveling with Nina or follow her on Twitter.
---