This post contains affiliate links. Visit our Disclosure page for details.
Finding cute and comfortable shoes seems to be an impossible task but as seen in our massive Travel Shoes section, we are determined to find the absolute best options out there. Keep reading to find out why one professional travel blogger thinks she's discovered the best travel shoes for Europe in summer!
---
Best Travel Shoes for Europe: Summer
by Diana Edelman
---
There was a time when I wouldn't be caught dead in Crocs, especially as stylish travel shoes for a destination like Europe. The ugly, clunky, lighter than gravity shoes served one purpose in my mind: to keep doctors feet cushioned and stable on hard floors.
That was it! Then, I moved to Thailand and rainy season happened, and in some twist of fate, I ended up swapping shoes with a friend who had a pair of Crocs. But, unlike the unattractive Crocs I had grown to loathe and swear would never set up residence in my closet, I fell sort of head-over-heels for this pair of cute black sling-back rubber shoes.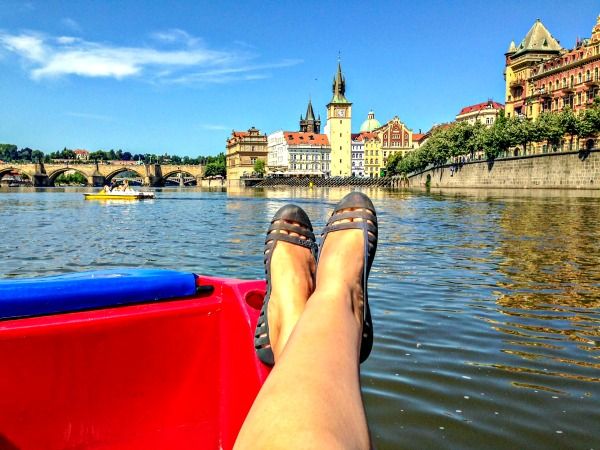 Adrina II flats
My feet didn't slip. They were cushioned. In fact, every step I took it felts as if I was walking on a soft bed of marshmallows and not the rough roads.
I purchased my first pair of Crocs (they very same pair I had slipped on my aching feet that day) a few months later.
The sling backs were the perfect shoe for Thailand. They didn't encompass my entire foot (which I cannot stand), and looked cute enough to pair with anything in my jungle wardrobe. They were ridiculously comfortable; I never lost my footing on slick surfaces; and they lasted for nine months of solid wear.
Diana's not the only female traveler that loves these shoes for traveling. Read the tale from another Crocs addict!
When they had to be put down, I did what any newly born Croc Addict would do: I went to the Crocs store and purchased a few more pairs of travel shoes. And then, when I took my trip to Europe and Travel Fashion Girl included this cute pair of Crocs as a part of my capsule, I went back to the store and snapped them up, too.
Could they also be the best travel shoes for Europe?
They were in fact perfect for summer in Europe, fooled me entirely the first time I saw them; I didn't even think they were Crocs. But, as soon as I slipped the Adrina II flats on my feet, I was sold.
I never had foot shame once in Europe. In fact, the Crocs I took with me were the travel shoes I wore every day – except when hiking.
Why did I love them? The same reason I love all of the Crocs I've ever had a relationship with: they were ridiculously comfortable; looked great even with my more fashionable European outfits (although they aren't ideal for fancy stuff, don't worry, Crocs does make some cute more formal-type kicks); and kept me afoot on slippery surfaces.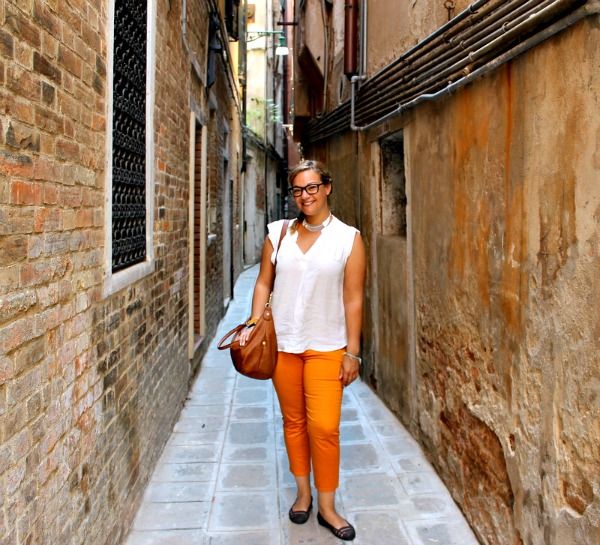 Adrina II flats
The perfect travel shoe for walking? Well, that depends on how you define perfect. It definitely helps to make sure you break any rubber shoe in a bit before you take them out into the big, wide, world. But, I know I've found mine.
Diana's right. We saw a traveler wearing the Adrina flat at the Eiffel Tower paired with a feminine dress and she looked comfy and fab, too! Take a look at our popular Paris packing list!
---
So what do you think? Would you dare say a pair of Crocs are the best travel shoes for Europe?
---
For more tips on travel shoes, please read:
---
Hope you liked this post on the best travel shoes for Europe. Don't forget to share with your friends on 
Facebook

, Twitter and Pinterest. Thanks for reading!
AUTHOR BIO: Diana Edelman quit her job in 2010 to go on a solo backpacking adventure and tackle her 30-Life-Crisis. After seven months abroad, journeying throughout Europe and Africa, her journey eventually took her to the Elephant Nature Park in Thailand where she is involved with raising awareness about responsible elephant tourism. Read more about her and her travels on her blog D Travels 'Round.
---