Support TFG by using the links in our articles to shop. We receive a small commission (at no extra cost to you) so we can continue to create helpful free content. As an Amazon Associate, we earn from qualifying purchases made on Amazon in addition to other retailers featured on the blog. Thank you, we appreciate your support!
If you're looking for the perfect skirt to bring along on your travels that's easy to pack and versatile, RipSkirt Hawaii could not come more highly recommended by TFG readers. Find out why in this review!
---
Rip Skirt Reviews
---
Table Of Contents
When creating a travel wardrobe, versatility and comfort are of the utmost importance. RipSkirt Hawaii offers an array of skirts that check these boxes–and many more! 
If you're new to learning about this ocean-loving company, RipSkirt Hawaii is based in Maui, and has created a line of wrap skirts that are usable not only around the water but off sand too! The brand offers four different skirt lengths: short, above the knee, midi, and maxi. Truly, there is a length to suit anyone's style!  
The TFG Community completely adore how functional, adjustable, and incredibly cute they are. Find out why RipSkirt Hawaii is voted THE most popular travel skirts by readers!
Best Features of the
RipSkirt Hawaii Skirts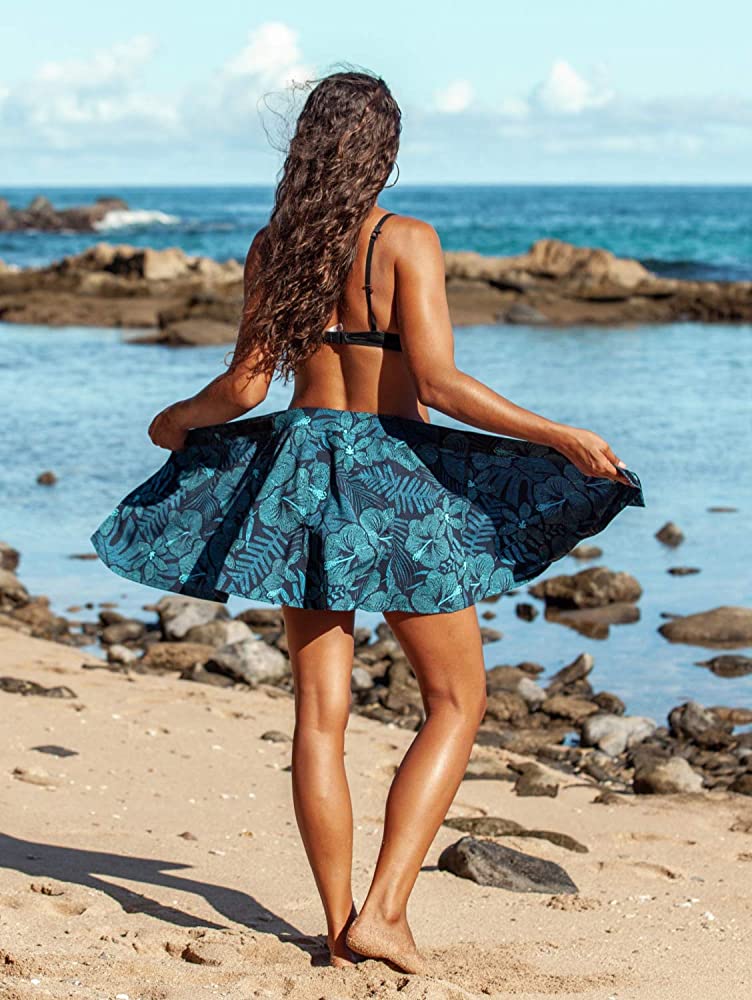 Quick-wrap closure and water-shedding fabric—RipSkirt Hawaii is made for swimming!
They're Comfortable and Adjustable
TFG readers are obsessed with RipSkirt Hawaii because their skirts are a dream to wear, and while the idea of a traditional wrap skirt may sound unappealing, RipSkirt is uniquely designed!
A common concern for many women is coverage with a wrap skirt, especially when sitting down. Many of our readers who own RipSkirts affirm there's plenty of fabric and coverage, so they don't expose your legs when you sit down, nor do they gape open walking down a windy beach—so you can have complete peace of mind!
Another concern is the velcro closure and whether they're trustworthy enough, especially over time. Readers speak a lot on this as well. One reader reports, "I've had mine two years with no velcro malfunction." Others have recommended washing with the velcro closed to keep it in great condition. Overall, the velcro holds up well and will keep everything secure.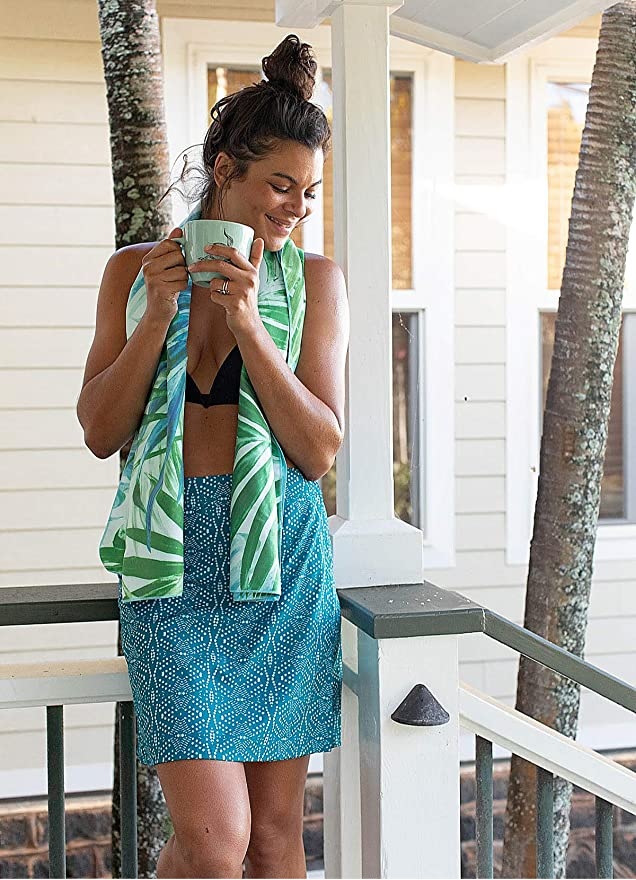 RipSkirt Hawaii is perfect for days at the beach!
The quick-wrap closure makes it super easy to take the RipSkirts on and off, and you can do so without bending down at all. This is great for travelers with limited mobility or with wet, sandy feet. These are so handy because you can adjust them to your liking and they stay put! 
The RipSkirt fabric is cool and comfortable, so these skirts are a solid choice for hot destinations. The fabric is also super soft, and readers say that the skirts drape really well and aren't too tight or clingy. One reader shares, "It lays so well against my tummy and hips, very flattering and fuss-free."
RipSkirt Hawaii sizing ranges from sizes XS to XXL. Readers report they are true to size, while the velcro closure allows for a perfect custom fit. One TFG reader shares, "I'm curvy and the cut of the skirts works amazingly well for me. I bought the large and it fits well. Because it has a velcro closure, it's so forgiving." When asked if true to size, another reader answers, "They are and there's wiggle room because of the velcro fasteners; they give you an inch or so either way."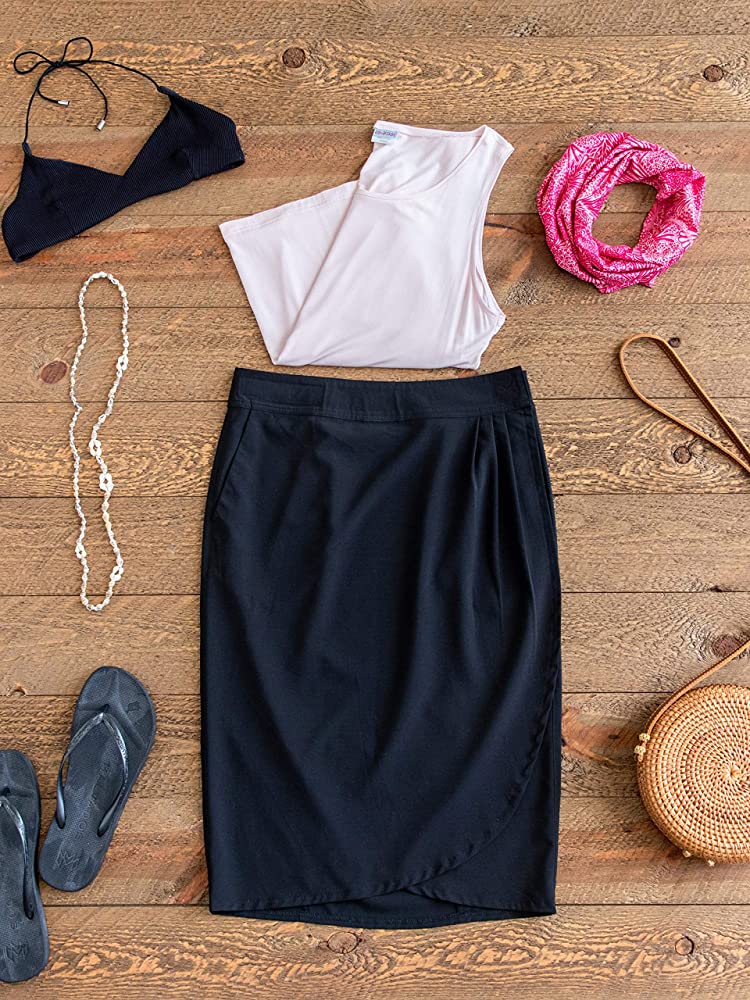 RipSkirt Hawaii can fold up small in a carryon!
They're Easy to Pack and Store
RipSkirts are also beloved by travelers because of how easy they are to pack. They're lightweight and fold up small, so they take up very little room in your luggage. They can be easily mixed and matched with your other clothing as well, so you'll be traveling much lighter with a RipSkirt or two in the mix! 
One traveler says, "These are comfortable, lightweight, won't wrinkle, packs well, doesn't take up much room, and I loved them so much I bought two."
We've picked out some of the best travel skirts in a variety of lengths that are perfect for packing light!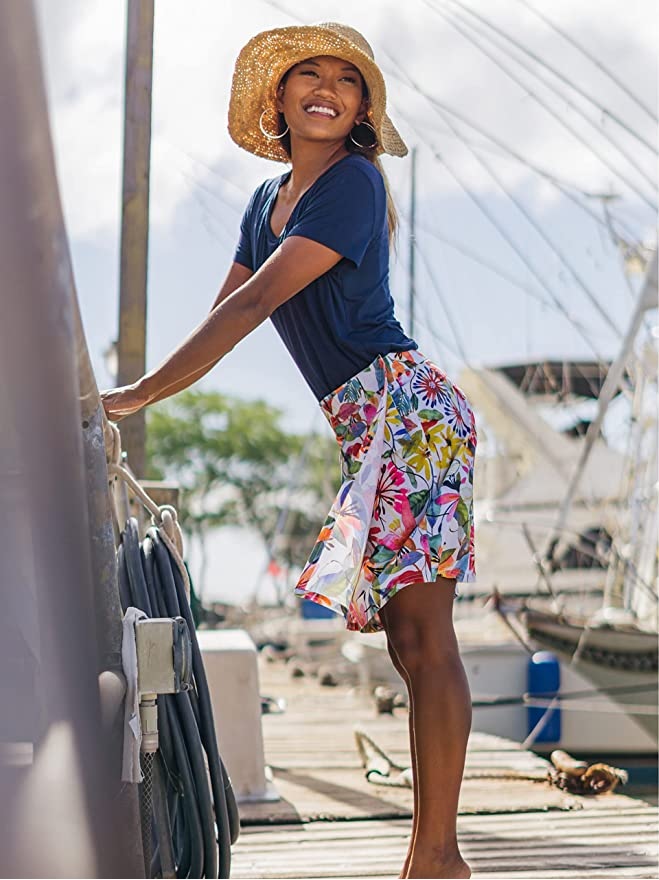 RipSkirt Hawaii dries fast around water!
They're Practical and Functional
RipSkirt thought of just about everything when it comes to these cute skirts! They're made of technical water-shedding material, so they dry really fast once you emerge from the water, which is always ideal for traveling, swimming, or any water activity you have in mind. 
You can throw one on over a wet bathing suit and actually feel quite comfortable, and you also won't have to worry if there's an expected rain shower or an accidental spill.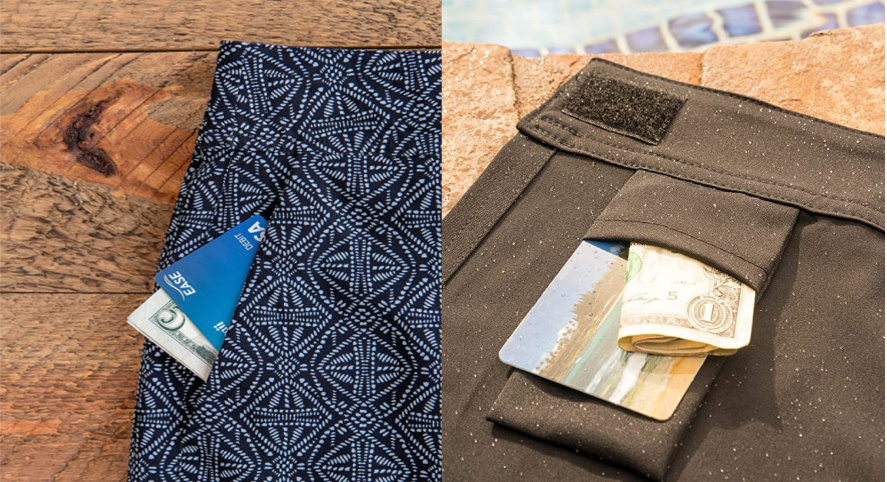 RipSkirt Hawaii skirts have convenient interior and exterior pockets
The skirts are also stain-resistant too, so they're beyond easy to clean. A RipSkirt can be quickly washed in the sink and will be dry in no time, ready to be worn again! 
Another bonus for travel, is they're wrinkle-free, so you can throw one in your bag (even if it's wet) and it'll come out looking just fine. Additionally, some prints come with a new side pocket that's big enough to hold a phone. The original prints have interior pockets which are great for holding cards or cash. 
One happy wearer says, "The Ripskirts are so comfortable, they don't wrinkle in luggage, wash easily, and dry wrinkle-free! I'm very pleased with how they look and love how airy they were when I visited Florida!"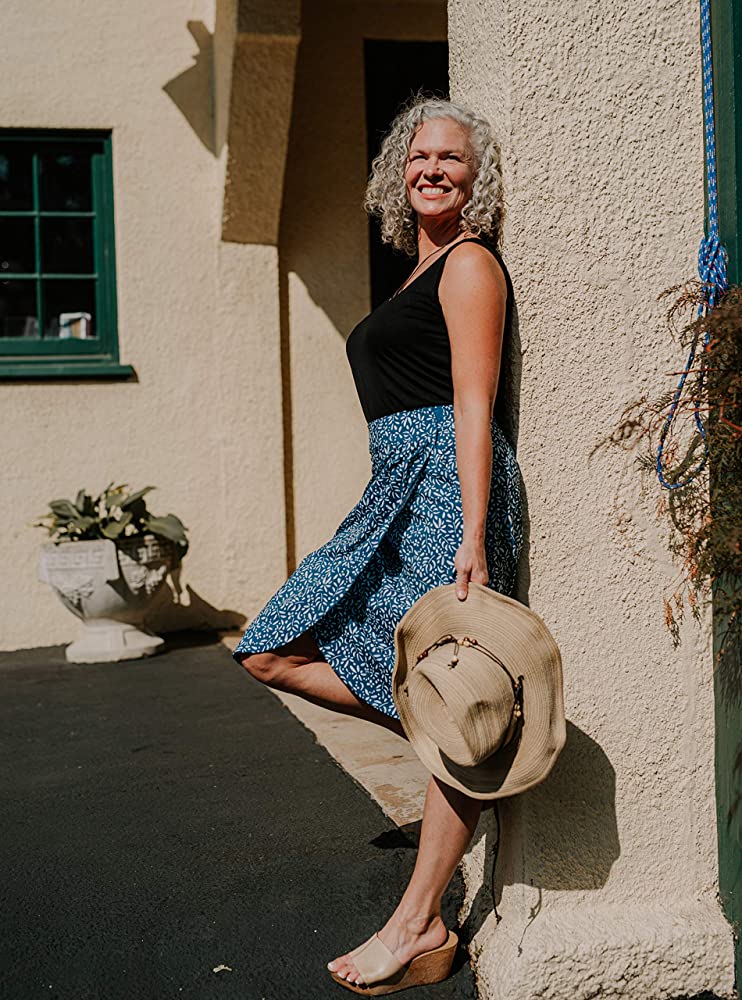 You can style a RipSkirt Hawaii with sandal wedges and a sun hat!
They're Stylish and Versatile
Our readers love travel pieces that multitask, and these skirts do just that! Whether you're going on an outdoor adventure or out to dinner, you'll be ready in an instant and look quite chic. 
The skirts are available in four length options (short, above the knee, midi, maxi), all with a bunch of different print and color options to choose from. The adjustable velcro closure means you can decide where it sits on your hips, too. 
Our readers wear their RipSkirts everywhere from hiking to dinner out! One TFGer says, "During the day I wear it with my bathing suit around the pool and at night I dress it up for dinner."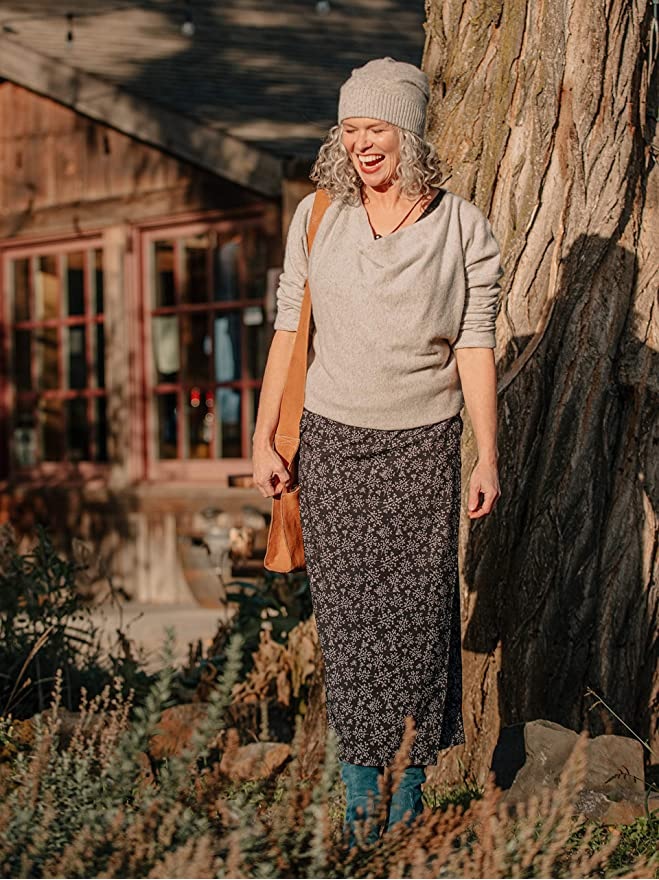 RipSkirt is also wearable when it's chilly out; pair with ankle boots and merino wool sweater!
Another reader shares, "The 'kick pleat' in the back is the flattering part. I have not worn a skirt in decades. I saw RipSkirt and tried one. Now I own five. The mix and match ability are endless!"
RipSkirts can be worn in many different ways, either with a swimsuit, a tee or tank, a button-up shirt, or layer with a cardigan or sweater. This type of versatility is such an important aspect of travel clothing. They are endlessly wearable in different scenarios, which is a major reason why they come so highly recommended in the TFG Community.
Here's what to wear with a maxi skirt!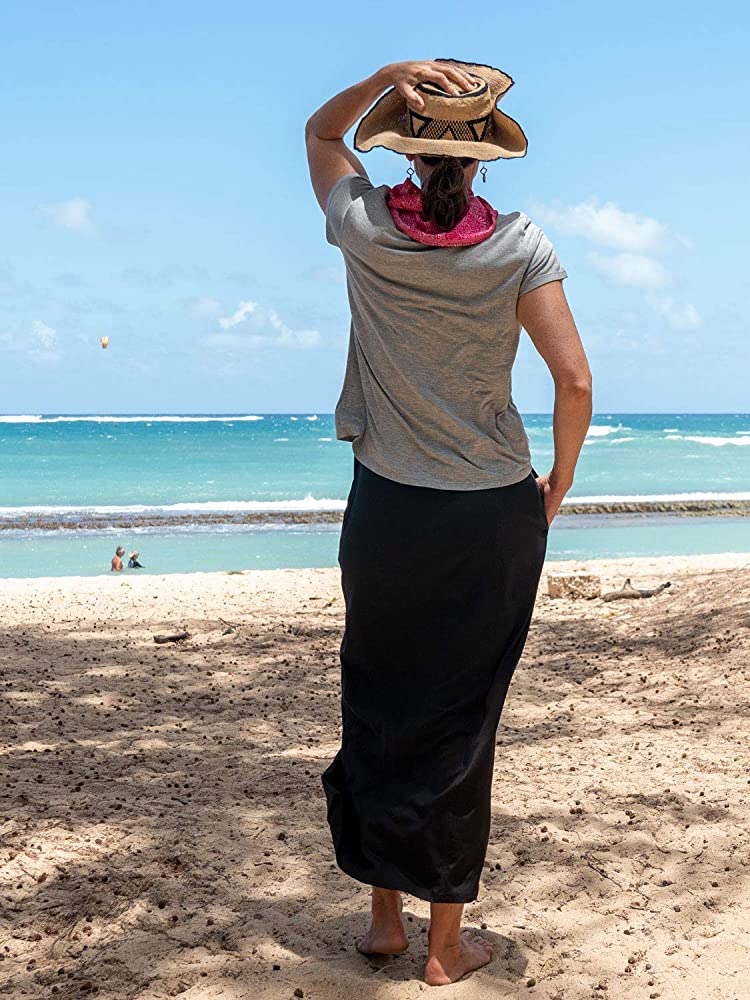 Readers feel RipSkirt Hawaii pays for itself!
They're Worth the Price
While RipSkirt Hawaii may not be the cheapest option for a skirt, their durability and incredible features make them well worth it. Many TFG readers share that they've traveled with their RipSkirt for years and they have held up incredibly well. Because of the amazing material, they won't stain or wrinkle and will stay looking nice long-term. 
Our readers agree that these skirts are definitely worth the price. One happy user says, "More than I like to spend on a beach skirt, but it will be with me for years."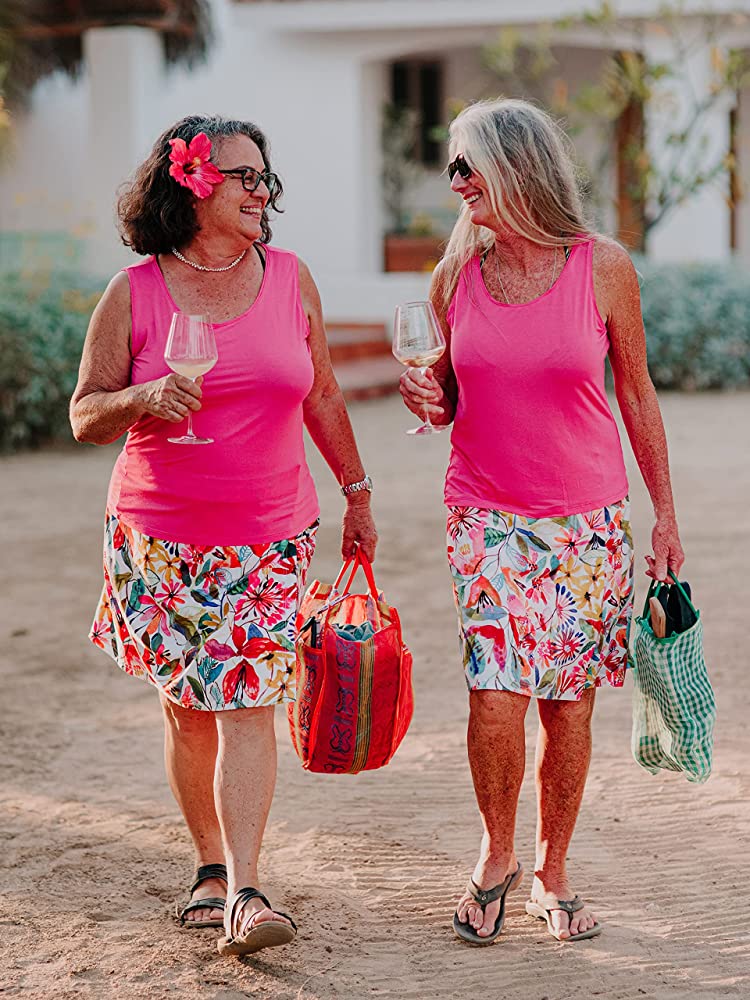 So cute, even friends wear RipSkirt Hawaii together!
Pros and Cons
RipSkirt Hawaii simply makes incredible travel skirts. They're easy to change in and out of, quick-drying, wrinkle-free, travel-friendly, and super stylish! What with the endless fit, style, and pattern options, you're sure to find a skirt (or two, or three) that you absolutely love. The well-designed cut is flattering on any body type, which is not easy to find. 
You can upgrade any casual outfit with these cute skirts, or dress them up even more for a fancier outing. You'll look and, most importantly, feel amazing. 
One thing to note is the velcro. For some users, the velcro closure was a bit of an issue, catching onto other articles of clothing. One reader says, "I have one from a couple of years ago and can confirm that is an annoying issue with it. I can work around it though and still like it." 
Overall, these skirts are setting new standards for travel clothing. TFG readers absolutely rave about them and recommend RipSkirt Hawaii, reporting that they own many different styles and colors.  
They're the ultimate adventure skirts—they can handle anything you've got!
The Four RipSkirt Styles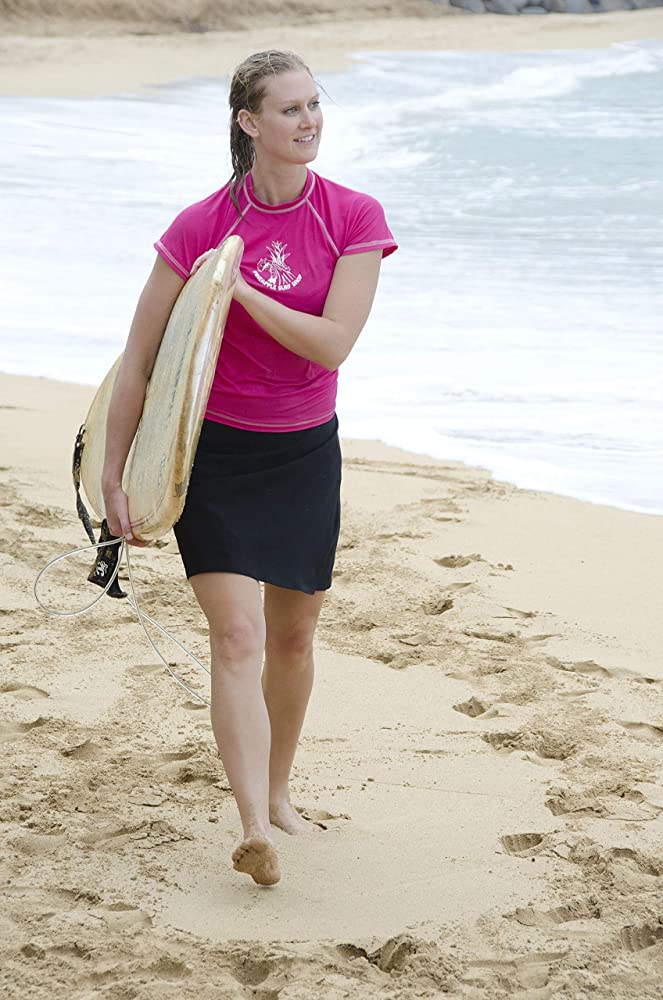 Shop: Amazon
Best for Swimming or Water Sports: Short Quick Wrap Cover-Up Length 1
The RipSkirt Hawaii Length 1 is the perfect summer skirt. It's the shortest option of all the RipSkirt styles, and readers love that you can take it from a sporty activity to a restaurant setting. The fabric falls in a very flattering way and there's ample coverage, so even with this shorter option, you're sure to feel super comfortable and confident while wearing it!  
One reader says, "The short length goes with a t-shirt perfectly to go from beach to bar!! Get one and try!!"
These are the best skorts, according to our readers!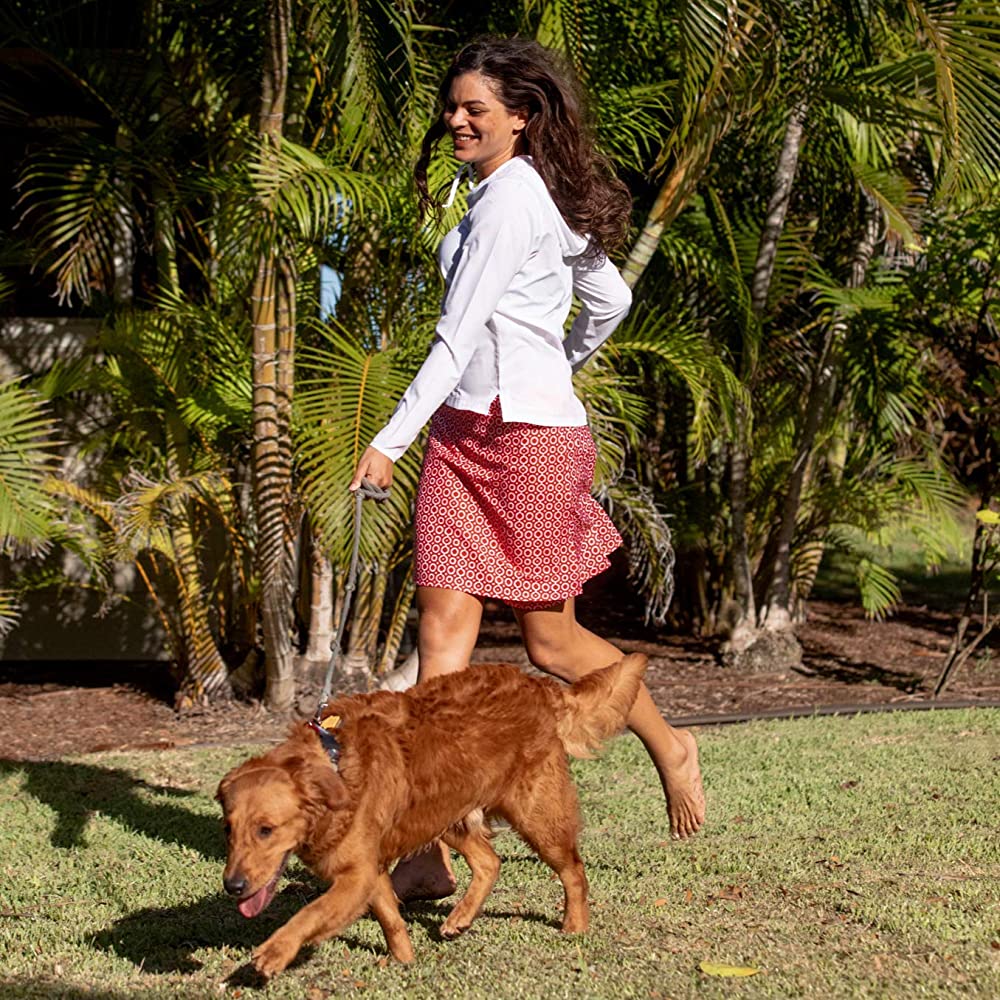 Shop: Amazon
Best for Activities: Above the Knee Quick Wrap Cover-Up Length 2
RipSkirt's Length 2 hits right above the knee for a short skirt option with a little more coverage. It's a super chic style that works for any occasion. Readers have worn this particular style for everything from kayaking and hiking to sightseeing in Italy and enjoying a night out. 
One reader says, "I have two in this length. One black and one green with designs on them. I've worn both as skirts with a tank top. They are a good weight. Not see-through at all. The velcro is very sturdy, and the wrap goes around quite a bit, so if it's breezy, you aren't flashing everyone."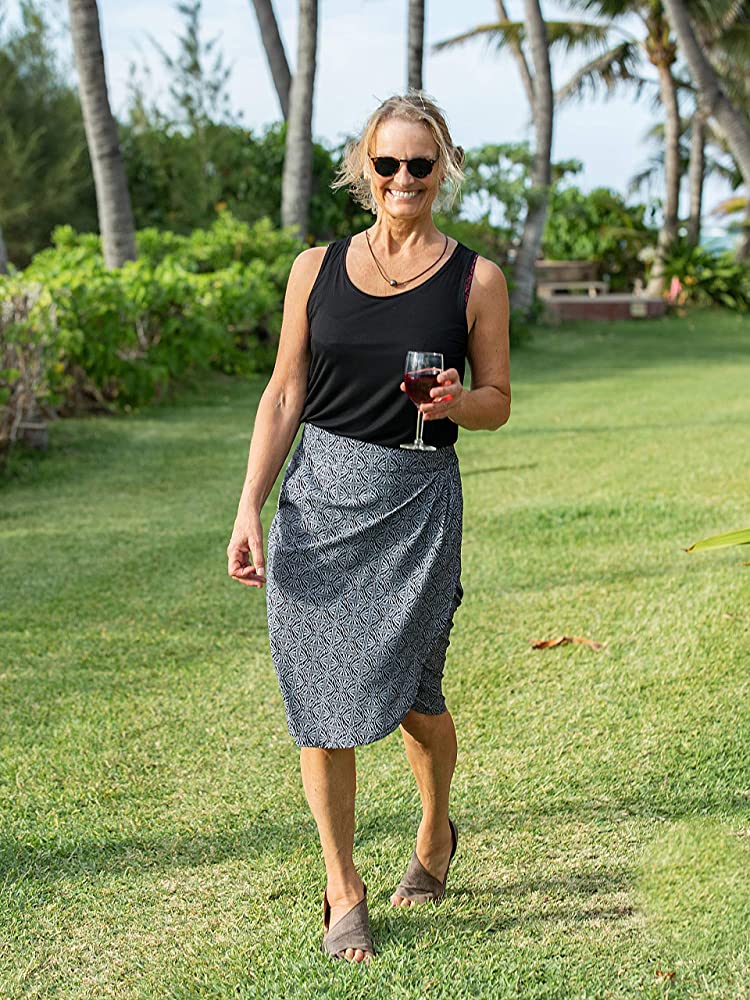 Shop: Amazon
Best for a Resort: Midi Quick Wrap Cover-Up Length 3
Length 3 from RipSkirt Hawaii is a longer skirt that hits below the knees. While this does offer more coverage, it will still keep you nice and cool on a hot day. It smoothly transitions from a swimsuit coverup to an elegant skirt for a night out at a resort or retreat. Wearers report that this length can be made to look like a pareo, which is a very cool tip! 
A reader shares, "Very comfy wrap skirt that offers good coverage and convenience especially after getting out of the pool as a coverup. The velcro is substantial and stays put. It drys pretty quickly and is so cute out on the town with a camisole or dressy tank."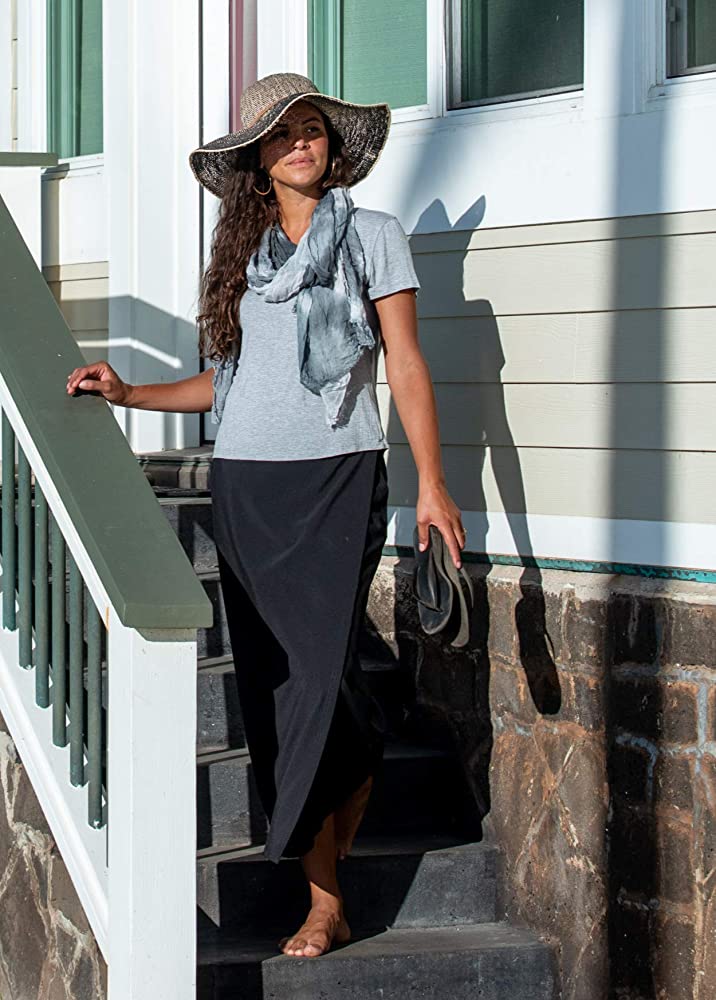 Shop: Amazon
Best for Beach to Street: Long Quick Wrap Cover-Up Length 4
The RipSkirt Hawaii Length 4 is the longest option, hitting just above the ankles. It's lightweight and will keep you cool, even in the hot sun. Despite its maxi length, it offers a good amount of mobility, so you can still run around on the beach wearing this cute skirt! 
One reviewer says, "Cool and flowy, has pockets, and is comfortable. The sun protection goes all the way to my ankles, which is fabulous." 
Another traveler shares, "I just came back from a week at the beach and this was great! It's easy to pack and doesn't wrinkle! Lightweight, and you can dress it up or down. I walked on the beach and went straight to a restaurant! It also dries quickly, so no sand sticks to it."
Are you traveling to Italy? This type of skirt is perfect when you visit the Vatican!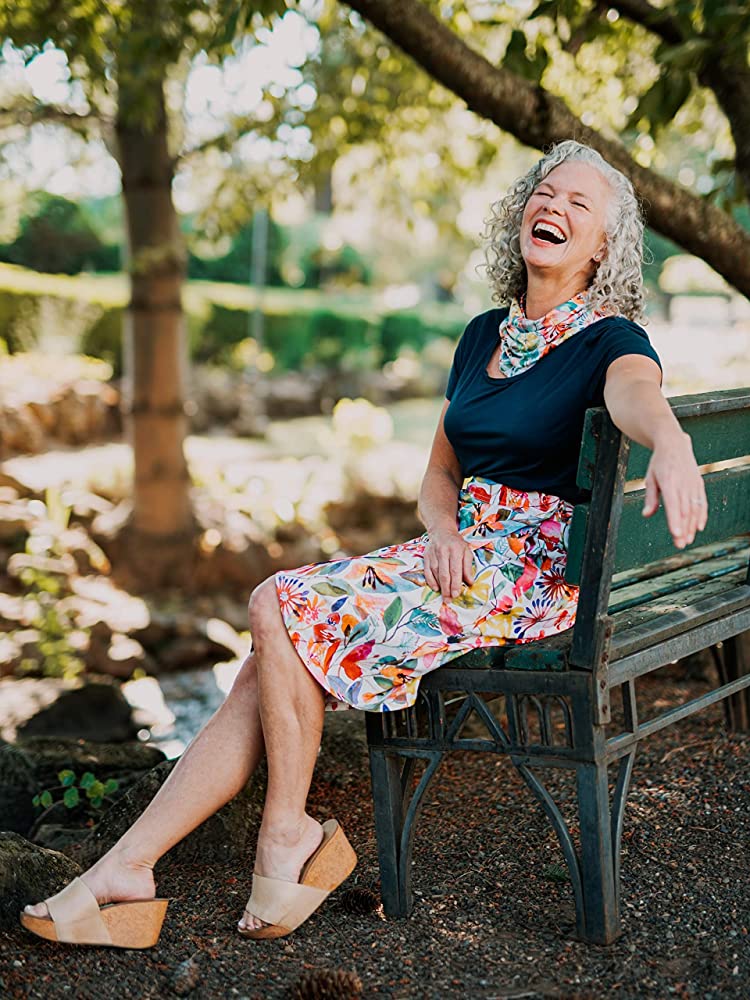 Where to Buy
RipSkirt Hawaii
To purchase Ripskirt Hawaii, Amazon has an amazingly huge selection that will suit your vacation needs! We guarantee, you won't stop at buying just one!
---
What's been your experience with RipSkirt Hawaii?  Share your own review with us below!
---
For more travel skirts, please read:
---
LIKE THIS POST? PIN THIS PIC TO SAVE IT!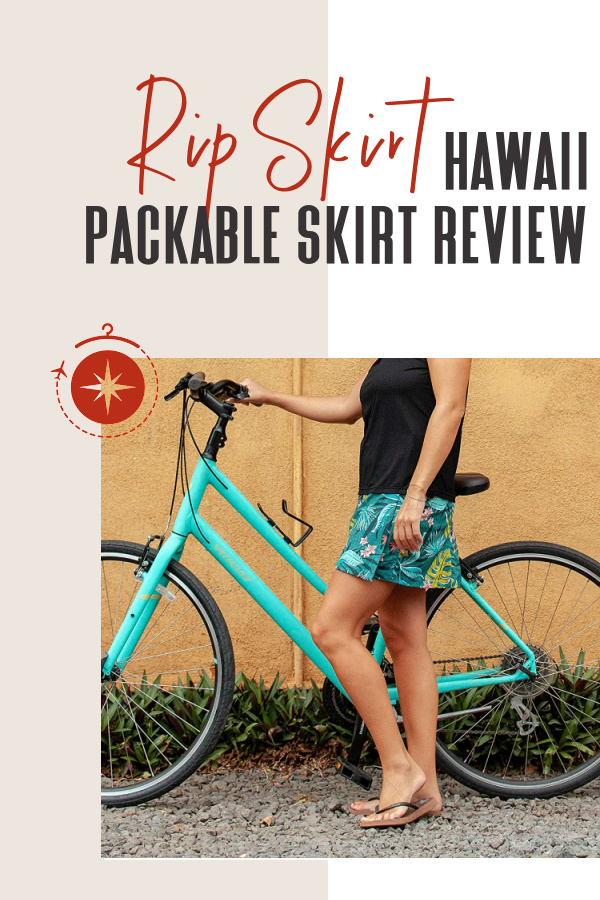 ---
We hope you found this review of RipSkirt Hawaii helpful. Please share with your friends on Facebook, Twitter, and Pinterest. Thanks for reading!
---