Support TFG by using the links in our articles to shop. We receive a small commission (at no extra cost to you) so we can continue to create helpful free content. As an Amazon Associate, we earn from qualifying purchases made on Amazon in addition to other retailers featured on the blog. Thank you, we appreciate your support!
Lily & Drew is a major winner when it comes to overnight weekender bags. Read on to find out why this carryon bag comes so highly recommended by our readers! 
---
Lily & Drew Carryon Bag Review
---
Table Of Contents
Weekender bags are becoming more and more popular for short jaunts, and many TFG readers love the Lily & Drew Weekender carryon bag for this purpose, raving about how useful and easy they are to travel with. Find out more details about this fantastic travel bag in our review!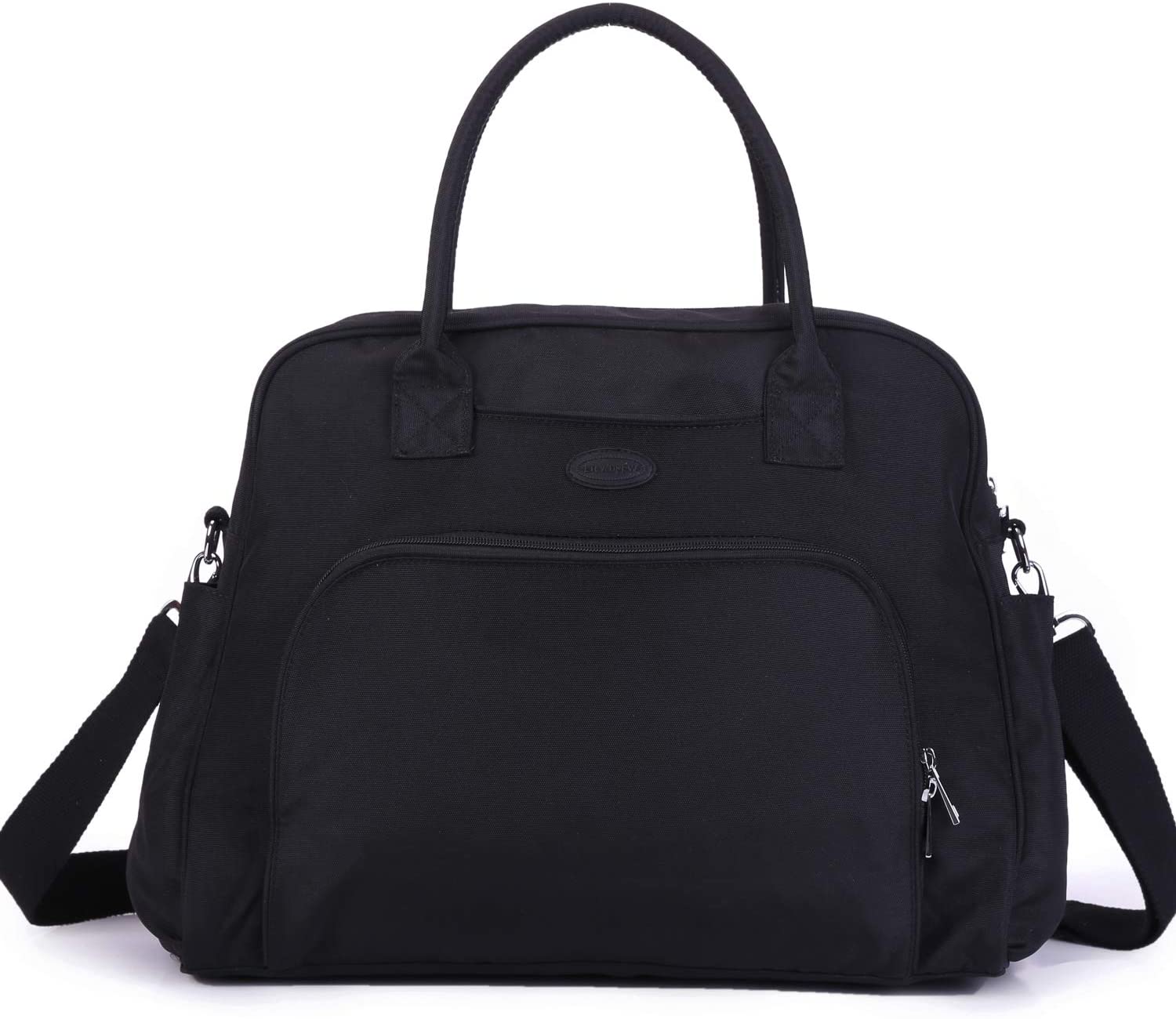 Lily & Drew Weekender Carryon Bag
Lily & Drew Carry On Weekender Bag Specs
Brand and Style: Lily & Drew Weekender Bag 
Dimensions and Weight: 3 lbs and the overall size is 16″ H x 13″ W x 6.5″. This size is carry-on compliant
Fabric: Water-resistant polyester
Features: Padded and removable shoulder strap for comfort and convenience, a trolley sleeve that attaches to your suitcase handle, a laptop compartment, and multiple functional pockets. 
Colors: Comes in black and is sold out of other colors at the moment
Travel Type: Perfect for overnight stays, weekend getaways, or business travel. Can also act as a personal carry-on item 
Lily & Drew Weekender Bag Features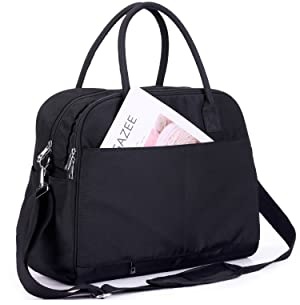 Lily & Drew Weekender Carryon Bag 
Size and Material 
Since readers have been raving about the Lily & Drew's Weekender bag, I got to try it out myself during a 4-day, 3-night trip to Cancun, Mexico. 
First, it's made out of water-resistant polyester, so it'll be protected against those tropical storms, frosty weekend trips, or accidental spills. And don't be fooled by first glance–this bag is incredibly spacious.
 At 16 inches wide and 13 inches tall, this bag is a breeze to carry and store in an airplane and at my destination, but with strategic packing, it can actually fit a LOT!  
One reviewer shares their experience with this as well, "There is space for tons of stuff, and it is so well laid out that you will be able to find what you need easily! It really felt like a 'Mary Poppins' bag that can hold everything, I am in love!" 
Users also say this bag is sturdy for the price point. One says, " I'm very happy with the excellent quality, as it is well made with quality materials that seem like they will last."
Packing cubes help you organize and maximize your space!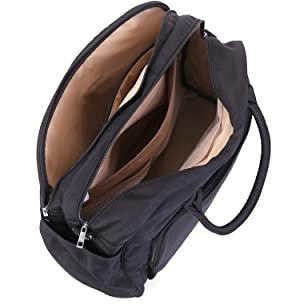 Lily & Drew Carryon Weekender Bag 
Packability and Organization
The main compartment of the Lily & Drew Weekender Bag offers ample room for belongings. Many of our readers have reported that the pactking cubes fit really nicely in this bag to optimize their packing. 
I managed to fit up to three packing cubes, which means you can really fit quite a lot into this cute, unassuming travel bag! However, one thing to note is that with three full packing cubes inside, a laptop most likely won't fit. Just something to keep in mind, thus it's about organizing according to your trip needs.
In addition to the main compartment, this bag features a padded compartment for a laptop to make going through security seamless. 
I personally found the laptop compartment to be really generous and actually didn't need to use that whole space for my laptop. Instead, I managed to fit her toiletry bag, flat iron, and makeup bag inside, while storing my laptop in the interior section. I also made use of the shoe bag that's included, packing two pairs of sandals for my beach resort trip to Cancun. 
In the front zip, you can easily slip in your sunglasses, passport, and wallet. One traveler shares, "​​The 'quick access pocket' on the front above the front zippered pocket is ingenious, as you can slip your cell phone, passport, tickets, itinerary, etc (any small items you need to access quickly) in it and have quick access to it. My iPhone 7+ fits great in it with room to spare width-wise, and my slightly wider passport fits great as well." 
The bag also has not one, but two water bottle pockets, which is a great feature that many of these types of bags don't offer. And when it comes to tech, you can fit a few chargers and gadgets in the smaller, interior compartments.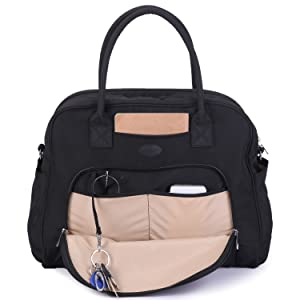 Front pockets of the Lily & Drew Carryon Weekender Bag 
Functional Features
One of the strongest features that make the Lily & Drew Weekender carryon bag stand out is the two-strap trolley sleeve which slides over the handle of your roller suitcase to sit right on top. This is SUCH an important feature that makes a huge difference while traveling. This bag will be snug against your suitcase as you zip through the airport, and you won't have to give it a second thought! 
The key holder is another standout feature. The outer zipper conveniently comes with a tether strap for your keychain so you can attach your keys and always know exactly where they are. 
Readers really appreciate how comfortable this bag is. There's an option of having short or long straps for carrying it on your shoulder, and that shoulder strap is padded for extra comfort. 
One user shares, "it's brilliant! Definitely designed by a traveler with many appreciated details. First, the laptop compartment is completely separate from the other compartment so I don't have to worry about my laptop and electronic work gear." 
If you need the best packable tote, read our list!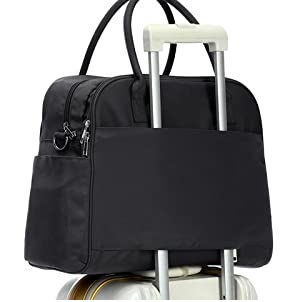 Trolley sleeve of Lily & Drew Carryon Weekender Bag 
Pros
For the $50 price point, our readers think the weekender bag from Lily & Drew is fantastic, and we completely agree. 
TFG readers are all about functionality and comfort while traveling, which says a lot about the Lily & Drew bag! While small enough to be used as a personal item, it can store so many of your travel belongings, and the trolley sleeve ensures you won't have to lug around a heavy backpack or bag on your shoulders. And when not in use, the trolley sleeve acts as yet another storage pocket! With all of these pockets and zippers, this bag can accommodate everything you need! 
One traveler shares, "I was able to fit SO many clothes and toiletries in this bag, and I love that it has an opening in the back for stacking on top of your suitcase. Good quality bag that is easy to carry!"
Another great benefit is the twelve-month warranty, so if anything were to happen, you'd have that time period to exchange. We love a little travel 'insurance'!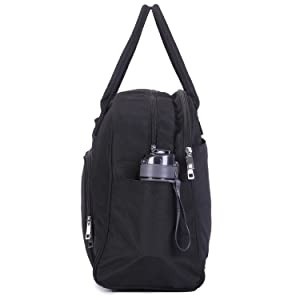 Side view of Lily & Drew Weekender Overnight Bag
Cons
While having so many pros, the water bottle side pockets on this Lily & Drew bag don't provide a ton of wiggle room, so they may not fit larger bottles. They would be a tad more functional if they were mesh or had some elastic, but the fact that they have sleeves for water bottles at all is still a plus. 
Second, some feel it's not as easy to carry alone when packed. One user who uses this bag for travel says, "The con to this bag is its weight at 3 pounds! When filled with stuff, which is its purpose, carrying it down a long concourse in an airline terminal could be tough on the arm or shoulder. If using it on top of carryon luggage, the problem is solved." 
Another thing to mention is that it doesn't have anti-theft lockable zippers. If this isn't a dealbreaker for you, then this bag is still a secure and practical choice. 
Looking for new luggage? See expert recommendations!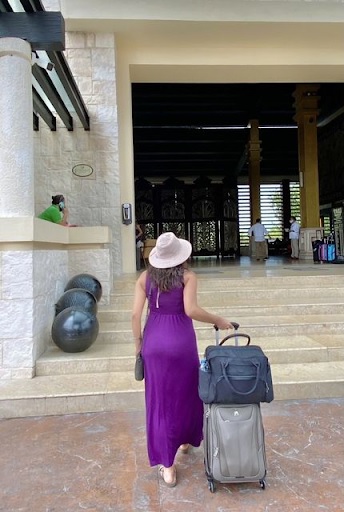 Entering a Cancun resort with my Lily & Drew Weekender Bag

Verdict
Overall, Lily & Drew makes an incredible option for a weekender bag and our readers are constantly recommending it for short trips and as a general carry-on. 
The storage capacity is quite impressive for its size, so while it's the ultimate overnight or weekend bag, it can really be used for all kinds of trips of any duration, such as a personal onboard item. 
It's also super budget-friendly. Through my many years of travel, I've tried a lot of different personal items in this price range, but so far this has been my very favorite! 
One reader gives a rave review: "I bought the Lily & Drew bag for my two-week trip through Europe in 2019 and I absolutely love it! It holds so much (I have four kids so I am the holder of all the things)! I've taken it on many trips over the years and it's held up, even though a torrential downpour in Chicago! It does have the laptop sleeve inside but it doesn't take up much room and that's where I put my travel documents."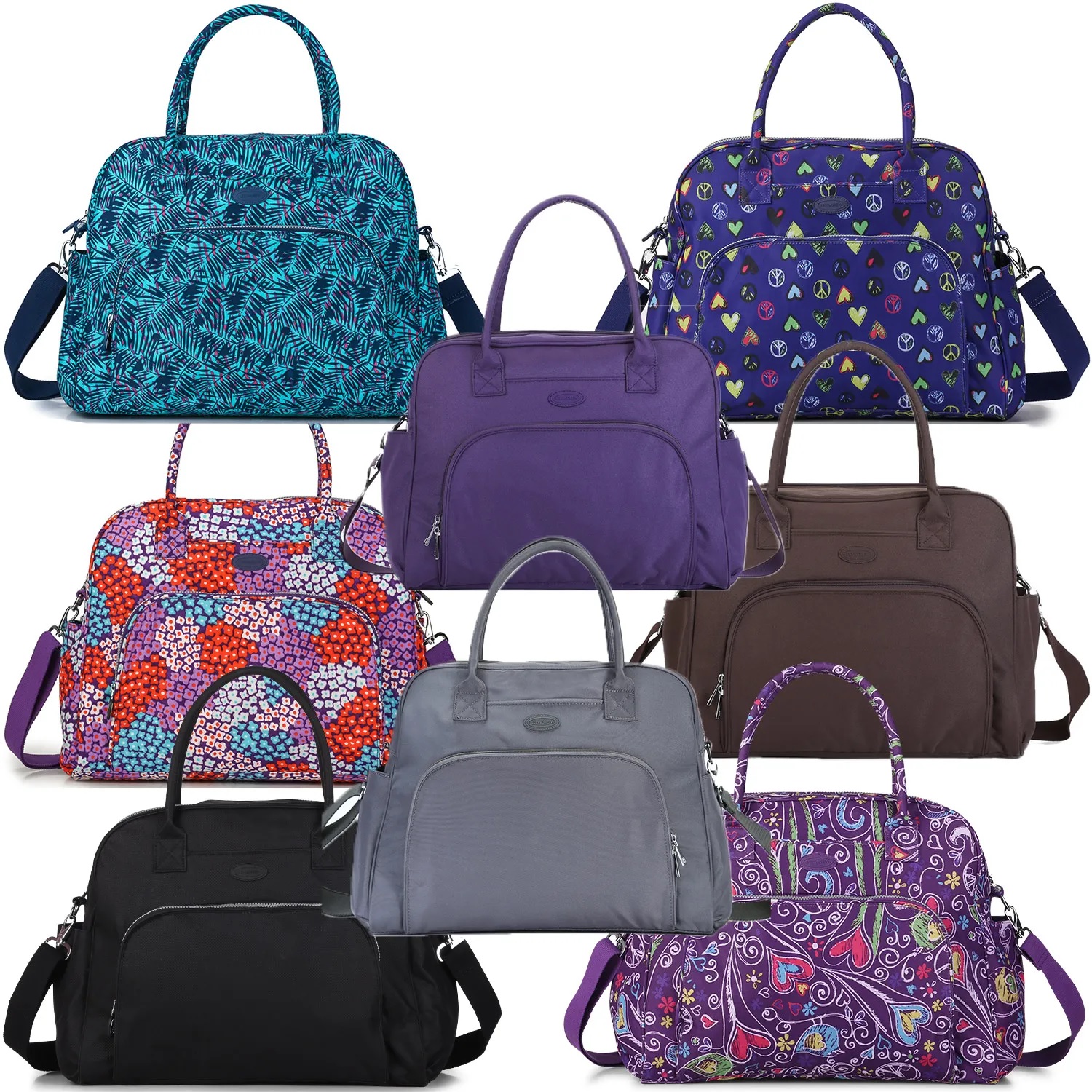 Lily & Drew Overnight Weekender Bag

Where to Buy the Lily & Drew Weekender Bag
This highly popular bag is available on Amazon. If colors are low, they do get replenished again, so we advise being patient!
Read how to choose the best travel purse!
---
What's been your experience with the Lily & Drew carryon weekender bag? Share your own review below!
---
For more travel bags, please read:
---
LIKE THIS POST? PIN THIS PIC TO SAVE IT!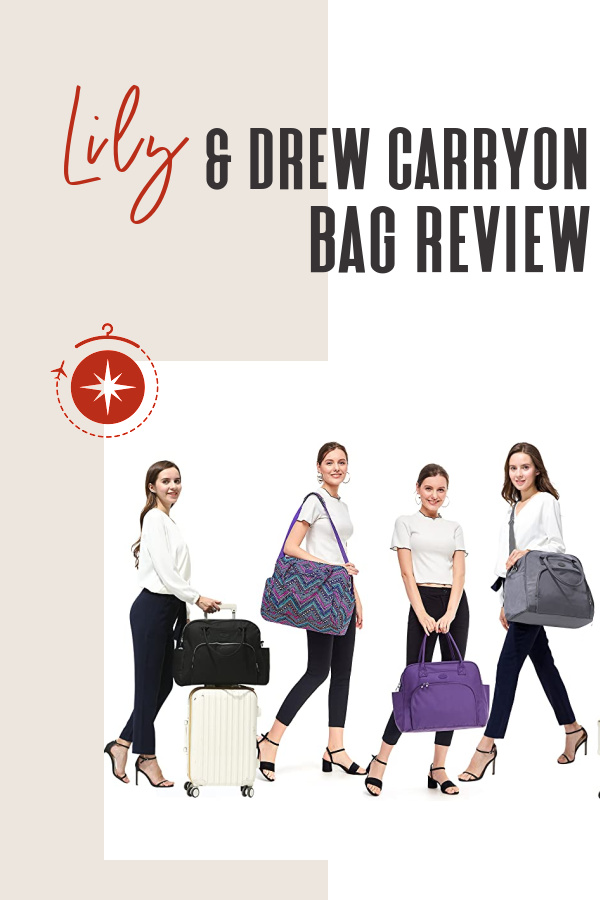 ---
We hope you liked this review of the Lily & Drew weekender bag. Please share this post with your friends on Facebook, Twitter, and Pinterest. Thanks for reading!
---