Support TFG by using the links in our articles to shop. We receive a small commission (at no extra cost to you) so we can continue to create helpful free content. As an Amazon Associate, we earn from qualifying purchases made on Amazon in addition to other retailers featured on the blog. Thank you, we appreciate your support!
The Galapagos tops the bucket lists for many travelers, including me! I finally had a chance to visit and spent three weeks in this natural wonderland. Add these essentials to your Galapagos packing list (and learn some of my best travel tips, too)!
---
Galapagos Packing List
---
The Galapagos Islands, part of the Republic of Ecuador, are a bucket list item for many travelers. Charles Darwin made the location famous hundreds of years ago, and the islands are still known as an amazing place to see wildlife and experience the beauty of nature.
Galapagos Clothing Style
Generally speaking, Galapagos clothing style is relaxed and casual. The locals wear jeans, shorts, tees, and blouses with sandals or sneakers. Tourists either wear traditional travel clothing or normal items you'd wear at home. When wondering what to pack for the Galapagos, think about what the locals would wear.
Due to the extensive outdoor activities in the Galapagos, bring a mixture of athletic gear with regular clothes. While you don't have to dress head to toe in khaki outdoor apparel, you should bring along a few athletic items that you can wear when necessary.
Here are comfortable walking sandals that are stylish, too!
Galapagos Weather
You can visit the Galapagos year-round and experience beautiful weather at any time. The Galapagos has two seasons: warm and cool.
December through May is the warm season, where the skies are clear and the sun is bright. June through November is the cooler season, and the ideal time for diving if you want to see marine life.
Galapagos Tours
There are three main ways to travel around the Galapagos:
Cruise
Liveaboard
Independent travel
The travel method you choose will impact the things you need to bring for your trip and what to pack for the Galapagos. Keep reading for specific information on each of the above trips and then scroll down for a complete Galapagos packing list.
Multi-Day Cruise
The majority of travelers who visit the Galapagos take a multi-day cruise. This can last anywhere from four to ten nights and offers you the opportunity to see many islands all while enjoying the visits from the comfort of a cruise.
We recommend arriving one or two days before your cruise, NOT the day of. This allows room for flight or baggage delays and also gives you the chance to settle in to your new environment.
If you're taking a Galapagos cruise, you'll have the opportunity to experience a range of activities including land tours and snorkel trips.
Depending on the amount of time you plan to spend on board, you may want to determine if the cruise offers laundry services. However, if you plan your clothing according to the packing list below, you should be able to re-wear items without the need to launder for the duration of your trip.
Read more about what to pack for a Galapagos cruise!
Liveaboard
A liveaboard is essentially a seven to ten day cruise that is based on scuba diving. As opposed to a traditional cruise, you'll spend the majority of your time exploring the underwater environment.
However, most liveaboards also include a few land-based excursions so you'll also want to bring clothing and shoes appropriate to explore the islands, too.
We recommend you arrive 1-2 days before your tour departs, not the day of, especially if you plan to bring your own dive equipment. Always allow room for potential baggage delays because your tour will depart without you.
If you're doing a Galapagos liveaboard then the majority of your suitcase space will be dedicated to diving gear although you can also rent it onboard your boat if you prefer to travel light.
The items we ALWAYS recommend packing are your own dive mask because a poorly fitting mask can ruin your dives and your ability to see underwater is everything when scuba diving. Never check this item, and instead bring it with you in your carryon.
Looking for lightweight scuba gear for travel? Read this post!
Traveling Independently
It's possible to travel the Galapagos without a cruise by basing yourself on the islands of San Cristobal, Santa Cruz, or Isabela and embarking on day trips from there.
You can fly into one of these islands and then take ferries to the other islands from there. These tend to cost around $35 each way. If you only have time to visit one island, opt for Santa Cruz as there are more day trips available from here.
Independent travel to the Galapagos tends to be more budget conscious so you'll definitely want to bring certain items such as a laundry line, snorkel gear, and a backpack cover to keep your bag dry on the ferry rides.
Bringing a waterproof jacket is essential because you're almost guaranteed to get wet on boat day trips.
Galapagos Packing List: Essentials
There are certain items you'll want to add to your Galapagos packing list regardless of the way you plan to travel around the islands.
The North Face Venture Jacket | Columbia Arcadia II Jacket
Waterproof Jacket
Some islands are cooler than others, so having a jacket to keep you warm is a must. Bringing a waterproof jacket is essential during the rainy season and also if you plan any day trips on boats.
Find our most recommended waterproof jackets! I used this Columbia one on my trip!
Classic Athletic Sandal | Boat Sleek Water Shoe
Water Shoes
While you can get away with bringing sneakers instead of water shoes, expect them to get wet. Some beaches require shoes especially if you plan on walking around and exploring. You can also encounter muddy conditions, such as when visiting the tortoise sanctuaries.
Bring something versatile, such as a pair of Chaco sandals or Columbia water sneakers, that you can also wear to walk on land. The guides suggested closed toe shoes in some destinations due to the ants.
Find a full list of water shoes here!
Mask Snorkel Set | Frameless Mask
Snorkel Mask
A major part of visiting the Galapagos is enjoying the underwater life. As shared earlier, rental snorkel equipment can be poor quality and frankly, unsanitary.
We always recommend you bring your own mask and snorkel for trips involving snorkeling activities. Not only will your own gear ensure a better fit and visibility underwater but you can also save money if traveling independently, too. This is the best snorkel gear for beginners!
Fins are not as important, and if you're short on suitcase space, using the rental fins will work fine.
Take a look at the best diving masks according to the experts; TFG readers!
Surfing One Piece Swimsuit | Long Sleeve Rash Guard Plus
Rash Guard
The water in many parts of the Galapagos is COLD. Generally speaking, it can range from 60° F to 78° F throughout the year. Whether you're diving or snorkeling, bring a long-sleeve rash guard.
Most tour operators provide you with a wetsuit, but believe me, you will not regret having the extra layer of warmth. In fact, many divers even wear two wetsuits to stay warm!
In addition, you can also wear a rash guard as extra sun coverage if kayaking or spending extended periods in speed boats.
Here are the top rash guard picks that you'll love to wear on your vacation!
Face & Body Stick Sunscreen | Wide Brim Hat
Sun Gear
The Galapagos islands are right on the equator and sunburns are no joke. When choosing what to pack for the Galapagos, include a sun hat, sun screen, and light long-sleeve top to protect yourself from burns that will put a damper on your trip.
On my trip, there were several travelers that fell asleep in the sun and woke up with bad burns. Apply sunscreen as part of your morning routine and remember to reapply throughout the day.
Read these five after sun skin care tips to help you rejuvenate dull, dry skin!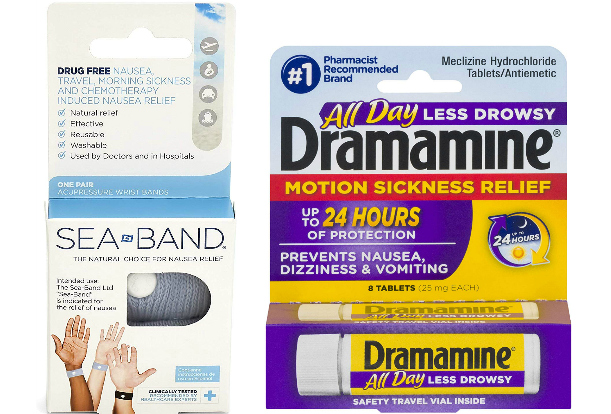 Sea-Band Wristband | Dramamine Motion Sickness Relief
Medication
You are likely to eat a lot of fish on a trip to the Galapagos, especially on the boats. It doesn't hurt to take some Imodium tablets and rehydration sachets just in case.
Bring a little first aid kit with you with some band-aids, antibiotics, antiseptic cream and painkillers. With all that walking you may also want to bring some blister band-aids. These things are available on the main islands but they're not guaranteed to be available on the boat tours.
Avoid sea sickness with motion sickness pills or an anti-nausea band. YOU MUST take these pills 30 minutes before getting on a boat for them to work. THEY WILL NOT work once your sea sick! (Always make sure to speak to your doctor before taking new medication.)
Galapagos Travel Tips
The majority of cruises and liveaboards depart from Puerto Baquerizo Moreno on San Cristobal island. Plan to arrive one or two days before your tour starts to allow room for error, such as flight delays, missed connections, or baggage delays.
If you do a liveaboard, you may also want to stay for an extra night or two after your trip to allow time to rest or to participate in more land based tours.
Tip: Disembark on Santa Cruz instead of San Cristobal to see more of the islands after the trip.
Galapagos Accommodations
After my Galapagos scuba diving liveaboard, I spent one week on San Cristobal and stayed in three different ocean front hotels:
Galapagos Sunset Hotel
This was hands down the best hotel in San Cristobal! It was everything I wanted. I only wish I had stayed here first, as I would've stayed here the entire time if I could.
The room decor was clean and contemporary, the breakfast was great, the WiFi was very good (for the Galapagos), and the staff were beyond amazing! They went above and beyond to accommodate us and make our stay the most pleasant possible.
As a bonus, their rooftop common area is the perfect place to start your day with breakfast and end it with drinks while watching the sunset.
The interior rooms are good if you're trying to keep to a budget, but the ocean view room is well worth the price. We upgraded our room to the corner ocean view and it was perfect.
Book Galapagos Sunset Hotel on Booking.com!
Galapagos Golden Bay Hotel and Spa
This is the most high-end hotel on the island and offers clean and contemporary rooms with a rooftop pool and a popular seafood restaurant.
We got a great deal on this hotel at Booking.com and spent three nights in their Ocean Front Balcony room to celebrate our anniversary.
The WiFi here wasn't as strong as the other hotels and the level of the food service was surprisingly inconsistent. They did, however, have THE most comfortable mattresses, pillows, and bedding ever!
Book Galapagos Golden Bay Hotel and Spa on Booking.com!
La Zayapa Hotel
This is the best value accommodation in San Cristobal. It offers well-priced rooms that are clean and practical. The ocean view rooms are also the least expensive for the best location.
The best thing about this hotel is that they offered personal wifi device rentals at around $10 per day. This was extremely helpful especially when we just needed some time to veg out and relax.
All of the hotels in Puerto Baquerizo Moreno are within minutes of the pier so you don't have to worry too much about distance. It's a tiny town, and only takes about ten minutes to walk from beginning to end. You can also take a taxi for $1.50 anywhere within the town and it costs $5 to get here from the airport.
Book La Zayapa Hotel on Booking.com!
---
What other items would you add to your Galapagos packing list? Comment below!
---
For more packing tips, please read:
Suggested travel resources:
---
LIKED THIS POST? PIN THIS PIC TO SAVE IT!
---
Hope you liked this Galapagos packing list. Please share it with your friends on Facebook, Twitter, or Pinterest. Thanks for reading!
---