Support TFG by using the links in our articles to shop. We receive a small commission (at no extra cost to you) so we can continue to create helpful free content. As an Amazon Associate, we earn from qualifying purchases made on Amazon in addition to other retailers featured on the blog. Thank you, we appreciate your support!
Ericka Cooper is a Wyoming native who has lived most of her adult life in Southern California and welcomes the return to the Wild West. She has lived all over the United States and in Germany and loves traveling, even with her rambunctious sons.
As an older adult she has used Travel Fashion Girl to learn to travel as a plus-sized woman and looks forward to sharing what she has learned. Read on to find out how she rocks a carry-on wardrobe with her plus size packing tips!
---
Plus Size Packing Tips for Women
by Ericka Cooper
---
As a plus-sized woman I've always found traveling to be more difficult until I found the Travel Fashion Girl website and the book Pack Light Stylishly.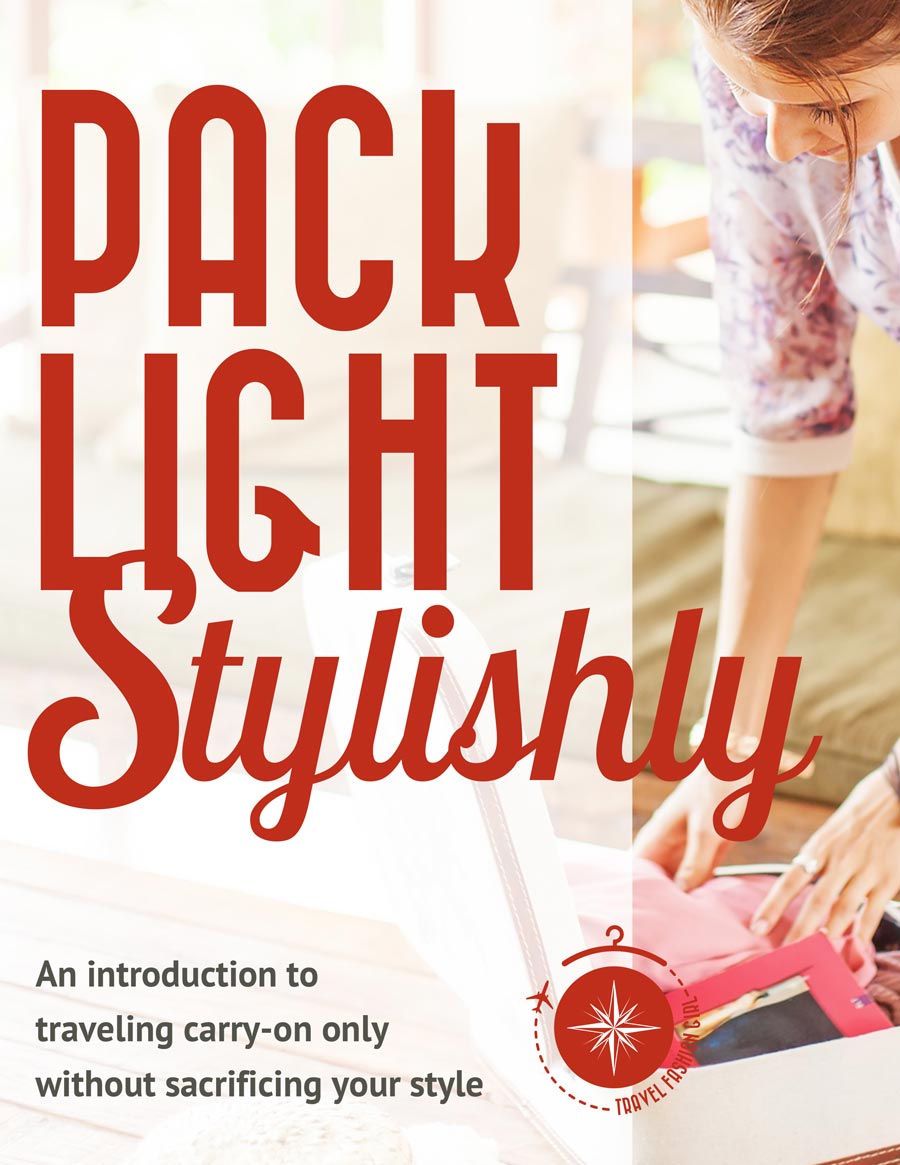 My last few trips were made with a carry-on that won't even fit my 17 inch laptop, but with Packing Cubes and the videos from the Travel Fashion Girl website and some of my own research I was able to travel easily.
The first problem most plus-sized people encounter is the size of our clothing. Manufacturers tend to use gobs of extra cloth instead of just re-sizing patterns appropriately for plus-sized consumers.
As a larger woman I have found microfiber underclothing to be my new best friend when traveling.
High/Low Tunic Tank | V-Neck Tee
I don't even need to worry about folding or rolling. I can plop 16 pairs of microfiber underwear in the same space I used to fit 2. They also wash out much more easily.
In the case of bras I've found very supportive hosiery bras take less space and don't need special packing either. There are also no clips to catch on other pieces of clothing.
I'm a 44DD so they can be very supportive. I was once an underwire only lady, but many hosiery bras have a thicker layer just under the breast that supports them.
Find out the importance of getting a bra fitting in this post!
Tops
As for regular clothing I've learned to layer. Thin tanks can work as shells or as shirts during the day in warm areas. I also have some thin feminine shaped tees and I use a thin wool cardigan for evenings or in cooler areas.
Button Front Cardigan | Waterfall Drape Front Cardigan
I have a fleece blazer that doubles as a jacket. My rain jacket is also a thin nylon windbreaker.
All of these tops actually roll up into one and a half of my packing cubes, except for one of the jackets. I stick to four main colors so everything matches, even the patterns.
Bottoms
For bottoms I use 1 pair pants, 2 skirts, 1 pair cropped pants, 1 pair shorts.
All are thin but the pants and all are in neutral colors and roll to fit in one packing cube.
The remaining part of the last packing cube is filled with underwear. I usually try to wear the heaviest items while traveling between stops.
The key to packing light is to use packing cubes to compress your clothing as shown in this video!
Toiletries
Skincare and toiletries is always an issue with the 3-1-1 liquids rule for flights. I have sensitive skin and can't use a lot of soaps and shampoos, but if you can, use what your hotel provides.
I use a very gentle shampoo for both hair and body where 3 ounces can last a couple weeks. I've also found a very lightweight spray hair and skin conditioner that lasts forever at 3 ounces.
I recommend trying out some of the home-grown remedies in areas where you're traveling which is how I have found some of my most amazing products.
I do carry the extra weight of my battery powered toothbrush, but the dollar store usually carries small hair brushes and combs that are light weight and good for traveling.
These are the best travel containers to help you downsize toiletries!
Medication
My biggest issue is medication though many people don't have this. I carry all of my bottles along with written prescriptions and a small empty weekly pill case all in a see-through makeup bag I can pull out in one piece. I've never been given any trouble and I setup the pill case at my destination.
Read more about how to fill a prescription abroad!
Plus Size Travel Outfit Ideas
---

---
I have used these rules that I have gleaned from Travel Fashion Girl to travel around Wyoming, across the country in both directions and been quite comfortable without confrontations. I hope they help others too.
Do you have any plus size packing tips? Share with us below!
---
For more plus size fashion tips, please read:
---
Hope you liked this post on plus size packing tips. Please share it with your friends on Facebook, Twitter, or Pinterest. Thanks for reading!
---