This post contains affiliate links. Visit our Disclosure page for details.
---
Join our community of 500,000 stylish female travelers! Sign up for Travel Fashion Girl's newsletter and never miss a thing!
---
Updated October 2016
While heels can transform you into a glamorous princess, it is boots that are the best travel shoes for cities and a key essential for any woman to unlock her fashion and footwear freedom. With a vast range of designs and styles, you won't have to forgo comfort or style on your holiday with a good pair of womens leather boots. Take a look at our top picks!
These boots were made for walking…
---
Best Travel Shoes: Womens Leather Boots
Written by: Cailyn Cox
---
The key factors for a wonderful travel fashion wardrobe are simple: style and comfort and with extensive range available you can ensure you find a pair that is both practical and stylish. With this selection of flat boots you'll have both.
Why boots make the best travel shoes for city travel?
Boots are perfect for city travel including trips to Europe, North America, Australia, New Zealand, and South Africa.
Boots provide far more stability and support than regular shoes
giving a much higher degree of support and protection to both your ankle and foot. Many can be surprisingly light weight making them both easy to walk in and easy to transport so you don't have to worry about the extra baggage weight when packing.
Boots are extremely versatile
Allowing for excessive walking, light hiking, and even nightlife, as they are easily transitioned from a day look to a night look, boots are a great choice for any occasion and compliment any outfit. Designed to withstand all elements and prevent the entry of water, snow or dirt,  ensuring that your feet remain dry and warm (nothing puts a damper on your trip like wet feet).
Leather is a fantastic option as they are soft and waterproof
While allowing for breathability and durability. Opt for black or dark brown leather as these colors are less obtrusive and easy to match with any outfit. In addition they are also forgiving with any dirt that you may encounter during your travels.

For nearly every trip in metropolitan cities, you'll need a pair of womens leather boots; these sturdy shoes make the best travel shoes because they're perfect for walking and every day use. If your anticipated activities involve a lot of exercise and a lot of walking, or the use public transportation then boots are what you need!
In fact, even if you plan to be low-key it would still be beneficial to travel with boots. Boots are undoubtedly my top pick when it comes to stylish travel shoes as they are not only exceptionally comfortable, but also effortlessly create a classic casual chic look.
An important tip when purchasing your boots are how easily they come on and off – as you do not want boots that you battle to put on, or get off on vacation and you should consider the that you may be required to remove them, for example at airport security.
Below are TFG's top picks of best leather shoes for travel:
UGG Kesey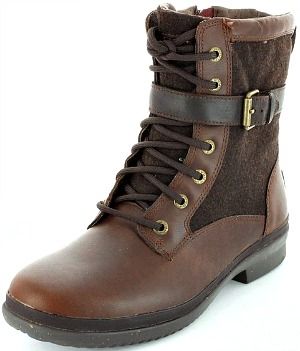 This rugged, lace-up could be your perfect companion for your next trip. It's a full-on, military inspired combat shoes that is stylishly strong but still wearable with a feminine fall dress.
We love the chestnut color, it's the perfect neutral to mix and match with just about any color story. The Kesey isn't fluffy like the other boots from the brand, but still offers a soft footbed and a warm interior, giving you the same comfort without the traditional UGG look.
Don't worry about the laces, it actually has a zipped closure on the side so you can conveniently slip them on and off.
Born Adia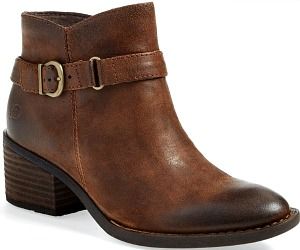 The Wild West is on with this classic boot imbibed with a contemporary twist. This easy to wear leather boot from Børn features a distressed tobacco tone, a stacked heel and a buckled strap; a design so straightforward and simple that you can wear it with just about anything.
But these boots do not only promise style; you also get to walk comfortably, thanks to its shock-absorbing rubber sole coupled with textured treads and ABS heel. Born just gets it right every time!
UGG Elsa
This pair of leather boots will definitely warm your winters. Featuring a waterproof upper, a textile shaft and UGG's pure sheepskin lining, feel comfortable as you walk in the snow blanketed streets without the fear of slipping.
The footbed is magnanimously cushioned and the rubber is infused with cork to ensure better traction.
Steve Madden Troopa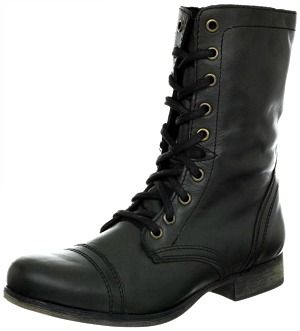 Gear up your military inspired ensemble with this lace-up boot. The grim black tone suits any wardrobe, and the vegan leather material adds a touch of modern elegance.
There's an inside zipper aside from the lace-up closure, and the one-inch heel offers maximum comfort to this serious pair of shoes. Pair this with a maxi dress for a victorian-inspired look, or stick to jeans and tee for classic style.
This one's TFG Approved!
Franco Sarto Paula
Contemporary and minimalist, this chestnut colored boot is your all-year-round shoe. It is made with 100% leather, with a rather sporty style that gives a youthful vibe to your any outfit.
Pull it up over a cute leggings or jeans. The design is perfect for narrow feet and requires no breaking in; feel the comfort as you wear it for the first time.
Born Aubra
For that moto-chic look, this pair of boots from Børn will surely satisfy your style. It comes with the brand's signature features: excellent leather quality, hardware accents, padded footbed and great arch supports.
There are zippers on both sides for that additional steam-punk flair. Our favorite? The variant in black that looks radiant with the beautiful leather graining. Pair it with your skinny jeans and travel around, feisty and fashionable.
UGG Thomsen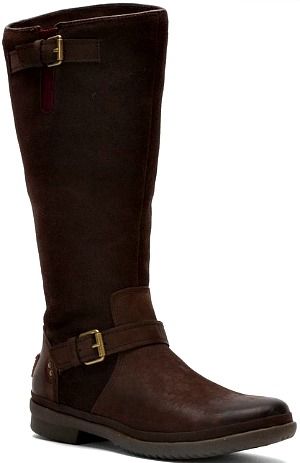 Stand tall on your feet, even on those dark, wintry days, with this pair of waterproof boots from UGG. Made with leather that stars a suede upper, this stylish footwear will definitely become your best companion during that cold season jetsetting.
The stout color offers a refreshing tone, with the musky brown color accentuated with textures and bright buckle hardware. There's a side zip closure maximum comfort, and a heel-less design that lets you tread on the slippery ground without skidding.
UGG Simmens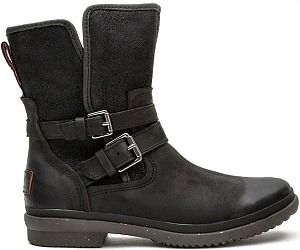 You won't be afraid of walking through any weather with these boots. Created by UGG, these medium width, rubber soled leather boots will keep you warm and dry during a hard rain.
The black variant made with a dark charcoal gray tone is perfect for any guerilla escapades, and the natural wool interior keeps your toes warm while wicking away any excess moisture.
Love the side buckles! They add an edgy touch. Wear them with jeans or toughen up a summer dress and feel stylishly spot while sightseeing.
Born Pirlo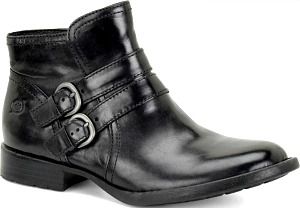 Looking for something handsomely androgynous? Why not try this pair of ankle boots from Børn? Made with full grain leather, this black boot showcases a manly style that is perfect to go with your sophisticated pants, as well as your daytime jeans and casual dresses.
The rubber outsole is packed with an ABS heel for a more comfortable tread. Stylish and snug, the interiors are lined with fabric and you can wear this on your trips with long walks.
Blondo Vida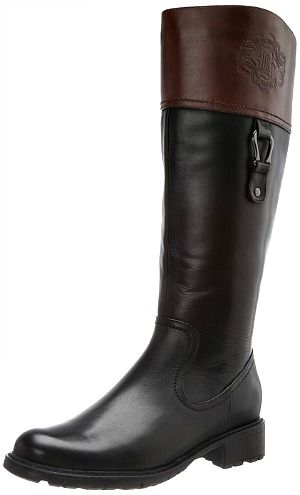 Emitting an elegant equestrienne, this riding boot from Blondo is sophisticated and chic yet super functional with its waterproof features. Easily wipe away snow and slush during wintry days and bravely trudge white blanketed roads while keeping your feet warm and fashionable. Love the handsome brown contrasting sleeve at the shaft.
A zipped closure at the sides adds convenience especially if you're wearing them as part of your airplane outfit. The 1.5″ heel offers enough height to offer support without causing discomfort.
TFG Recommends:
No matter what your choice of fashionable travel shoes, Dr. Scholl's Gel Insoles
are a must for the ultimate in added comfort! They make insoles cut specifically for a woman's foot so they fit your flats, trainer, or boots just right.
Their High Heel Insoles
are a total life saver if you plan to travel with heels. I love these insoles – they are the perfect comfort solution!
Womens leather boots are the best travel shoes for a city trip, an investments buy, lasting for years in both structure and style. Pack those boots today.

---
I agree! I live in my boots in LA year round and they're my number one choice for city travel.
What are your favorite women's leather boots? Share and comment below!
---
Read more about shoes for travel:
Read More About TFG's Top Travel fashion Picks:
---
LIKED THIS POST? PIN THIS PIC TO SAVE IT!
---
Share your favorite travel shoes in the comments and don't forget to share the Love on Facebook, Twitter, and Pinterest! Thanks for reading!
---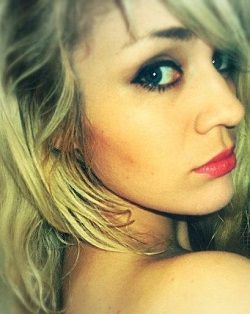 Author: Cailyn Cox is a 24 year old South African born fashion and travel enthusiast, who loves dark poetry and bright colours. Passionate about lyrics, art and design, she draws inspiration from her surroundings. She is currently interning at Travel Fashion Girl to bring travelers helpful travel tips as she studies in Europe.
---
Liked this article? Check out similar posts: