Support TFG by using the links in our articles to shop. We receive a small commission (at no extra cost to you) so we can continue to create helpful free content. We earn from qualifying purchases made to the featured retailers. Thank you, we appreciate your support!
Whether you're studying abroad, moving temporarily for work, or looking to spend an extended period of time in the UK, we've got everything you need to know about what to bring! Find out along with suggested wardrobe essentials, local tips, and practicalities! (A great read even if you're headed there on vacation!)
---
What to Pack for a Move to England
---
Before you get started, the first article we suggest you read is our 10 Step Packing Guide for Studying or Moving Abroad.
Here are few more guides to help you plan (click each item below for more info):
How do you pack for a destination with mixed weather? Read this guide!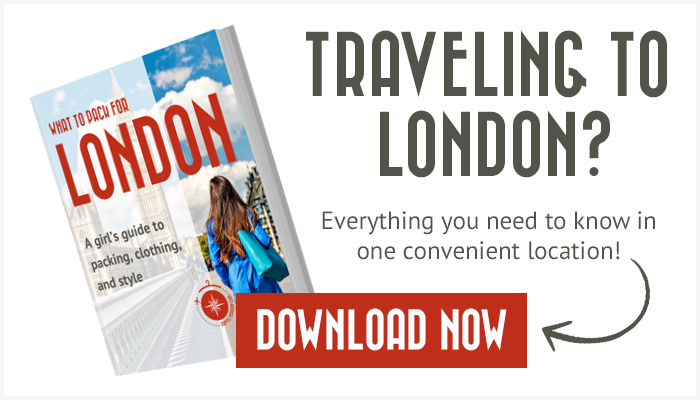 When moving to a new destination either temporarily or for a long period of time, you might be tempted to go buy a whole new wardrobe. But before you do, consider saving that money and buying upon arrival! This is particularly relevant to the fashion forward bunch that want to wear what the locals are wearing.
This is a good strategy when you plan to live anywhere for three reasons:
You learn what the locals are wearing

You buy clothing appropriate for the weather

You don't overpack unnecessary clothing
Instead of bringing a whole new wardrobe and your entire closet when you move abroad, bring only the essentials! Create a capsule wardrobe from what you already own choosing your best basics, tried and tested classics, and your favorites.
A capsule wardrobe is a small sampling of clothing that can be mixed and matched and re-worn for weeks at a time.
Remember, you'll be doing laundry so as long you can mix and match enough outfits to last you one week, you're good to go!
While normally I would recommend a capsule wardrobe of 10-15 pieces when you travel, you may want to consider extending this to up to 30 items if you're moving here permanently.
Learn exactly how to create a capsule wardrobe with the Pack Light Stylishly eBook!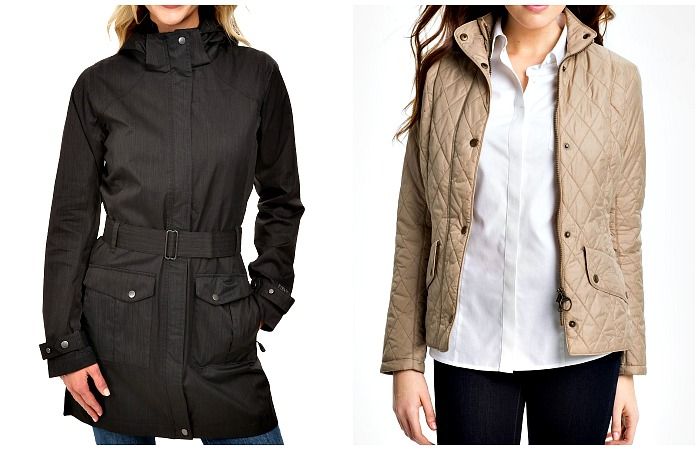 Bring a jacket year round: Waterproof Jacket | Quilt Jacket
The Weather (and Your Clothing Choices)
Just as if you were traveling somewhere for one week or one month, plan a capsule wardrobe to get you started when you arrive based on your planned activities and most importantly, the weather.
The first time I spent an extended period of time living in England was from the months of July through October, and the weather caught me completely off guard.
My arrival to England in summer of 2011 was met with clouds, rain, and the shock of a lifetime. I had packed all my summer clothing which included dresses, tank tops, and shorts. Because I was not used to the climate, I was extremely cold in comparison to the locals.
I failed to do one simple thing before I traveled: I didn't research the weather.
As it turned out, the average daytime temperature in England that summer was 55°F and 45°F at night. While there were nice, warm days, for the most part it remained gray and cloudy that summer.
As I've spent more time here over the years I've experienced warm summers, too. You just have to check the weather forecast to get the most accurate information for your own trip.
Check the BBC Weather to view the weather averages for the time of year when you'll be living there.
Thermals are key to staying warm indoors and outdoors: Top / Bottom
Plan the majority of your clothing based on a year round average of 55F. For a long term move, bring 50% for 55F weather, 25% for 30F weather, and 25% for 70F weather. Otherwise, just pack according to the season that you'll be visiting.
I always hope for the sun but plan for the cold. Generally speaking, even if it's cold, if there are blue skies then it feels warmer than it is.
Layering is key for every season so make sure as many items mix and match as possible so you can remove things as you get warm and put them back on as it gets cool. Learn how to layer.
Even if it's snowing outside in the winter it will still be warm indoors so you don't want to have overly bulky clothing. For winter, the right fabrics are key and if you're not used to cold weather then thermals will save your life!
Find out why merino wool is one of the best fabrics for travel in the cold!
Read these general tips on packing for winter travel:
Top 1 | Top 2 | Top 3 | Top 4 | Dress 1 | Dress 2 | Jeans 1 | Jeans 2 | Coat 1 | Coat 2 | Skirt | Sweater | Flats | Boots | Scarf | Purse
England Capsule Wardrobe Essentials
Read this post for a full London packing list with detailed tips on clothing and shoes. These are some essential items to add to your capsule wardrobe when moving to England:
OUTERWEAR (3)
Winter Coat (if you'll be living here or visiting from November – March) Pack only one if you're not living here. Make sure it's an item you love, because you'll wear it repeatedly.
Waterproof Trench Coat (or other waterproof rain coat like these) you can wear year round
Leather Jacket is a popular option to wear just about any time except winter. It can be faux leather. As a bonus, they're stylish and water resistant, too.
Use packing cubes to compress your capsule travel wardrobe and save space in your suitcase.
BOTTOMS (3-5)
Knit Black Legging-style Pants
Dark Blue Denim Jeans
Black A-line Skirt
TOPS (7-10)
Long Sleeve Dressy Tops (3)
Long Sleeve Knit Tops (3)
Short Sleeve Dressy Tops (2)
Short Sleeve/Sleeveless Basic Tops (2)
SWEATERS (2-3)
Long Sleeve Sweater
Long Sleeve Pullover
Long Sleeve Cardigan
DRESSES (3-5)
Dressy dresses (1-2)
Long Sleeve Versatile Day to Night Dresses (2)
Short Sleeve / Sleeveless Versatile Day to Night Dress (1)
These tips on dresses were inspired by England!
SLEEPWEAR (2 sets)
Short sleeve tee + shorts
Long sleeve top + leggings
These are the best leggings for women who travel as voted by our readers!
SHOES (5-6)
Waterproof Tall Brown Leather Boots (for Nov-Apr)
Ankle Boots in Tan or Brown
White Casual Sneakers (ie. Adidas, Converse)
Block Heels in neutral color to match all dressy outfits
Tan or brown leather colors are extremely versatile and quite popular in boots. Find out why ankle boots are the best travel shoes for Europe!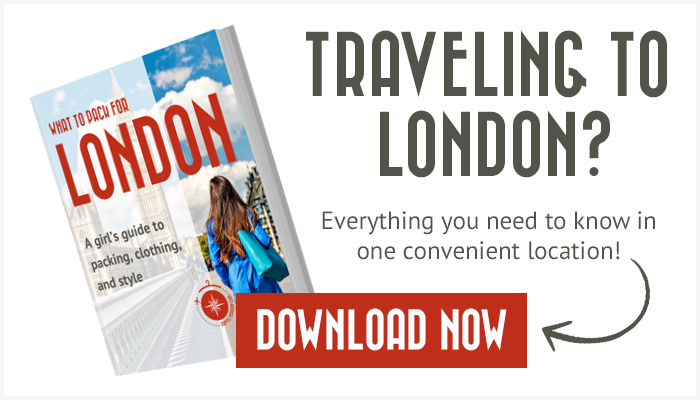 You'll need some type of boot year-round: Ankle Boots | Rain Boots | Tall Boots
Clothing Style
British fashion isn't quite as chic as the French, and it isn't always as slouchy as American fashion. It can be edgy or conservative. But one thing's for sure: just like the rest of Europe, a good fit is key. And when in doubt, choose dressy over casual.
In general day-to-day European style is more dressy than American style. This DOES NOT mean business clothing. Think dressy top (or the type of top you'd wear to work) plus nice jeans (dark colors are always a good choice).
Slim or Skinny fit jeans are the preferred denim option. If that's not your thing, having tailored denim always makes for a smart appearance no matter what the pant style. For example, hemming the leg length so there's not an excess fabric at the bottom.
Tip: Ankle jeans are an easier way to get this look without a trip to the tailor.
In Britain, it's easy for the traveler to stick out like a sore thumb in walking boots, convertible zip leg trousers, an SLR camera, guidebook, and a backpack. Wearing all this in the middle of London screams, "tourist"! That level of travel gear is more appropriate for countryside treks in the Lake District, for example, not a city.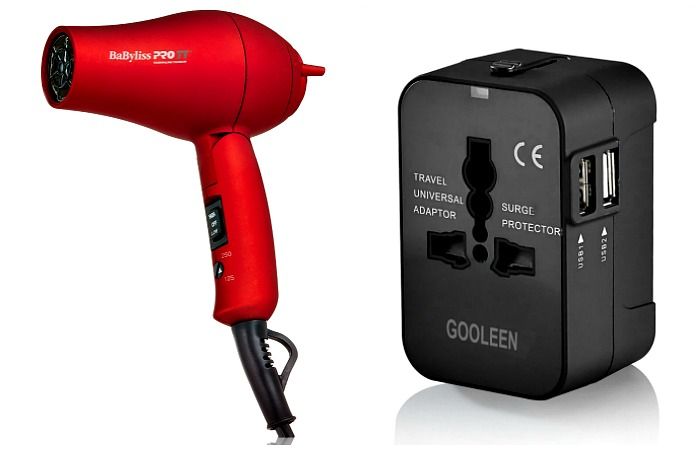 Read the tips below before bringing your electronics: Hair Dryer | Adapter
Differences Between the US and England
There are many differences between the US and England, more than just in history and architecture. There are small nuances to keep in mind whether you're visiting for a few days or moving here for a longer period of time.
These are just my observations and of course, they don't apply to everyone, everywhere. Here's my personal list on how my life in England is different to the US!
PRACTICALITIES
The UK provides US tourists with up to six months to travel the region. That's 3 months more than British citizens get when visiting the USA.
England is around the same size of California. In Los Angeles, some of us travel four hours each way for a day trip to a "nearby" city. In England, many make a four day weekend of a trip that requires a drive over a couple of hours.
England has a fantastic and very convenient train service. However, it's quite expensive. Traveling to/from London costs me around $50 round trip! (And that's with a good currency exchange.)
In the US it's common to eat everyday meals with a fork. In Europe, however, it's generally customary to use a knife and fork even if you're eating in a casual restaurant. This small tip might help you blend in a little more than your clothing.
Due to recent government changes, the GBP is an extremely favorable currency for Americans at the moment. The US Dollar is currently strong so it's a great time to travel! In 2008, I was getting 1 pound for 2 dollars. Right now, I'm getting 1.3 pounds to 1 dollar (it's rising so travel here quickly before it gets more expensive!)
The weather tends to be grey year round and rain can be expected any time. While the summer can experience highs in 70s, it can also be a drizzly 50F. On the bright side, days with beautiful blue skies make the weather feel warmer even when it's not.
Even if it's cold outside, it will be warm inside so don't pack on heavy coats unless you plan to stay outside for hours at a time. The Tube gets especially hot in London any time of the year!
Purchase an Oyster Card in London for the Tube. Your journeys will be less expensive and you can return the Oyster Card to get your £5 reimbursed.
One of the most important things to note if your visit is that the voltage is different in England than in the US. If you bring electronics, make sure they are dual voltage. Learn more about voltage abroad

here

.
If you're moving here, just buy a hairdryer here. If you use other hair tools such as a straightener or wand, you should be able to bring it so long as it's dual voltage.  

Find out more.

My US hair straightener has held up without a problem. I use

this

. I also bought

this

wand here in England and love it!
Generally speaking, England is extremely safe for solo female travelers but it's always wise to protect your valuables in order to prevent theft. Follow

these tips

on how to travel safely as a female traveler.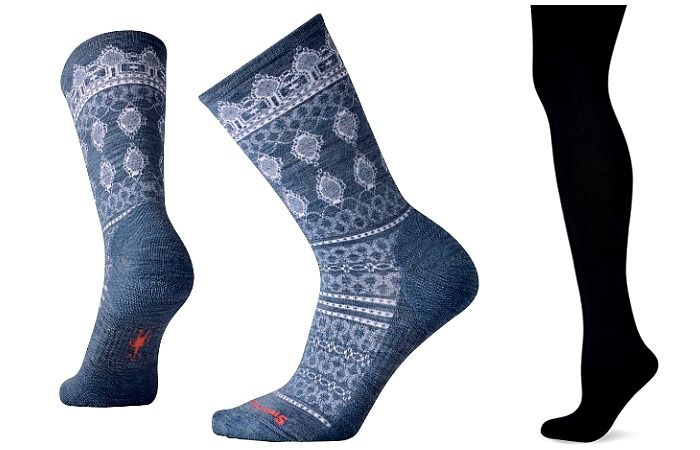 Why are socks and tights so important? Find out below. Wool Socks | Tights
DAILY LIVING
No dryers
If you're renting an Airbnb or serviced apartment, you might have a washing machine but not a dryer. It's more common to air dry your clothes on a clothes horse than a dryer so keep this in mind when planning your trip (this also applies to much of Europe).
In the winter, we use the radiators inside the house to dry our clothing.
Airbnb is a great way to maximize your money when traveling in Europe. Learn more here!
Electric Showers
In England, Europe and much of the rest of the world electric showers are common. What this means is that the shower power only turns on when you turn on a switch within the bathroom.
Then, once you get inside the shower you can turn on the water, adjust the temperature, and water pressure directly from a device. This is great because it means you usually never run out of how water.
Oh, and in England, bathrooms are called "toilets".
Bring nice socks!
If you're visiting someone's home you usually have to remove your shoes so make sure you're wearing nice socks. This is usually to prevent the floors from getting muddy or wet from the weather but even if it's sunny, still expect to remove your shoes upon entering the house.
Tights
Due to the weather, women tend to wear black tights under their dresses and skirts. That's where I got the inspiration for this post. Legs do come out on warm summer days, though, particularly after a sunny holiday.
Pubs
Pubs are not considered bars and they can offer a family environment. You'll find people from the ages of 18-80 hanging out at their local pub.
Gin and Tonic (now my favorite, draft ale beer, prosecco, and wine seem to be the drinks of choice.
Indian Food
Indian food is super popular here and chicken tikka masala is even the unofficial national dish! If you're visiting London, try a food tour like Eating London – it was awesome!
We do like our Mexican food in the US, and it's only recently started gaining popularity in the past decade.
If you have a craving for Mexican food, check out Wahaca, it's awesome, and ironically has very different, yet authentic flavors from other regional parts of Mexico than many restaurants have in the US. (By regional I'm referring to flavors from Oaxaca and the Yucatan.)
Driving on the other side
In the US we drive on the right side of the road and in England you drive on the wrong left side 😉 I hardly ever drove when I was traveling so I've really enjoyed the ability to walk to the grocery store or other necessities.
My current house rental is in the center of town (just a two minute walk to the high street). This helps me avoid the cost of driving; gas is really expensive here in comparison to the US.
Tap Water
Unlike California, it's okay to drink tap water. I still like using a water filter, though.
Clothing Costs
Depending on the currency exchange and import duty fees, clothing can be more expensive. Because I don't live in a major city, I also stock up on clothing when I go back to the US and try limit my shopping here.
No Shoe Half Sizes
Well, there are some half sizes but the selection is limited. I stock up on shoes when I go to the US. Plus, you also tend to get more value for money as well.
Bras
Boy do they have an awesome selection of bra sizes here! In the US most of us probably think we're a 34B, 36C, 38D, etc. Here they have double letter sizing like GG and a range of bands, too!
Trust me. Make some time for a bra fitting while you're here.
I had a bra fitting at Bravissimo in Covent Garden was LIFE CHANGING. Read more about this here!
Dressier Attire
In the US, we have a really, really relaxed wardrobe. We love our t-shirts. Here, people tend to dress in clothing that's more fitted, no matter what their size. (Note: by fitted I don't mean tight.)
A comfy ensemble of t-shirt plus leggings is generally a no-go unless you're hitting the gym so it's better to find comfort in a good pair of jeans, nice top, and booties or flats. When in doubt, unless it's a stylish tee in a nice quality, a dressier (or work-like) top is the way to go.
Beauty Products
Pack your makeup products from home because it's way expensive here even for drugstore brands. I brought all my makeup and specialty beauty products but purchased basics like shampoo and shower gel here at Tesco's or Super Drugs.
Boots also has an incredible array of products and they're almost everywhere. I bought an inexpensive blow dryer there.
Amazon
This may sound silly but I'm an Amazon addict and my house mate even joked that we had our own Amazon distribution center!
Amazon in the UK is more limited than the US so unless you're an addict like me, you might not miss this convenience.
How to Live to England
If you are interested in living in the UK, if you're an American, read this awesome website. This is the website I used to get all the information I needed for my big move to England.
It has a strong community of expats that offer free, helpful, and incredibly thorough advice. Sign up for the free forum and start your research!
Don't stress! Follow this 10-Step Packing Guide for Europe for stress-free packing for your trip!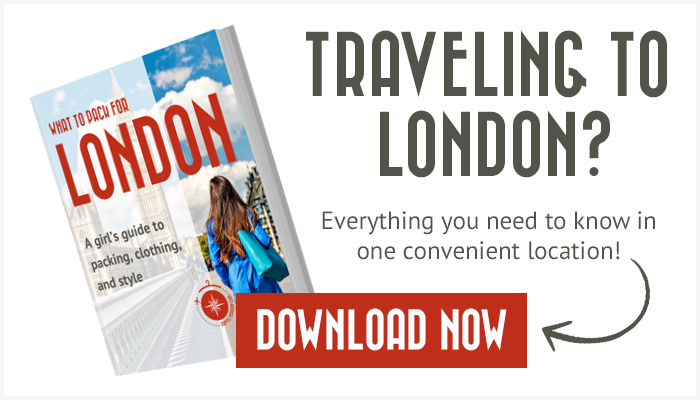 ---
What other tips would you add to someone moving to England? Share in the comments below!
---
For more Europe packing tips, please read:
Suggested travel resources:
---
LIKED THIS POST? PIN THIS PIC TO SAVE IT!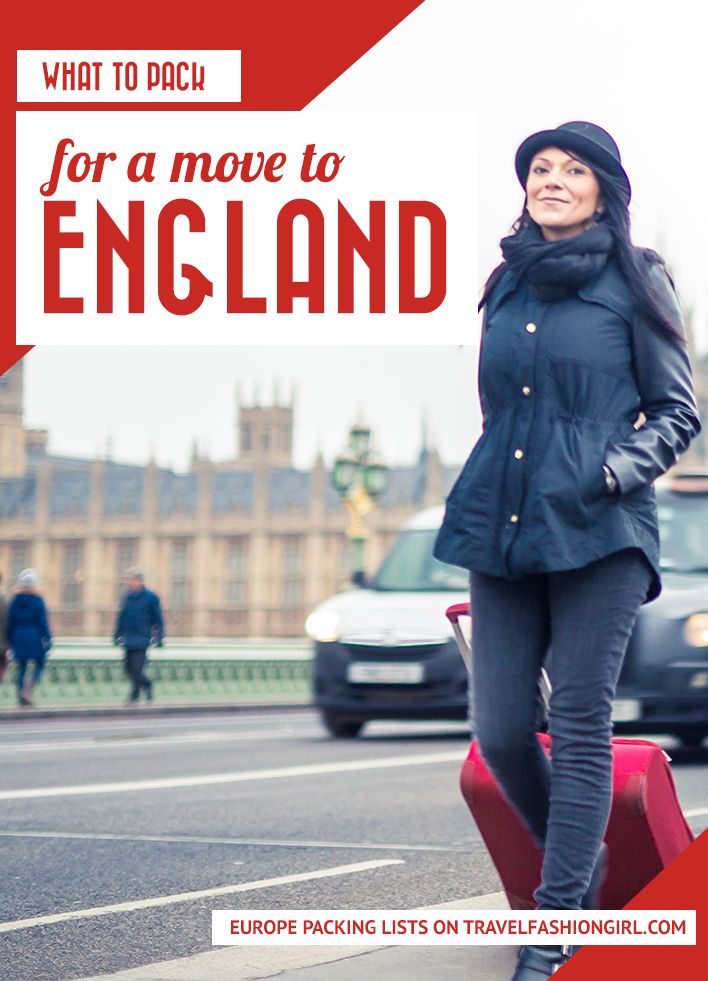 ---
I hope you liked this post on what to pack when moving to England. Please share it with your friends on Facebook, Twitter, or Pinterest. Thanks for reading!
---