Support TFG by using the links in our articles to shop. We receive a small commission (at no extra cost to you) so we can continue to create helpful free content. As an Amazon Associate, we earn from qualifying purchases made on Amazon in addition to other retailers featured on the blog. Thank you, we appreciate your support!
The coast, the palm trees, the cool breeze amidst the hot sun and the giant "Hollywood" sign. It sounds like southern California is on the itinerary. Keep reading and find out what to wear in central to southern California!
---
Outfits for SoCal Style
Written by: Nina Thomas
---
Table Of Contents
Southern California (SoCal) has lots to offer, and the weather is pretty amiable, which means you don't have to pack for extreme temperatures. Although you will need to be prepared with a few cautionary layering items, most of your packing list will consist of clothes that you can wear all throughout the southern part of the state.
The challenge is that no trip to California is complete without making a road trip up north then going from coastal beach towns, such as San Jose, to wine tasting in Napa Valley, to checking out the parks and scenery in the Big Sur area. Bigger cities such as Los Angeles and San Diego require a few additional items for a night on the town or city sightseeing.
Creating an interchangeable capsule wardrobe is the key to simplified packing, which can easily fit into a carry-on with the help of packing cubes to compress your clothing!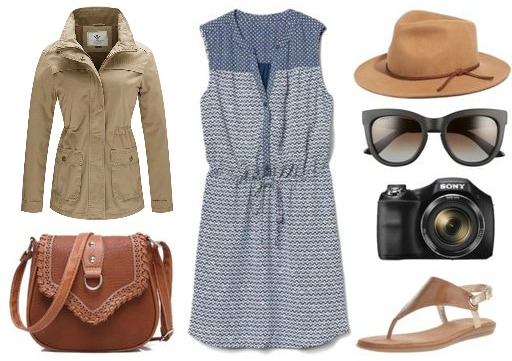 Sunglasses | Dress | Utility Jacket | Crossbody | Sandals | Camera | Hat
Southern California by travelwithnina featuring a zip jacket
Starting with some of the smaller coastal beach towns and the Big Sur area off Highway One, you'll want to pack an outfit that you can walk around comfortably in the heat. Obviously if you're actually planning on swimming in the ocean, you'll want to be prepared with all of the necessary items. However, if you're just visiting (not swimming) a pair of Bermuda shorts and a loose fitting shirt is a great option.
The Big Sur area can be very windy and the evenings can be chilly, even in the summer time. A pair of jeans are a staple that can be dressed up or down, and are perfect for a cooler evening. 
You'll also want to be prepared with something that goes over your head to avoid hair in the mouth. Since you can walk around many of the parks on the beach, you'll want a good pair of supportive sandals and sunglasses.
Tip: Consider bringing a pack of disposable wipes in case you decide to dip your feet in the water and want to avoid lots of sand and dirt that will rest on your sandals for the rest of the trip.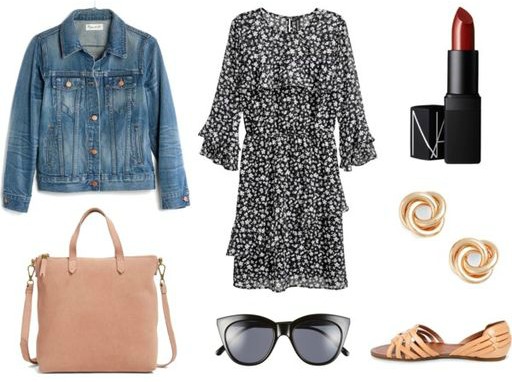 Jacket | Dress | Earrings | Lipstick | Flats | Sunglasses | Bag
California by travelwithnina featuring a denim jacket
Although some of the wine tasting involves walking around the vineyards, many of those who go wine tasting consider it to be a tad more formal than your typical sightseeing venues such as a museum or historic site.
You'll want to wear California outfits that are casual but nice. Think of it as going out to an upscale restaurant during lunchtime. Some of the tasting rooms can be chilly, so make sure to bring a jacket or a cardigan.
Tip: I would recommend a looser-fitting dress as visiting different vineyards requires a lot of riding in the car from place to place, so you don't want anything too constricting.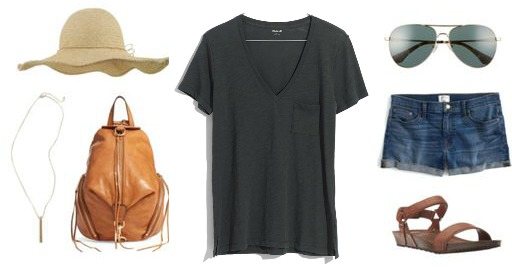 Backpack | V-Neck Top | Sunglasses | Shorts | Sandal | Necklace | Hat
California by travelwithnina featuring a black t shirt
When sightseeing in some of the larger cities like LA and San Diego, you'll want to have day-time California outfits that are comfortable and casual.
You'll want something that is suited to visiting museums, taking public transportation and walking around outside in the heat. Nice shorts and a t-shirt, and a nice looking backpack to store water and guidebooks, should do the trick.
The wardrobe staple J Crew T-Shirt is amazing for travel – find out why in our review here!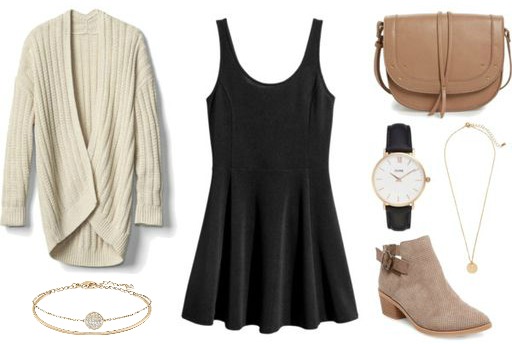 Cardigan | Dress | Bracelet | Crossbody | Watch | Necklace | Boots
California by travelwithnina featuring a black dress
When planning what to wear in California for SoCal city stays, you'll want to make sure you have something more upscale to wear out in the evenings.
Black is a great color for night, and can be paired with almost any color bag or shoes that you may bring. A splash of lipstick will add a more sophisticated city look for the evening.
---
What are your tips on what to wear in California (in SoCal)? Please share it below!

---
For more North America packing tips, please read:

Suggested travel resources:
---
LIKED THIS POST? PIN THIS PIC TO SAVE IT!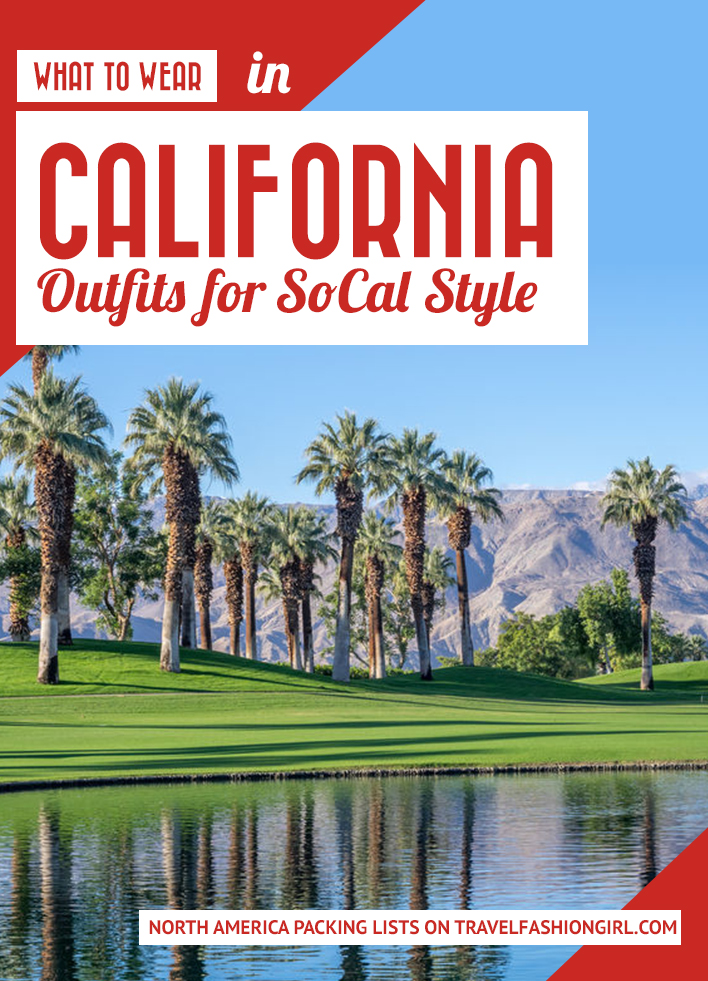 ---
I hope you liked this post on what to wear in California (SoCal style). Please share with your friends on Facebook, Twitter, and Pinterest. Thanks for reading!
---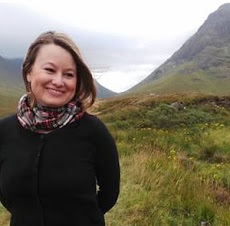 Author Bio: A travel lover and freelance writer from the United States Midwest. Traveling mostly as a couple with her husband, she is constantly looking for a beautiful view and a good adventure. Some of her travel highlights include horseback riding in the Ecuadorian Andes, hiking on top of Mount Etna in Sicily, and sheep-gazing in the Cotswolds. Her favorite travel tips are "do as the locals do" and purchase packing cubes. For more practical travel tips and ideas from a Central Ohio Girl, check out her website: travelingwithnina.com or follow her on Twitter.
---