Support TFG by using the links in our articles to shop. We receive a small commission (at no extra cost to you) so we can continue to create helpful free content. Thank you, we appreciate it!
Ski resorts are normally low-key, so packing for a ski trip is different from other vacations. Find out what to bring on a ski trip with these 5 top tips!
---
What to Bring on a Ski Trip
Written by: Lily An Kim
---
➊
Base & Outer Layers
 The North Face Summit Series Jet Softshell Jacket
When planning what to bring on a ski trip, avoid cotton-like leggings and opt for synthetics instead. If they offer any measure of warmth plus wind-protection for hopping from car to hotel or to ski lodge then you've found a good pair.
The same guidelines are applicable for tops, and sometimes the best long-sleeved items can be zipped down from the neck; these mock neck or turtleneck tops offer warmth without a scarf, also without limiting your style (après ski).
Shop:

base layer / midweight tight / Chilko sweater / Gore-Tex Mitt / merino socks
Ski outerwear (especially gloves) should be weather-resistant, in case you are ever caught in unexpected conditions, such as a snow storm or drizzle.
For the price-conscious who appreciate the newest technology in outerwear, Canadian companies like Mountain Equipment Coop and Westcomb offer impressive varieties of weatherproof shells and performance clothing. Inner pockets can be stuffed with ski goggle cloths, anti-fog, a safety whistle, tissue-packs and hand-warmers.
Major mountain outfitting lines, including Under Armour, Burton, Patagonia, and Columbia, create base layers for extreme cold weather conditions. North Face's Summit Series is 800-pile down in a soft shell that feels like a wearable sleeping bag. Merino wool socks are the best for comfort and dryness.
Read these tips on choosing extreme cold weather gear for women!
➋
Clothes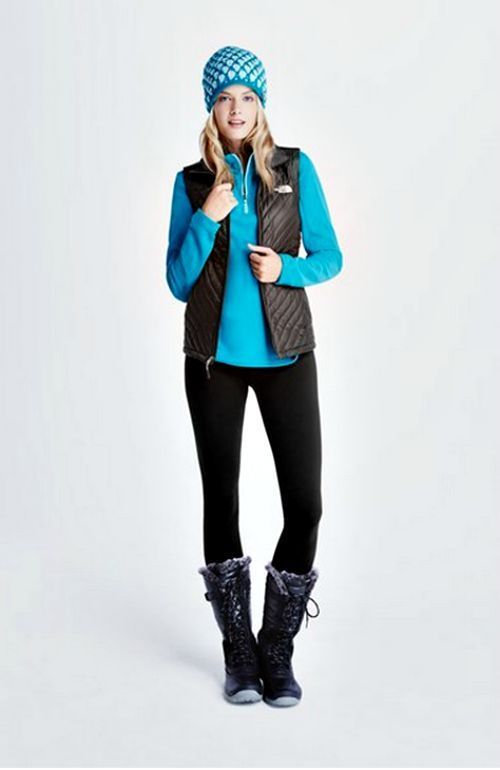 For the greatest convenience, make sure your outfits can be coordinated with your base layers when you plan what to bring on a ski trip. A stretchy knit miniskirt, sweater, or long cardigan looks fashionable yet comfortable over dark leggings with boots.
Shop:

knit miniskirt / leggings / cardigan / scarf / boots
Tuques and scarfs finish the look, while a belt or necklace provide a more polished appearance. While a long ski jacket provides extra wind protection, a shorter down-filled vest with flats is great for strolling to get drinks or après ski.
A pair of jeans would be comfortable for walking outdoors or shopping on the mountain, and if you pack a dress, then keep it crease-free by folding it inside of a dry cleaning bag.
TFG's Top Pick: love this merino wool dress by Ibex! Stay warm and pretty, too!
➌
Beauty Items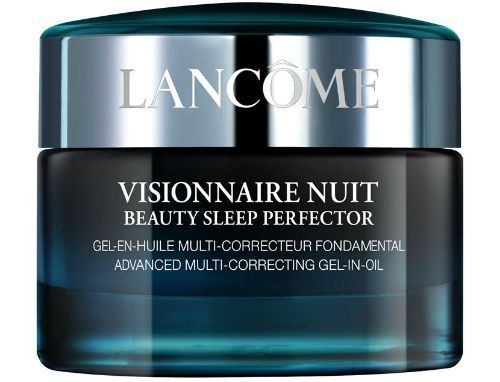 Instead of juggling childcare or schedules to reserve a day for a facial, try packing along beauty essentials that are easy for airline travel. Downhill skiing can windburn the face, so consider packing Lancome Visionnaire Nuit: a bottled alternative to travel-sized Korean or Israeli "sleep packs" (creamy masks that are packed with hydrating properties).
Shop:

Korean cosmetic sleeping mask / lip balm / sun protection
Also, on top of an enduring lip stain, remember to generously apply protective lip balm. If you are likely to forget about applying sunscreen from a bottle, then sun protection in stick-form is convenient (for carry-ons and in pockets). Your skin will thank you!
Read more winter skincare tips for travelers!
➍
Ski Gear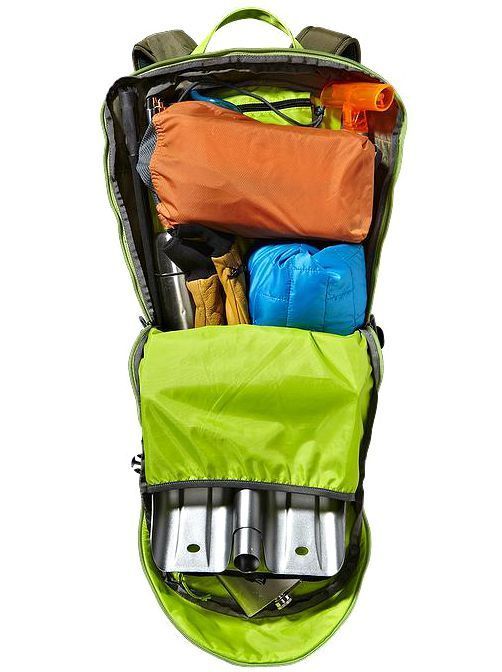 For ski trips of a week's length or longer, it's cheaper not to rent but to pack skis. In conditions that include bumps and powder, all-terrain rocker skis (like K2 Empress) will allow quick turns on downhill slopes. Twin-tip cambers, such as Salomon's NFX, are suited to smooth turns on strictly groomed runs.
Shop: 

K2 Empress / Salomon's NFX / ski boots / goggles / rolling ski bag
Since certain airlines allow ski boots to be checked separately for free, don't forget to pack your goggles or socks inside of them to save space in your suitcase.
Though convenience is also a 'must', you mustn't neglect your back. Checking heavy boots and gear in rolling ski bags (Patagonia and Burton make durable ski baggages) help you to get to the mountain and safely back home without injury.
➎
Technology
While a freeze-proof camera (like Olympus' OM-D E-M1) may serve you well on the slopes, technological gadgets will save you time and worries in planning your trip back home. Your smartphone can save your life if lost on the mountain.
Shop:

Olympus' OM-D E-M1 / LugLoc / GeoTrakR
You may not consider this as you plan what to bring on a ski trip but maps can be saved offline by using Google Maps, or take screen-shots of driving directions in case vehicular systems aren't reliable. Google Maps also offer indoor floor plans of airports and some malls or museums by zooming in on your location.
Once your get to the airport, then a $50-$70 GPS tracking device (such as retrofit LugLoc and TrakDot) could help you to trace or locate your ski gear and valuables via smartphone. All you would need for peace of mind is your phone charger!
Samsonite's GeoTrakR line includes handle-transmitters (USB-chargeable up to 2 weeks), so you could identify your ski boots and wear as they come up the ramp!
Travel Tip: using maps can help you easily navigate through the city between the airport and hotel especially if you're driving.
---
Do you have any other suggestions about what to bring on a ski trip ? Please comment below!
---
For more on what to bring on a ski trip, please read:
---
Hope you liked this post on what to bring on a ski trip. Please share it with your friends on Facebook, Twitter and Pinterest. Thanks for reading!
---
Author Bio: Lily An is a Canadian educator and Vancouver-born nature enthusiast. When she isn't working or traveling, she is likely to be skiing, diving, or mountain biking with her family.
---