Support TFG by using the links in our articles to shop. We receive a small commission (at no extra cost to you) so we can continue to create helpful free content. Thank you, we appreciate it!
TwelveWays is the latest and greatest convertible travel dress in the market. Put it on your travel gear wish list!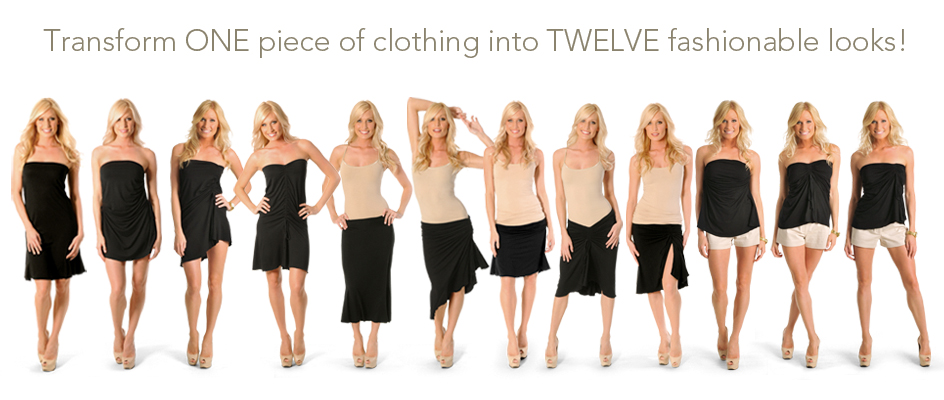 ---
Twelve Ways Convertible – Travel Dress Must Have
---
I've searched high and low for the best travel clothing for women but it's hard to find travel gear that's both functional and fashionable. When I stumbled upon a brand new clothing line specializing in a stylish multi-functional travel wardrobe, I was beyond excited!
This convertible travel dress is cleverly designed to bring women functionality in one single item of clothing. The TwelveWays Dress transforms from a travel dress to a skirt and also a top. In addition to the three different clothing pieces, each look then shifts style to offer you 12 entirely different travel outfits.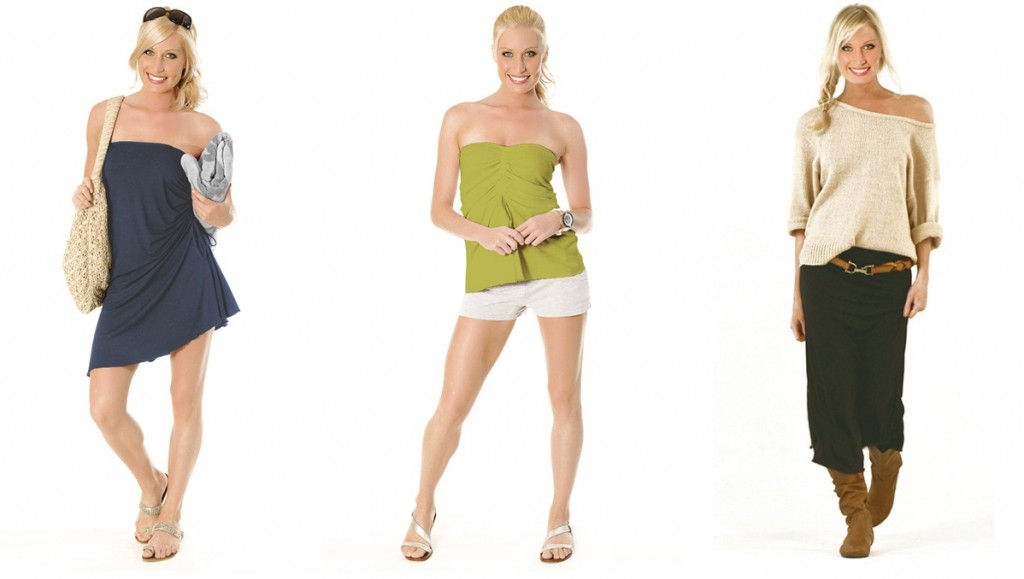 Whether you're going on a round-the-world trip, an island holiday, or a week long cruise, this unique travel dress provides you with the ability to maximize your travel wardrobe.
Available in two sizes, three colors, and two fabrics – TwelveWays knows exactly what girly travelers need. It's made in Canada with top quality materials and manufacturing. It's available to ship anywhere in the world which is great for us nomads! This truly does have the potential to be the perfect little black travel dress we've been waiting for.
For long term travelers and backpackers every item we pack has to be absolutely necessary. This travel dress solves the need for an emergency LBD because it's one item that won't go unworn in your bags. It can be used every day. It can be adjusted to several lengths and styles, making it appropriate for small modest towns as a long skirt, tropical beaches as a fun casual top, or a night out in the city as a sexy dress.
I'm so excited about the TwelveWays Dress, I wanted to share this line with all of you.
Personally, I prefer to travel with the Twelve Ways dress in the "Elegant" fabric. It's more fitted than the casual fabric and packs a bit smaller. Also, it's a light fabric which dries quicker and won't lose it's shape after wearing it every day for an extended period of time.
The dress acts as the ideal basic palette to be accessorized and dressed up as needed. I have a 5'2″ frame and wear the size S/M. Although I can probably wear the XS, I like the S/M because it's roomier and more wearable in various settings. Whether or not I wear the dress in "twelve ways" at the very minimum it offers three unique clothing pieces which is what I love.
---
If you're the type of girl that wants to feel feminine, even flirty while traveling while still maintaining functionality, then this dress is for you.
Is this dress for you?
---
Please read this post for a full review on the dress:
For more details, check out the TwelveWays website. You can also find the dress on Amazon
---
I hope you found this post useful. Please share with your friends on Facebook, Twitter and Pinterest.
---